Fresh Strawberry Pie piled high with juicy ripe berries and a scrumptious strawberry glaze topped off with whipped cream and a flaky crust.
I think I've shared this before, but I grew up in California in a small town surround by Avocado groves and strawberry fields. I didn't realize it at the time, but I was spoiled by both!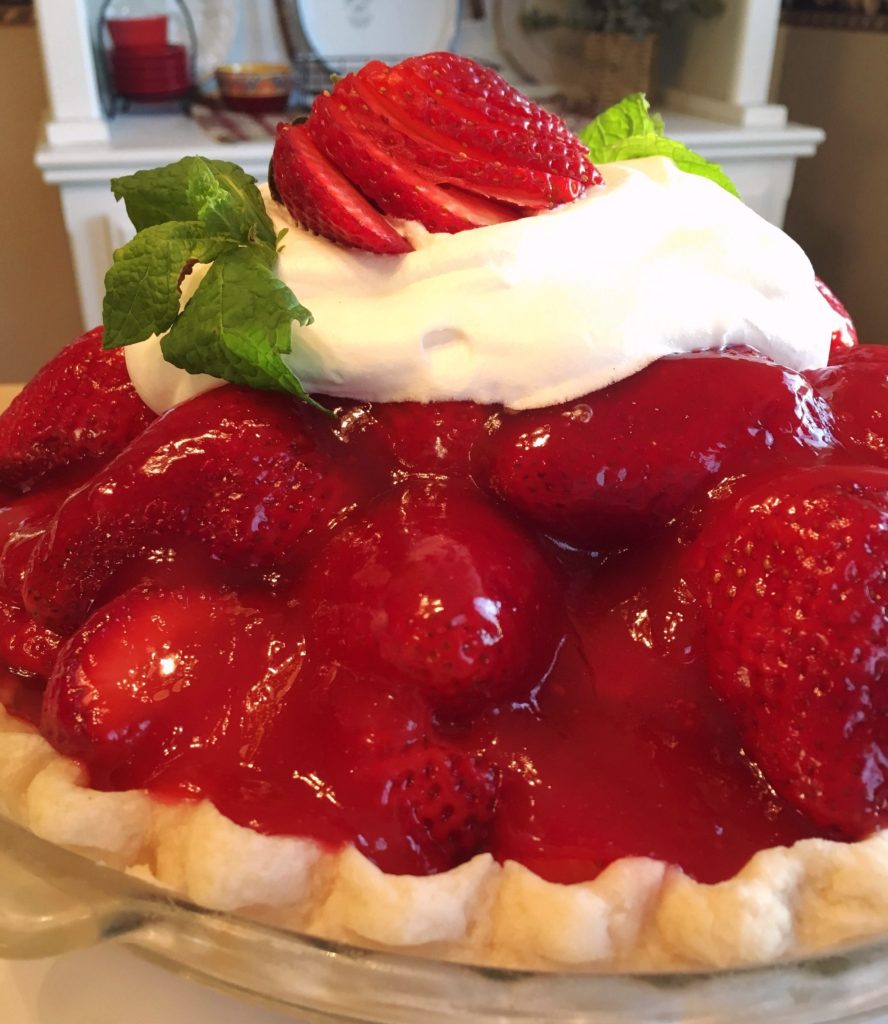 Especially the strawberries. We often pulled up to a roadside stand, and purchased the biggest, sweetest strawberries you have EVER tasted! So when a lady in our town advertised that she would be bringing flats of "farm fresh" California berries to our little Utah town…I was all over it!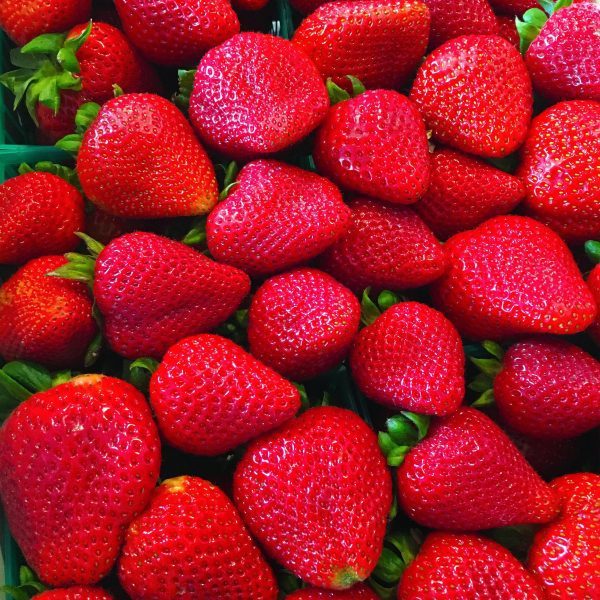 I honestly, stupidly, thought it would take us forever to eat that many strawberries. That I'd be able to make all kinds of amazing treats. What a joke! I discovered I live with strawberry piggies!
Wow…it was really impressive how fast they all ate a half flat of berries! Even Baby "B" got in on the action! She would take a bite out of the tip of one, then sneak and put it back…tip side down so you couldn't tell she had taken a bite. Every time someone went to pull a berry out, there was a little nibble out of the end. (She's so stinkin' cute! Grandma couldn't get mad!)
I knew one of the goodies I wanted to make was this Fresh Strawberry Pie. (I love fresh fruit pies. They're a less guilty pleasure!) This recipe was all over the internet last week. Posted by Lemon Tree Dwelling.
My friend reminded me that it's been around forever. Her Mom, and my Mom, and everyone's mom made this pie. I'm pretty sure June Clever made this pie… and Aunt Bee served it at her dinner table, to Opie, in Mayberry! I'm really thankful that Cathy over at Lemon Tree Dwelling reminded me of this delicious pie.
How To Make Fresh Strawberry Pie
I used my own pie crust recipe…it's perfect with this pie! You can find the recipe in my archives under the Strawberry Rhubarb Pie recipe. You can use your own recipe, or even by a frozen crust. It is entirely up to you. You will just need one, preferably deep dish, baked 9 inch pie shell.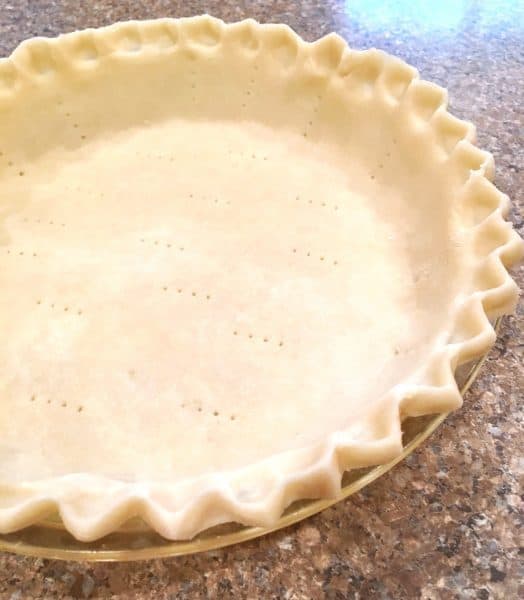 Strawberry Glaze for Strawberry Pie Filling
While the crust is cooling, start on the filling. In a medium sauce pan, over medium heat, bring water, sugar, and cornstarch to a boil, stirring until thick and clear.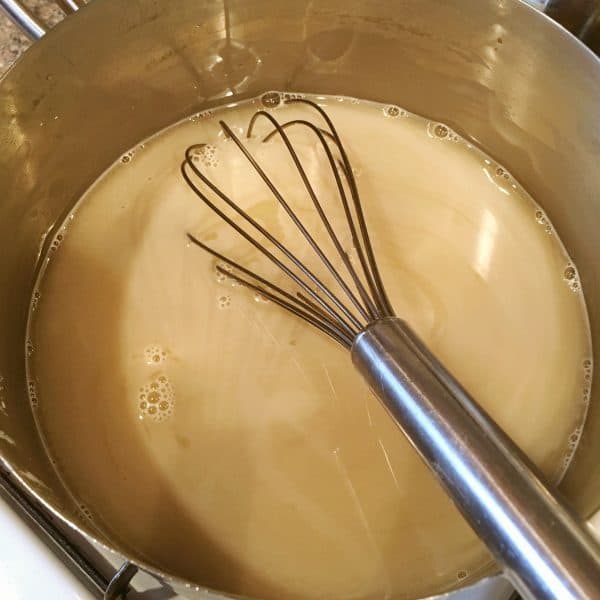 Remove from heat; add in Strawberry Jell-O. It smells so good and looks so pretty! I've always tried to duplicate this glaze and never got it right. I didn't know about the strawberry jello! This makes ALL the difference in the world. I feel kinda silly to have not thought to add it. I know now. That's how we learn in the kitchen!
TIP: If you are using a shallow pie plate, cut filling recipe in half.
Mix well and allow to cool. Be sure you really let this glaze cool. You do NOT want to cook the berries! Strawberries are a little tempermental…like an 18 month old over their fruit snacks when you try to take one. (I'm not admitting to stealing my grand daughters fruit snacks…but let's say I did… she may have thrown a tantrum and given me the stink eye.)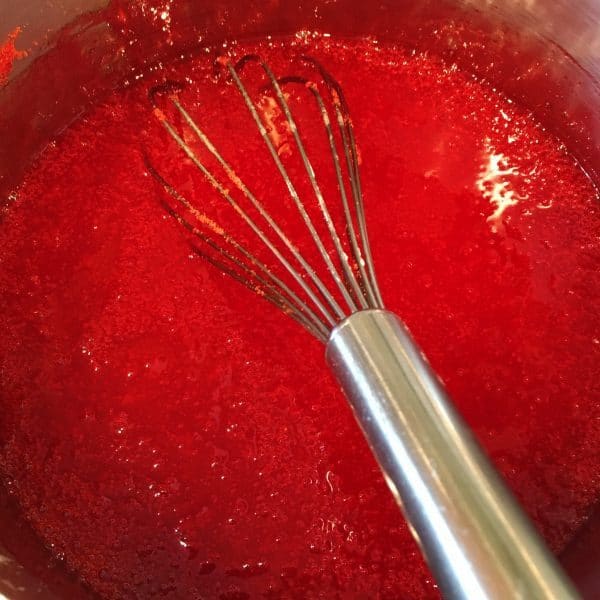 Preparing the Strawberries
Clean and "de-stem" 3 lbs of fresh strawberries. Fold the cleaned strawberries into the glaze mixture.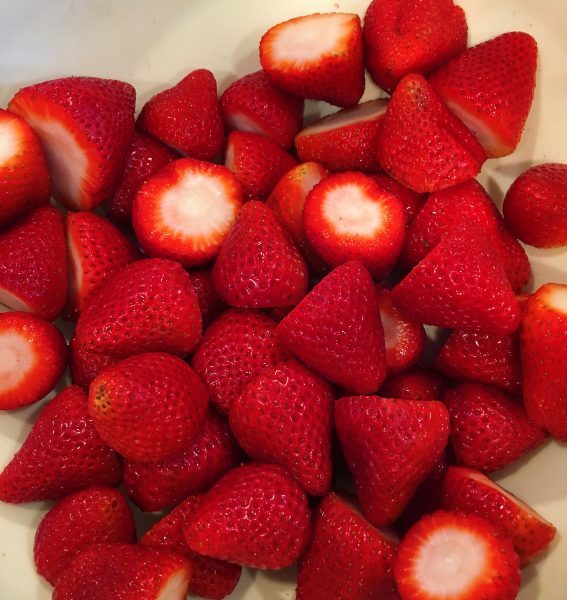 Pour into pie shell.
Let's pause for a moment of silence….I said "silence"! I can hear your thoughts clear over here! Your thinking of opening the silverware drawer and grabbing a fork and popping one of those beauties in your mouth…then maybe another, and another…STOP IT! (Sheesh…now you're just screaming those thoughts at me! lol) Yep…now your thinking you'll just dip your pinky finger into the glaze and take a small taste to make sure it's okay. Alright…go ahead…I'll wait!
Place the pie in the refrigerator.
Next is the hardest part of this recipe….waiting for it to set! I found holding a can of whipped cream and pacing does NOT speed up the process. (sigh)That rude pie just ignores you! (Like you children when you've asked them to clean their room!)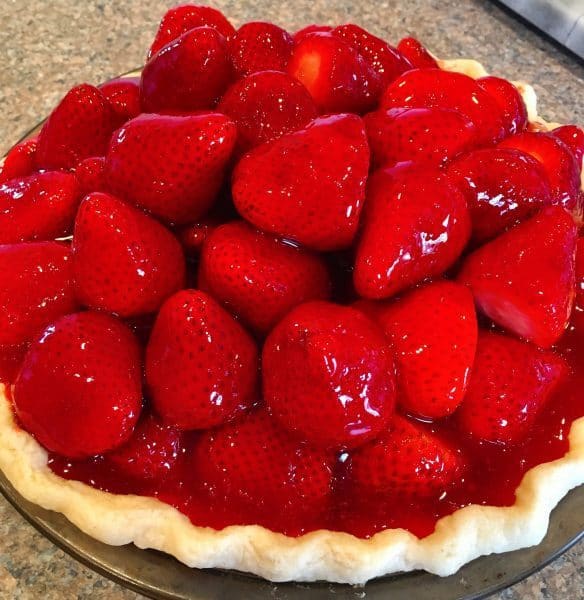 In three to four hours it's time to cut into this beautiful pie! Make sure you have a very sharp knife to slice through those whole berries. Don't worry about the filling. It's going to be nice and firm, and hold everything together. One of the berries at the tip may try to run off, but you'll catch it and perch it back on top.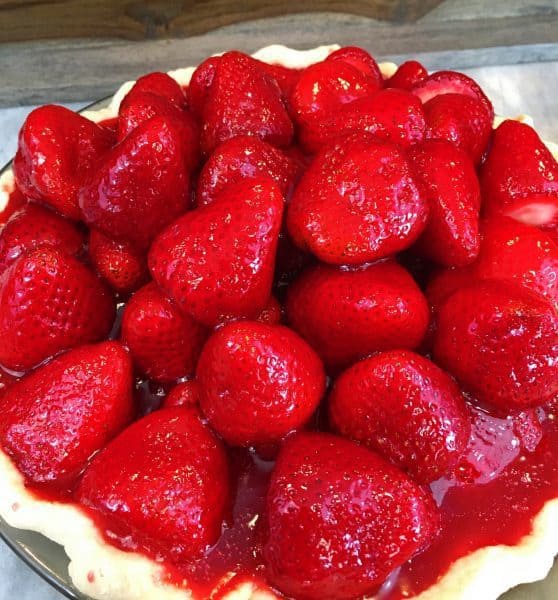 Look at that perfect slice of fresh strawberry pie. The whip cream is a must! The glaze is scrumptious and holds it all together! Every single bite of this pie is pure strawberry heaven. Lick your Lips HEAVEN! It's truly luscious.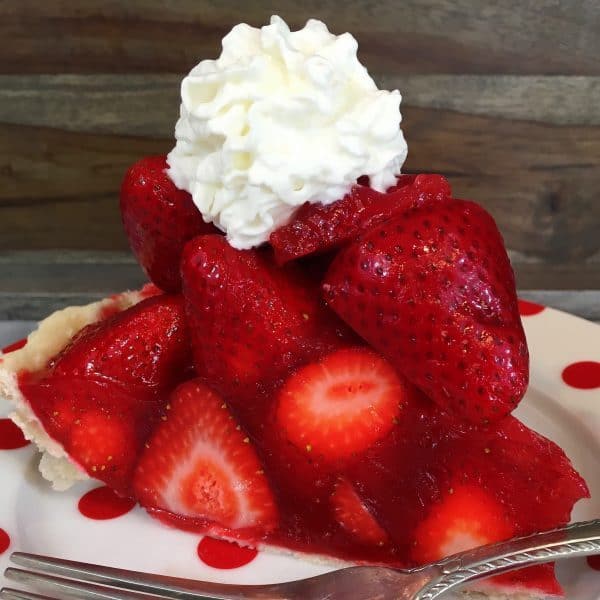 Wouldn't this be a stunning dessert for Mother's Day or a 4th of July B.B.Q.? I can't think of any thing better for Spring or Summer than this fresh mile high strawberry pie with its rich flaky crust! You can skip the main course and sides… and go straight for dessert! (Ya know I would!)
If you enjoyed this recipe you might also enjoy these other delicious Pie Recipes
Thanks for stopping by my Nest!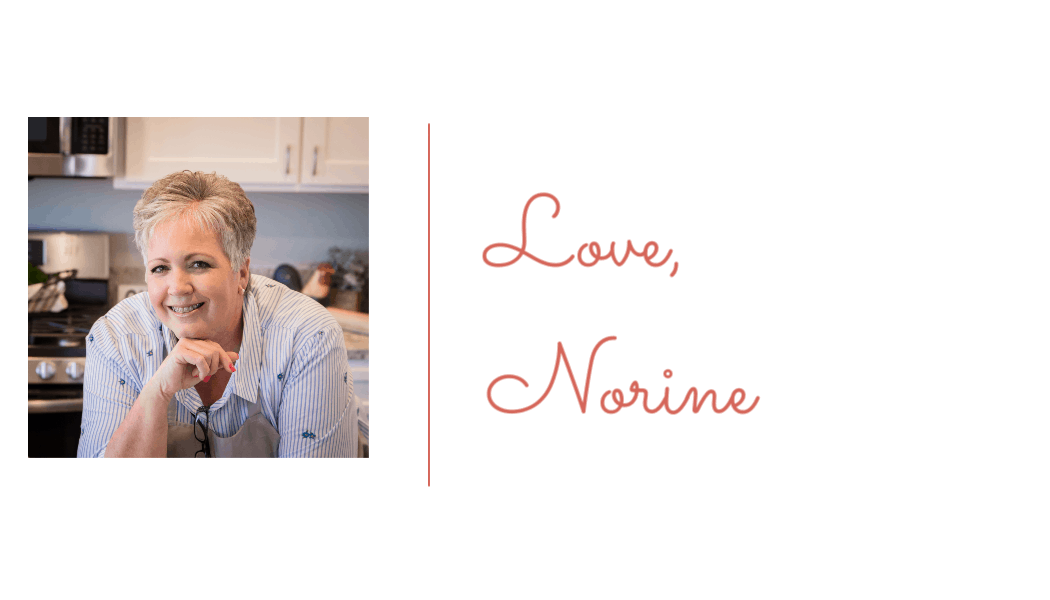 Yield: 8 servings
Fresh Strawberry Pie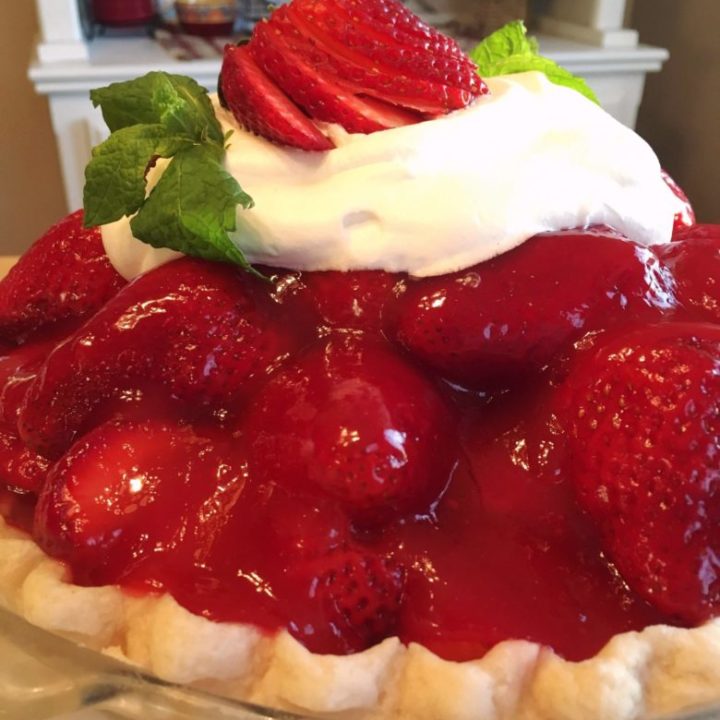 The Perfect Fresh Strawberry Pie. Fresh sweet strawberries are piled a mile high in a rich flaky pie crust. The Perfect Dessert for Spring or Summer!
Total Time
4 hours
50 minutes
Ingredients
1 baked Pie crust (9 inch)
2 c. water
2 c. sugar
6 Tbsp. cornstarch
1 (6oz.) package strawberry jell-o
3 lbs. strawberries, cleaned and de-stemmed
*If you are using a shallow pie plate, cut filling recipe in half
Instructions
Bring water, sugar, and cornstarch to a boil, stirring, until thick and clear.
Remove from heat; add strawberry jell-o.
Mix well and cool.
Fold in strawberries.
Pour into pie shell.
Store in refrigerator until set; serve with whipped cream.
Notes
Prep time includes "chill" time.
Recommended Products
As an Amazon Associate and member of other affiliate programs, I earn from qualifying purchases.
Nutrition Information:
Yield:
8
Serving Size:
1 slice
Amount Per Serving:
Calories:

399
Total Fat:

7g
Saturated Fat:

2g
Trans Fat:

0g
Unsaturated Fat:

4g
Cholesterol:

0mg
Sodium:

123mg
Carbohydrates:

85g
Fiber:

4g
Sugar:

63g
Protein:

3g
Norine's Nest in no way provides any warranty, express or implied, towards the content of recipes in this website. It is the reader's responsibility to determine the value and quality of any recipe or instructions provided for food preparation and to determine the nutritional value, if any, and safety of the preparation instructions.