It's almost time for my favorite "foodie" Holiday… Cinco De Mayo! Any holiday that I can surround myself in melted cheese, chips, and Guacamole…is a good GREAT holiday. I have a legit reason to celebrate this holiday. (Besides my love affair with Mexican food.) Our two youngest children are Hispanic. In all seriousness, I think it's really important to celebrate our children's ethnic heritage. I'm just thankful it's Mexican and not some obscure liver and onion eating tribe!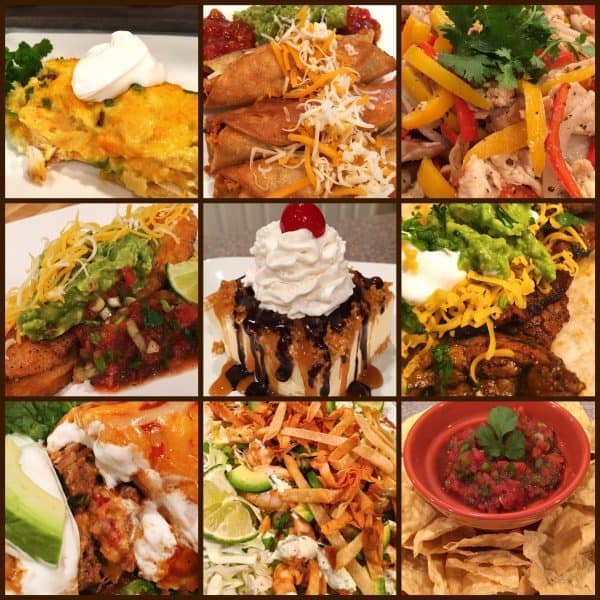 I grew up in a small town in Southern California. My Uncle had an Alfalfa farm, it's now a gourd farm, and he had lots of wonderful Hispanic families that worked for him. His Sister, my Aunt, lived out on the farm and she learned how to cook AMAZING Mexican food from them. I learned from her!
One of the first things I asked my Aunt to teach me to make was her "Fresh" Salsa. Yes! The tomatoes are canned. That's not how "Fresh" Salsa is defined. You can use fresh tomatoes when in season…when not in season you can use canned. What makes it "fresh" is the fact that it has to be refrigerated. It will only last 3-4 days unlike "canned" salsa that will last for months in your refrigerator once opened.
You can find the amazing recipe for this salsa by clicking right HERE! Warning: Once ya try this addictive fresh salsa you'll always want to have it on hand.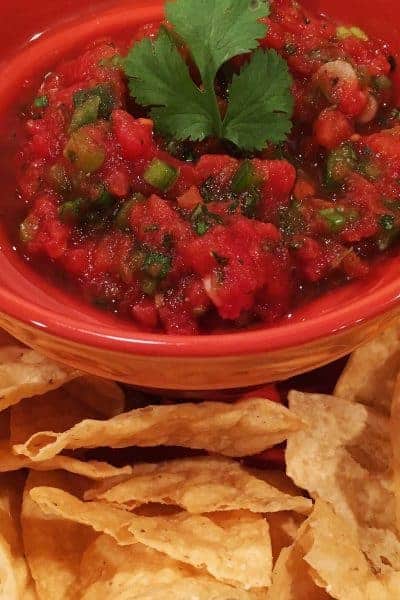 Taquitos, or "Rolled" tacos, as some call them, are truly our number one favorite main dish! There's just something about grabbing a taquito and dipping it into that fresh salsa and homemade guacamole! YUM! Makes my mouth just water thinking about it!
The beauty of this dish is you can use any left over meat you have. I usually love to make a big roast, beef or pork, for Sunday dinner. I know there will be leftovers! Then I can make this family favorite the next night. One secret my Aunt Janie taught me was to throw a little grated cheese in with the meat before you roll up the tortilla. A little melted cheese always makes a dish better!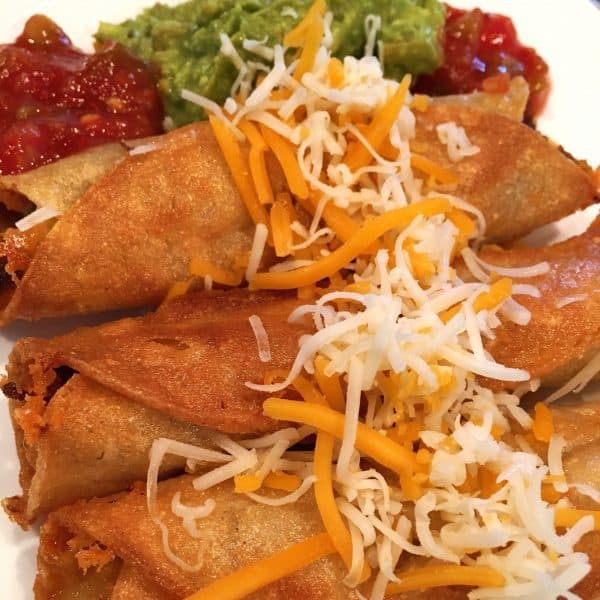 It would be a Cinco de Mayo Round-Up without including my Chili Relleno recipe. I know this dish intimidates a LOT of people…almost as much as Tamales. I was blessed because Aunt Janie was fearless in the kitchen. She figured if others could make them…then by golly she could make them.
I guess it's a family thing! I figured if she could make them… then I could make them. So I watched her make them… and decided I could do that! It was a little tricky at first…but seriously if you follow my tips…you'll have beautiful perfect Chili Rellenos on your dinner table tonight! You can click right HERE for the recipe. Just be careful…once you know how to make these you are going to make LOTS of friends!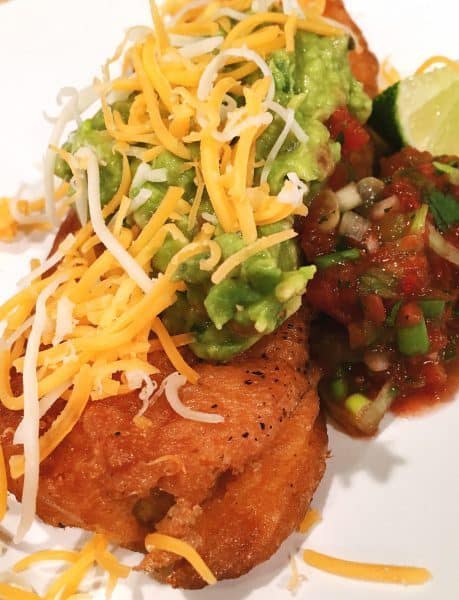 A new favorite…Carne Asada! Honestly if you can nail the marinade and the "quick" grill time…you are in true Mexican Food Heaven! You can make so many different things with a great Carne Asada recipe! Street Taco's, Nacho's, Burrito's…you name it…it can be made with Carne Asada.
The biggest tip I can give you…do NOT walk away from your grill. It will take about 5 minutes to have this meat grilled to perfection. Any longer and you'll have a lovely piece of beef jerky!
Find my delicious recipe right HERE! (I'm trying to make this super easy for ya'll…like when you don't want to get up to get the remote! lol)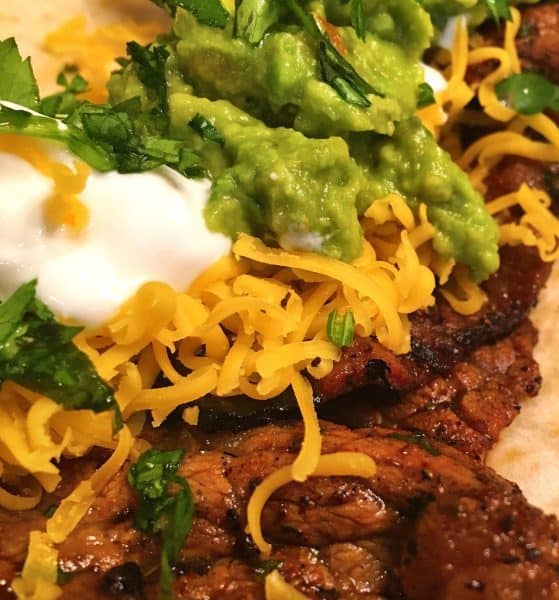 Since we have the grill all fired up…how about these scrumptious Tangy Chicken Fajita's. The marinade is made using dry Italian Dressing mix and a few other ingredients from your pantry. Let the chicken marinade for a few hours. Toss it in a hot skillet, or on the grill. I love the smokey flavor the grill adds to this dish…but you do have to have a grilling basket. Unless you like digging burnt chards of chicken breast out of the hot coals? To each their own! 😉
Throw all the ingredients into a toasted flour tortilla, top with sour cream, cheese, and our friend "Guac". This dish is a flavor explosion for your mouth! So amazingly yummy! Do I have your mouth-watering yet? I sure hope so!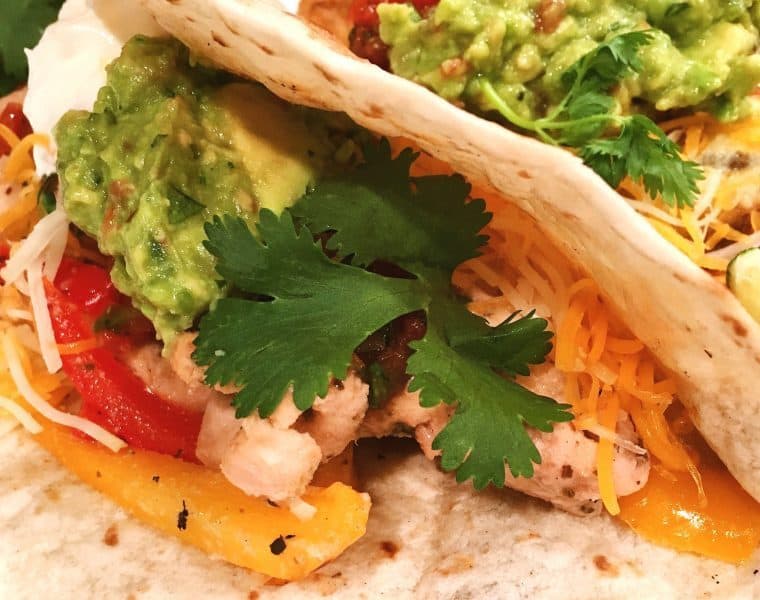 If you're running short on time I have two fantastic dishes to help you still have an amazing Cinco de Mayo. It's a toss-up to which one you can have on the dinner table first. Either way they are both delicious, quick, and out of this world. I love them both equally. I don't like to play food favorites!
First…I have this amazing recipe for Easy White Chicken Enchilada's! This recipe uses rotisserie chicken, pre-grated cheese, and an easy sauce using cream of chicken soup. You can have these whipped up and on the table in no time at all. With everyone licking their lips and asking for seconds!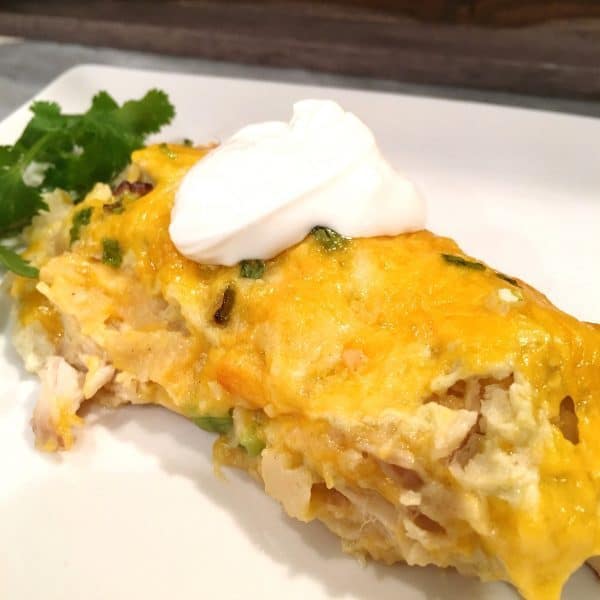 Next up… a long time family fave! Oven Baked Chimichangas! I've been making these for years! These are easily made by using canned beef found at Costco! Yep…Costco has the BEST canned beef EVER! You can use any meat you like. Chicken, Beef, Pork, even Ground Beef. I wanted to show case the simplicity of this recipe by using canned shredded beef. I love the ease of this recipe. Brush them with butter and pop them in the oven until they are golden brown and crispy. Kick them up a notch by smothering them in red sauce and melted cheese. Garnish with avocado and sour cream. Mmmmmmm!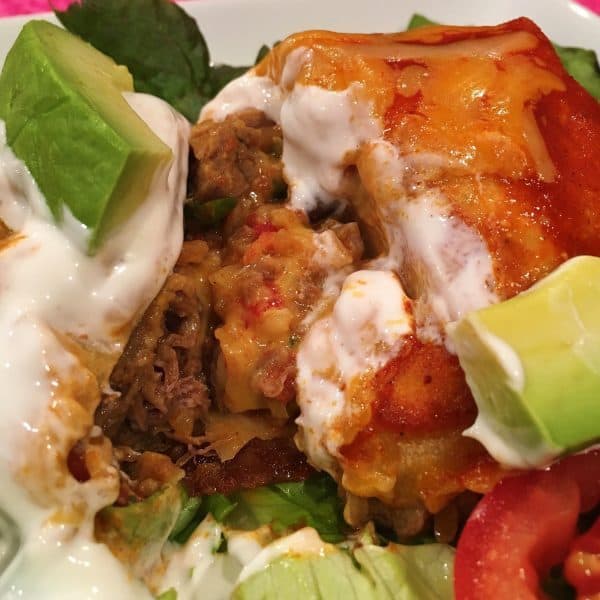 For Christmas last year I invited a few over for a traditional Mexican Fiesta. Its become a tradition for us to have a large Mexican dinner a few days before Christmas. This year we were all alone (sniff, sniff) I still wanted to do our annual party…so we invited a few friends over. Right before dinner…I decided I needed a salad! (These were grown-ups for crying out loud…not picky 20-somethings! Grown Ups like salad!)
My brain kicked into "over-drive" and I quickly came up with one of my favorite new recipes…Shrimp Taco Salad! It was a HUGE hit! (I think we all secretly wanted to fight over the last scoop on the plate. But we are grown ups!) I think it was the dressing…or maybe the shrimp…or maybe those crunchies on top! You have got to try this one!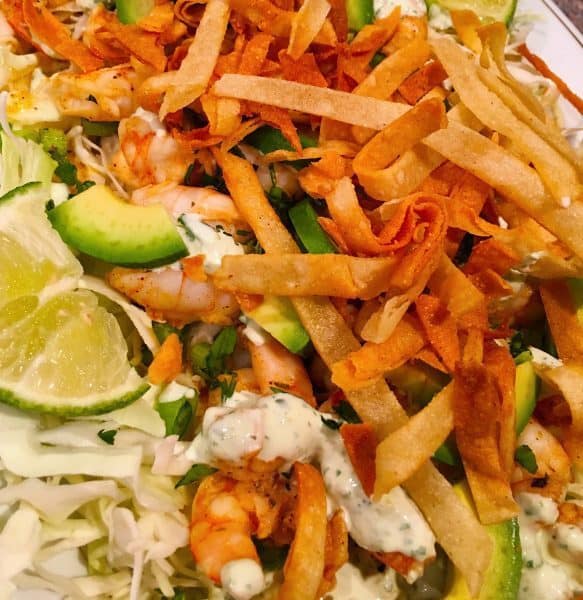 Now if you're not uncomfortably full from the chips and salsa, taquitos, chili rellenos, chimichangas, enchiladas, chicken fajita's, and shrimp taco salad… let's squeeze a little more lusciousness into that Cinco de Mayo Party! No meal is complete without a really GREAT dessert! (Skip the main course go to the dessert tray! That's my motto! I have it engraved on a wrist band. lol)
I love fried ice cream. What I don't love…is frying ice cream. Ummm Hello? Do you know what happens when something "wet" hits a pan full of boiling hot oil…it ain't pretty folks! Since frying bacon scares me…you can just imagine the damage fried ice cream could create. So this Fried Ice Cream Cake is the PERFECT solution! It tastes JUST like the fried version…only NO frying. It's out of this world tasty and so delightful! My boys request this for their birthday cakes! Seriously AMAZING dessert!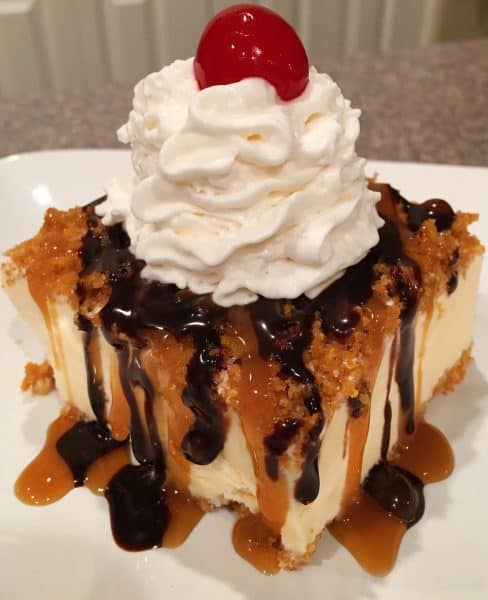 There you have it foodie friends! My very own, self-indulgent, Cinco de Mayo Round-Up! I realize I'm being really smug thinking that my Mexican food recipes are the best. Usually a "Round-Up" includes recipes from other bloggers. I just really love these recipes! I know that they are simple and delicious to make, and that your family and friends will enjoy every single one of them. They can all be found right here at Norine's Nest!
Like I said…I L.O.V.E. any holiday that allows me to celebrate with Mexican Food! Be sure to sign up for my Newsletter so you always know what's coming each and every week! Thanks for joining me. Have a wonderful Cinco de Mayo!