Open-faced slow cooked roast beef and gravy on toasted sour dough bread topped off with grilled onions and mushrooms. An Epic Hot Open Faced Beef Sandwich.
Nothing beats an Old-Fashion Classic. Especially one as good as Hot Open Face Beef Sandwiches. Unless you top that classic off with grilled onions, garlic, and sautéed mushrooms and pile it high on a thick slice of buttery toasted sourdough bread!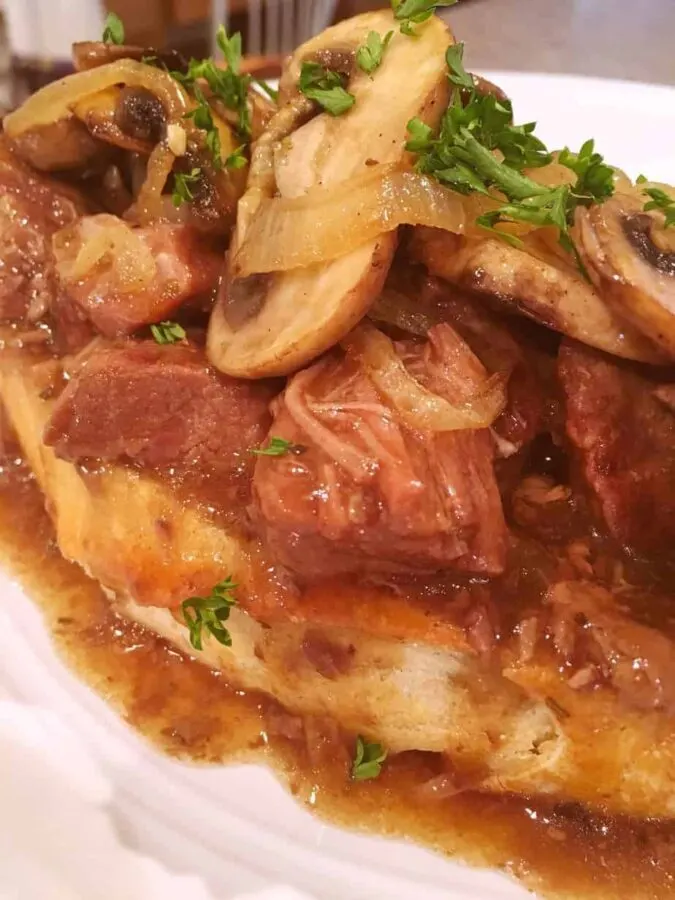 My husband and I went out to eat at a little diner here in our cute country town. Their special for the day… "Hot open face roast beef sandwiches". To my carnivore hubby this sounded heavenly. His anticipation was similar to a kid at Christmas. Who could blame him!
Needless to say what showed up at the table…was…ummmm…a little disappointing! This is me striving to be nice! (Truthfully… It looked like something out of my Dad's old, old, military rations. Blech!) That was me jumping right over "nice"! (It was a soft landing though…wouldn't you agree?)
I felt bad for him. So bad, that I decided to surprise him with my version of a Hot Open Face Beef Sandwich! I added all his favorites! Let me tell you… It made for one fantastic sandwich! It was the sandwich of his lost dreams! Lol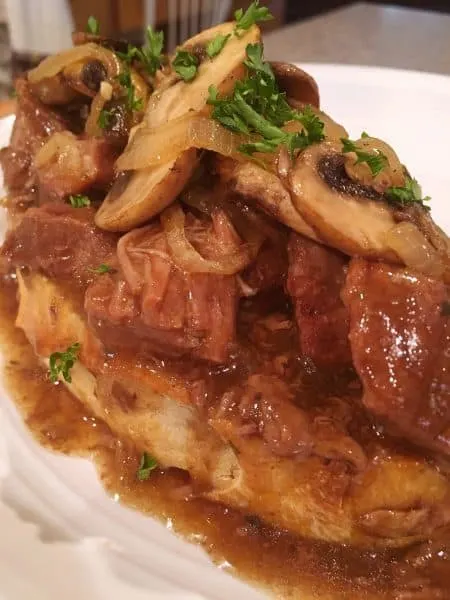 This is a great winter meal idea… so let's get busy and make this delicious meal!
How To Make Hot Open Face Beef Sandwiches with Gravy
Start off with 2 to 2.5 pounds of quality stew beef. Place in the bottom of your slow cooker.
I love my crock pot! I know the new thing are insta-pots and they're great. (They scare me to tell the truth…all pressure cookers scare me! Lol) However, I still love the low slow cook of my official "Crock-Pot" brand cooker.
TIP: I purchase my beef from Costco. (This is not a paid sponsored post… I just love Costco meats and $400 grocery bills! Lol)
Add 1 envelope of Lipton Beefy Onion Soup.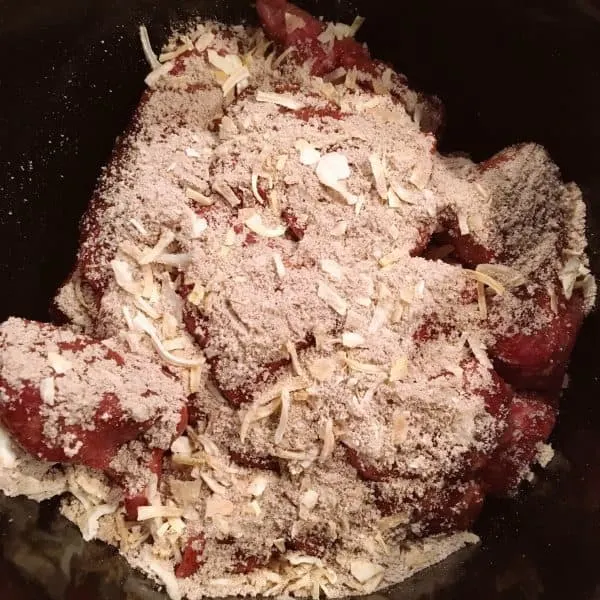 Add one standard size can of beef broth, or 2 cups of beef broth.
Add 1/2 teaspoon of oregano, 1/2 teaspoon of rosemary, 1/2 teaspoon black pepper, 1/2 teaspoon salt, and 1/2 teaspoon basil.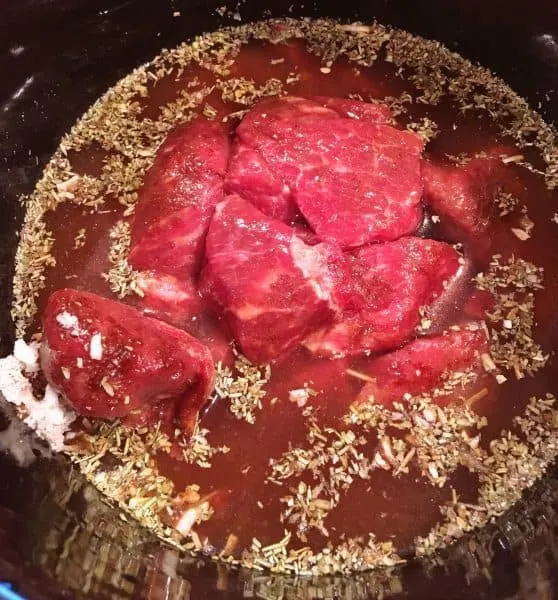 Cover and cook on low for 6 hours.
TIP: This is such a great meal during the busy Holiday months when you need a meal you can just put in your slow cooker and come back to later.
In a 1 cup measuring cup add 1 cup of water and 1/4 cup of cornstarch.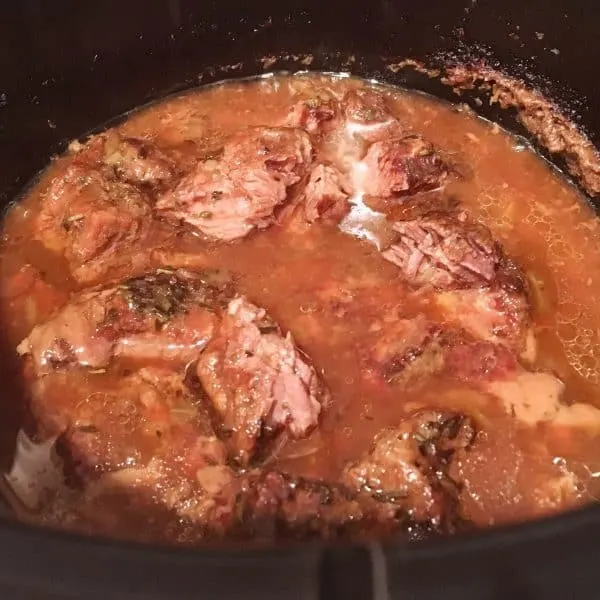 Slowly pour cornstarch mixture into your crock-pot. Leave the meat in the pot…just pour the liquid in, and gently stir.
Cover and allow to cook for another hour to hour and half, or until broth has thickened and turned into gravy.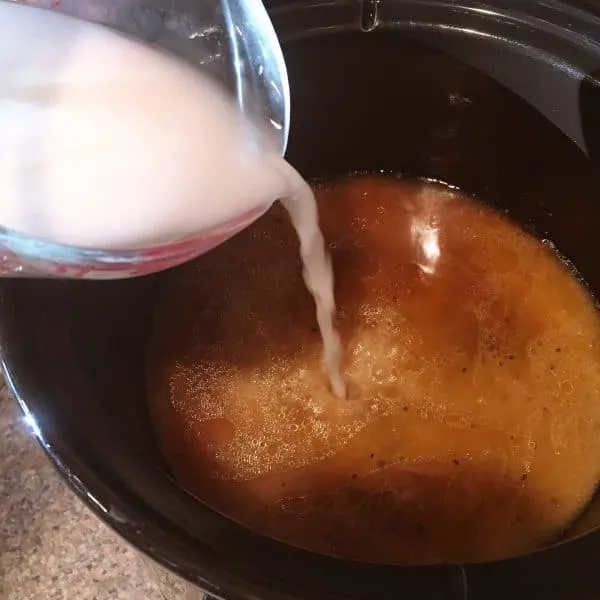 While the broth is busy making gravy in the slow cooker, the last 30 minutes, start with the mushroom topping.
Slice a medium onion into thin slices. (I get so emotional cutting onions! I swear one day my eyeballs will just pop out from all the moisture!)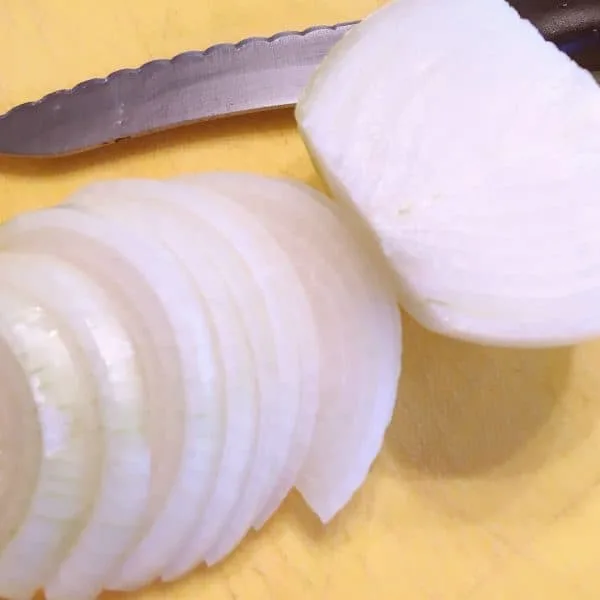 In a large skillet add 2 Tablespoons of Olive Oil. Add sliced onions and 2 teaspoons of minced garlic. Sauté onions until translucent and lightly brown.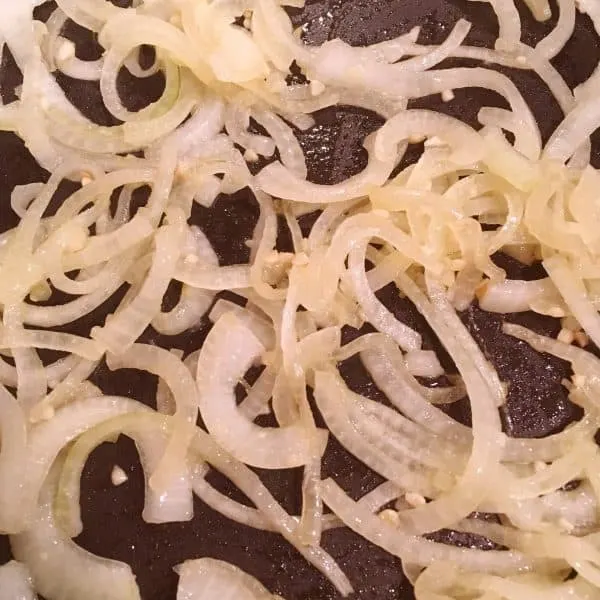 Remove the onions and garlic and place on a plate.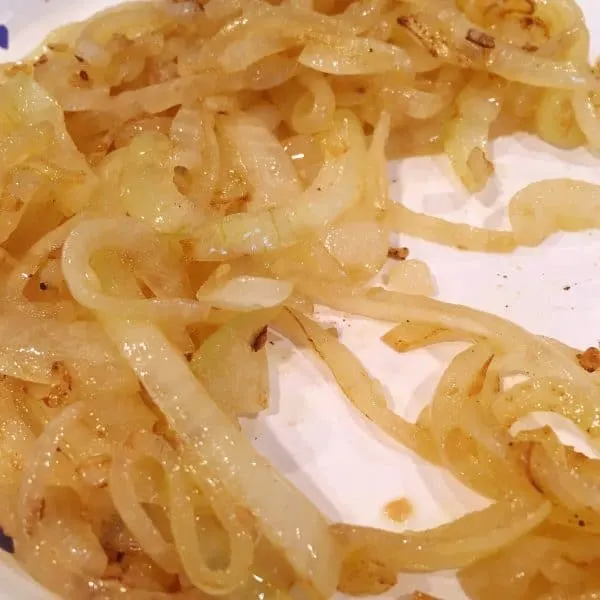 Add 2 cups Sliced Mushrooms to hot skillet and sauté until tender.
Things are starting to smell mighty amazing in that kitchen! I love the smell of sautéed mushrooms! (My kids would have some smart remark about me liking fungus at this point…but they're not here! So let's hear it for FUNGI!!!)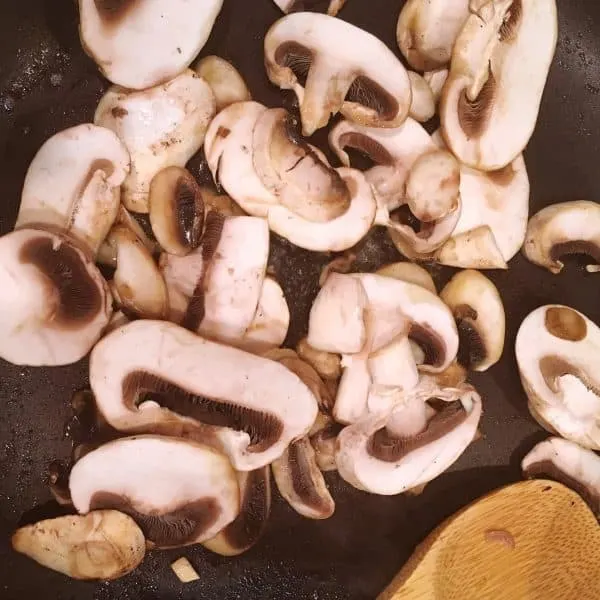 Add onions back into the skillet with the mushrooms. That is a beautiful thang!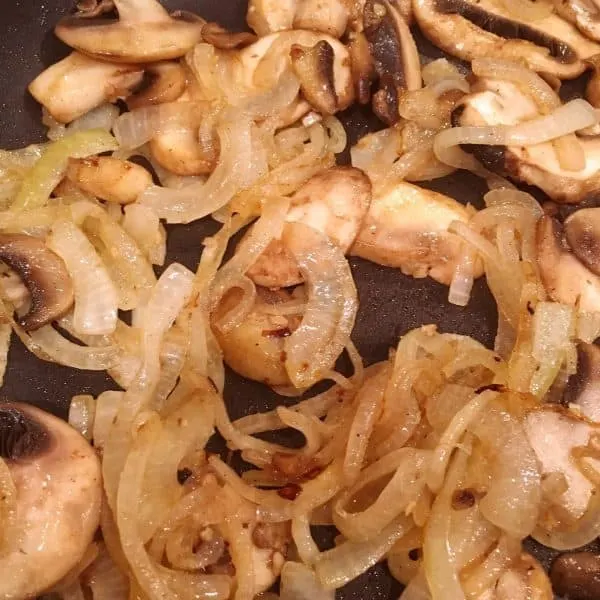 Slice a loaf of sourdough bread into 1 inch thick slices. Butter both sides of the bread and place on hot griddle. Grill until golden brown. Flip and grill other side of the bread.
If you don't like sourdough bread…I'll cry for you…even without the onions!
No…seriously, if you don't like sourdough bread, you can use another artisan bread. You just want a good solid dense bread! (Dense in this sense means texture…not intelligence! I don't want anyone walking up to bread and trying to determine its I.Q.)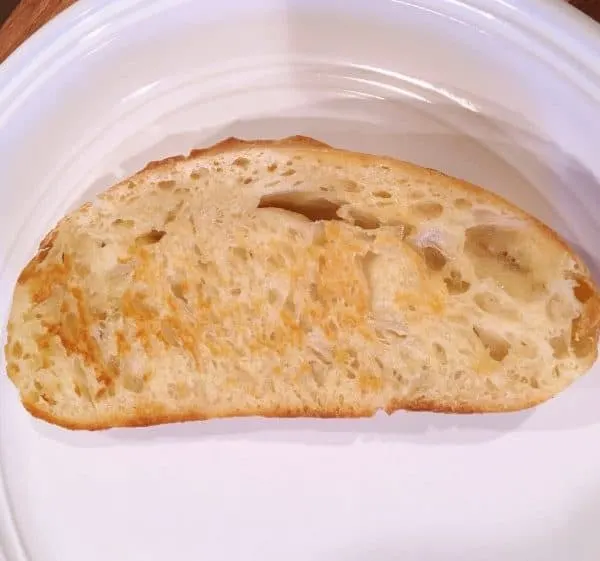 Top with a heaping scoop of your slow cooked beef with gravy! Doesn't that look spectacular! Those big chunks of tender roast beef with all that savory gravy from the herbs and spices! Mmmmm!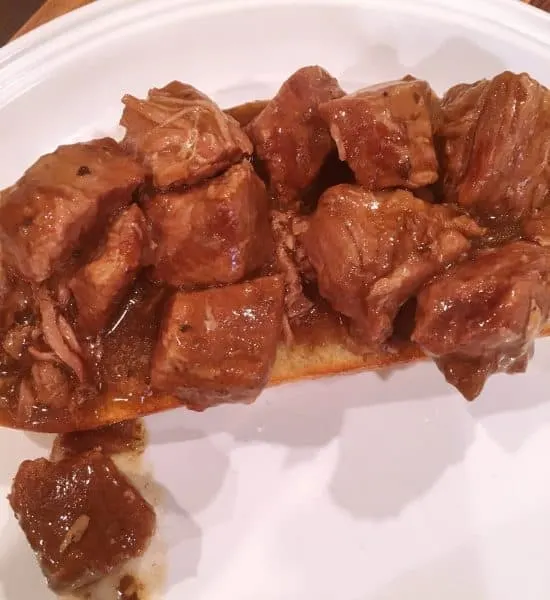 Now for the crème de la crème ! (That's 2 years of High School French Class right there! Be impressed…cause there isn't much more to go with it!) Those stunning grilled onions and sautéed mushrooms.
Pile them high! No skimping on this sandwich!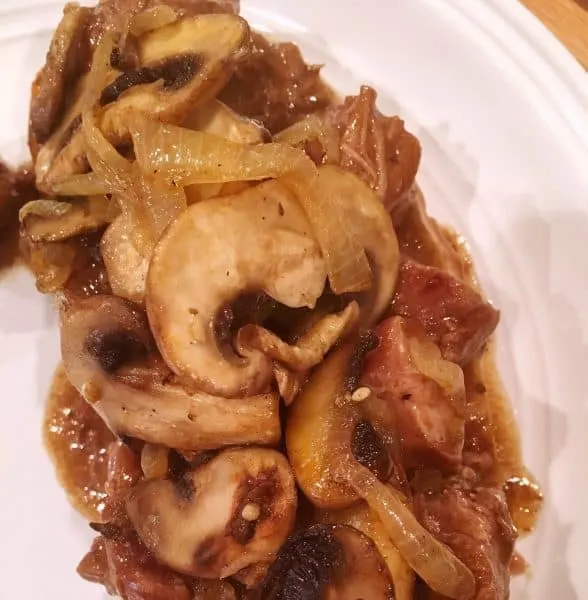 Garnish with chopped fresh parsley! We all need a little garnish in our lives!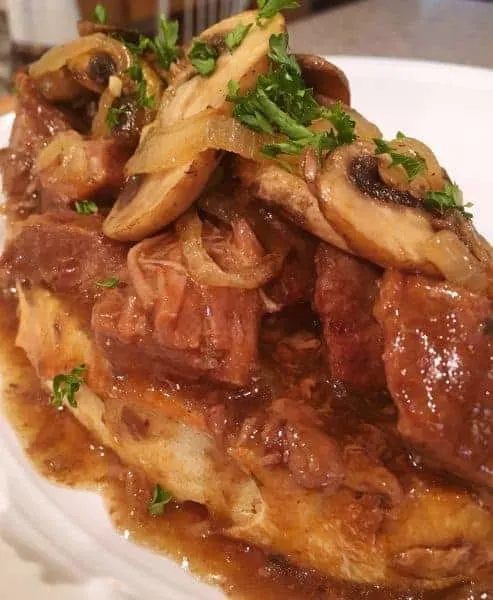 Now that's what I call a true Hot Open Face Roast Beef Sandwich!
All the elements are there! Big chunks of tender roast beef in a thick savory gravy. The delicious rich gravy spilling over a thick slice of toasted sourdough, topped off with a mountain of tasty mushrooms, onions, and garlic! The layers of flavor that come out of this sandwich are truly Ah-Mazing!
BAM! Nailed it! Well… I at least stepped it up from the 20-year-old Military Rations!
I serve this sandwich with a big garden salad loaded with avocado and feta cheese!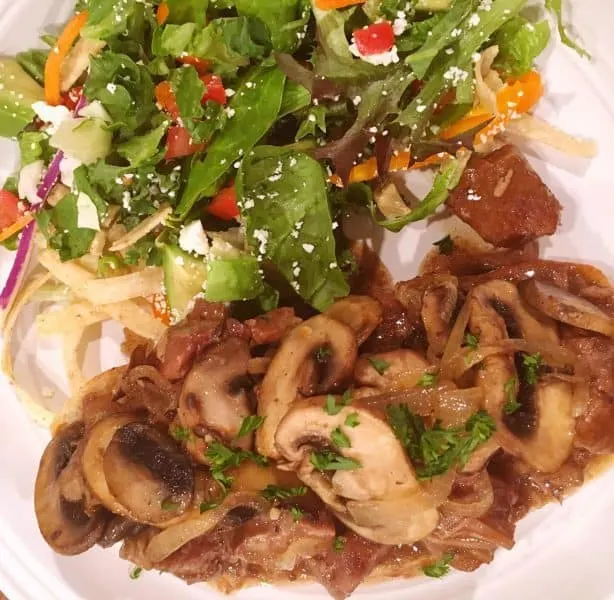 This is such a great make-over of a classic!
There's something to be said for a sandwich you gotta eat with a fork! Hopefully it's along the lines of "WOW!" "YUM!" "FANTASTIC!" "MOM YOU'RE THE GREATEST!" (Okay I may have taken that a bit far!)
Favorite Sandwich Recipes
Enjoy my friends… Go out and "Wow 'em!"
I'd love to have you follow me on Instagram, Facebook, or Pinterest. I'm always sharing new recipes and fun ideas!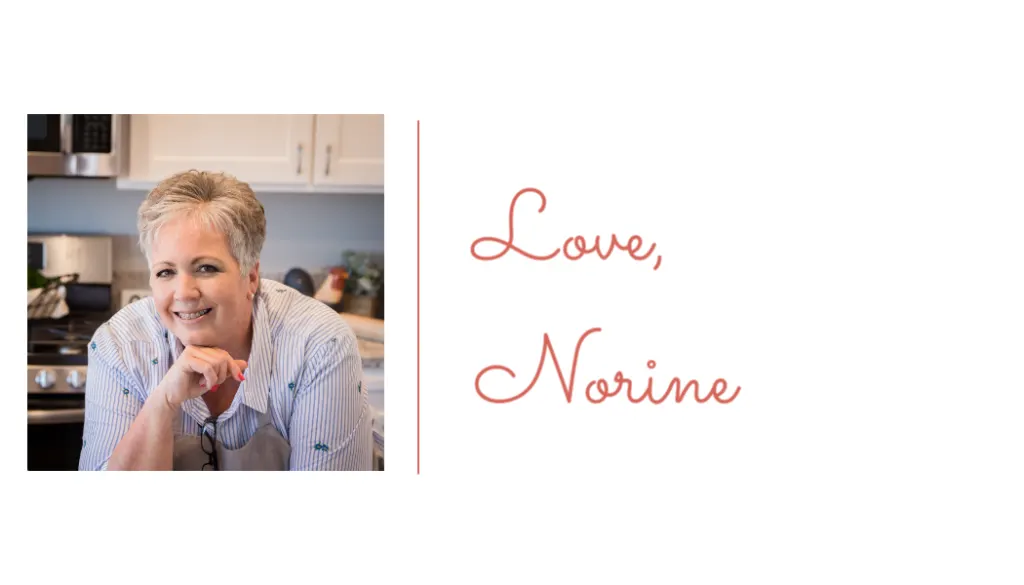 Yield: 6 servings
Hot Open Face Beef Sandwiches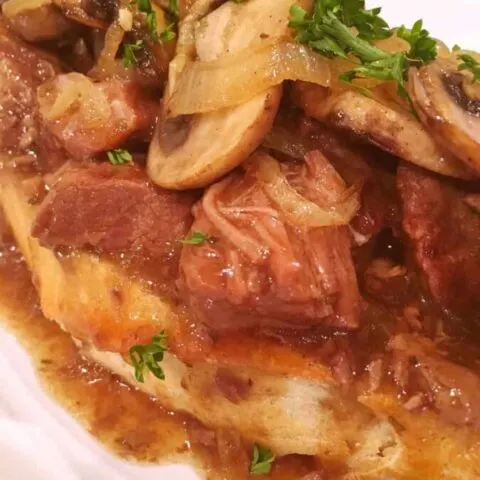 Hot open faced sandwiches on thick slices of toasted sourdough bread topped with big chunks of slow cooked roast beef in savory rich gravy, topped with grilled onions and mushrooms.
Total Time
7 hours
10 minutes
Ingredients
2 - 2.5 lbs. of stew beef
1 envelope beefy onion soup mix
2 cups of beef broth
1/2 tsp oregano
1/2 tsp crushed rosemary
1/2 tsp basil
1/2 tsp black pepper
1/2 tsp salt
1 cup of water
1/4 cornstarch
2 Tablespoons olive oil
1 medium onion, thinly sliced
2 cups sliced mushrooms
2 tsp minced garlic
1 loaf round sour dough bread, cut into 1 inch slices
2 Tablespoons butter, softened
chopped parsley for garnish
Instructions
Place stew meat in slow cooker. Sprinkle with 1 envelope of beefy onion soup mix. Add 2 cups of beef broth. Add 1/2 teaspoon oregano, rosemary, black pepper, salt, and basil.
Cover and cook on low for 6 hours. At the 6 hour mark add 1 cup of water mixed with 1/4 cup of corn starch. Stir slow to combine. Cover and cook another hour to hour and half or until gravy has thickened.
During last half hour of cook time in a large skillet add 2 Tablespoons Olive Oil over medium high heat. Add sliced onions and garlic. Saute until onions are translucent and slightly browned. Remove from pan and set aside.
In same skillet saute mushrooms until tender. Add onions and garlic in with mushrooms. Turn off heat.
Butter 1 inch thick slices of bread and toast both side on hot griddle until golden brown.
Spoon meat and gravy over toasted bread. Top with mushrooms and onions. Garnish with parsley. Serve immediately.
Recommended Products
As an Amazon Associate and member of other affiliate programs, I earn from qualifying purchases.
Nutrition Information:
Yield:
6
Serving Size:
1 slice of bread
Amount Per Serving:
Calories:

1063
Total Fat:

37g
Saturated Fat:

14g
Trans Fat:

2g
Unsaturated Fat:

21g
Cholesterol:

384mg
Sodium:

1351mg
Carbohydrates:

51g
Fiber:

3g
Sugar:

6g
Protein:

133g