Hot Cranberry Turkey Sandwiches on tender toasted Ciabatta Rolls with layers of cream cheese, cranberry sauce, roasted turkey, melted gouda cheese, fresh spinach or baby spring mix. It's the most amazing "Thanksgiving" Turkey Sandwich on the planet!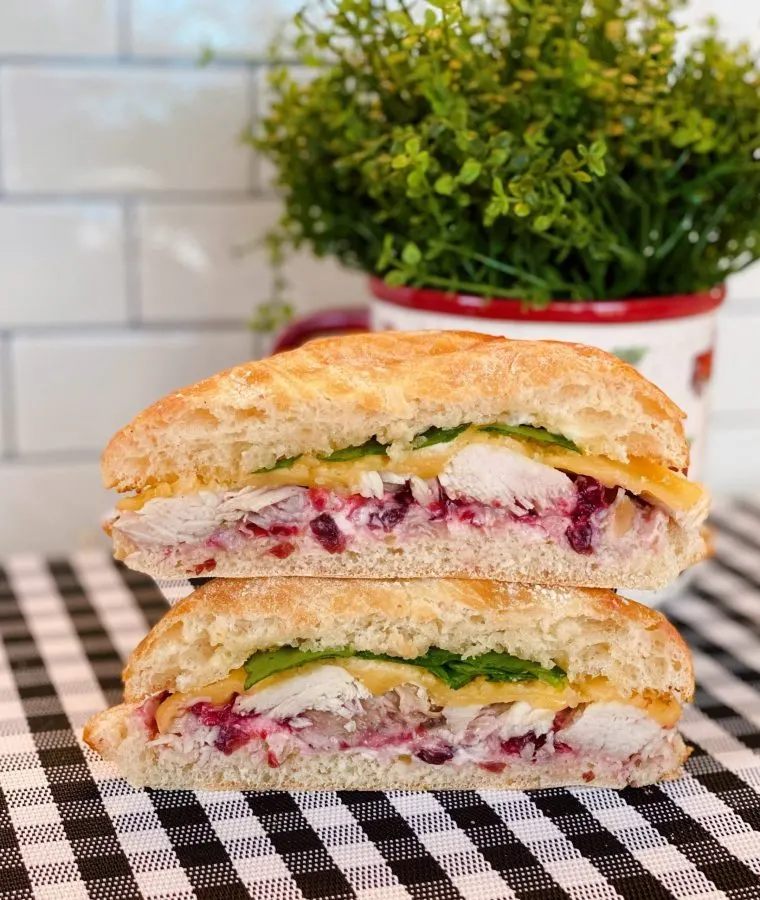 Hope y'all had a wonderful Thanksgiving! Ours was smaller than normal, but it was wonderful. I made way too much food (as usual), and bought the biggest Turkey I could find. Why? Because seriously the BEST part of Thanksgiving is the "after" Thanksgiving Turkey Sandwiches! Right?!!
Don't get me wrong… I love the main event…but those Turkey sandwiches are a MUST! The dreams about Turkey sandwiches ensues the annual debate "Miracle Whip or Mayonnaise"…honestly not even a debate! Just ask all the "Duke" lovers out there! The south will rise again in defense of it's Duke Mayonnaise!
Last year I decided I wanted to kick up my traditional Turkey Sammy! Don't misunderstand… I love the standard Turkey, mayo, and mustard, it's a classic that can't be beat. (Notice no mention of that other stuff…only Mayo! Debate ended…lol) Sometimes though…you just want a little something more fancy pants. A grown-up version of a classic. Sometimes being a grown-up is a good thing.
How To Make Hot Thanksgiving Turkey Sandwiches
This really is such an easy sandwich to make that I'm almost embarrassed to call it a "recipe"…but it's also so YUMMY that I had to share it with y'all! It's a fantastic way to use up that leftover Turkey. I truly look forward to this sandwich all year, so let's get to work making these delightful cranberry turkey sandwiches.
Since this is a "Hot" and "Toasted" sandwich I recommend a large "sandwich roll"… like a Ciabatta Roll works well. I recently found a wonderful Ciabatta Roll carried at a small local market. You can make your own Ciabatta Rolls… I'm just not that patient. When I want a Turkey Sandwich… I want it NOW! So whatever your favorite sandwich roll…just well…"roll with it". (Oh there are bad puns a plenty here today my friends!)
Pre-heat your oven to Broil/High. Place the oven rack in the center of the oven, not too close to the top.
TIP: When broiling sandwiches always try to place them in the center of the oven, not too close to the top of the oven. It may take a little longer for the sandwiches to brown…but it helps prevent burning.
Cut your Ciabatta Roll in half, length wise, and place on a large baking sheet.
On the bottom half of each roll spread 2–3 Tablespoons of soft cream cheese spread. You can use plain soft cream cheese spread. The other day I used a scrumptious Cranberry Jalapeño Cream Cheese Spread. Oh. My. Gosh!!! Slap yo' momma good!!! (Don't really slap yo' momma! I realized during the holidays we are tempted to slap a family member or two! Don't do it! You've survived a pandemic, you can survive the holidays. Lol)
On the other half of the roll, the top half, spread a thin layer, about 1 Tablespoon, of Mayonnaise. This will help the bread toast beautifully!
TIP: Mayonnaise is a fantastic substitute for butter when making grilled or toasted sandwiches! It doesn't tear the bread and turns golden brown beautifully!
Cover the bottom half with thick pieces of roasted Turkey! (This is why you watched the Turkey platter all during Thanksgiving dinner…making sure there were leftovers!) How much Turkey is up to you! The recipe calls for 3 cups for the two sandwiches this recipe makes. However, I use just enough to cover the bottom of the sandwich roll…but they are nice thick pieces of turkey too. You do you! This is a sandwich judgment free zone!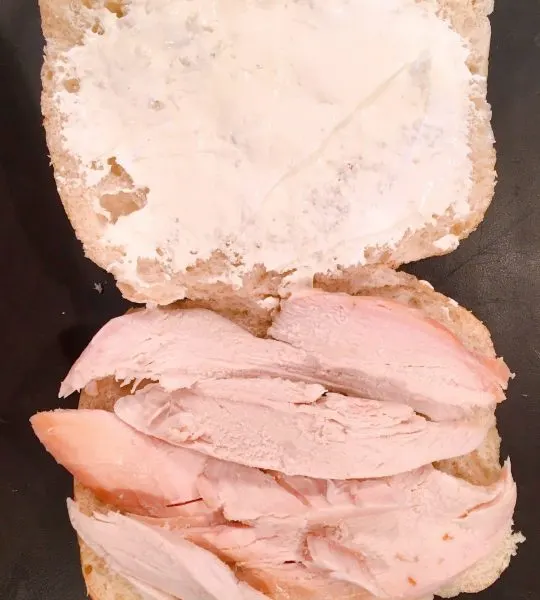 Place two slices of deli Gouda Cheese on top of the Turkey on each sandwich. Doesn't matter how you slap that cheese on there…just make sure the Turkey is covered. You can use any cheese you like, but trust me, the Gouda is "Good-a". (I did warn about the puns right?)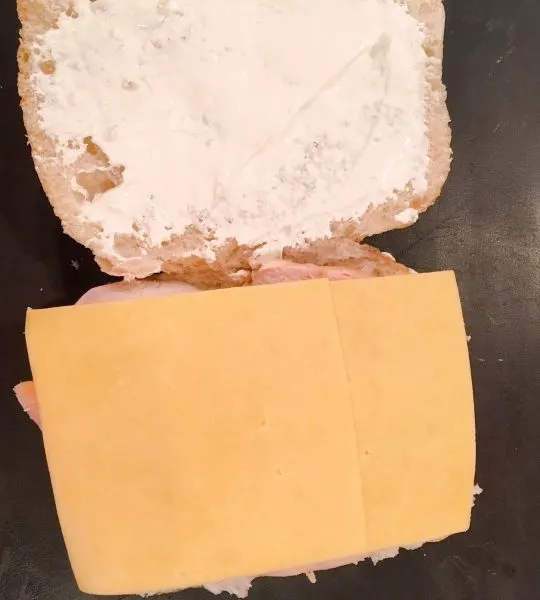 Slide baking sheet with Turkey sandwiches into the pre-heated oven for 4–5 minutes.
WATCH THE OVEN CAREFULLY!!! You are broiling the sandwiches to melt the cheese and toast the top half of the sandwich! Once the cheese is melted and the top half of the ciabatta roll is golden brown around the edges, using oven mitts, remove baking tray from the oven. Place the tray on hot pads or your stove top.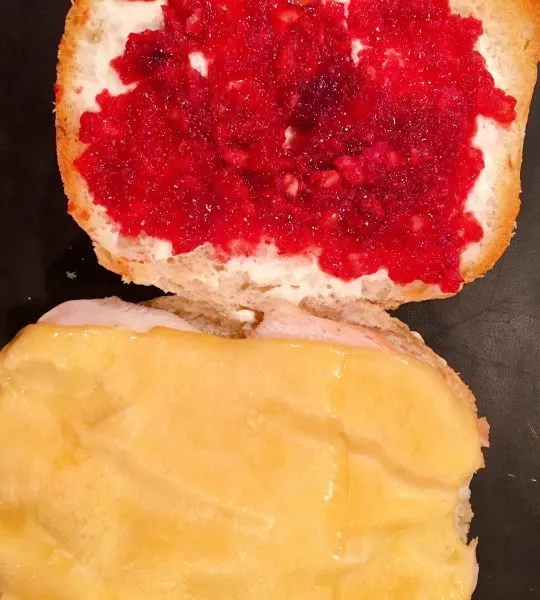 Top off each sandwich half with about 2–3 Tablespoons of leftover cranberry sauce. I had leftover Cran-raspberry sauce with cinnamon. Oh, my…was that ever good! Any cranberry sauce will work.
On top of the Turkey and melted cheese add a handful of baby spring mix or fresh spinach leaves. Both are delicious on this sandwich.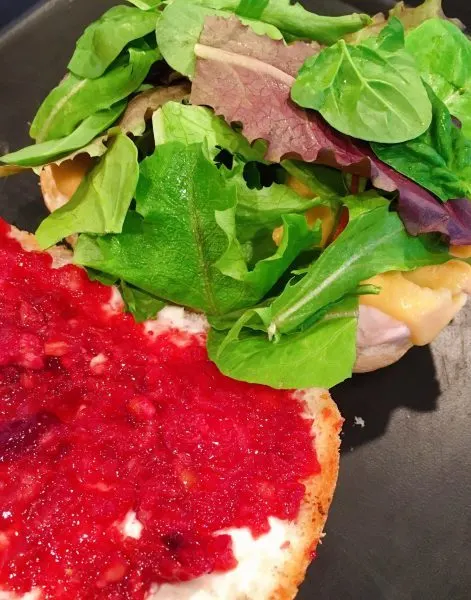 Place the top on the sandwich and carefully cut each sandwich in half. Aren't those layers of goodness amazing?!
I love that you can customize this sandwich to fit your tastes and get a little creative in the kitchen! If you prefer a different cheese, by all means, use your favorite. Like plain cream cheese…that's great! Prefer a kicked up version with jalapeño cream cheese…even better! Want to use sour dough over a Ciabatta roll…that will work too. YOU are the Chef! I'm just here to provide you with inspiration.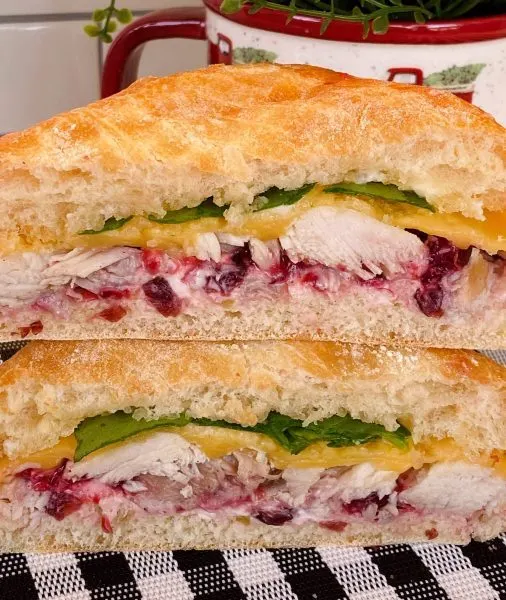 This sandwich was L.O.V.E. at first bite! Like I said earlier…I've made it every year for the past few years and look forward to it with great anticipation. It's a food love thing!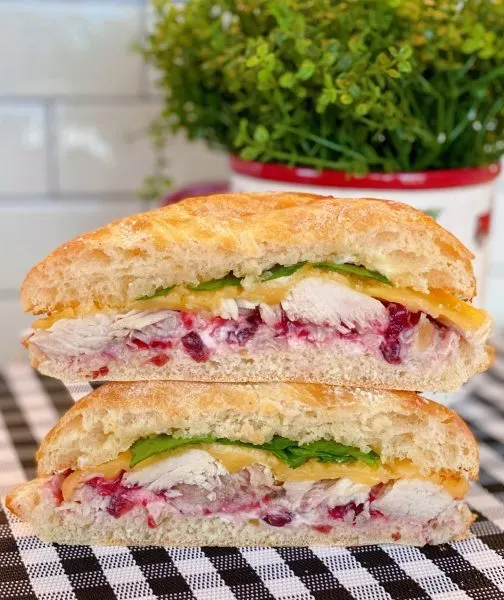 I really hope you'll give this simple, yet elegant sandwich a try this Holiday Season! It will not disappoint your taste buds, and you may discover that sandwiches can be more than just meat, cheese, and bread!
If you're having ham for Christmas, substitute the Ham for the turkey and thinly sliced apples for the cranberry sauce. You'll be amazed at what a wonderful Holiday Sandwich that combination is! Great sandwiches happen when we think outside the box! So step outside that box and get creative in the kitchen with your sandwiches!
Other Favorite Sandwich Recipes
Thanks so much for stopping by and visiting with me today! I hope you're having a wonderful Holiday Season. Remember you can follow me every day on Facebook, Instagram, and Pinterest where I share my favorite recipes!
Happy Nesting and Happy Holidays!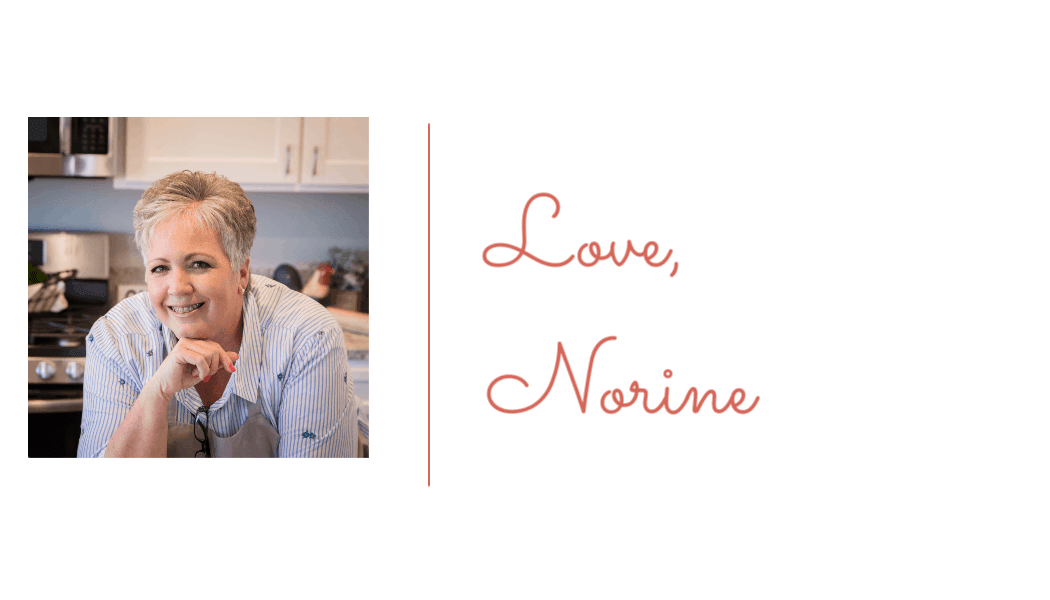 Yield: 2 sandwiches
Hot Cranberry Turkey Sandwich Recipe
Hot Cranberry Turkey Sandwiches on tender toasted Ciabatta Rolls with layers of cream cheese, cranberry sauce, roasted turkey, melted gouda cheese, fresh spinach or baby spring mix. It's the most amazing "Thanksgiving" Turkey Sandwich on the planet!
Ingredients
2 Ciabatta Rolls
6 Tablespoons Soft Spreadable Cream Cheese, plain or flavor of your choice
2 Tablespoon Mayonnaise
6 Tablespoons Cranberry Sauce
4 slices of Gouda Cheese
3 Cups Leftover Roasted Turkey
1 Cup Fresh Spinach leaves or baby spring mix
Instructions
Preheat oven to Broil-High. Place top rack in the center of the oven.
Cut Ciabatta Rolls in half, place on a large baking sheet. Make sure the top half of the bun, is top side down.
Spread 2-3 Tablespoons cream cheese on inside of bottom of ciabatta roll. Spread 1 Tablespoon of Mayonnaise on the inside of each ciabatta roll top.
Divide Turkey equally between the two rolls placing the turkey on top of cream cheese spread, covering the bottom of the roll with turkey. Place two slices of Gouda on top of turkey of each sandwich.
Place sandwiches on the center of the rack in the oven. Broil for about 4-5 minutes, watching carefully so that the top bun doesn't burn. Cheese should be melted and top inside lightly golden.
Carefully remove baking sheet from the oven. Spread 3 Tablespoons of Cranberry sauce on the top half of each bun. Top Turkey and melted cheese with spinach, or fresh spring mix. Place top of bun on top of fresh greens, slice sandwich in half.
Notes
You can use flavored cream cheese in this sandwich. A cranberry jalapeno or onion and chives would be wonderful.
Recommended Products
As an Amazon Associate and member of other affiliate programs, I earn from qualifying purchases.
Nutrition Information:
Yield:
2 servings
Serving Size:
1 sandwich
Amount Per Serving:
Calories:

1152
Total Fat:

58g
Saturated Fat:

25g
Trans Fat:

0g
Unsaturated Fat:

29g
Cholesterol:

332mg
Sodium:

1373mg
Carbohydrates:

71g
Fiber:

6g
Sugar:

25g
Protein:

86g