A quick and easy dinner recipe made with tender shredded leftover Roast Beef, Thick slices of Cheese, and delicious golden Artisan Bread. It all comes together in this scrumptious Grilled Roast Beef and Cheese Sandwich.
There's nothing better than a delicious Slow Cooked Pot Roast for Sunday Dinner! It's the traditional dinner that Mom's and Cooks across the country have been making for years.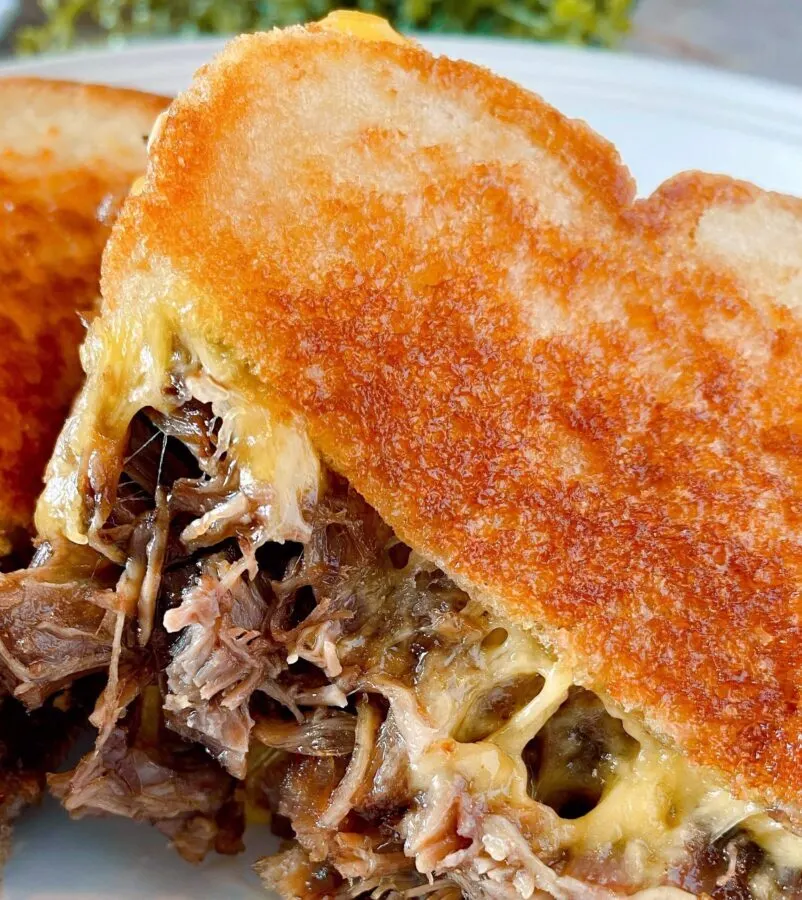 Depending on the size of the roast and the crowd around your dinner table, if you're lucky enough to have leftover Roast Beef, you can whip up a few of these crispy grilled Roast beef and cheese sandwiches.
I highly suggest you portion control at Sunday dinner, so you can make these sandwiches. (Just reach over and grab half of what Grandma put on her plate and take it out to the kitchen. She won't mind! Besides…you can take her! Lol)
You will want to wear a bib when eating one of these beauties. Not cause they're overly juicy…but because you're gonna drool! From the moment you pick this sandwich up, to the minute you're licking your fingers at the finish.
This is one drool worthy sandwich! So Let's get started! Remember…you're going to need leftover roast beef and my pot roast recipe up above is the Roast Beef recipe I use when creating this delectable treat!
How to Make a Hot Grilled Roast Beef and Cheese
In a bowl place 3–4 cups leftover shredded Roast Beef. I use Chuck roast for my pot roast dinner…it's the most tender and moist roast beef when slow cooking and for the meat in these sandwiches it's fantastic.
Add 4-6 Tablespoons leftover gravy OR 4-6 Tablespoons bottled brown beef gravy. This truly is a great recipe for using up that leftover Sunday supper!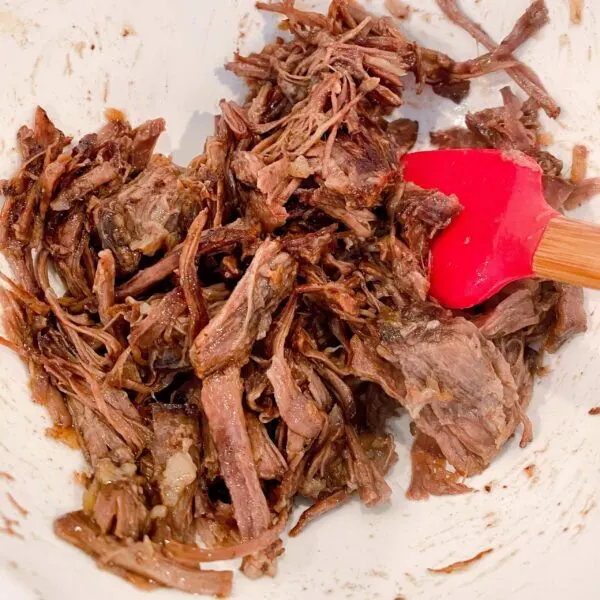 For four sandwiches you will need 8 slices of Bread. I used Sara Lee Artesano bread. It's a great bread for grilled sandwiches. Any great artisan bread will work though. Sour dough would be fantastic.
TIP: Here's a little tip my Dad taught me. Instead of using softened butter, that can tear your bread to shreds and have you wanting to huck the butter knife, use Mayonnaise. Yep, that's right, slather each slice of bread with a thin layer of Mayonnaise, about a tablespoon per slice. It will toast beautifully on the grill.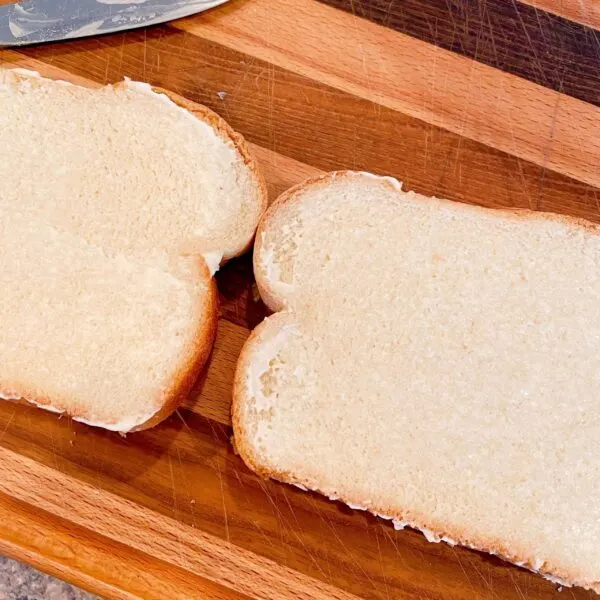 Heat your griddle to medium and place each slice of bread mayonnaise side down. On one half of each sandwich place two slices of cheddar cheese. You could also use Pepper Jack, Munster, Swiss, or Colby Jack.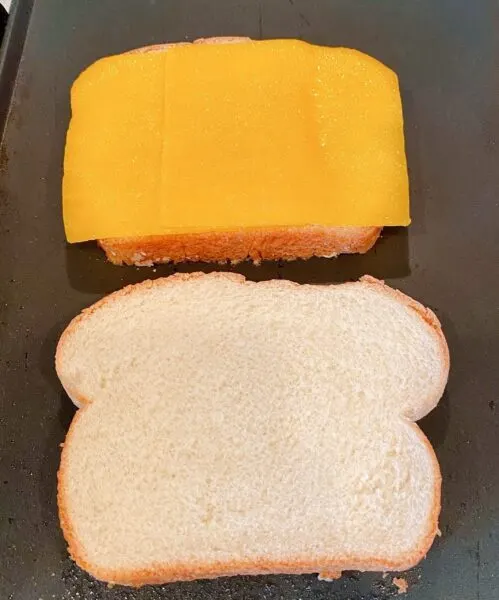 On the other half of each sandwich add 3/4 cup of the Roast Beef mixture and spread it to the four corners of each slice of bread. Every bite needs to be loaded with all the yum.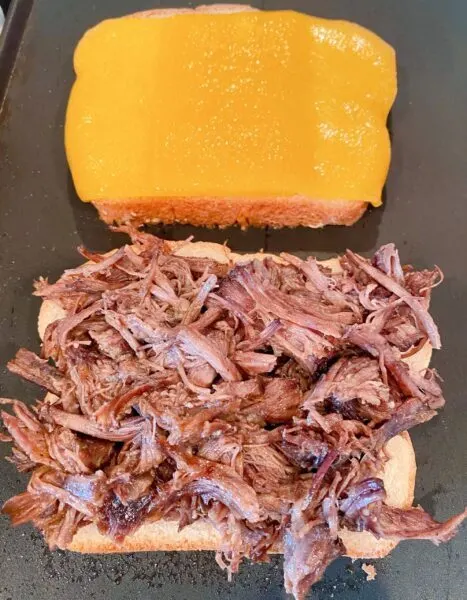 As the cheese melts and the bread turns golden brown, carefully place each slice of bread with melted cheese on top of the roast beef halves. Gently press the two together so that all the glorious melted cheese squishes into the shredded beef.
Remove the sandwich from the griddle and cut each sandwich in half. Don't worry if the cheese oozes out the sides and down the sandwich. We aren't going for prim and proper here! This is a manly sandwich! Nice and messy!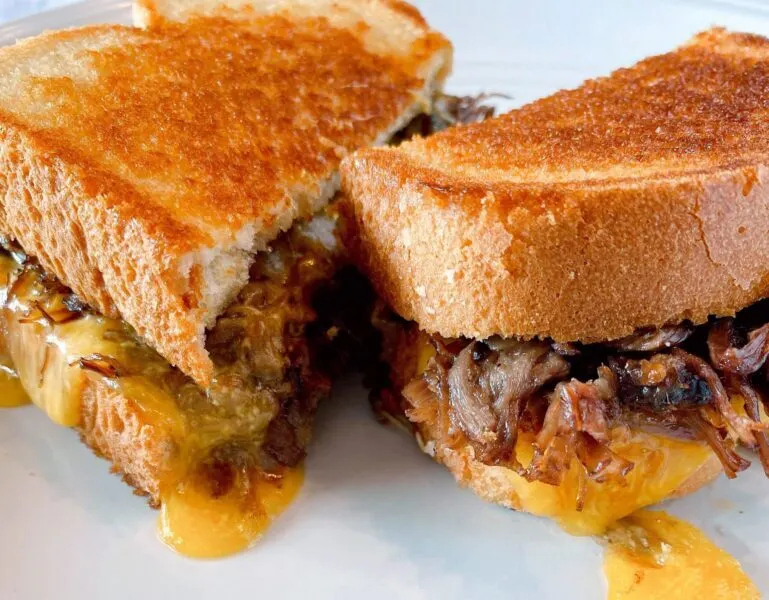 I know this seems like a ridiculously easy sandwich recipe and not even worthy of an entire post…but you'd be wrong! This simple leftover roast beef and cheese sandwich is EPIC!
The deep rich comforting flavors of pot roast with hints of gravy, topped off with ooey gooey melted cheese and a golden crispy toasted bread…YUM!
Plus I also believe part of my job is to share inspiration in the kitchen with each of you. So while this sandwich isn't going to win any World Class Chef competitions…it's my hope it will inspire you to get creative with your leftovers!
Serve this sandwich with my Classic Red Potato Salad or my Tortellini Olive Salad and you've got an easy fantastic meal!
The only thing you'll need to complete this hand held meal is a hearty appetite!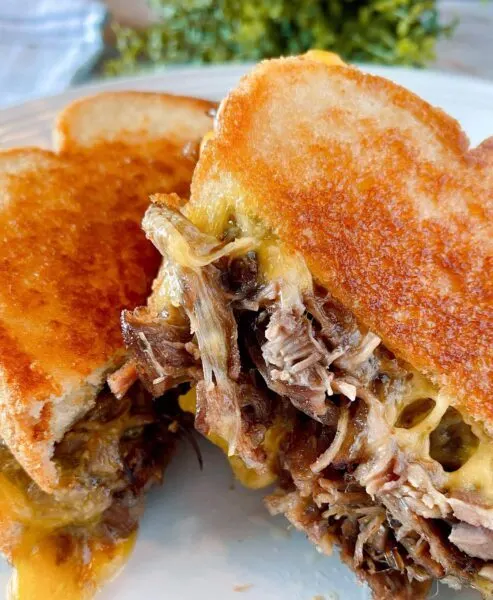 Great Easy Sandwich Recipes
I hope your family enjoys this recipe as much as our does. I'd love to have you follow me on all my social media channels, Facebook, Pinterest, and Instagram where I share all my favorite and most recent recipes.
Thanks so much for stopping by and visiting my Nest today! Have a Great Day!
Happy Nesting!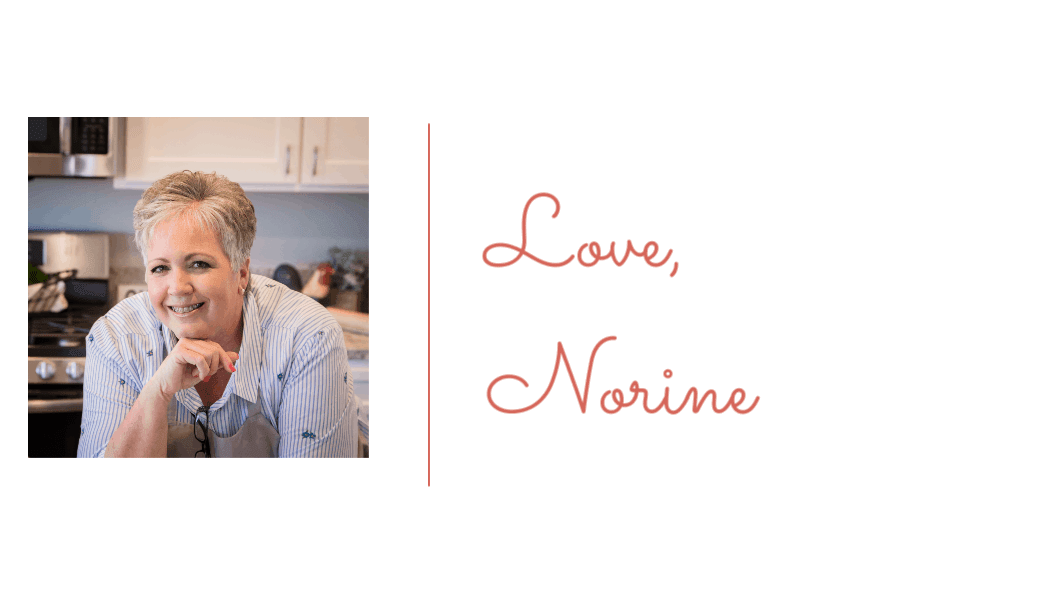 Yield: 4 sandwiches
Roast Beef Grilled Cheese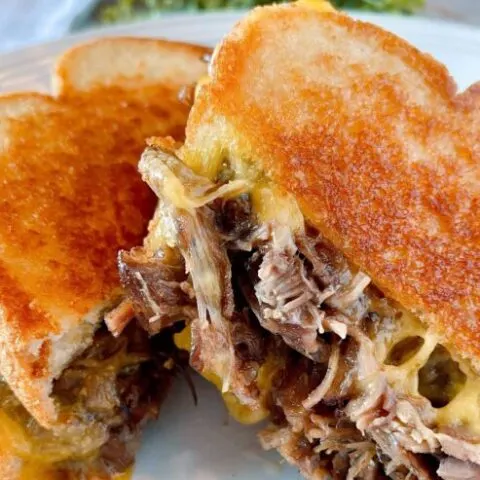 A quick and easy dinner recipe made with tender shredded leftover Roast Beef, Cheese, and delicious buttery Artisan Bread. It all comes together in this scrumptious Grilled Roast Beef and Cheese Sandwich.
Ingredients
8 slices of Sara Lee Artesano bread, or Artisan Bread
3-4 cups cooked, shredded, pot roast
3-4 Tablespoons leftover beef gravy or canned brown gravy
16 slices of Mild Cheddar Cheese, or cheese of your choice
8 Tablespoon Mayonnaise
Instructions
In a microwave safe bowl mix together roast beef and gravy. Warm for 2-3 minutes on high. Mix well. Set aside.
Spread 1 Tablespoon of Mayonnaise on one side of each of the 8 slices of bread in leu of butter.
Heat griddle to medium. Place prepared slices of bread mayonnaise side down.
On one half of 4 slices of the bread place two slices of cheese, overlapping slightly.
On the other half of the remaining 4 slices of bread place 3/4 cup of prepared roast beef. Make sure meat covers each slice of bread completely.
When cheese is melted and the bread is golden brown, carefully place each half on top of the other halves of bread with meat. Press down lightly with spatula. Remove from griddle and cut each sandwich in half. Serve immediately.
Nutrition Information:
Yield:
4 servings
Serving Size:
1
Amount Per Serving:
Calories:

1689
Total Fat:

119g
Saturated Fat:

48g
Trans Fat:

4g
Unsaturated Fat:

63g
Cholesterol:

391mg
Sodium:

2714mg
Carbohydrates:

32g
Fiber:

5g
Sugar:

9g
Protein:

112g