This classic New Orleans Po'Boy Sandwich is this battered shrimp version, served on a lightly toasted garlic French roll, filled with shredded lettuce, fresh sliced tomatoes, and an irresistible homemade remoulade sauce.
Several years ago I was having lunch at a local diner with a friend. It was a new restaurant and they touted a "Shrimp Po'Boy" Sandwich on their menu.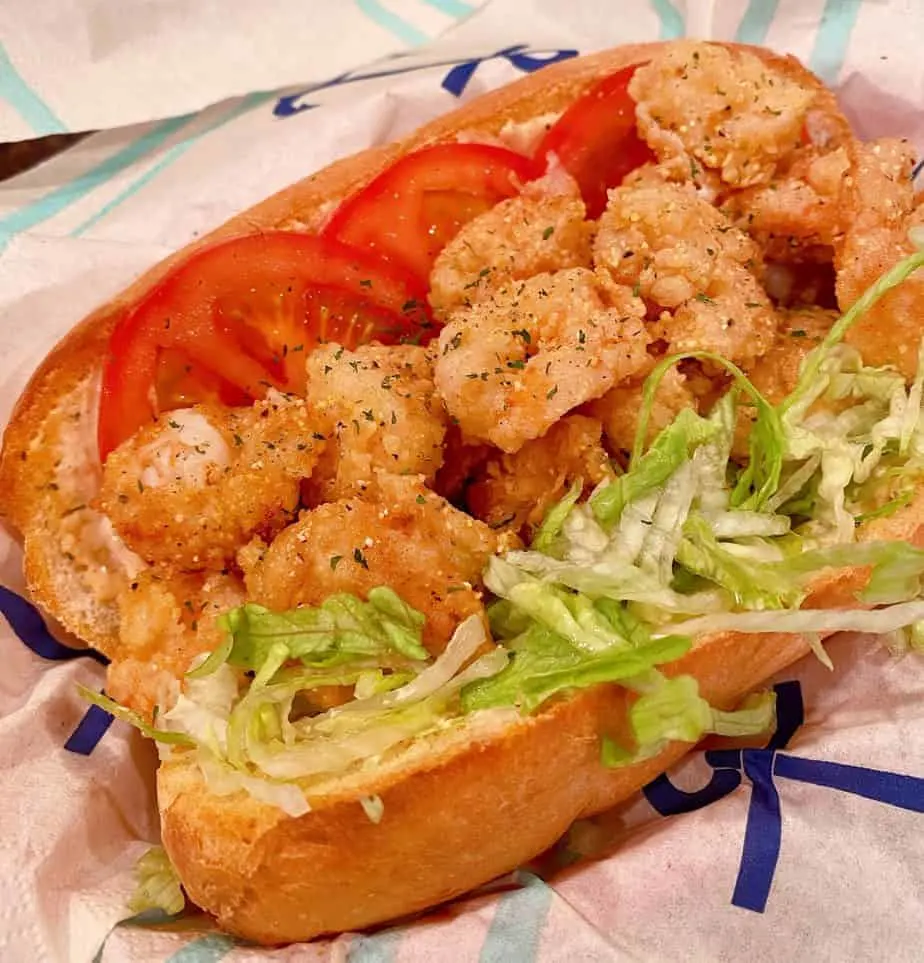 It possessed the magical word "Shrimp" and sounded so good I just had to try it! I had to! I'm president of the "Shrimp Fan Club"!
It was so good! It had so many incredible flavors and textures! It was a seafood lovers dream!
Fast forward to last week when I realized that Mardi Gras was upon us. What's better than a true New Orleans sandwich. Since I'm not a huge wealth of knowledge on dirty rice dishes or gumbo… I decided it was a great time to create my own version of this Louisiana favorite! I was surprised how easy this sandwich is to make. You will be too!
History of the Po'Boy
The original New Orleans Po'Boy was believed to be created by two brothers, around 1922, who wanted to help feed striking box car drivers and thus came up with this delicious sandwich filled with fried oysters, or shrimp, and served on a long French roll! We're sticking with the Shrimp for this version!
The BEST Shrimp Po'Boy Sandwich
A great sandwich begins with three amazing components. A fantastic bread, delicious fillings, and a great sandwich spread! Spreads are the "make or break flavor" enhancer of a truly memorable sandwich.
This sandwich is no exception. The homemade Remoulade sauce is loaded with scrumptious flavors that meld so wonderfully with shrimp.
TIP: I recommend making the Remoulade ahead of time and allowing all the flavors to marinade together. You don't have to…but I think it makes this sauce even better.
How To Make Remoulade Sauce for Shrimp Po'Boy…
In a small bowl combine Mayonnaise (Best Foods Please…Unless you're from the south and then we all know how ya feel about your Dukes!), Dijon Mustard, paprika, Creole seasoning, horseradish, sweet pickle relish, hot sauce, and minced smashed garlic. Stir until combined.
*TIP: Start off easy with the Creole seasoning! It is heavy on the salt and can easily over power this sauce! (Trust me, first go around I looked like a pucker fish who had swallowed a salt lick! I immediately adjusted the amount of Creole seasoning!) You can always add more…but ya can't take it out!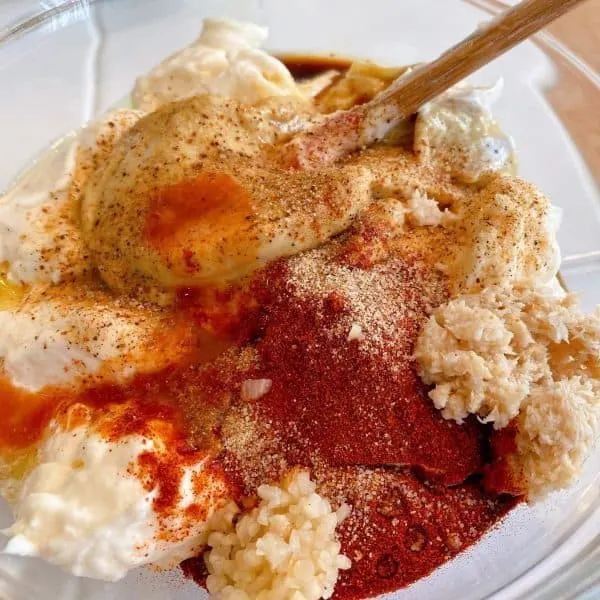 Add finely chopped green onion, fresh parsley, Worcestershire sauce, lemon juice and chopped capers. The capers are optional, but again highly recommended.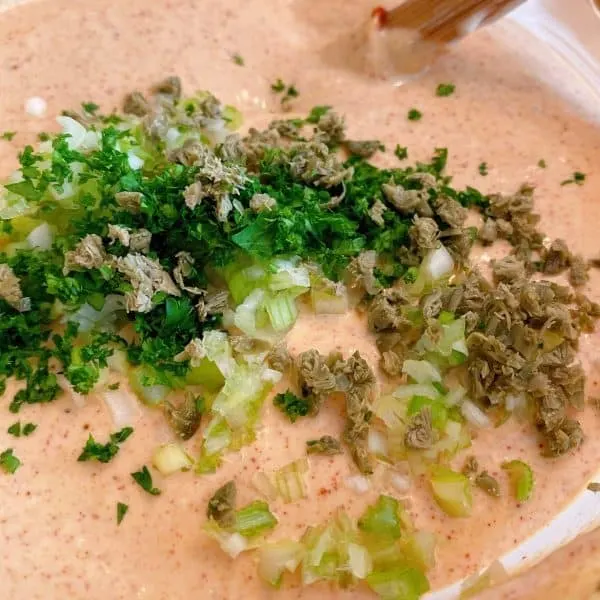 Stir to combine. Cover and chill at least one hour. If it seems a little salty, especially if you used the capers, do not panic! That salty flavor will settle down as it chills!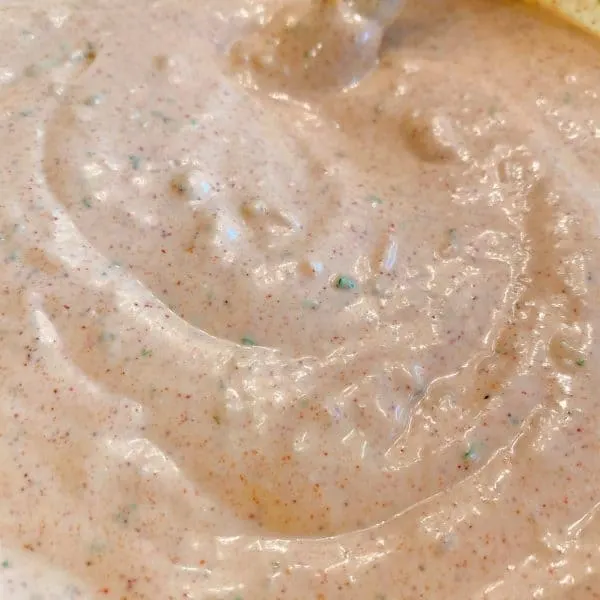 Preparing the Sub Sandwich Bread
Prepare 2-3 cups of thinly sliced ice berg lettuce and slice two large ripe tomatoes. Set aside.
Slice four French rolls in half length wise. Spread inside of roll with soften butter mixed with garlic powder.
Lay roll buttered side down on a hot griddle and lightly toast. This will produce the perfect toasted roll inside and leave you with a soft roll outside. If it's too toasty it takes away from al the other amazing things going on inside this sandwich!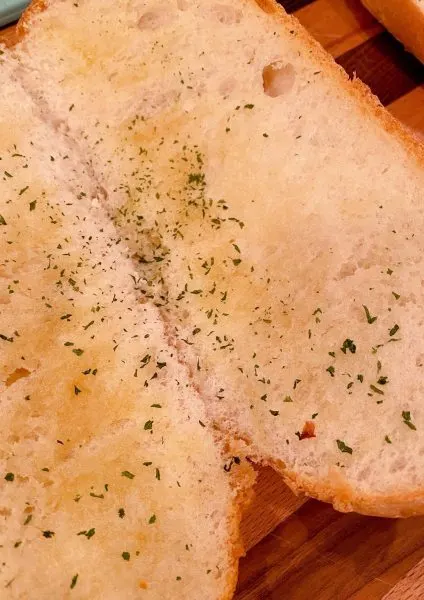 Breading for Shrimp
In a medium bowl mix 1 cup of buttermilk with one egg. Mix until well combined. The egg will help thicken the buttermilk. This creates the buttermilk bath for the shrimp! Think of it as a last "spa day" for the little fellas!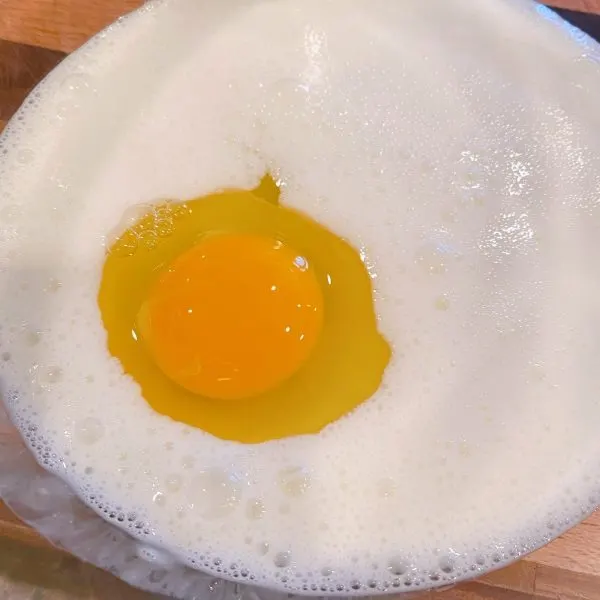 Place 1 1/2 pounds to 2 pounds of raw peeled and deveined shrimp in the buttermilk bath.
A lot of Po'Boy recipes suggest using large shrimp. I find medium shrimp to be the perfect "bite size" for this sandwich! (Nothing worse than having half a shrimp hanging out of your mouth…it's little tail bouncing up and down as you try to wiggle it into your mouth!! )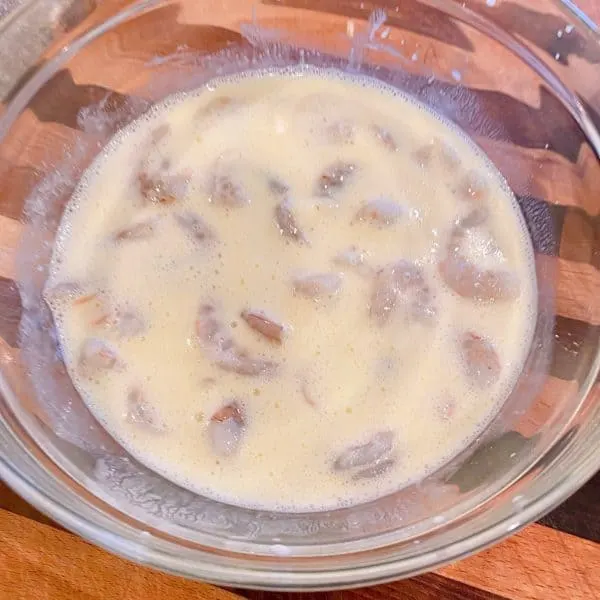 In a separate medium bowl combine 3/4 cup flour, 1/4 cup corn meal, 1 teaspoons garlic powder, 1 teaspoon onion powder, 1/8 – 1/4 teaspoon cayenne pepper, 1/4 teaspoon black pepper, and 1/4 teaspoon paprika.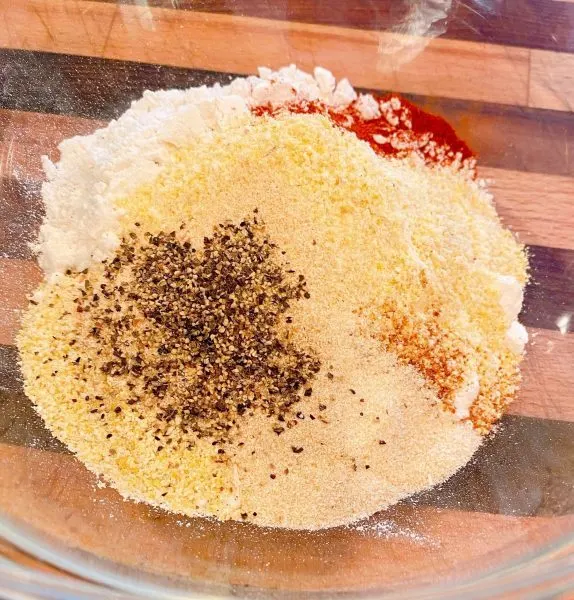 Using a wire whisk or fork mix give it a little mix to combine all the ingredients.
Working in batches, remove shrimp, a few at a time, from the buttermilk bath. Hold shrimp over the bowl and allow excess buttermilk to drip off shrimp.
Place shrimp in flour mixture and toss to coat. Remove shrimp from flour mixture.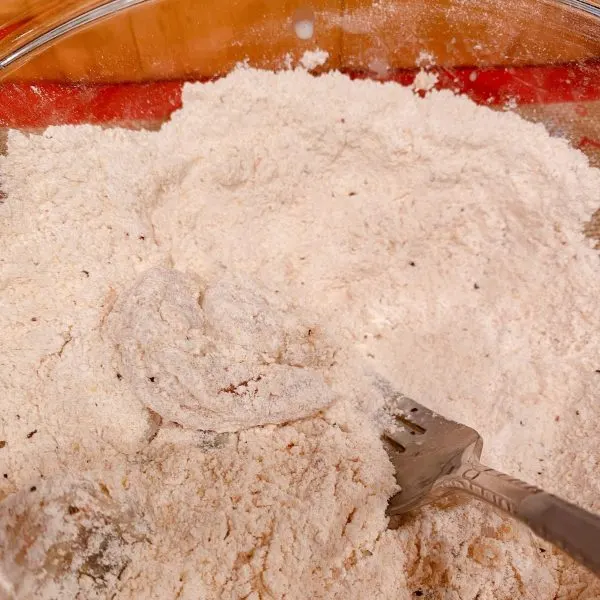 Frying Shrimp for Sandwiches
Carefully place the shrimp in a skillet or 2 quart sauce pan with 1 inch of hot vegetable oil over medium heat. Oil should be 350°.
Each batch should take about 4 minutes to completely cook. Shrimp is ready to turn if they are beginning to turn pink and are no longer translucent.
TIP: Please make sure the handle of your fry pan is turned toward the stove top and away from you and your littles! Always use caution when frying foods in hot oil.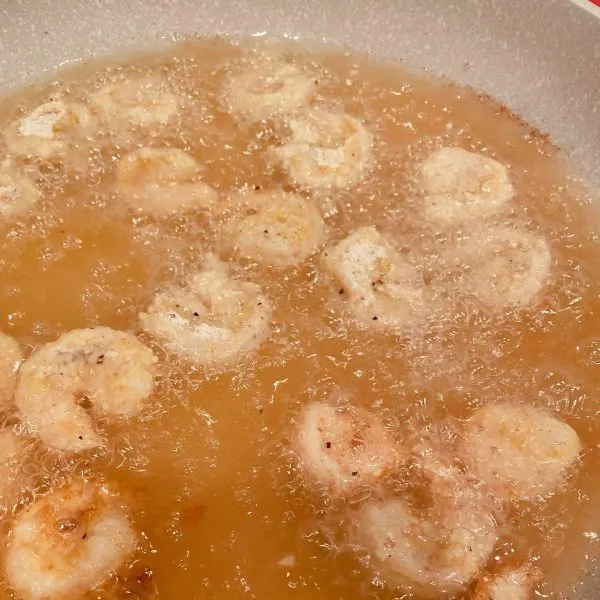 Remove crispy fried shrimp and place on paper towel lined plate to drain.
The breading on this shrimp is delicious! Light and crispy. It's perfection! Pure and simple. You could make a meal out of these little fried shrimp and the sauce and skip the rest…but let's not.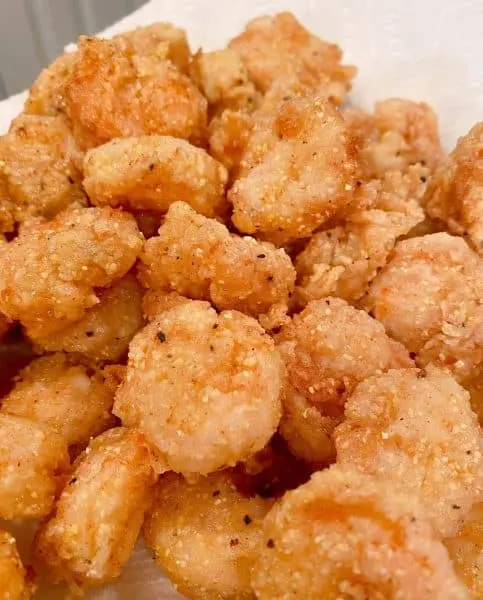 Building the Perfect Cajun Shrimp Po'Boy Sandwich
Bring this sandwich together beginning with the lightly toasted French Sub Roll. Spread the homemade chilled Remoulade Sauce on both sides of the bun. The sauce is the irresistible star of this sandwich. It's the make or break for a delicious Shrimp Po'Boy! (Well and the shrimp…it wouldn't be much of a sandwich without the shrimp!)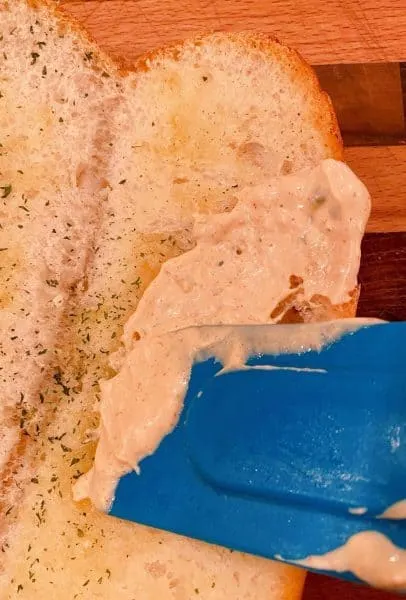 On one half of the bun spread shredded lettuce, on the other half, layer the beautiful red sliced tomatoes.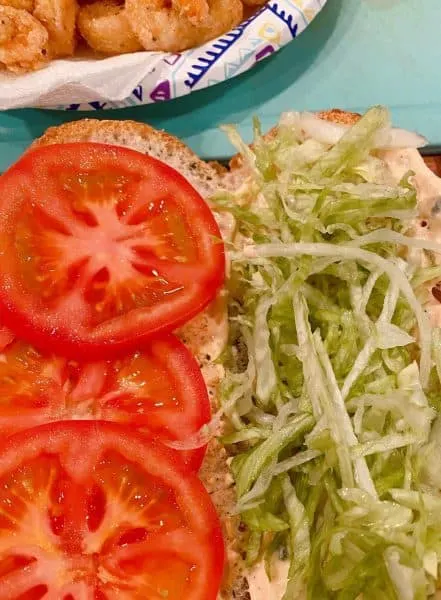 Now for a heaping helping of those crispy fried shrimp…place them right down the center of each French Roll! Load'em up! Don't be shy! The Remoulade may be the flavor star…but without the scrumptious crispy golden shrimp it's just another sandwich!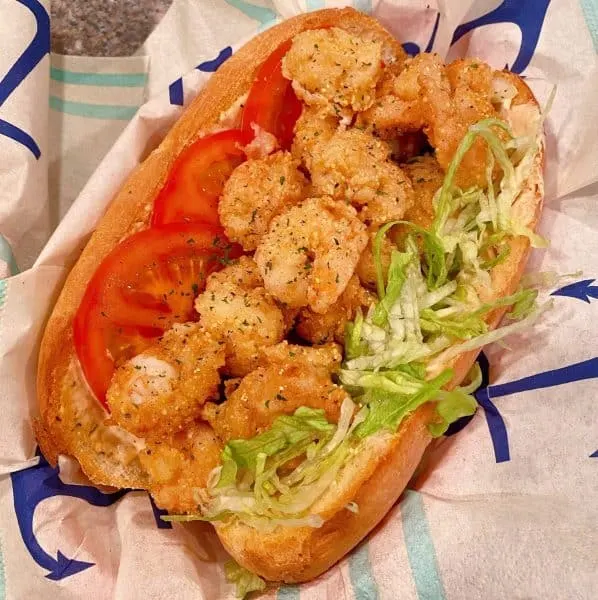 Top it off with an extra drizzle of Remoulade sauce if you'd like a little more YUM!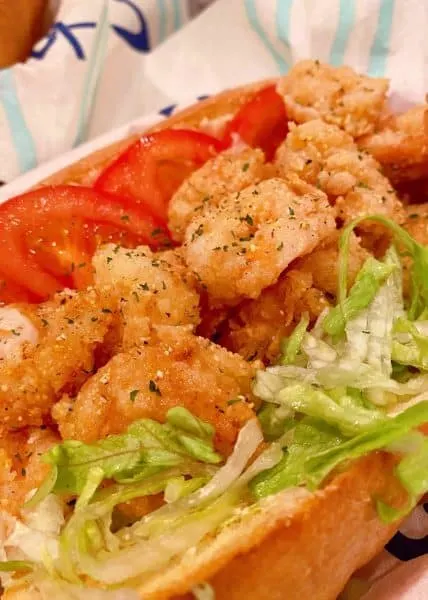 A sandwich this unique moves up the meal menu ladder from lunch standard to fantastic dinner idea! I love a good sandwich for dinner from time to time. How about you?
Pair this tasty sandwich with a side of my Classic Red Potato Salad for a complete meal your family will love!
Truly a GREAT classic New Orleans favorite with a long noble history! Anytime a recipe began because it was used to feed hungry working men during a difficult period of time…it's a dish, in my humble opinion, that should be remembered, and served often!
Other Classic Sandwich Recipes
Thanks so much for stopping by and visiting today! I hope you enjoy these Shrimp Po'Boy Sandwiches as much as we do!
Remember to follow me on Facebook, Instagram, and Pinterest where I share my favorite recipes every day!
Happy Nesting!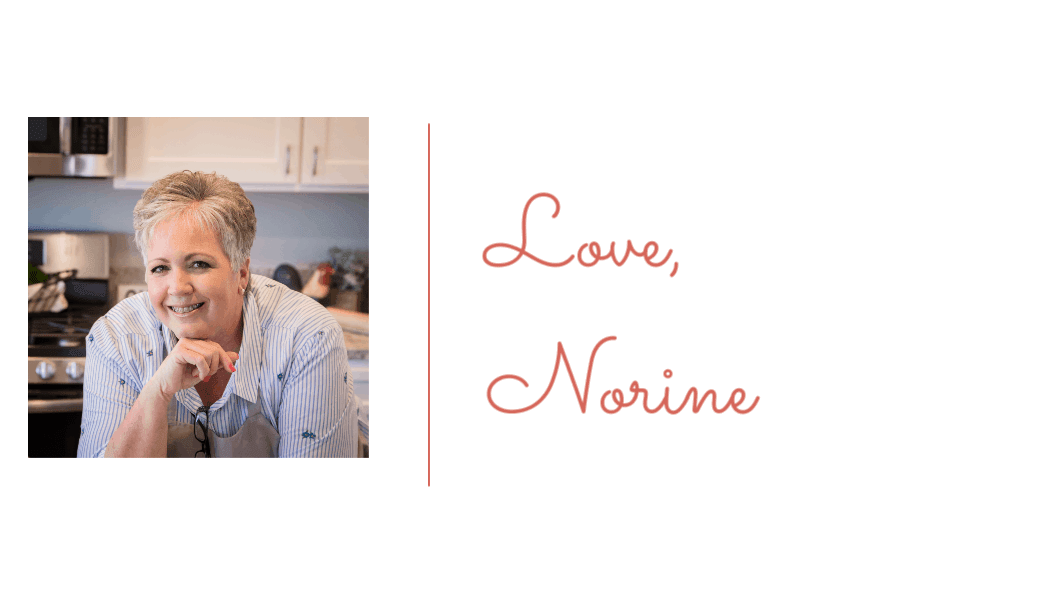 Yield: 4 sandwiches
Shrimp Po'Boy Sandwich Recipe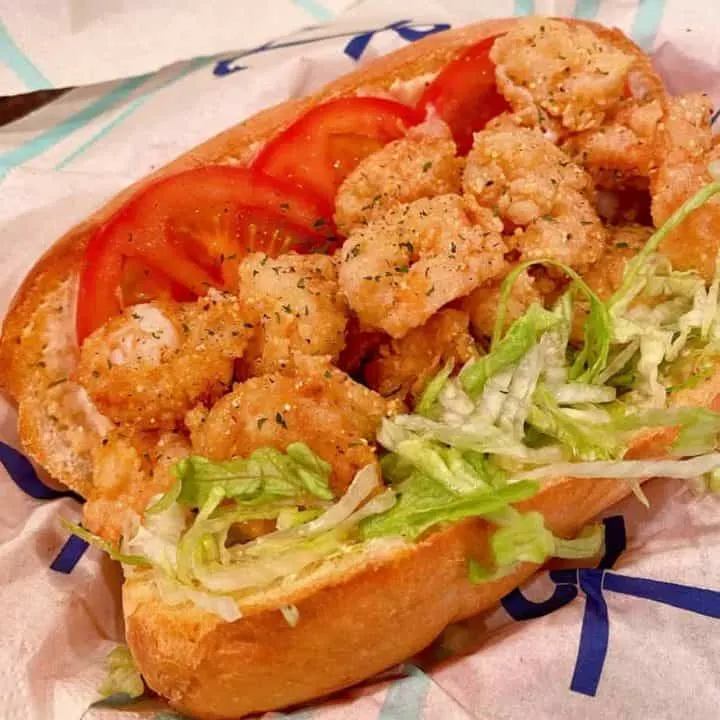 This classic New Orleans Po'Boy Sandwich is this battered shrimp version, served on a lightly toasted garlic French roll, filled with shredded lettuce, fresh sliced tomatoes, and an irresistible homemade remoulade sauce.
Ingredients
Vegetable oil for frying
1 1/2 - 2 pounds medium shrimp, peeled deveined
3/4 cup flour
1/4 cup corn meal
1 teaspoon garlic powder
1 teaspoon onion powder
1/4 teaspoon cayeene pepper
1/4 teaspoon coarse black pepper
1 cup buttermilk
1 Large egg
4 French Rolls, split and hinged
4 Tablespoons melted butter
1/2 teaspoon garlic powder
1/4 teaspoon paprika
2 cups thinly shredded ice berg lettuce
2 large tomatoes sliced
Remoulade Sauce
1 1/4 cup mayonnaise
1/4 cup Dijon Mustard
1/2 Tablespoon paprika
1/2 teaspoon Creole seasoning (add more to taste)
1 - 2 teaspoon prepared horseradish
3 Tablespoon sweet pickle relish
1/2 teaspoon hot sauce (preferably Tabasco)
2 cloves garlic, minced and smashed
2 green onions thinly sliced and chopped
1/2 lemon, juiced
1 Tablespoon chopped fresh parsley
2 teaspoon chopped capers (optional)
Instructions
Combine butter and garlic powder. Spread on inside of split rolls. Toast on hot griddle butter side down until brown. Remove and set aside.
Remoulade Sauce: In a medium bowl combine all the remoulade ingredients until well mixed. Cover and chill.
Heat one inch of oil in medium size skillet or 2 quart sauce pan until 350°.
Mix Flour, corn meal, garlic powder, onion powder and cayenne powder in shallow dish. In a separate bowl combine buttermilk and egg.
Place prepared shrimp in buttermilk mixture. In small batches, remove shrimp and allow excess buttermilk to drip off, back into the bowl. Dredge shirmp in flour/corn meal mixture. Fry shrimp in batches until golden brown, approx. 4 minutes, turning as needed.
Place cooked shirmp on paper towel lined dish as you continue to prepare remaining shrimp.
Spread remoulade sauce on all 4 rolls. On one side of roll top with shredded lettuce, on the other side sliced tomatoes. Top with shrimp down the center of French Rolls on top of lettuce and tomatoes. Drizzle with additional remoulade if desired.
Nutrition Information:
Yield:
4 servings
Serving Size:
1 sandwich
Amount Per Serving:
Calories:

1163
Total Fat:

75g
Saturated Fat:

18g
Trans Fat:

1g
Unsaturated Fat:

54g
Cholesterol:

587mg
Sodium:

3664mg
Carbohydrates:

57g
Fiber:

6g
Sugar:

11g
Protein:

64g