This fresh delicious Homemade Soft French Bread is a quick easy recipe and perfect side carb for those delicious soups and pasta dishes. It also makes the best Hard Rolls!
I think one of the best "Mom tricks" mothers throughout time have pulled off…is putting a beautiful dinner on the table when the budget is tight (like sofa diving for loose change tight…get my drift?) and her little nest of chicks never realize how real the struggle is!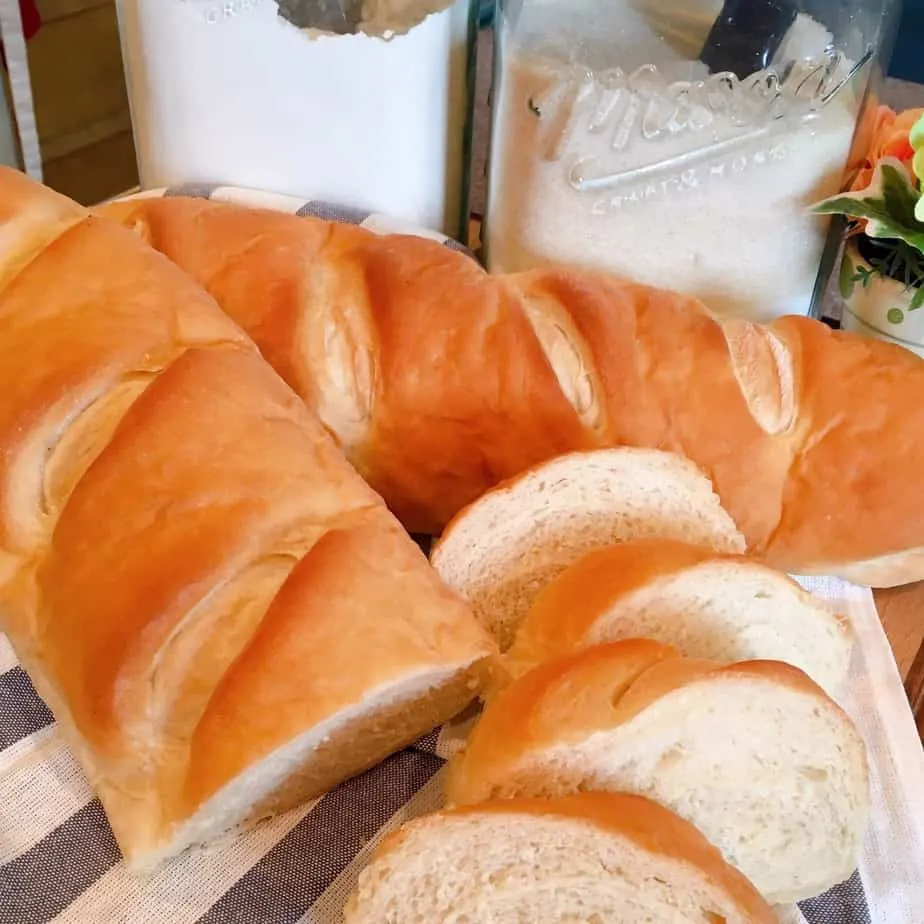 I remember one such time (there were many when our Nest was full), I had made spaghetti…my "go to" budget stretcher and I wanted a loaf of French bread to go with the meal. I didn't have two nickles to rub together to go buy a loaf of French bread at the time. (Sad…but true!)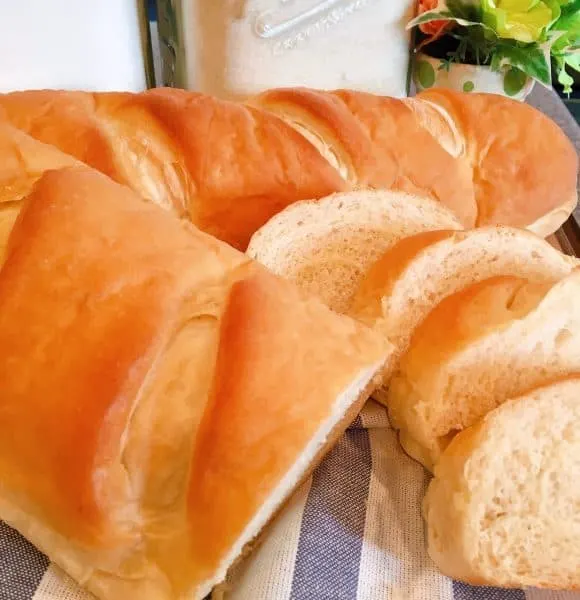 So I turned to my bountiful supply of "Church cookbooks"! (This was long before food recipe sites existed!… Yes! I'm THAT old!) No better cooks on the earth than the good ladies from church with their tried-and-true recipes!
I stumbled upon this recipe for "French Bread or Hard rolls" from a friend of my sister-in-law in one such cookbook. I figured it had to be good…after all she was my SIL "bestie" (Hi Heather!) so it had to be good! Another benefit…I had all the ingredients on hand!
Boy! Was it good!!! It's soft, light, easy to make, and quick! The perfect Homemade Soft French Bread!
It's so good I've been making it for 18 years now! It's one of my very favorite bread recipes and a great recipe for a beginning bread maker!
How To Make Homemade Soft French Bread
In your mixer, or glass measuring cup, add 2 1/2 cups hot water and 2 Tablespoons yeast and 2 Tablespoons sugar.
TIP: Make sure your water is not too hot or it will kill the yeast! It should be slightly too warm to the touch. The combination of sugar and hot water should activate the yeast causing it to bubble and foam.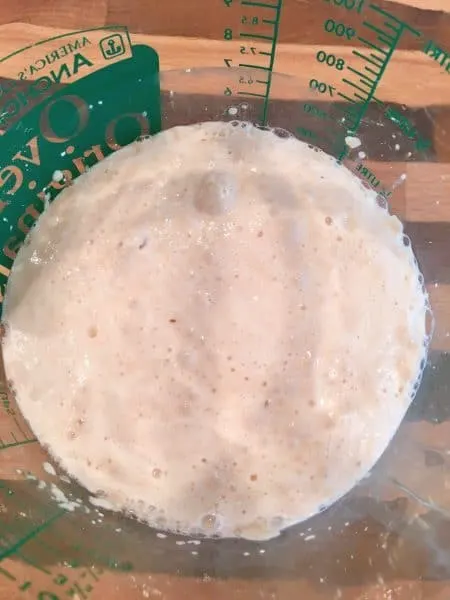 Add 1 Tablespoon salt and 1/8 cup oil to yeast mixture. Add 3 cups of All-purpose flour to wet ingredients.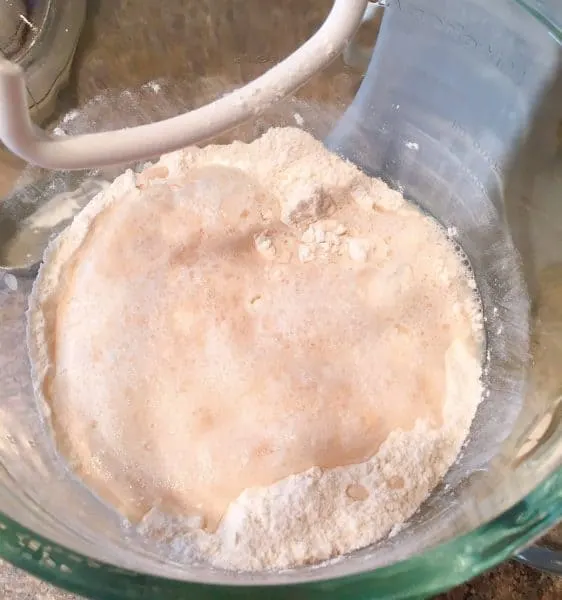 Use the dough hook of your mixer, mix on low speed until wet and dry ingredients begin to combine.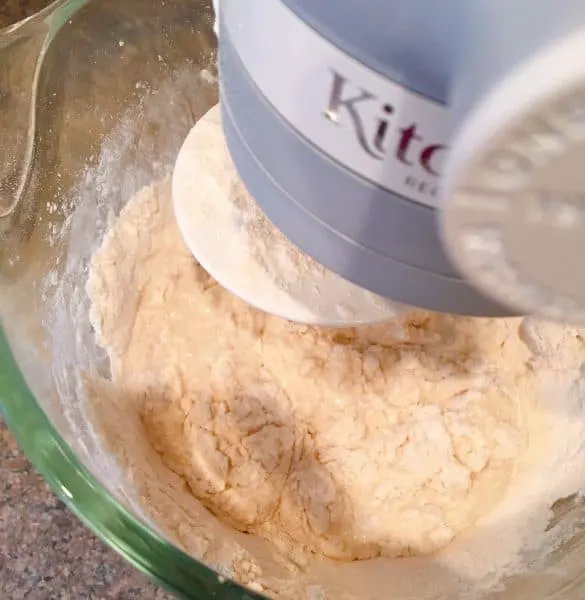 Add additional 3 cups of flour, one cup of flour at a time, until dough begins to cling to the hook and pull away from the sides of the bowl. It should take about 10 minutes. (That dough should cling to the dough hook like a toddler to its mothers leg when its nap time! The grip of death!)
Lets take a closer look at that dough so you can see the texture. The dough should still be slightly sticky…this will allow you to hand knead in a little extra flour to get the perfect elasticity the bread will need.
I'm a firm believer that you need to "handle" the dough! Bread is all about texture and it has a specific feel when it hits the right consistency! Over time you learn exactly what the right texture is. You should be able to poke it and have the indent stay for a minute or two. If it is hard to push into the dough…its already too tough and may not rise correctly.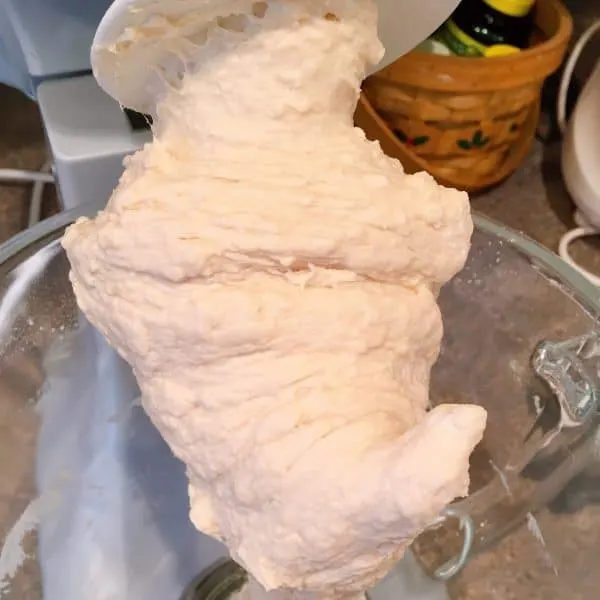 Remove the dough from the dough hook using a rubber spatula. Place the dough on a well flour surface. I like to use my "dough disc".
I'm a huge fan of the dough disc!!! You can find it in my Amazon Store or in the link below in the recipe card! It washes up beautifully, just toss the cotton cover in the washing machine. Another bonus, the dough never sticks to the floured cloth, it is perfect for doughs, pie crusts, etc. Its a must have for my kitchen!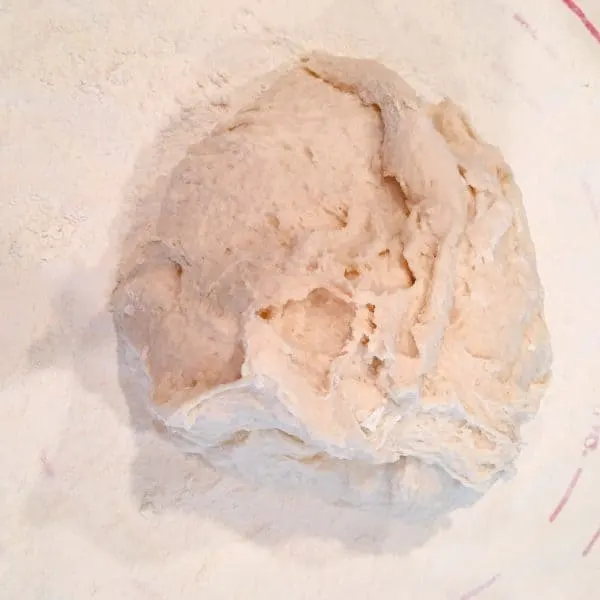 Knead the dough about 5-8 times until you are able to form a nice soft elastic ball. It should still be slightly sticky on the inside and nice and smooth on the outside.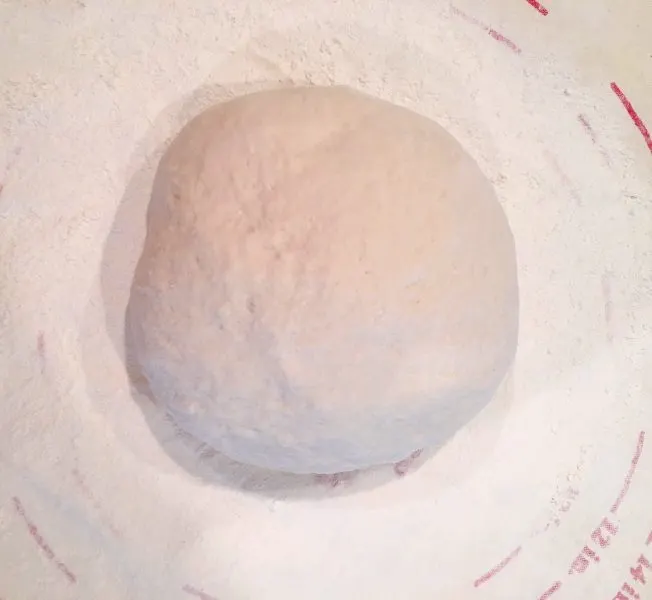 Oil a medium size bowl, place dough in the bowl, turn it over so oiled side is up. This will prevent the dough from sticking to the cover placed over the bowl.
TIP: You can brush the top with olive oil before placing in the bowl if that is easier for you. Either method will work.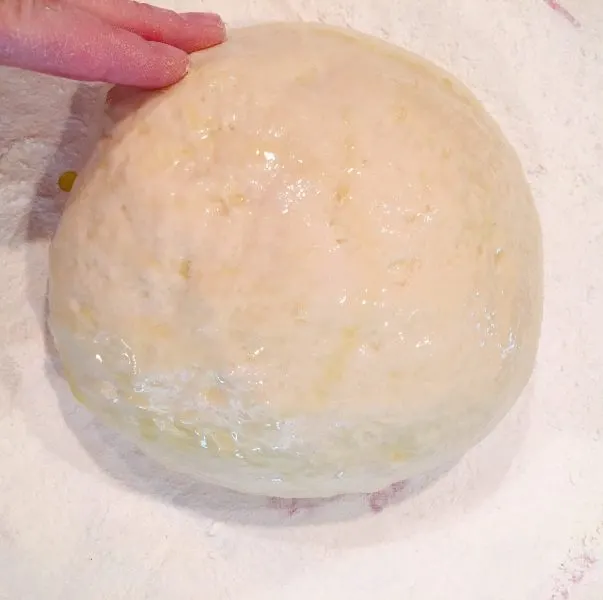 Place dough into oiled bowl and cover. Allow to rise in a warm place until dough in size. About 25-30 minutes.
Now for the fun part…PUNCH that dough down! Give it a good ol' smack! You don't have to tell me who you're thinking about…punching down dough is the most therapeutic thing on the planet…next to tenderizing a piece of chicken!
Place dough on floured dough disc and cut the dough in half. One half for each loaf of bread.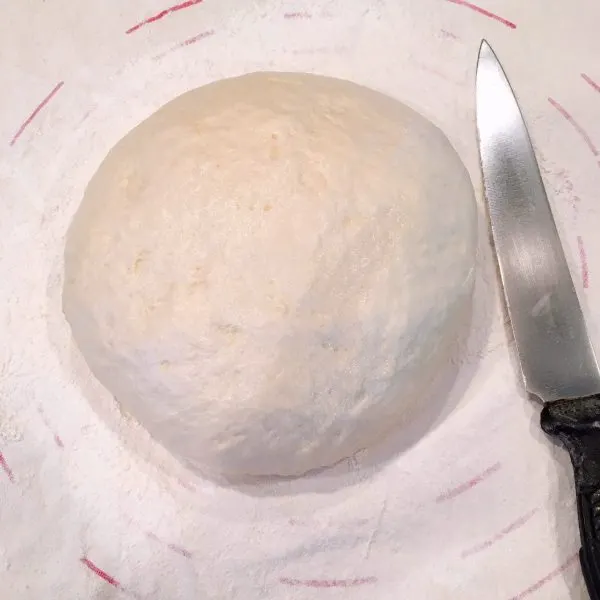 Roll one portion of the dough into a large rectangle. The dough should be a little over 1/4 inch thick!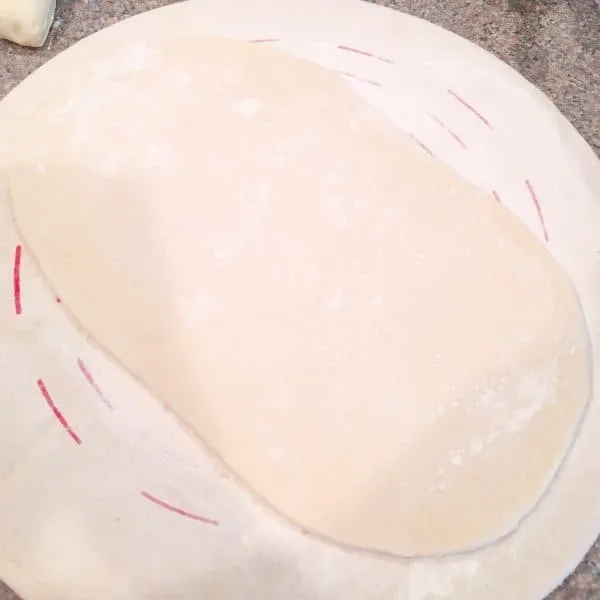 Starting along one of the long sides of the dough…roll the dough towards the other side creating a long roll. Using the side of your hand, press down the end of the roll, and tuck end under, at the pinch mark.
Don't be afraid to use your hands to shape the loaf of French bread the way you want it to look. I like the traditional look of a loaf of French bread, so that is how I shape mine.
TIP: If you are making "hard rolls" you'll want to pinch off portions of the dough and roll them into balls.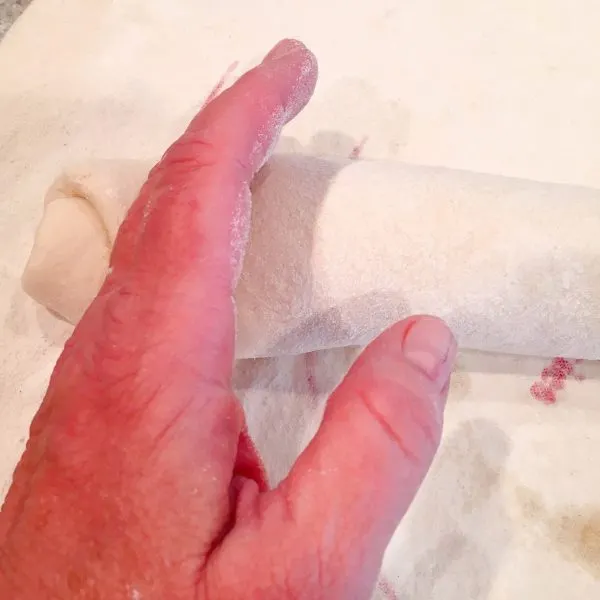 Repeat the above to create the second loaf of bread.
Place the two loaves of bread, seam side down, on a parchment or silicone lined baking sheet. I love my silicone baking sheets! They work beautifully for this bread recipe.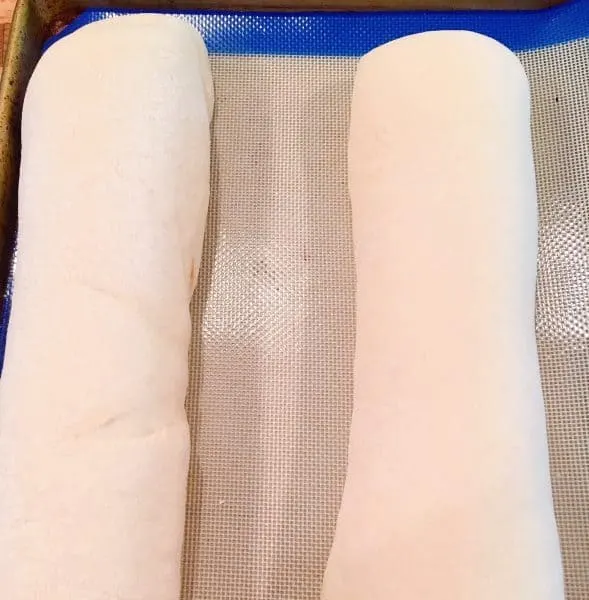 Using a sharp knife, cut three slits along the top of each loaf of bread about 2 1/2 inches long! Make sure you cut through the first layer of the rolled dough loaves.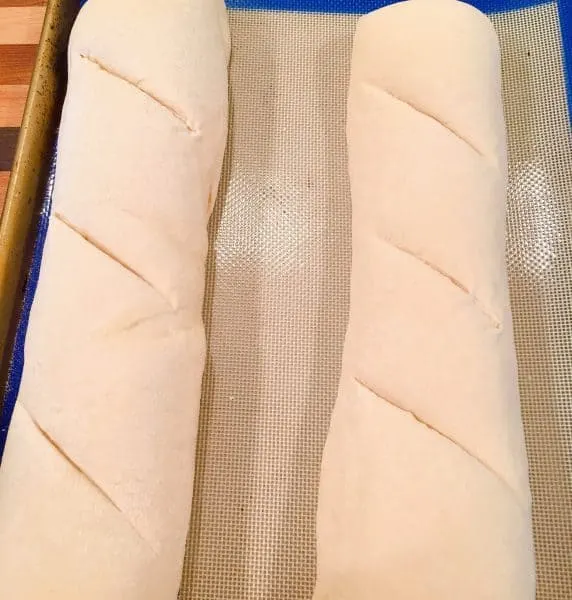 Cover bread with a light cloth and allow to rise another 15-20 minutes or until double in size. Preheat oven to 400°.
Place bread in preheated oven and bake for 25 minutes, until bread is crispy golden brown on top.
TIP: The bread is completely cooked through if you thump on the top of the loaf and it sounds hallow.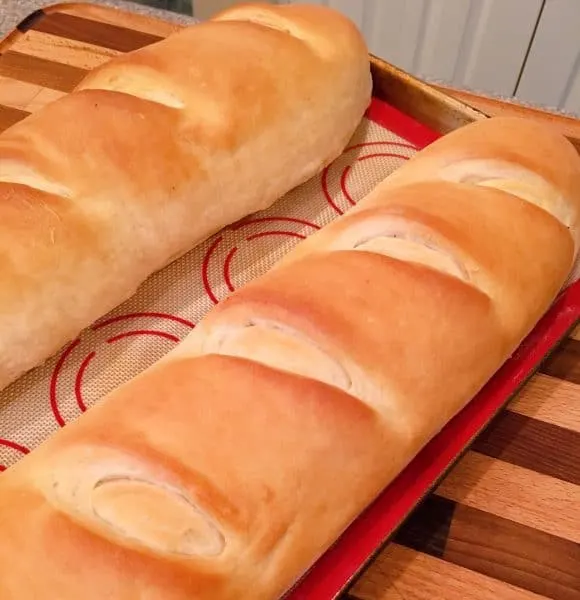 TIP: If you want the bread to be soft on top, rather than crusty, brush the top of the loaf with melted butter.
We like it a little bit softer so I brush my loaves with melted butter. Plus there's the amazing buttery flavor…who am I to argue with buttery flavor!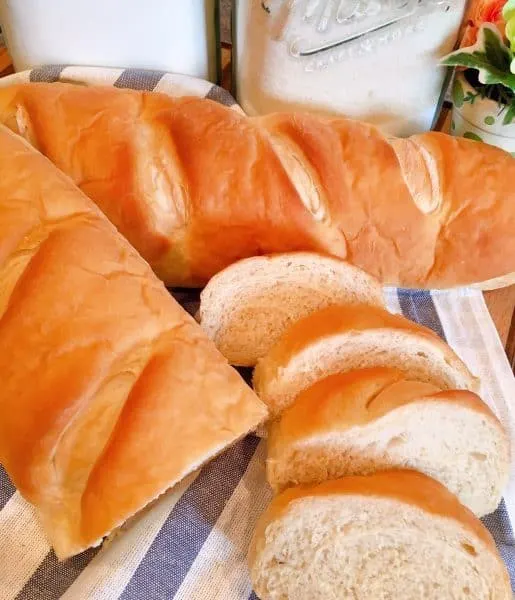 This bread is delicious straight out of the oven with a nice slab of real butter! I have a hard time resisting it when it's pipping hot…and I can't just eat one slice…nope! I have to sneak a few slices before it even reaches the dinner table! (Shhhhh! There are things family members do not need to know! Mom eating bread before dinner is one of them!)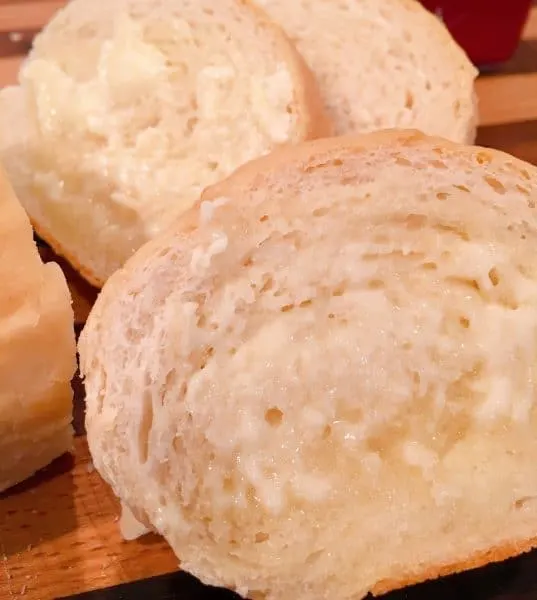 It's the perfect texture! Rolling the dough prevents large air bubbles from forming during cooking and it creates the beautiful loaf of bread!
The slits give it a beautiful traditional French Bread appearance! The golden hues on this bread are stunning! It really is a delightful loaf of carbs to make!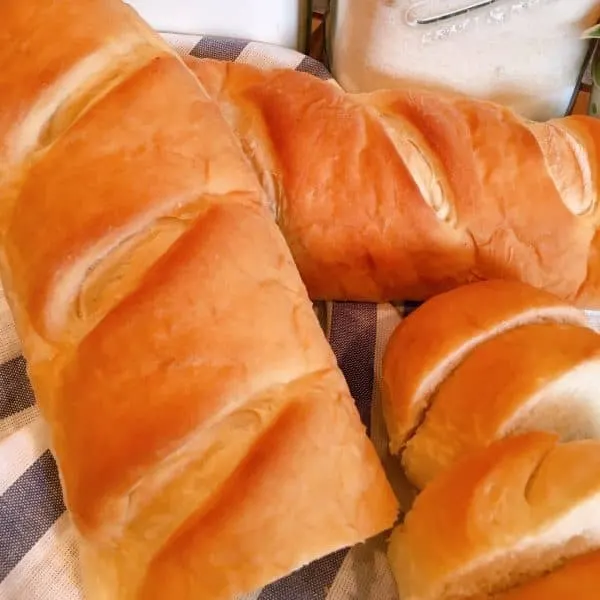 This bread can be sliced thick and serve with your favorite pasta dish! It also makes wonderful French Toast, croutons, or sub sandwiches! Use the dough to make hard crusty dinner rolls to go with your favorite salad…or use the thick slices to "sop" up your favorite soup!
It's such a versatile bread and so easy to make. I walked you through it step-by-step, but I also know some of you have never made bread before so I wanted you to feel comfortable trying your hand at baking this bread!
You can also try this other amazing easy bread recipes
Sometimes the best things come out of our day to day trials. Like this beautiful French Bread when I couldn't afford to go buy a loaf. It's so much better than anything I could have bought that day had I had the two nickles to rub together. Plus it really made me feel like I was making something extra special for my family.
There is something so comforting about making bread for those you love.Bread really is the staff of life isn't it!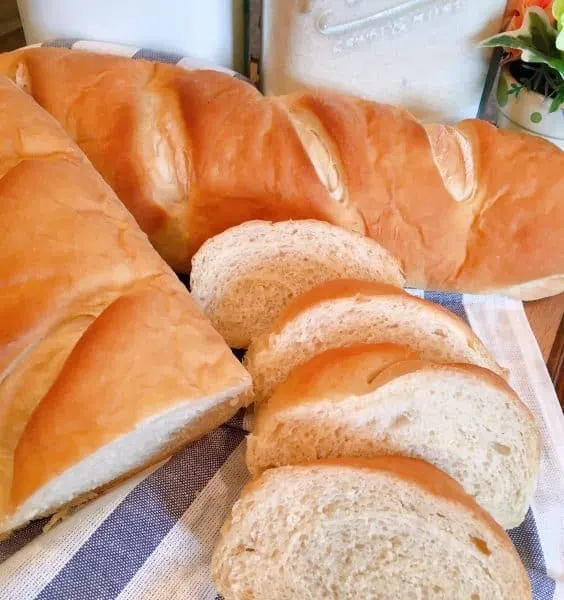 Enjoy my Friends! Thanks so much for stopping by and visiting with me today!
Happy Nesting!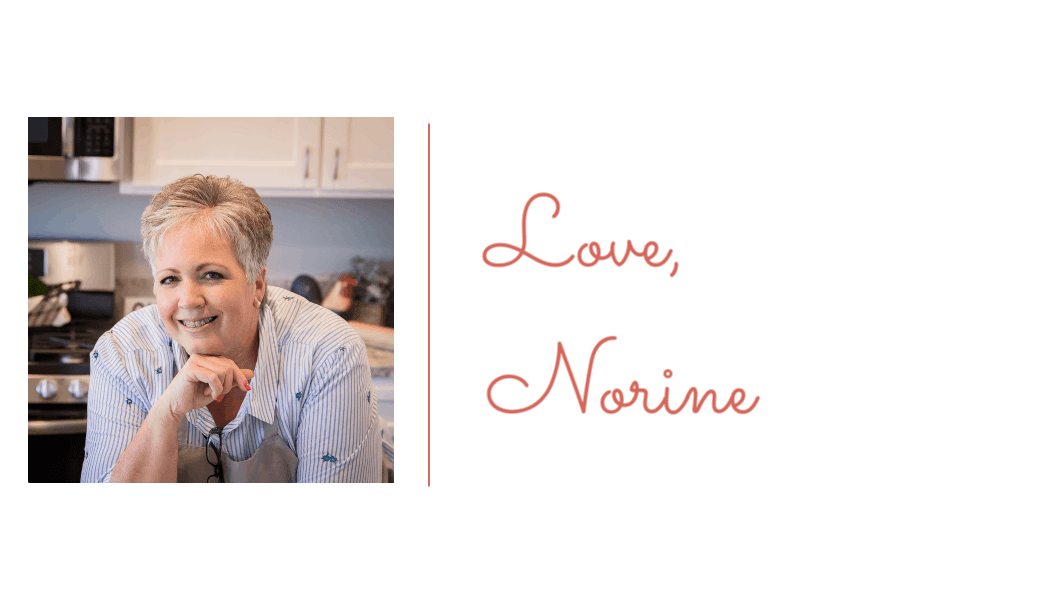 Yield: 2 loaves
Homemade Soft French Bread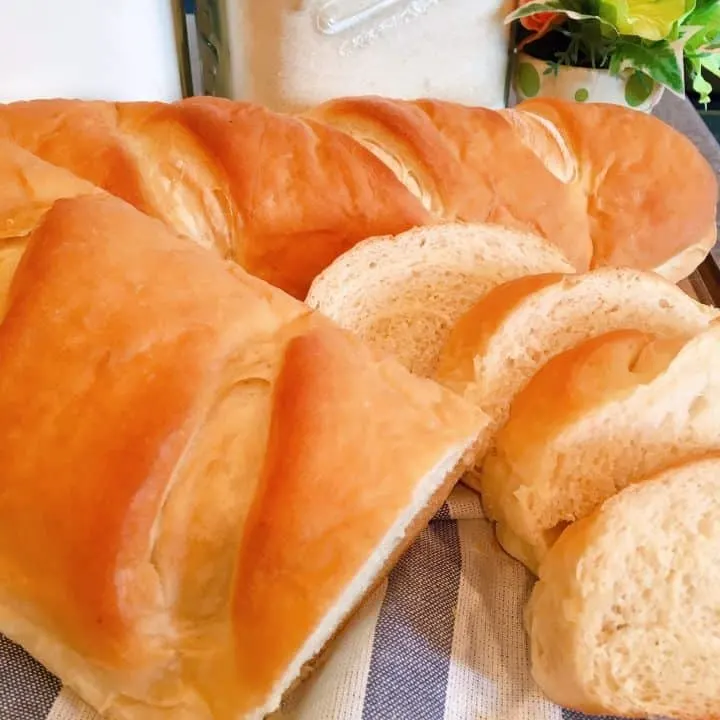 A delicious, quick, and easy homemade soft French bread or Hard Roll recipe that is sure to become your favorite bread recipe.
Additional Time
50 minutes
Total Time
1 hour
30 minutes
Ingredients
2 1/2 Cups hot water
2 Tablespoons yeast
2 Tablespoons sugar
1 Tablespoon salt
1/8 Cup Vegetable oil
6-7 cups of All-purpose flour
Instructions
In the bowl of mixer add hot water, yeast, and sugar. Allow to sit until yeast is activated and bubbly.
Add salt and and oil. Mix together using the dough hook of your mixer. Add 3 cups all purpose flour and mix on low until mixture begins to combine.
Add 3 more cups of flour, one cup at a time, until dough begins to cling to hook and dough pulls away from the sides of bowl.
Place dough on floured surface and knead 5-8 times till outside of dough is smooth. Place in well oiled bowl and turn oil side up. Cover and allow dough to rise until double in size. About 30 minutes.
Punch dough down and cut in half. Roll one half of dough into a large rectangle about 1/4 inch thick.
Roll dough from one long side to the other. Pinch ends and fold under. Repeat for second loaf. Shape dough into even loaves and place on silicone or parchment lined baking sheet.
Cut three slits about 2 1/2 inch long along the top of each loaf. Cover loaves and allow to rise 20 minutes. Preheat oven to 400°.
Place loaves in oven and bake for 25 minutes until bread is golden brown and crusty on top. Brush baked loaves with butter for a softer loaf of bread. Allow to cool slightly and serve.
Notes
Additional time is for the dough to rise. This bread recipe can also be made into hard dinner rolls.
Recipe can be doubled to make 4 loaves of bread.
Recommended Products
As an Amazon Associate and member of other affiliate programs, I earn from qualifying purchases.
Nutrition Information:
Yield:
30
Serving Size:
1 slice
Amount Per Serving:
Calories:

651
Total Fat:

3g
Saturated Fat:

0g
Trans Fat:

0g
Unsaturated Fat:

2g
Cholesterol:

0mg
Sodium:

216mg
Carbohydrates:

135g
Fiber:

5g
Sugar:

1g
Protein:

18g