Tender Juicy "Fall-Of-The-Bone" Grilled Baby Back Ribs with a special lip smacking special sauce made with apricot and orange marmalade jams and a few other secret ingredients.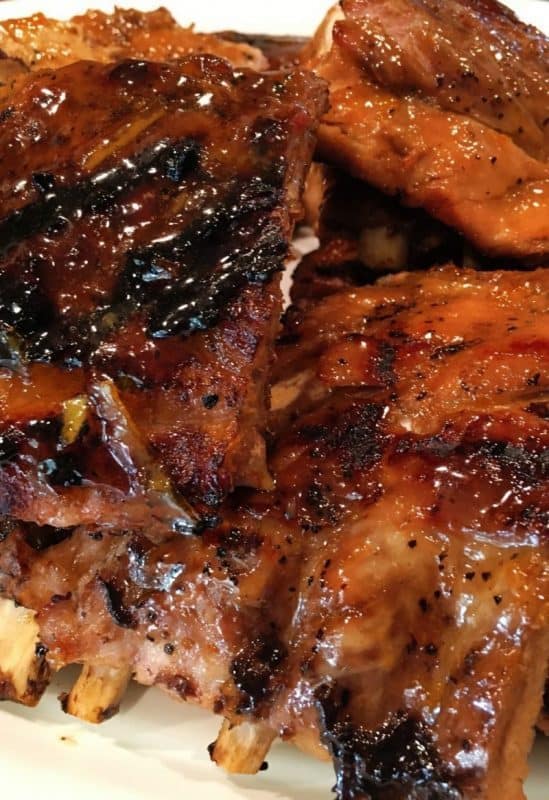 If you want to make Dad the BEST Father's Day dinner..hands down…it would be my finger licking, fall off the bones, tender, juicy, extra yummy nummy Grilled Baby Back Pork Ribs! (Say that three times really fast!)
Every Dad deserves a rack or two, of these bad boys! I just asked Mars this morning what he wanted for dinner for Father's Day and he said "Honestly?" I said, "Yep! Honestly!" He said… "The Ribs! Those Ribs are SO good!"
Now, I'll admit I do 80% of the labor involved in this recipe but…the "Grill Master" he puts the smoke, char and the sauce on'em and brings them up to absolute stunning perfection! He is…after all…the Grill Master! (You gotta admit…those are some yummy looking ribs!)
I created this sauce about 15 years ago. I was tired of regular BBQ sauce! I wanted something totally different. I did not want another tomato based sauce. Noooo! I wanted the beautiful color of the pork to shine through. So, I came up with this alternative.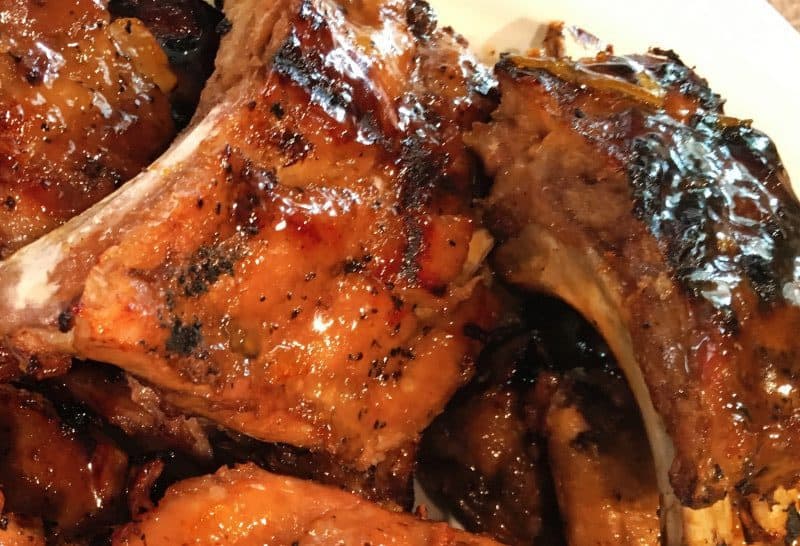 There are two secrets to making really great ribs, in my opinion…pre-cooking and the sauce! (I wish I had taken shots of the prep for these but, I was busy being Grandma. Sorry folks!)
I purchase my baby back ribs from Costco…cause when it comes to meat they just ROCK! Please (insert praying hands) don't do pork ribs any other way than baby back.
Why Baby Back Ribs over others?
They're meatier, and the meat is much more tender and flavorful! If you're going to go to all the work, and cost, to make ribs…make the best! When you purchase the ribs at Costco you will get three full racks of ribs. If I'm feeding the whole clan…Seven of us…there is not a rib to be seen when we are done!
How To Make Baby Back Ribs with Special Homemade BBQ Sauce

Remove the membrane from the back of the rib by sliding a knife underneath the membrane, starting at one end, to lift it off the bone. Grab a hold of the lifted area and pull across the rib.

Rinse the ribs off. Pat dry.
Place them in a large deep pan. I use my Wilton Sheet cake pan and line it with foil. (It just makes clean-up easier…and who wants to scrub a pan with a belly full of ribs?)
After they are rinsed lay them side by side in your deep pan. Season the ribs with garlic salt and coarse black pepper.
TIP: Pour 2-3 cups of water in the bottom of the pan. This will create steam which will make for tender and juicy rib meat.
Cover pan tightly with foil. Place covered ribs in a 225 degree oven for 2.5 hours. Remove from the oven and allow to cool back to room temp.
"Why pre-cook the ribs when you are going to throw them on the grill?".
Great question! The answer … you want the meat tender and juicy! Pork contains a lot of fat. Great fat because it adds amazing flavor! However, fat on a open flame equals FIRE! By pre-cooking and then allowing the meat to firm back up to room temp you are allowing the juices to remain in the meat.
Pre-cooking allows the juices from the meat to stay put! Also, they are perfect to throw on the grill now that they have "firmed" back up.
TIP: Allow the meat to cool keeps the meat on the bone while grilling. Don't ever go straight from the oven to the grill. You'll have a huge mess on your hands!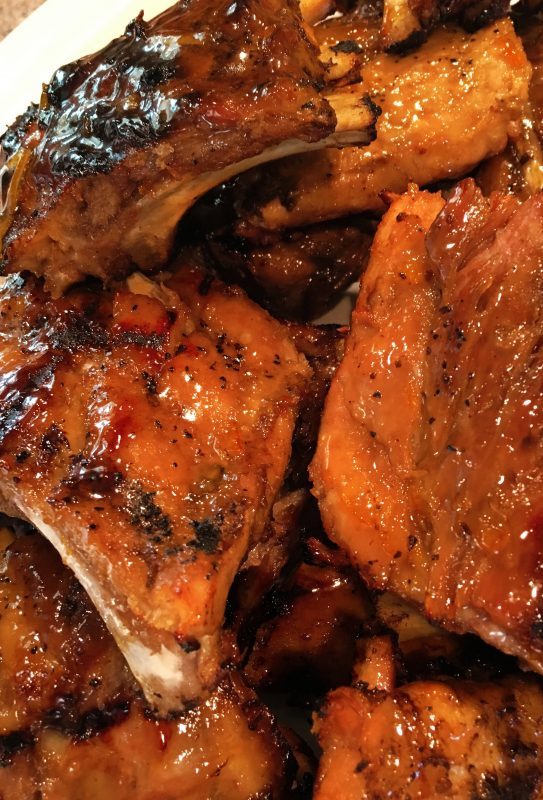 How To Make "The Special BBQ Sauce" with Orange Marmalade!
While the ribs are pre-cooking in the oven, it's time to make your sauce.
This sauce is different. Remember…no tomato base in this sauce. This is NOT a traditional BBQ sauce. It's sweet and tangy. It's finger licking good! IT. MAKES. THIS. RECIPE! (Don't think I can stress that enough…lol)
It's a blend of apricot jam, orange marmalade (What?…I know! I don't even like orange marmalade except in this recipe!), ginger, apple cider vinegar, brown sugar, corn syrup, mustard, etc…(I know, I know…trust me on this…you just gotta trust me!) Once the sauce has been brought to a boil you want to let it cool to room temp until you are ready to use it.
How To Grill Your Baby Back Ribs
Time to stoke up that grill. The"Grill Master" has requested that I always pre-cut the baby backs into sections of three. He tells me it is easier to handle and it's the perfect serving size. ( I don't question the Master! Well…at least not on this!)
This also allows cooking portions for those that prefer a lot of Char much easier!
The Grill Master throws the ribs on the grill and begins basting them immediately with the sauce. It's just flipping and basting folks. Always making sure to end with a good baste before you pull them off the grill. Be sure you have coated both sides and that you have the char you want.
You'll need to hurry and plate these… cause by now the dog three streets over is howling for one!
Honestly if you're not drooling when these puppies come off the grill your taste buds have up and died on ya and you best be seeking some medical attention! Course after ya have a bite you may just up and pass out cause they're so darn good!
Great Grilling Recipes
I'm including a printable version of the recipe…my secret sauce recipe!
Thanks for stopping by and be sure to check back this week for yummy sides to go with these incredible ribs! It's all about Dad and the men we love, this week… here at the Nest!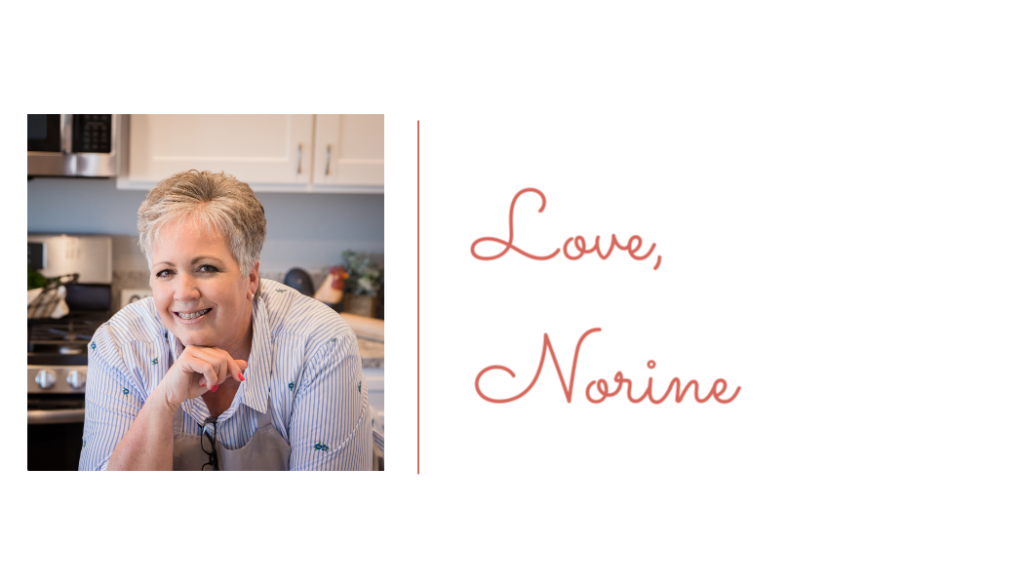 Yield: 7-8 servings
Norine's Baby Back Pork Ribs…The Secret Is Out!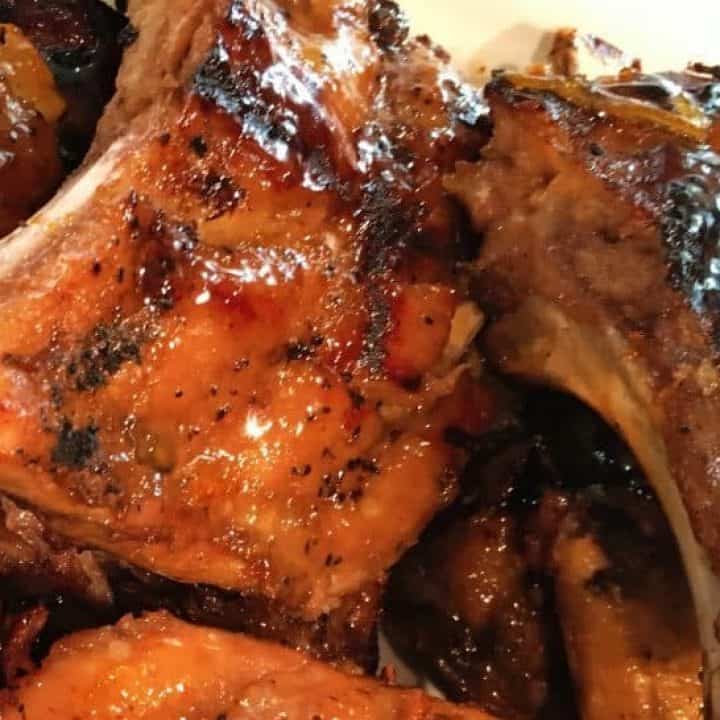 Baby Back Pork Ribs grilled to perfection with a Sweet-Sour Apricot Orange Sauce! These Ribs are Lip Smacking Finger Licking Good!
Total Time
3 hours
30 minutes
Ingredients
3 full racks of baby back pork ribs
garlic salt to taste
coarse black pepper to taste
2-3 Cups water
Rib Glaze
2 Cups Orange Marmalade (1 jar)
1 Cup Apricot Jam
2 teaspoons Dry Mustard
1/2 Cup Dark Brown Sugar
1/2 Cup Light Corn Syrup
1 teaspoon Worcestershire sauce
1/4 teaspoon ground ginger
1 Tablespoon Apple Cider Vinegar
2 Tablespoons any bottled BBQ sauce
Instructions
Rinse all the ribs and place side by side, slightly overlapping if necessary, in a large deep baking pan lined with foil.
Sprinkle with garlic salt and coarse black pepper to taste.
Pour 2-3 cups of water into the bottom of the baking dish.
Cover the dish with foil. Bake at 225 degrees for 2 1/2 hours.
Remove from oven and allow to cool to room temperature.
Once cool remove from pan and cut into sections of three to four ribs each.
Pre-heat grill to medium. Place ribs on the grill and begin basting with special rib sauce. Continue to baste ribs turning occasionally. Once the ribs are charred to your liking baste one more time and remove from the heat. Plate and serve.
Sweet and Sour Apricot Orange Sauce
Mix all the ingredients together in a medium sauce pan. Stir constantly until the sauce comes to a slow boil. Simmer on low heat for 20-30 minutes. Remove from heat and allow to cool. Baste liberally on ribs as the are cooking on the grill. Can also be used on pork chops or pork roast.
Nutrition Information:
Yield:
5
Serving Size:
3-4 ribs
Amount Per Serving:
Calories:

883
Total Fat:

18g
Saturated Fat:

5g
Trans Fat:

0g
Unsaturated Fat:

8g
Cholesterol:

58mg
Sodium:

518mg
Carbohydrates:

181g
Fiber:

2g
Sugar:

156g
Protein:

13g
Norine's Nest in no way provides any warranty, express or implied, towards the content of recipes in this website. It is the reader's responsibility to determine the value and quality of any recipe or instructions provided for food preparation and to determine the nutritional value, if any, and safety of the preparation instructions.