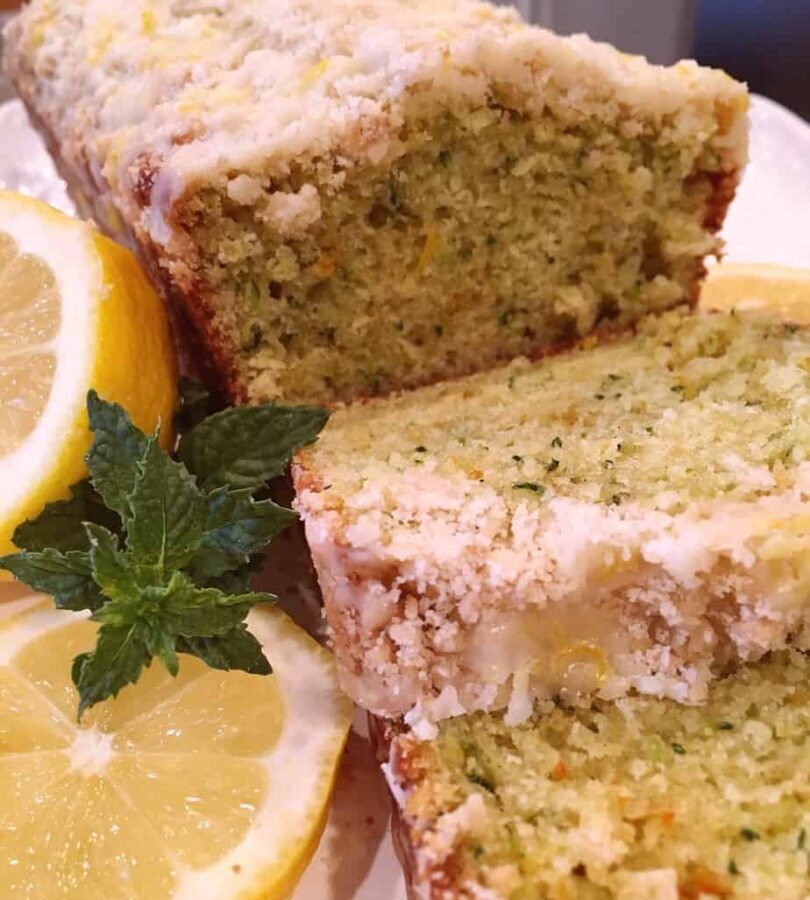 This moist Lemon Zucchini Quick Bread is filled with garden fresh zucchini and topped off with a light crispy crumb topping and drizzled with a sweet lemon glaze! It's my favorite new summer treat! Great for breakfast, snack time, or a light summer dessert.
*As an Amazon Associate I earn from qualifying purchases. This post may contain affiliate links, which means that I may make a commission from any purchases at no additional cost to you. Thank you for your support!
This year Mar's and I planted enough squash to feed the entire State of Utah. Which would be awesome…except here in Utah…your neighbor is trying to unload all their extra zucchini. (It's like the "Great Race"!) We may be the "Bee Hive" state, but zucchini had to be contender! HAD. TO. BE!
Every other day I'm out picking squash. I've even started advertising "free squash" to anyone willing to come get it! I was beginning to think I might have to pay folks to come take it off my hands.
I decided I just needed one really great "how to make zucchini taste like a magnificent sweet treat" recipe…and they'd come flocking grabbing up my extra squash! (Ya know…how to make something healthy totally unhealthy! lol God Bless America! )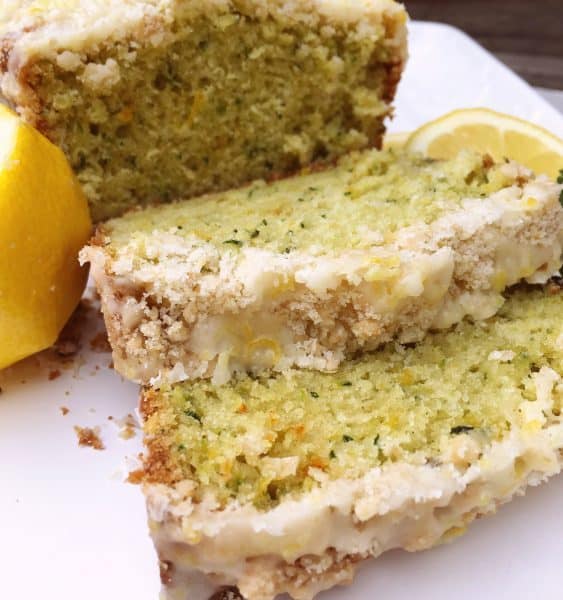 Allow me to introduce you to the BEST lemon bread with its pretty green flecks of that overly productive veggie! What makes this bread stand out is the scrumptious lemony crumb topping with the sweet lemon glaze!
TIP: Before starting this recipe a little food prep will help it come together quickly. Finely shred 1 cup of zucchini unpeeled. (do not squeeze or dry shredded zucchini! I know how much you love those big green hunks of lusciousness…but no squeezing them!) You will also need two Tablespoons of lemon zest and two tablespoons of fresh lemon juice. Zest your lemon first then juice them.
How To Make Lemon Zucchini Bread With Crumb Topping
In a medium bowl add 1 1/2 cups all-purpose flour, 1/2 tsp. baking soda, 1/4 tsp. baking powder, 1/4 tsp. salt to your shredded zucchini and lemon zest.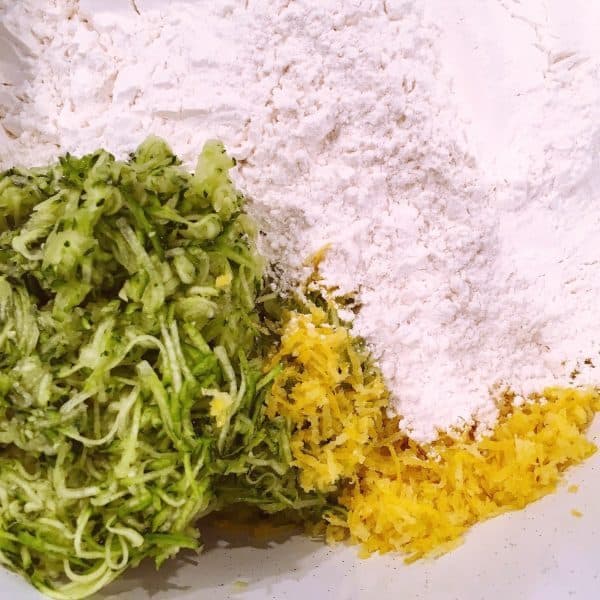 Add 3/4 cup of sugar, 1/4 cup cooling oil, 1 egg (You'll note there are two eggs in the photo below…I made a double loaf! I was bribing folks to take my squash…remember? A girl's gotta do what a girl's gotta do!) and 2 Tablespoons of lemon juice.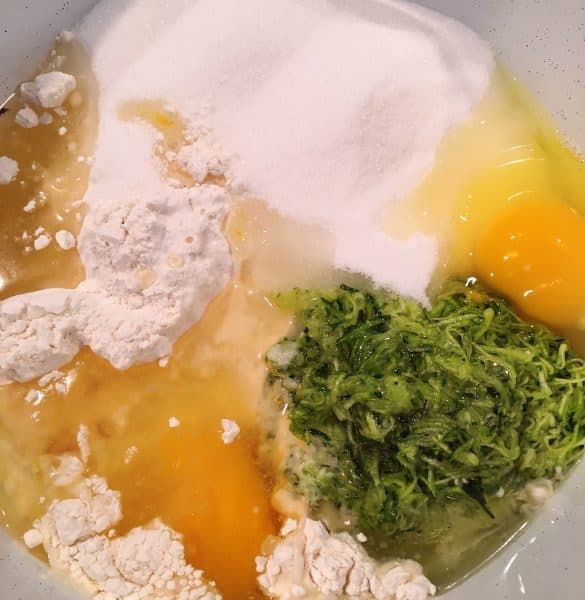 With a wooden spoon mix together until just combined. It's important not to over stir the batter.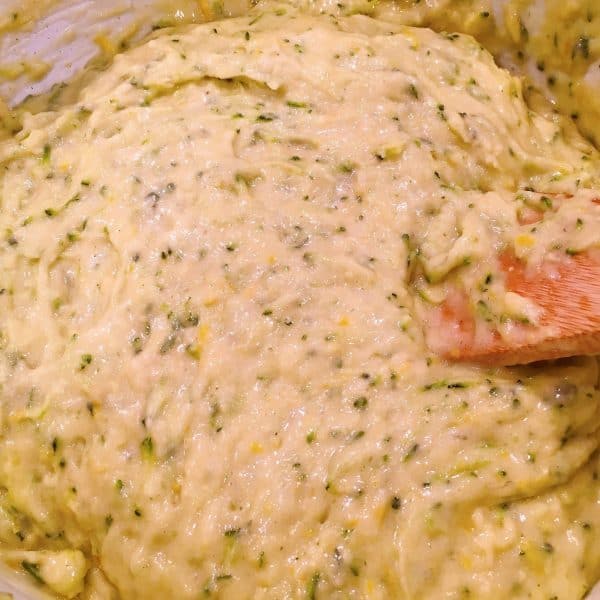 Pour into loaf pan that has been sprayed with non-stick cooking spray. Don't skip this step or your bread will stick to the bottom of the pan and I'll hear your screams of frustration all the way over here at my Nest! (I do enough screaming on my own!)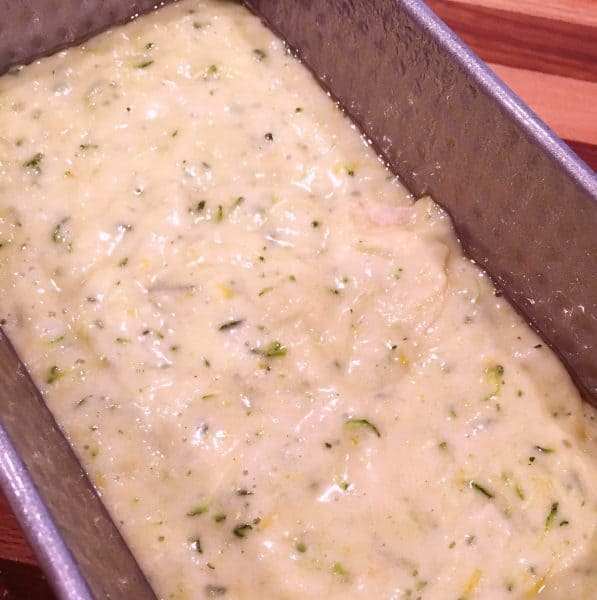 While the oven is preheating to 350° (Ya know…the same as the outside temp this time of year!) it's time to make that spectacular crumb topping!
In a small bowl mix together 1/4 cup plus 2 Tablespoons flour, 1/4 cup granulated sugar, 2 Tablespoons melted butter, and 1/4 cup rolled oats. (I know…I questioned myself with the oats too…but it's AMAZING!)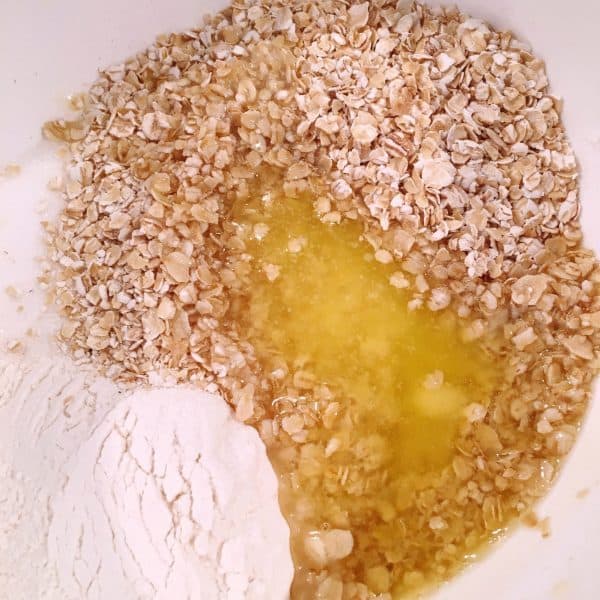 Using a fork, mix together until a loose crumb mixture forms. Isn't that a beautiful crumb? I'll be honest…I fell in love with this crumb topping recipe! I was skeptical at first…but one bite and I was in crumb heaven! (Which is NOTHING like 2-year-old crumb hell! Just wanted to be clear about that!)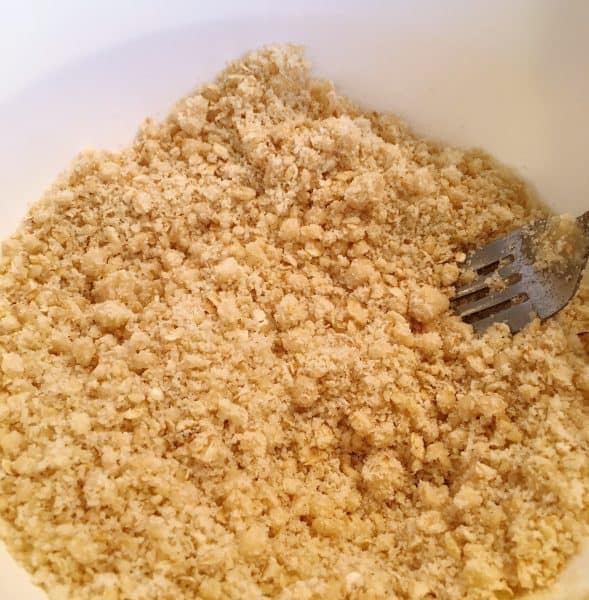 Sprinkle that beautiful crumb over the top of your bread batter and sing "There's No Crumb Like Lemon Zucchini Bread Crumb"…to the tune of "There's no business like show business". You can hum it if you'd like. I just find it makes the bread want to perform a little better! (If you actually do this…I want video..and the name of your doctor!)
Bake for 50-55 minutes until golden brown. Allow to cool on wire rack for 10 minutes. Carefully flip bread over … some of that crumb is going to fall like confetti on New's Years Eve, it's okay, no worries. Place bread back on wire rack to finish cooling.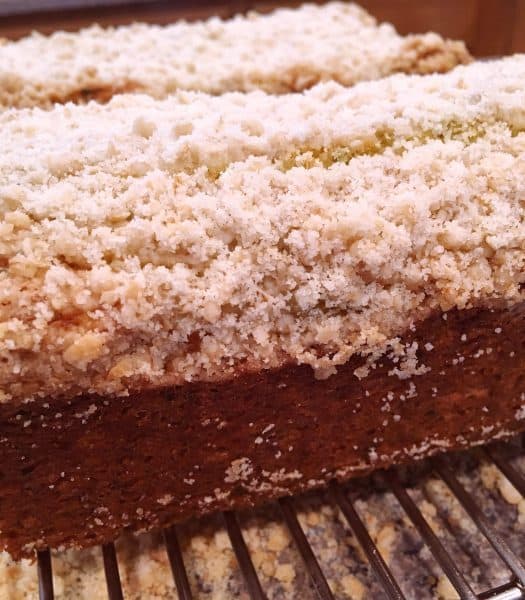 While that beautiful bread is cooling you can make the lemon glaze that you are going to drizzle over the top of the crumb.
In a small bowl combine 1 cup powdered sugar, 1 Tablespoon lemon juice, and 1 teaspoon lemon zest.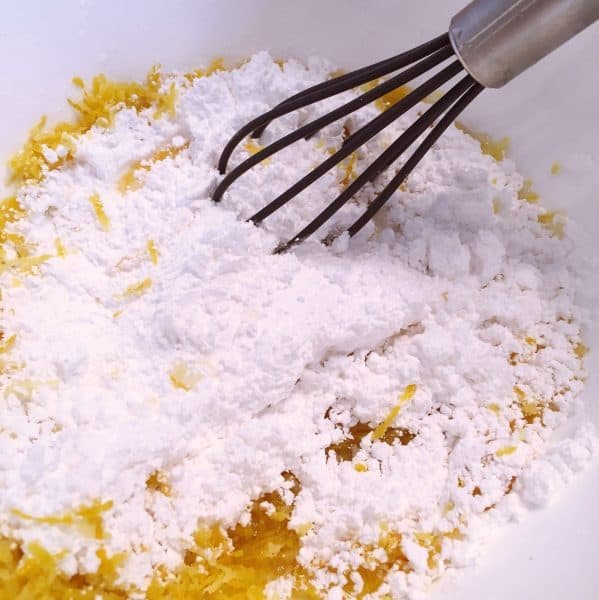 Mix until well blended and sugar has dissolved. The little bits of lemon zest really add that extra punch of lemon flavor to this glaze!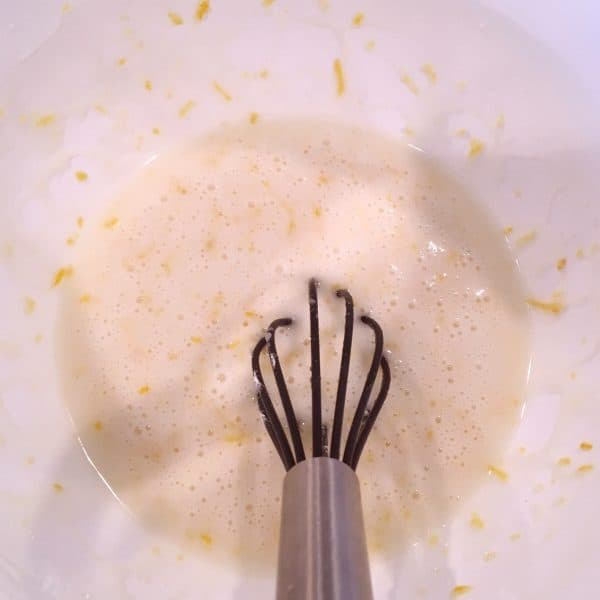 Once bread is cool…drizzle glaze over top of crumb with a Tablespoon, allowing it to run down the sides.
Let bread set until glaze hardens, about 15-20 minutes. This glaze will help hold the crumb on top of the bread. It also soaks into that crumb and creates the most delicious "POP" of flavor to this bread! You'll want to catch every delectable crumb on your tongue!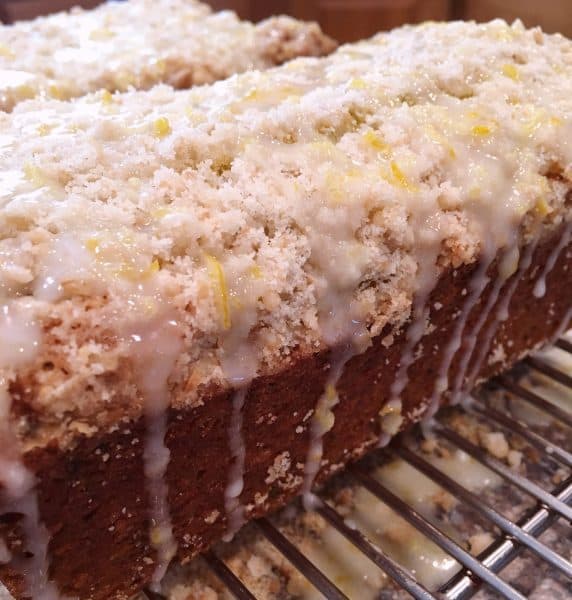 Now for my favorite part…Slice and serve!
Isn't that just the most beautiful quick bread! It's like sunshine in a loaf of sweet moist bread! The zucchini makes the loaf tender and moist. The lemon zest and juice add that "zing" of subtle summery flavor.
It's such a nice change from the original zucchini bread everyone makes this time of year!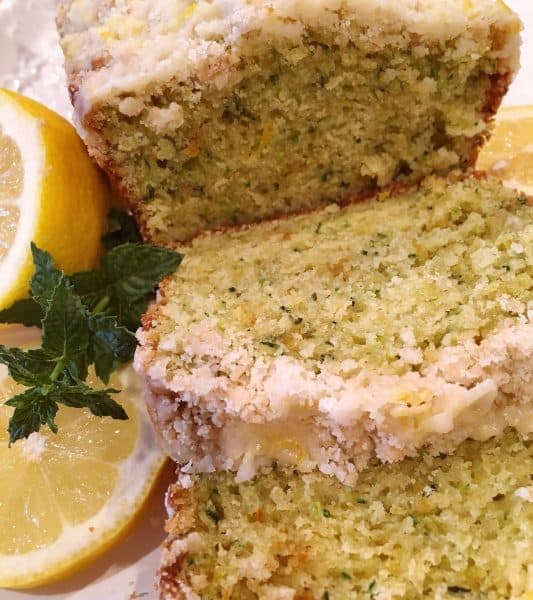 I doubled this recipe and made two loaves. One for us and one to share. It's just SO good you'll want to spread the happiness of this delicious treat.
You may find yourself planting even more squash next year… just so you can make a few more loaves of this Lemon Zucchini Bread! (Hey…I've resorted to the life of a zucchini pusher! Thankfully it's not illegal…yet!)
If you're loaded down with squash this year, like I am, may I suggest a recipe card with this delicious Lemon Zucchini Bread tied to a squash and door bell ditched at your neighbors! It's a like a "do it yourself" gift! To help you out you can just print the "free" recipe card at the bottom of the page!
If you like this recipe you might also like these other Delicious Quick Bread Recipes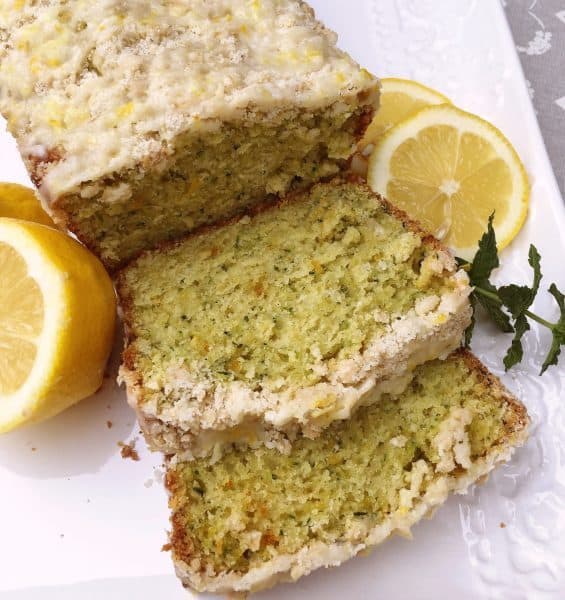 Enjoy my friends! Thanks so much for stopping by and visiting my Nest. I'd love to have you sign-up for my bi-weekly Newsletter. I won't bug you unless I have something fun and exciting to share!
Course there's always something fun and exciting happening here at my Nest!
Have a Fantastic Week! Happy Nesting!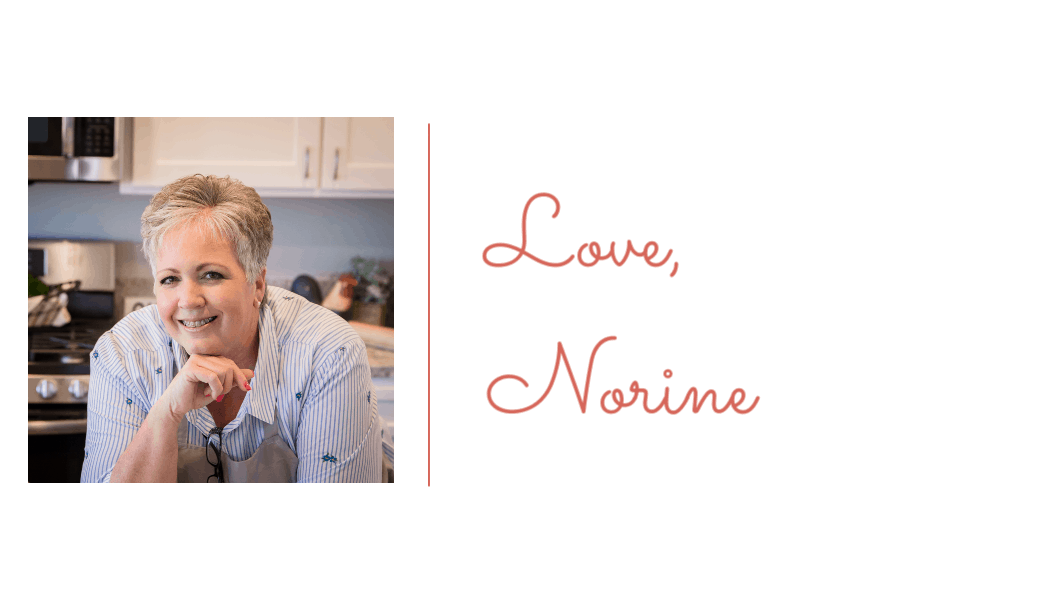 Yield: 1 loaf/ 12 slices
Lemon Zucchini Bread With Crumb Topping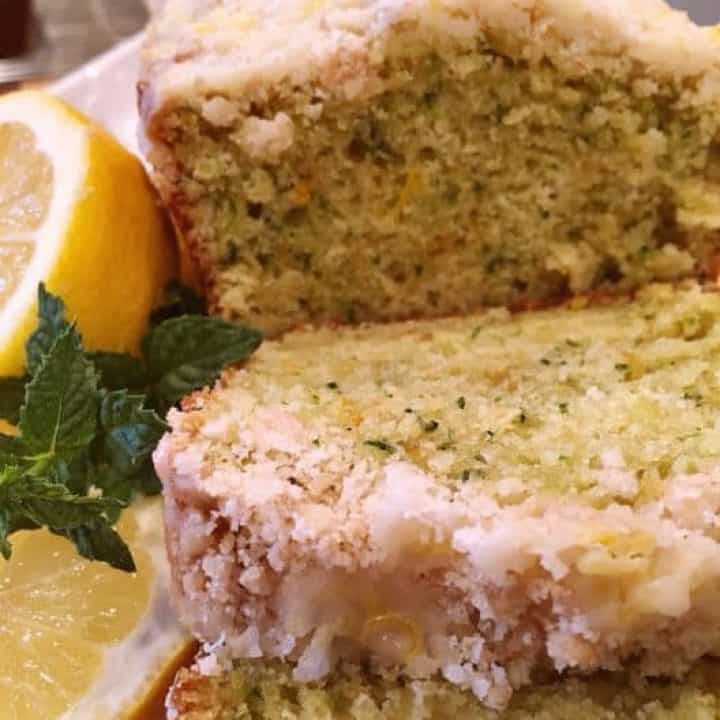 This moist lemon zucchini quick bread is topped with a delicious light crumb topping and drizzled with a slightly sweet lemon glaze and is a favorite summer treat or snack.
Total Time
1 hour
10 minutes
Ingredients
Lemon Zucchini Bread
1 1/2 C. All-Purpose Flour
1/2 tsp. baking soda
1/4 tsp. baking powder
1/4 tsp. salt
3/4 C. Sugar
1 C. finely shredded unpeeled zucchini (do not squeeze or dry shredded zucchini)
1/4 C. cooking oil
1 egg
2 Tbsp. lemon juice
2 Tbsp. lemon zest
Crumb Topping
1/4 cup plus 2 Tbsp. all-purpose flour
1/4 cup granulated sugar
2 Tbsp. butter, melted
1/4 cup rolled oats
Glaze
1 C. powdered sugar
1 Tbsp. Lemon Juice
1 tsp. lemon zest
Instructions
Bread
In a medium mixing bowl combine flour, baking soda, baking powder, and salt. Add
sugar, zucchini, cooking oil, egg, lemon juice, and lemon zest. Stir with wooden spoon until just combined.
Spoon batter into prepared bread pan, sprayed with non-stick cooking spray.
Top with Crumb mixture (See recipe below)
Bake in preheated 350 degree oven for 50-55 minutes or until golden brown and set.
Cool in pan on a wire rack 15 min, then carefully remove from pan, some of the crumb will fall off, that's okay, and cool completely.
Once cool, combine ingredients for glaze and drizzle over bread. Allow to set 15-20 minutes.
Crumb Mixture
In a small bowl combine flour, sugar, oats and melted butter. Mix with a fork until loose crumb forms. Place on top of bread batter.
Glaze
In a small bowl combine powder sugar, lemon juice, and lemon zest. Mix with small whisk until well combined and sugar has dissolved. Drizzle with large spoon over top of baked bread crumb.
Recommended Products
As an Amazon Associate and member of other affiliate programs, I earn from qualifying purchases.
Nutrition Information:
Yield:
12 servings
Serving Size:
1 slice of bread
Amount Per Serving:
Calories:

239
Total Fat:

7g
Saturated Fat:

2g
Trans Fat:

0g
Unsaturated Fat:

5g
Cholesterol:

21mg
Sodium:

134mg
Carbohydrates:

41g
Fiber:

1g
Sugar:

27g
Protein:

3g