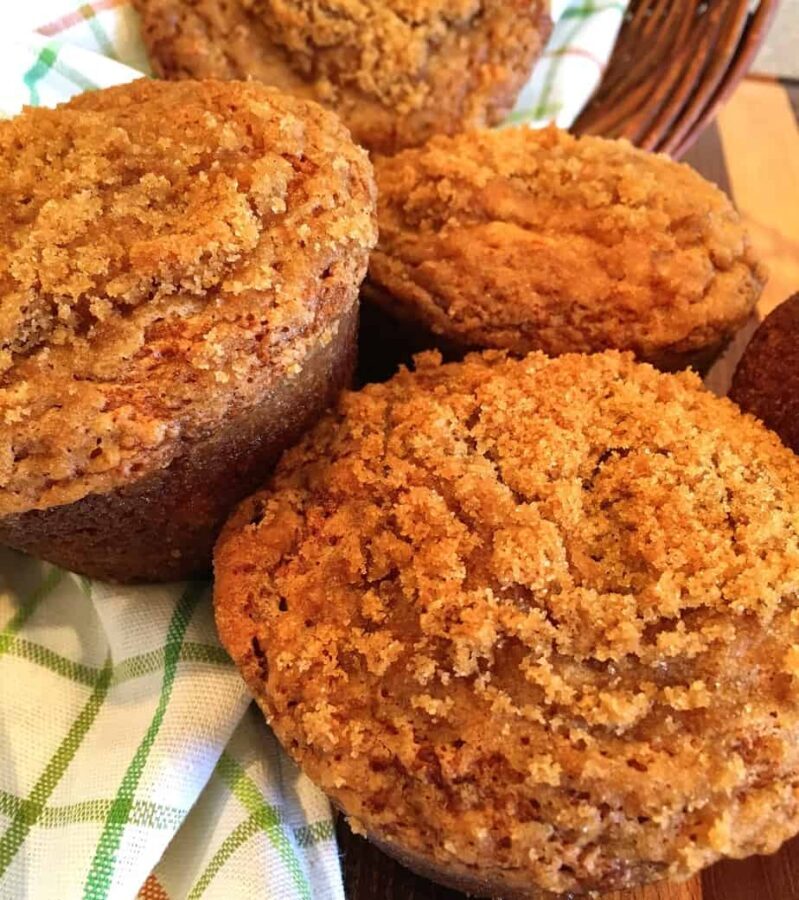 Delicious tender moist banana muffins topped with a delicious crumb topping!
*As an Amazon Associate I earn from qualifying purchases. This post may contain affiliate links, which means that I may make a commission from any purchases at no additional cost to you. Thank you for your support!
If there was a "Banana Humane Society"…I'd be on their top 10 most wanted list for cruelty to this yellow rind fruit!
I buy them EVERY. TIME. I. SHOP!
I bring them home, put them in my assigned fruit bowl (every house has an "assigned" fruit bowl), and watch them change color! (It's like my mood ring from Jr. High! "Oh look…they went from yellow to brown spots to black! Cool!") And I do this over, and over, and over again? I don't know why!
What's my problem? It's like I'm afraid the "Fruit Bowl" Police are going to show up, inspect my fruit bowl, and discover I don't have banana's! "Hey Sam…looky what we have here? A violation of code 286B! No banana's in the fruit bowl. Take her in and book her!"
Yeah, this is what I want to go to jail for!
So what do I do to avoid imprisonment? I turn those healthy potassium laden fruits into delicious breads and cakes! I like to think of it as my "Get out of Jail Free" card! ("Here ya go Sam…have a muffin! lol)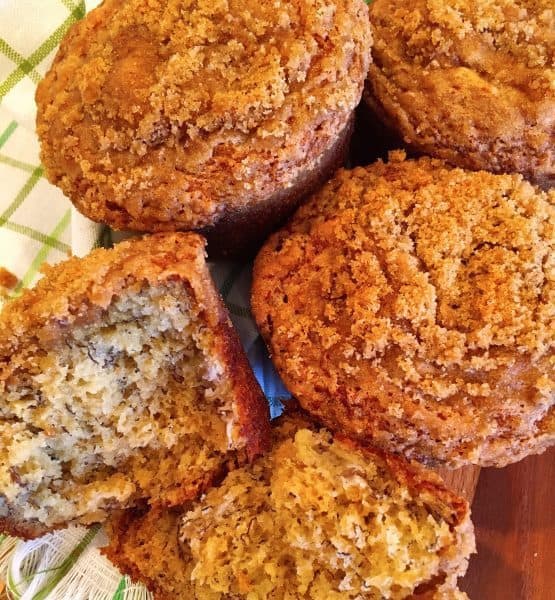 In my defense…these muffins are so outrageously delicious that it's worth buying banana's just to watch them get overly ripe so you can make them!
How To Make Banana Crumb Muffins
You'll start by preheating your oven to 350° and lightly greasing your muffin cups, or you can line them with muffin papers.
TIP: You have two choices of muffin size with this recipe. You can do a standard size muffin tin and make 10 muffins, OR you can do jumbo muffins (like the size of Costco muffins) and make 6.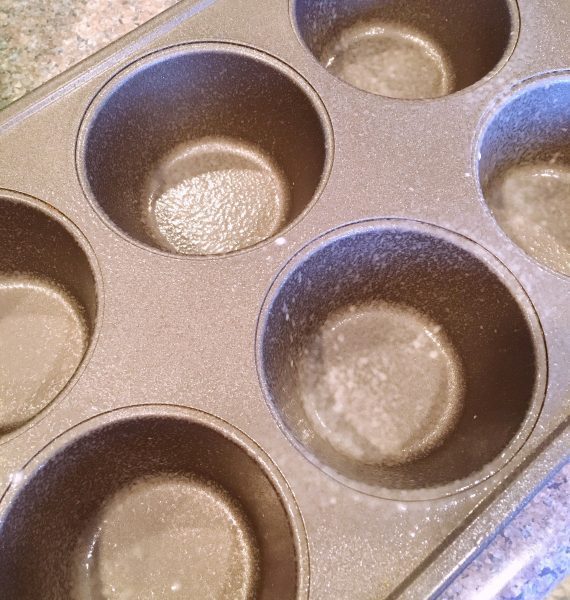 In a large bowl, mix together 1 1/2 cups of all-purpose flour, 1 teaspoon baking soda, 1 teaspoon baking powder and 1/2 teaspoon of salt.
In a mixing bowl, add 2 banana's, 3/4 cup white sugar, 1 egg, 1/3 cup melted butter, and 1/2 cup of chunky applesauce.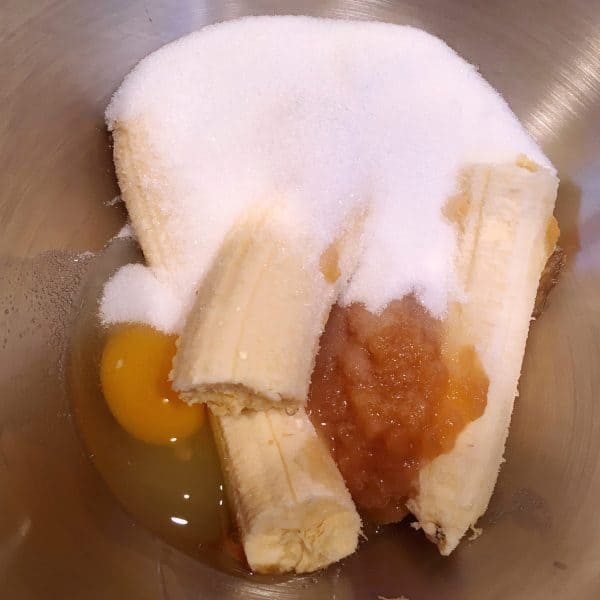 TIP: Did you know a banana peels easier from the opposite end? It does. Try it!
Beat those ingredient together until creamy. Mix the flour mixture into the banana mixture. (There's that beautiful new mixer my friend gave me for Christmas! I'm in LOVE with her! The mixer! My friend too! lol)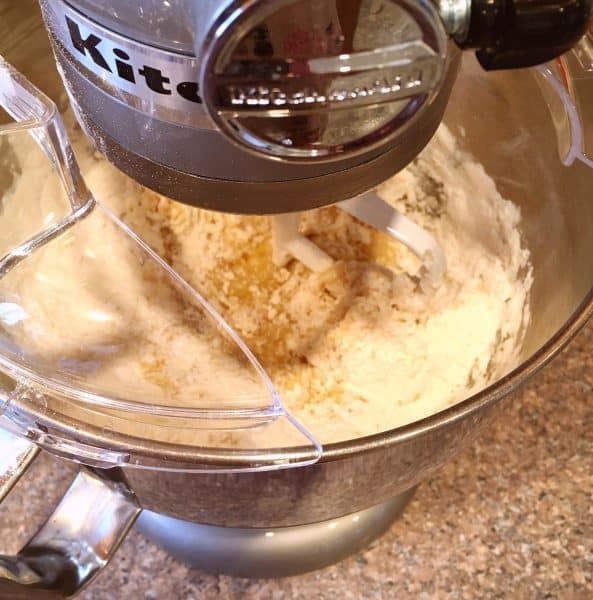 Mix together just until moistened. Which is a nice way of saying "Don't over mix this batter".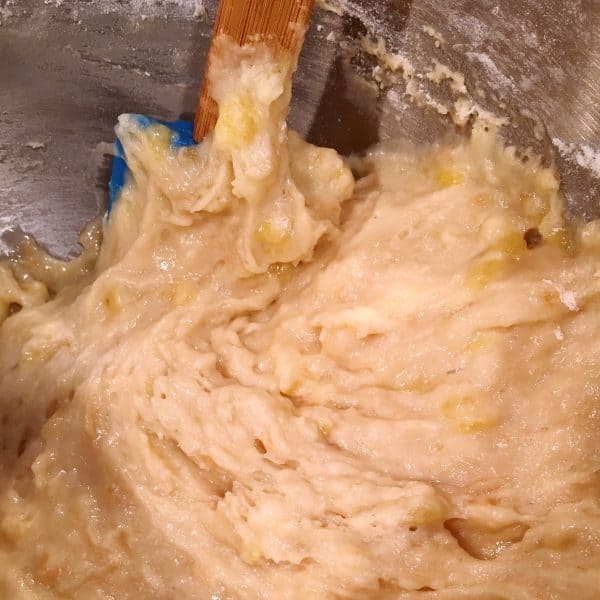 Spoon batter into prepared muffin cups. Filling about 2/3 – 3/4 full. (Are you loving that exact measurement? I'm here all day folks!)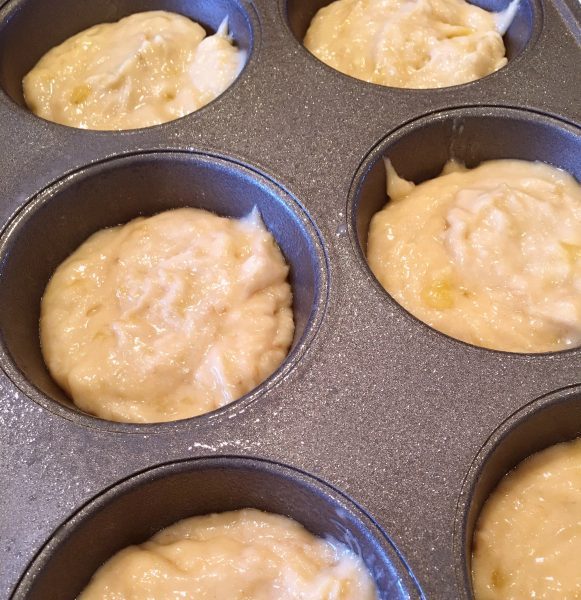 Now it's time to make that "crumb" for the muffins tops! The crumb topping is what makes these banana muffins stand apart from your regular ol' banana muffins!
It's so scrumptious! Beyond AMAZING! (Remember…my goal was to destroy any nutritious value of this poor mistreated fruit! SCORE ME!!!)
In a small bowl, mix together 1/3 cup of brown sugar, 2 tablespoons all-purpose flour, 1/8 teaspoon cinnamon, and 1 Tablespoon butter.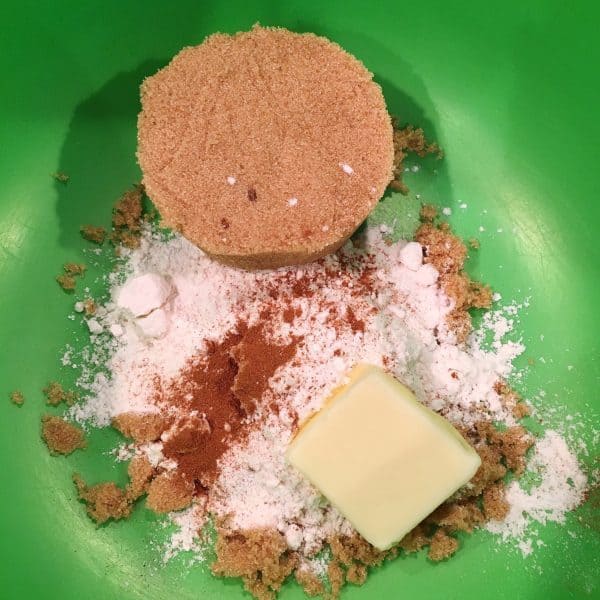 The trick with "crumb" topping is getting a good "crumb". (Huh? What did she just say?)
Let me explain…these muffins call for a really fine crumb. So I start with my pastry blender to cut the butter into the other ingredients.
Then I toss that pastry blender aside and dig in with my hands! I just keep rubbing and mixing until I get a fine crumb.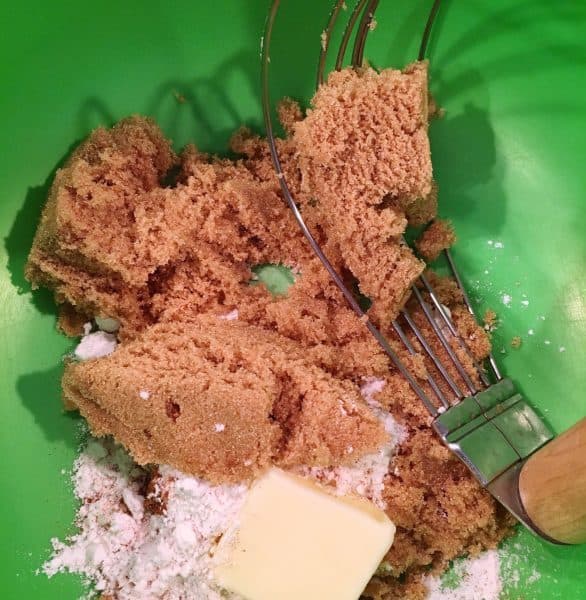 Sprinkle that crumb topping over the muffins. It's like Magic! The just went from ordinary muffins to "extraordinary" MUFFINS!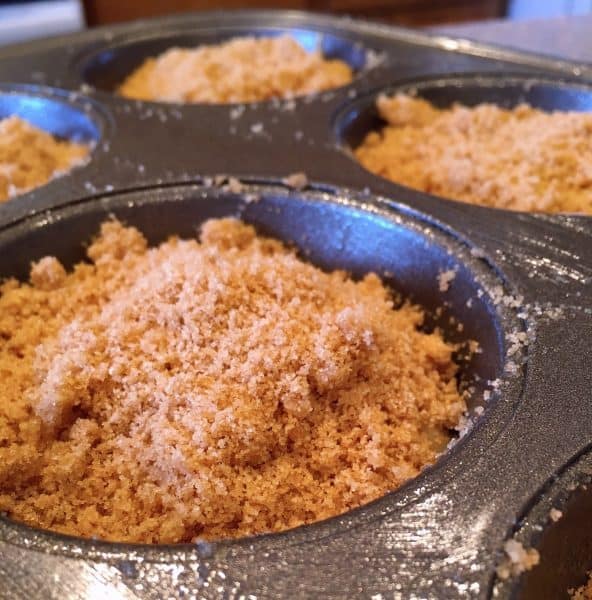 Bake in preheated oven for 18-20 minutes for ordinary size muffins, and 20-25 minutes for the jumbo muffins, or until a toothpick inserted into center of a muffin comes out clean.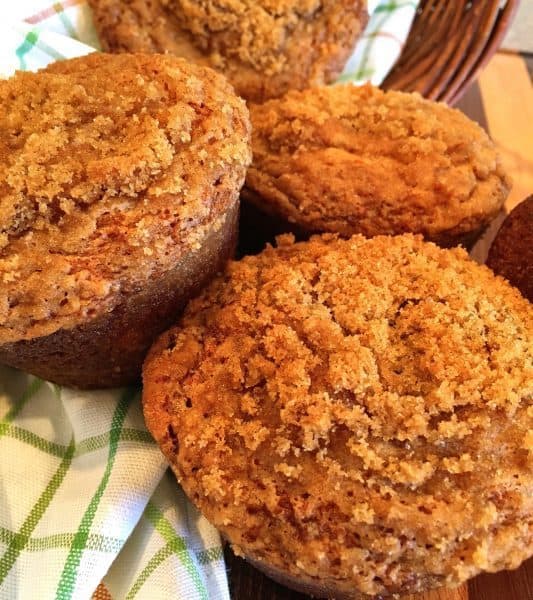 Look at that golden crumb topping! Isn't it spectacular!
One bite will have you swooning! Seriously these are the BEST banana muffin's I have ever had!
I wish I could take 100% of the credit for this recipe, but I can't. I got this from Allrecipes.com. I tweaked it in a couple of major ways.
I reduced the amount of banana's and added the applesauce. I've had this recipe both ways and you'll just have trust me when I say…lol…my way is best!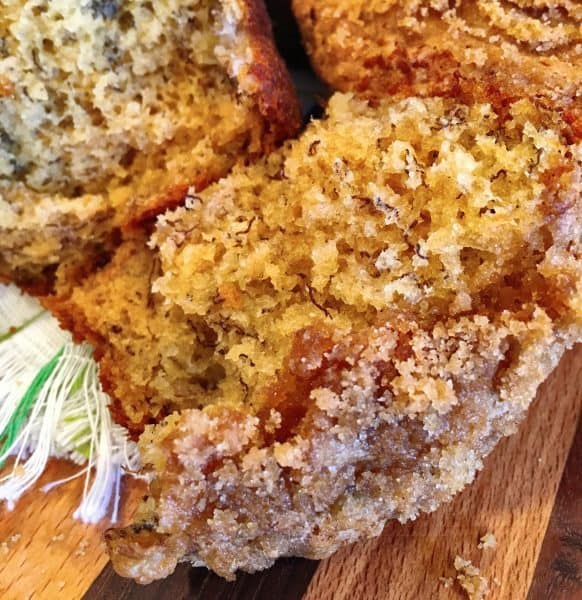 They are super moist, full of banana flavor, and then there's that luscious cinnamon brown sugar crumb. Each bite is a like a little party in your mouth!
My daughter and I were drooling over these. "Mars" comes home and starts eating one and pulls off the crumb topping! WHAT THE WHAT???? We stood there looking at him, with our mouths hanging open, like he was from…well….MARS!!!
Who does that? WHO. DOES. THAT? Now that's worthy of a jail sentence! Just sayin'…. lol. (There may have been a fight… with a two year old…for that crumb muffin top! You didn't honestly think that was going in the trash did ya?)
My friends…you want these muffins in your life! Totally worth every banana violation that goes down at this Nest!
The free printable recipe is below. Thanks for stopping by and listening to my ramblings. I hope these delicious muffins make an appearance at your table soon. Very soon…come and join me…ya know you got a few "tan" banana's sitting around! (wink-wink)
If you've enjoyed this recipe, you may also like these other Muffin Recipes
Happy Nesting!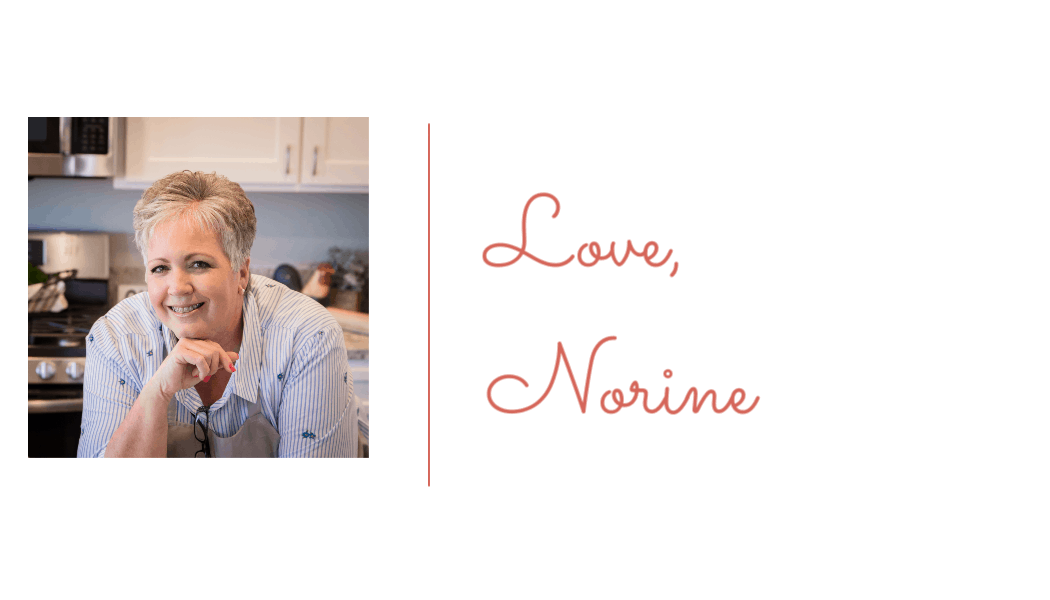 Yield: 8 muffins
Banana Crumb Muffins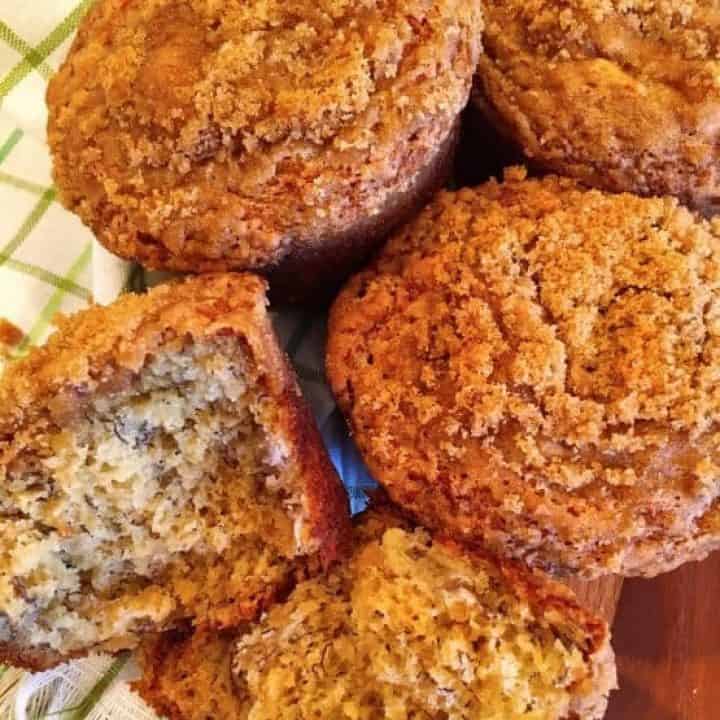 The crumb topping is what makes these banana muffins go from ordinary to extraordinary! They are absolutely spectacular in every sense of the word.
Ingredients
1 1/2 cups all-purpose flour
1 teaspoon baking soda
1 teaspoon baking powder
1/2 teaspoon salt
2 banana's mashed
3/4 cup white sugar
1/2 cup chunky applesauce
1 egg, lightly beaten
1/3 cup butter, melted
Crumb Topping
1/3 cup packed brown sugar
2 Tablespoons all-purpose flour
1/8 teaspoon ground cinnamon
1 Tablespoon butter
Instructions
Preheat oven to 375 degrees. Lightly grease 10 regular muffin cups or 6 jumbo muffin cups, or line with muffin papers.
In a large bowl, mix together 1 1/2 cups flour, baking soda, baking powder, and salt. In bowl of mixer, beat together banana's, sugar, egg, applesauce, and melted butter. Stir in the flour mixture into the banana mixture just until moistened. Spoon batter into prepared muffin cups.
In a small bowl, mix together brown sugar, 2 Tablespoons flour and cinnamon. Cut in 1 tablespoon butter until mixture resembles coarse cornmeal. Sprinkle Crumb mixture over muffin tops.
Bake in preheated oven 18-20 minutes for regular muffins or 20-25 minutes for jumbo muffins, or until a toothpick inserted into center of a muffin comes out clean.
Recommended Products
As an Amazon Associate and member of other affiliate programs, I earn from qualifying purchases.
Nutrition Information:
Yield:
8 servings
Serving Size:
1 muffin
Amount Per Serving:
Calories:

309
Total Fat:

10g
Saturated Fat:

6g
Trans Fat:

0g
Unsaturated Fat:

3g
Cholesterol:

47mg
Sodium:

434mg
Carbohydrates:

53g
Fiber:

1g
Sugar:

30g
Protein:

4g