If you're looking for an AMAZING scone recipe…look no further! This Cranberry Orange recipe creates a puffy, tender, exceptionally moist and flavorful scone! They're truly perfect in every way!
I'm so excited to make these again for Christmas morning! Best part? You can make them ahead time, freeze them, pop a few of them in the microwave Christmas morning for a minute… and you'll have scrumptious light moist scones that taste like you just pulled them out of the oven! Hooray!!!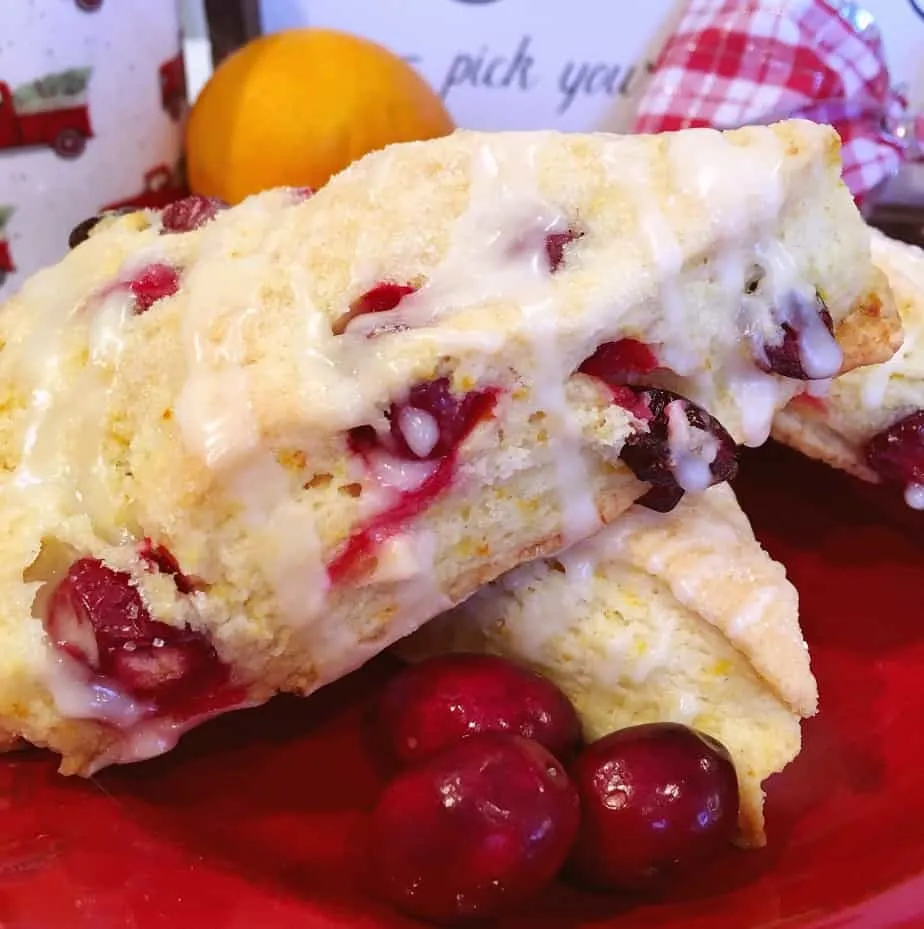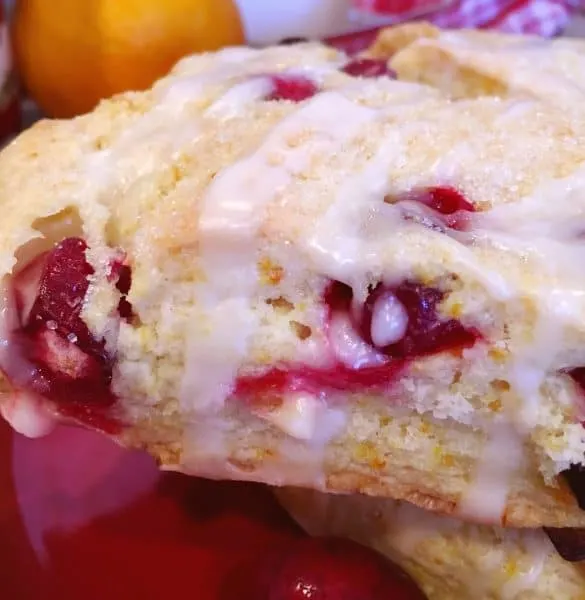 Scones should be tender and moist! They should never be crusty over-sized Croutons! To help you avoid gigantic croutons I'm going to share two of my biggest tips for making exceptionally moist scones!
TIPS How To Make PERFECT Cranberry Orange Scones
Preheat the oven to 375°.
Next prepare the fresh Orange Zest by grating the zest of one large orange.
TIP: For the BEST Orange zest pick an orange with a bumpy thick "meaty" skin. This is the opposite of when you are purchasing oranges for eating. Generally you want an orange with a smooth thin skin for eating. Not so for Orange Zest!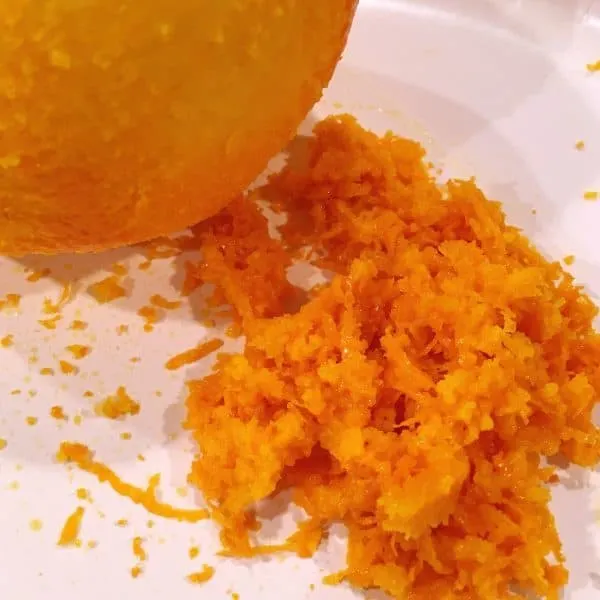 In a medium bowl add 2 cups of flour, 1/3 cup sugar, 1 1/2 teaspoons baking powder, 1/2 teaspoon salt, and orange zest from one medium orange.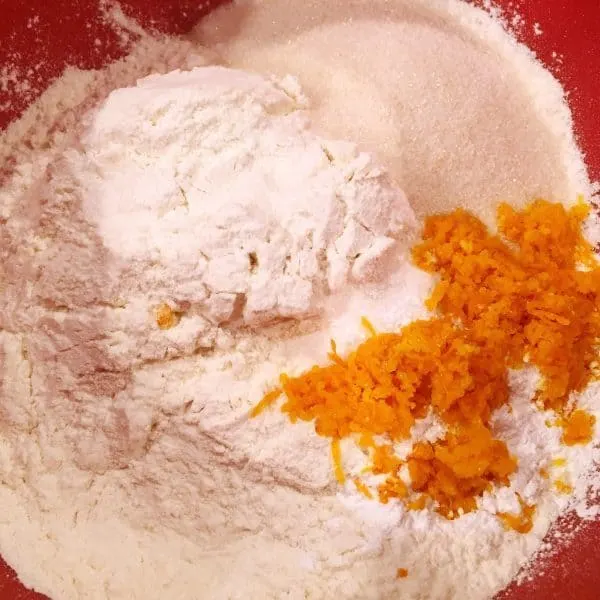 Whisk to combine all the dry ingredients and that amazing orange zest! (The smell of that zest is fantastic!)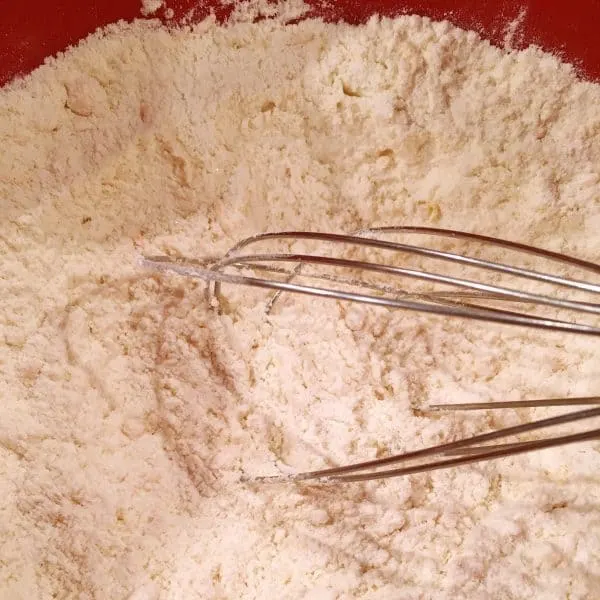 Let's Talk Butter!
You have two options regarding the addition butter…
Cut 1/2 cup of cold butter into small cubes
Grate 1/2 cup of butter
First time I made these…I cut the butter into small cubes. The smaller the better. It makes "cutting" them into the dry ingredients easier.
Second time I made a double batch and I grated the butter! I HIGHLY recommend this method! It made cutting the butter into the flour a breeze! And we could all use short cuts at this busy time of year.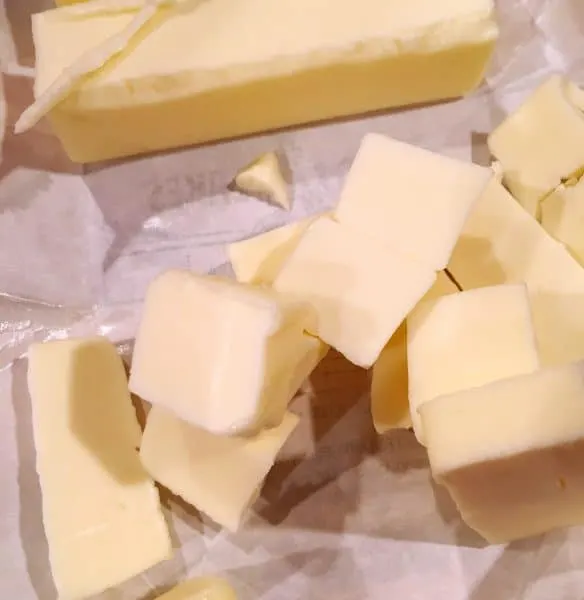 Add the cubed or grated butter and cut it in with a pastry blender.
One recipe I read said you could use two knives to do this? Perhaps if you're Edward Scissorhands! Otherwise….No freakin' way!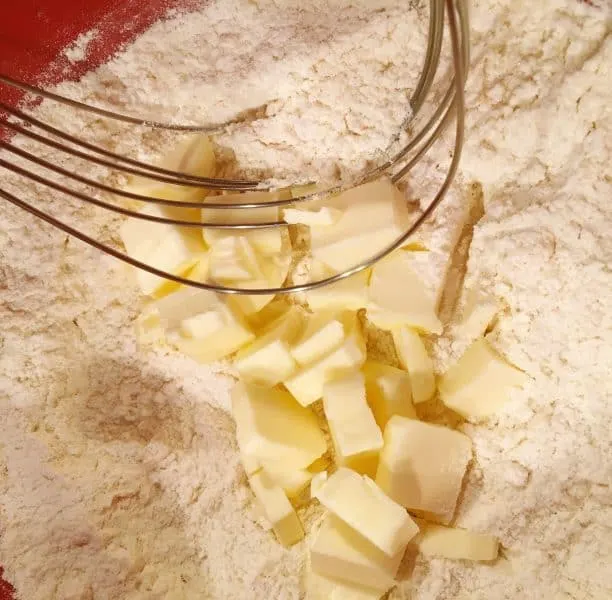 Cut the butter in until you have a mixture that resembles a fine crumb. (When you feel your arm is gonna fall off… your done!)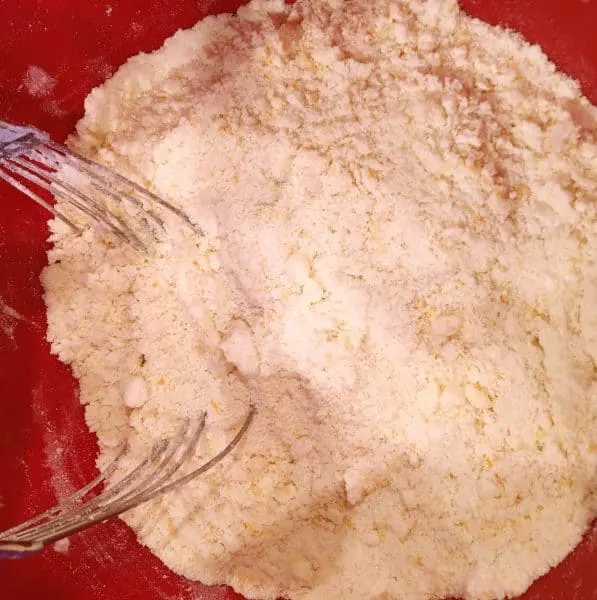 Add 3/4 cup heavy whipping cream…mix together until the dough begins to gather together into large clumps.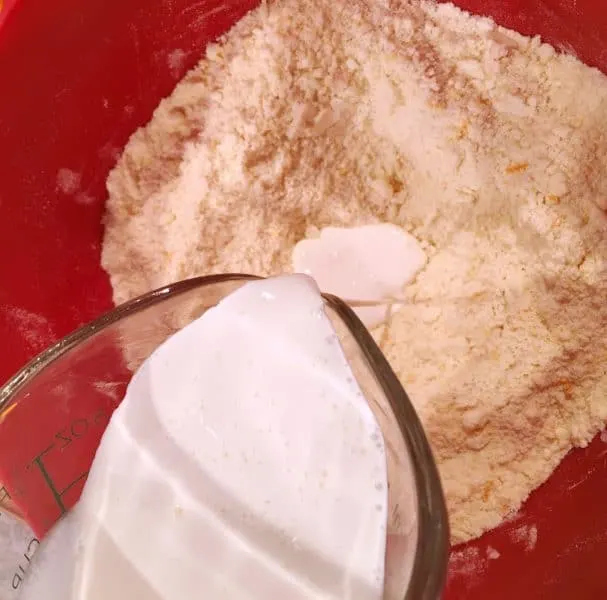 Add 1/3 cup fresh cranberries and 1/3 cup dried cranberries.
Mix by folding the ingredients together with your hands, also known as "Kneading"…if your name is Julia. If it's Norine…it's mulching the ingredients.
I do this in the bowl! It's much easier than using a spoon. Gently "knead" until everything is well combined.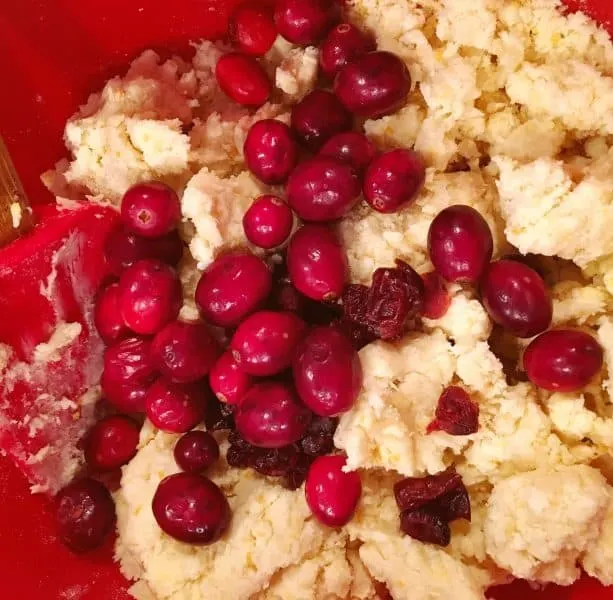 Place dough on a floured surface.
I love my dough disc that I purchased from Amazon. I use it for every dough that needs to be rolled out…cookies, pie crust, biscuits, and rolls…it's one of my favorite kitchen tools and it's used a LOT! You can check them out HERE!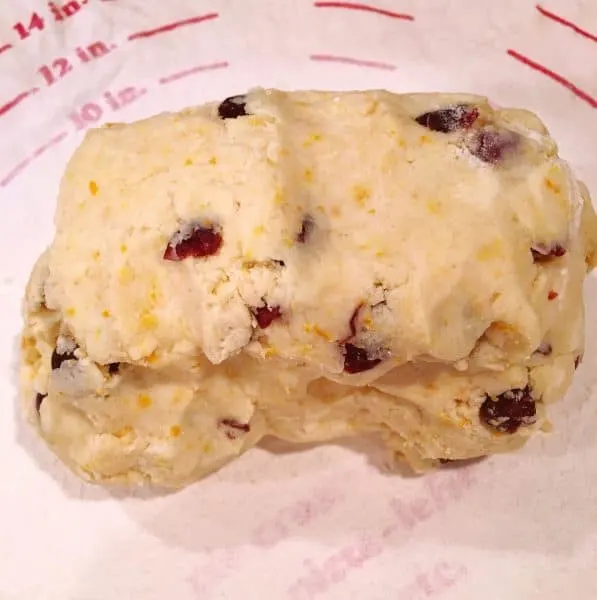 Next you are not…let me repeat this…you are NOT going to use a rolling-pin! (Don't make me come and smack it out of your hand!)
Gently shape it, and pat it…like a little babies bottom…into a large circle about 10 inches around and 1/2 inch thick. Be careful not to squish the cranberries! They haven't done anything to you…they're just giving their lives to the cause of a Great Scone! Be nice to them. lol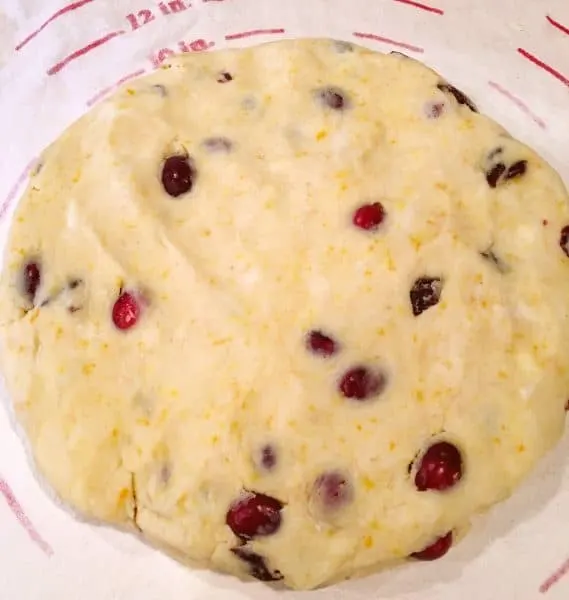 Sprinkle top with granulated sugar…you don't have to do this if you are going to glaze them…I like sugar…so I did both! That's right…sugar and glaze. I believe in living large! Go big or go home! lol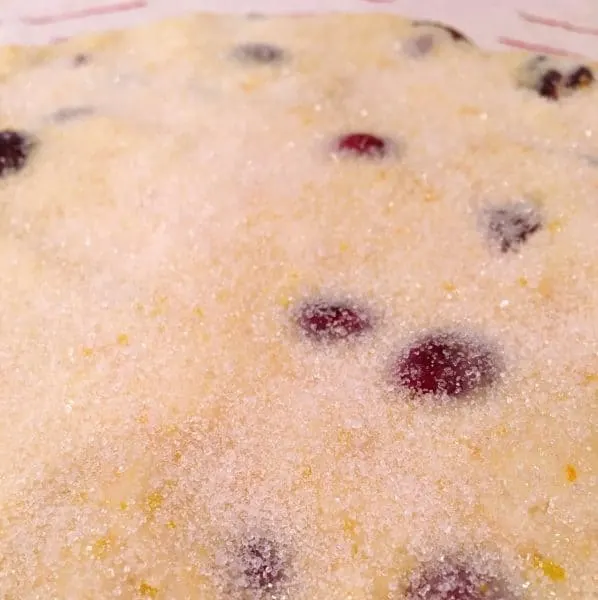 Using a sharp knife cut into 8 triangles…don't worry about those whole cranberries…just cut right through them. Sure I told you to be nice to them when patting them…when it comes to cutting them…show no mercy!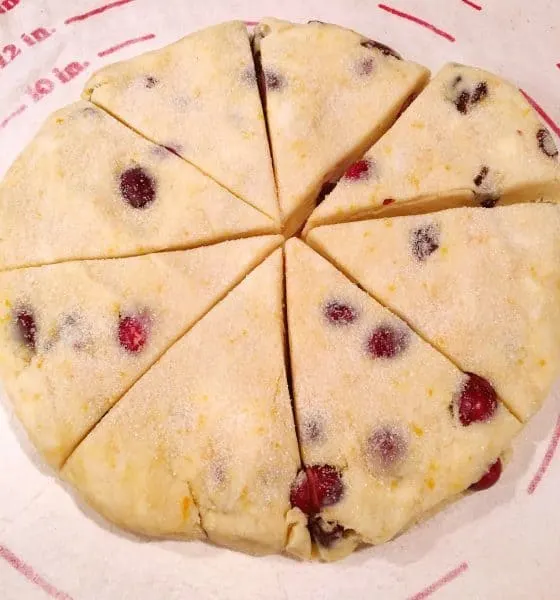 Place scones on parchment or silicone lined baking sheet about a half-inch apart.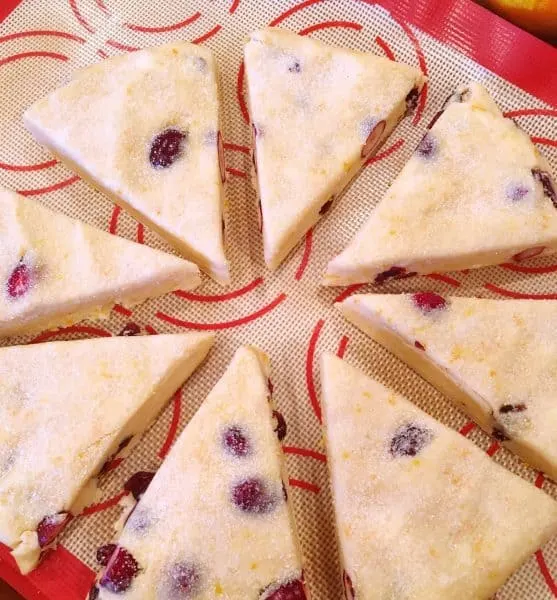 Place in 375° oven on the center rack for 20-25 minutes until lightly golden brown.
Aren't they beautiful! Big and fluffy filled with tender tart cranberries! I drool just thinking about them.
Remove from oven and allow to cool while you make the glaze.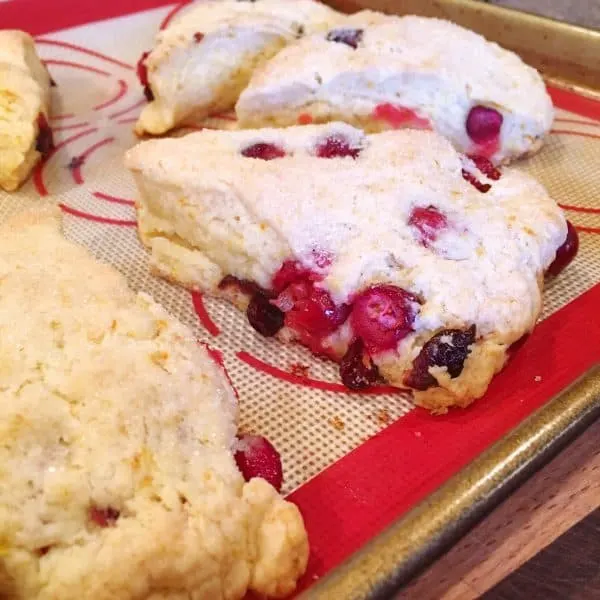 In a measuring cup, or glass bowl, add 3/4 cup powder sugar and 2 Tablespoons fresh orange juice…Remember that orange you grated the zest off of…use that for "fresh" orange juice in your glaze. It's amazing!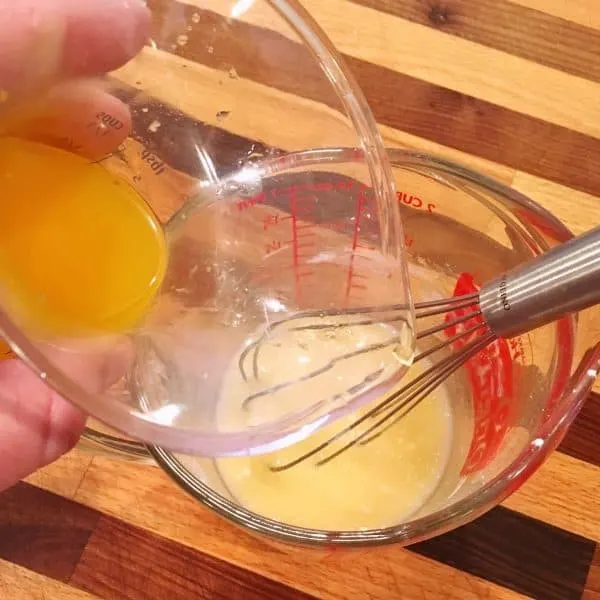 Mix until smooth and creamy!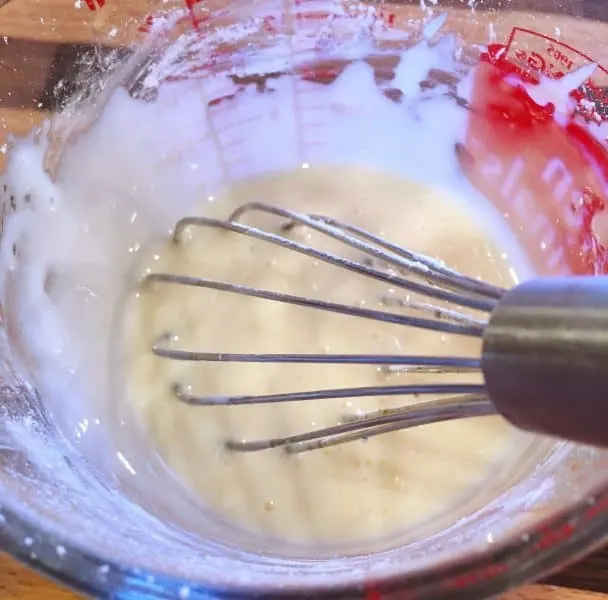 Drizzle orange glaze over scones!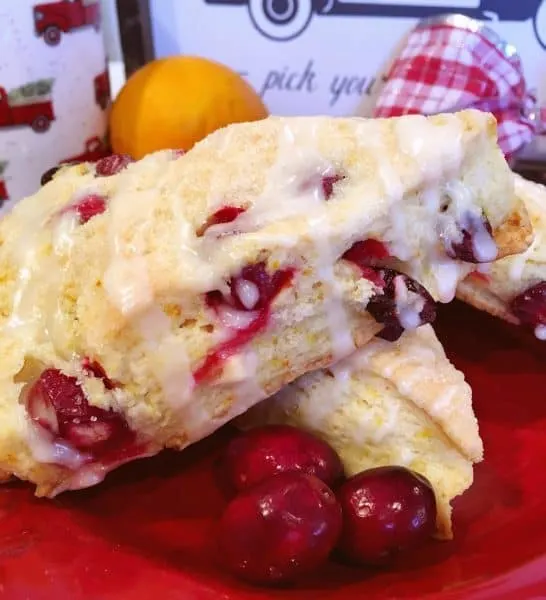 Now for the fun part…break into those triangles of lusciousness and dig in!
I love the combo of both the dried and fresh cranberries.
I can't say this enough…It's an amazing Scone! They're loaded with SO much flavor! Every bite is filled with the fresh winter flavors of orange and cranberry.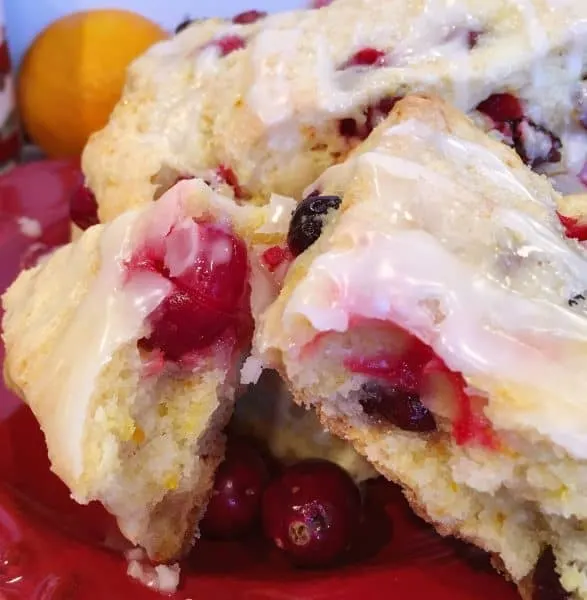 They'll make you forget about sub-zero temps and all the snow on the ground! They also go great with a big cup of hot spiced cider on Christmas morning.
Another bonus… you can store them in a zip-lock storage bag or freeze them and pull them out when you want a little slice of heavenly bliss!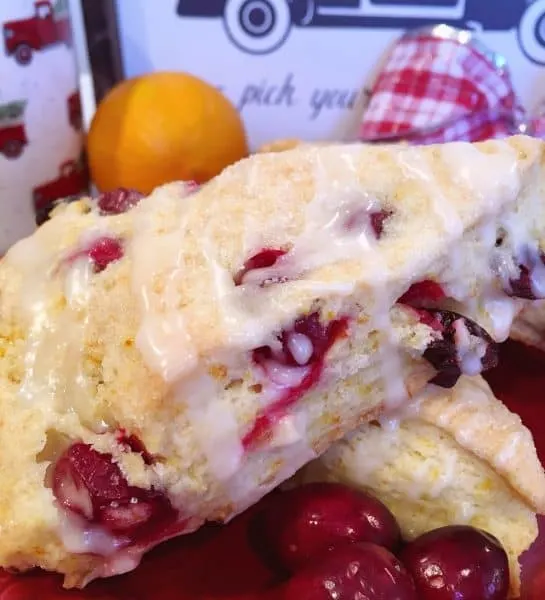 Say good-bye to those over priced scones at a certain favorite national coffee shop…you can have Cranberry Orange Scones whenever you want! Really, REALLY good scones!
Scones your husband will eat! Whoa! So they're like "Miracle Scones"! You know you want to bake a batch of Miracle Scones!
Favorite Holiday Breakfast Recipe Ideas
Thanks for stopping by my Nest this Holiday Season! I hope the chicks at your Nest will love these scones as much as we do!
Happy Nesting!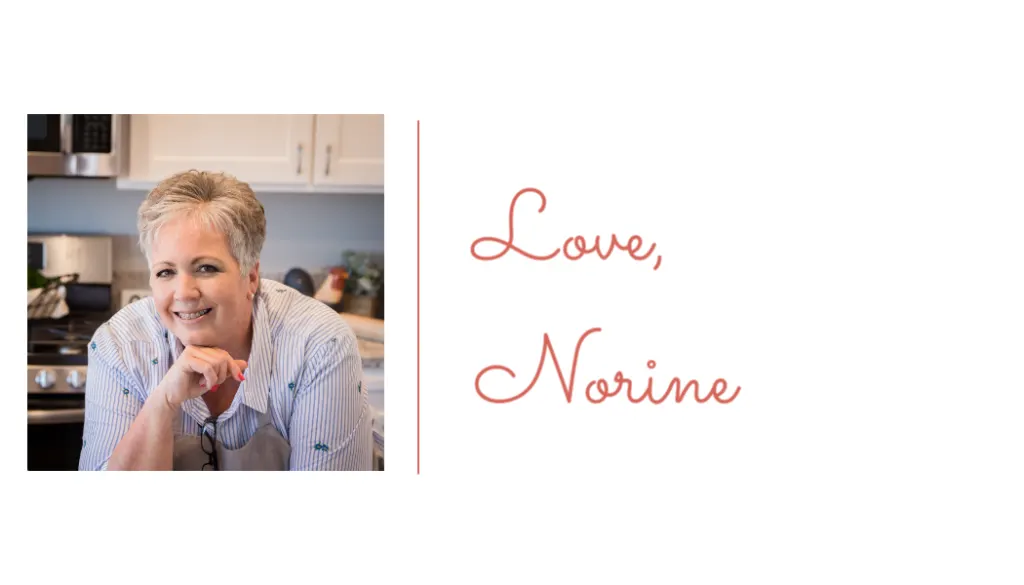 Yield: 8 servings
Cranberry Orange Scones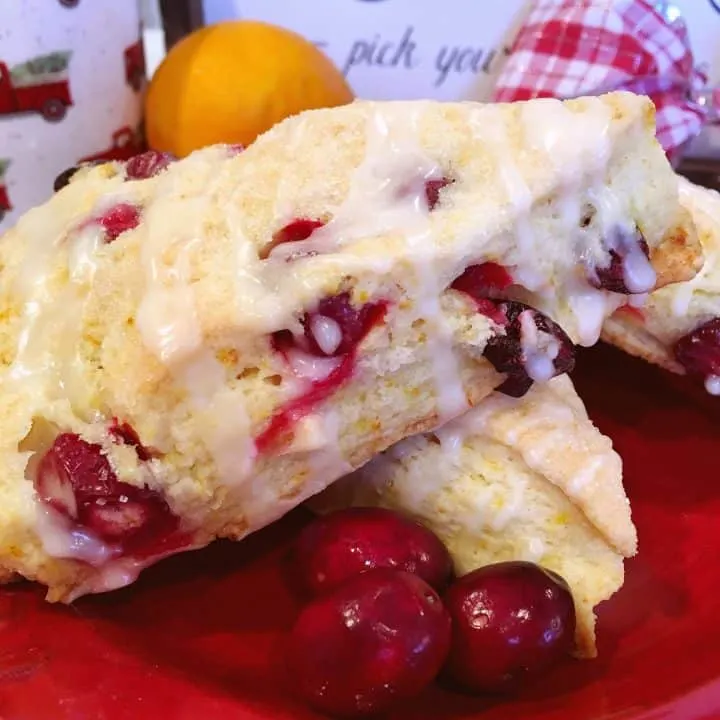 Light buttery moist scones loaded with hints of orange zest, fresh and dried cranberries with a fresh orange glaze.
Ingredients
2 cups all-purpose flour
1/3 cup granulated sugar
2-3 Tablespoons orange zest
(from one medium orange)
1 1/2 teaspoons baking powder
1/2 teaspoon salt
1/2 cup butter, cold
3/4 cup heavy whipping cream, cold
1/3 cup dried cranberries
1/3 cup fresh cranberries
2 teaspoons sanding sugar, or regular sugar (optional garnish)
Glaze
3/4 cup powdered sugar
2 Tablespoons Orange Juice
Instructions
Preheat oven to 375° degrees. Line a baking sheet with parchment or silicone baking sheets.
Place the flour, sugar, orange zest, baking powder, and salt in a medium bowl. Mix with wire whisk.
Grate or cut butter into small squares and cut into flour mixture with pastry blender until mixture resembles coarse crumbs.
Add in 3/4 cup of heavy whipping cream. Mix until mixture begins to form large balls. Mix with hands until ingredients combine and come together.
Add in dried and fresh cranberries. Gently knead cranberries into dough in the bowl.
Place on floured surface and pat into a 10 inch circle a half inch thick. Sprinkle with sugar. Cut into 8 triangles. Place on lined baking sheet.
Bake for 20 - 25 minutes or until scones are lightly golden brown.
Remove from oven and cool. While scones are cooling make orange glaze by mixing 3/4 powder sugar and 2 Tablespoons Orange juice until smooth. Drizzle over top of scones.
Serve immediately, store in zip lock bags, or freeze.
Recommended Products
As an Amazon Associate and member of other affiliate programs, I earn from qualifying purchases.
Nutrition Information:
Yield:
8
Serving Size:
1 scone
Amount Per Serving:
Calories:

411
Total Fat:

20g
Saturated Fat:

13g
Trans Fat:

1g
Unsaturated Fat:

6g
Cholesterol:

56mg
Sodium:

323mg
Carbohydrates:

55g
Fiber:

2g
Sugar:

29g
Protein:

4g