Cranberry Orange Bread is a moist tender crumb quick bread loaded with fresh cranberries and hints of orange zest with a spectacular crumb topping and an orange drizzle.
Well…we are one week from Thanksgiving! The weather here has turned frigged…finally! I have Christmas music playing! (Yep, I know it's early… It's my favorite!)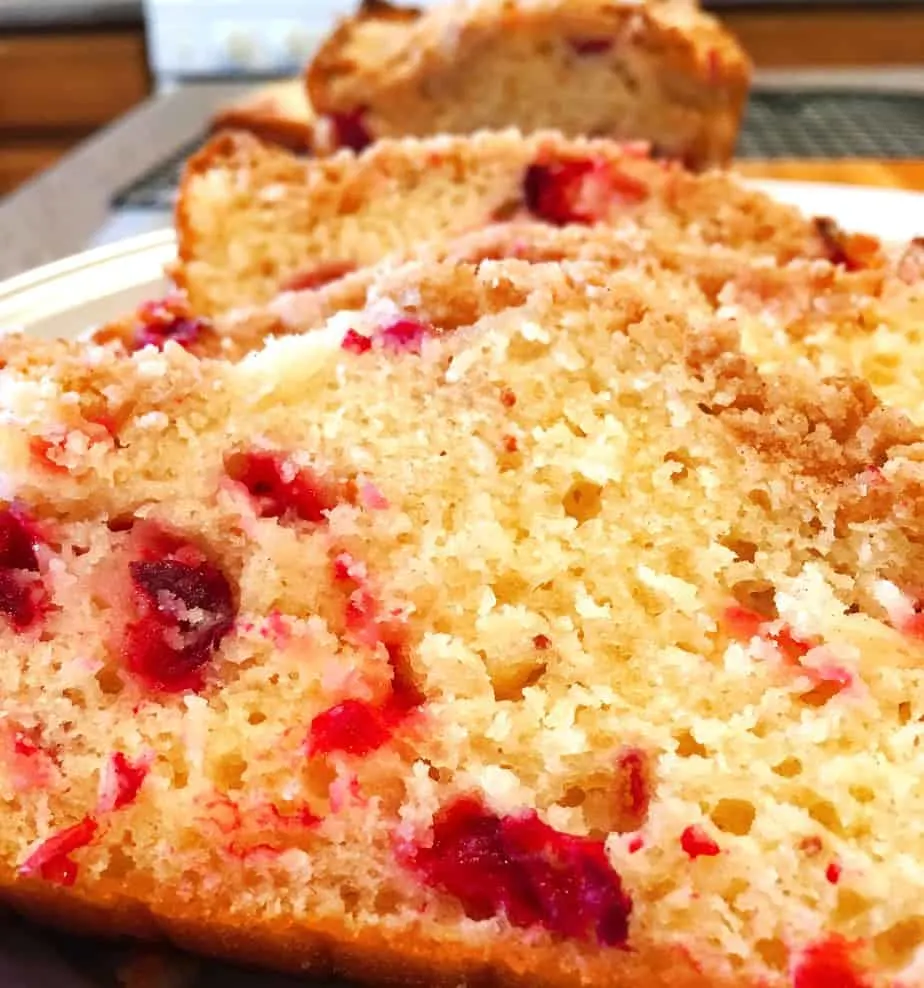 I'm feeling the peace and excitement that comes at this time of year! I absolutely L.O.V.E. it. I'm giddy thinking of family and friends gathering soon.
If I close my eyes I can even smell cinnamon, turkey, and pumpkin wafting through the air. It really is the MOST wonderful time of the year.
So I decided to make this Cranberry Orange Bread with Crumb Topping! I'm madly in love with cranberries! So they get top billing in this yummy recipe!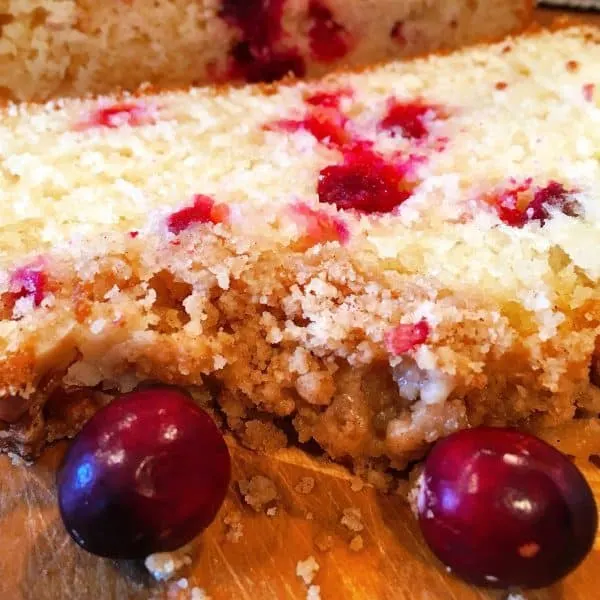 It doesn't really matter who came first…the orange or the cranberry. Just make sure you are the first to get a slice, or it may be gone before you even get a bite! This Cranberry Orange Bread is just THAT good!
How To Make Cranberry Orange Bread
A heads-up… I didn't take step-by-step photo's of the bread batter because I have confidence that you can mix wet and dry ingredients together. 😉
TIP: I chopped my cranberries because I wanted bits in every single bite I took. I love the "tang" of cranberries. So…yummy!
Mix your bread batter until ingredients are well combined. Fold in the chopped cranberries.
Pour batter into a greased loaf pan and top with the streusel mixture. This is my "go to" streusel recipe. It comes out perfect every time. Make sure it forms a "pea size" crumb.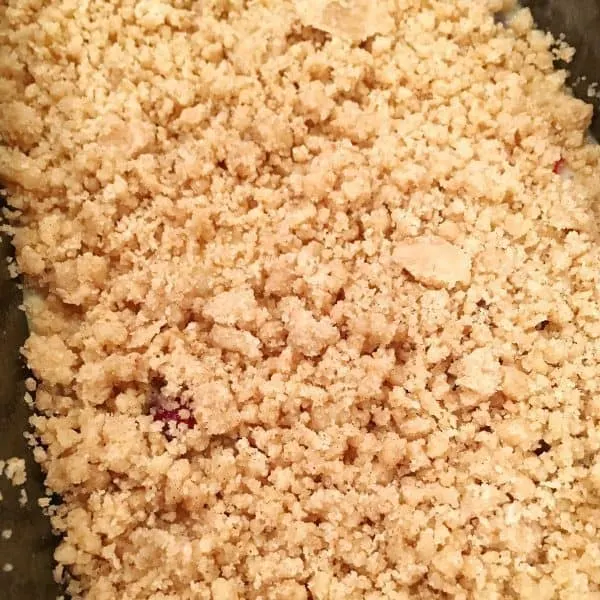 Place in a preheated 350-degree oven and bake for 70–75 minutes or until toothpick inserted comes out clean.
Once the bread is baked remove from the oven and place on a cooling rack for 15 minutes. Loosen the sides of the bread with a bread knife or butter knife.
Remove from loaf pan and let cool completely….HEY! I said "Let it cool completely!" (I know, I know! I wanted to face plant into it too. However, I thought explaining 2nd degree hot cranberry bread burns would be a little damning to my reputation.)
How To Make Orange Glaze
While the bread is cooling mix up the orange glaze. Mmmmmm…this glaze! It's a must! Don't skip this step. It just kicks up that "orange" flavor and gives you a legit reason to lick your fingers!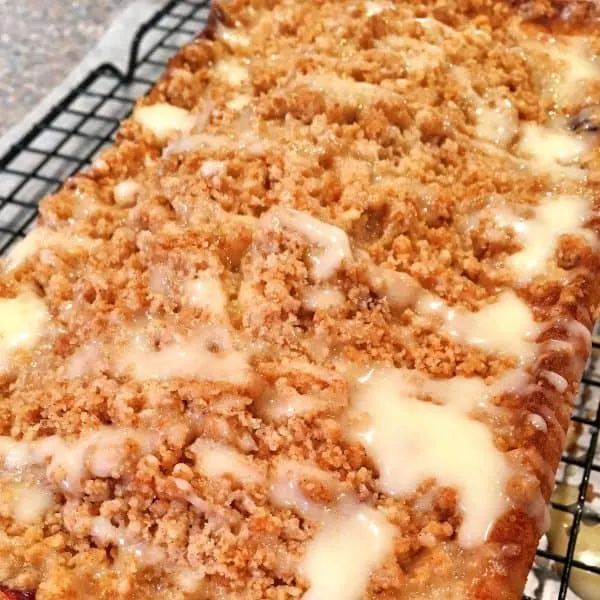 Once cool, slice into nice thick slices. Don't be skimpy with this bread. It deserves to be a grand treat! To allow it that status it need be a hearty slice. (Hey! That's my story, and I'm sticking to it!)
Hints of cinnamon in the streusel adds a perfect subtle Christmas flavor to this delightful loaf of cranberry-orange happiness!
The combination of the streusel topping with the orange glaze, and the moist cakey (word?) texture of this quick bread reminds me of an old-fashioned doughnut minus the hole.
Only it's ten million times better! It's packed with those tart little bits of cranberry and the glorious orange zest.
If you're not sure what to serve Thanksgiving morning I HIGHLY recommend this cranberry orange bread! Your family and friends will come back for seconds! Okay…maybe thirds!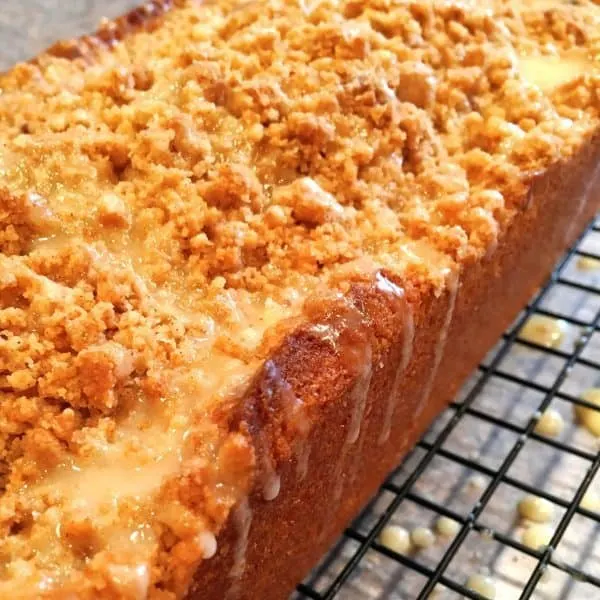 Have a big crock pot of steaming spiced apple cider on hand, and you will win the "hostess with the mostest!" (English teachers the world over just moaned! Sorry guys!) Add in a delicious breakfast casserole, and you have a brunch fit for a queen…or king!
Favorite Breakfast Pastry and Bread Recipes
Thanks for stopping by today. I hope you give this beautiful tasty Cranberry Orange Bread a try next week. I know it will be a hit!
Happy Nesting!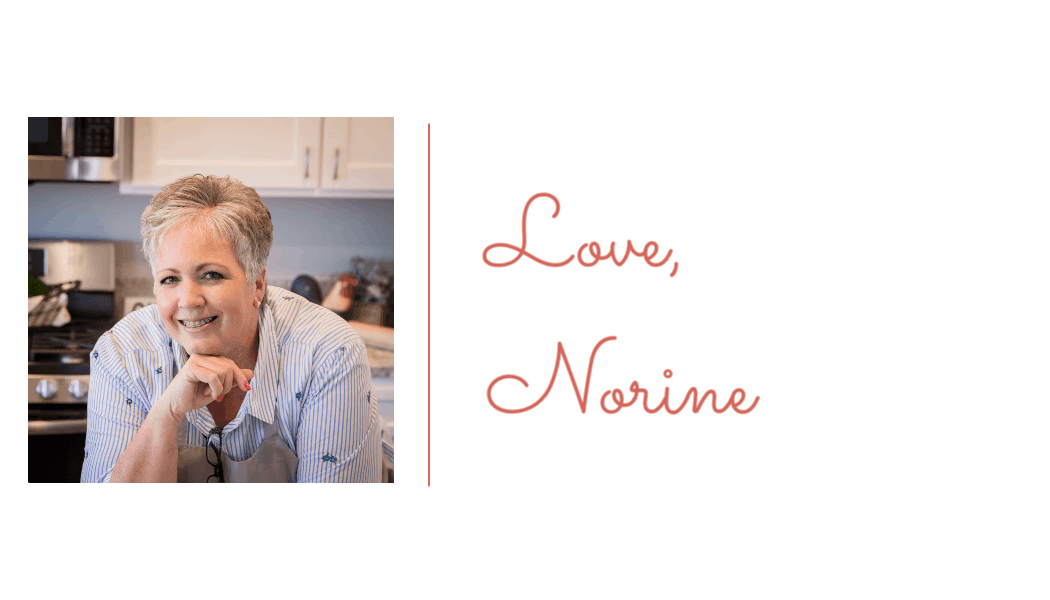 This Recipe was Adapted from Two Peas and Their Pod
Yield: 12
Cranberry Orange Bread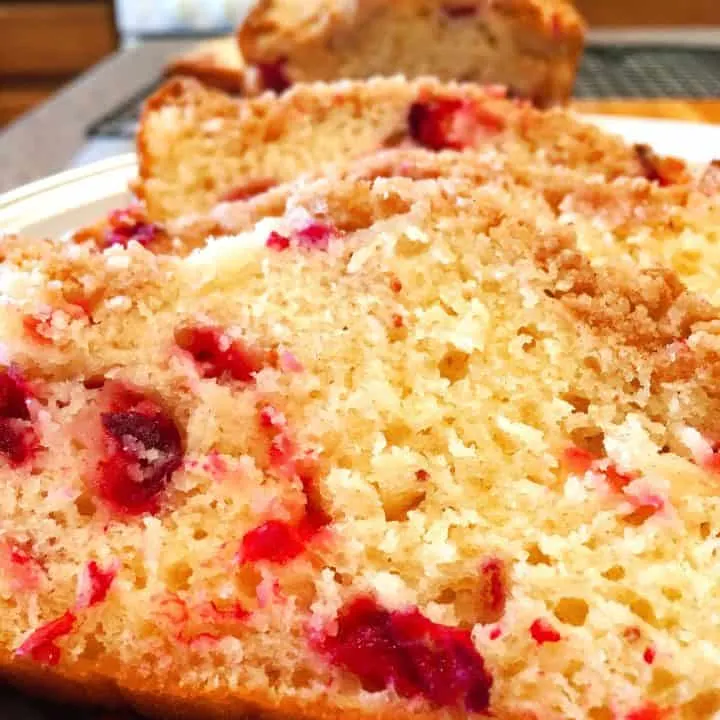 A light moist cranberry orange bread with cake like texture is topped with an amazing streusel topping and then drizzled with an orange zest glaze! It's simply the BEST! Perfect for breakfast during the Holidays!
Cook Time
1 hour
10 minutes
Total Time
1 hour
30 minutes
Ingredients
For the bread:
1 1/2 cups all-purpose flour
1/2 teaspoon salt
1 teaspoon baking powder
1 cup granulated sugar
zest of 1 large orange
3/4 cup buttermilk
1/2 cup vegetable oil
2 large eggs, slightly beaten
1 Tablespoon fresh orange juice
1/2 teaspoon vanilla extract
1 cup fresh cranberries, chopped
For the Streusel
1 Tablepsoon light brown sugar
1 Tablespoon granulated sugar
1/4 tsp cinnamon
2/3 cup all purpose flour
1/8 cup unsalted butter, melted
For the orange glaze:
1 Cup Powdered sugar
2 Tablespoons fresh orange juice
1 teaspoon orange zest
Instructions
Preheat oven to 350 degrees. Spray a 8 1/2 x 4 1/2 loaf pan with cooking spray and set aside.
In a large bowl, whisk together the flour, salt, and baking powder. In a small bowl, combine the sugar and orange zest. Whisk into the flour mixture. Set aside.
In a separate medium bowl, combine the buttermilk, oil, eggs, orange juice, and vanilla.
Slowly add the wet ingredients to the dry ingredients. Stir until just combined. Fold in the chopped cranberries. Pour batter into prepared loaf pan.
In a small bowl, mix streusel ingredients together until crumbly. Sprinkle evenly over the top of the bread batter.
Bake for 70-75 minutes, or until toothpick comes out clean. If your loaf starts to get too brown, drape a piece of foil over the top to finish baking.
Remove bread from oven and place on a cooling rack and cool for 15 minutes. Loosen the side of the bread with a knife. Carefully remove loaf from pan. Let cool completely on wire rack.
While bread is cooling, make the orange glaze. In a small bowl, combine powdered sugar, orange juice, and orange zest. Whisk until smooth. Drizzle the glaze over the bread. Cut and serve.
Recommended Products
As an Amazon Associate and member of other affiliate programs, I earn from qualifying purchases.
Nutrition Information:
Yield:
12
Serving Size:
1
Amount Per Serving:
Calories:

316
Total Fat:

12g
Saturated Fat:

2g
Trans Fat:

0g
Unsaturated Fat:

9g
Cholesterol:

36mg
Sodium:

171mg
Carbohydrates:

49g
Fiber:

1g
Sugar:

30g
Protein:

4g