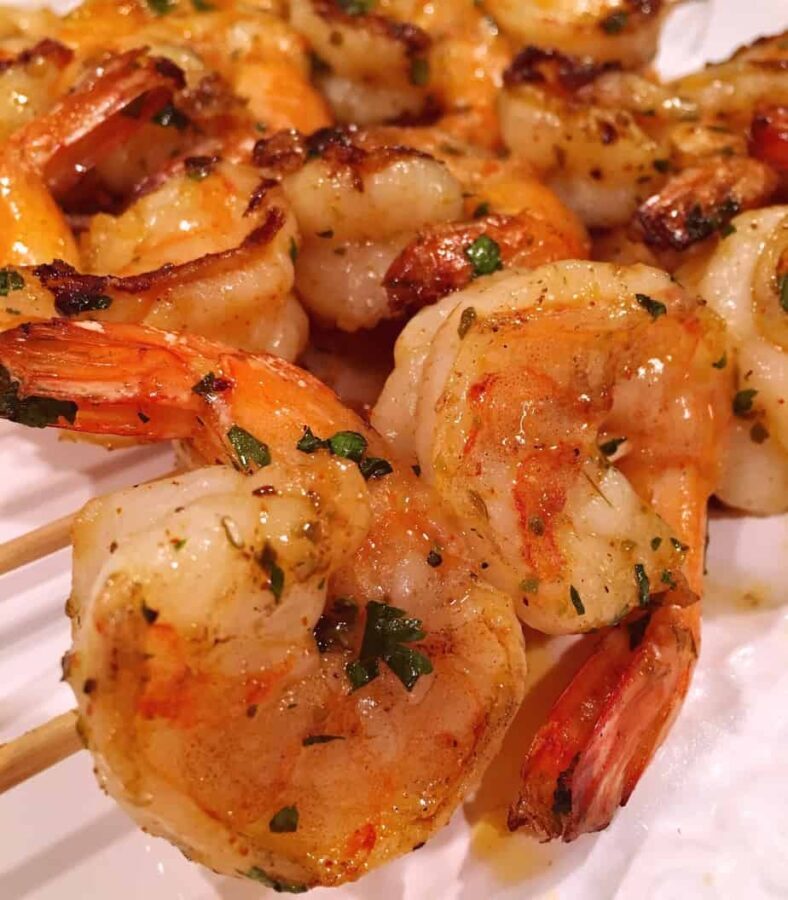 Grilled Cilantro Citrus Shrimp just may be my new favorite shrimp recipe! The flavors infused in these tender plump jumbo shrimp are out of this world… thanks to the amazing marinade! Orange juice, lime juice, spices, and fresh cilantro combine to give this shrimp a spectacular zest. Throw in the smokey hints from the BBQ… and you have a great Shrimp dish! You'll think your in Spain or Mexico.
*As an Amazon Associate I earn from qualifying purchases. This post may contain affiliate links, which means that I may make a commission from any purchases at no additional cost to you. Thank you for your support!
Great food can do that! Transport you to another time and place.
If that's not true…mother's all over the Universe would not hide in closets eating boxes of donuts, chocolate candy bars, and bags of salty chips! (I rest my case!) Moving on…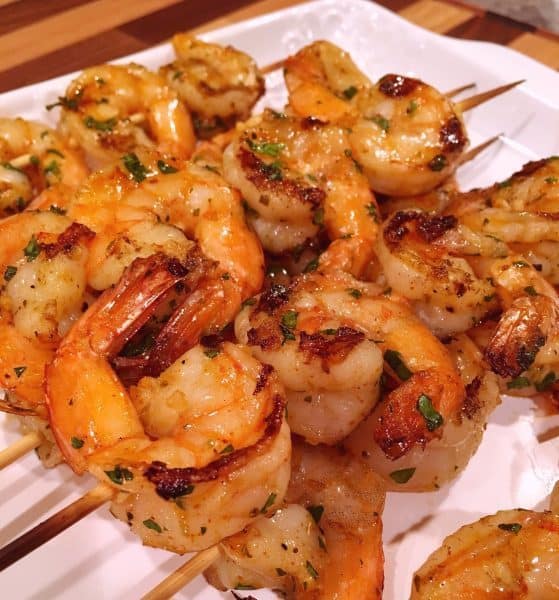 How To Make Grilled Cilantro Citrus Shrimp
You'll need one pound of raw extra-large shrimp 21-25 count. Rinsed, drained, and shelled. (You can leave their little tails on! I know I'd want my tail left on!)
TIP: Let's talk about those numbers. What does it mean when the bag, or the butcher's tag, states 38-42 count, or like I mentioned, 21-25 count? That is the approximate number of shrimp you'll get per pound.
So if the number is high, you are getting small shrimp. If the number is low, you are purchasing larger shrimp. For grilling we want larger shrimp so they don't get tough and dry, while they are cooking on the grill.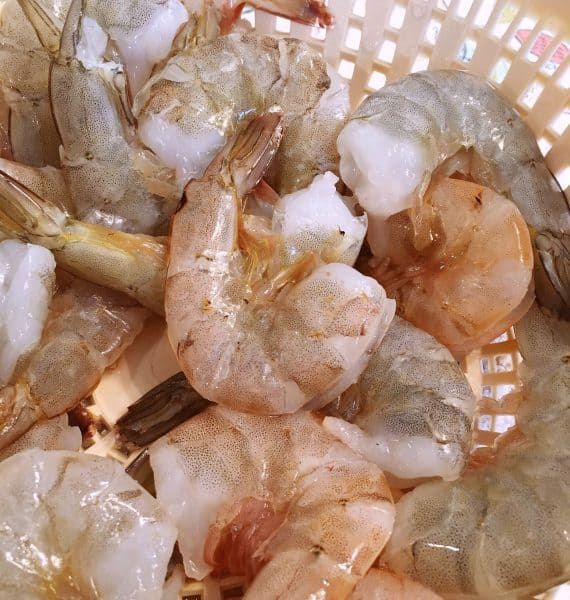 Place shrimp in a large bowl.
Add 3 Tablespoons of Olive Oil, 1 Tablespoon Orange Juice, 1/2 a lime juiced, 1/4 tsp coarse black pepper, 1/4 tsp salt, 1/4 tsp dried oregano, 1/2 tsp minced garlic, 1/2 tsp cumin, 1/2 tsp chili powder, and 1 Tablespoon chopped cilantro. (Whew…And a partridge in the pear tree!)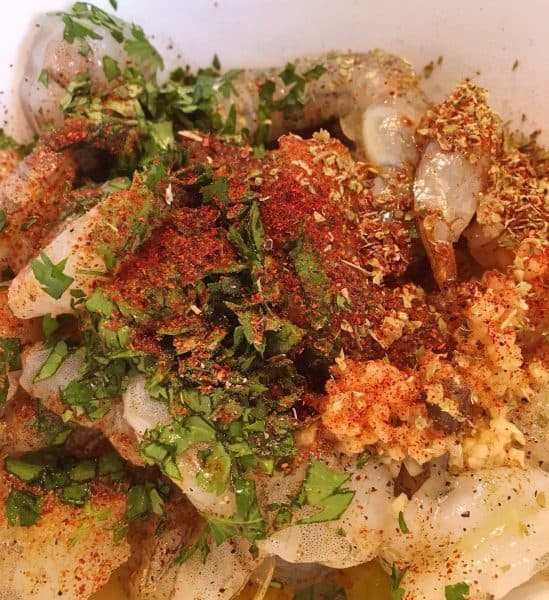 Mix until well blended. Honestly I think this looks good raw! However…This isn't a sushi recipe.
Cover and chill for 2 hours.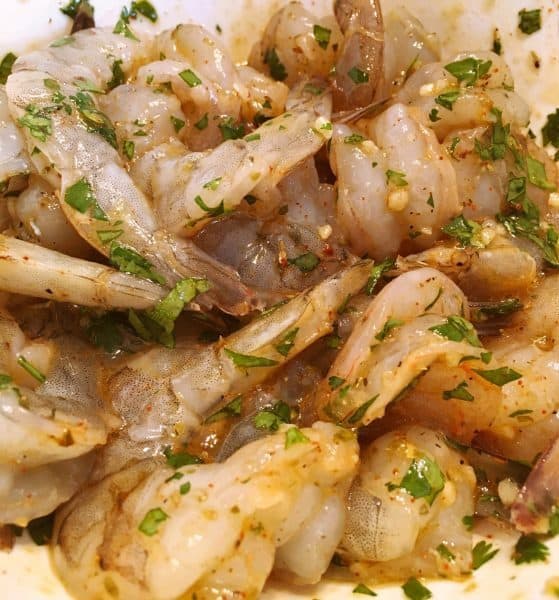 Thread 4 shrimp per bamboo skewer. When threading the shrimp be sure to go through the bottom by the tail and to top where "said head" used to preside. Save any left over marinade to brush on the Shrimp while they are cooking.
TIP: Soak your bamboo skewers to prevent them from catching on fire. Although flames are a nice touch.
Set your grill on medium low heat. Turn and baste often. They should be coral pink with a slight golden char on them, and firm to the touch.
TIP: The trick to really GREAT shrimp is to NOT over cook them! Once they turn pink and are firm to the touch they are done.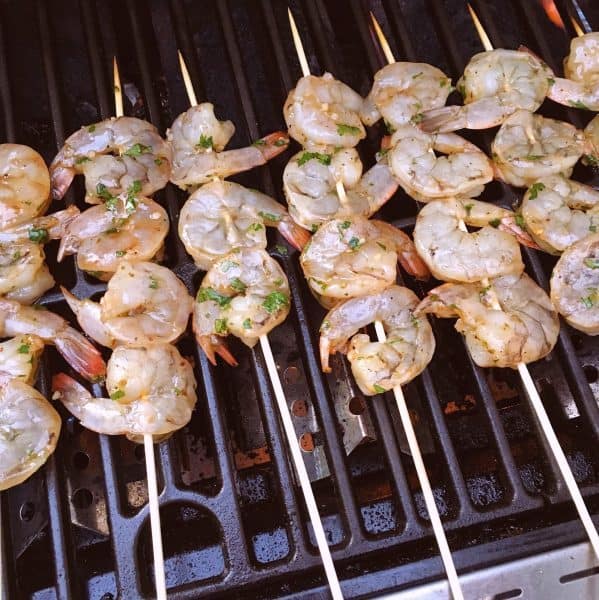 Look at those beauties slathered in those delicious spices and flavors! YUM!!!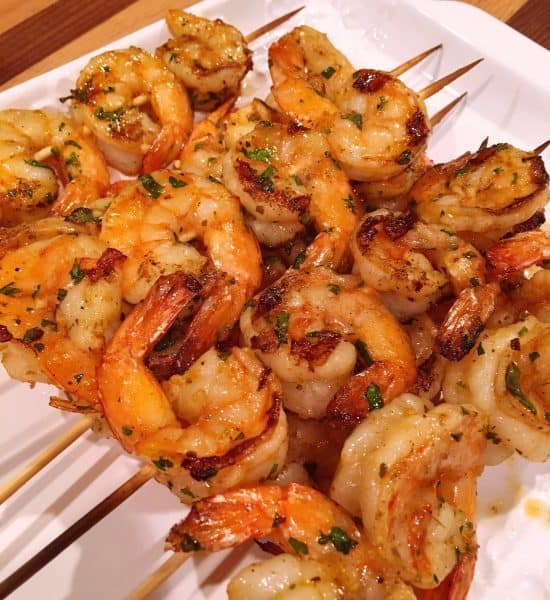 From the first bite you'll be salivating! Truly a taste treat for the senses!
I closed my eyes after each bite, and then…lost all my manners, and licked each of my fingers… one by one, to get every last ounce of that marinade on my tongue!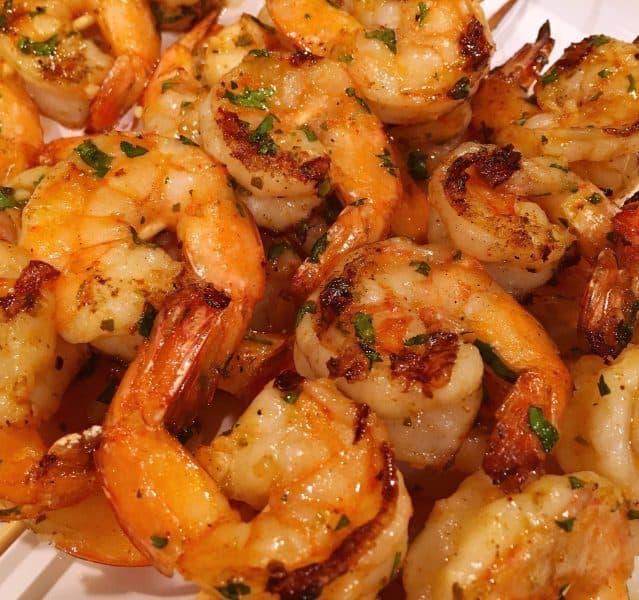 Sea critters never tasted so good! I can hardly wait to make this recipe again! Served with a flavorful rice, some fresh garden vegetables and a fruit salad you have the perfect summer meal!
Trust me…MAKE THESE SHRIMP!
Remember you can follow me on Facebook, Twitter, Instagram, and Pinterest. I'd love to have you join me.
Thanks so much for stopping by my Nest!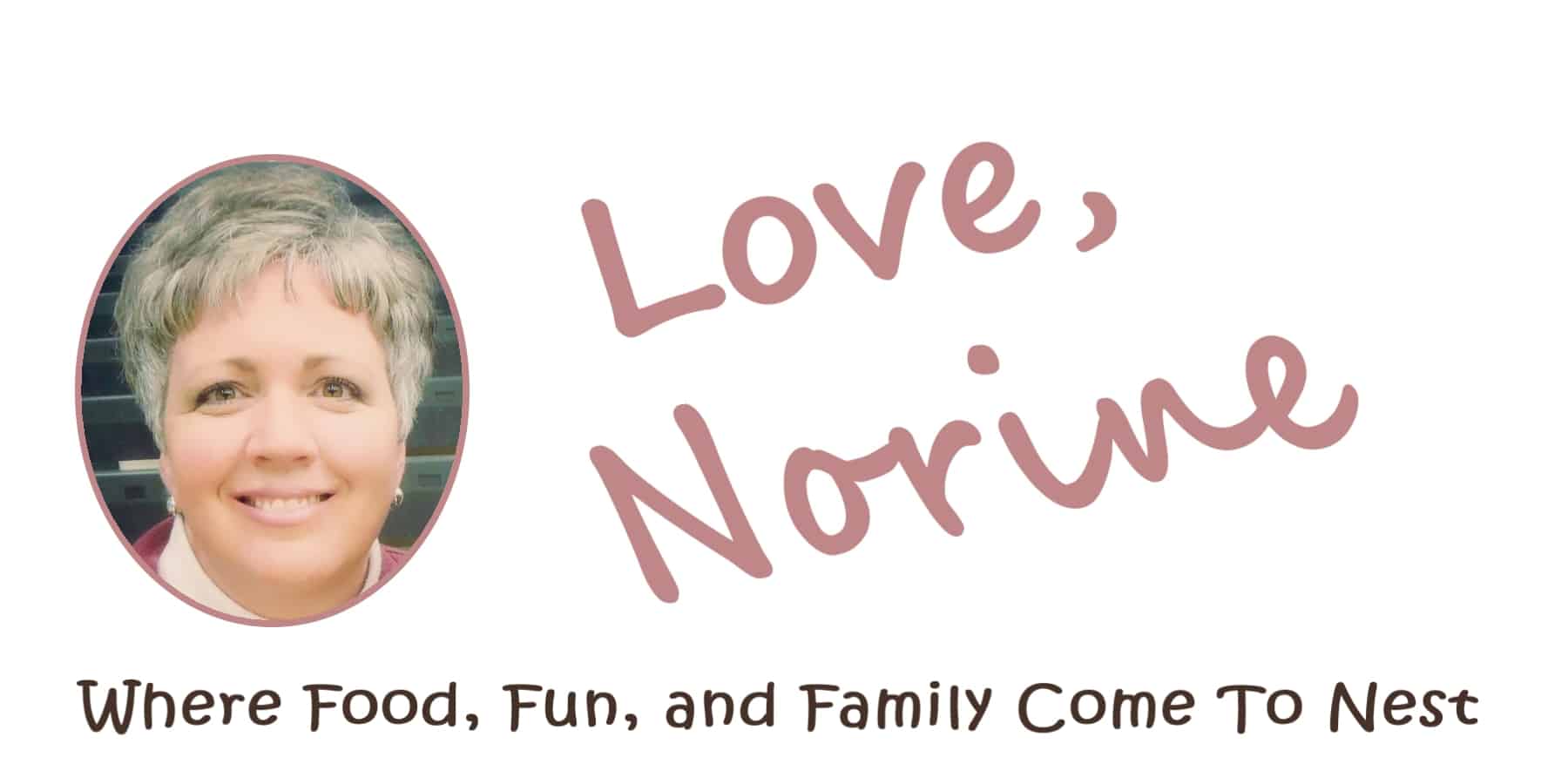 Yield: 3-4 servings
Grilled Cilantro Citrus Shrimp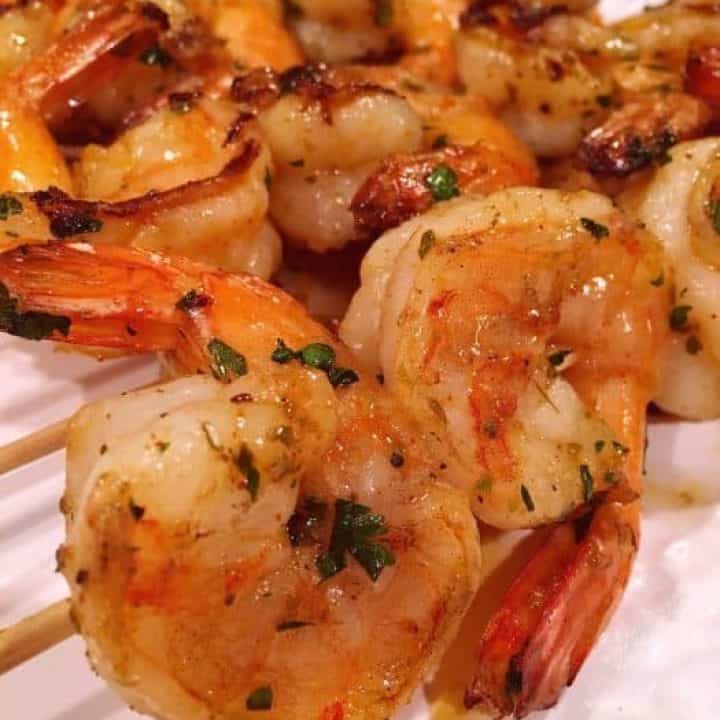 Big tender shrimp, perfectly grilled, in a delicious citrus cilantro marinade! A fantastic flavor experience!
Prep Time
2 hours
5 minutes
Ingredients
1 pound 21-25 count raw shrimp
3 Tablespoons Olive Oil
1 Tablespoon Orange Juice
Juice from 1/2 a Lime
1/4 tsp coarse black pepper
1/4 tsp salt
1 Tablespoon chopped fresh Cilantro
1/4 tsp dried oregano
1/2 tsp minced garlic
1/2 tsp cumin
1/2 tsp chili powder
Bamboo Skewers
Instructions
Wash, drain, and peel shrimp, leaving tails on.
Place shrimp in large bowl.
Add Olive Oil, Orange Juice, Lime Juice, black pepper, salt, dried oregano, minced garlic, cumin, chili powder, and fresh chopped cilantro.
Mix well. Cover and marinade in the refrigerator for 2 hours.
Thread shrimp tail and head area on a bamboo skewer.
Heat grill. Set temperature on low.
Grill shrimp turning often and basting with remaining marinade. Cook until shrimp turn coral pink, are firm to the touch, with a slight golden brown char.
Notes
Prep time includes 2 hour marinating time.