Delicious layers of noodles, cheese, and the most lusciously rich meat sauce, steeped in deep Italian flavors all combine to create the World's Best Lasagna!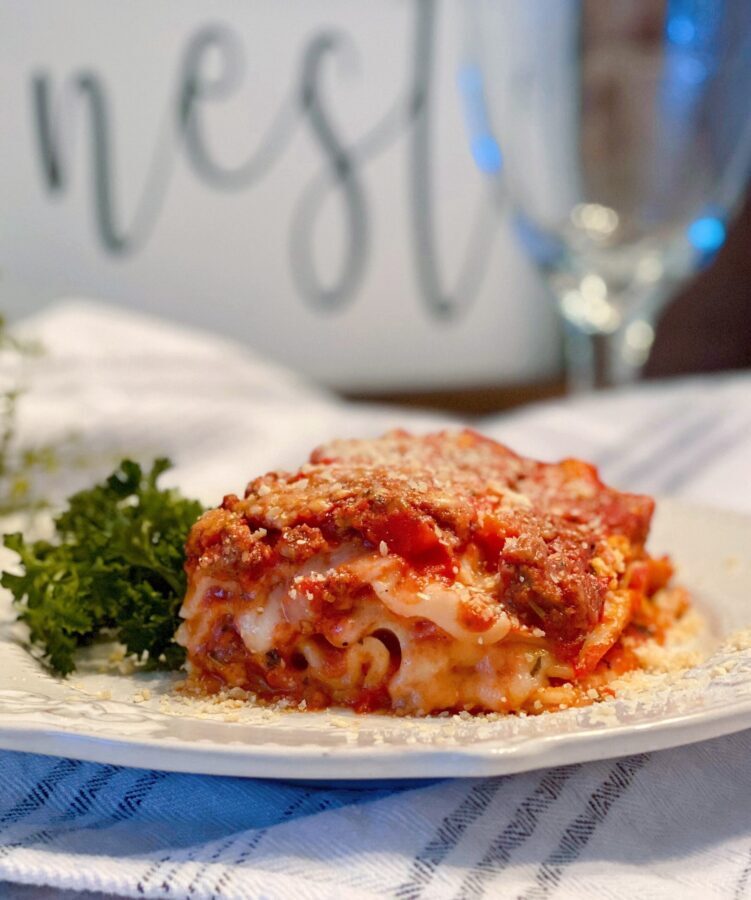 Happy Halloween! I know… sigh…it's chili, taco soup, or pizza day! Anything you can fix that is quick and easy after all the Trick-or-Treating so why am I blogging about Lasagna for crying out loud?!!!
*As an Amazon Associate I earn from qualifying purchases. This post may contain affiliate links, which means that I may make a commission from any purchases at no additional cost to you. Thank you for your support!
I know what you're thinking…"Are ya daft?" Well….Maybe? Or, maybe I just want to offer you an idea for later in the week! Or…maybe I already had this post written and I have a million bazillion things to do today cause it's HALLOWEEN!!!
Whatever the reason, I'm still super excited to share with you…THE World's Best Lasagna! Now I know someone has already claimed that " name to fame", and we shall quietly mourn for them for mistakenly thinking theirs was the best! They need not know. Shhhh… we have taken the title away from them! (Buwhahahaha…insert little scary Halloween laughter)
There's good lasagna, there's great lasagna, there's fantastic lasagna, and then there is "THE BEST"! This is the BEST! I know because my friend told me so! lol (Never underestimate the compliment of a friend!)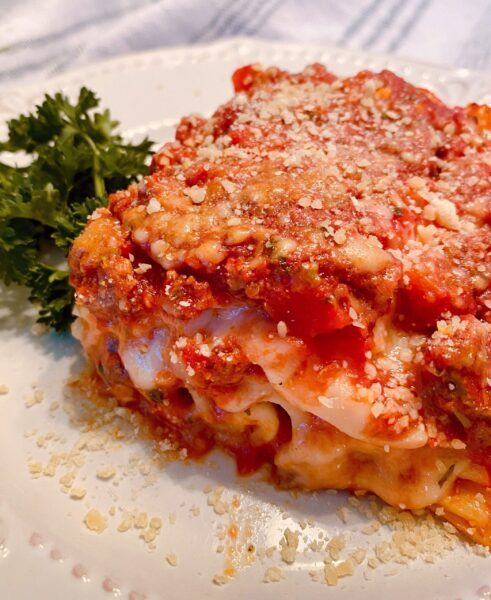 So you're looking at the pictures (and drooling…I hope you're drooling?!) and you're thinking to yourself…okay what makes your lasagna so much better than that other guys? I'll tell you…two things…in my humble opinion.
Sauce, sauce, sauce! (That's just one thing totally overstated!) The second, and I mean no offense when I say this…is NOT cottage cheese! When making lasagna please, save me from having a heart attack, and only use Ricotta! (Gasp! Did she really just say that? How could she!)
You're saying, "NORINE! Lasagna is an expensive dish to make. I'm just trying to save money." I get that. However, some dishes you just don't skimp on. Homemade Lasagna is one of them! You can't cut costs and have a "GREAT" pan of lasagna. You can have an "okay" dish of lasagna, but it won't be "the best"!
Raise your right hand and repeat after me…"I solemnly swear I will only use ricotta cheese when making lasagna!" Whew! We can now proceed.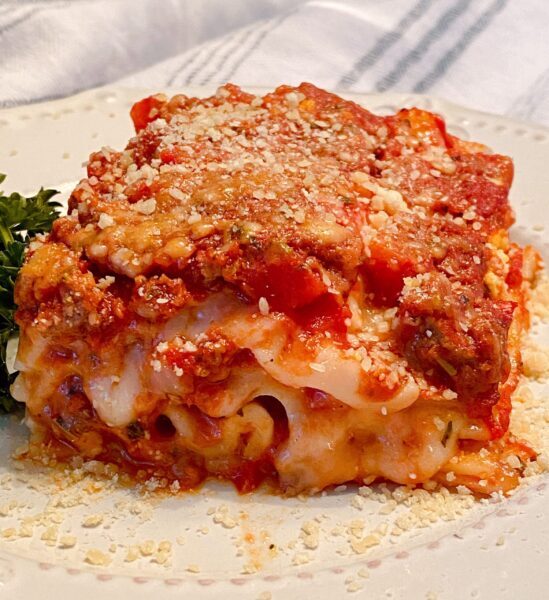 Let's talk sauce. I'm going to share with you the secret to a really, really GREAT meat sauce. Are you ready?…You have to let it simmer for several hours!
You know those Italian movies where you see with the Italian Momma slaving over that pot of sauce all day long. There's a reason for that!
As the sauce simmers and cooks down, it becomes thicker and richer, the sugars break down and caramelize and holy yum…you are on a whole new level of sauce of making! Bonus…your house smells like Italian Heaven!
How To Make GREAT Lasagna Meat Sauce
This sauce is pretty simple. Begin by browning your ground beef with your mild Italian sausage.
Add in canned diced tomatoes,tomato sauce, tomato paste, water, sugar, fresh chopped or dried onions, seasonings and garlic.
Turn the heat down to simmer and allow it to cook down for about 3 -4 hours. Stirring occasionally. (Why, YES! That is my Pioneer Woman's Cast Iron enamel coated dutch oven that I L.O.V.E.!)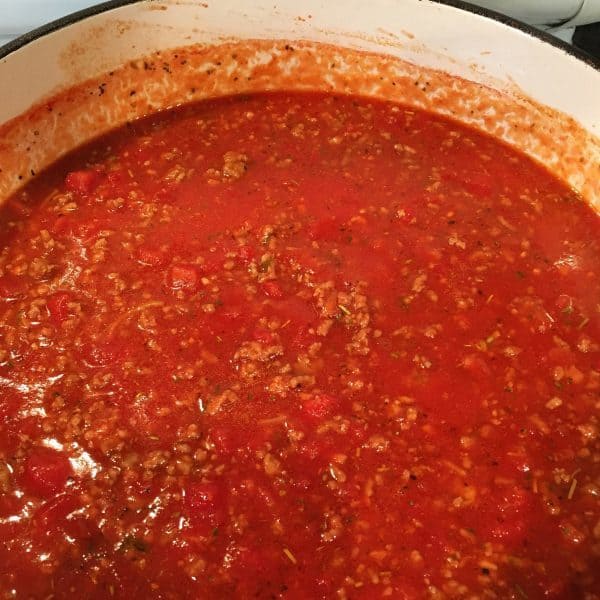 How To Make the World's Best Lasagna
When the meat sauce is done, it's just a matter of precooking your lasagna noodles and putting it all together.
TIP: I know some people don't cook their lasagna noodles. I've done it both ways. There is a difference. I recommend cooking your noodles.
You will need 9 lasagna noodles for a 9 x 13 pan of lasagna, cook a couple extra to be safe.
Begin with a layer of noodles. My pan was a little narrow so I over lapped them a tad. It worked out great. Then using a teaspoon dab the ricotta cheese over the noodles. A few rows is perfect.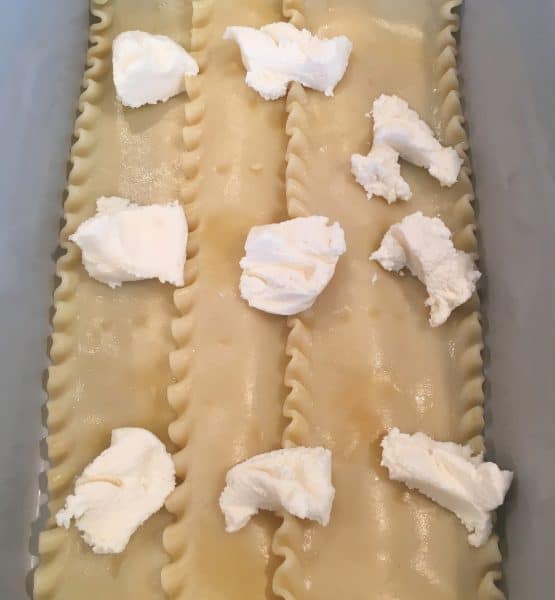 Next, add a layer of cheese. Don't go super heavy on the cheese. Just enough to cover the ricotta and noodles.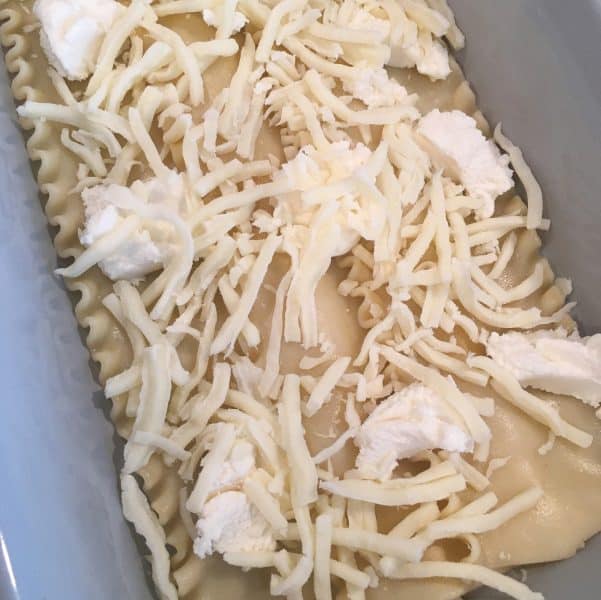 After the cheese, add a layer of sauce. (I forgot the picture. Sorry folks! I just get too excited in the kitchen mid-project! I really have to work on that! Yikes!)
Repeat with another layer of noodles, another dabbing of the ricotta cheese, more mozzarella and more sauce.
One more layer of noodles, ricotta, cheese, and sauce. Now sprinkle with Parmesan cheese. I use the green bottle one for this recipe. You can use which ever is your favorite.
Pop it into the oven for 45 minutes or until bubbly. Remove. Cut into 12 squares .
Can you see all the layers of deliciousness?! It has the perfect amount of cheese. The ricotta is so creamy. I love the texture and flavor with the meat sauce. It blends beautifully together.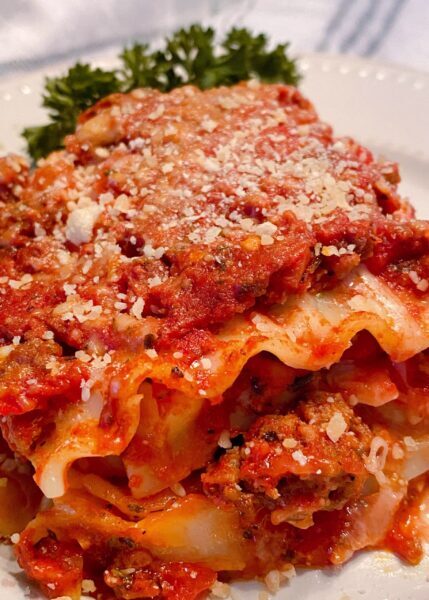 I seriously wouldn't make lasagna any other way. I realize it's a taste preference, and it's a personal choice, but I really love the combination and if you haven't tried it…give it a try. I don't think you'll be disappointed.
I serve this World's Best Lasagna with a big tossed green salad and garlic bread!
I love this lasagna even more the next day! Best Leftovers EVER! Be sure to make extra! It's like a fine wine, not that I know because I don't drink, but it get's better with age! (Don't we all!… Oh dear…I just realized my "food twin" is lasagna!)
Easy Additional Pasta Recipes
Thanks for stopping by! I hope you love this lasagna! It's truly a classic dish.
Happy Nesting My Friends!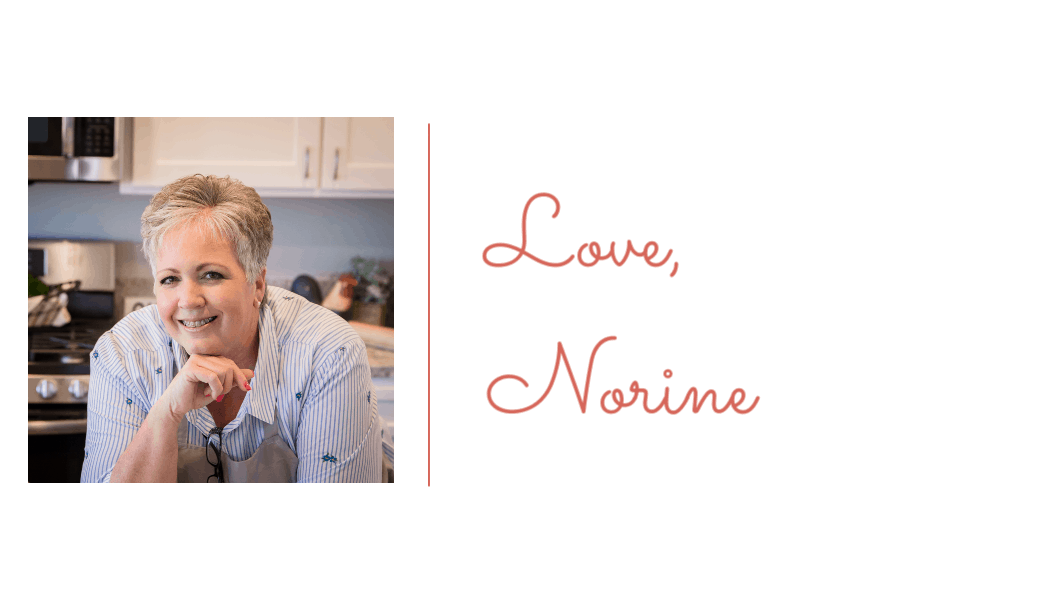 Yield: 12 servings
World's Best Lasagna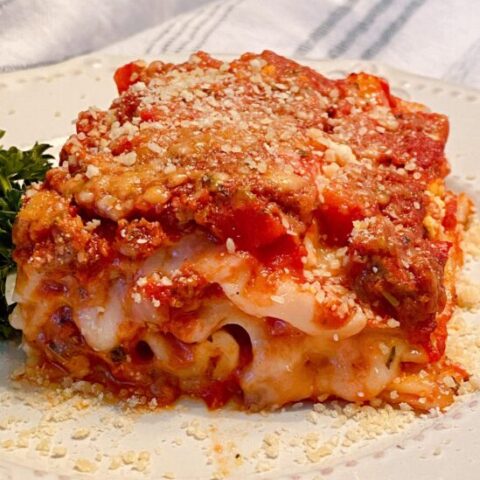 A rich, thick, hearty Italian Lasagna filled with ricotta and mozzarella cheese's that truly is the BEST lasagna you will ever have!
Cook Time
4 hours
30 minutes
Ingredients
Red Meat Sauce
1 lb. ground beef
1/2 pound mild Italian Sausage
2 cloves of garlic, minced
1/2 cup diced onion
2 - 14.5 oz. cans diced petite tomatoes
1- 6 oz can tomato paste
1 - small, 8 oz. can tomato sauce
1/2 cup water
1/2 tsp. salt
1/2 tsp. pepper
2 1/2 Tablespoons sugar
1/2 tsp. onion powder
1/2 tsp. garlic powder
1 tsp. oregano
1 tsp. basil
1 tsp. crushed rosemary
1 Tablespoon dried parsley
1 bay leaf
Lasagna Ingredients
15 oz. Ricotta cheese
1 package Lasagna Noodles (cooked...about 12 noodles)
2 cups grated mozarella cheese
grated Parmesan Cheese for garnish
Instructions
In a large pot brown ground beef and Italian Sausage. Sautee onions till tender. Drain. Add Tomatoes, Tomato paste, tomato sauce, water, sugar, and all seasonings. Simmer over low heat for 3-4 hours until reduced down and sauce is thick, rich and caramelized.
Last 30 minutes of sauce cook time bring a large pot of water to boil and add lasagna noodles one at a time, so as not to break them. Cook for 8 minutes or until tender. Drain and let set in cool water. Grate cheese.
In a 9 x 13 casserole dish, layer noodles, ricotta cheese, mozzarella cheese, and sauce. Repeat layers again, noodles, ricotta cheese, mozzarella cheese, and sauce. Add one more layer of noodles, ricotta cheese, mozzarella cheese and meat sauce. Sprinkle with Parmesan Cheese.
Bake in a 350 degree oven for 30-40 minutes until bubbly and cheese is melted.
Notes
The cook time includes the simmer time for the sauce to reduce and caramelize. Actual cook time for Lasagna is 40 minutes. Also, I place my pan of lasagna on a baking sheet just "in case" the sauce bubbles over. Less clean up!
Recommended Products
As an Amazon Associate and member of other affiliate programs, I earn from qualifying purchases.
Nutrition Information:
Yield:
12
Serving Size:
1 cup
Amount Per Serving:
Calories:

326
Total Fat:

19g
Saturated Fat:

9g
Trans Fat:

0g
Unsaturated Fat:

9g
Cholesterol:

71mg
Sodium:

494mg
Carbohydrates:

15g
Fiber:

2g
Sugar:

8g
Protein:

24g