A layer of ground beef, black beans, taco seasonings, cheddar soup and cream cheese combine in this Mexican Tater Tot Casserole that's topped off with tater tots and melted grated cheese.
The other day a friend shared with me that she is having her young teenage children each take a night and cook dinner for the family.
*As an Amazon Associate I earn from qualifying purchases. This post may contain affiliate links, which means that I may make a commission from any purchases at no additional cost to you. Thank you for your support!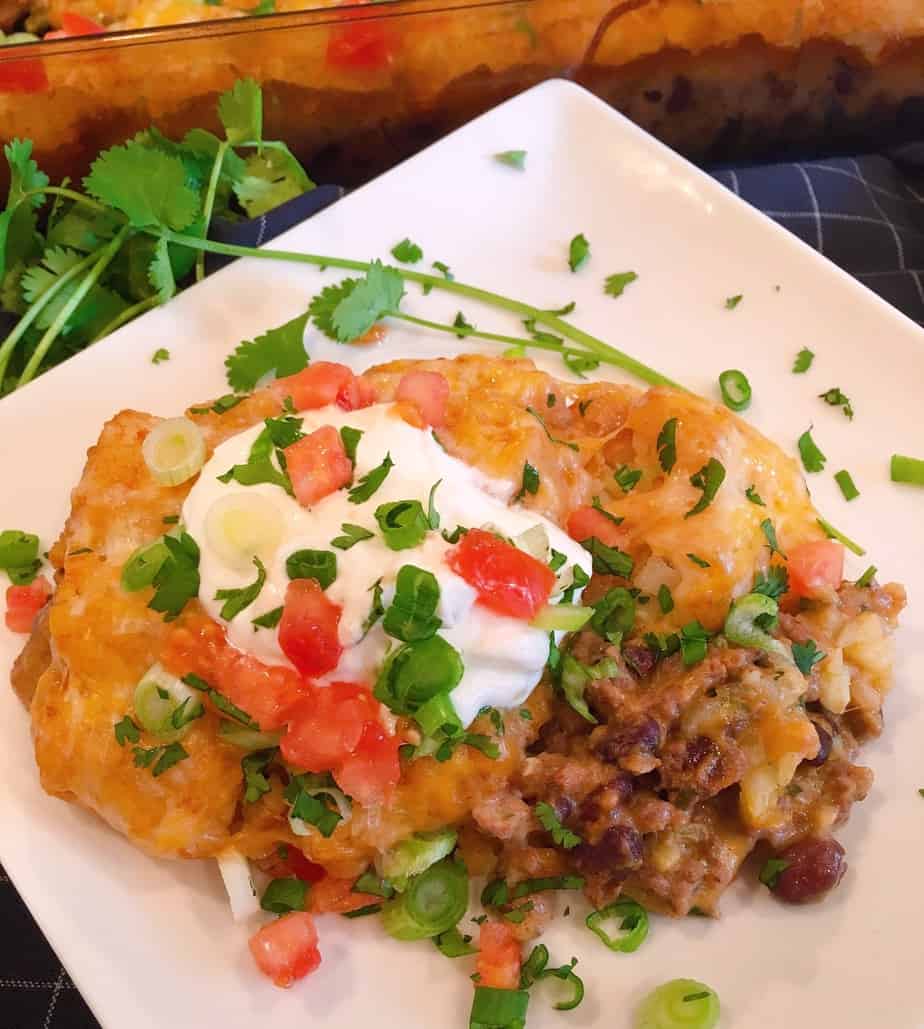 It's a "mother appreciation" summer course! (Take that Summer School!) One I highly support! (I wonder if I can get them to come over here…hmmmm!)
As she was sharing this experiment with me, and how it's going, her oldest made the comment that cooking was hard so she made chili! I could tell her mother was in fear of a summer full of weekly chili for dinner! (I'd be afraid too! Very afraid!)
It got me thinking…What would be an easy casserole that young chefs would have fun making? One for teens who may be participating in similar "appreciation courses" this summer? It also needed to be a dinner that kids and parents would both love! (I had my job cut out for me!)
Ta-da!!!
I'm happy to present to you Mexican Tater Tot Casserole! A casserole that combines a "chili" like base, topped with a crispy, crunchy, cheesy tater tot top! YUM! Let's get cooking kids!
How To Make Mexican Tater Tot Casserole
In a large skillet, over medium high heat, add 1 pound ground beef and 1/4 cup diced onion.
TIP: Always preheat the pan you'll be cooking in. It offers the best cooking experience and proper food preparation. Think about it…every cooking show with professional chefs…is the skillet hot or cold?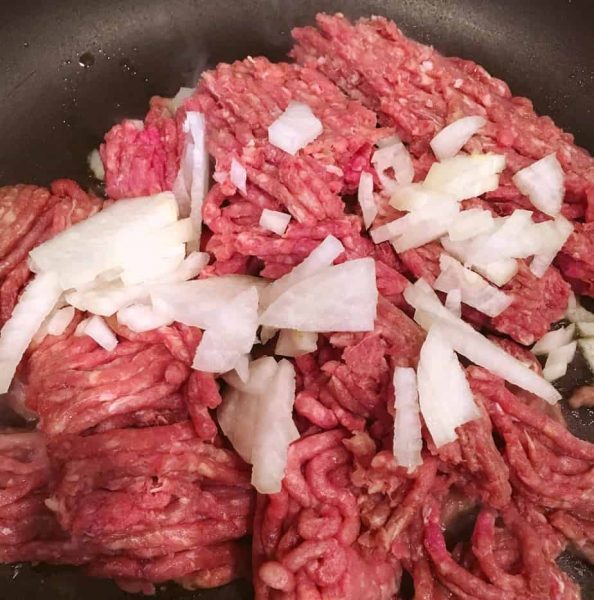 Cook until meat is brown, breaking meat up during cooking, and onions are translucent! DO NOT DRAIN the meat!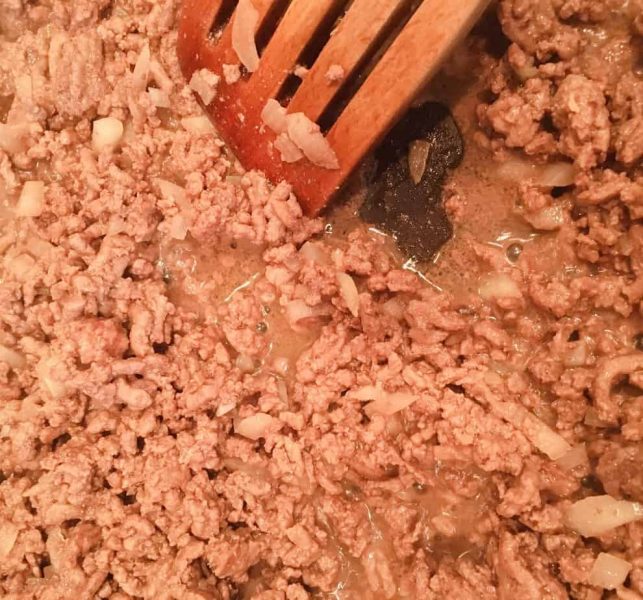 Add 1 can rinsed black beans and 2 Tablespoons taco seasoning. Mix until well combined. The taco seasoning will absorb all that liquid!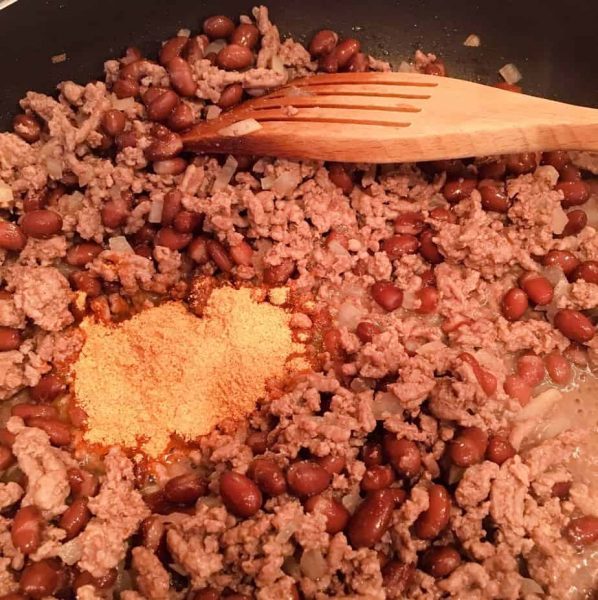 Add 1 can Cheddar Soup. I know…this step doesn't look pretty and I was a little worried how it would turn out…but trust me! It's amazing!
Mix until well combined.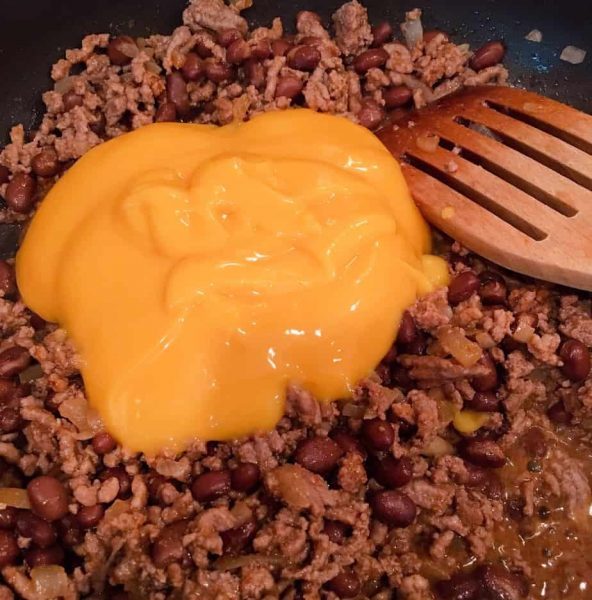 Now for some flavor fun!
I was shopping last week and I came across a new product I hadn't seen before. Philadelphia Dips! It's in the refrigerator dairy section in your market by all the other chip dips!
It's loaded with flavor!!! It'll wake ya up! So yummy! It's absolutely perfect in this casserole. If you can't find it…no worries. Regular Cream cheese with Jalapenos.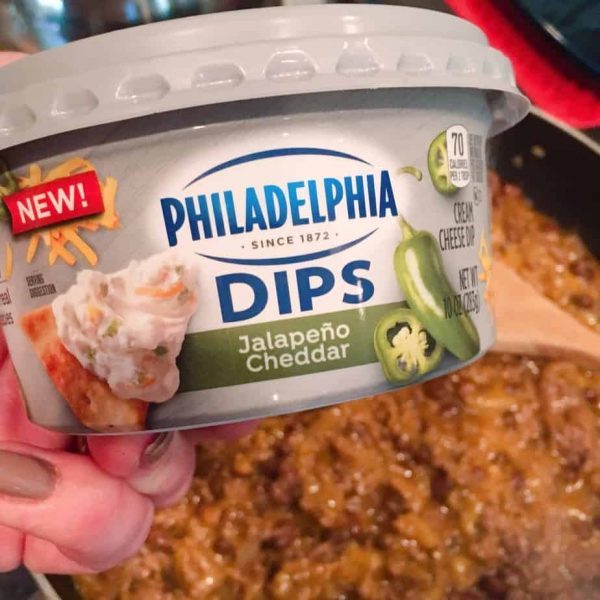 Add 1/2 cup of Jalapeno Cheddar Dip or a 1/2 cup of cream cheese with jalapenos if you can't find the Dips. Mix over medium heat until cream cheese is incorporated into beef mixture.
TIP: If you don't like heat…substitute with cream cheese with chives. I will warn you…this dip has heat!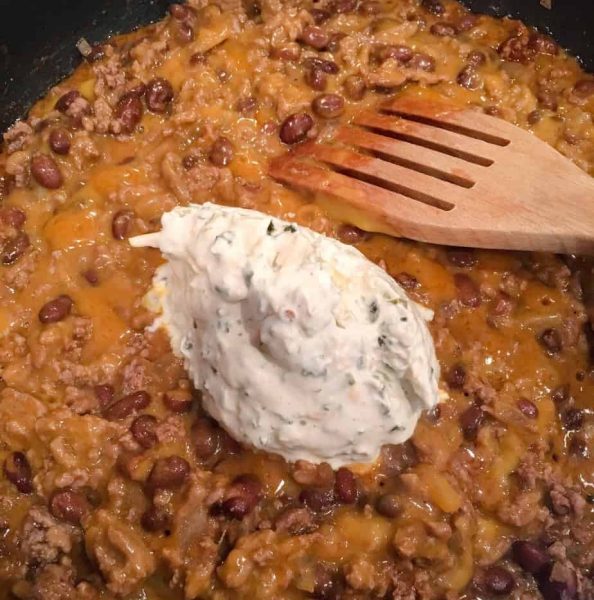 Once meat mixture is well combined pour into the bottom of a 9 x 13 baking dish sprayed with non-stick cooking spray. Make sure mixture is spread evenly.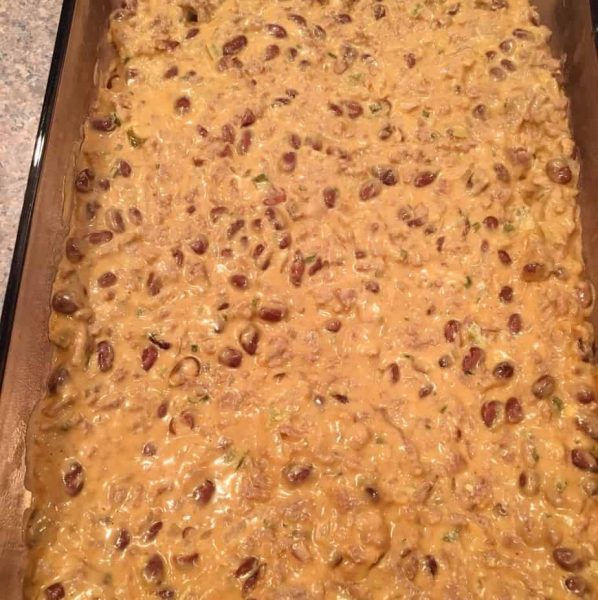 Top with 1 1/2 cups grated cheese. This is one cheesy casserole! (I love cheese! My grandmother thought I was half mouse!)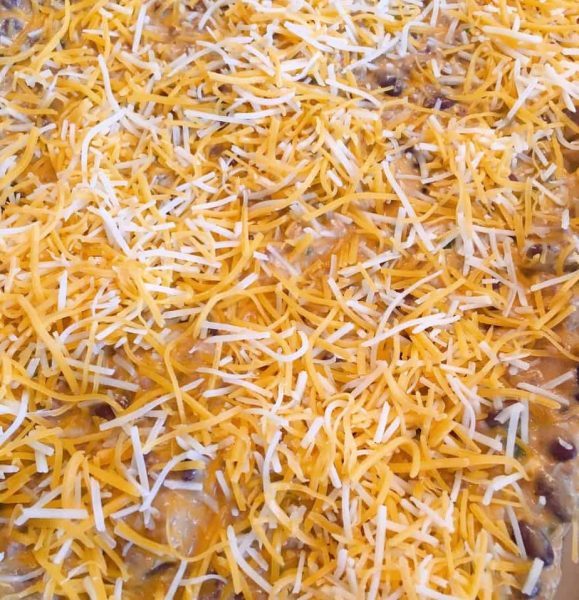 Place the tater tots lightly on top of the ground beef mixture. Line them up like little ones on a field trip…like little Tots! Yep…Tater Tots! (It was a pun that was not going to be missed! Sorry…no I'm not!)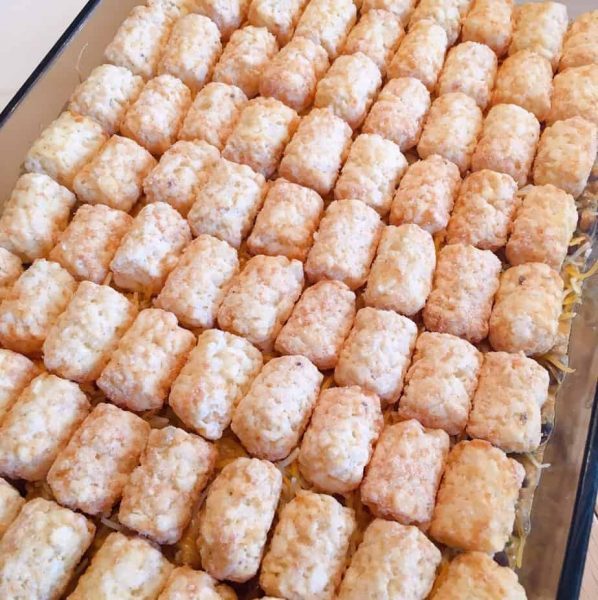 Bake in Preheated 375° oven for 25 minutes until tater tots are golden brown and base is bubbling!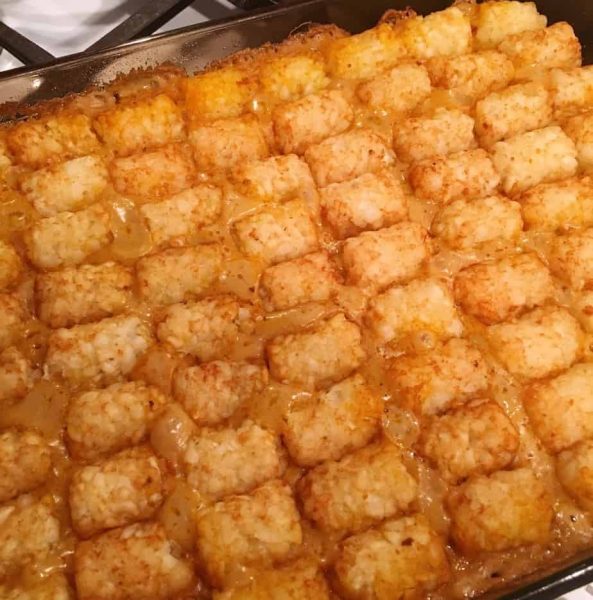 Carefully sprinkle 1 cup grated cheddar cheese on top of tater tots! And slide casserole back into the oven for an additional 5-7 minutes until cheese is melted.
Isn't that beautiful!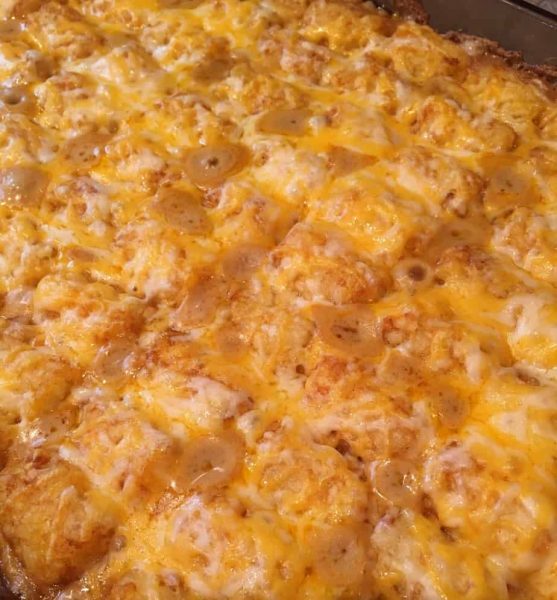 Allow to cool 5-10 minutes…that way y'all won't burn the roof of your mouth!
While the casserole is cooling…top with chopped cilantro, sliced green onions, and diced fresh tomatoes. I love the color and depth this adds to this festive casserole!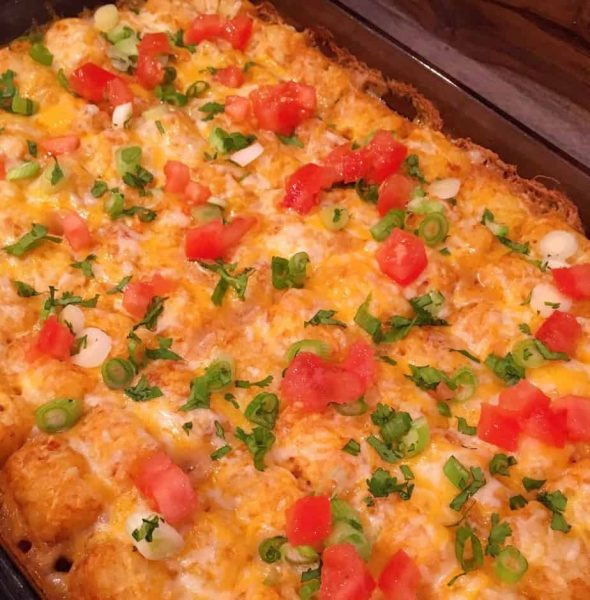 When ready to serve, top with a scoop sour cream and more cilantro, onions, and tomatoes. The sour cream adds another depth of flavor and helps "cool" the heat from the jalapenos in this Ground Beef Mexican Tater Tot Casserole!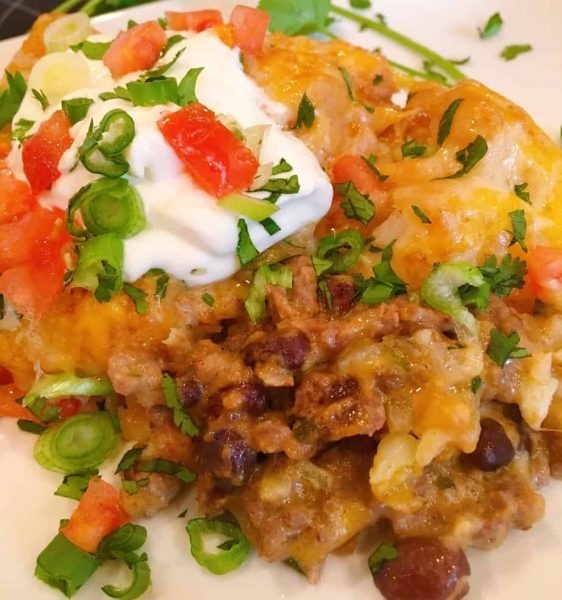 It was love at first bite! I'll be honest…I held my breath on this one! (And not because my mouth was on fire! It's wasn't!) I wasn't too sure how the Tater Tots would work with the beef and bean mixture! Oh my heavenly stars!!! It's delicious!
The bottom of the tater tots mix into the meat mixture while the top of the tots stay golden, crispy, and cheesy! I loved the potato bits with the meat base! It's like a kicked-up Dutch oven dinner! Olé!!!
When Mr. Nest dug into this dish…he raved! He even went back for thirds! (Okay fine! I admit it…I had seconds! It's SO good!)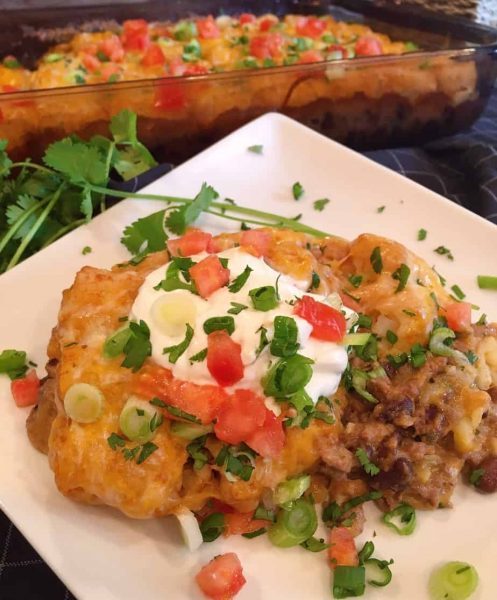 This casserole was ready in under an hour! I can also say with all certainty that your family will L.O.V.E. this dish! It's kid friendly, adult friendly, and budget friendly!
A fun easy casserole your teens can make for dinner. I do recommend helping your kids pull the casserole in and out of the oven. I don't want anyone getting burned! Please be careful!
Serve this dish with a side green salad or fresh fruit and you've got dinner!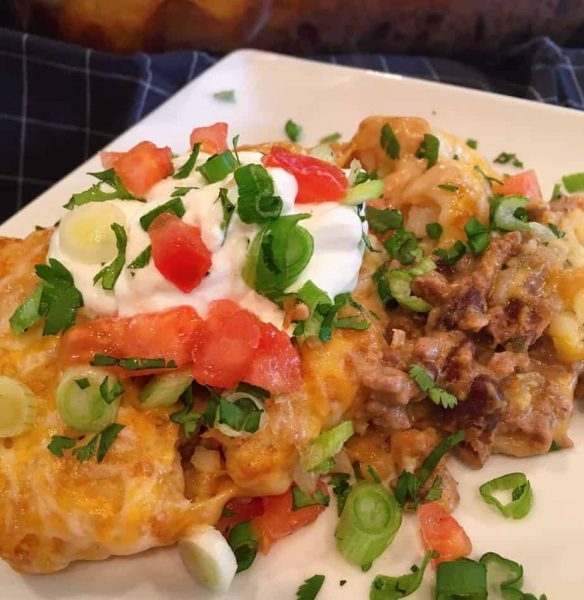 Looking For Other Easy Dinner Recipes For Your Teens
Thanks so much for stopping by today! I hope you'll let your teens join the "mom appreciate" course this summer and cook up this casserole!
Happy Nesting!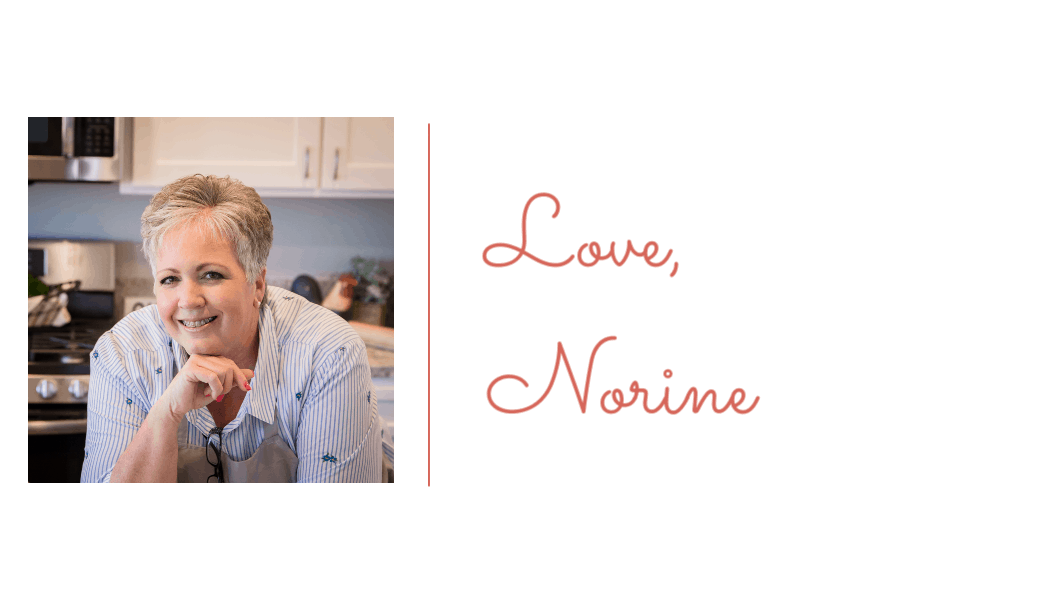 Yield: 8 servings
Mexican Tater Tot Casserole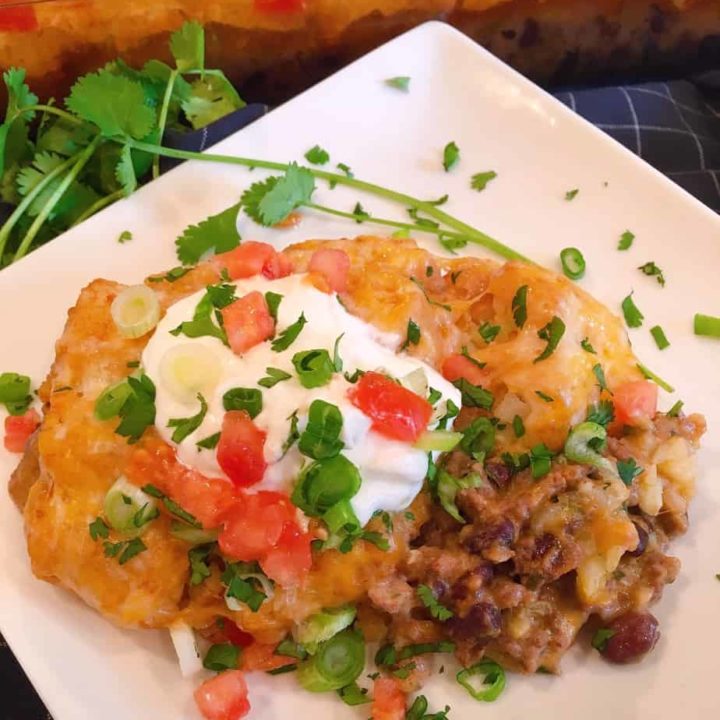 A base layer of ground beef, black beans, and a creamy flavorful sauce topped off with cheese and rows of crispy golden brown tater tots topped off with more cheese. A quick, easy, family friendly casserole.
Ingredients
1 lb ground beef
1 can black beans, drained and rinsed
1/4 cup chopped onion
2 Tablespoons taco seasonings
1 - 10.5 oz. can cheddar soup
1/2 cup Philadelphia Jalapeno Cheddar Dips or 1/2 cup cream cheese and chives
2 1/2 cups grated cheddar cheese
1 - 2lb package frozen tater tots
2 Tablespoons chopped cilantro
3 green onions sliced
1/2 cup diced tomtatoes
Sour Cream for garnish
Instructions
Preheat oven to 375°
Spray a 9 x 13 baking dish with non-stick cooking spray.
In a large skillet, over medium high heat, brown hamburger and chopped onions. Add black beans.
Add 2 Tablespoon taco seasoning. Mix until well combined. Add cheddar soup mix and jalapeno cheddar dip and stir until all ingredients are completely mixed together.
Pour into the bottom of prepared baking dish. Spread evenly. Sprinkle top of meat mixture with 1 1/2 cups grated cheese.
Top with frozen tater tots. Line them in neat rows across the top of the meat mixture being careful not to press them down.
Bake in preheated 375° oven for 25 minutes until tater tots are golden brown and meat mixture is bubbling.
Add remaining grated cheese to top of golden tater tots and place back in the oven for 5-7 minutes until cheese is melted.
Remove for oven and sprinkle with cilantro, onions, and tomatoes. Serve and garnish with sour cream if desired.
Recommended Products
As an Amazon Associate and member of other affiliate programs, I earn from qualifying purchases.
Nutrition Information:
Yield:
8
Serving Size:
1
Amount Per Serving:
Calories:

666
Total Fat:

40g
Saturated Fat:

17g
Trans Fat:

1g
Unsaturated Fat:

19g
Cholesterol:

110mg
Sodium:

1163mg
Carbohydrates:

46g
Fiber:

6g
Sugar:

2g
Protein:

32g