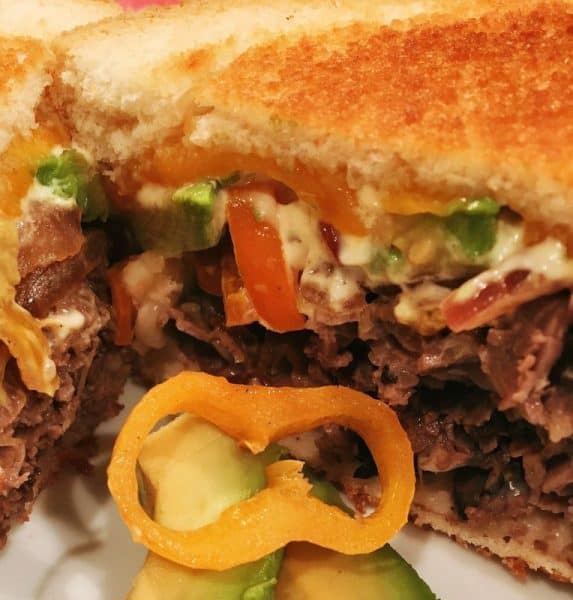 Tender slices of beef, sauteed peppers, onions, and mushrooms, a creamy mustard sauce, melted cheese and slices of ripe avocado all on toasted Artisano Bread create this amazing Roast Beef Grilled Cheese "Glider"!
*As an Amazon Associate I earn from qualifying purchases. This post may contain affiliate links, which means that I may make a commission from any purchases at no additional cost to you. Thank you for your support!
It's time! We need to talk quick and easy meals and let's think outside the box!
Not every meal has to be from a crock pot to be "easy" and "quick". Don't get me wrong. I love my crock pot! However, Summertime is the perfect time to have "low stress" easy meals.
Example: Yesterday for Sunday dinner we had grilled chicken breast. I marinated them in a bag with my favorite Kraft dressing. I made the Parmesan garlic butter red potatoes to go with it and a salad. Boom! Dinner! It was fast, quick, delicious and everyone raved about it!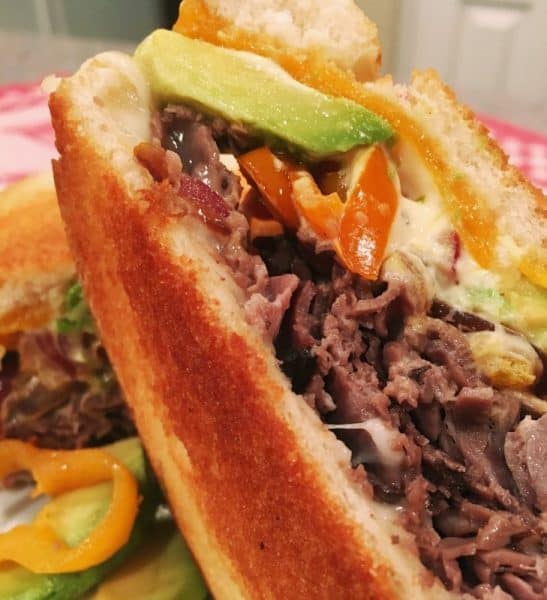 Another simple "outside of the box" meal… how about this Roast Beef Grilled Cheese Glider? That's right, a mile high hot sandwich for dinner! Think of it as Mr. Hamburgers country cousin!
One of my girl friends boys named this sandwich! (I love the "glider"…this is for sure a glider and not a slider!) There should be a warning label attached to this sandwich! After you have it…you'll be dreaming about having it again for days…maybe even weeks!
The beauty of this? This masterpiece sandwich is going to take you less than 25 minutes to throw together!
Start out slicing some red onion (it's all I had on hand and boy am I glad) and some of the mini sweet peppers. You can find the peppers at Wal-Mart. They sell them in a bag for about $2.88! Deal! (I'm absolutely in love with them!)
Place them all in a skillet over medium heat with 1 Tablespoon of butter and caramelize them!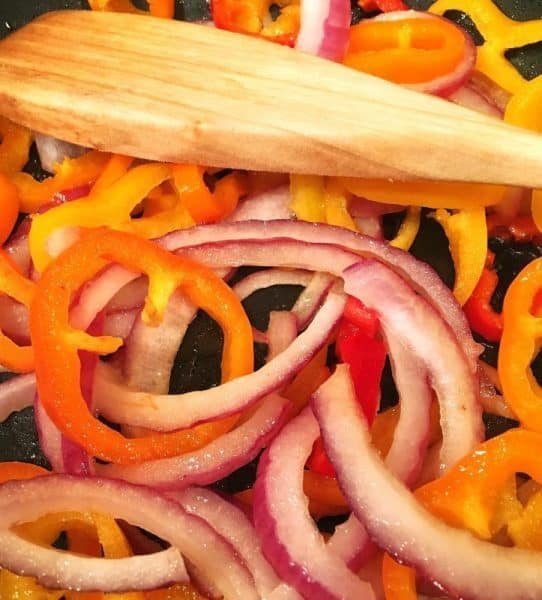 I want you to see the difference between the two…above is raw and below, is caramelized. So beautiful. You can see the sweet sugars released from those peppers and onions. They are the "star" of this sandwich!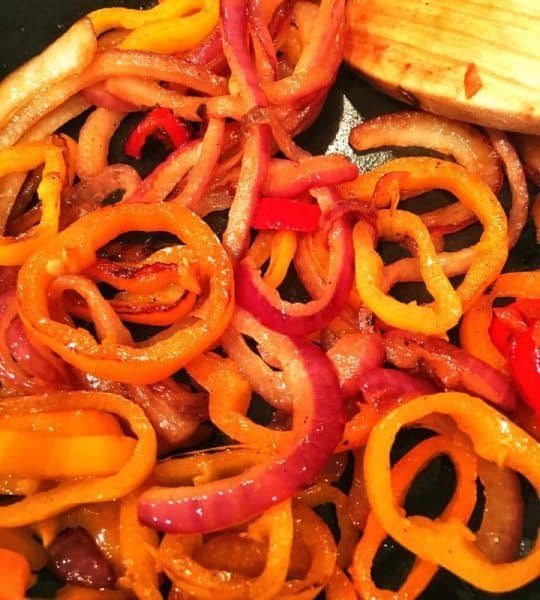 While you are busy stirring those peppers around and making them beautiful, you can place your sliced roast beef in a small skillet to warm up. We aren't really cooking it, we just want it warm for the sandwich. I purchased this roast beef from the deli and had them slice it sandwich slice. (Love those deli ladies…they work their fannies off!)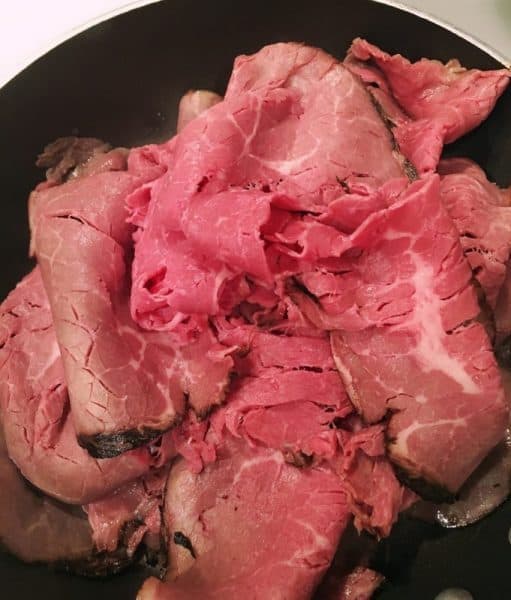 Once you have your peppers and onions all ready, you are going to get the "grilled cheese" portion of this sandwich going.
I used the Sara Lee Artesano bread for these sandwiches. (I have a carb crush on that bread!) It's almost like having this sandwich on a gigantic savory soft crouton!
Butter the outside of each slice of bread and then place it butter side down on the griddle. On one half place mild cheddar cheese on the other half, one slice of muenster cheese and one slice of pepper jack. You can use what you have on hand but, I highly recommend the muenster!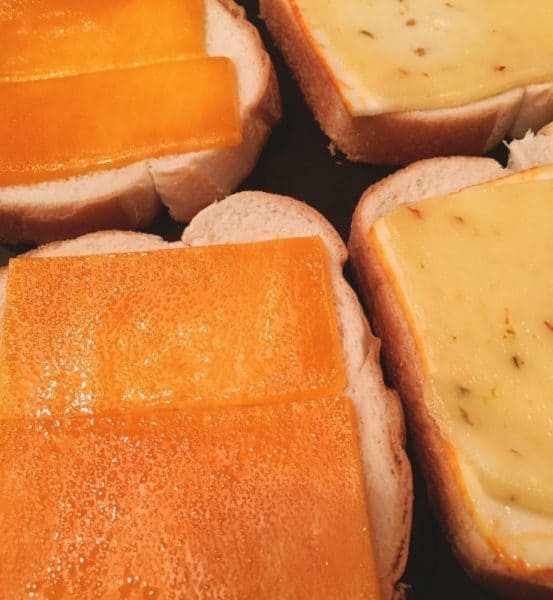 Once your cheeses have melted, about 4-5 minutes, it's time to pile these sandwiches a mile high!
Prepare the mustard pepper spread and slice up some avocado.
On one half spread your mustard pepper spread, on the other half pile your beef, peppers and onions, and avocado.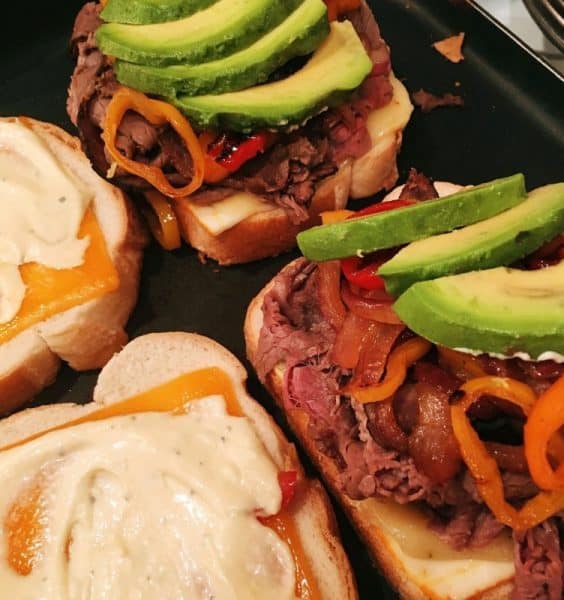 Now is when your mouth starts watering! lol… Next you place the top on the bottom. (The top is the one with the spread…just in case you were wondering!)
TIP: With the melted cheese on the top and the bottom, the sandwich is going to stick together really well. Which is good cause, you don't want to loose those peppers!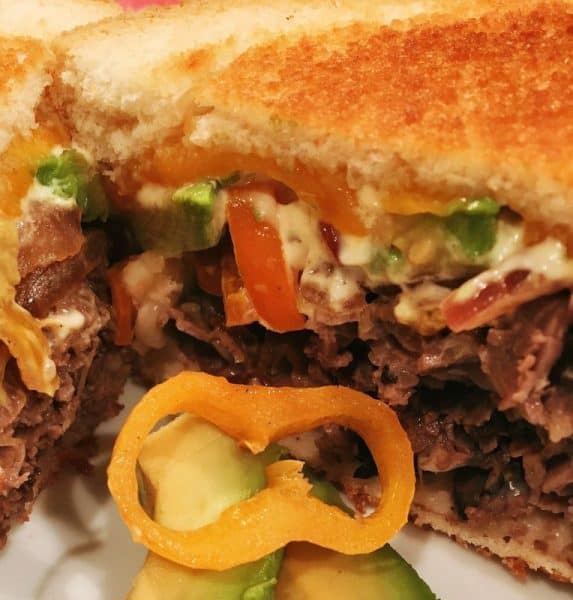 I wish there was "taste-a-blog" so that you could take a bite out of this incredible sandwich!
The combinations come together to create one amazing taste sensation! The tender juicy roast beef with the sweetness of the caramelized onions and peppers followed by the creaminess of the cheeses and avocado and then the mustard pepper spread! All inside this amazing buttery crispy Artesano bread! Ahhhh…(sigh)…perfection!
In case you think I'm tooting my own horn a little too loudly, and I probably am, Mars said "On a scale of 1-10 this is a 12!"
This is the "Real" Manwich! Throw in some fresh fruit and a side of chips and you have a quick, delicious, mouthwatering, summer dinner! Best part…no silverware needed!
I hope you enjoy making this recipe as much as I did creating it!
Amazing Sandwich Recipes
Thanks for popping by…I have more amazing recipes coming up this week so check back soon. I love to have you visit!
Happy Nesting!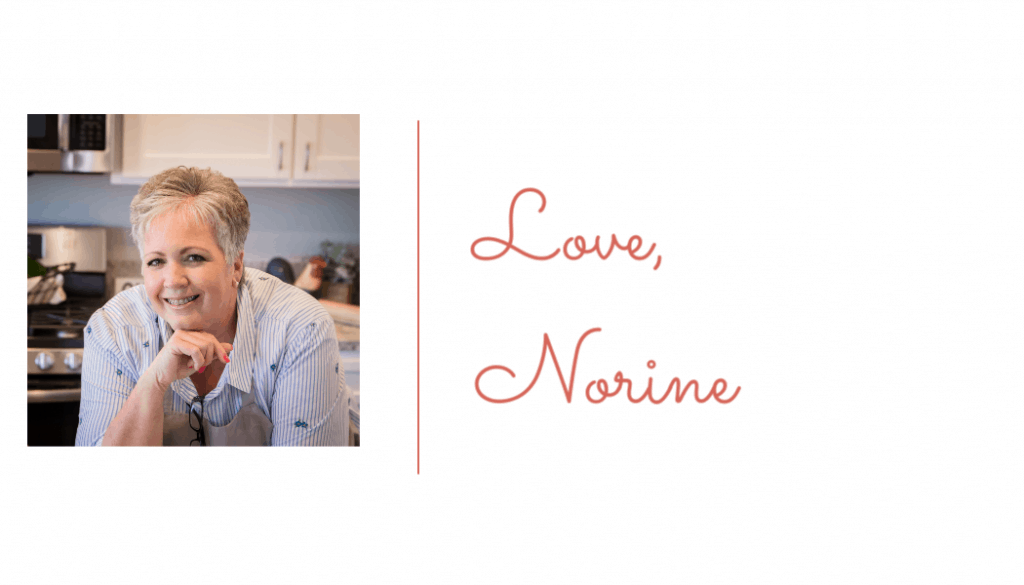 Yield: 4 sandwiches
Roast Beef Grilled Cheese "Glider"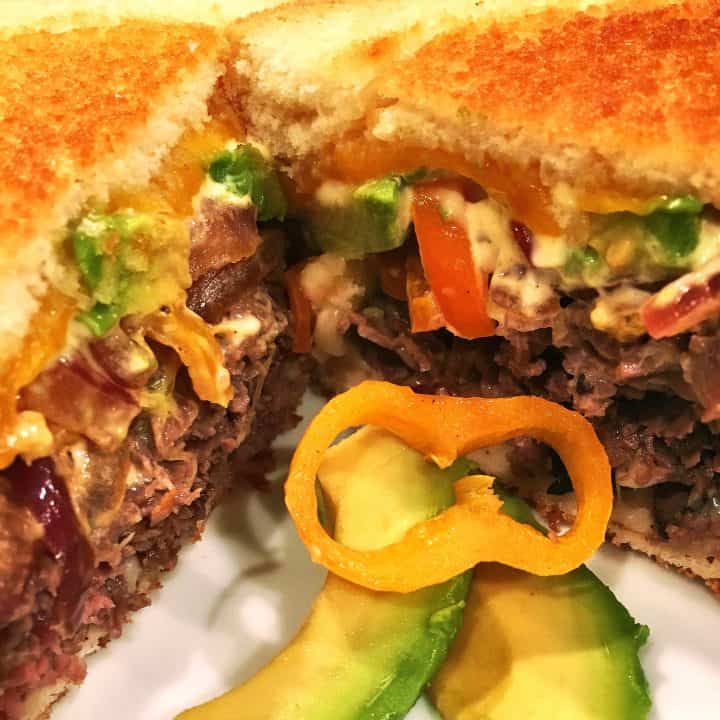 Roast Beef Grilled Cheese Gliders! This sandwich is piled high with meat, cheese and caramelized peppers and is "sliders" bigger cousin! This is the "Real" Manwich. A quick, easy, fantastically delicious, meal ready in minutes!
Ingredients
1 pound, sandwich sliced, roast beef
8 slices Sara Lee Artesano bread, or bread of your choice
butter, for outside of bread
1/2 a red onion, sliced thin
8 small sweet peppers sliced thin
1 Tablespoon butter
4 slices muenster cheese
4 slices pepper jack cheese
4 slices mild cheddar cheese
1/2 cup Mayo
1 Tablespoon yellow prepared mustard
1 teaspoon cracked black pepper
2 ripe avocado's sliced into thin slices
Instructions
Butter the outside of each slice of Artesano Bread.
In a small bowl, mix together the mayo, mustard and cracked black pepper. Set aside .
In a medium skillet, over medium heat, melt 1 Tablespoon of butter. Add peppers and onion and cook until caramelized. About 4-5 minutes.
In another medium skillet over low heat, place your roast beef and heat through turning occasionally. About 4-5 minutes. You can do this while doing the peppers.
On a griddle or large skillet, over medium heat, place your slices of bread butter side down. On 4 of the pieces of bread place a slice of mild cheddar cheese. On the remaining slices place one slice of muenster and one slice of pepper jack stacked on top of each other. Cook until cheese's begin to melt and bread is turning a nice light golden brown.
On the slices of bread with the jack cheese pile high the warmed roast beef. Top with caramelized onions and peppers. Add the sliced avocado.
On the slices of bread with the cheddar cheese add the mustard spread.
Place the tops on the bottoms. Remove from the heat. Slice and serve while hot.
Recommended Products
As an Amazon Associate and member of other affiliate programs, I earn from qualifying purchases.