Frozen Banana's are a tasty frozen treat on a stick covered in toasted almonds and chocolate. A goodie generally sequestered to Disneyland and Summer Fairs. I knew it was time, to bring this Goddess of frozen treats, home!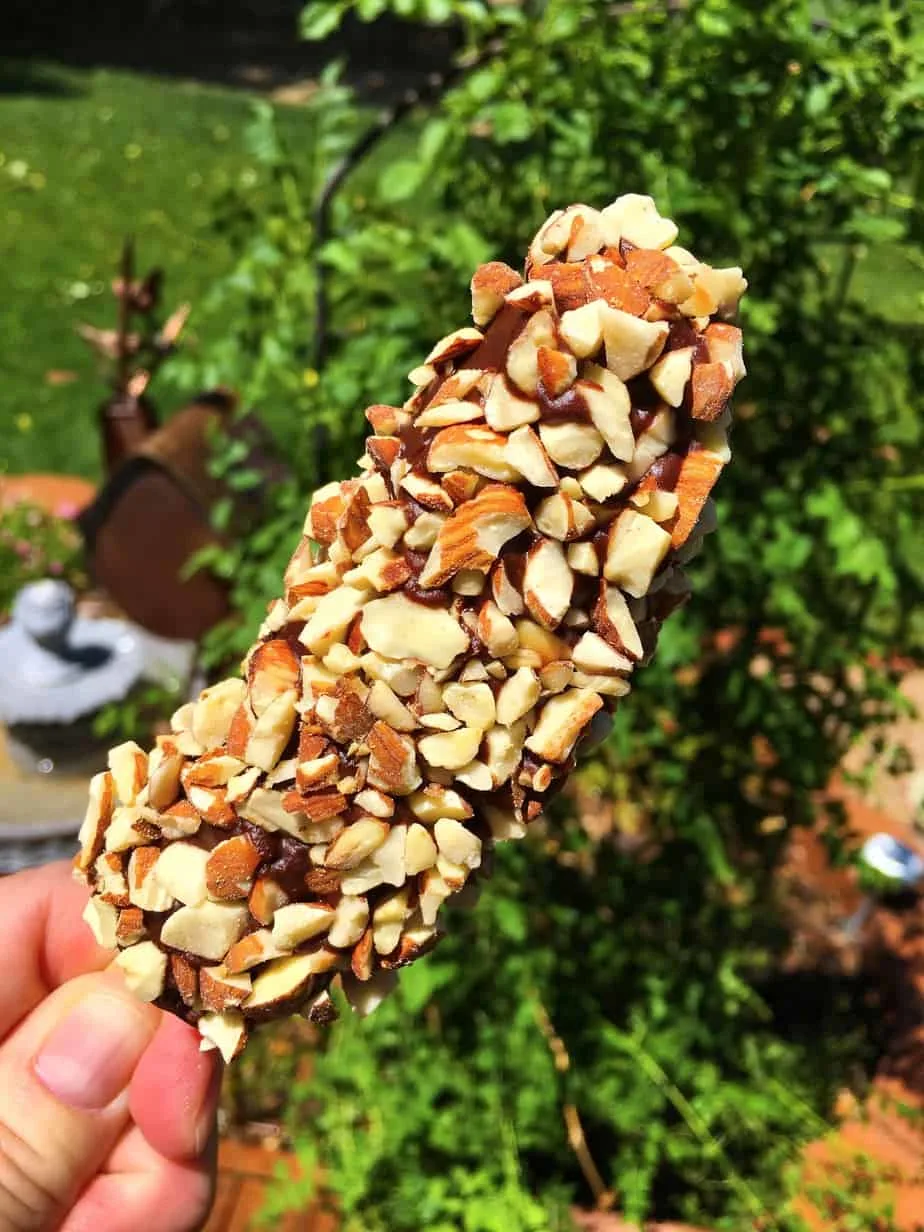 How hard could it be?
Turns out, not hard at all! If you are a lover of this frozen fruit the good news is you can make them at home for about, oh, 1/100th of the cost of the aforementioned happiest places on earth!
Mars is in heaven! He has told me they are as good as the one he purchased at Rocky Mountain Chocolate Factory! WOW! (I will take a humble bow!)
How To Make Chocolate Covered Frozen Banana's
Let's monkey on up to this treat! (Yep, still working the puns!)
First step…cut your banana in half.
TIP: We are doing this for two reasons. First, unless you own a very deep ceramic bowl that an entire banana can fit into, doing a whole banana is impossible. Two, they are really heavenly and you want them to last more than one day!
Cut 4 bananas in half and place a popsicle stick through the cut end about halfway up the banana. Carefully place banana's in a gallon size freezer zip lock bag and pop them in the freezer until frozen. About 4–5 hours or overnight is even better!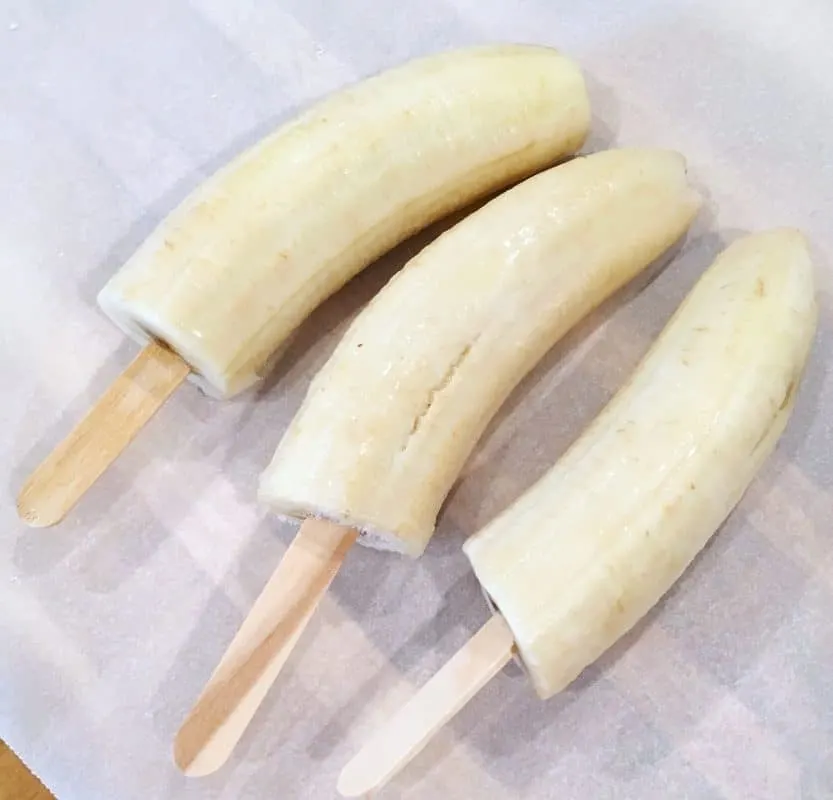 Chop and toast about 2 cups of plain unsalted raw almonds. If you aren't a nut fan, you can skip this step!
How To Toast Raw Almonds
I chop mine in the food processor to make it easy peasy! Then plop them into a sauce pan over medium heat, stir, stir, stir until you smell that wonderful toasted almond smell. Then onto a paper plate to cool.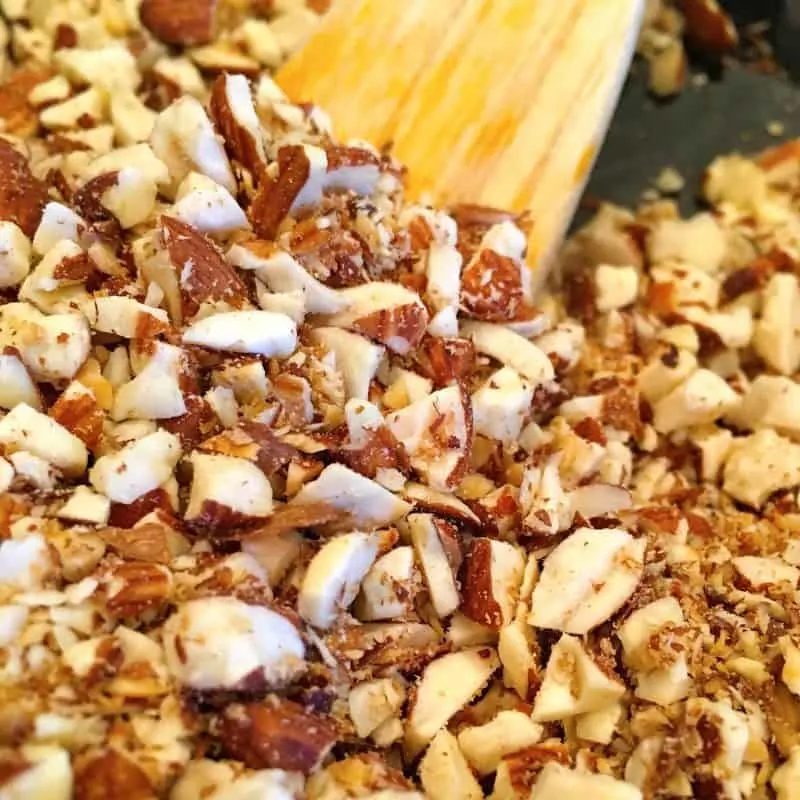 Remember that amazing chocolate satin glaze that I use for everything? (Including bathing? Lol) We are using it on these too.
I love this for dipping banana's. It sets up quickly, and it gives you a nice thick creamy fudge type coating which is just out of this world! Another plus, it sticks to the banana and won't crackle and fall off!
How To Make Melted Chocolate Satin Glaze
To make the glaze place your chocolate chips, corn syrup, and butter into a microwave safe glass bowl. Set your power to 50% and your cook time to 3 minutes. After three minutes remove and stir. Continue stirring until all the chocolate chips melt. If you need a little more time put it back in the microwave for another 30–60 seconds and repeat the stirring process.
Once it is nice and smooth add your vanilla. Stir again.
Time to go get those bananas out of the freezer! Line a cookie sheet with wax paper or parchment paper. Dip the banana into the melted chocolate and twirl to evenly coat the banana. You may have to use a spoon to drizzle some over a bare spot or two but, cover that baby good! Then hold it up over the bowl and gently move your hand up and down to get any excess chocolate off.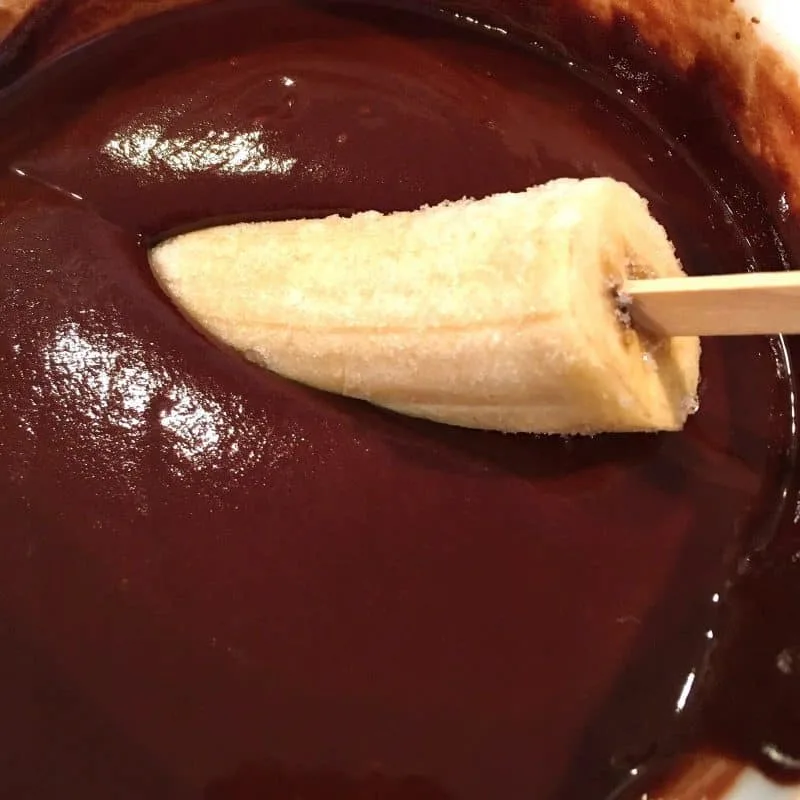 Next roll the frozen banana in the toasted almonds. I place mine down on one side and gently sprinkle the other side with almonds until it is completely covered! Then I lay it on the lined baking sheet. Don't worry about the stray nuts that fall off…those are your reward for all your hard work!
Once you have them all dipped you want to place that tray in the freezer for about an hour. Remove them from the freezer and they're ready to devour! For those that you don't eat…wrap them individually in plastic wrap, and place them in a zip lock bag in the freezer for a quick frozen treat any time.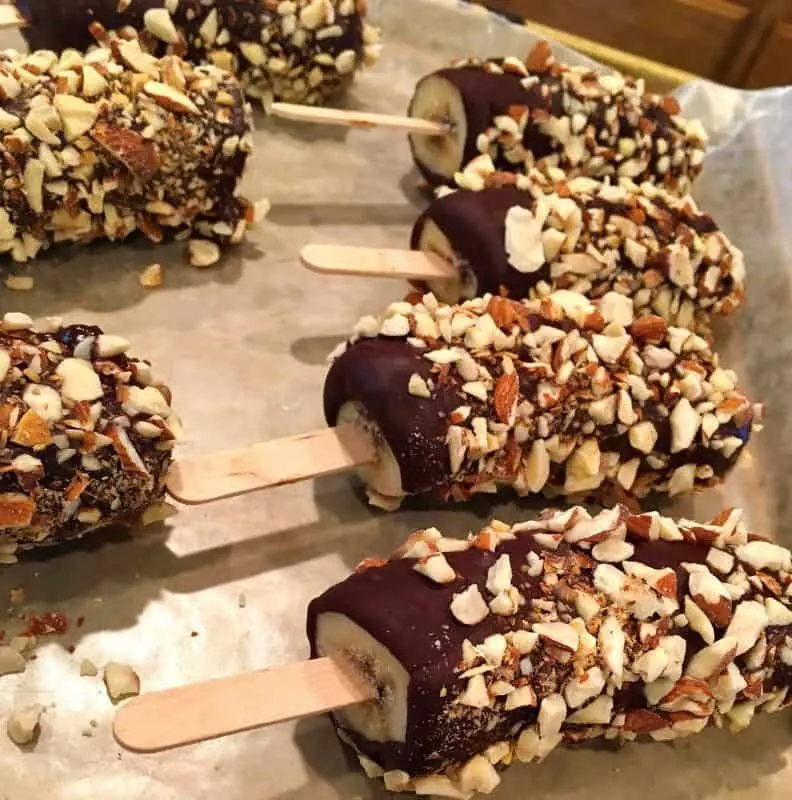 There you have it! A frozen treat with about half the guilt! They are so great on a warm summer evening out on the deck watching the sunset! A really nice alternative to ice cream.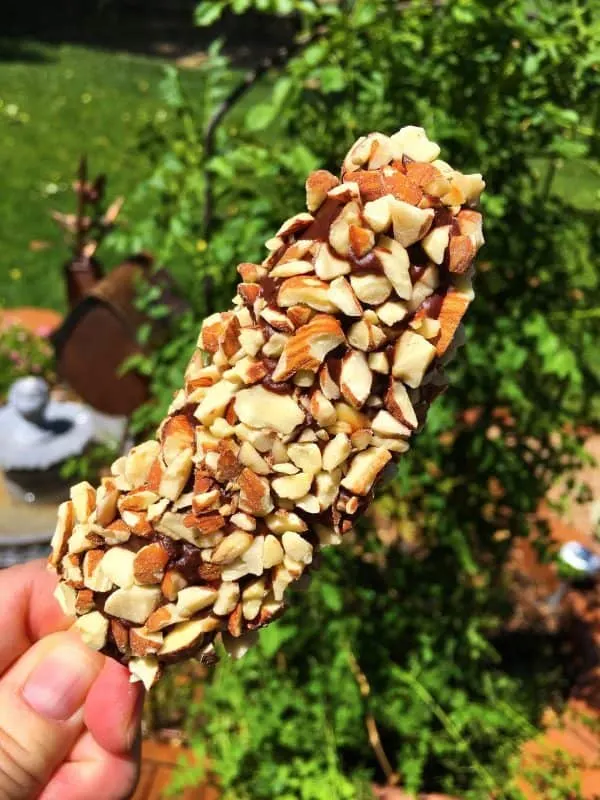 Chocolate dipped frozen banana's just like you remember only better! Enjoy a little 'nana love on us!
If You Like This Frozen Treat You Might Also Like These Summer Dessert Recipes
Thanks for popping by! See ya soon.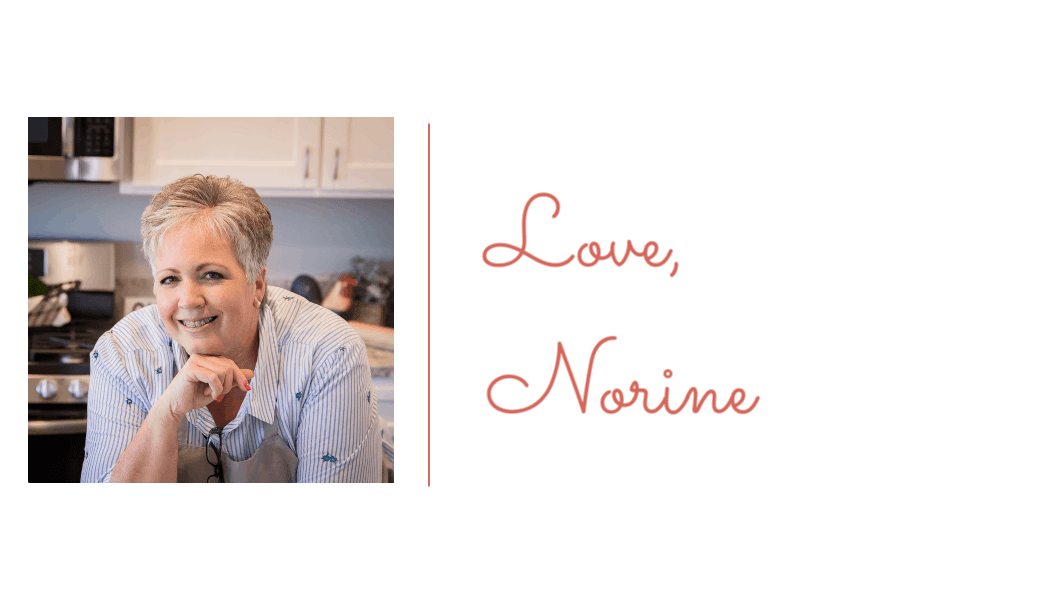 Yield: 8 servings
Frozen Banana's hand dipped in chocolate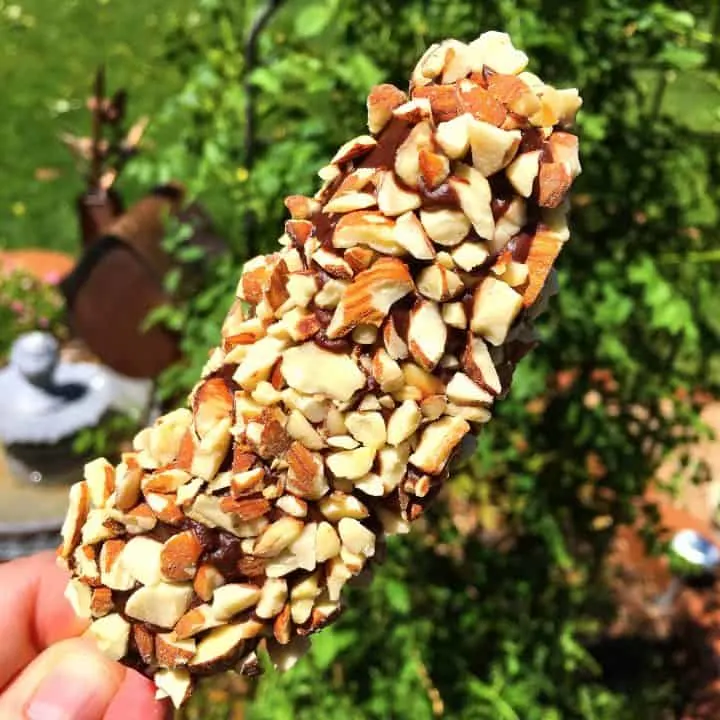 This is the frozen treat you live for at the fair or your favorite amusement park! Frozen, hand dipped, chocolate banana's! So perfect on a warm summer night!
Prep Time
5 hours
10 minutes
Total Time
5 hours
15 minutes
Ingredients
4 banana's, cut in half
8 wooden sticks
2 cups of semi-sweet chocolate chips
6 Tablespoons of butter
2 Tablespoons of light corn syrup
1 tsp vanilla extract
2 cups chopped, toasted, almonds
Instructions
Cut your 4 banana's in half and insert a stick into the cut end of each banana. Place the banana's into a zip lock freezer bag. Place in the freezer for 4-5 hours or over night.
In a shallow skillet place your chopped almonds. Over medium heat, stirring constantly, toast your almonds until lightly brown and toasted smelling. Remove from heat and place on a paper plate to cool.
In a glass microwave safe bowl, place the chocolate chips, butter, and corn syrup. Set the heat for 50% power and heat for 3 minutes. Remove from the microwave and stir until all the chocolate chips have melted. If you need to you can place them back in the microwave at 50% power for another 30-60 seconds and stir again until all the chocolate is melted. Add in vanilla and stir.
Remove frozen banana's from the freezer.
Line a baking sheet with wax paper or parchment paper. Dip your frozen banana's into the melted chocolate. Twirl to be sure the entire banana is covered. Gently move the banana up and down over the bowl to remove any excess chocolate.
Roll in the toasted almonds. Then place on the lined baking sheet. When all the banana's have been dipped and placed on the baking sheet, place the tray in the freezer for one hour so the chocolate can set.
Remove and serve! If you have left over banana's wrap them individually in plastic wrap and place them in a zip lock bag in the freezer to be enjoyed later.
Notes
The prep time includes freezing time!
Nutrition Information:
Yield:
8
Serving Size:
1 frozen banana
Amount Per Serving:
Calories:

561
Total Fat:

40g
Saturated Fat:

15g
Trans Fat:

0g
Unsaturated Fat:

23g
Cholesterol:

23mg
Sodium:

249mg
Carbohydrates:

53g
Fiber:

8g
Sugar:

37g
Protein:

10g