Kicking Up Traditional Grilled Cheese with this AMAZING Italian Grilled Cheese Sandwich. Golden thick slices of golden buttery Rosemary Olive Oil Artisan Bread filled with melted Provolone and Munster Cheese, Pesto, Fresh slices of juicy tomatoes, Spinach, Fresh Basil Leaves, and thin slices of Pepperoni. Served with a side of marinara sauce for dipping.
Last weekend Mars and I took a little trip to my favorite Grocery Store. They have the MOST amazing bakery where beautiful Artisan breads, with their golden crispy crusts, beckon to me! (And… my carb loving soul runs towards them with great gusto! It's like a love scene from a romantic movie! In S-L-O-W motion…cause even my soul doesn't run! )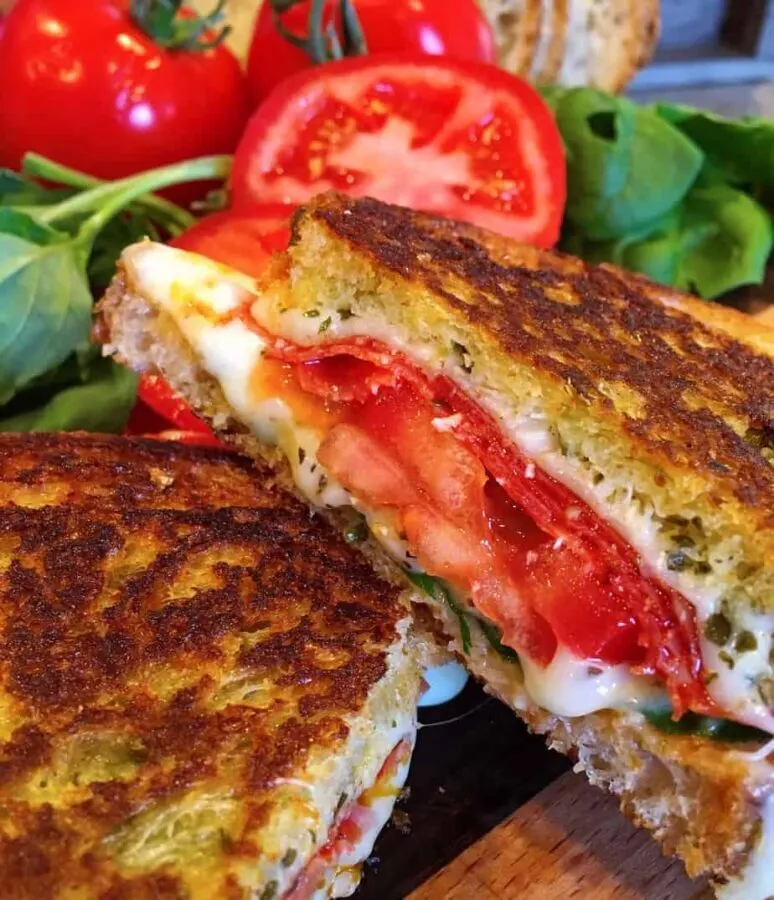 Any who…back to my story! I spied this gorgeous loaf of Rosemary Olive Oil Bread. It was truly stunning.
I knew instantly what I was going to cook up with that loaf of bread. The two of us (The bread and I…the love story) were going to take on the good ol' American Grilled Cheese and create an Italian Grilled Cheese. A sandwich that would transport us to Rome! (Food can transport us…even to Rome! Cheap Air Fare!)
TIP: If you can't find Rosemary Olive Oil Bread you can use an Artisan Asiago Bread or a really beautiful Country French Loaf. Both will work for this sandwich.
How To Make Italian Grilled Cheese Sandwiches
To create these delicious sandwiches you'll need 1 loaf of Artisan Bread, Butter, Fresh Tomatoes, Fresh Basil, Spinach Leaves, Provolone Cheese, Munster Cheese, prepared Basil Pesto, Deli Pepperoni, and your favorite Marinara sauce.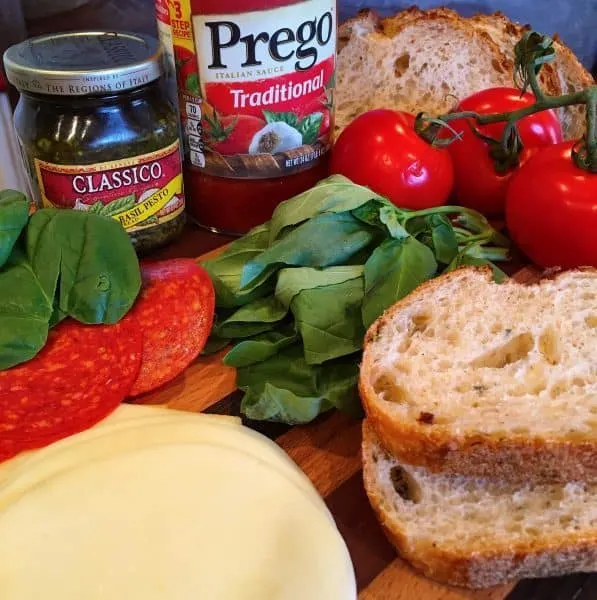 To being with… Butter the outside of each slice of Rosemary Olive Oil Bread. One the inside of one slice of bread spread Basil Pesto. (I've seriously been thinking about using this as a facial mask! Lol Classico has nailed this pesto sauce.)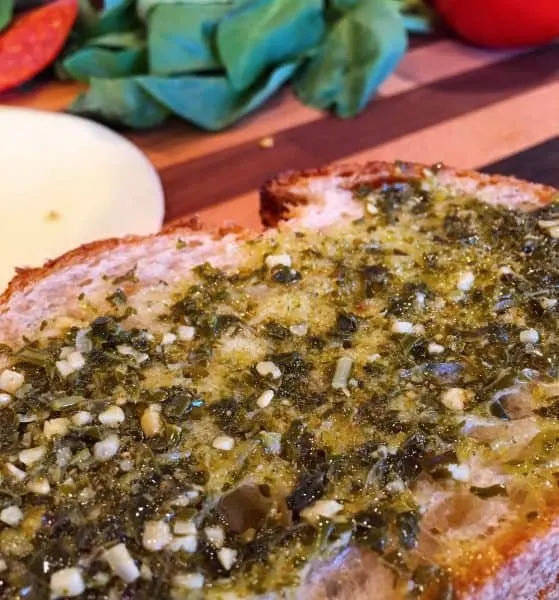 On top of the pesto sauce, add two slices of Provolone Cheese, and 5-6 Large thin slices of Pepperoni.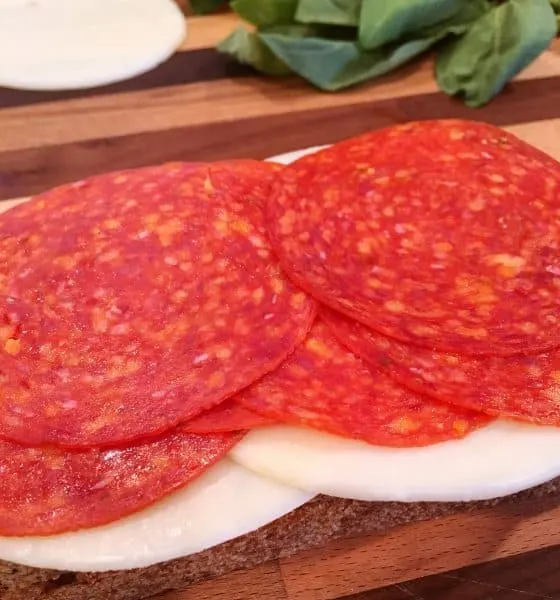 Add a layer of thinly sliced fresh tomatoes, sprinkle with coarse black pepper.
Now…if you don't like tomatoes you can leave them off. (Gasp!)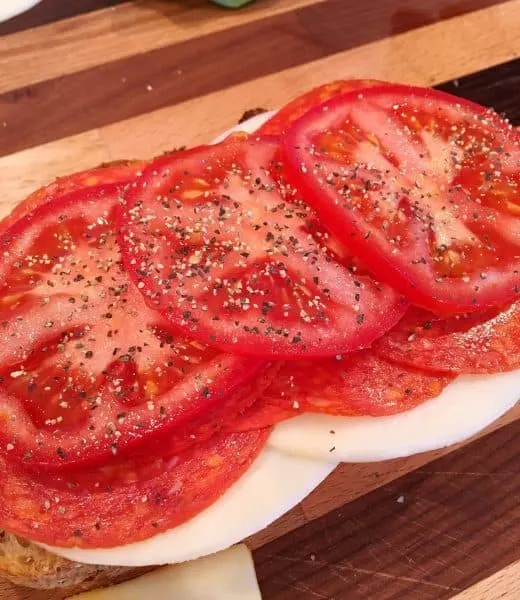 Guess what time it is? Yep! Time for another layer of cheese!
Add a layer of Munster Cheese.
Why Munster? Because it is creamy, yummy, and melts perfectly in grilled cheese. I'm of the opinion that ALL Grilled Cheese should contain Munster. Try it…you'll thank me!
Next add a layer of Fresh Spinach Leaves and a few leaves of fresh basil. (Oh this sandwich is SOOOOO Good! SO GOOD! Drool worthy good!)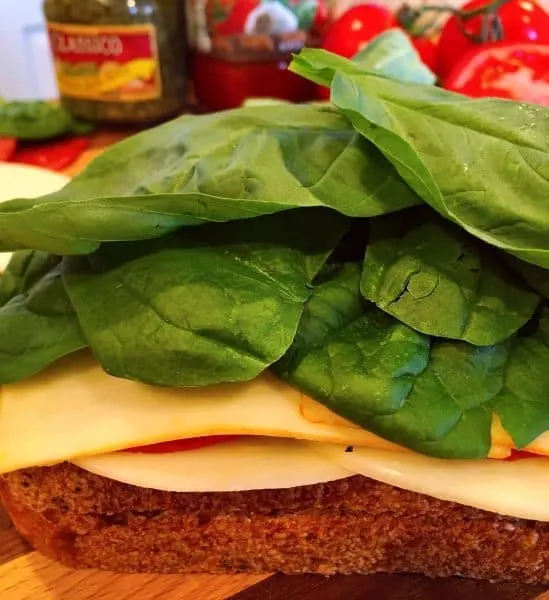 Place the top piece of butter bread, ummm… on top! Place sandwich on hot griddle. Over medium heat.
TIP: You don't want the grill too hot, or the bread will toast before the cheese melts.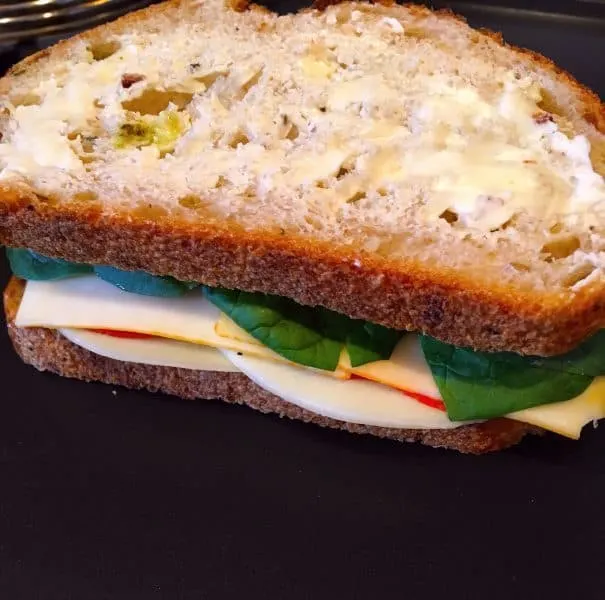 When one side is golden brown… Flip the sandwiches over using two spatulas.
You will need to contort your upper body while trying not to have the sandwich fly across the room! Good Luck with that! (I'm rooting' for ya!)
While the sandwiches are toasting…heat individual cups of marinara sauce. I used Prego Traditional Spaghetti Sauce. You can use any brand you like.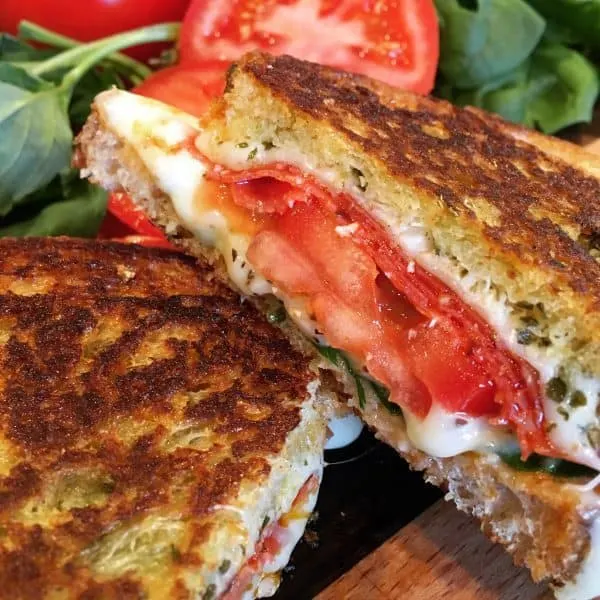 This sandwich is loaded with so much flavor.
Please…PLEASE dip it in the marinara sauce while eating. You'll thank me! It's great on its own…but dunked in that warm marinara sauce…it's OUTSTANDING! You could even serve them with a wonderful roasted tomato soup. Another Epic choice!
I've had two of these sandwiches this week. (There go all my secrets!) This Italian Grilled Cheese Sandwich has ruined me for regular grilled cheese! Truly!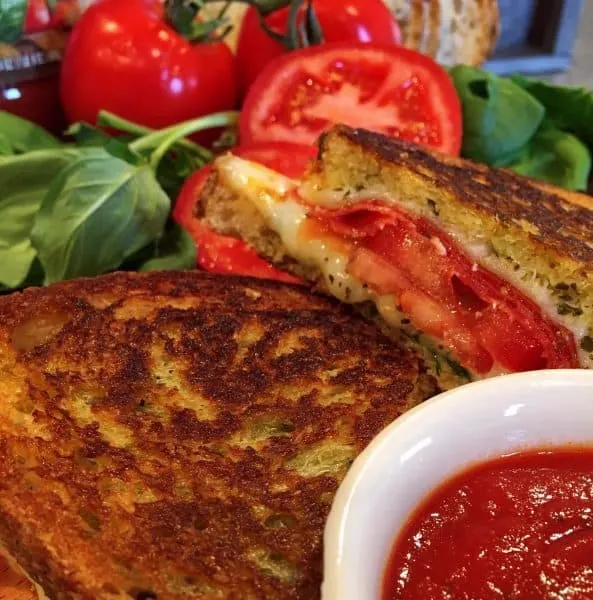 This recipe will make 4 large Grilled Cheese!
It's such a quick easy recipe and great for Lunch or Dinner. (I know… I had them for both…just to make sure!)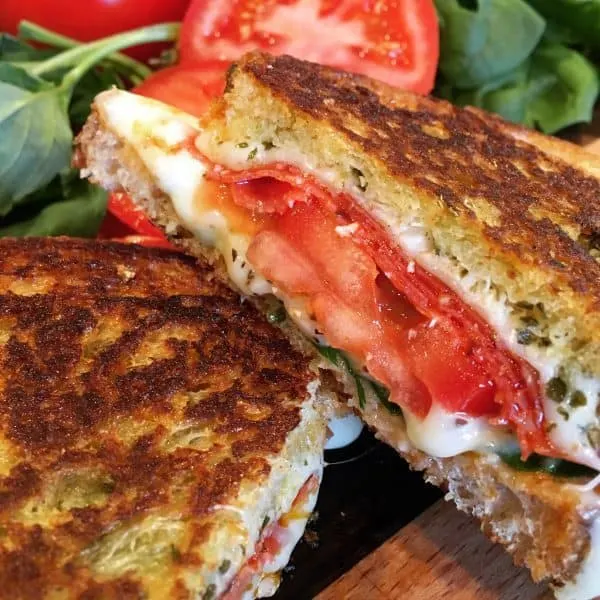 Favorite Sandwich Recipes
I L.O.V.E. this new recipe! It's honestly one of my very favorites. I may have ruined myself for any other sandwiches out there! (Sorry Tuna, Turkey, and Ham! It was a good run while it lasted!)
Hope you love it as much as I do! Printable recipe is below. Have a GREAT Day!
Happy Nesting!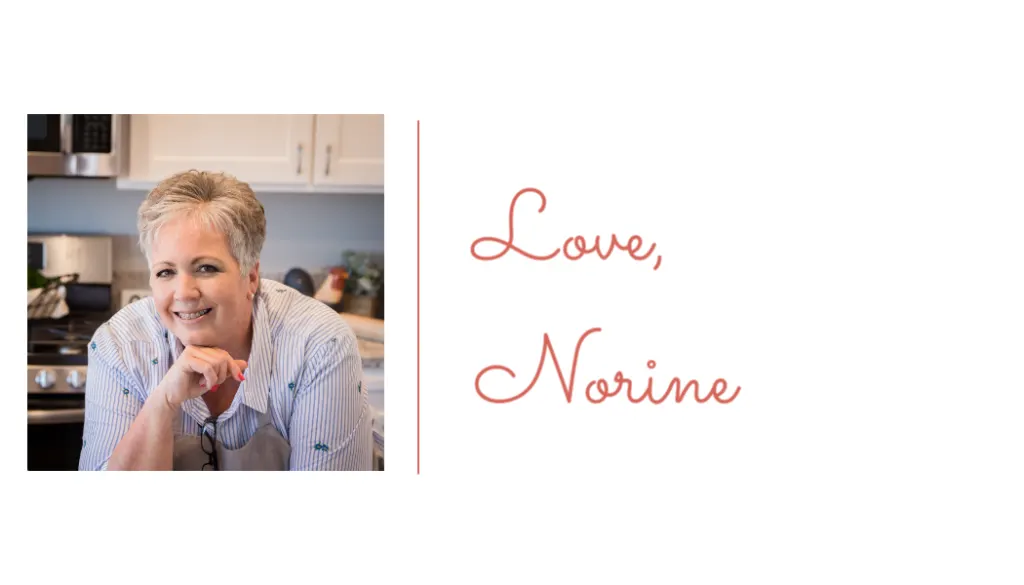 Yield: 4 sandwiches
Italian Grilled Cheese Sandwiches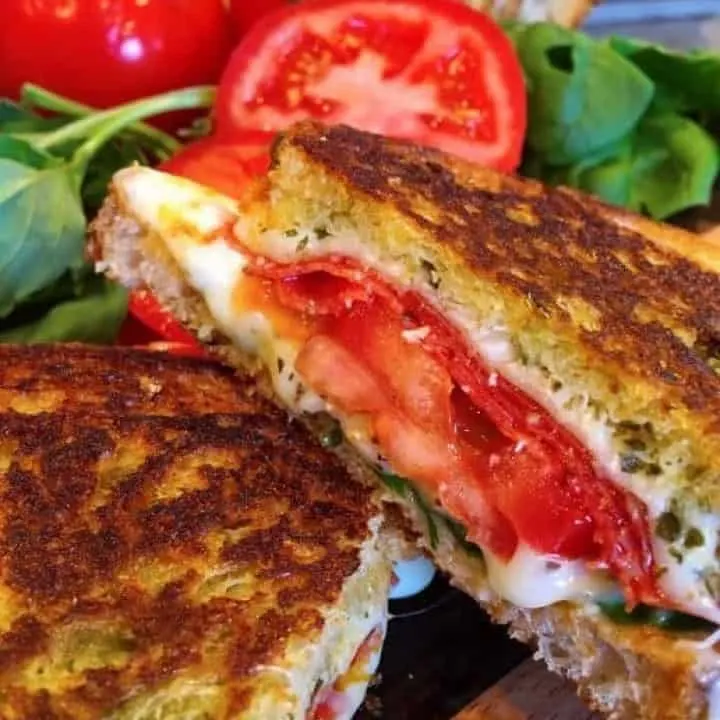 Italian Grilled Cheese Sandwiches make a fantastic lunch or dinner. Loaded with flavor they're one of the best sandwiches to pass your lips!
Ingredients
8 slices of Rosemary Olive Oil Artisan Bread or Asiago Artisan Bread
Butter, Softened
8 slices of Provolone Cheese
8 slices of Munster Cheese
20 slices of large thinly sliced pepperoni
2 large tomatoes, thinly sliced
20-30 leaves of fresh spinach leaves, washed and dried
1 bunch of fresh basil leaves
Prepared Basil Pesto
1 jar marinara sauce
Coarse black pepper, to taste
Instructions
Preheat griddle over medium heat.
Butter one side of each slice of bread
On the inside of four slices of bread, spread Pesto Sauce, about 1 Tablespoon.
Place two slices of Provolone Cheese on top of each slice of bread with pesto.
Add 5-6 slices of thin pepperoni to each sandwich. Top with 2-3 slices of tomato. Sprinkle with coarse black pepper.
Top each sandwich with two slices of Munster cheese. Add Spinach leaves and a thin layer of fresh basil.
Top with other slice of bread.
Place sandwich butter side down on hot griddle. Grill till bread is golden brown and cheese is melting. Flip sandwich over and toast till done.
While sandwich is grilling fill small cups with marinara sauce and warm in microwave.