Crispy Fried Fish Sandwich on a lightly toasted Ciabatta roll, with lightly crispy beer battered fish fillets, fresh ripe tomatoes, spring lettuce mix, Munster Cheese and a homemade tartar sauce.
I love Sea Food! Problem is we aren't any where close to the sun soaked sands and lapping waves of the ocean! (Now we all want to go to the beach!)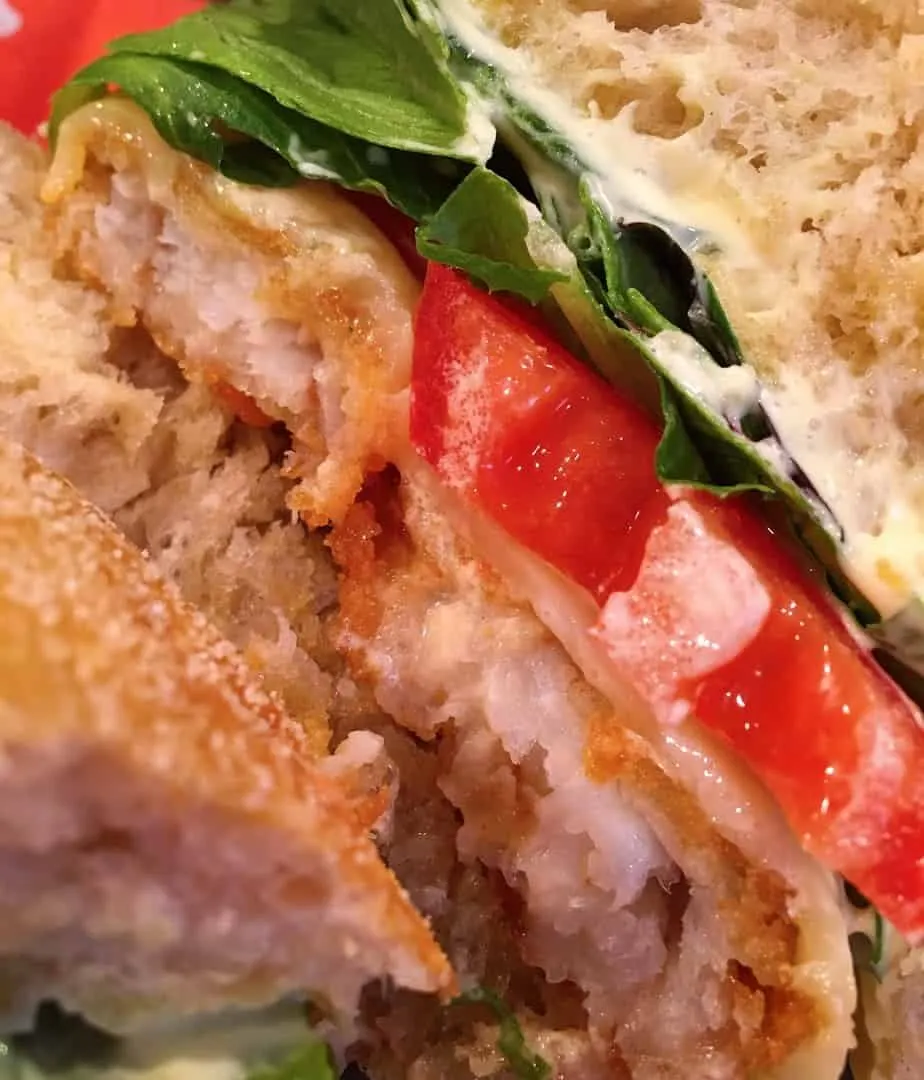 So, what's a girl supposed to do when all she wants is a really good Crispy Fried Fish Sandwich?
The only thing this girl could do…is to go fishing in the frozen food section of her local Wally World and make her own!
Which is exactly what I did! (Oh sure…I looked silly standing in the freezer section with my husband's fishing pole…wait…it was Wal-Mart! Naw… I fit right in! lol)
I'm sure I could have used fresh fish and breaded it myself…but I wanted a quick easy solution to this "fishy" craving I was having. The beauty is that there are some really great quality frozen fish options these days.
I used Gorton's Beer Battered "Wild Caught" 100% Real Fish Fillets! There are 10 fillets per package. It takes two fillets per sandwich.
How to Make this Yummy Crispy Fish Sandwich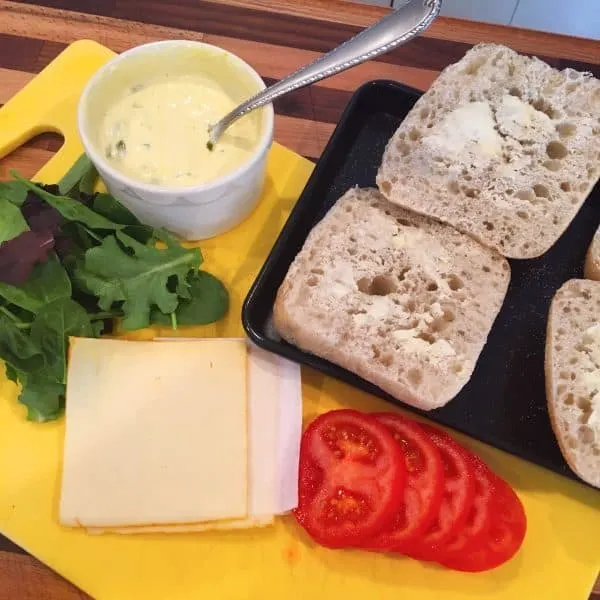 2 Gorton's Beer Battered Fish Fillets
One Fresh Ciabatta Roll
Two Slices of Tomato
One Slice of Munster Cheese
Handful of Spring Lettuce Mix
Homemade Tartar Sauce
Heat 3 inches of Vegetable Oil in a medium Sauce pan until hot enough to fry fish.
TIP: I know my oil is hot enough to fry when I can see the "heat waves" in the bottom of the pan. PLEASE BE VERY CAREFUL when frying with hot oil! ALWAYS turn the pan handle IN towards the stove top!
TIP: If you do burn yourself NEVER put ice on the burn. It causes the burn to go deeper. Always run under cool water then seek medical attention.
Now that your scared to fry your fish…let's do that! Fry fish until golden brown, about 2-3 minutes per side. Turn over and cook other side until golden brown.
Place on a paper towel lined plate to drain. (Please note you can bake them if you prefer. I tried it both ways. I liked the fried better… cause ummm…it's fried…but the bake works too!)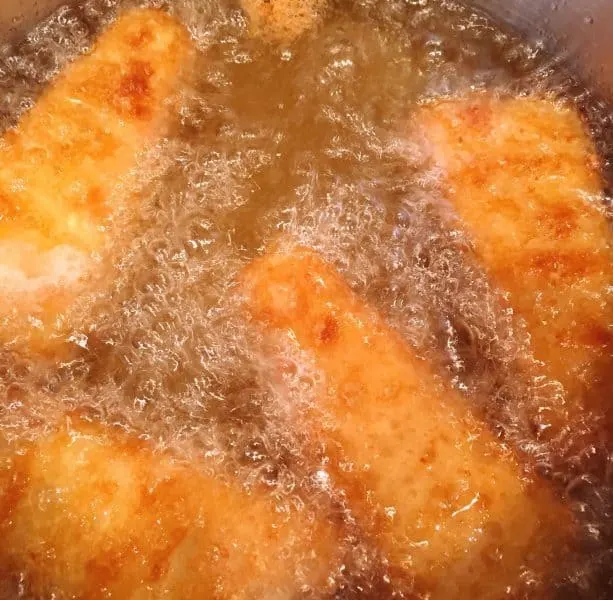 While fish is cooking butter the Ciabatta rolls and place in a preheated 400 degree oven and toast lightly. About 4-5 minutes.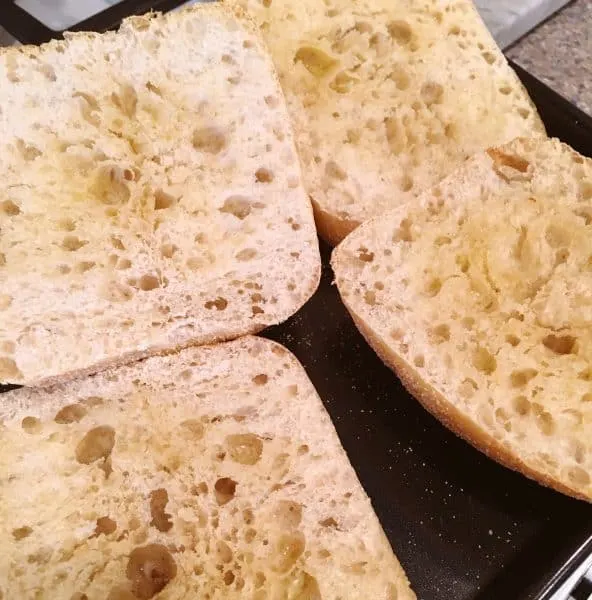 Make your homemade tartar sauce by combining 1/2 cup Mayonnaise with 1 Tablespoon prepared yellow mustard and 2 tsp sweet pickle relish. Mix.
Add salt and pepper to taste and a sprinkle of Old Bay Seasoning if you have it.
This homemade tartar sauce is SO much better than the bottled! It's creamy with just the right amount of sweet and spice! (Kinda like me! Okay…maybe not! But it's the perfect "bait" for this sandwich!)
Spread Tartar Sauce on top of Top half of the Ciabatta Roll. (Sure it's gonna end up on your bottom half…like a "sinker"…but go ahead and make it work to hit those hips!)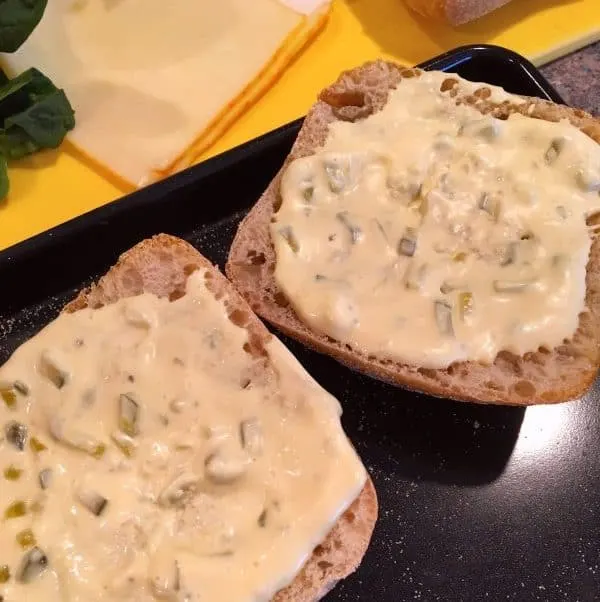 On the bottom of the Ciabatta Roll, lay two fish fillets next to each other…let'em spoon! lol We want our fish to snuggle!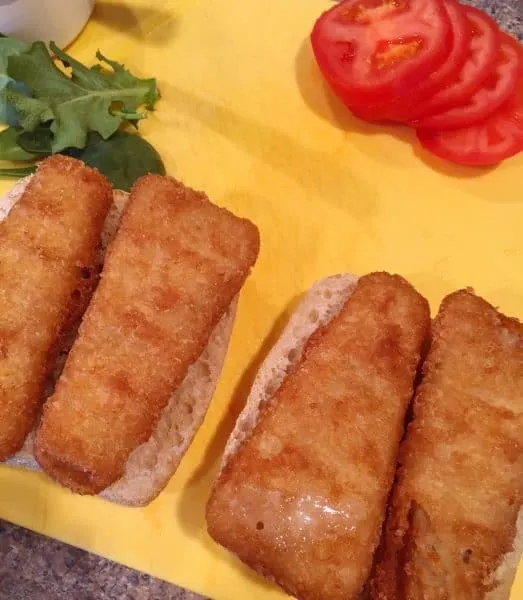 Add a slice of Munster Cheese. This will allow it to melt on top of those hot fish fillets. Add two slices of Tomatoes.
Don't like Tomatoes…that's fine. (We have tomato hater birds at this nest too! We let them hang around despite the flaw!)
TIP: I always like to sprinkle my fresh sliced tomatoes with coarse black pepper. It just adds a little extra burst of flavor to my sandwiches!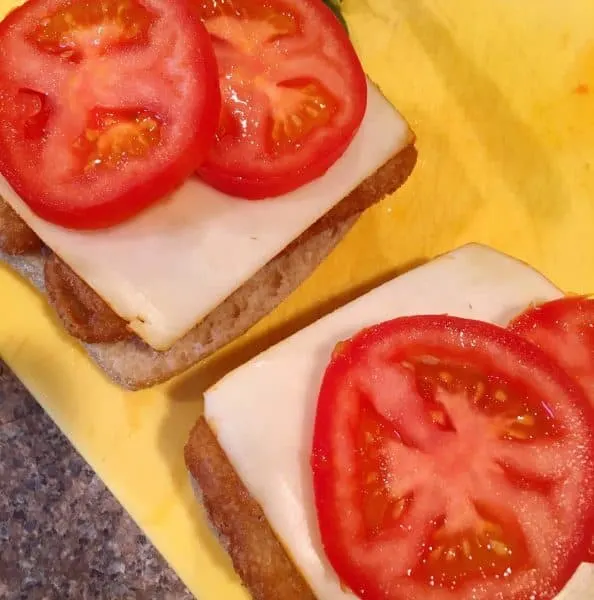 Top off with a handful of fresh lettuce spring mix! I like the blend with fresh spinach. Let's pack some good stuff into this sandwich.
Gotta balance out that fried fish! (I'm sure the 10 leaves of lettuce and spinach do that! This is why my blog isn't about "healthy life style choices"!)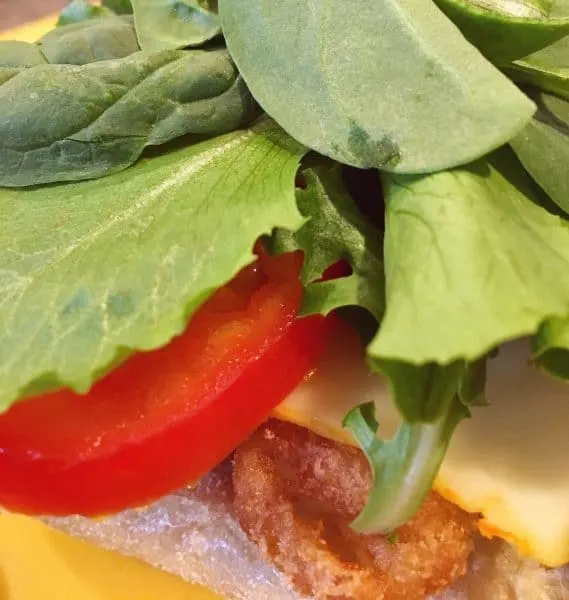 Plop the top half of the ciabatta roll slathered in the delectable homemade tartar sauce right down on that healthy spring mix! Or as we are calling it…"Our calorie balancer!"
Slice the sandwich in half and dig in! It's a WHALE of a sandwich! (I can do this ALL day folks! Remember…I'm married to a fisherman!)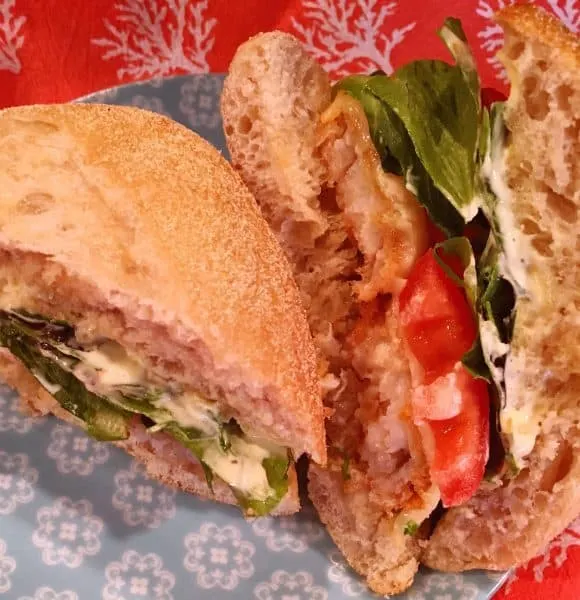 I know it may not look like much…but my husband loved this fish sandwich so much he begged me to make them again! He declared it the BEST fish sandwich he'd ever had. (That's no fish tale! Yeah…I know…STOP already! Okay, okay…I'll let you off the "hook"! Bawahahaha!)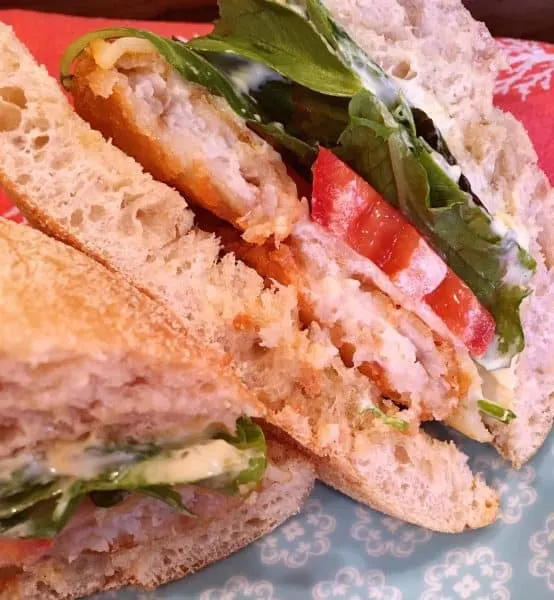 The fish is light, flaky, and crispy. Not overly fishy tasting either. It's mild. Perfect for a fish sandwich. The Munster is the perfect flavored cheese to top off this sandwich, and it helps to hold the two fillets together. Topped off with fresh sliced tomatoes, spring mix, and that yummy tartar sauce…it really is a fantastically delicious Crispy Fried Fish Sandwich!
Amazing Side Dish Recipes that go great with Sandwiches
It was scrumptious! Worthy of any classic diner! Sure it isn't something you'd want to eat every night, especially if you're trying to eat healthier. It was a fun change from the typical casserole dinner.
Thanks so much for stopping by my Nest. Remember to sign-up for my bi-monthly Newsletter on my homepage. You can also follow me on Facebook, Twitter, Pinterest, and Instagram! I'd love to have you join the daily fun!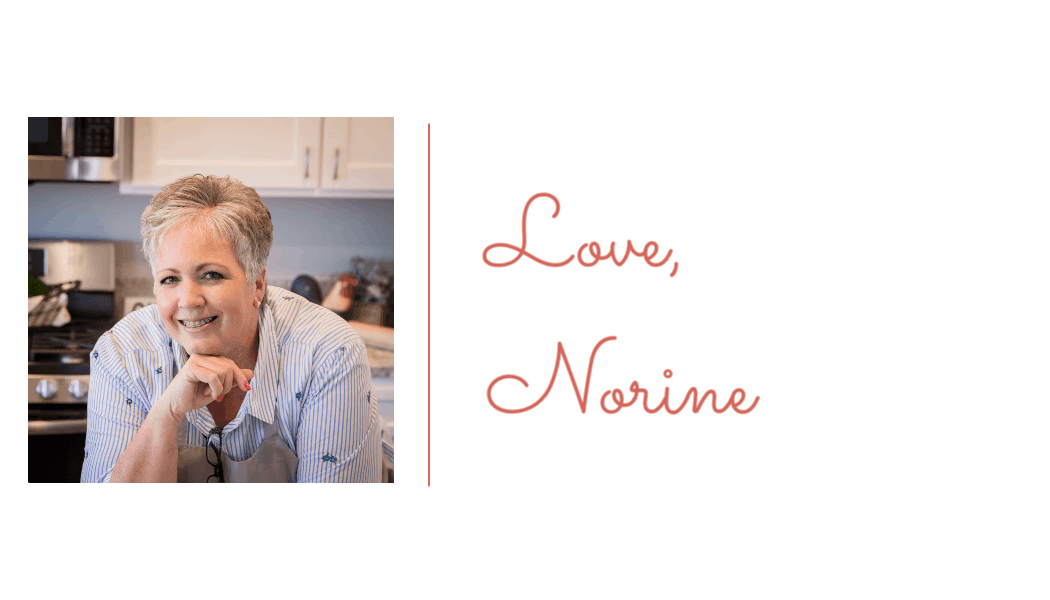 Yield: 4 fish sandwiches
Crispy Fried Fish Sandwich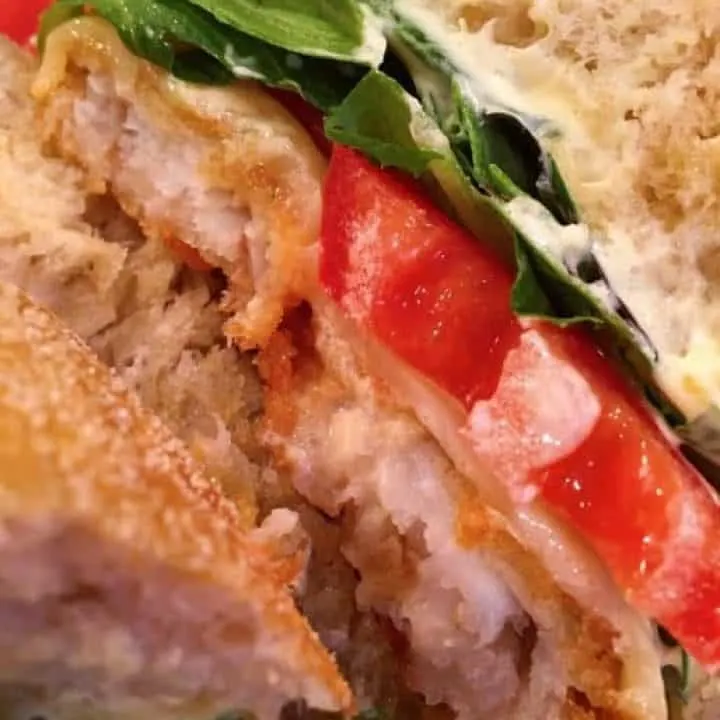 A light crispy fried fish sandwich served on top of a toasted ciabatta roll with Munster cheese, fresh tomatoes, spring mix lettuce and a rich creamy homemade tartar sauce. It's the best "catch" you can make for dinner for your family! Delicious!
Ingredients
1 package of Gorton's Frozen Beer Battered 100% Real Fish Fillets
Vegetable Oil for Frying
4 Ciabatta Rolls
1 Large Tomato sliced thinly into 8 slices
4 slices of Munster Cheese
3-4 Handfuls of Spring Lettuce Mix
Butter for Rolls
Homemade Tartar Sauce
Homemade Tartar Sauce
1/2 cup Mayonnaise
1 Tablespoon Prepared Yellow Mustard
2 teaspoons sweet pickle relish
Salt, Pepper, and Old Bay Seasonings to taste
Instructions
Preheat oven to 400°
Split Ciabatta Rolls in half. Place on baking sheet. Butter Ciabatta Rolls. Set aside.
Mix ingredients for Homemade Tartar Sauce.
In a medium sauce pan pour 3 inches of oil. Place over medium-high heat until oil is hot enough to fry fish fillets.
Line a plate with paper towels.
Place 3-4 fish fillets in hot oil. Cook until golden brown and cooked through. About 3 minutes per side. Remove fish from hot oil with slotted spoon, and place on paper towel lined plate. Drain. Continue frying fish until you have cooked 8 fillets. (Note you can follow the baking instructions if preferred.)
While fish is cooking, place baking sheet with butter ciabatta rolls in the oven to toast. About 5-6 minutes. Remove when done.
Spread Tartar sauce on the top half of the Ciabatta roll.
Lay two fish fillets side by side on the bottom half of the Ciabatta roll.
Place a slice of Munster cheese on top of fish fillet. Top with two thinly sliced tomato slices. Add a handful of spring lettuce mix. Place top of ciabatta roll with tartar sauce on top of lettuce. Cut in half and serve while hot.
Recommended Products
As an Amazon Associate and member of other affiliate programs, I earn from qualifying purchases.
Nutrition Information:
Yield:
4 servings
Serving Size:
1 sandwich
Amount Per Serving:
Calories:

723
Total Fat:

42g
Saturated Fat:

12g
Trans Fat:

0g
Unsaturated Fat:

27g
Cholesterol:

89mg
Sodium:

1243mg
Carbohydrates:

55g
Fiber:

5g
Sugar:

9g
Protein:

28g