The Best Brownies are homemade from scratch! This is the perfect brownie recipe. You'll never find a better chocolate craving buster. They're the perfect rich fudgy treat!
If you follow me on Instagram you know that last week I did a "live" broadcast "cooking with kids". With so many kids home from school right now, I wanted to share my love of cooking and baking with them.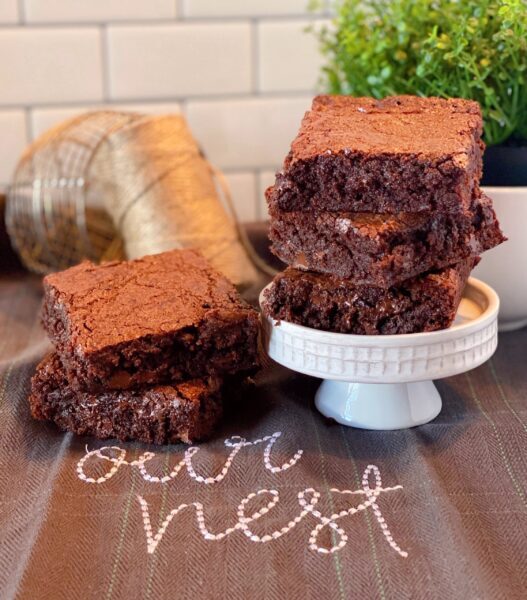 I gave them two options…a casserole or brownies. Brownies won! Hands down by a landslide! I'm so glad. It meant I had to make several pans of these tasty treats…which meant I had to eat my fair share of them as well. (I have a tough job…but I do my best to get through the hard days!)
I was really surprised when I realized I didn't already have this brownie recipe posted! How does that happen? You'd think being president of the chocolate lovers association that I'd have a fudgy brownie recipe gracing the pages of my blog! Today I'm going to rectify that situation.
How To Make The Best Homemade Brownies
One of the secrets of this delicious brownie recipe is the cooking temperature. They bake at a lower temperature than traditional brown recipes…300 degrees. This allows the brownies time to bake evenly and perfectly. Start off by preheating your oven to 300°.
Spray an 8 x 8 inch baking dish with non-stick cooking spray. You can use a 9 x 9 inch pan, it will just produce a thinner brownie and take less time to bake, about 30-36 minutes.
TIP: After spraying the baking dish spread the cooking spray evenly around the pan using a paper towel. This help prevent the brownies from having the dreaded bottom overlap! (It's a thing…even if I made the name up! lol) Brownie "overlap" is the ugly crispy edge that bubbles up from the bottom and over the top of perfect crispy brownie tops.
Place butter pieces in a large microwave safe bowl. Heat until just melted. Add 1 1/2 cups sugar and 1/4 teaspoon salt. Add 2 teaspoons vanilla.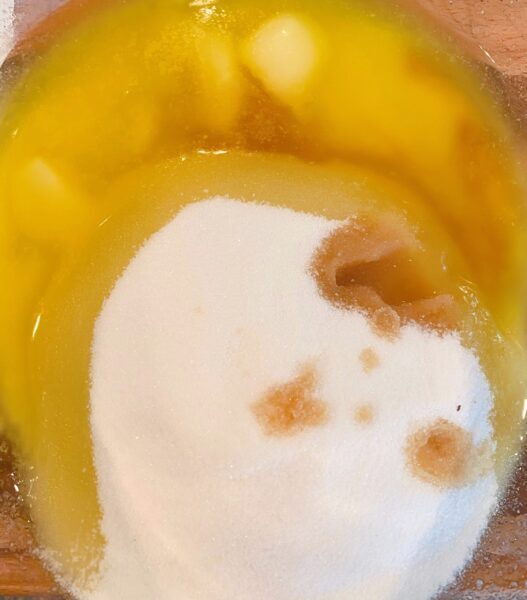 Stir until combined.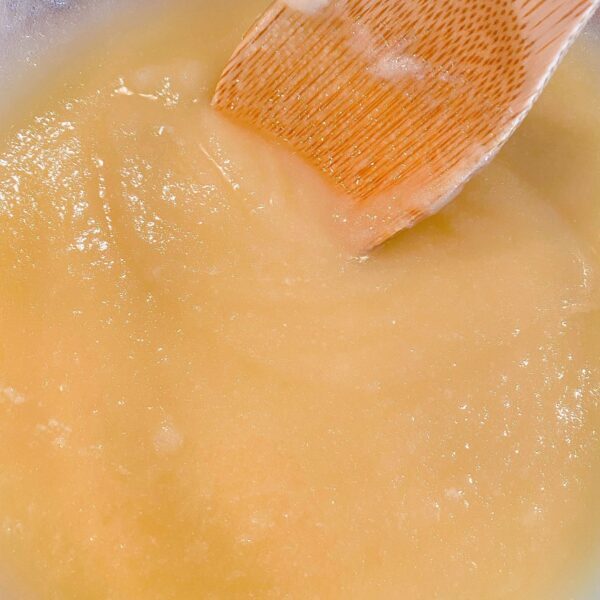 Let cool slightly if too warm. Add in 3 large eggs.
TIP: I crack my eggs in a smaller bowl before adding them into recipes. That way if any shell should slip in with the egg I can remove it before adding it to my recipe.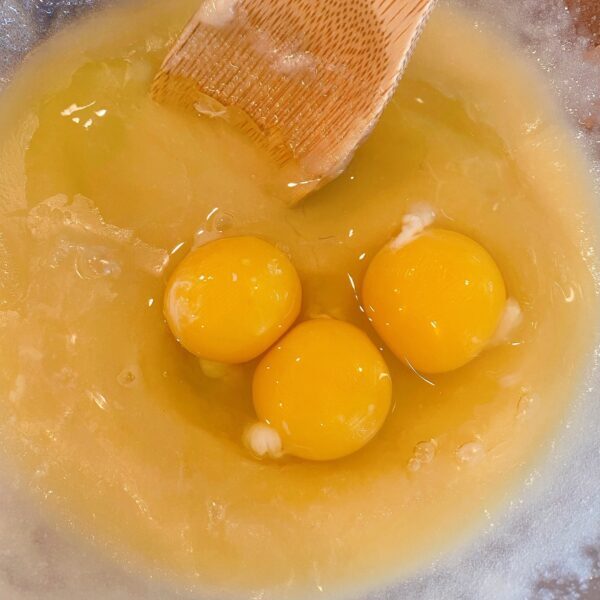 Now for the fun…break the yolks! Yep, just take a wooden spoon and poke'em! (I may have been a tad more aggressive with my breakage routine)
A wooden spoon is required when making brownies. It's in the handbook…just how grandma made them. Stir in the eggs with a wooden spoon.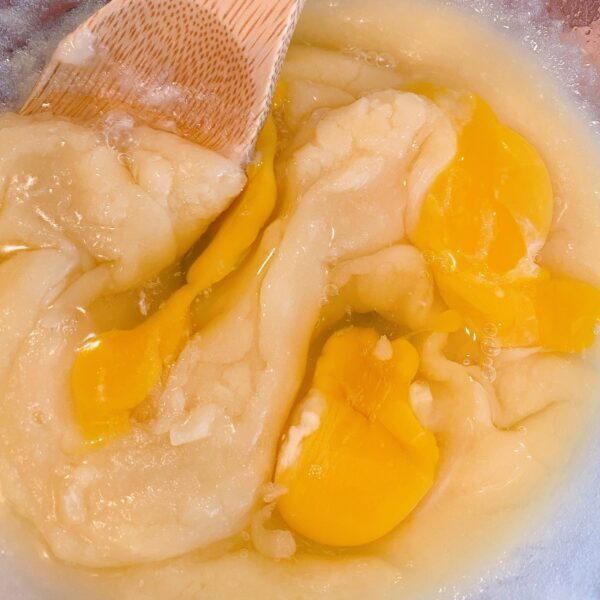 In a separate bowl combine 2/3 cups all-purpose flour and 9 Tablespoons cocoa powder. There's a reason I mix them separately before adding them to the wet ingredients. I know some recipes have you toss it directly into your eggs and sugar. But this is why…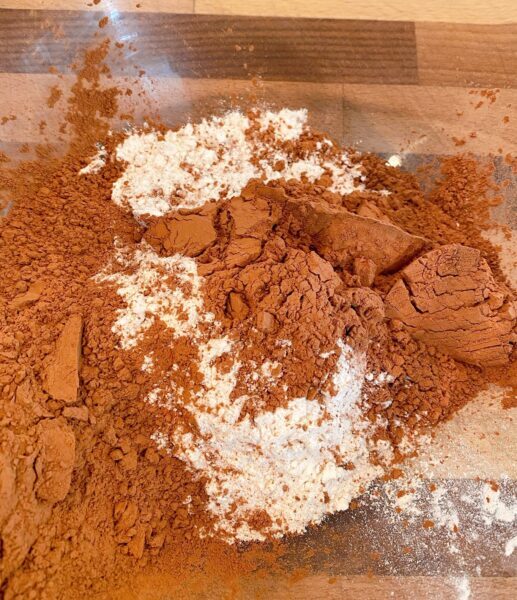 Using a whisk blend the cocoa and flour together until well combined. This will help break up any lumps in the cocoa powder. Cocoa powder tends to be lumpy and clumpy. We want a nicely blended brownie batter. (The brownies make us lumpy…they shouldn't be lumpy!)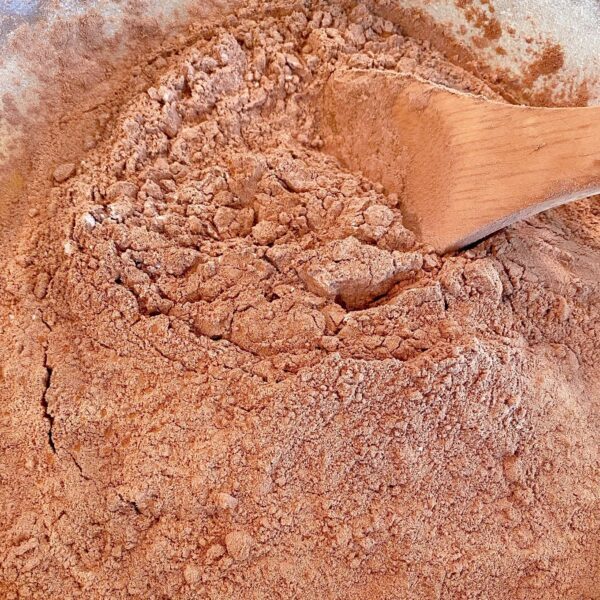 Fold in 3/4 cup chocolate chips. I like to use semi-sweet chocolate chips, but you can use milk chocolate, or peanut butter chips. Lots of yummy options for "stir-ins" with this recipe.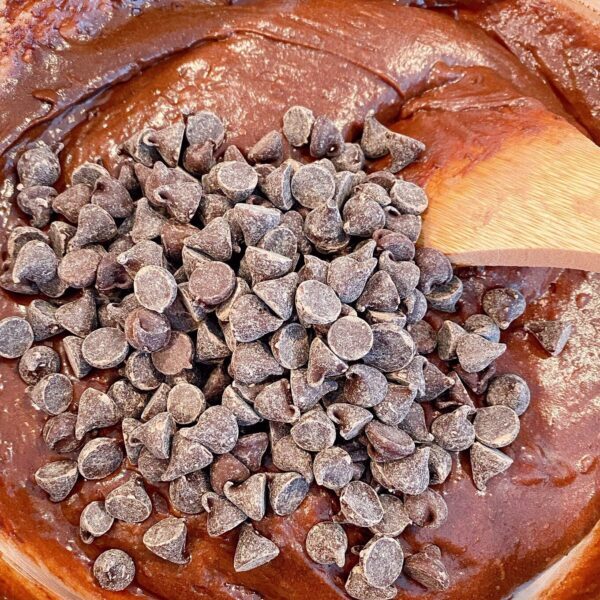 Stir the mixture until just combined, scraping the bottom to make sure any loose flour in mixed in.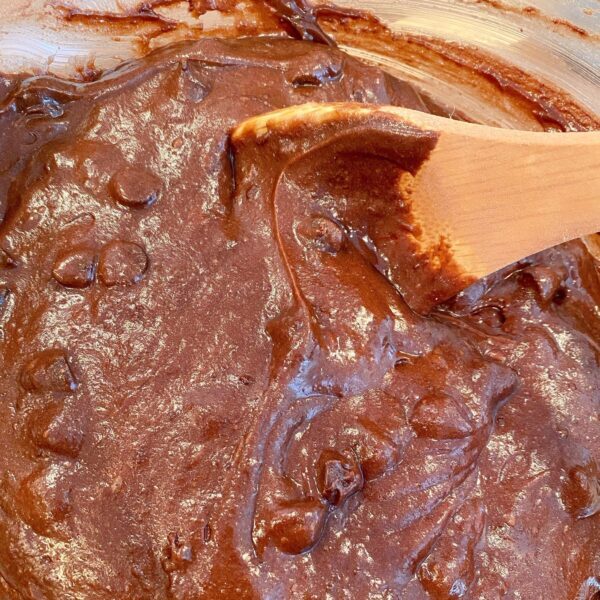 Pour that beautiful thick brownie batter into prepared baking dish. Spread it nice and evenly in the baking dish. I like to shake the pan back and forth to even out the batter.
TIP: I line my baking dish with a piece of parchment paper laid right on top of non-stick cooking spray. I leave about 1 inch hanging over the top of the baking dish. This makes it easy to pull the brownies out of the pan after baking.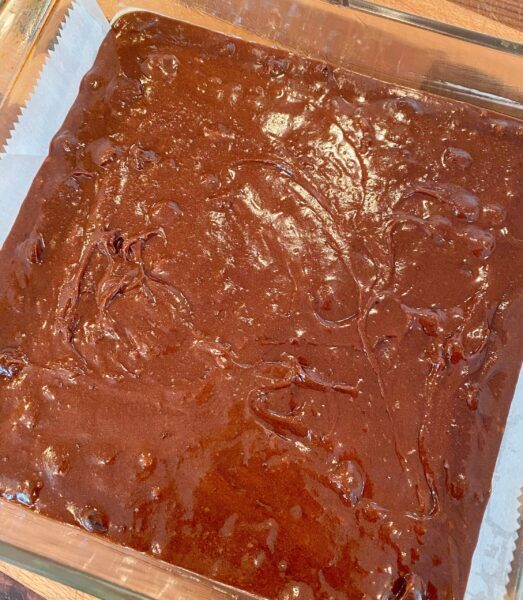 Bake in preheated oven just until barely set, about 40 – 45 minutes. Test by lightly and carefully pressing center of brownie. A soft subtle indent indicates they're done.
Remove from oven and place on wire rack to completely cool.
Look at that beautiful crackly top! That my friends is the sign of a GREAT brownie!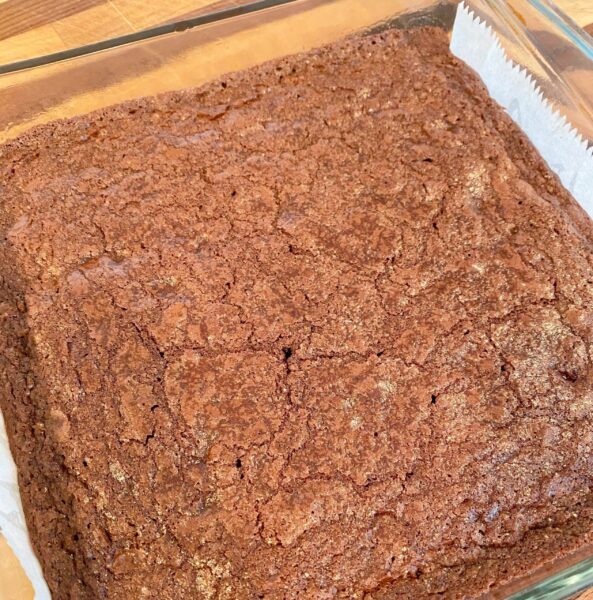 Remove brownies from pan and cut into squares.
Look at that stack of ultimate YUM! Tender moist fudgy brownies with bits of melted chocolate chips. Honestly these truly are the BEST BROWNIES! I love slowly breaking them in half and just watching the bend until they break apart! It's a anticipation thing!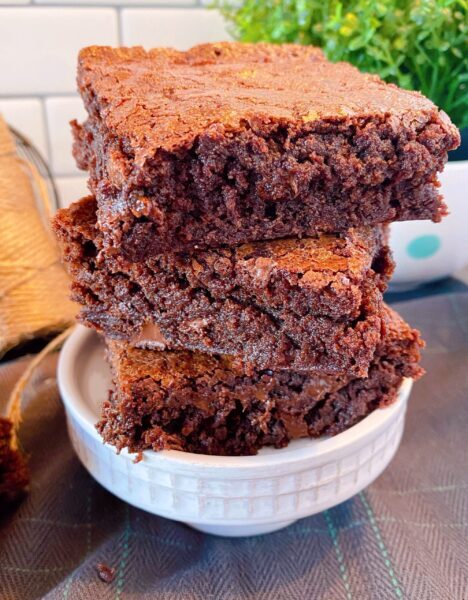 They literally melt in your mouth my friends! So easy to make and SO delightful!
I loved all the photos I received from my Instagram friends of their children making this brownie recipe. There's nothing better than a little chef proudly holding a pan of brownies they made! I'm a firm believer of introducing your children to cooking at an early age.
Now if a child can make these brownies….it's safe to say you can to!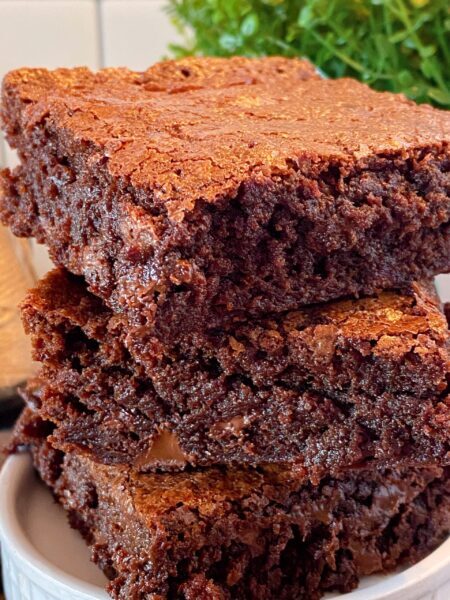 If you like this easy dessert treat you may also enjoy these other delicious recipes.
Homemade Cookie and Bar Recipes
Thanks so much for stopping by today. The free printable recipe is below. Have a wonderful day filled with delicious brownies and milk mustaches!
Happy Nesting!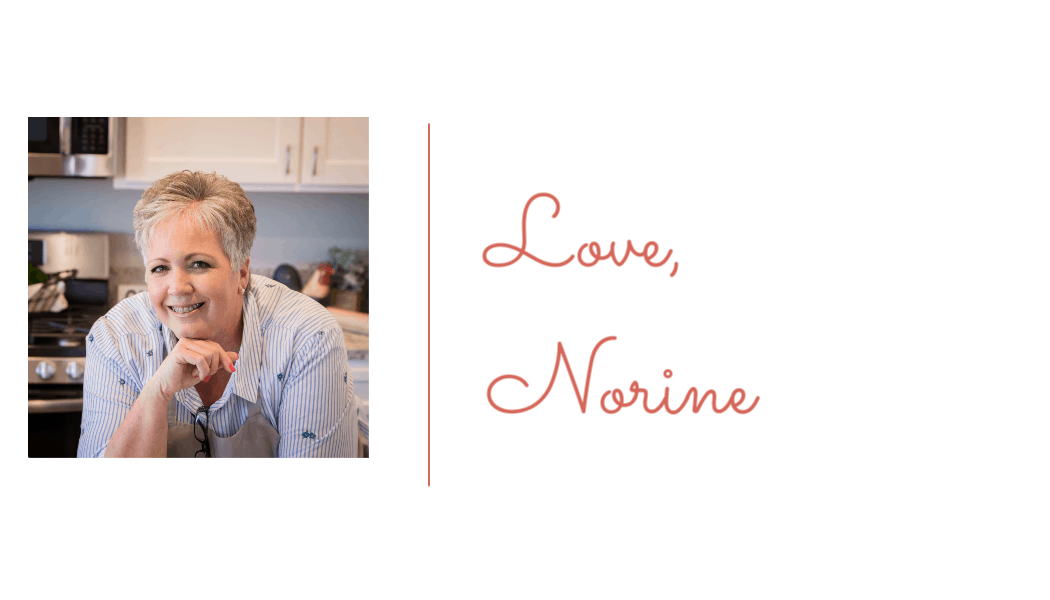 Yield: 12 brownies
Best Homemade Brownies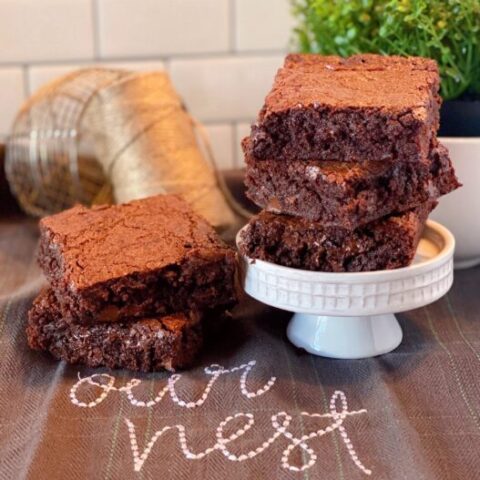 The Best Brownies are homemade from scratch! This is the perfect brownie recipe. You'll never find a better chocolate craving buster. They're the perfect rich fudgy treat!
Ingredients
3/4 cup salted butter, cut into tablespoon pieces
1 1/2 cups granulated sugar
1/4 teaspoon salt
3 large eggs
2 teaspoons vanilla extract
2/3 cup all-purpose flour
9 Tablespoons unsweetened cocoa powder
3/4 cup chocolate chips
Instructions
1. Preheat oven to 300 degrees. Spray an 8 x 8-inch baking dish with non-stick cooking spray, set aside.
2. Place butter in a large microwave safe bowl. Heat in microwave until just melted. Stir in sugar, salt, and vanilla. Let cool slightly if warm.
3. Add in eggs. Break yolks and stir with wooden spoon just until blended.
4. In a separate bowl combine flour and cocoa powder with a wire whisk. Add to wet ingredients. Mix with wooden spoon just till combined. Add chocolate chips. Stir mixture again just until combined.
5. Pour into prepared baking dish. Spread into an even layer. Bake in preheated oven just until set, about 40-46 minutes. Be careful not to over-bake.
6. Let cool completely on a wire rack before cutting into 12 squares. Store in an air tight container at room temperature.
Notes
Regular or dutch process cocoa works great in this recipe.
Chocolate chips give the crackly top to these brownies, but you can omit them if you don't have any on hand.
A 9 x 9-inch baking pan will work great with this recipe. Just reduce the baking time, it will take about 34-36 minutes.
Nutrition Information:
Yield:
12 brownies
Serving Size:
1 brownie
Amount Per Serving:
Calories:

311
Total Fat:

16g
Saturated Fat:

10g
Trans Fat:

0g
Unsaturated Fat:

5g
Cholesterol:

77mg
Sodium:

155mg
Carbohydrates:

40g
Fiber:

2g
Sugar:

31g
Protein:

4g