A cheesy, Creamy Cauliflower Au Gratin casserole with smokey ham and a delicious rich white cream sauce topped with toasted Swiss cheese. The perfect side for your Holiday Meals.
Finally a recipe that allows Cauliflower to live up to the measure of its creation…Cauliflower! Not pizza crust, not buffalo wings, not rice, not tortillas. The beauty of this dish is that it's main ingredient is allowed to shine in it original form!
*As an Amazon Associate I earn from qualifying purchases. This post may contain affiliate links, which means that I may make a commission from any purchases at no additional cost to you. Thank you for your support!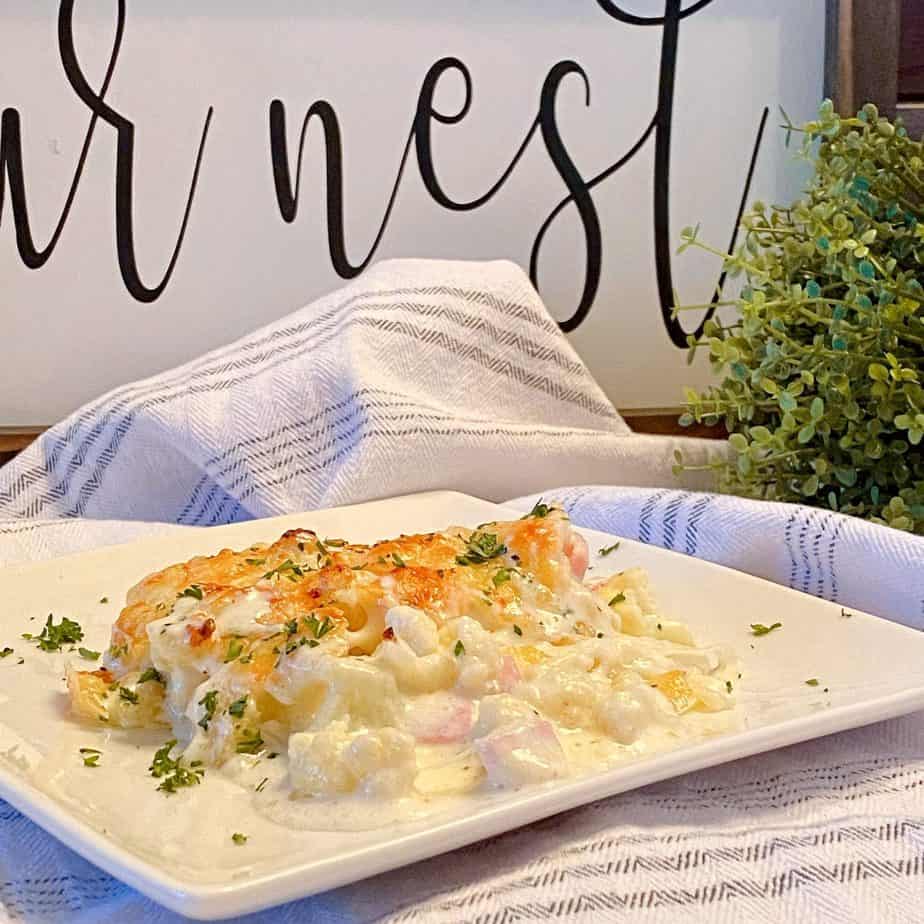 The simple ingredients in this dish come together to create a flavorful appetizing side dish. It's a fantastic dish anytime, but works really well for your Holiday Meals. Whether it's Easter, Christmas, or Thanksgiving.
This creamy side will shine and make a fan out of even the non-cauliflower lovers at your Nest!
Let's Talk Cauliflower
Cauliflower has had a lot of attention in the last few years thanks to new diet trends. So, let's talk about this amazing healthy vegetable.
Cauliflower is a cold-weather member of the mustard family similar to broccoli. It is comprised of hundreds of tiny flowers that are protected by its large leaves.
The leaves protect the flowers from the sun, which keep the florets snowy white. If you see spots of gray on a head of cauliflower, it is a spot the sun reached. So no worries. It's fine, just trim it off and go about preparing your recipe.
Select a head that feels firm, whose florets are tightly packed, and without a trace of black which is the beginning signs of spoilage. (I checked myself for spots! The packaging on this old lady isn't as tight as it used to be!) Loser florets are the sign of aging (Oh dear!).
How to make Easy Cheesy Cauliflower Bake
Begin by preparing the cauliflower. Wash and break cauliflower into florets.
To cut into florets, cut the head of cauliflower in half or quarters, remove the core from each piece, and then cut or break the florets into pieces of the desired size. I prefer to break mine into small bite size pieces with very little "stem" attached.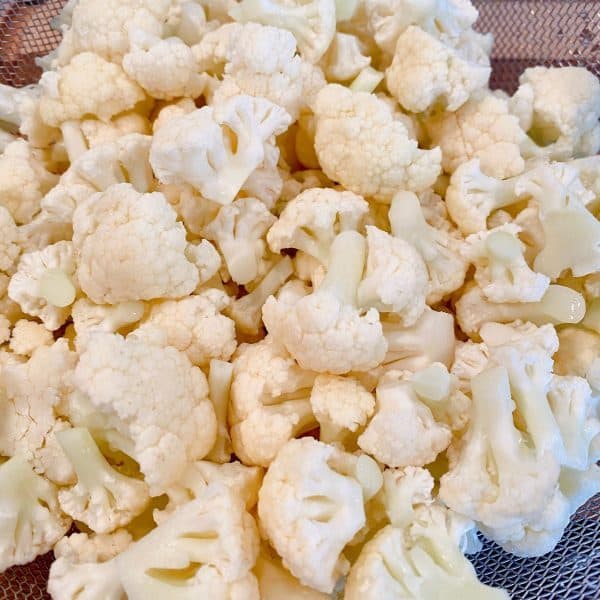 Cut 4 ounces of ham into smaller cubes. Use smoked ham rather than "honey" ham. The smokey flavor enhances this dish. Place chopped ham in a small bowl with 1-2 minced garlic cloves.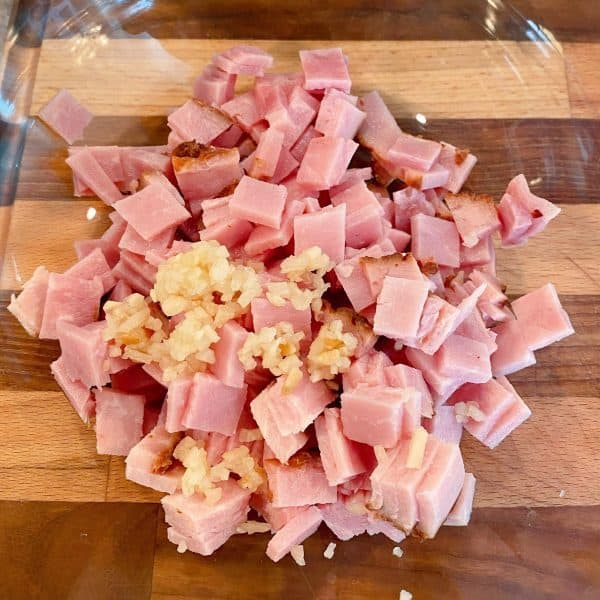 In a large measuring cup mix together 1 -1/2 cups heavy whipping cream with 2 Tablespoons all-purpose flour. Whisk together to combine.
In a small bowl, prepare your seasonings. 1/4 teaspoon salt, 1/4 teaspoon coarse black pepper, and a dash of cayenne pepper. (If you enjoy spice…add a little more cayenne. I'm fond of my taste buds and want them to retain their talent for tasting food so I just do a sprinkle)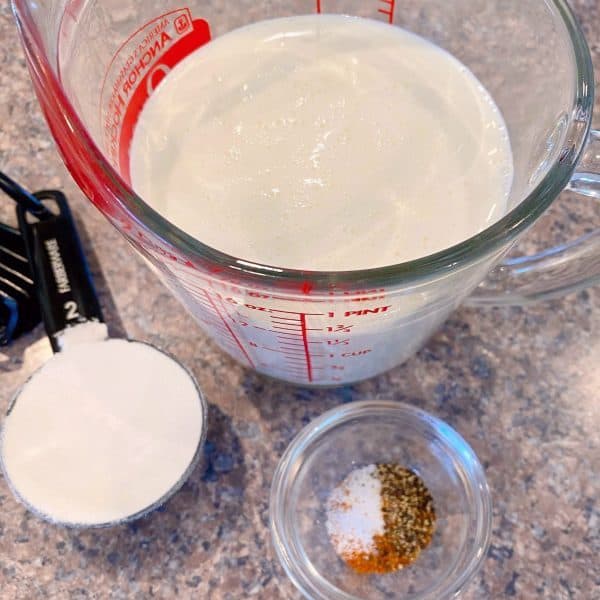 Now that the "prep" work is done, preheat the broiler.
In a large skillet over medium heat, melt 6 Tablespoons butter.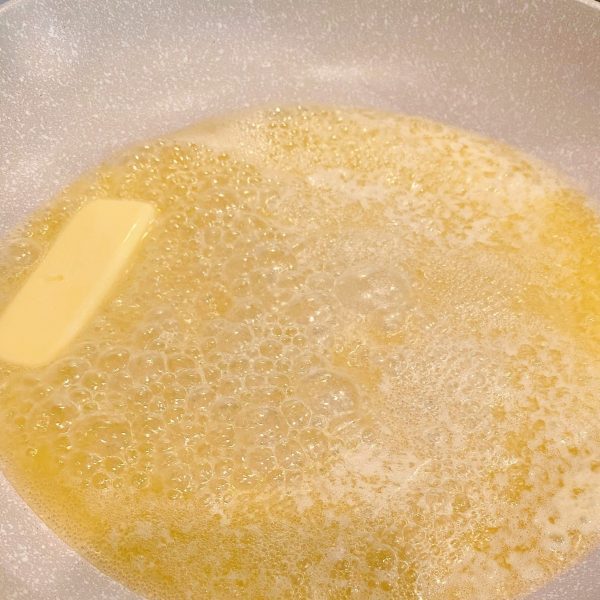 Add chopped ham and garlic. Saute for 2 -3 minutes.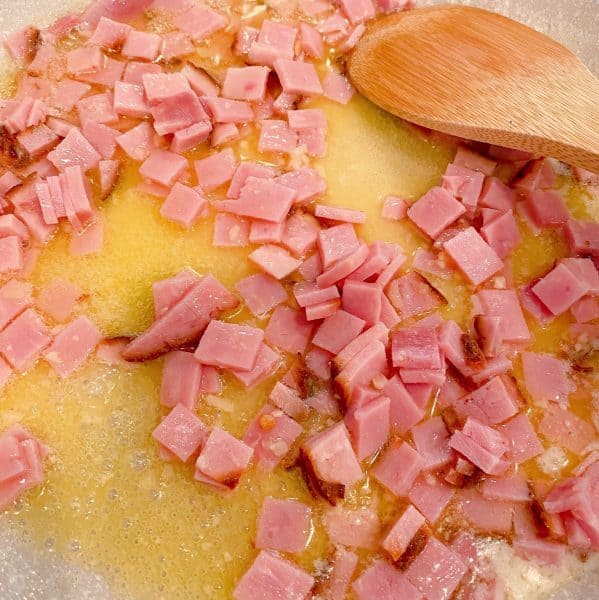 Add all those beautiful cauliflower florets and cook until crisp-tender! Now this part is a little tricky. We all have a different definition of what "crisp-tender" is! The texture of the cauliflower will change from ridged to more pliable.
You determine how soft or crispy you like your cauliflower. Keep in mind that we really aren't "baking" this casserole. We are broiling it to melt the cheese and add that golden crisp to the cheese.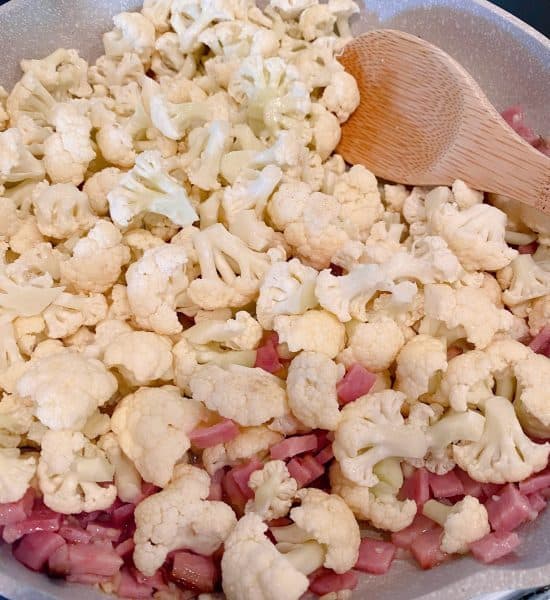 To create the "white sauce" also known as Béchamel Sauce (fancy name…around here we just call it good ol' white sauce), stir the flour and whipping cream mixture into the "crisp-tender" cauliflower and diced ham. Add seasonings and stir. Stir consistently to prevent the sauce from burning.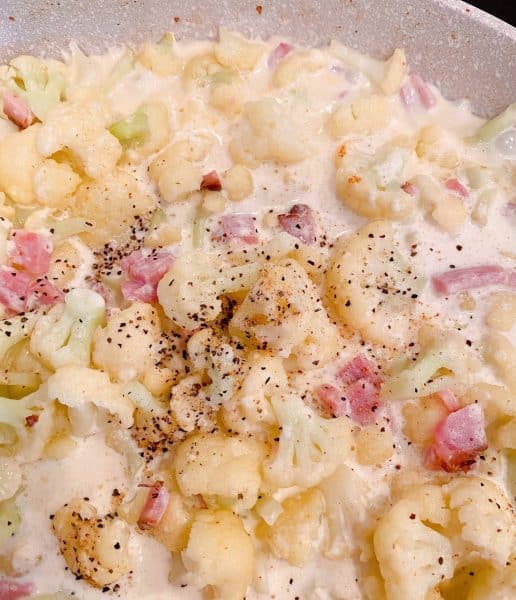 Stir until mixture thickens and is bubbly. It will thicken quickly once it reaches the appropriate temperature. Cook for 1 minute longer.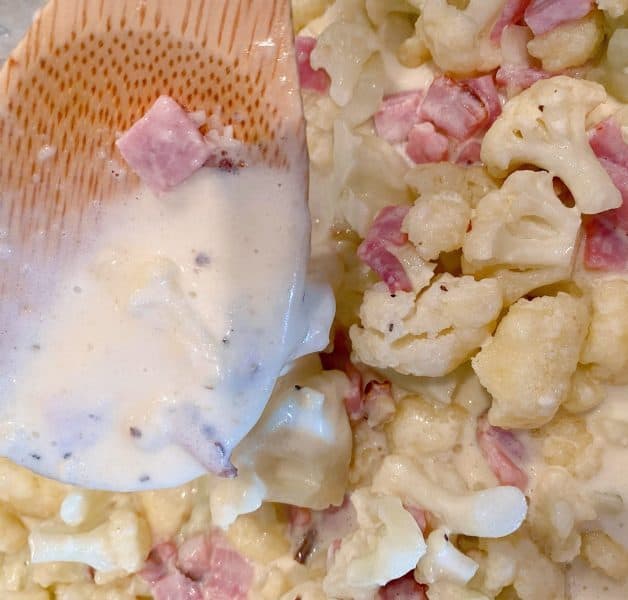 Pour the cauliflower and ham mixture into a 2 quart baking dish sprayed with non-stick cooking spray.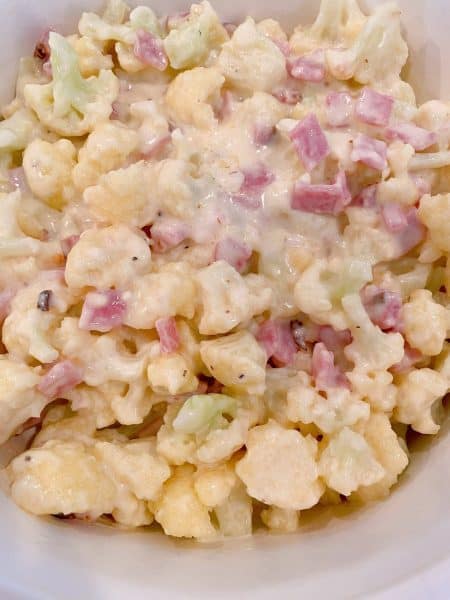 Sprinkle with 1-1/2 cups shredded Swiss Cheese.
Yep! I know my cheese looks like crumbles. There's a good reason for that! I only had Swiss Cheese slices so I processed them in my food processor. It worked great! Keep that in mind when making a recipe. There is almost always a way to make what you have on hand work.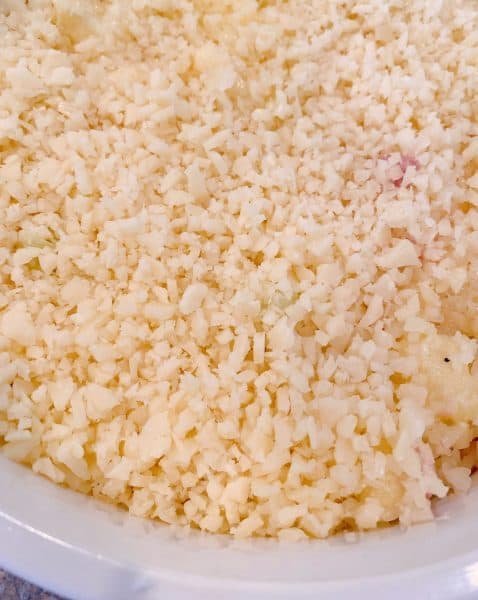 Broil until lightly brown, about 2-4 minutes. (Now you understand why I said to make sure that you have your cauliflower cooked to way you want it before you place it in the baking dish!) We are not truly baking this dish!
Remove from oven and allow to cool 3-4 minutes before serving. Just enough to let the sauce settle.
Garnish with 2-3 Tablespoons fresh minced parsley. Look at all that cheesy goodness!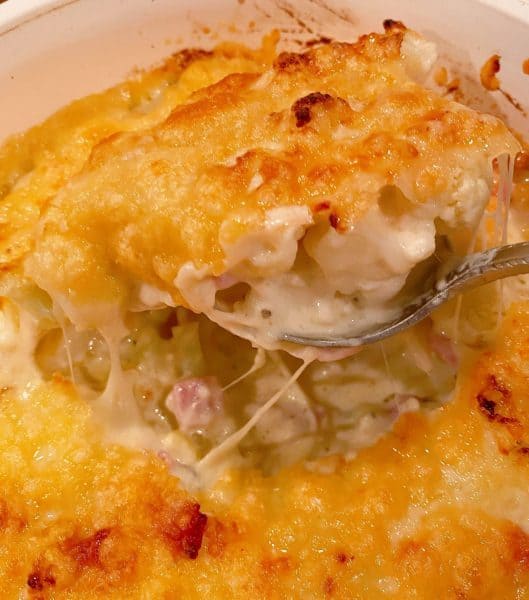 This loaded cauliflower casserole can be made ahead of time and refrigerated until ready to broil. Making this dish ahead of time works great for large Holiday meals!
TIP: If making ahead of time be sure to remove from refrigerator and allow dish to come to room temperature. Then broil!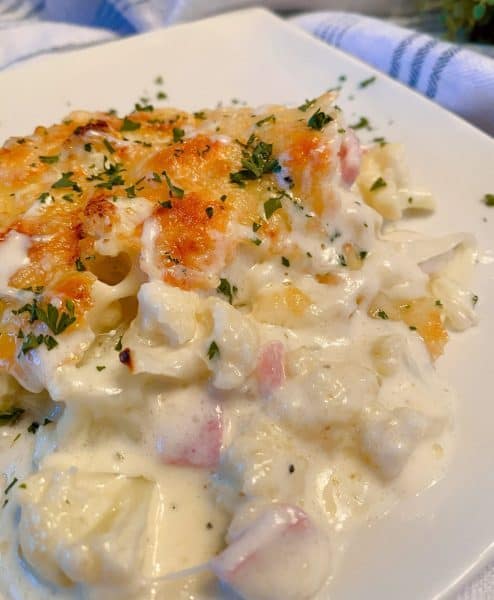 Not only is this a great side dish, it would make a great main dish! Add a salad and a delicious loaf of Homemade French Bread and you've got a great weeknight meal!
Holiday Side Dish Recipes
Happy Nesting Friends!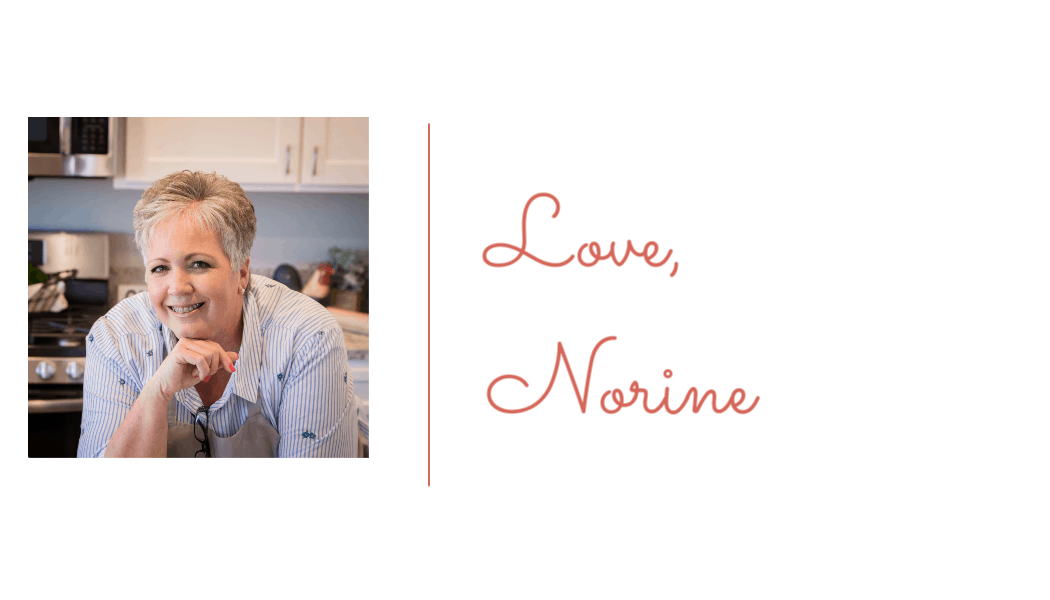 Yield: 6 servings
Creamy Cauliflower Casserole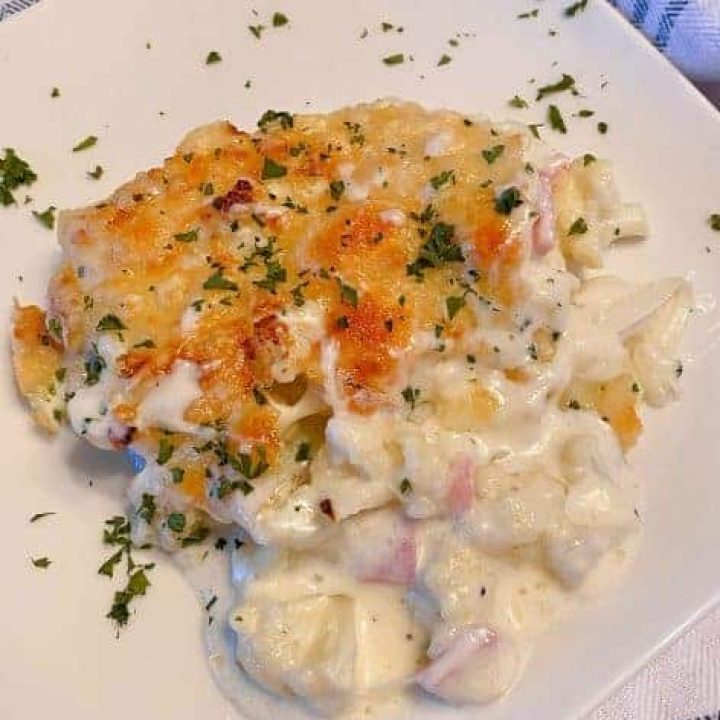 A cheesy, Creamy Cauliflower Au Gratin casserole with smokey ham and a delicious rich white cream sauce topped with toasted Swiss cheese. The perfect side for your Holiday Meals.
Ingredients
6 Tablespoons butter, cubed
4 ounces cooked ham, chopped
1 - 2 garlic cloves, minced
1 head cauliflower, broken into florets
1-1/2 cups heavy whipping cream
2 Tablespoons all-purpose flour
1/4 teaspoon salt
1/4 teaspoon pepper
dash cayenne pepper
1-1/2 cups shredded Swiss Cheese
2 - 3 Tablespoon minced fresh parsley
Instructions
Preheat broiler.
In a large skillet, heat butter over medium heat. Add ham and garlic; saute for 2 minutes.
Add cauliflower, and cook just until crisp-tender. Combine cream and flour; stir into skillet with cauliflower and ham, and blend well. Add salt, pepper and cayenne pepper. Cook and stir until thickened and bubbly; cook and stir 1 minute longer.
Pour into 2 quart baking dish sprayed with non-stick cooking spray. Sprinkle with grated cheese. Broil until lightly browned, 2-4 minutes. Sprinkle with parsley and serve immediately.
Nutrition Information:
Yield:
6 servings
Serving Size:
1 cup
Amount Per Serving:
Calories:

573
Total Fat:

52g
Saturated Fat:

33g
Trans Fat:

1g
Unsaturated Fat:

16g
Cholesterol:

164mg
Sodium:

457mg
Carbohydrates:

11g
Fiber:

3g
Sugar:

5g
Protein:

17g