Grandma's Chicken Noodle Soup is loaded with a deep flavorful broth, tender chicken, and loads of delicious thick Grandma's Noodles. That's why we call it Grandma's Soup.
Growing up the only "Chicken Noodle" Soup I ever had was Campbell's. I remember slurping those squiggly wormy noodles through the small opening left by a lost tooth. It was GREAT…in my youth!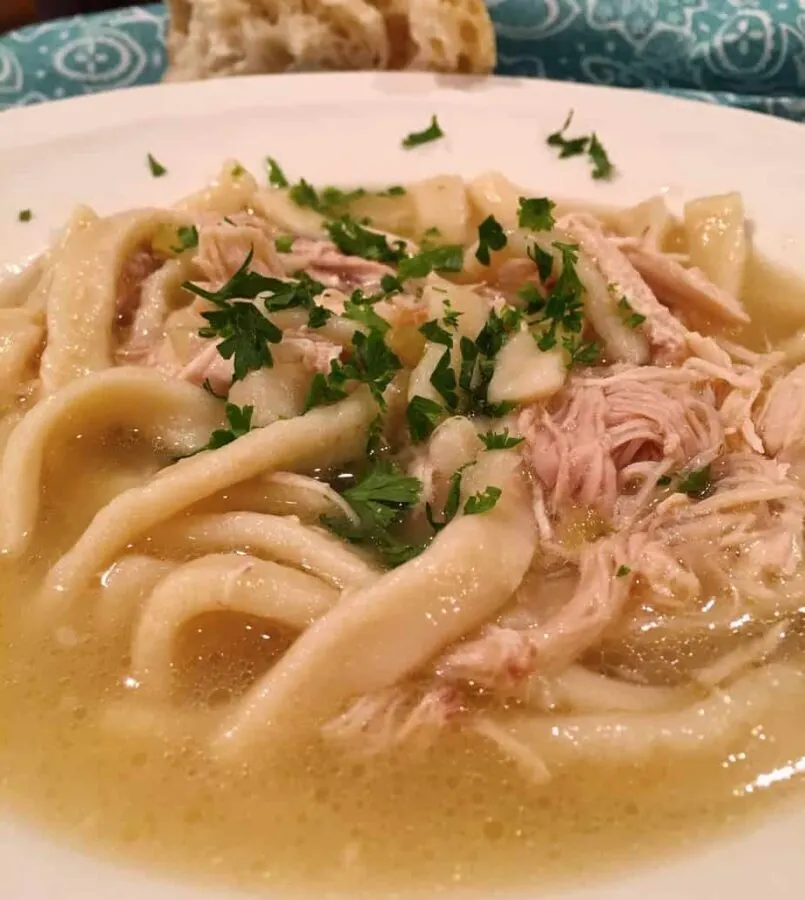 Fast-forward 20+ years… and that soup has lost some of its appeal. Most likely because the only time I eat that soup, is after a bout of the Flu bug! Not the warm and fuzzy memories of the slurping days of yore.
Today's Chicken Noodle Soup has grown-up. Way Up! It's the kind that your Grandma made. In fact, this recipe was taught to me by my mother-in-law. The first time I had it, I thought I had died and gone to soup heaven.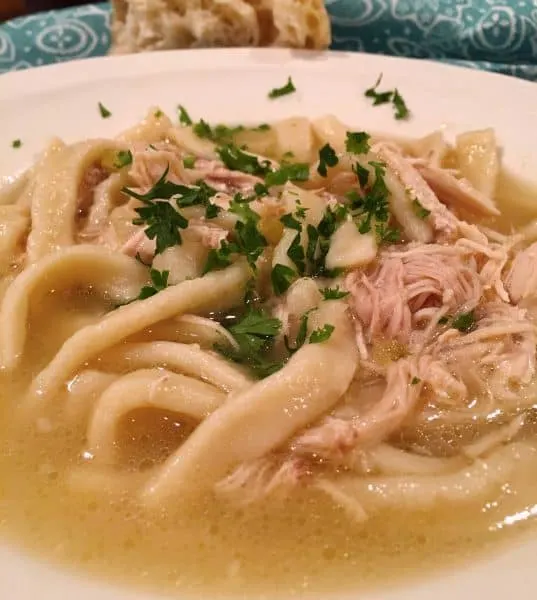 I'm not a huge fan of soups…especially "broth" based soups. This one though, has big thick noodles that absorb all the rich flavorful broth! Not to mention huge chunks of tender chicken. This is truly a "Classic"!
How To Make Grandma's Chicken Soup
To make this soup you will need one whole chicken.
TIP: I love to buy my whole chickens from Costco. They are by far the BEST chickens out there. Loaded with meat.
TIP: Little secret… I was able to make this chicken noodle soup AND a Chicken Broccoli Casserole out of this ONE Costco chicken!
Rinse one whole chicken and remove the "innards" (I didn't take a picture of his innards! We don't need to be seeing that!)
Place Chicken in a large stock pot, with a lid, and fill 3/4 full of water. Add one cup chopped celery, one cup chopped onion, and 3-4 chicken bullion cubes. Cover with lid and bring to a boil. Reduce heat to medium low and continue cooking for 1 1/2 hours. (Netflix marathon time! Whooo-hooo!)
WARNING: Your house is going to smell HEAVENLY!!! Like "Thanksgiving Day" potpourri simmering away, filling the air with the most luscious fragrance!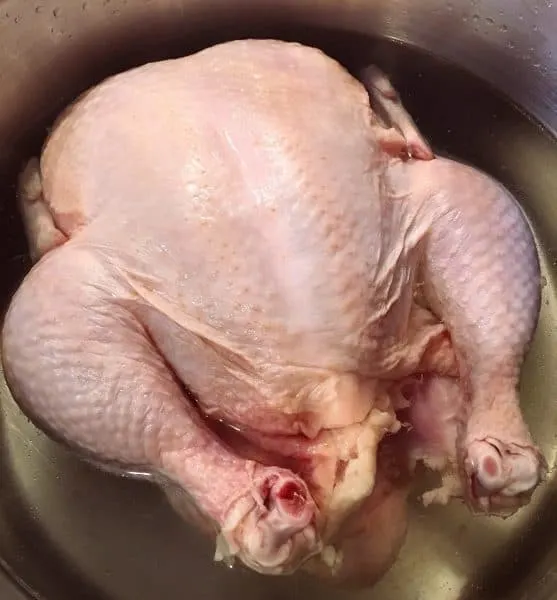 Let's Talk Noodles!
Let's talk about the star of this show for a second. The star of this Chicken Noodle soup…the Noodles! My mother-in-law was the first to introduce me to Grandma's Fresh Frozen Egg Noodles. They are the best noodles on the planet! You can find them at Kroger's or Walmart.
If you can't find Grandma's I'm sure your market carries another brand of "Fresh Frozen" noodle. (No… this recipe won't taste them same with the dried egg noodles on your grocer's shelf. Let's not go there. That's a different recipe. Lol)
How To Cook Fresh Pasta or Frozen Thawed Pasta
While the chicken is cooling take the package of Grandma's Homemade Style Family Size, Fresh Frozen, All Natural, Egg Noodles out of the freezer to begin thawing. (It will be okay if they are still partially frozen when adding to this soup)
How to Debone a whole boiled chicken
Allow chicken to cool for one hour…OR…you can burn your fingertips to the bone (no pun intended) trying to remove the cooked meat from the scorching hot chicken. It's up to you.
I've been known to do both! (I highly recommend the first option) Remove chicken from the bone and place chicken in a large bowl.
As mentioned earlier, I only used half of this chicken meat for the soup. The other half I stored in a zip lock bag for my casserole later in the week. However, if using a regular store-bought chicken…you'll need all the meat from that chicken for this soup.
DO NOT DUMP OUT THE CHICKEN STOCK! This is the flavor base for this soup.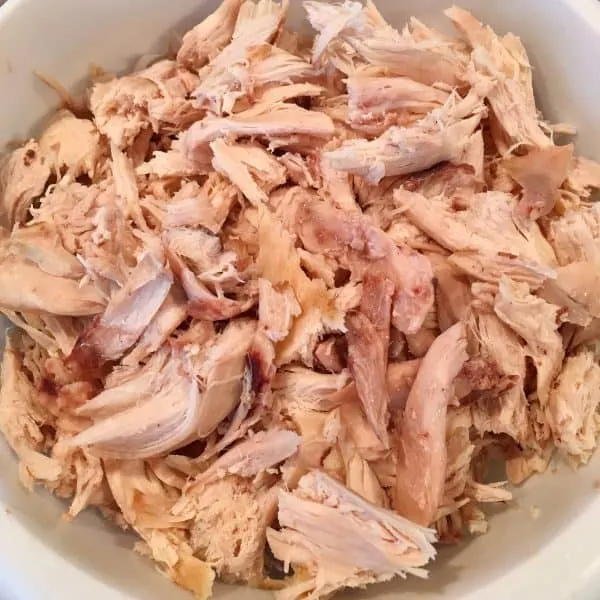 Finishing Homemade Chicken Noodle Soup
Add 4–6 cups of water to the remaining chicken stock. (Note: It will have reduced down during cook time, and you will have a rich deeply flavored broth thanks to all the veggies and chicken fat.)
Add the meat back into the broth. Salt and Pepper to taste. Turn the heat back up to medium, and bring your broth and meat to a low boil.
Take the noodles, separating them, and drop them into the simmering pot one by one. DO NOT drop the entire brick into the soup! Unless you want Brick Noodle soup…then by all means…go for it! Lol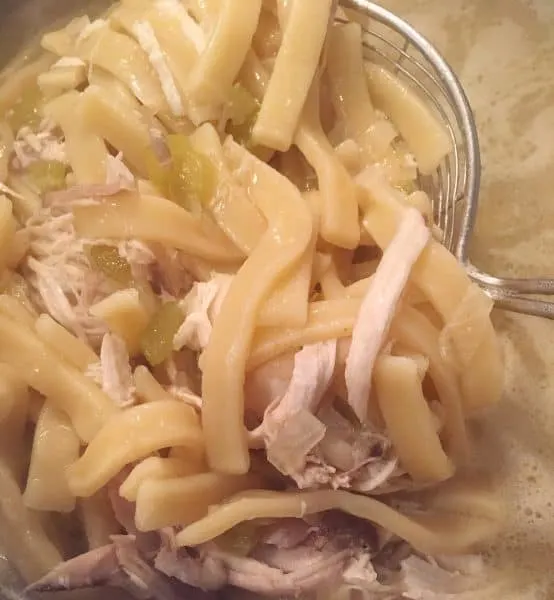 TIP: Because these noodles are a "fresh" dough noodle they take a little extra time to cook. They are also coated with flour which will thicken up the broth as they cook. (What I'm trying to say is…as simple as this soup is to make…you can't rush it!)
Allow the soup to simmer, lid loosely over pot, for another hour, stirring occasionally. Check the broth levels. If need be, add more water. These noodles tend to absorb a lot of the liquid in the pot. (Which trust me is a GREAT thing!)
Notice how "plump" the noodles are when fully cooked? You don't want to overcook them and have them mushy, but you do want them tender and plump.
You can see how rich that chicken broth is! It's pure perfection!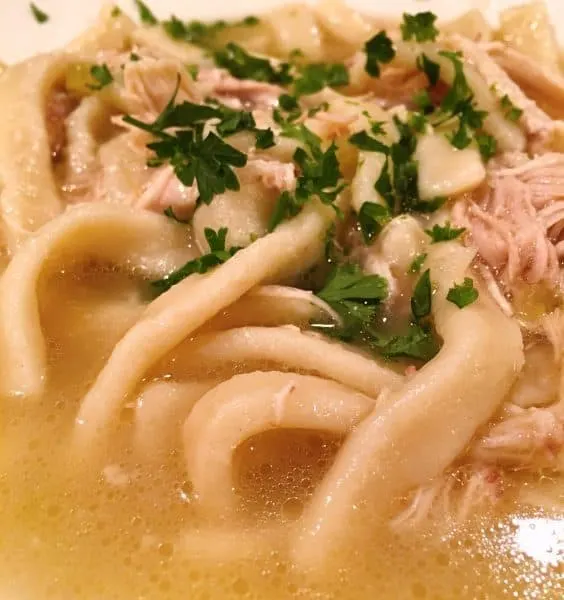 Serving Chicken Noodle Soup
That is all there is to this soup.
You can add carrots and peas if you feel like you need to, or you want more color. I've always made this soup exactly as I've shown you here in this recipe, and it is a family favorite!
During the Fall and Winter months it shows up frequently on our dinner table and "Mars" is fine with that. It happens to be his very favorite!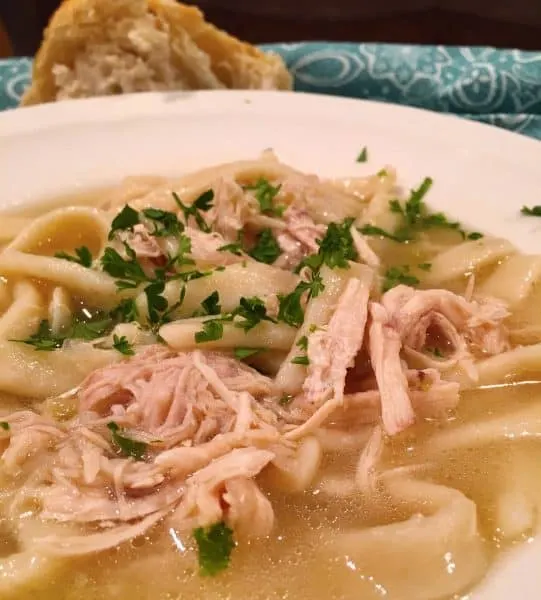 To finish it off, Garnish with a little fresh chopped parsley and serve it with a loaf of crusty sour dough bread! Just pull off big hunks of that crusty bread and chase the broth around the bowl… You'll want to "sop" up every last drop!
This soup will warm you from the inside out, and you'll feel comfy and cozy! It's hearty. The men at this Nest… LOVE. THIS. SOUP!
If you like this soup recipe here are a few of my other Favorite Soup Recipes
Remember to follow me on Facebook, Twitter, Pinterest, and Instagram for all the latest and greatest! Thanks for stopping by!
Happy Nesting!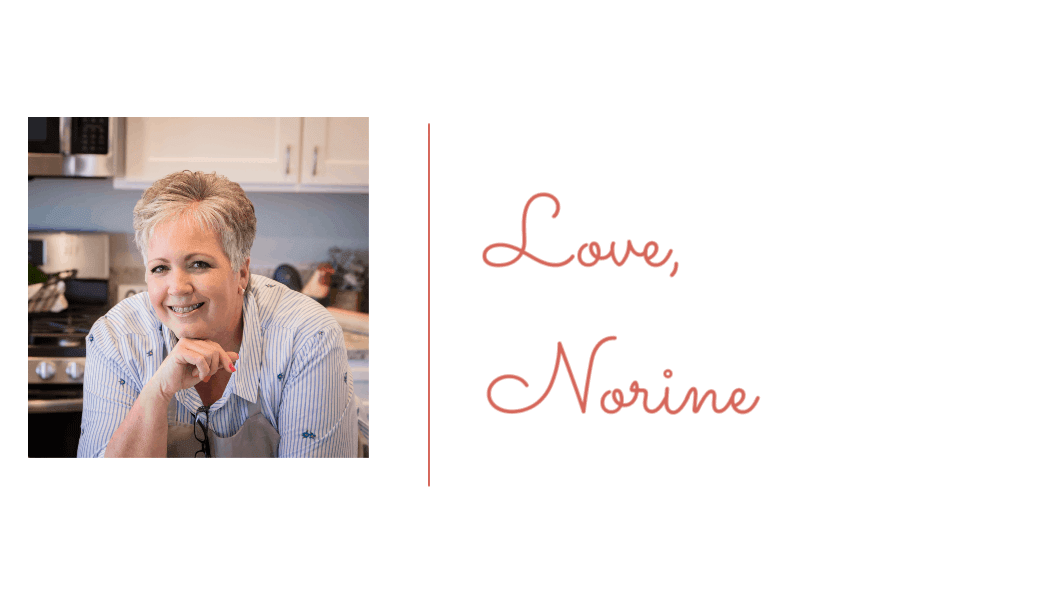 Yield: 8 servings
Grandma's Chicken Noodle Soup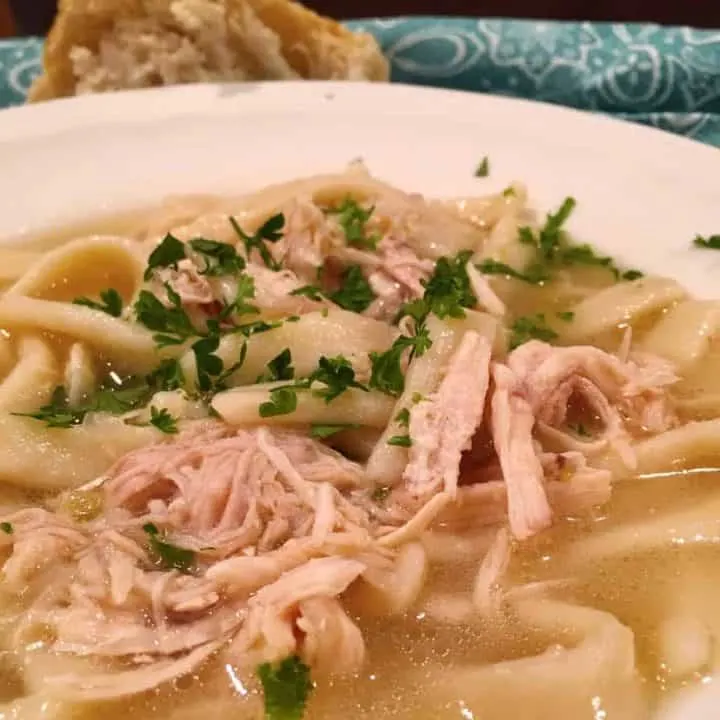 Homemade Chicken Noodle Soup like Grandma made is the perfect comfort food. Loaded with a rich flavorful broth, tender chicken, and hearty noodles this is the BEST chicken noodle soup around!
Cook Time
2 hours
30 minutes
Total Time
2 hours
40 minutes
Ingredients
1 whole chicken, rinsed and innards removed
1 cup chopped onion
1 cup chopped celery
3-4 chicken bullion cubes
water
1 (16 oz) package Grandma's Homemade Style Fresh Frozen Egg Noodles
Salt and Pepper to taste
Instructions
Place whole rinsed chicken in a large stock pot with a lid. Fill 3/4 full with water. Add 1 cup chopped onion, 1 cup chopped celery, 3-4 chicken bullion cubes.
Bring to a boil.
Reduce heat and cover pot. Cook on medium-low heat for 1 1/2 hours until chicken is completely cooked and legs are pulling away from the body of the chicken. Add water as needed and check occasionally during cooking process.
Pull frozen noodles out of freezer and leave to thaw while chicken is cooling. Allow chicken to cool for 1 hour. DO NOT THROW AWAY CHICKEN STOCK.
Remove chicken from bone and skin.
Turn heat back up under pot. Add chicken and salt and pepper to taste. Add 4-6 cups of water to the stock in the pot. Return to boil.
Add Grandma's noodles one at time so they won't stick together.
Stir, reduce heat to medium, cover, and cook for an additional 45 minutes to an hour.
Noodles should be tender and double in size. The noodles will absorb a lot of the liquids so you may need to add more water during cooking process.
Garnish with fresh chopped parsley and serve.
Recommended Products
As an Amazon Associate and member of other affiliate programs, I earn from qualifying purchases.
Nutrition Information:
Yield:
8 servings
Serving Size:
1 serving
Amount Per Serving:
Calories:

316
Total Fat:

16g
Saturated Fat:

4g
Trans Fat:

0g
Unsaturated Fat:

10g
Cholesterol:

112mg
Sodium:

149mg
Carbohydrates:

9g
Fiber:

1g
Sugar:

2g
Protein:

32g