Mexican Haystacks are like Hawaiian Haystacks with a spicy flare. Spanish Rice, slow cooker chicken and black beans, and all your favorite Mexican toppings from cheese to Guacamole.
The birds at this nest love Hawaiian Haystacks. They've been around forever, but sometimes ya need to change things up. That's what happened last week!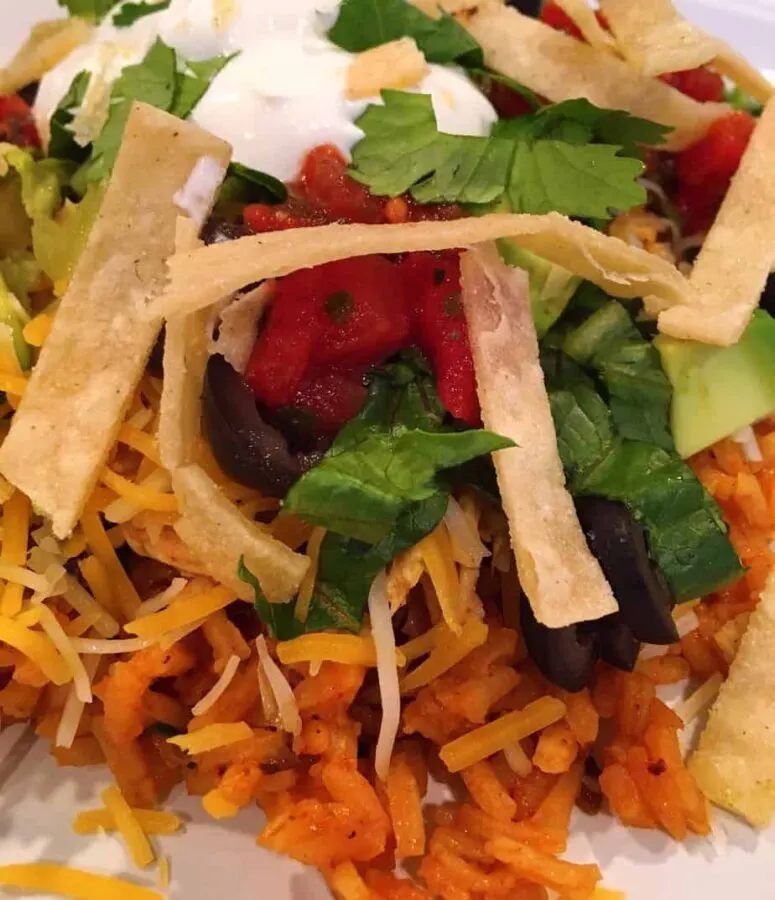 I was really craving Mexican food. (I know…what's new!) Then it dawned on me…cause I'm SO smart (Yep, that's me…so smart a few hours ago I was on the phone in tears with my daughter cause I couldn't figure out how to make a file folder on my computer! Just call me Einstein!) …how about Mexican Haystacks instead of Hawaiian Haystacks?!
They were a HUGE hit! They're fun, delicious, super easy, and great for the "picky" eaters at your Nest!
How To Make Mexican Haystacks
Place 3 frozen boneless skinless chicken breast, in your slow cooker, with 1/2 cup diced onion, 1 Tablespoon Taco Seasoning, and 1 cup of Red Enchilada sauce. Cook on low for 6-8 hours.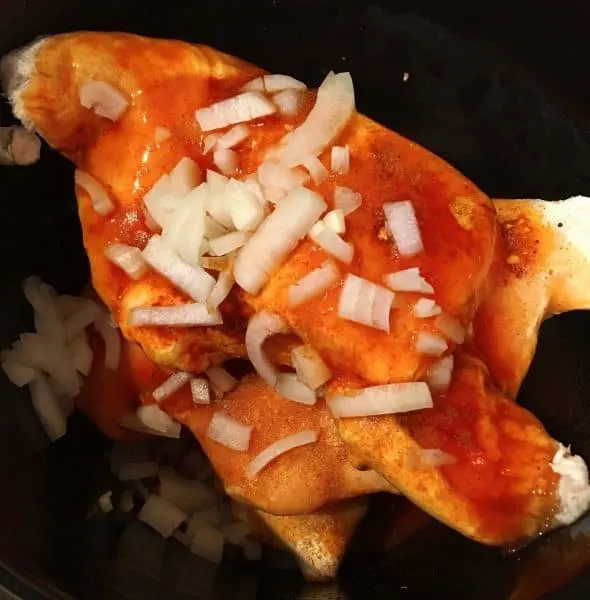 After the chicken has cooked, shred it with a fork right in the crock pot. Add one can drained black beans.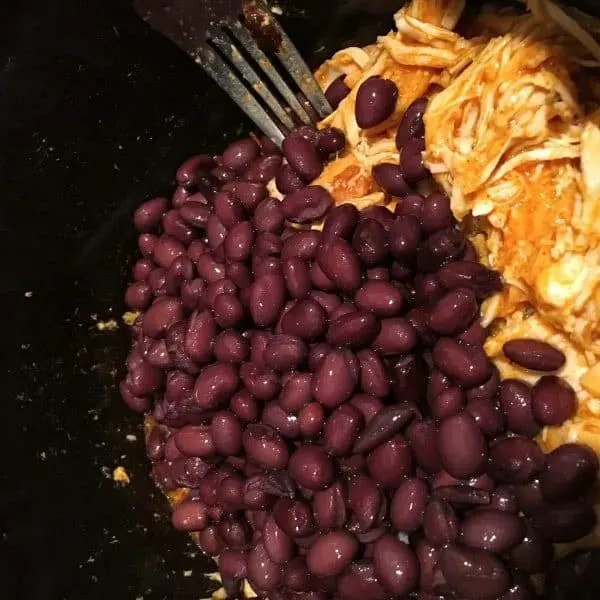 Mix the beans and chicken together and heat for another 30 minutes. Doesn't that look delicious?
While the beans are heating make a skillet full of Spanish Rice.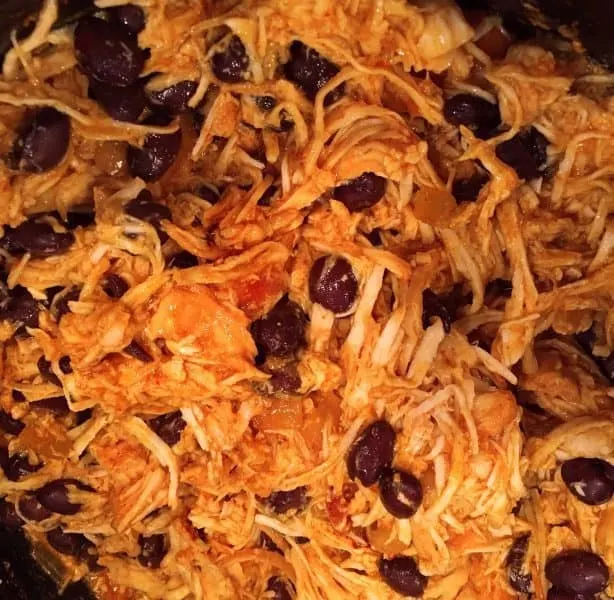 Remember the "Spanish Rice" recipe the other day? I told you I had a recipe coming for it.
Is your mouth-watering yet? Can you just imagine how good that rice will be with your slow cooked chicken and beans.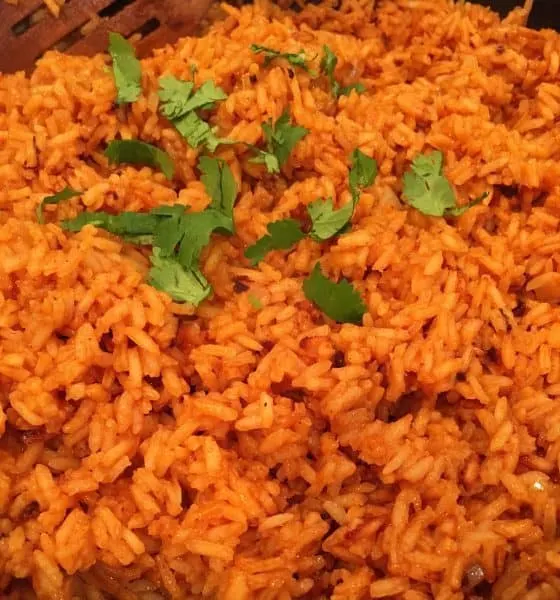 The only other "prep" for this meal… the toppings!
Some of our favorites…grated cheese, diced avocado, slice olives, fresh salsa, sour cream, shredded lettuce, crunchy tortilla strips, diced cilantro, and sliced limes.
I place everything in bowls so that everyone can choose the toppings they want. (Notice the lovely variety of dishes I've acquired over the years. Truly impressive. Eat your heart out Ree! lol)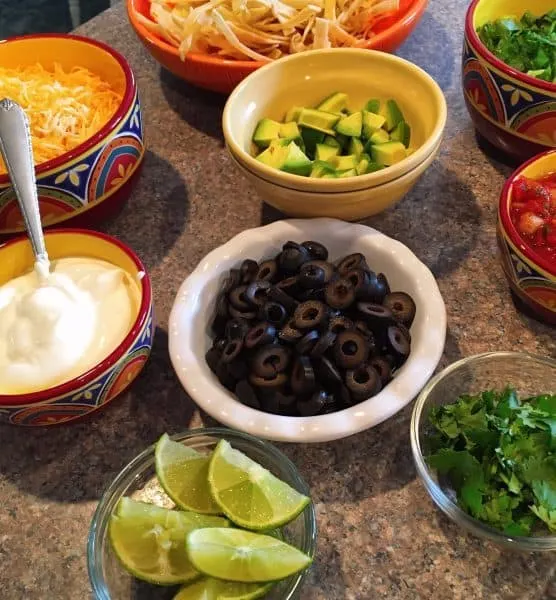 Time to eat!
To make a Mexican Haystack start with a scoop of Spanish Rice on a plate (You could just use your hands, but I'd go with the plate), then a big scoop of chicken and beans.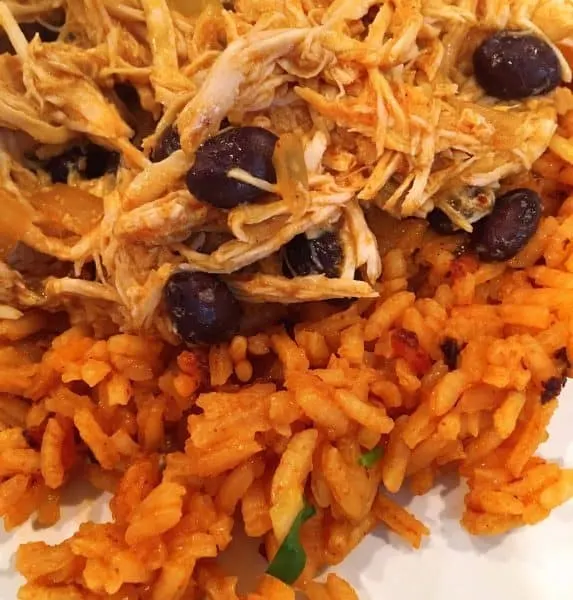 Top with Lettuce, Cheese, Salsa, Avocado, Olives, Cilantro, Sour Cream, and crunchy tortilla chips. Squeeze a slice of lime over all of it.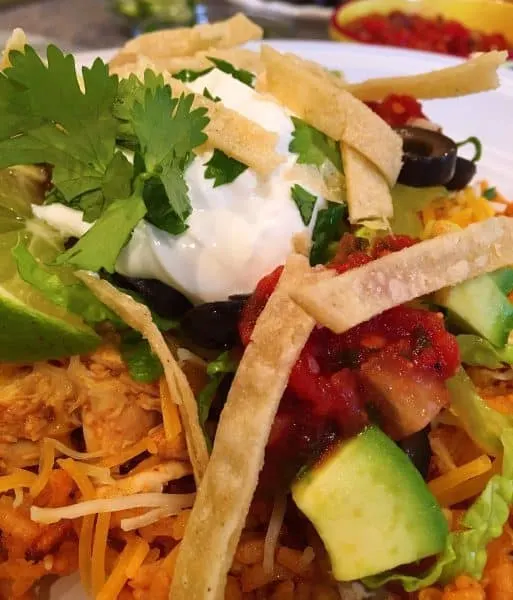 Why am I posting this during lunch time? I'm hangry and drooling…(Not because of old age! Well….?)
I just love these Mexican Haystacks! In fact, the entire family LOVED these Haystacks! They'll be making an encore appearance very soon! (It could be because I was applauding and cheering them the entire time I was eating! lol)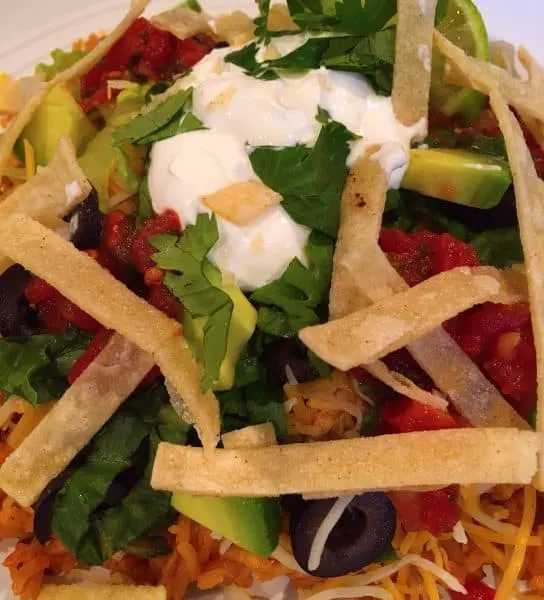 Mexican Haystacks. The perfect family week night dinner. I'm off to get a mop…for the drool! lol
If you like this recipe, here are some other favorite Mexican Main Dish Recipes
Remember to follow me on Facebook, Pinterest, Twitter, and Instagram to get all my latest recipes. I'd love to have you join me.
Happy Nesting Friends!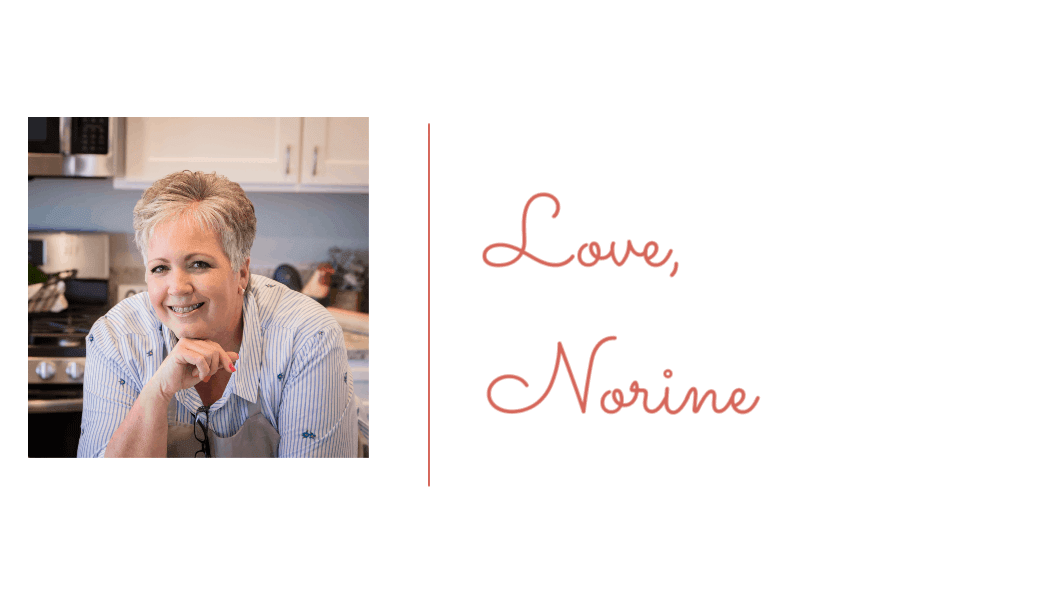 Yield: 8 servings
Mexican Haystacks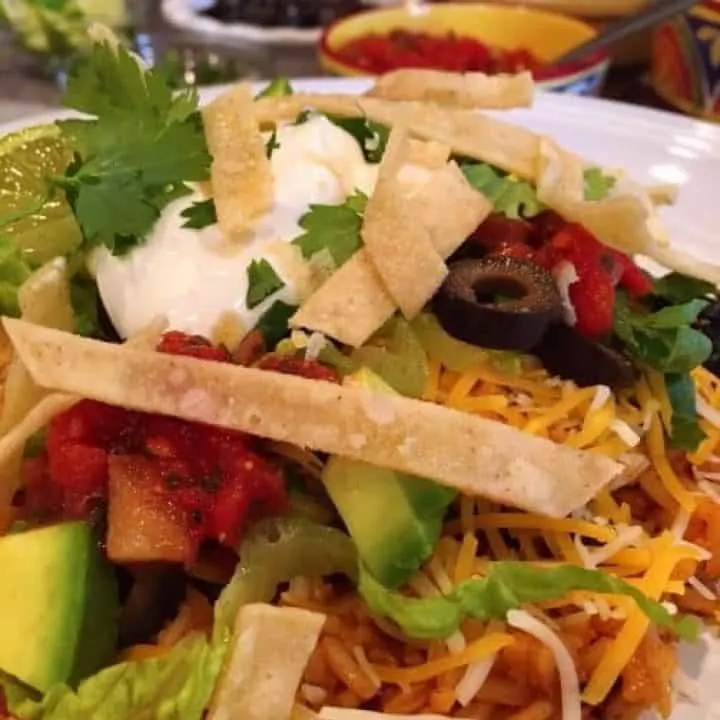 Changing Hawaiian Haystacks... To Mexican Haystacks! Layers of rich warm Mexican flavors!
Total Time
8 hours
15 minutes
Ingredients
3 frozen chicken breast
1/2 cup diced onion
1 Tablespoon Taco Seasoning
1 Cup Red Enchilada sauce
1 can drained black beans
4 cups Spanish Rice
Toppings
1 cup sliced olives
3 cups shredded lettuce
3 cups grated cheese
Fresh or Prepared Salsa
1 Cup Sour Cream
1 Large Avocado diced
Diced Cilantro
1 lime sliced
Crushed Corn Tortilla Chips or Tortilla Chips
Instructions
Place frozen chicken breast, onion, taco seasoning, and Enchilada sauce in a slow cooker on low heat. Cook for 6-8 hours.
Shred chicken with a fork in the crock pot.
Drain and rinse black beans. Add to chicken in slow cooker. Mix well. Cook for an additional 30 minutes.
Cook and Prepare Spanish Rice. (See my Spanish Rice recipe on blog)
Prepare toppings.
Layer with Rice, Chicken and Beans, and choice of toppings.
Notes
* See my easy Spanish Rice recipe on the blog.
Recommended Products
As an Amazon Associate and member of other affiliate programs, I earn from qualifying purchases.
Nutrition Information:
Yield:
8 servings
Serving Size:
1
Amount Per Serving:
Calories:

530
Total Fat:

30g
Saturated Fat:

13g
Trans Fat:

1g
Unsaturated Fat:

14g
Cholesterol:

97mg
Sodium:

1125mg
Carbohydrates:

36g
Fiber:

6g
Sugar:

5g
Protein:

30g