Steak and Mushroom Cream Sauce Tortellini is a dish loaded with Tender Cheese Filled Tortellini nestled in a creamy garlic mushroom sauce with grilled steak for one perfect elegant and easy dish.
This morning I was out in the garden trimming the basil. I love the smell of fresh basil. (The oils are still on my hands and I keep sneaking sniffs every so often! Yes, I'm weird like that!)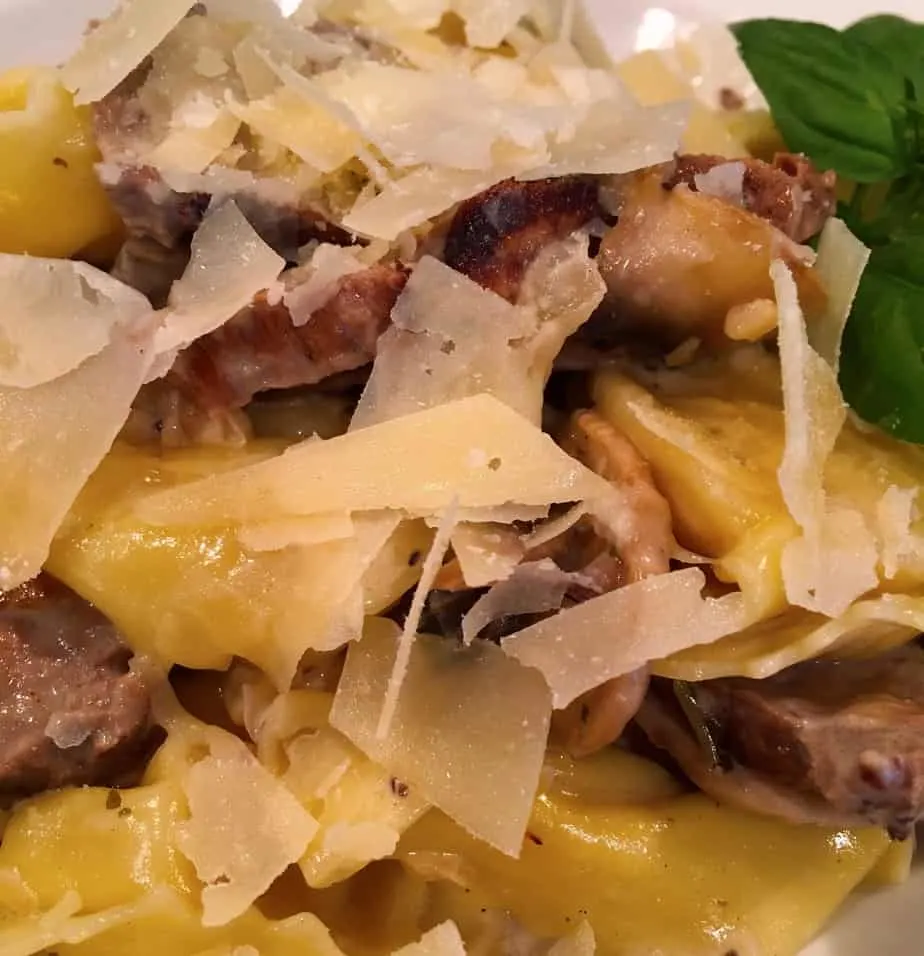 As the heavenly scent wafted up to my nose I couldn't help but recall this amazing tortellini dish! I've been dying to share it with you. Thanks to my early morning gardening…today is the day!
How To Make Steak and Mushroom Cream Sauce With Tortellini
It combines so many elements that I love. First, and foremost, it used up some left over grilled steak I had in on hand. (I know…who has left over steak? We do! In our defense we also had crab and shrimp that day so we were a little "meat" heavy on the main courses. Still "someone" could have choked it down. lol)
Second, it has mushrooms. Third, stuffed pasta! Tortellini is my very favorite pasta. Don't get me wrong…I love all pasta! I just happen to favor tortellini. Fourth, it has a cream sauce that is super simple and jam-packed with flavor!
If you don't happen to have any left over steak or London broil lurking in your refrigerator… you'll need to grill a top sirloin steak medium rare. (Don't spend a lot of money on the steak in this dish…as you can see I didn't. I'm a firm believer you should really have to chew your way through your meal! lol)
Season the steak with seasoning salt and pepper. Grill till medium rare. You don't want to cook it all the way through because you'll finish cooking it on the stove top.
In a large skillet melt 2 Tablespoons butter with 1 Tablespoon of Olive Oil.
Tip: Adding Olive Oil prevents the butter from "browning"
Add 1/2 cup of chopped white onion and 3 cloves minced garlic. Sautee until tender and translucent.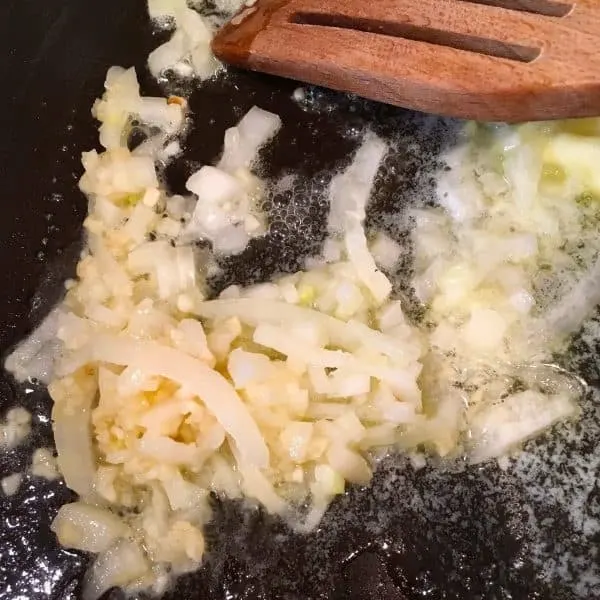 Add in 2 cups of thinly sliced fresh mushrooms. Sautee until tender.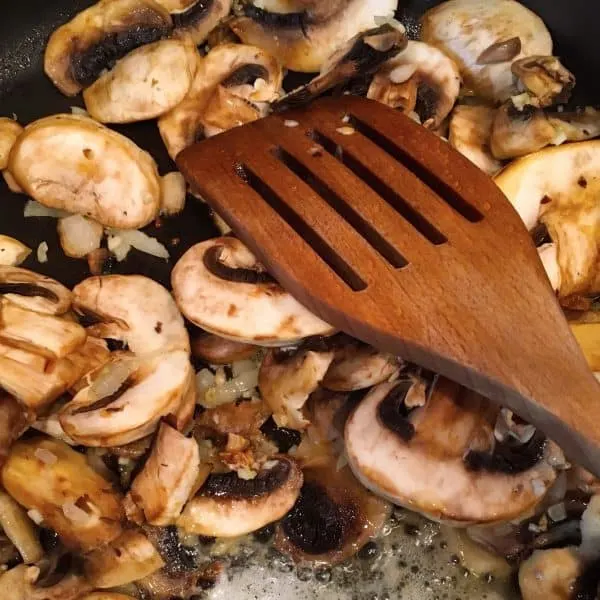 Add in your thinly sliced grilled steak or London broil. Sautee for 5 minutes over medium heat.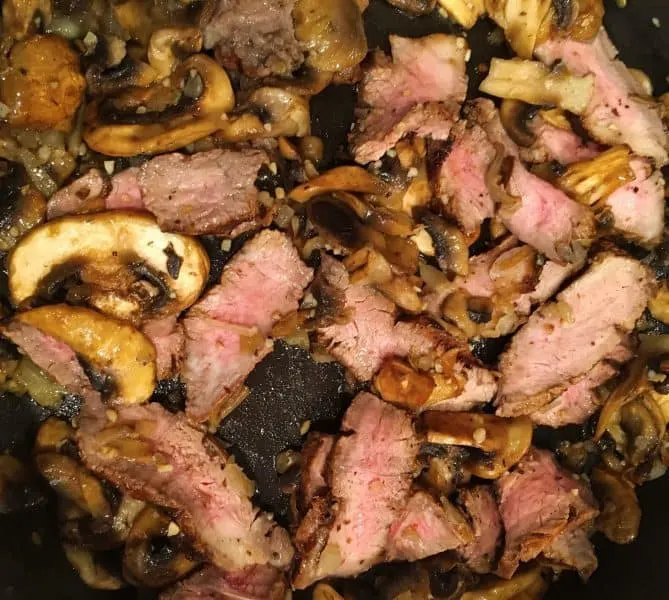 Add 2-3 Tablespoons pesto sauce. Stir until well blended. Add in 1/2 cup white cooking wine and 1 cup heavy whipping cream. Salt and Pepper to taste. Simmer over low heat for 10-15 minutes, until sauce thickens and reduces slightly.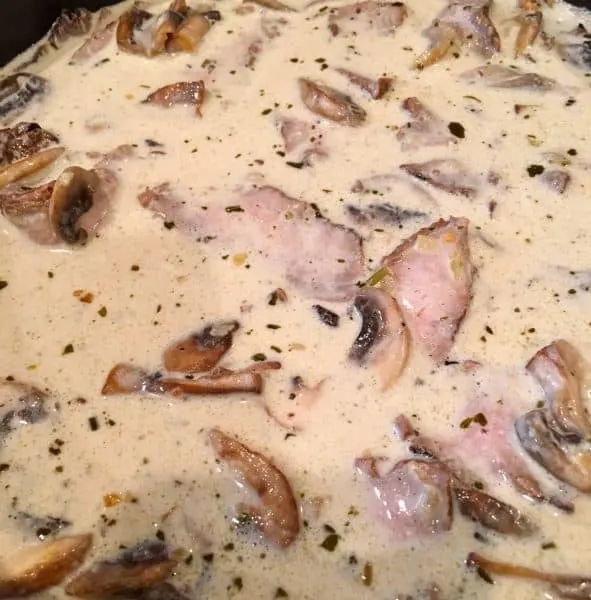 Meanwhile fill a large stock pot with water. Bring to a boil. Add in one package of cheese stuffed tortellini. Follow package directions for cook times. You want the tortellini "al dente", so they'll soak up some of that creamy sauce, and not like big ol' floppy monkey ears! Over cooked tortellini is not pretty friends.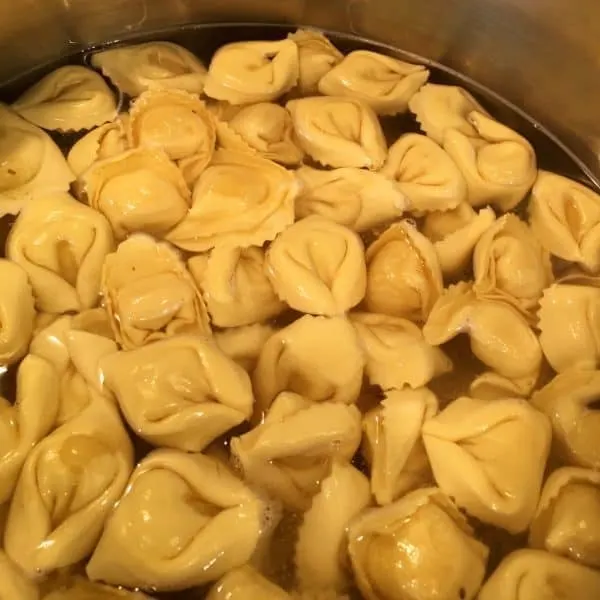 Drain your cooked pasta and add it to your cream sauce. Simmer an additional 5 minutes.
Garnish with freshly shaved Parmesan Cheese and freshly chopped basil.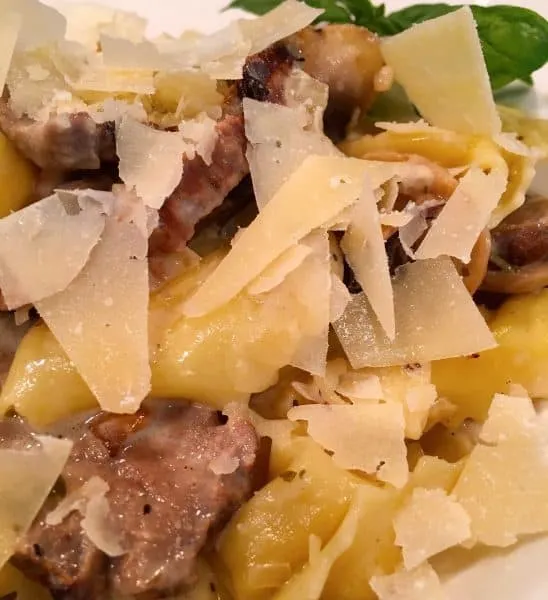 This pasta dish is divine! It's such a fantastic blend of flavors and spices. The creamy mushroom sauce is rich and elegant. The tortellini is tender and hearty. The steak adds an amazing robust flavor and texture that brings all the individual elements together for one amazing dinning experience!!
Best part…I had this made in under an hour!
Granted using the left over steak was a BIG plus in this dish. Regardless, this dish would be worth any amount of effort. It's just THAT good! Add a big green salad and some crusty artisan bread and you've got one fantastic meal! Better than any Italian restaurant you'll dine at and for a fraction of the cost!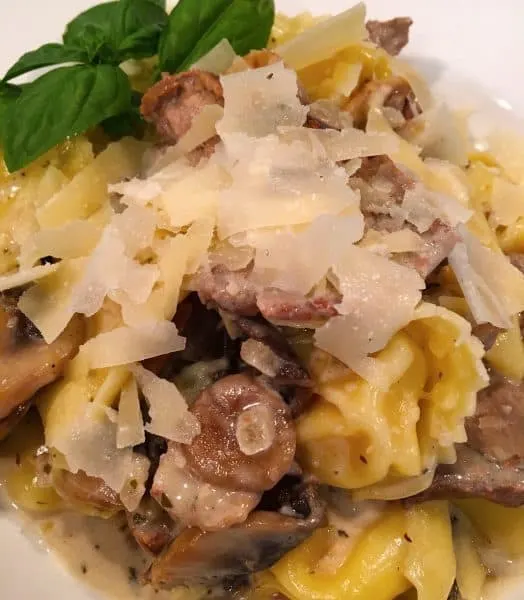 Great Pasta Recipes Your Family Will Love
Thanks so much for stopping by my Nest and I hope you'll stop back by soon! I'm always creating new and different recipes for you and your nest! Have a Great Day!
Happy Nesting My Friends!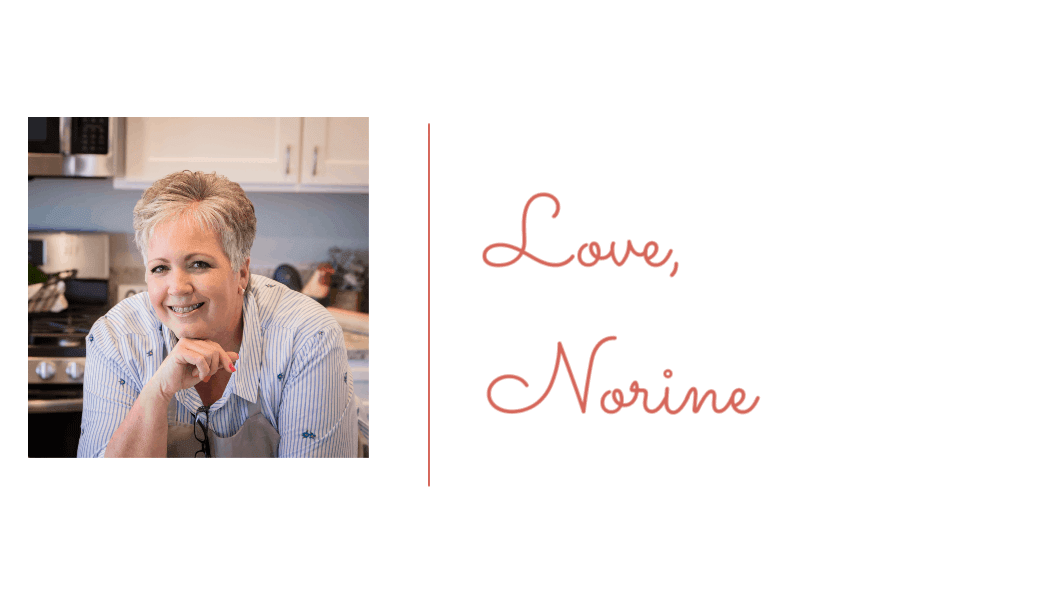 Yield: 4 servings
Steak & Mushroom Cream Sauce Tortellini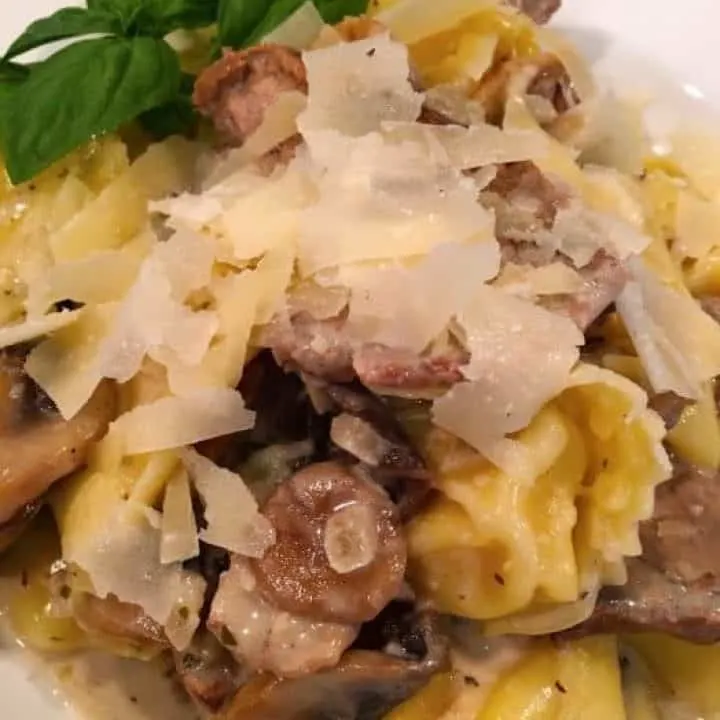 Tender Cheese Filled Tortellini are nestled in a creamy garlic mushroom sauce with grilled steak for one perfect elegant and easy dish.
Ingredients
2 Tablespoons butter
1 Tablespoon Olive Oil
1/2 cup chopped mild white onion
3 cloves minced garlic
2 cups thinly sliced mushrooms
2 cups thinly sliced grilled steak or London Broil
2-3 Tablespoons prepared Pesto Sauce
1/2 cup white cooking wine
1 cup heavy whipping cream
Salt and Pepper to taste
1- 9oz. package of fresh or frozen Tortellini
Shaved Parmesan and Basil to garnish
Instructions
In a large skillet, over medium high heat, melt butter with olive oil.
Add diced onion and minced garlic. Saute until translucent and tender.
Add thinly sliced mushrooms. Saute until tender.
Add 2 cups thinly sliced steak and Pesto Sauce mix well.
Salt and Pepper to taste.
Add 1/2 cup of wine and 1 cup of heavy whipping cream. Stir well. Turn heat to low and simmer for 10-15 minutes until sauce is thick and slightly reduced.
While the sauce is simmering bring water to a boil and cook pasta per package directions to "al dente"
Drain Pasta.
Add to sauce. Simmer an additional 5 minutes.
Garnish with shaved Parmesan Cheese and Basil.
Serve.
Recommended Products
As an Amazon Associate and member of other affiliate programs, I earn from qualifying purchases.
Nutrition Information:
Yield:
4 servings
Serving Size:
2 cups
Amount Per Serving:
Calories:

1107
Total Fat:

75g
Saturated Fat:

35g
Trans Fat:

1g
Unsaturated Fat:

31g
Cholesterol:

277mg
Sodium:

1013mg
Carbohydrates:

45g
Fiber:

4g
Sugar:

6g
Protein:

59g