Chicken Zucchini Pasta Casserole is loaded with tender chunks of chicken, sauteed mushrooms, onions, zucchini, garlic and mini penne pasta in a creamy Parmesan Sauce, topped with mozzarella cheese. A quick, easy, and delicious casserole.
The only thing my garden has produced this year has been zucchini.
It's been a sad and pathetic year for the ol' garden! My green thumb has turned brown! (Truthfully…it's never been green! It resides somewhere in the category of 70's putrid avocado green!)
I wanted to try making a casserole that incorporated my bounteous crop! (I say that with so much sarcasm it could skin a skunk! Honestly I think we "harvested" 5 squash before the deer ate the rest! Thank you Bambi! You're precious…truly!)
I took some cooked chicken, mini penne pasta, a little of this, and a lot of that, started mixing and voila we have a brand new favorite budget friendly casserole! Chicken Zucchini Pasta Casserole!
All the flavors in this dish combine beautifully together. What is even more impressive is you can omit some of the ingredients, like the mushrooms and squash, if you're not a fan! Although I do strongly suggest you give it a try…I think you'll be pleasantly surprised.
Let's get cooking….
How To Make Chicken Zucchini Pasta Casserole
In a large pot add 4 cups of water. Bring to a boil and add 2 1/2 cups of mini penne pasta. Cook pasta till al dente and drain.
Tip: I love this cute mini penne pasta. You can use macaroni in exchange for the penne if you'd like.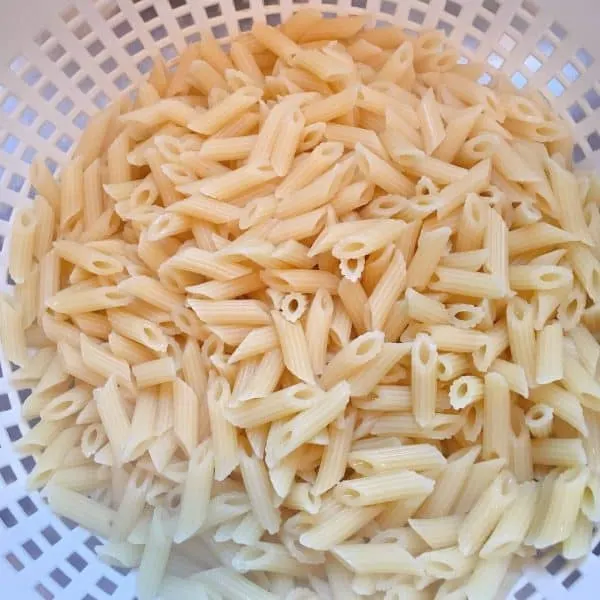 While the pasta is cooking, in a medium skillet over medium heat, add 1 tablespoon butter. When butter has melted add 1/2 cup sliced fresh mushrooms, 1/2 cup to 3/4 cup diced fresh zucchini, and 4 tablespoon chopped onion.
Saute until tender and onions are translucent.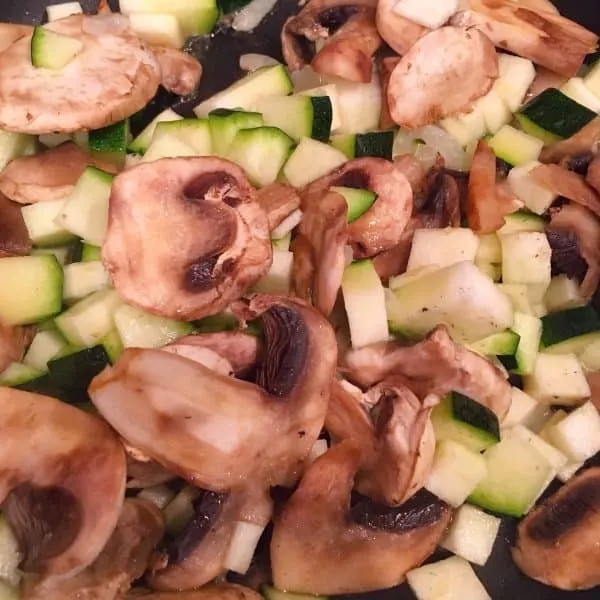 Add 1 teaspoon minced garlic…we need a little flavor burst in this casserole.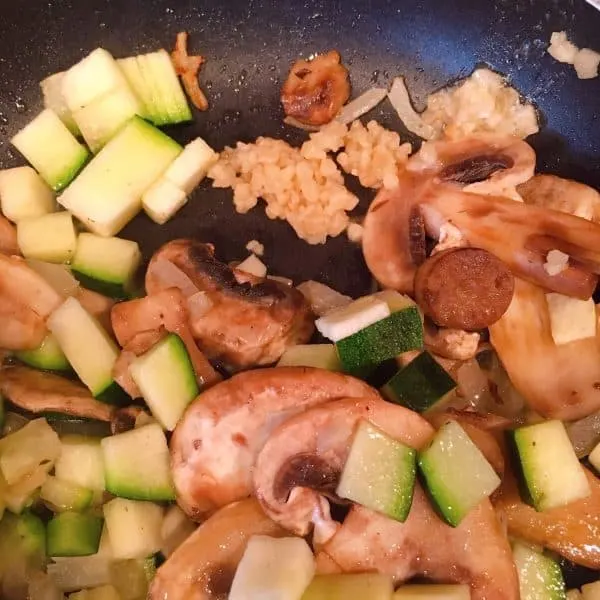 Remove squash and mushroom mixture from skillet and set aside.
Place drained warm pasta in a large bowl. Add 1 can cream of chicken soup and 4 ounces of cream cheese.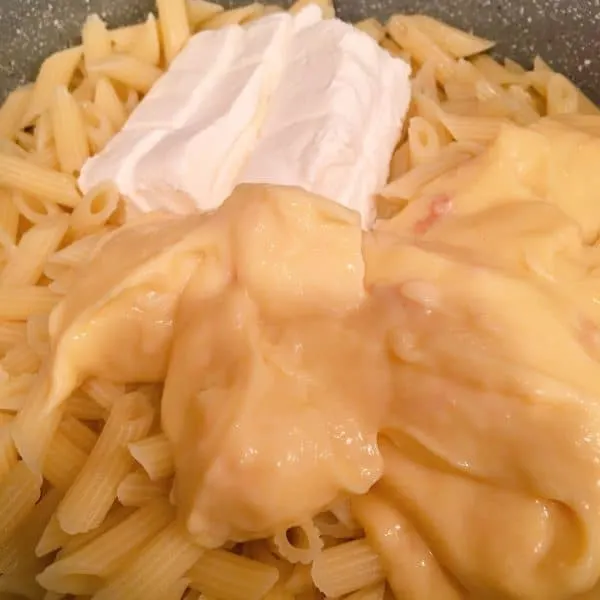 Add 1/4 cup crumbled bacon and 1 teaspoon Italian seasoning blend. Mix until well combined. The pasta should be warm enough to melt the cream cheese.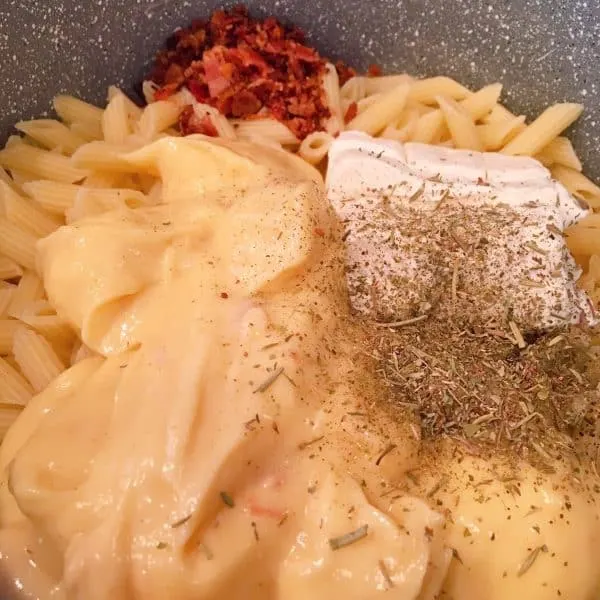 Add 1/2 cup grated Parmesan Cheese, 1/2 cup sour cream, and 1/2 cup of milk to pasta mixture. Mix until all ingredients are incorporated.
Tip: You may need to add additional milk to mixture to reach desired consistency.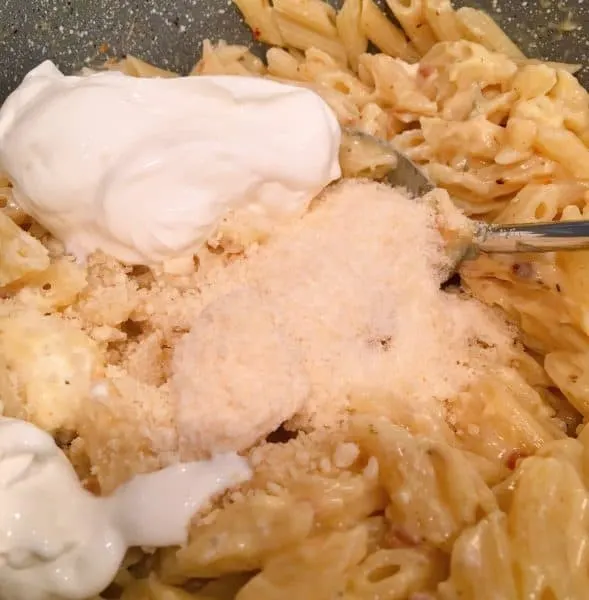 Add 2 cups of cubed cooked chicken and the squash mushroom mixture. Gently stir to combine. Salt and Pepper to taste.
I love the addition of the squash to this dish! Such a great way to sneak veggies into a dish!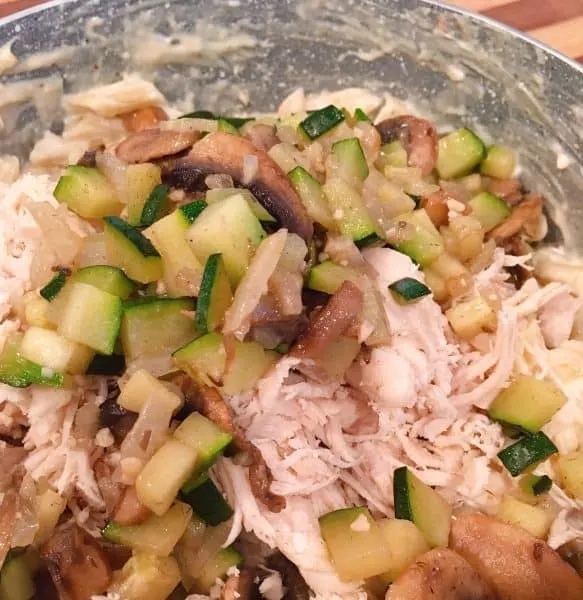 Preheat oven to 350°.
Pour pasta mixture into a 2 quart casserole dish sprayed with non-stick cooking spray. Doesn't that look yummy?!!! So creamy with wonderful flavor combinations.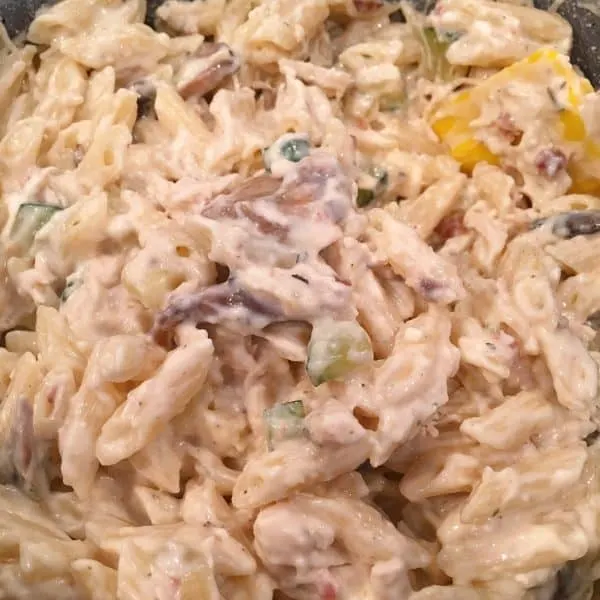 Top casserole with 1 cup grated Mozzarella Cheese. Bake uncovered in preheated 350° oven for 40 minutes or until cheese is melted and slightly golden brown.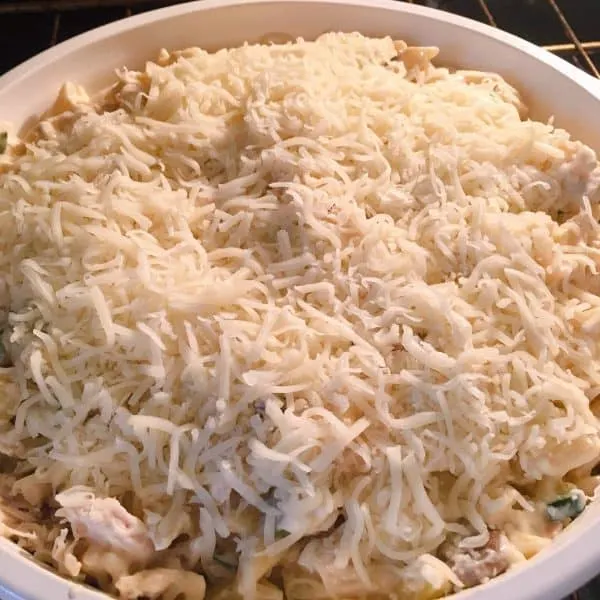 That beautiful golden brown cheese top is the goal with this casserole. Nothing say's "Comfort food" like a golden bubbly cheesy topping on a creamy casserole.
Garnish with a nice sprinkle of dried or fresh parsley. That pop of green adds a nice little finishing touch.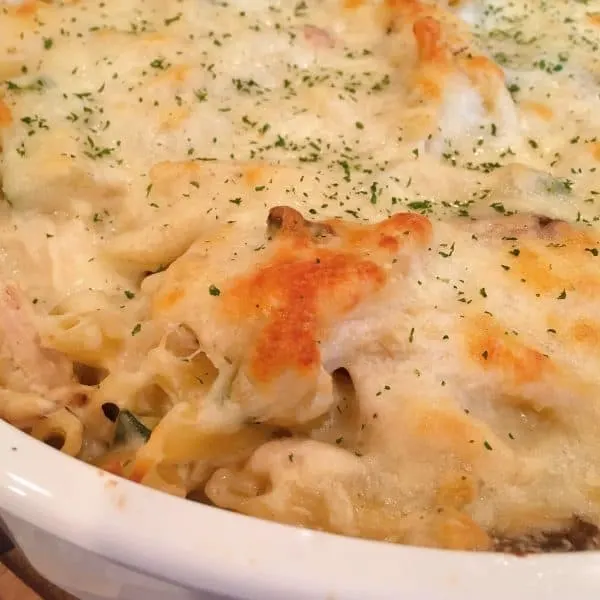 Time to "Dig in"! From the first scoop the ooey-gooey goodness of this casserole shines! It boasts hints of Chicken Alfredo with vegetables. The flavors from the Italian seasonings is a nice added bonus.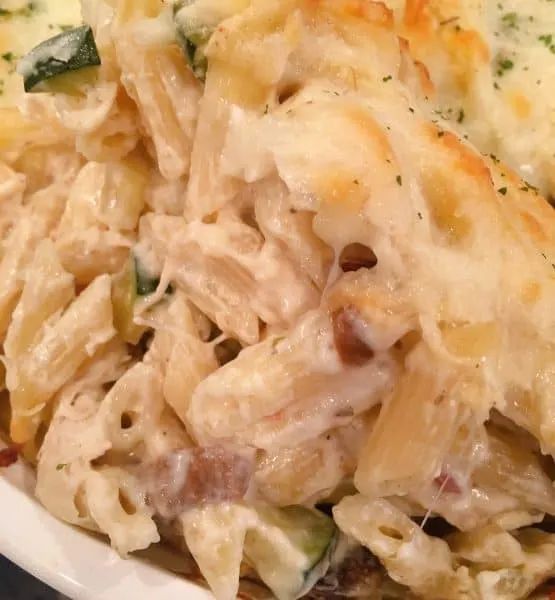 It was love at first bite here at this Nest! Truthfully I made this casserole on a day I was feeling really under the weather and it tasted so good!
There's just something so comforting about a creamy pasta dish! Reminds me of a big ol' hug from Grandma when you're feeling blue!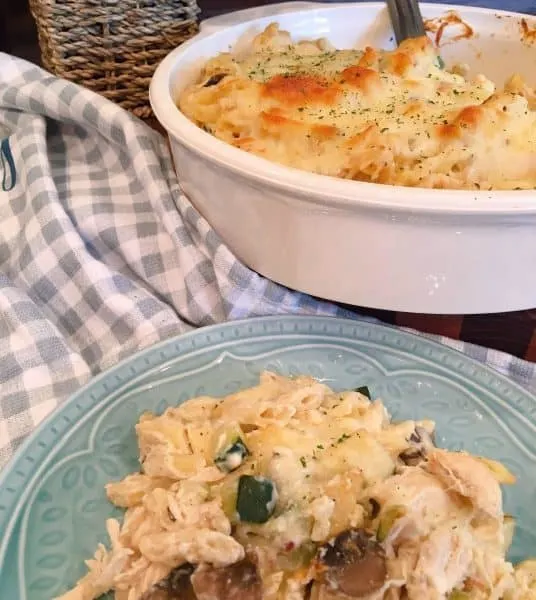 TIP: This meal comes together quickly if the chicken is prepared ahead of time. You can use store bought rotisserie chicken. I like to pre-cook several chicken breasts in my Instant Pot and then freeze it for casseroles like this. Makes meal prep a breeze.
If you enjoyed this casserole you might also like these other Easy Casseroles
I hope this yummy casserole will find it's way to the dinner table at your Nest!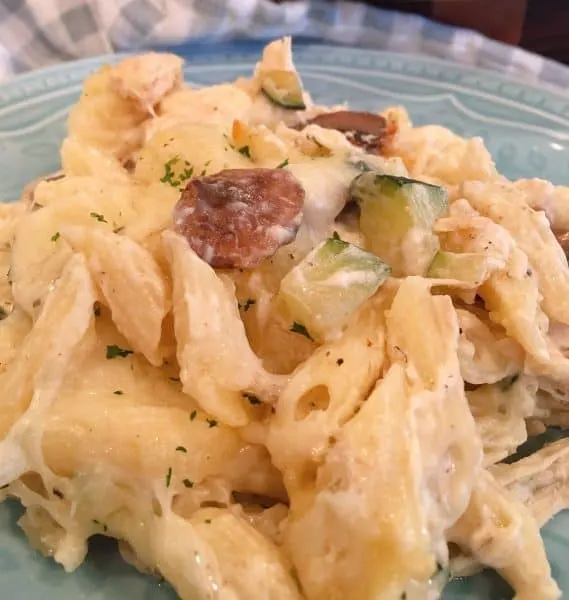 If you love creamy comforting casseroles then this one is for you!
Remember you can follow me every day on Pinterest, Facebook, and Instagram. Just look for Norine's Nest and I'll be there sharing my favorite family friendly recipes!
As always, thanks so much for stopping by! Have a Great Day and….
Happy Nesting!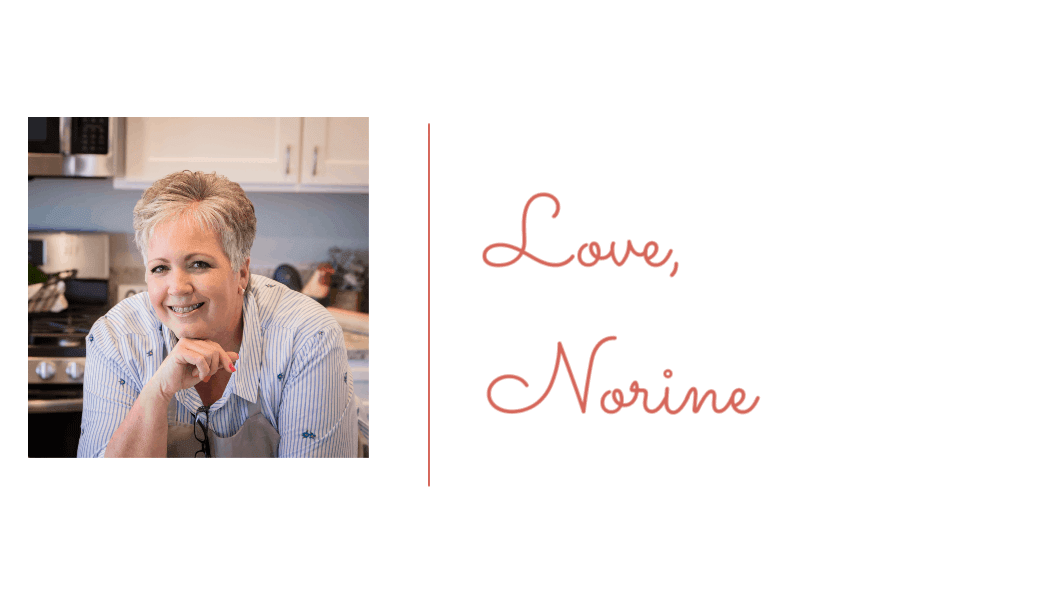 Yield: 6 servings
Chicken Zucchini Pasta Casserole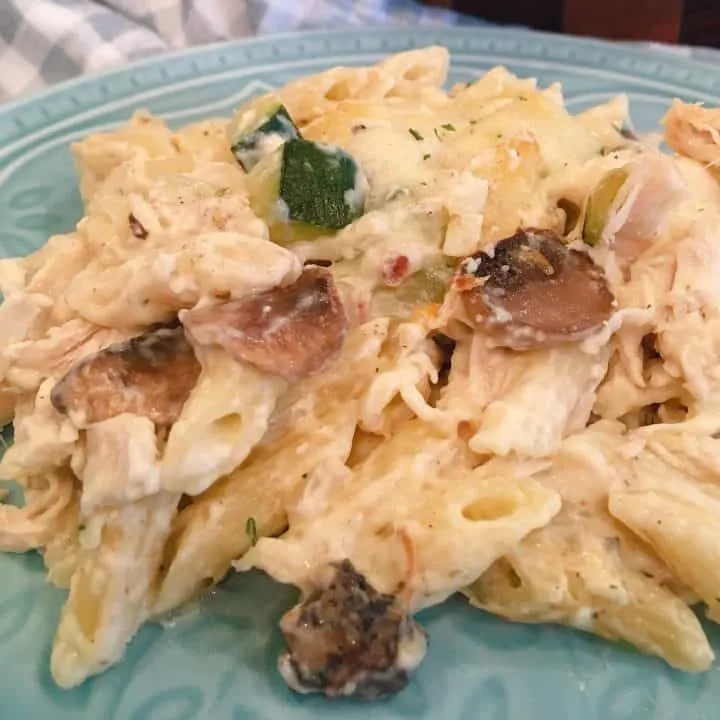 This Chicken Pasta Casserole is loaded with chunks of chicken, fresh zucchini, mushrooms, and pasta in a creamy Parmesan Sauce topped off with melted mozzarella cheese. The perfect comfort dish.
Ingredients
2 1/2 cups uncooked, mini penne pasta
4 Cups water
1 Tablespoon butter
1/2 Cup fresh sliced mushrooms
1/2 - 3/4 cup cubed zucchini squash
4 Tablespoons Chopped onions
1 teaspoon minced garlic
1 can (10.5 ounce) cream of chicken soup
4 ounces cream cheese, softened
1/4 cup bacon crumbles
1 teaspoon Italian Seasoning blend
1/2 cup grated Parmesan cheese
1/2 cup sour cream
2 cups cubed, cooked chicken
1/2 - 3/4 cup milk
1 cup grated mozzarella cheese
Instructions
In a large pot bring 4 cups of water to a boil. Add mini penne pasta and cook until al dente. Approx 8-10 minutes.
While pasta is cooking, in a medium skillet over medium heat, add butter. When butter has melted add onion, mushrooms, garlic, and squash. Saute until vegetables are tender and onions are translucent. About 5-6 minutes. Remove from pan and set aside.
Preheat oven to 350°. Prepare a 2 quart casserole dish with non-stick cooking spray.
Drain Pasta. Place pasta in a large bowl. Add Soup, cream cheese, sour cream, bacon crumbles, and Parmesan Cheese. Stir until well combined and cream cheese has melted and blended in. Add milk until desired consistency is met.
Add cooked cubed Chicken and the mushroom squash mixture. Gently stir until well incorporated. Salt and pepper to taste.
Pour pasta chicken mixture into prepared casserole dish. Top with grated cheese. Bake, uncovered, for 40 minutes until cheese is melted and bubbly. Garnish with fresh or dried parsley.
Recommended Products
As an Amazon Associate and member of other affiliate programs, I earn from qualifying purchases.
Nutrition Information:
Yield:
6 servings
Serving Size:
1 1/2 cups
Amount Per Serving:
Calories:

482
Total Fat:

29g
Saturated Fat:

14g
Trans Fat:

0g
Unsaturated Fat:

12g
Cholesterol:

113mg
Sodium:

749mg
Carbohydrates:

26g
Fiber:

2g
Sugar:

4g
Protein:

28g