Angel Chicken Pasta. Baked chicken breast are served with a delectably rich sauce made with butter, dry Italian salad dressing, white wine, cream cheese with chives, and golden mushroom soup. It's served over a bed of delicate angel hair pasta and topped with shaved Parmesan cheese. In a word…DELICIOUS! In two words….Superbly Delicious!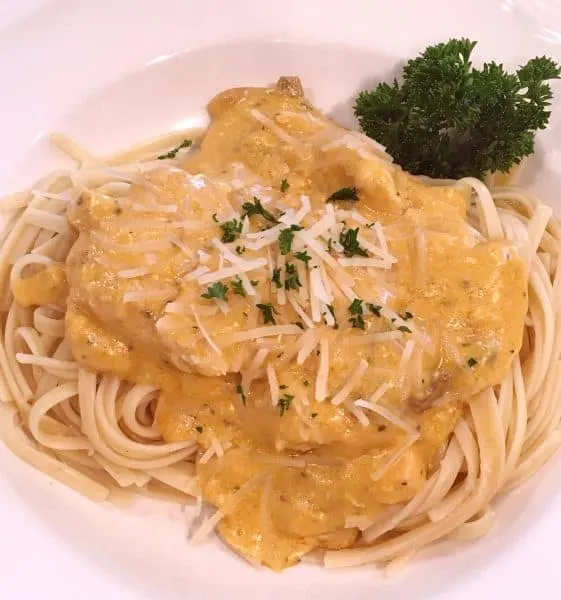 This is a favorite Crock Pot Recipe. There's a little prep work on the stove top, but your crock pot will do most of the cooking for you. I have no doubt that your little birds are going to love this recipe!
If you've never made this you are going to be so glad you stopped by today! It's going to make your monthly rotation! (Oh… we all have our monthly rotations! Admit it! Time to get out of the rut! lol)
The original recipe calls for whole boneless skinless chicken breasts. By now y'all know I change things…a lot! I love to improve upon a recipe and I think I have done that with this one.
How To Make Angel Pasta
Fillet my chicken breasts so they are thinner, and then cut them in half so they are smaller. Each breast should give you 4 pieces.
Let's face it…most toddlers aren't going to eat an entire chicken breast! Most adults don't want to not when you have pasta and sauce to go with it.
This makes the serving sizes more manageable and budget friendly. Truthfully…the chicken in this dish becomes so overshadowed by the star…"the sauce"… that it's almost sad. I could seriously face plant it into the noodles and sauce and never come back up for air!
Ummmm…Moving right along….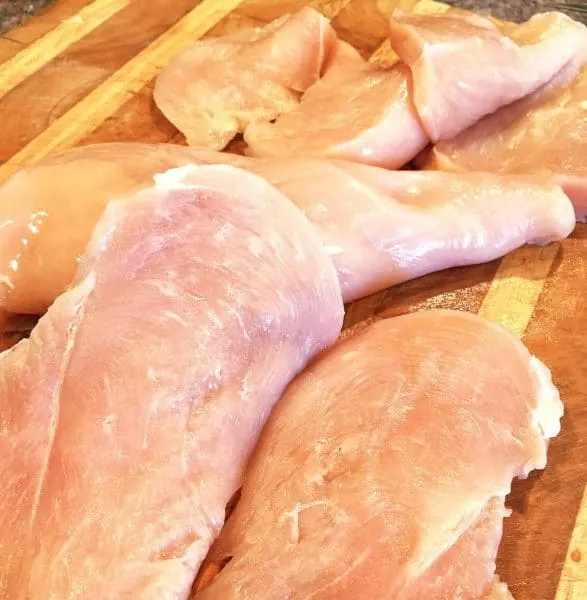 Tenderizing Meat
After I have cut all my chicken breasts into the size and thickness I need, I use my meat tenderizer and work out a little aggression. Not too much, just enough to help tenderize the meat.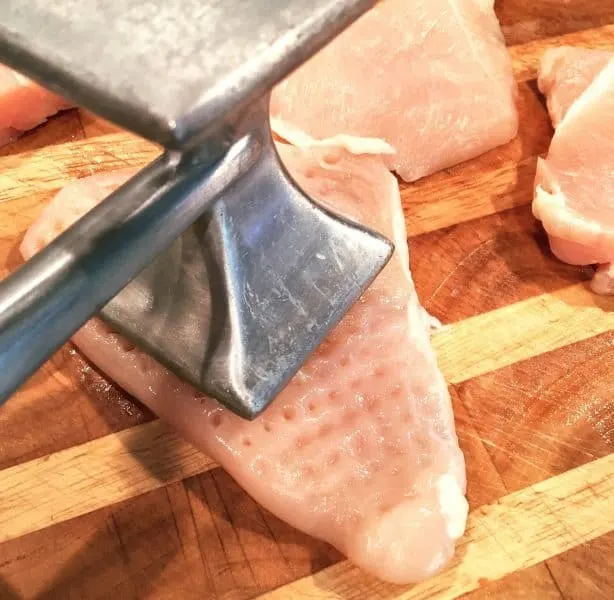 Place your chicken pieces into the bottom of your crock pot.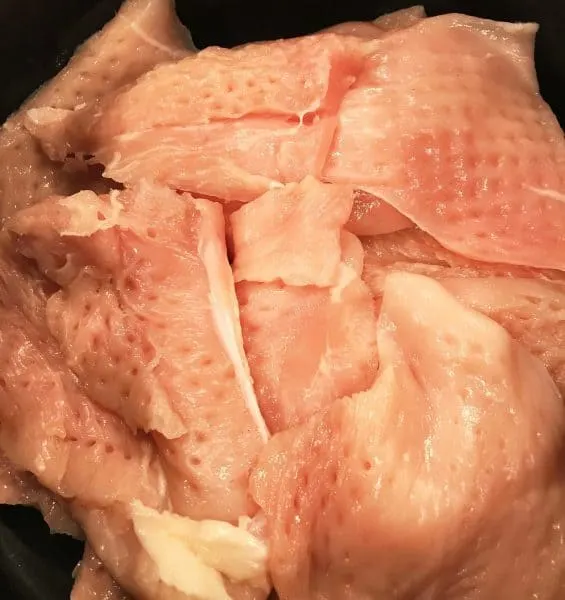 In a medium-large sauce pan, over low heat, melt one stick of butter. Add in your soup, wine, and cream cheese with chives.
Stir with wire whisk until cream cheese is melted and all the ingredients are well blended. Add in 1 1/2 Tablespoon dry Italian Salad dressing mix.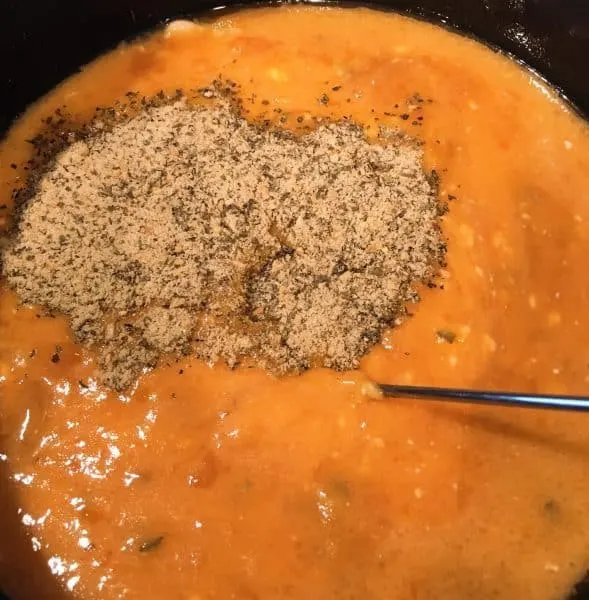 Pour over your chicken and cover crock pot. Cook on low or warm, depending on how hot your crock pot cooks.
Tip: Get to know your crock pot! I've found over the last few years that the manufacturers of crock pots all have varying heat temperatures. Crock pot cooking started out as a form of LOW heat cooking! However, most "low" settings now have your food boiling in 2 hours and burning! If there's a manufacturer out there who thinks they have it mastered…PLEASE send me one and I'll be happy to review it!
I cook mine on the "warm" setting for 4 hours. Which was perfect for my crock pot! You don't want your chicken "shredded". You want the pieces to remain whole so it's important not to over cook this recipe.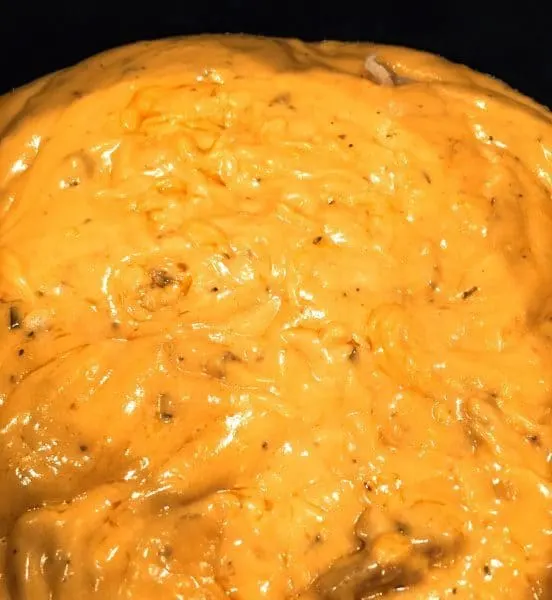 Before serving bring a pot of water to a rolling boil and cook your angel hair pasta "Al dente". About 7-8 minutes cooking time is perfect for al dente pasta! Drain and place noodles on a serving platter.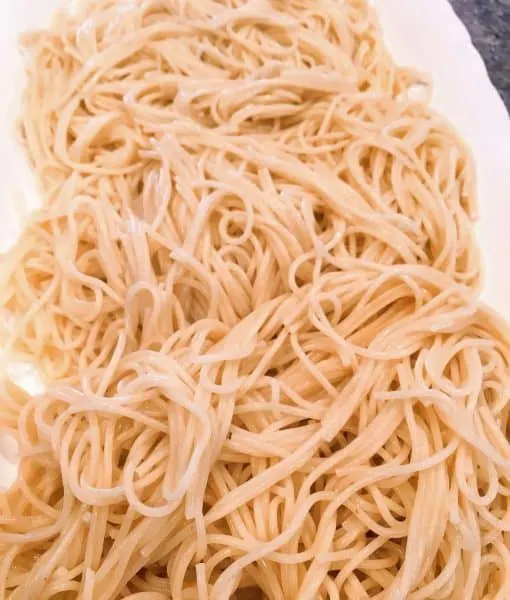 Using a large serving spoon, ladel the sauce and chicken over the nest of pasta! Try to refrain from licking that serving spoon because… one drop of that sauce and you are going to think you have died and gone to heaven! No joke!
Finishing Touches
Finish by topping with grated or shaved Parmesan cheese. You can also sprinkle it with parsley or chives for a little garnish of color! (It was cold outside and I didn't want to go cut fresh chives. Call me lazy!) I wish I had a "take a test bite" app! Can someone work on that for me?! Y'all would love me!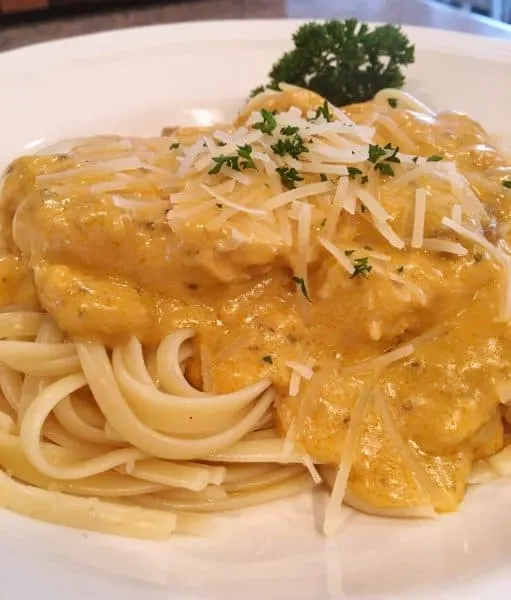 This dish is bursting with flavor! It's tastes like a pasta dish from a 5 star restaurant. I serve ours with an easy quick fresh Caesar Salad. It goes perfectly with this dish!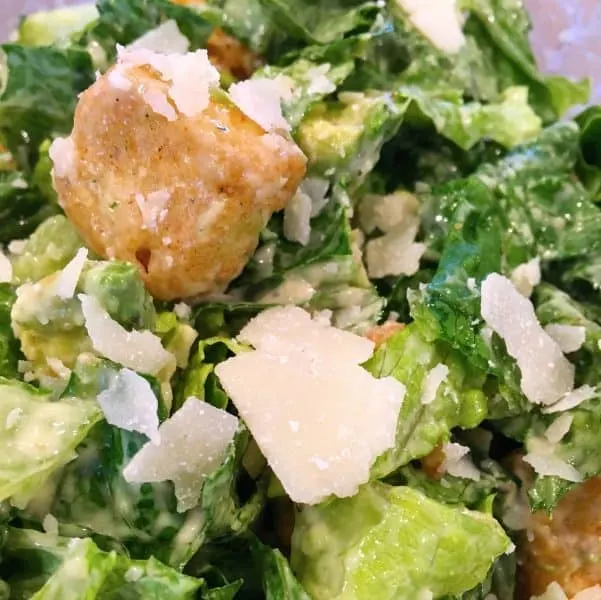 There you have it! Crock Pot Angel Chicken Pasta! I'm so glad I reduced the size of the chicken breasts into smaller pieces. They came out tender and juicy and worked great for individual serving sizes.
TIP: Cooking in the crock pot makes this recipe a breeze! You can make this in the oven too! Cook at 350 degrees for 45-60 minutes. Either way works great!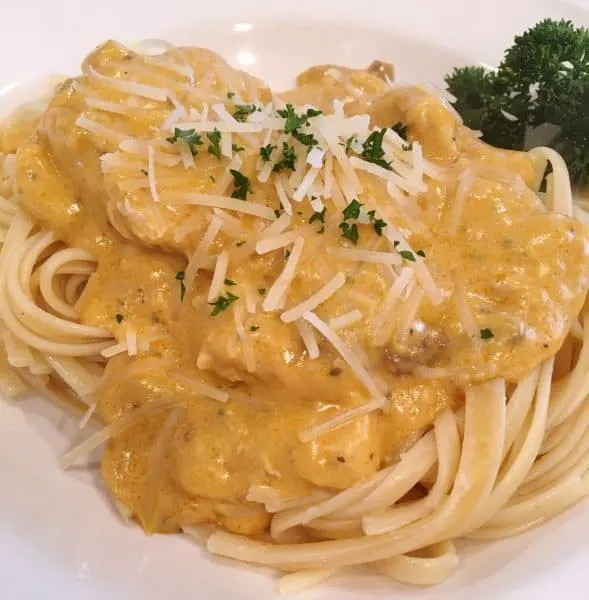 Favorite Chicken Main Dish Recipes
I've got the printable below for you! Enjoy! Thanks for popping by my Nest! Remember you can always find my recipes on Pinterest, Instagram and my Norine's Nest Facebook page!
Happy Nesting and Have a great day!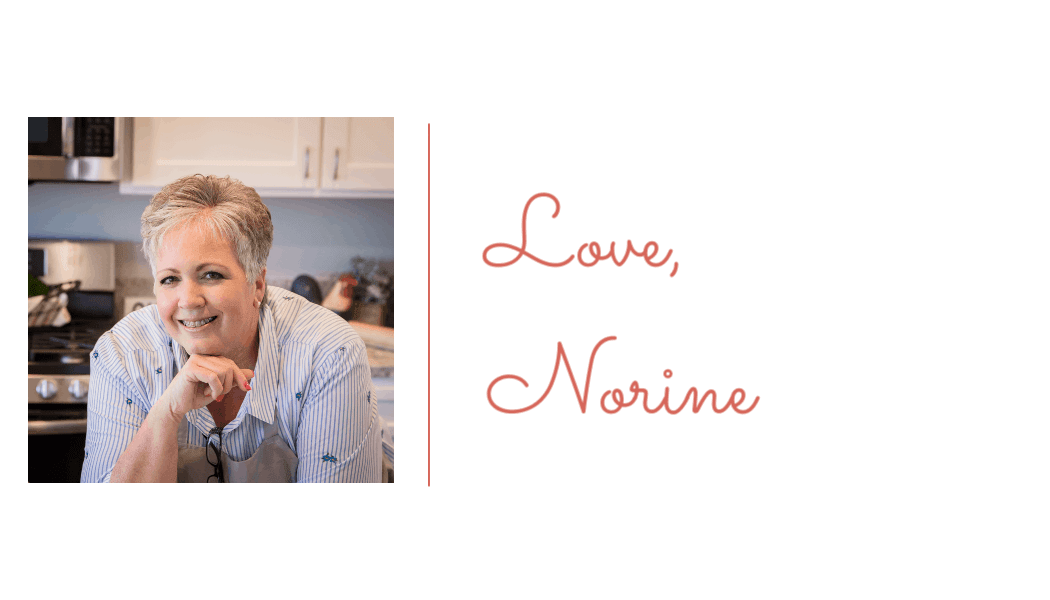 Yield: 6-8 servings
Angel Chicken Pasta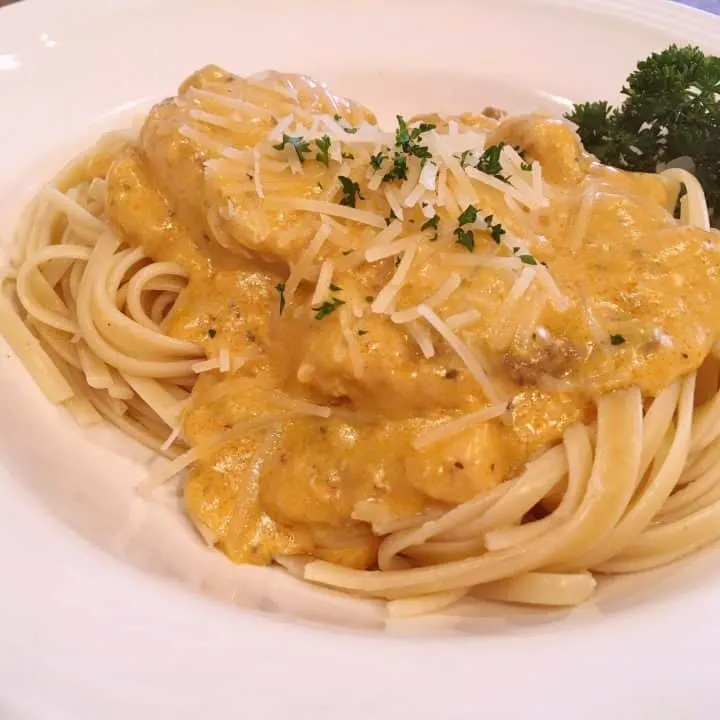 A delicious pasta dish, elegant enough to serve for company- this dish is bursting with delectably rich flavors. A favorite with my Nest!
Total Time
4 hours
30 minutes
Ingredients
6 skinless, boneless chicken breast halves
1/2 cup butter
1 1/2 Tablespoons dry italian-style salad dressing mix
1 cup white cooking wine
2 (10.75 ounce) can condensed golden mushroom soup
8 ounces cream cheese with chives
1 pound angel hair pasta
Instructions
Fillet chicken breast length wise, and then cut in half width wise, so that each chicken breast equals 4 pieces.
Using a meat tenderizer gently tenderize each chicken piece. Place in the bottom of your crock pot.
In a medium/large sauce pan, melt butter over low heat. Blend in wine, cream cheese, and golden mushroom soup. Continue stirring until cream cheese is melted and incorporated. Add in dressing mix. Heat through, but do not boil.
Pour sauce over chicken breast. Cover crock pot with lid. Cook on low for 4 hours.
Twenty minutes before chicken is done, bring a large pot of lightly salted water to a rolling boil. Cook pasta al dente, about 7-8 minutes. Drain. Serve Chicken and sauce over pasta. Garnish with shredded parmesan cheese and fresh chives or parsley.
Recommended Products
As an Amazon Associate and member of other affiliate programs, I earn from qualifying purchases.
Nutrition Information:
Yield:
8
Serving Size:
1
Amount Per Serving:
Calories:

454
Total Fat:

23g
Saturated Fat:

13g
Trans Fat:

0g
Unsaturated Fat:

8g
Cholesterol:

129mg
Sodium:

442mg
Carbohydrates:

21g
Fiber:

1g
Sugar:

2g
Protein:

33g