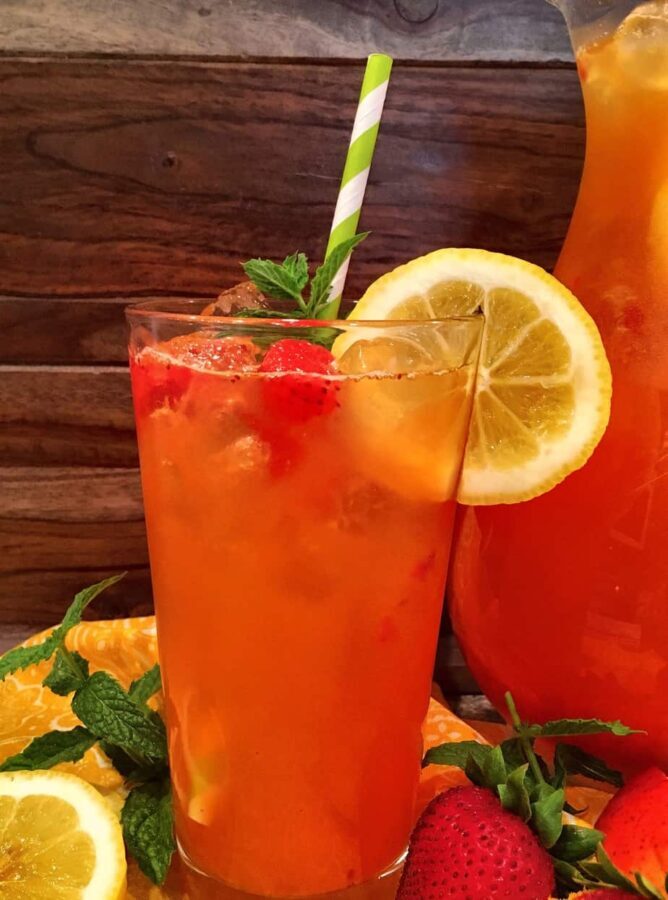 *As an Amazon Associate I earn from qualifying purchases. This post may contain affiliate links, which means that I may make a commission from any purchases at no additional cost to you. Thank you for your support!
Mango Strawberry Lemonade is easily made using margarita mango mixer and frozen thawed sliced strawberries with juice. It's the perfect drink for summer.
This has been one HOT summer! I don't know about you, but this heat makes me thirsty. Like " Sally-on up to the horse trough thirsty!
I wish I could tell y'all that I'm this huge water drinker…but I don't wanna lie to y'all. I do manage to get down a few tall glasses of ice-cold water a day. (I like to call it guilt serum!!) Truth be told…I just want a "purty "flavorful drink. Something that stands tall and cool… and demands your attention!
Like this Ah-mazing Mango Strawberry Lemonade! I've been dreaming about creating this drink for weeks now. I'm so happy that all my dreams came true with this tall drink of lusciousness! (Why am I suddenly thinking of Tom Selleck? Hmmm? lol)
I have a secret tip for y'all. Get ready…this is a biggie!
How To Make Mango Strawberry Lemonade
TIP: Fruit Flavored Daiquiri/Margarita mixers!!!
That's right friends. Drink mixers are not just for "alcoholic" drinks! If you're looking to add fruity flavor to anything…from drinks to sauces…drink mixers! Shhhhh…it's my BIG cooking cheat! (That's right! Go hang out in the drink mixer aisle and have your neighbors gossip about what a lush you are! lol)
The key is to find a REALLY good drink mixer. I LOVE Master of Mixes. (This is not a sponsored post! They're getting all this wonderful advertising FREE…cause I'm a rocking business woman! lol)
I did not do step-by-step photo's for this one because it is just too easy and I have faith you can whip this up in about 5 minutes!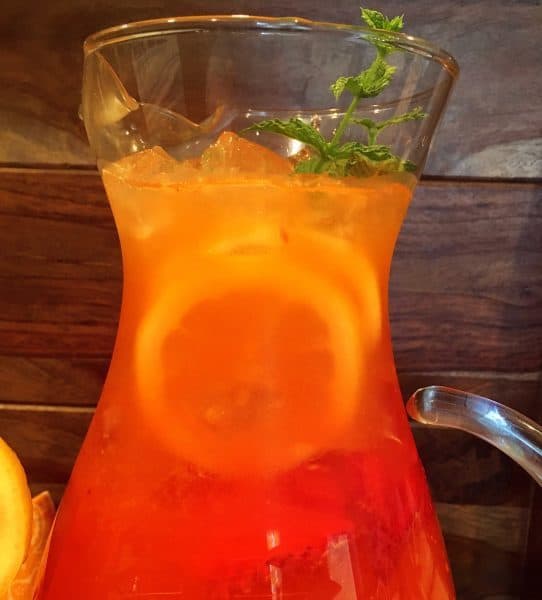 In a tall pitcher add one 12 oz. can frozen lemonade and 3 cans of water. I know, I know. The directions on the can call for 4 ⅓ cans of water. We're gonna be massive rebels and not do that! (Gasp! It the drink mixers…were going all Thelma and Louise!)
Add 1 cup of Mango Daiquiri/Margarita Mix. (If you want a stronger Mango flavor…add a little more. Go Crazy!)
Add in 1 cup of thawed frozen sliced strawberries with sugar. They come in a 15.5 oz container and can be found in the frozen fruit aisle.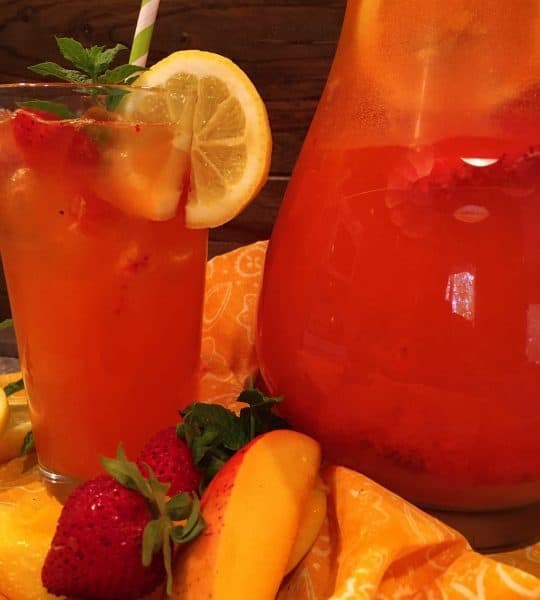 Mix that all together. Add 2 cups of crushed ice. Garnish with Lemon, fresh mango slices, and sprigs of fresh mint!
TIP: If it's too tart add a little water and an additional spoonful of strawberries. I like mine with a little "zing".
If you like a little "fizz" in your drink…you can change things up by adding sparkling mineral water. I'm not a huge fan of mineral water by itself. (This is a MAJOR understatement! GAG ME!) If you're gonna add it…make it international…so ya feel special! lol
Fill the glass ¾ the way full of mango strawberry lemonade and top the glass off with sparkling mineral water.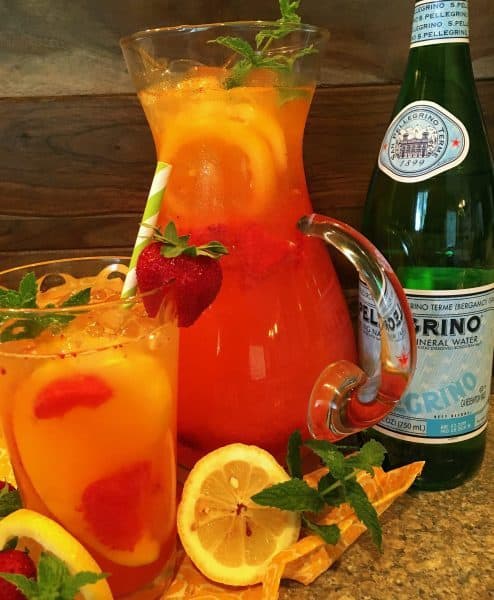 Garnish you glasses with a lemon slice or a strawberry.
Now take your beautiful spectacular drink, go out on the porch, put your shades on, throw your flip-flops off, wiggle your toes, close your eyes…imagine the beach and take a nice long sip of tropical happiness! Ahhhhhh! Sigh…You're welcome!
If you enjoyed this Lemonade recipe you might also enjoy these other Lemonade Recipes
Happy Nesting My Friends!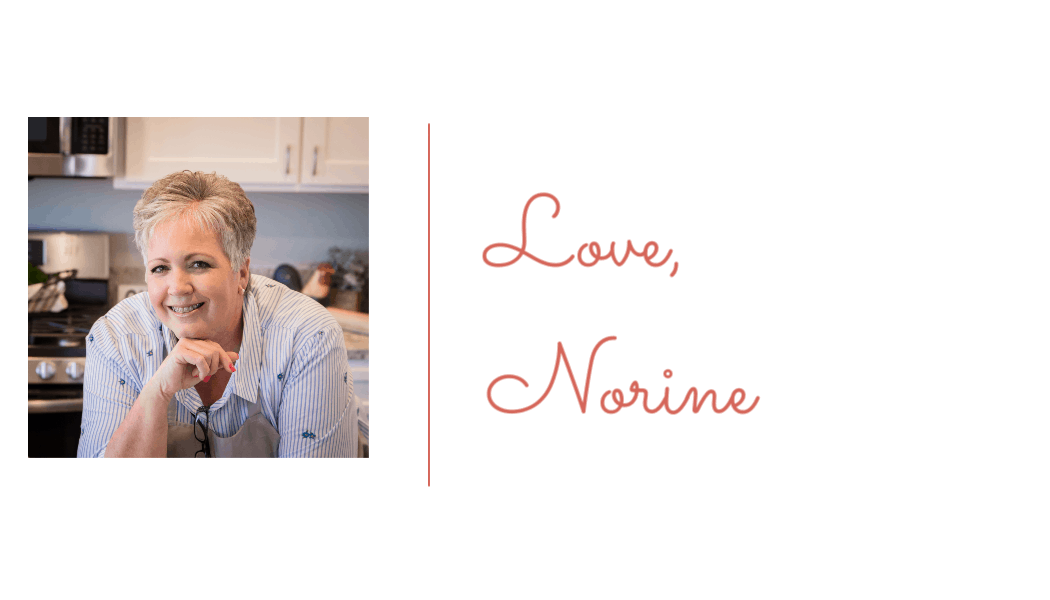 Yield: 8 servings
Mango Strawberry Lemonade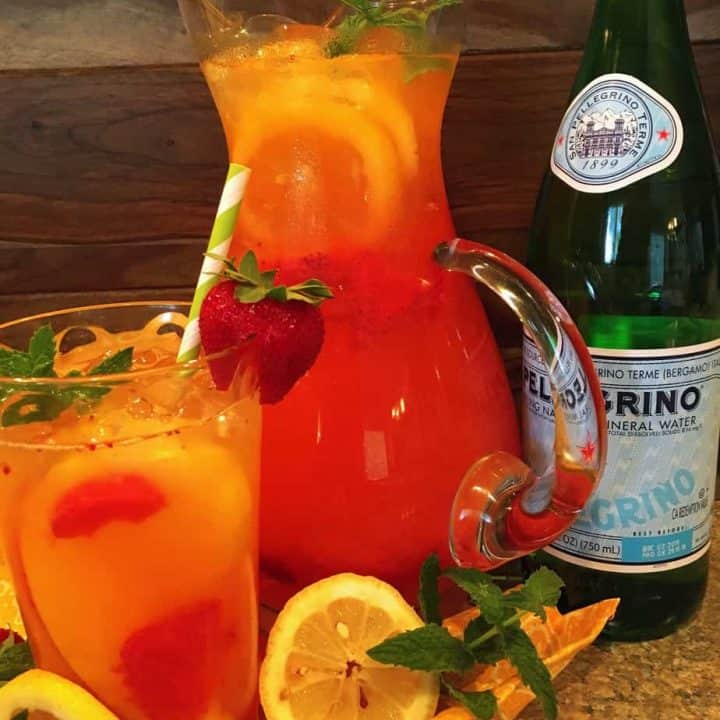 This delicious summer lemonade is easily made using margarita mango mixer and frozen thawed sliced strawberries with juice. It's the perfect drink for summer.
Ingredients
1 - 12 oz. can frozen lemonade concentrate
1 cup Sliced Strawberries with sugar (15.5 oz. tub)
1 cup Mango Daiguiri/Margarita Mix (Master of Mixes is the brand I use)
1 lemon sliced
1 mango sliced
mint for garnish
Ice
Instructions
In a large pitcher, add one can lemonade concentrate.
Add 3 cans of cold water
Add 1 Cup Mango Daiquiri/Margarita Mix
Add 1 Cup Sliced Strawberries with Juice.
Mix well.
Add 2 cups crushed Ice.
Add 4-5 Lemon Slices and Mango Slices (optional)
Garnish with Mint
Notes
If the lemonade is too tart for your personal taste...add a little extra water and a few extra spoonfuls of strawberry juice.
Recommended Products
As an Amazon Associate and member of other affiliate programs, I earn from qualifying purchases.
Nutrition Information:
Yield:
8 servings
Serving Size:
8 oz.
Amount Per Serving:
Calories:

136
Total Fat:

0g
Saturated Fat:

0g
Trans Fat:

0g
Unsaturated Fat:

0g
Cholesterol:

0mg
Sodium:

3mg
Carbohydrates:

34g
Fiber:

2g
Sugar:

26g
Protein:

1g