Cranberry Orange Pancakes are classic Fluffy Buttermilk Pancakes with fresh chopped cranberries and orange zest topped off with a delicious Cranberry Orange Rum Syrup!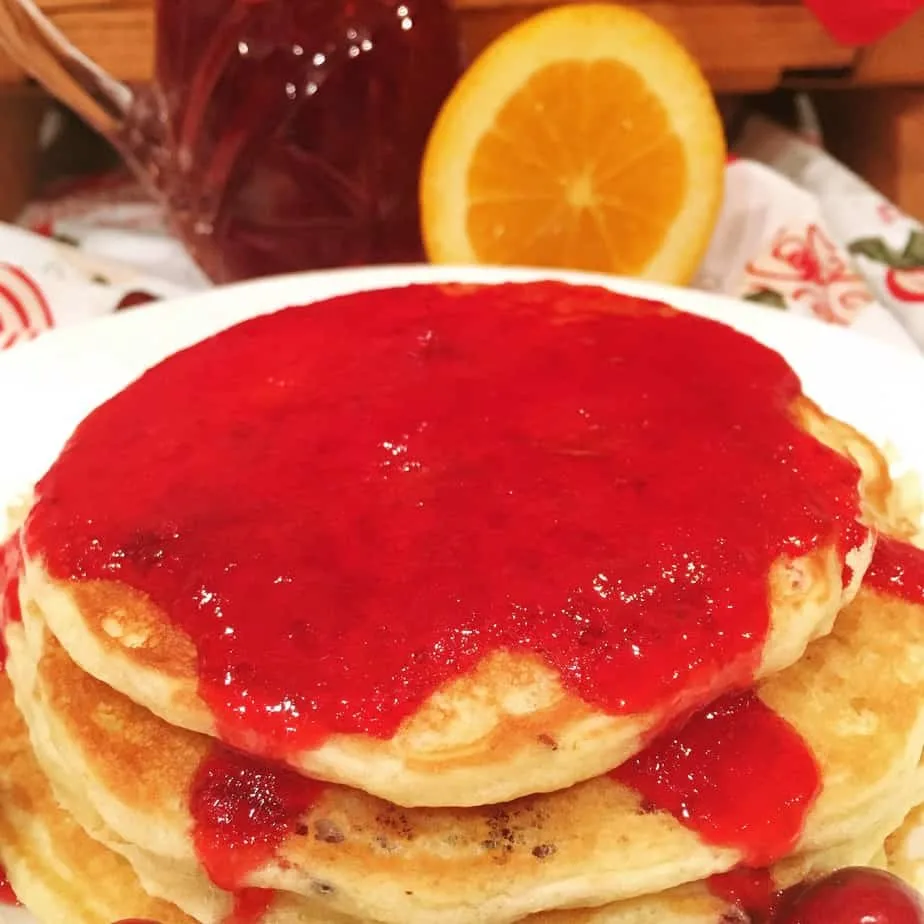 A few weeks ago I was thinking how much I love the combination of orange and cranberry. (It may have had something to do with me dreaming about that cranberry orange bread?)
Anywho….Since it was breakfast time as I was pondering my addiction to food, (let's just call it what it really is!), I realized I was also craving … donuts, waffles, bagels, skillet breakfast, quiche….I digress… Argh…where was I? Oh, I was craving pancakes! Yes! That's it! I was craving pancakes!
Then I had a moment of true brilliance… (we celebrate that around here…it doesn't happen that often at my age…a good day is remembering where I parked the car at Wal-mart!)…What if you could combine that amazing Orange Cranberry Bread and Pancakes! Ya know… marry them together! THAT would be a happily ever after! Who wouldn't want that?
So, I jumped right up and whipped up, in my very humble opinion, this amazing recipe for fresh cranberry orange pancakes with a fresh cranberry orange rum syrup! (I know…I teared up too…Your welcome!)
How To Make Cranberry Orange Buttermilk Pancakes
They start out with my basic buttermilk pancake recipe. Find that Recipe HERE! Add chopped fresh cranberries (careful…they're slippery buggers!) and two Tablespoons of orange zest to the original buttermilk pancake recipe!
Why are we chopping the cranberries? Because we have a limited "bake" time with pancakes and we want them to cook through. So get to chopping! Chop-chop!!!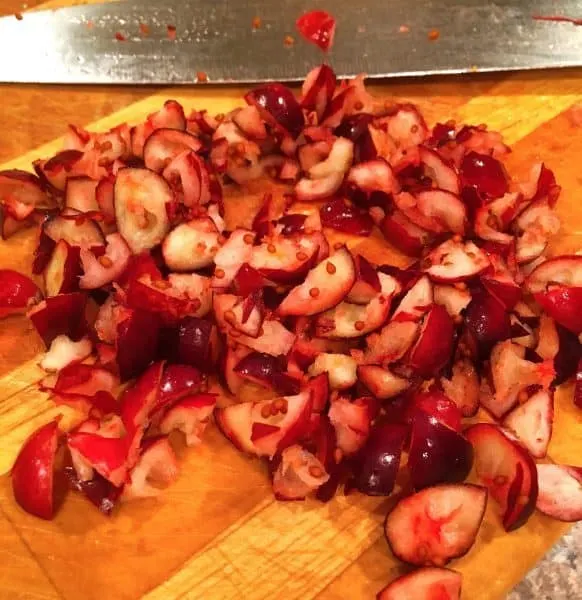 The plus of this recipe is that you can cook a batch regular pancakes first for all those "picky pancaker's" (Yes, I said pancaker's! lol It's my personal goal in life to torment all my former English teachers! I think I get an A+)
Next, add in the chopped cranberries and orange zest. Personally I'd skip the plain buttermilk and go straight for the loaded fruity pancakes! These are so yummy!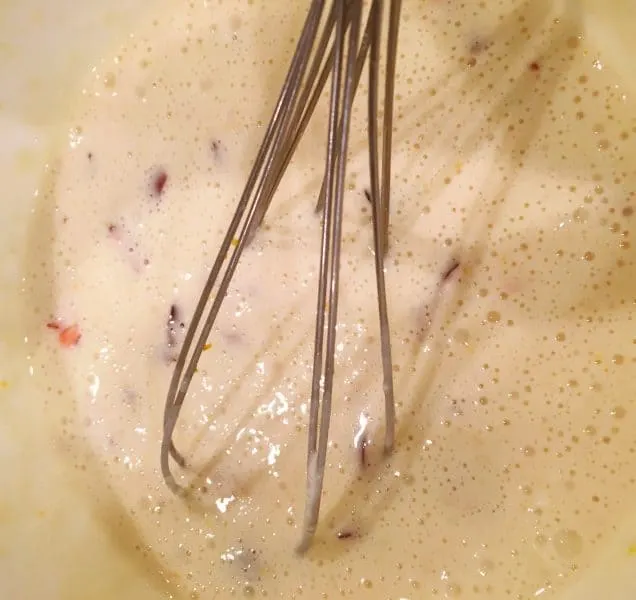 Pour a scoop of batter onto your hot griddle. Once they are bubbling and some of the bubbles have popped check to see if they are ready to flip. Gently lift one corner, if it looks golden brown…FLIP!
I have this pet peeve! (Here we go again…sorry folks!)
Some "cooks" tell you not to flip until ALL the bubbles have popped. That's fine if you like eating Charcoal for breakfast! I'm not a big fan of the smokey flavor of burnt flap jacks! It's just a personal preference! (insert eye roll)
TIP: Notice the pancake below…the bubbles around the edges have begun to "pop" and those bigger bubble are about ready to "pop". This pancake is perfect for flipping. If you wait for all those bubbles to pop we can't be friends! lol 😉 You just need the edges to be set and to do the corner "lift" to check before flipping.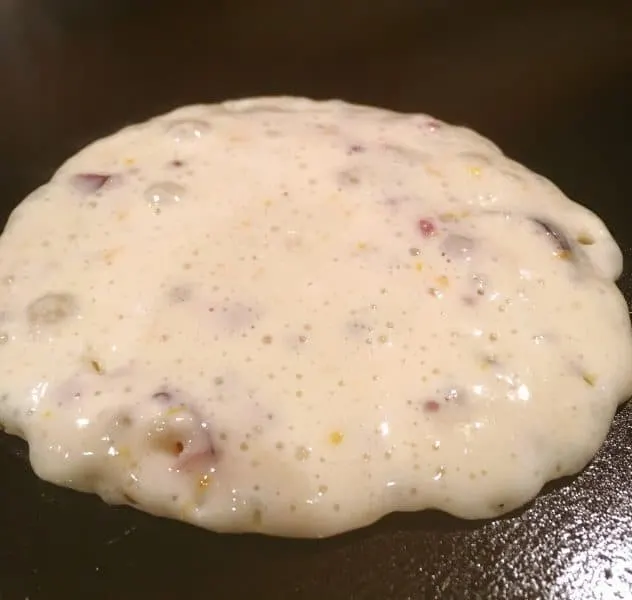 Seriously, you want beautiful golden pancakes just like in the picture below. Sigh…don't those look amazing! I love the dots of red cranberry! These are wonderful light flavorful pancakes and so tasty! Such a treat from the norm.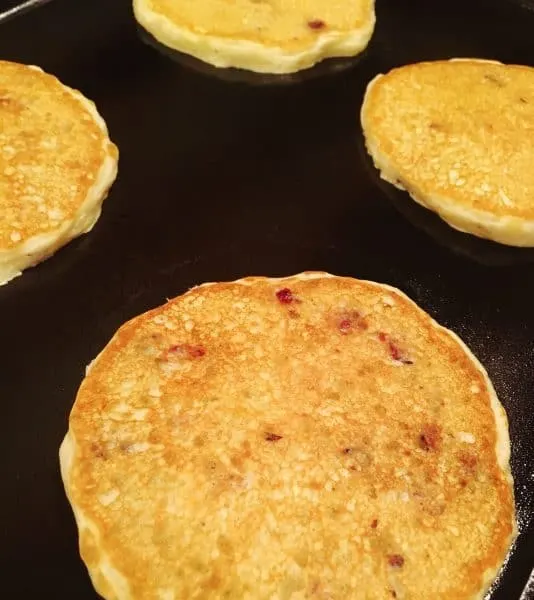 Who doesn't love a short stack of pancakes….Okay…maybe it's a "tall" stack. Perception is relative! To quote my friend Goldilocks "They look just right!" to me.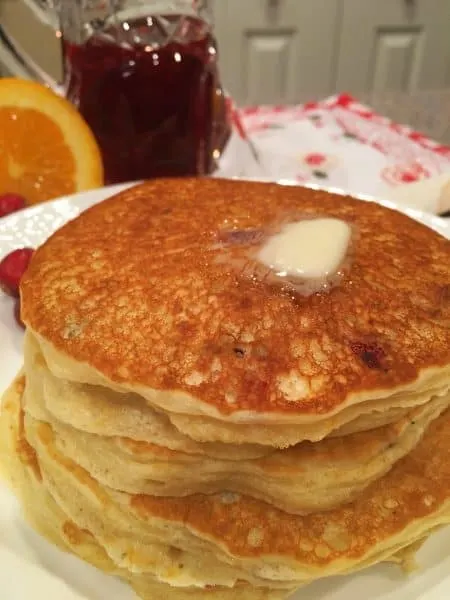 How To Make Cranberry Orange Rum Syrup
Now, let's talk about syrup. The pancakes are really good. They have to be topped with something that will enhance the flavor even more. This syrup fills that job requirement perfectly! The syrup is OUT OF THIS WORLD!
Tip: Make the syrup several days ahead of time and store it in your refrigerator. It stores beautifully and you can always heat it up right before serving with your pancakes.
In a medium sauce pan place 2 cups of fresh cranberries, 1 cup orange juice, 1 1/4 cup light corn syrup and 2 tsp. rum extracts. Bring to a low boil and boil till cranberries pop and are soft.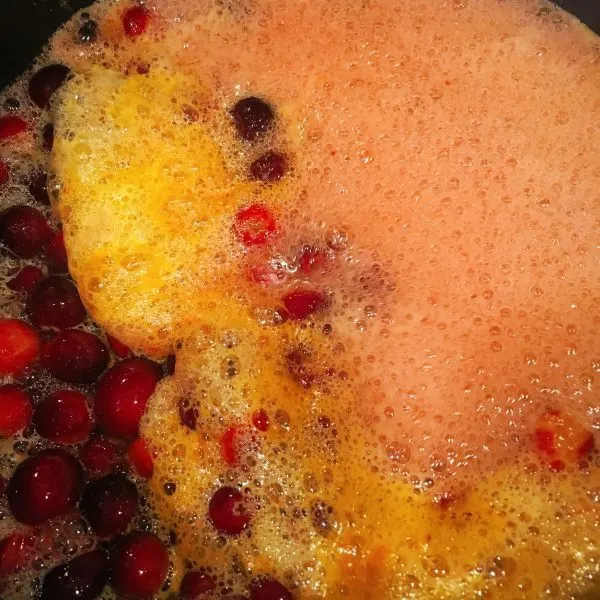 When the cranberries have cooked down they should be soft and mushy.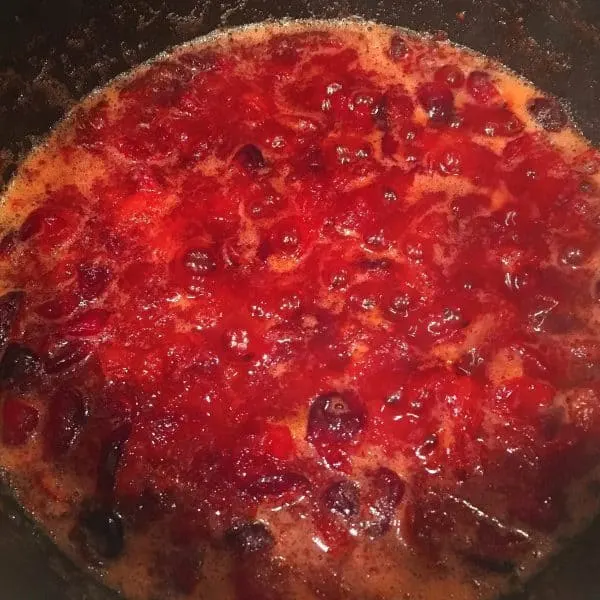 Place a metal strainer with small mesh over a bowl and pour cranberry mixture into the strainer. Using a rubber spatula or spoon gently push as much juice through the strainer as possible. What you should have left in the strainer is the cranberry pulp.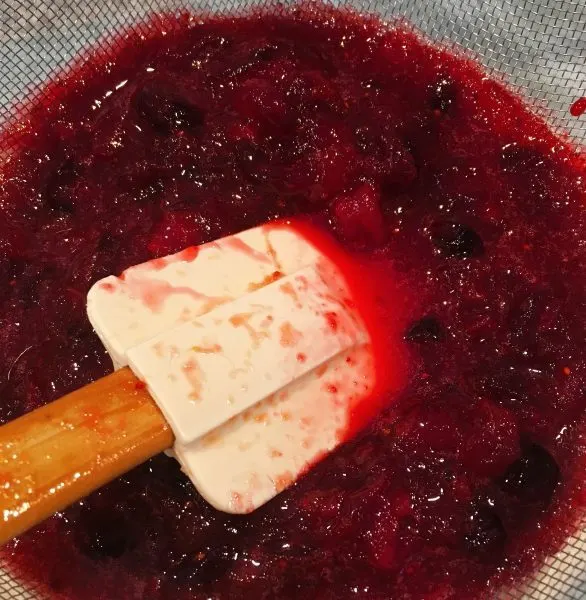 In the bowl beneath you should have a beautiful bright red delicious cranberry orange rum syrup. It will thicken even more once you refrigerate it. Syrup thickens as it cools and thins when heated up.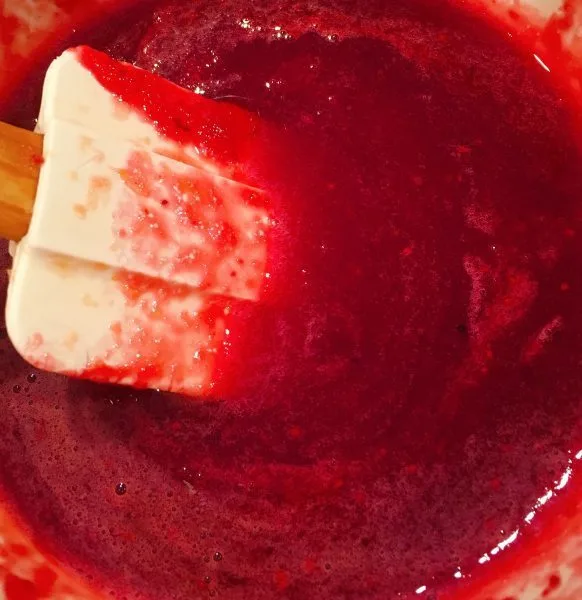 Now you're ready for the most amazing explosion of flavors your mouth has ever had in the morning! This will wake you up and have you saying "Good Morning Sunshine! " There ya go… You've just started your day off right!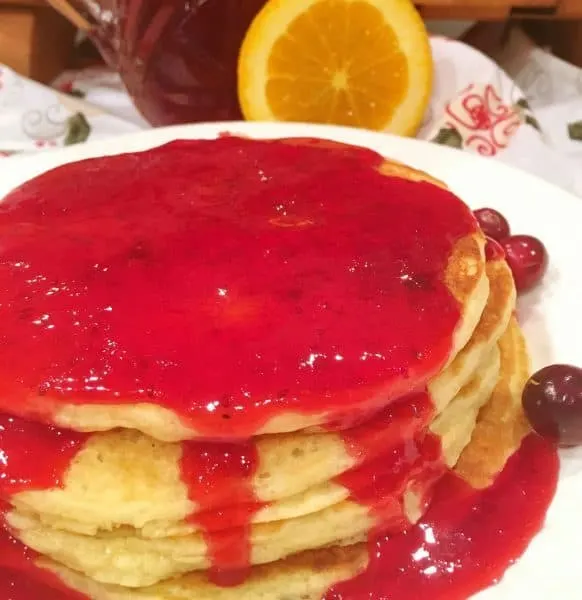 I made these for Thanksgiving morning breakfast. I was stuck with a bunch of "plain pancakers"! It was sad and pathetic! They had no idea what they were missing out on!
It's like Christmas on a plate! In a PANCAKE! My sister-in-law loved them. I inhaled them! Honestly, they are my new favorite pancake! So delicious and pretty! I'd wake up for these on Christmas morning!
TIP: One other little tip that really helped on our busy Thanksgiving morning…I mixed up all the dry ingredients a few days before hand, placed it in a ziplock bag and wrote on the outside what wet ingredients I needed to add to it to make the pancake batter! It worked out beautifully!
Other Family Favorite Breakfast Recipes
Thanks for stopping by today! Whip up a batch of these for breakfast this weekend and give them a try…if your a cranberry orange lover like me, you'll love them!
Happy Nesting!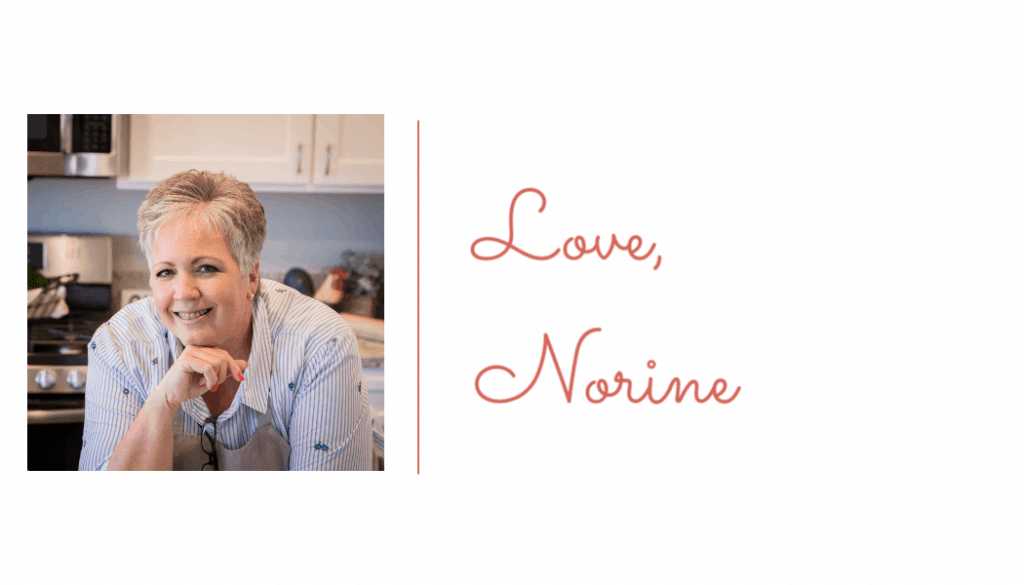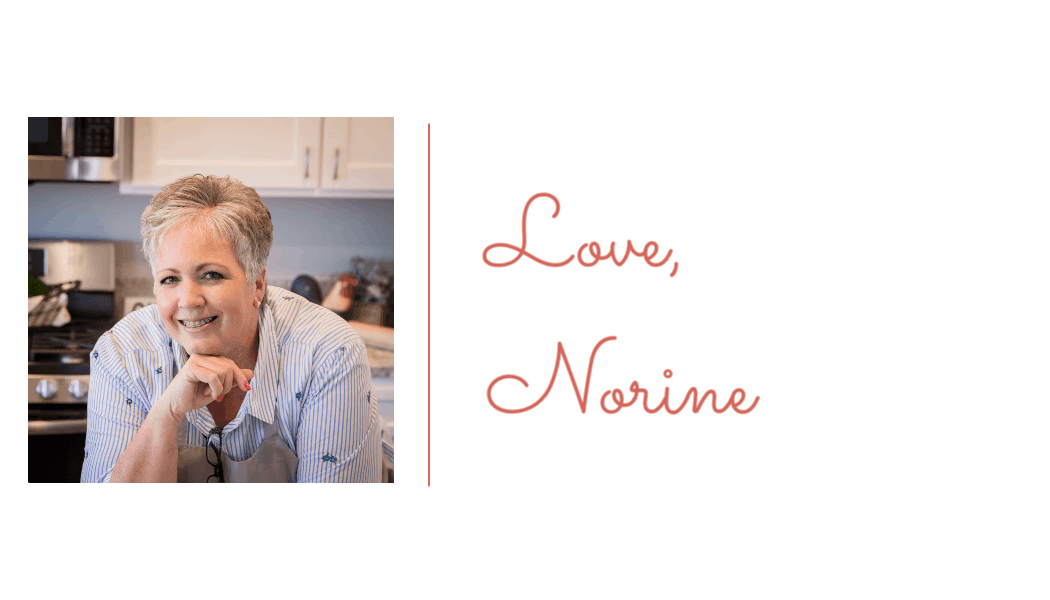 Yield: 12 servings
Cranberry Orange Pancakes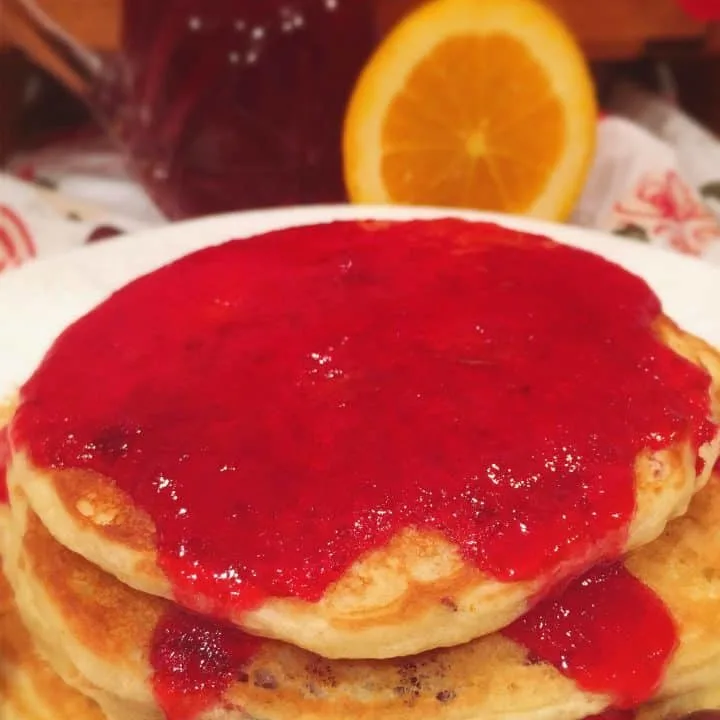 Light and fluffy buttermilk pancakes are flavored with fresh chopped cranberries and orange zest and topped with an amazing fresh cranberry orange rum syrup! The perfect Christmas breakfast!
Ingredients
Original Buttermilk Pancakes
3 cups all purpose flour
3 Tablespoons white sugar
3 teaspoons baking powder
1 1/2 teaspoons baking soda
3/4 teaspoon salt
3 cups buttermilk
1/2 cup milk
3 eggs
1/3 cup butter, melted
Add: 3/4 cup chopped fresh or frozen cranberries and 2 Tablespoons Orange Zest
Syrup
2 cups fresh cranberries
1 cup orange juice
1 1/4 cup light corn syrup
2 teaspoons rum extract
Instructions
In a large bowl, combine flour, sugar, baking powder, baking soda, and salt. In a separate bowl, beat together buttermilk, milk, eggs and melted butter. Keep the two mixtures separate until you are ready to cook.
Heat a lightly oiled griddle or frying pan over medium high heat. You can flick water across the surface and if it beads up and sizzles, it's ready!
Pour the wet mixture into the dry mixture, using a wire whisk blend till smooth but do not over stir. Add in cranberries and orange zest now for cranberry orange pancakes. Pour or scoop the batter onto the griddle, using approximately 1/2 cup for each pancake. Brown on both sides and serve hot.
Syrup
In a medium sauce pan combine cranberries, orange juice, light corn syrup and rum extract. Bring to a low boil and simmer until cranberries have popped and are soft.
Using a metal strainer over a small bowl pour cranberry mixture. Gently push back and forth over metal mesh strainer to allow all the juices to flow into the bowl beneath. Discard cranberry pulp and refrigerate cranberry orange syrup until ready to serve.
Notes
Cook and Prep time does not include syrup.
Recommended Products
As an Amazon Associate and member of other affiliate programs, I earn from qualifying purchases.
Nutrition Information:
Yield:
12 servings
Serving Size:
2 pancakes
Amount Per Serving:
Calories:

343
Total Fat:

7g
Saturated Fat:

4g
Trans Fat:

0g
Unsaturated Fat:

3g
Cholesterol:

63mg
Sodium:

614mg
Carbohydrates:

64g
Fiber:

2g
Sugar:

36g
Protein:

8g