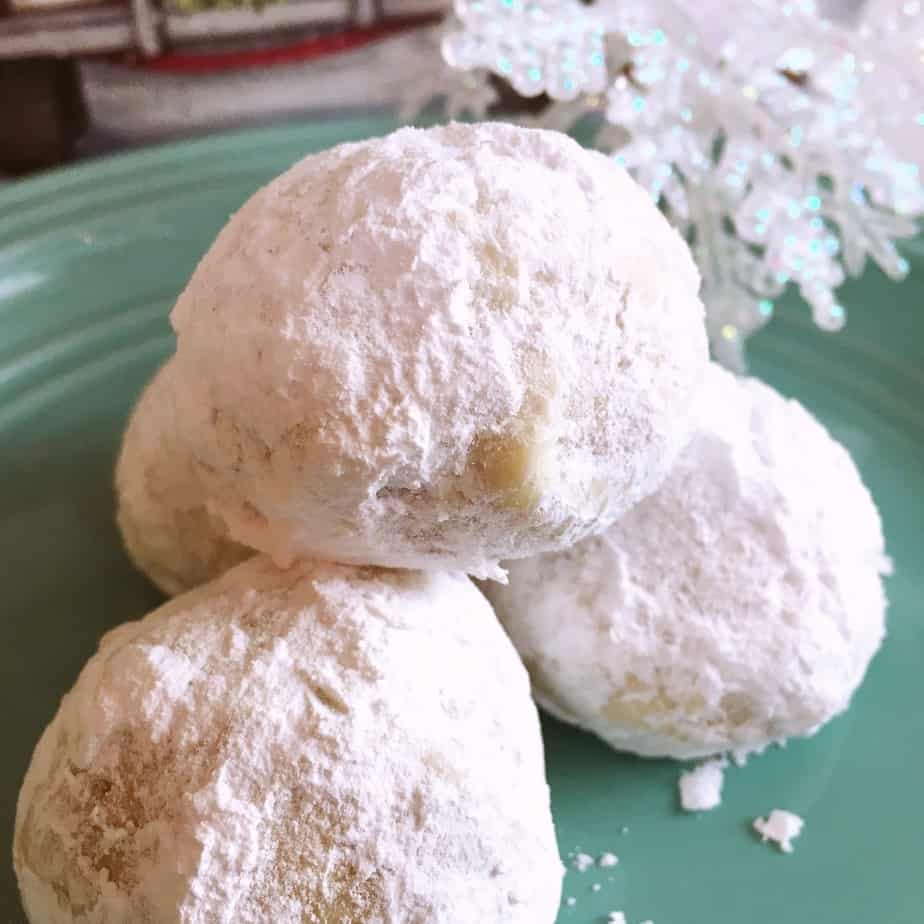 Delicious crumbly buttery shortbread loaded with chopped pecans and rolled in powder sugar create the best traditional Snowball Cookie.
*As an Amazon Associate I earn from qualifying purchases. This post may contain affiliate links, which means that I may make a commission from any purchases at no additional cost to you. Thank you for your support!
Snowball Cookies, also known as Mexican Wedding Cakes, were a favorite of my Grandma Helen's, and she made them every Christmas as far back as I can remember. I loved biting into those snowy balls of deliciousness… and licking all the powder sugar off my fingers!
A big plus was that I'm a huge fan of shortbread cookies! Maybe it's the English blood in my veins…or maybe it's ALL that butter! (I'd lean towards the butter…at least my bathroom scale does!)
I decided to whip up a batch for my Holiday Cookie Tray this year with my 3-year-old Grand daughter. She was a huge fan of the dough…and the powder sugar! We had so much fun rolling "Snowballs" together. This is a great "Baking cookies with Grandma" recipe!
How To Tips and Recipe for Snowball Cookies…
Preheat oven to 350°.
In the bowl of your mixer cream together 1 cup of soften butter and 1/2 cup of confectioner's sugar (powder sugar)…or as we like to call "sweet snow"! Add 1 teaspoon of vanilla.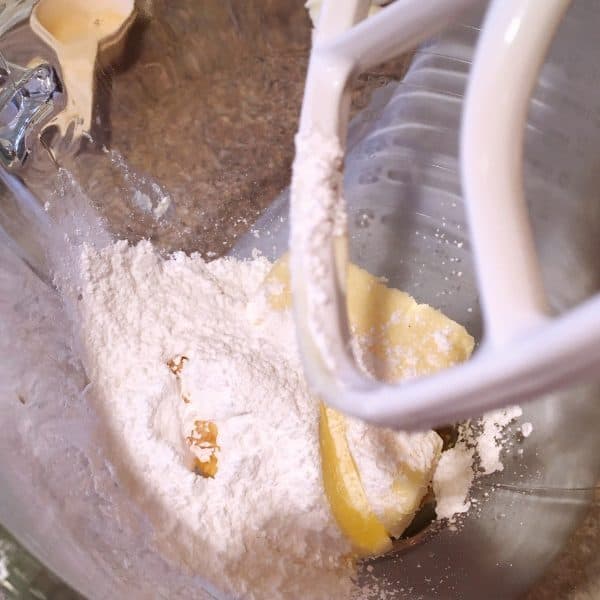 Mix until well combined…(I wish I could get paid every time I use this sentence in a post…well that and the word delicious! lol)
I sure love my "Anniversary Edition" Kitchen Aid! It's such a beautiful machine. My favorite of all time! I'm not a spokesman for Kitchen Aid…I just LOVE their mixers!
I know Kitchen Aid Mixers are pricey…but I also know they make an amazing machine and there are a lot of great deals on them right now. Click HERE to look at the great seasonal bargains and rainbow of colors. Did you know…they now have an 8 quart pro home mixer! (Drool…I say dream big…8 quart big!)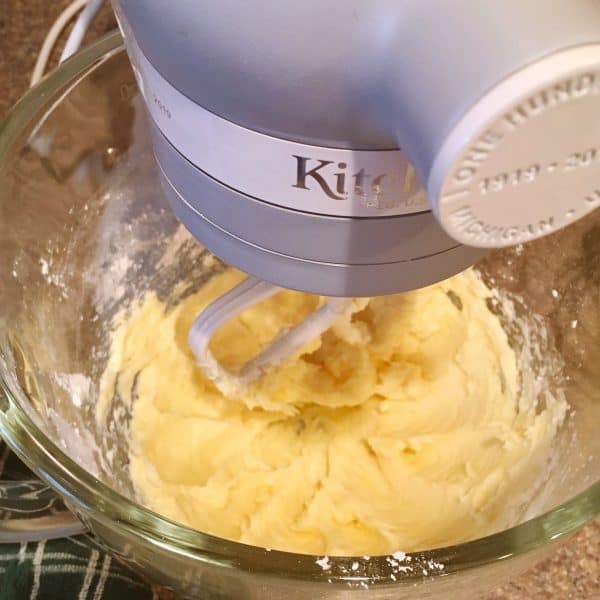 Okay…back to Snowball Cookies!
Mix in 2 1/4 cups of all-purpose flour…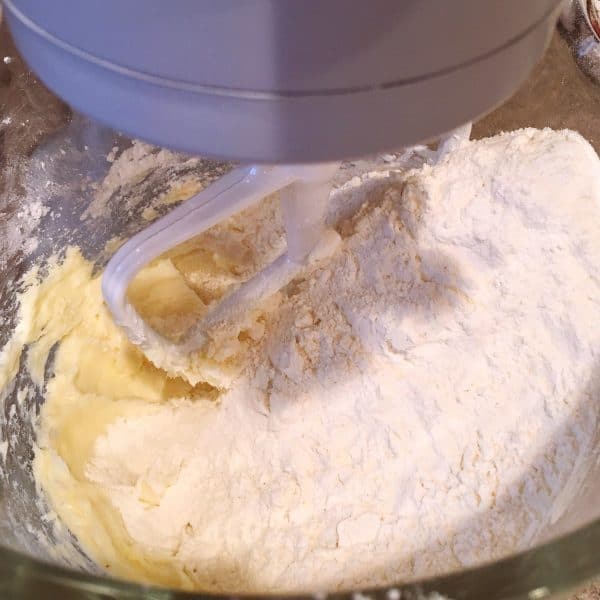 Also… add 1 cup finely chopped pecans.
That's it for the cookie dough! Amazing right?!! I'm telling you…simple delicious cookies are a must at this busy time of year!
TIP: I use a mini food processor like THIS ONE from Cuisinart! It's a huge time saver this time of year… and you'll have it for years to come. I've had mine for about 20+ years! Throw a bunch of nuts in, grind them up, and store them in air tight containers for all your Holiday baking needs!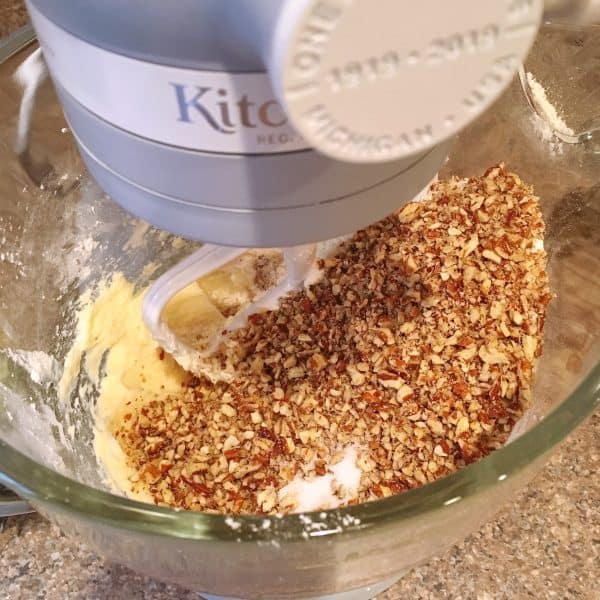 Time to practice those snowball making skills! Roll 1 Tablespoon or so of dough into balls and place on a parchment or silicone lined baking sheet.
TIP: Since these cookies do not "raise" because they don't contain a leavening agent like baking soda or baking powder, you can squeeze more than a dozen onto a baking sheet. (I think I just realized I must be full of leavening agents…LOTS of them!)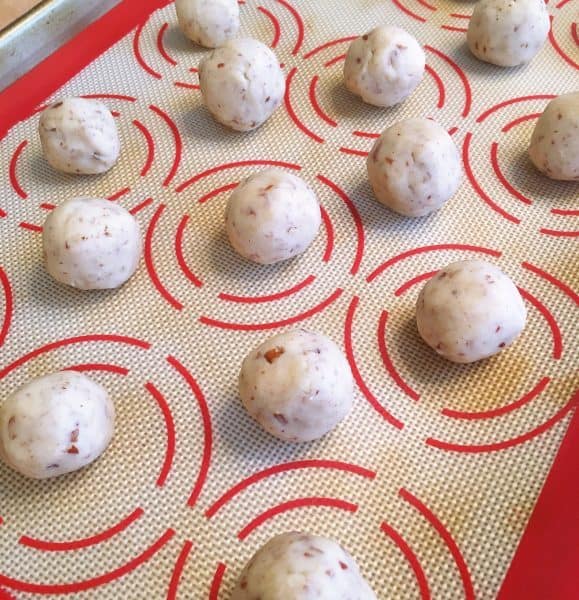 Bake in preheated oven until bottoms are slightly golden, about 15 minutes.
I caution that you don't allow these cookies to get too brown…unless you want mini shot-puts for your cookie tray and have a really good dental plan… and a bizarre hazard homeowners policy!
Place 1/2 cup of powder sugar in a shallow dish.
While the cookies are still hot, roll them in confectioners' sugar. Think of it as the Holiday version of the game "Hot Potato"! (You thought a glue gun could burn your finger tips…HA!)
TIP: Please Don't use your fingers! Use a fork to roll them around in the powdery "snow"!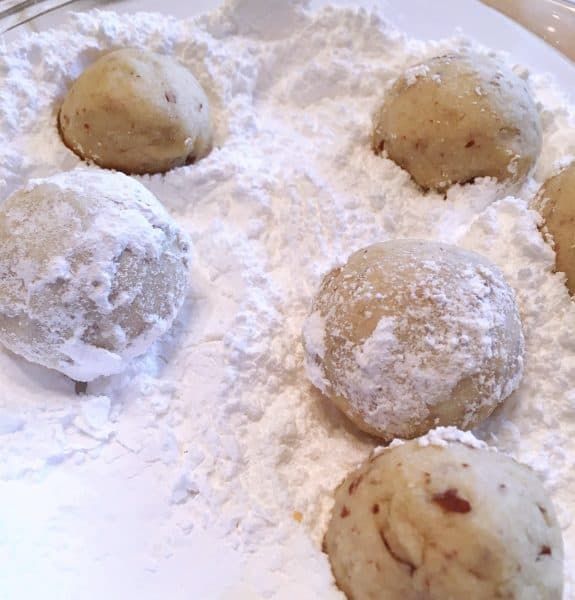 Place on cooling rack to cool completely.
Once they have cooled, roll them in confectioners' sugar once more.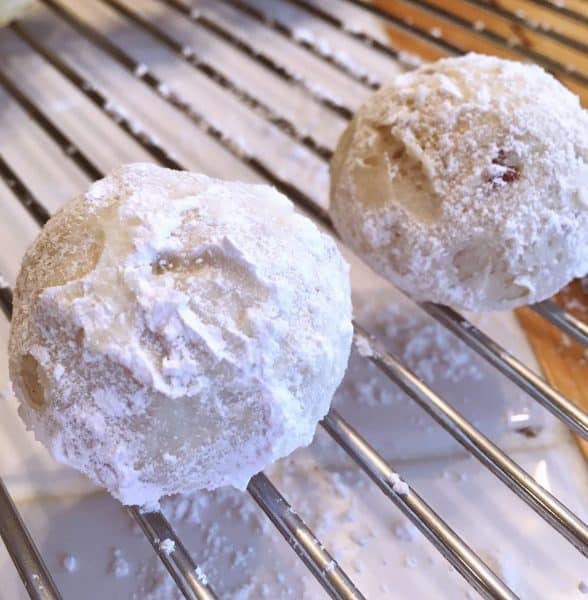 I know this step seems silly…but let me explain what happens the first time you roll them while they are "hot" and why you need to roll them again.
The powder sugar from the "first roll" melts and creates a sugary "glue" that will allow the powder sugar to stick and stay "snowy" with the second rolling once they have cooled.
That second roll is key and creates the perfect Snowball! One worthy of our friend "Olaf"! (You just heard the theme song to "Frozen" go zipping through your mind didn't you?! You're Welcome!…now Moana is chasing after "Do Ya Wanna Build A Snowman"! lol It's a Disney Christmas!)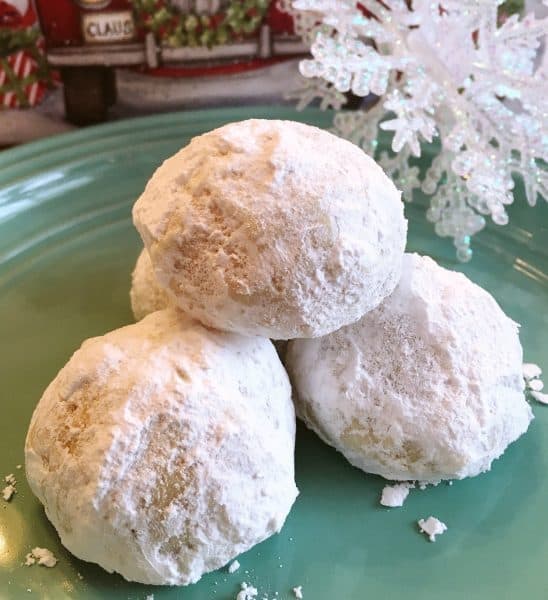 These Snowball Cookies were just as good as I remember them…Grandma would be proud! (She'd also want one…she was a true "nut" lover in every sense of the word!)
Whatever you call them…Snowball Cookies, Mexican Wedding Cakes, Swedish Tea Cakes, Italian Butter Nut, Southern Pecan Butter Ball, Russian Tea Cakes, Snowdrops, or Viennese Sugar Ball Cookies… You won't mind getting hit with one of these right? As long as it lands in your mouth!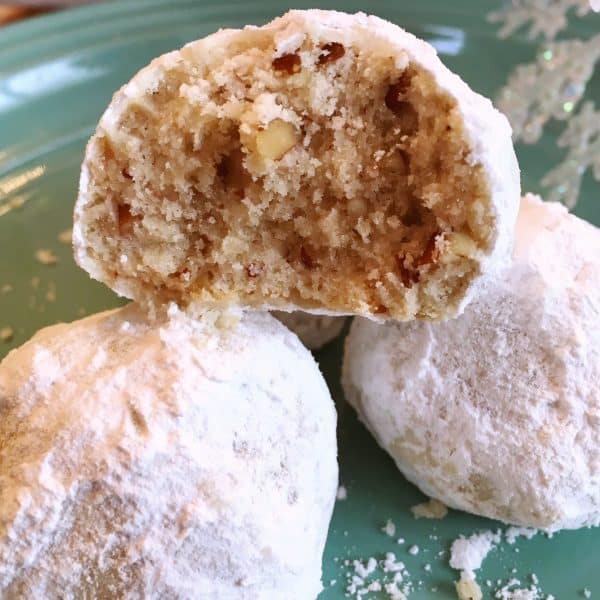 I can understand why so many countries have variations of this wonderful traditional Christmas Cookie! What's not to love?!!!
I hope my version of the "Classic Snowball Cookie" is as good as you remember from your childhood.
I also hope everyone has the Merriest Christmas this year! As we get older it truly becomes about the lasting gifts of family, food, and the fun memories created with those we love!
Thanks so much for stopping by my Nest. The free printable recipe card is below with some of my favorite suggested products for this Season of gift giving.
Happy Nesting!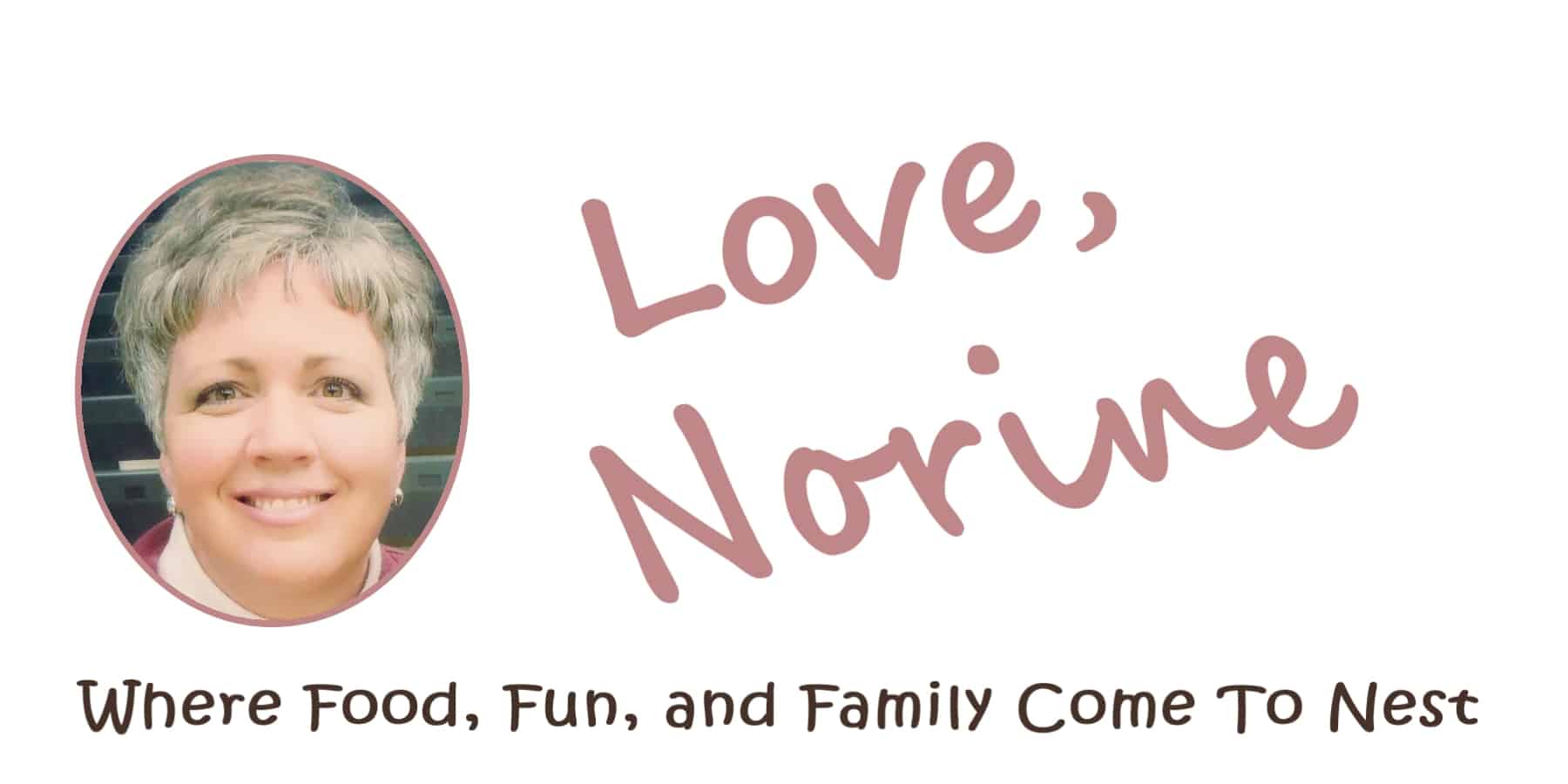 Yield: About 3 dozen
Snowball Cookies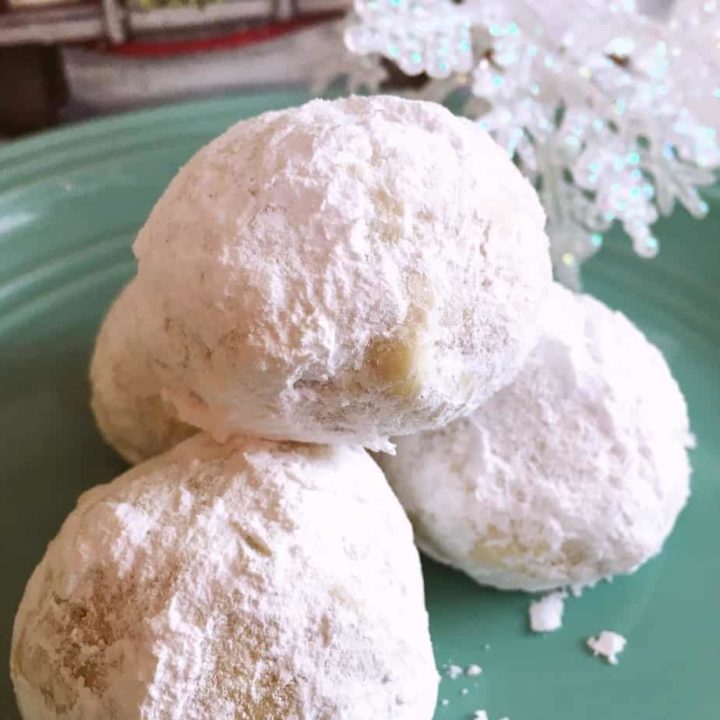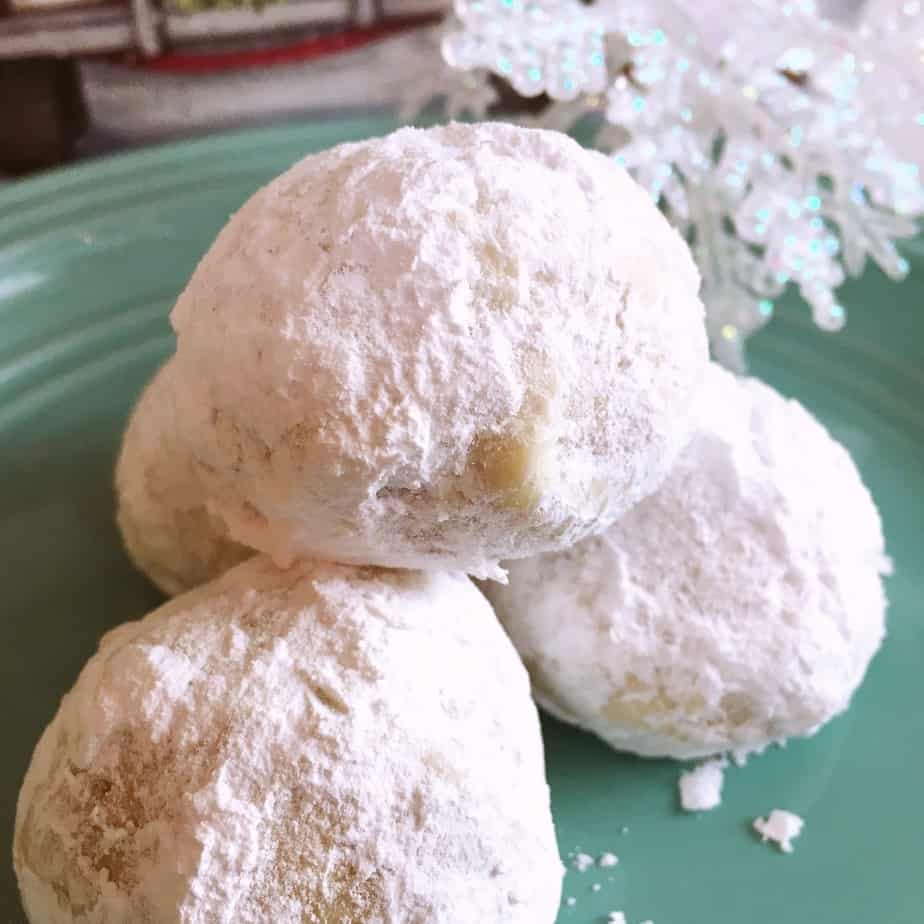 Buttery Shortbread cookies loaded with chopped pecans and rolled in powder sugar.
Ingredients
1 cup butter
1/2 cup confectioners' sugar
1/4 teaspoon salt
1 teaspoon vanilla extract
2 1/4 cups all-purpose flour
1 cup chopped pecans
1/2 cup confectioners' sugar for dusting
Instructions
Preheat oven to 350°
Cream the butter with 1/2 cup of the confectioners' sugar and the vanilla. Mix in the flour, pecans, and salt. Roll about 1 Tablespoon or so of dough into balls and place on a parchment lined cookie sheet.
Bake in preheated oven until bottoms are golden, about 15 minutes. Do not allow these cookies to over cook or get to brown: it's better to undercook them than overcook them.
While cookies are still hot, using a fork, roll them in additional confectioners' sugar. Place on cooling rack. Once they have cooled, roll them in confectioners' sugar once more.


Notes
You can also roll them in crushed candy canes for the Holidays.
Recommended Products
As an Amazon Associate and member of other affiliate programs, I earn from qualifying purchases.
Nutrition Information:
Yield:
36
Serving Size:
2 cookies
Amount Per Serving:
Calories:

107
Total Fat:

7g
Saturated Fat:

3g
Trans Fat:

0g
Unsaturated Fat:

3g
Cholesterol:

14mg
Sodium:

55mg
Carbohydrates:

9g
Fiber:

1g
Sugar:

3g
Protein:

1g