Rich Chocolate Cake filled with a fresh strawberry compote, dipped in a scrumptious satin chocolate glaze and finished off with a strawberry whipped cream frosting. The perfect guilty pleasure treat!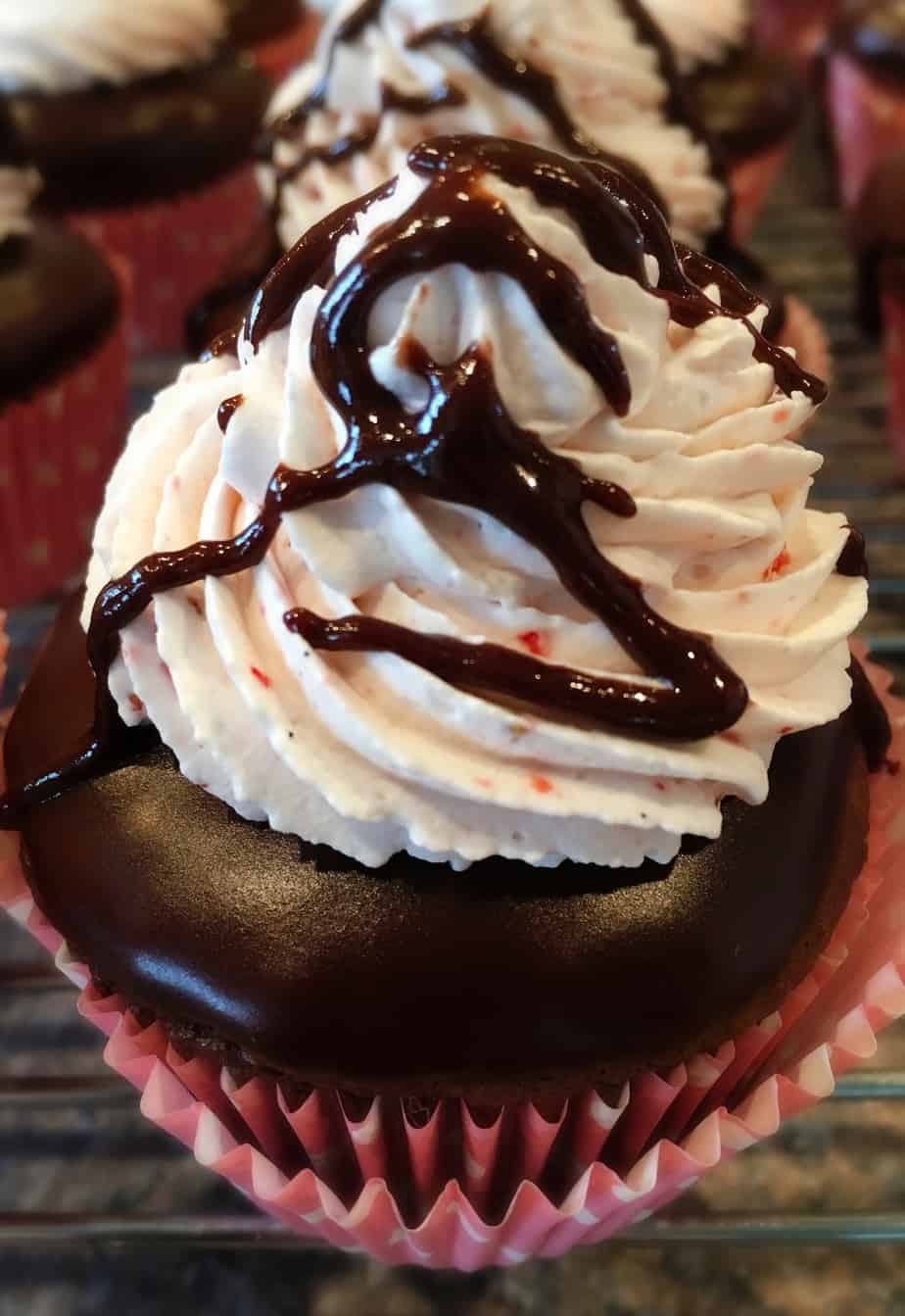 Cupcakes! (Que the heavenly music) Or, as I like to refer to them, Little Carb Cups of Joy!
They make me… SO happy! I love, love, love to make cupcakes! ( Did I mention I love to make cupcakes?)
Anywho… last week I signed up to make a bake good for a bake sale some girls at our church were having. I knew right away I would make cupcakes.
It makes perfect sense if you think about it. You make a cake and you have to turn over all the "goods!". It'd look kind of silly to hand over a cake with a couple of slices missing! (Not that I wouldn't! Which is really pathetic when you think about it!)
You make cupcakes…well…you can keep a few out for yourself! Which I did! I mean for crying out loud you HAVE to taste test the goods you are donating! It's the considerate thing to do!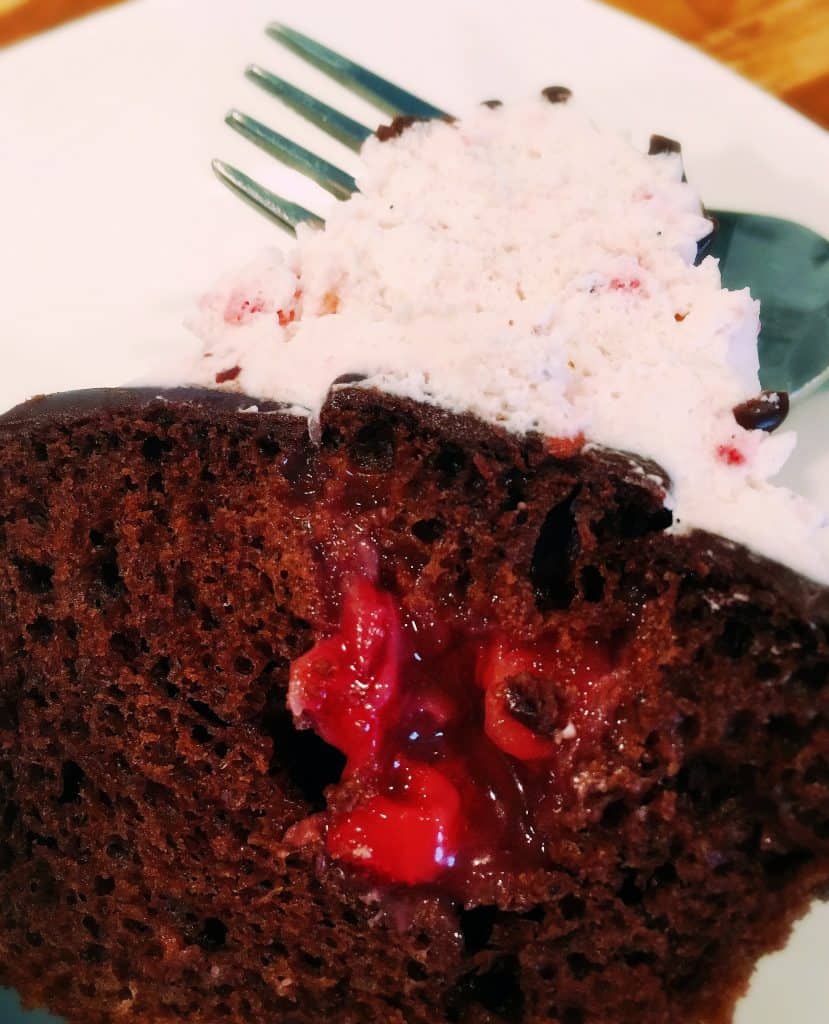 With Valentines Day right around the corner I knew I wanted to do something special! So, I started concocting my dream cupcake!
My mind exploded with the idea of a Chocolate Covered Strawberry Cupcake! (You heard right and… You're welcome! Hee, hee! )
What could be better than a rich chocolate cupcake filled with a fresh strawberry compote, dipped in chocolate ganache, and topped off with a fresh strawberry whipped cream frosting? Nothing!
Well….ShaaaaZam! When they were finished, and I took my first bite…choirs of angels descended into my kitchen! I kid you not! Right there, singing praises of Joy!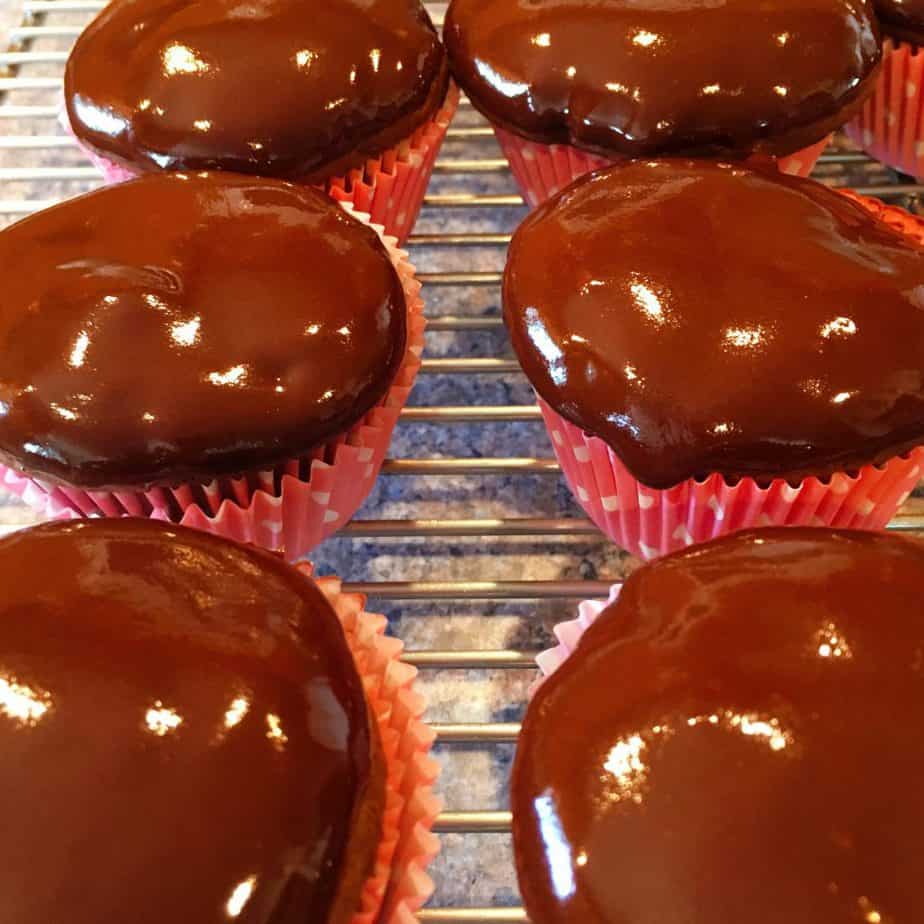 How To Make Chocolate Strawberry Cupcakes
First is the "cake" portion of the cupcake. I tried to keep it simple and used a cake mix that I modified.
Please, I beg you, only use a Duncan Hines cake mix! If you are going to use a cake mix, use the best! That's just how I feel. No offense to the dough boy or Betty! Also, be careful not to overcook these cupcakes. They rise beautifully with nice rounded tops!
TIP: Be sure to check them, sooner than you think you should, by lightly pressing down. If the cake springs back, even slightly, take them out, place them on a rack and let them cool!
After they are completely cool, you are going to dip the tops of your cupcakes into the Chocolate Satin Frosting. (Some of that deep dark rich chocolate may end up on you fingers! Oh dear! You may have to lick your fingers off! Ohhh…the sacrifice!)
Once dipped you will need to allow the frosting to "soft set"! It will look just like the picture below when it is set. You should have a little left over frosting, and that is perfect! You will use it later to drizzle on top of the whipped frosting!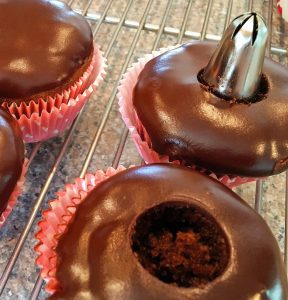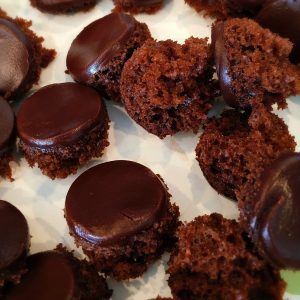 How To Fill Cupcakes with Strawberry Filling
Once the frosting has set and is not longer "wet" you can make your holes for the filling.
TIP: I used the fat circle end of a large frosting tip! (As in the photo above) It works perfectly!
Gently push the tip into the cupcake and slowly twist. Remove the tip from the cupcake. Carefully use a sharp knife to pull out the cake centers and place them on a plate. You are going to use them again. (I know…you're tempted to eat one of those centers! Refrain, refrain!)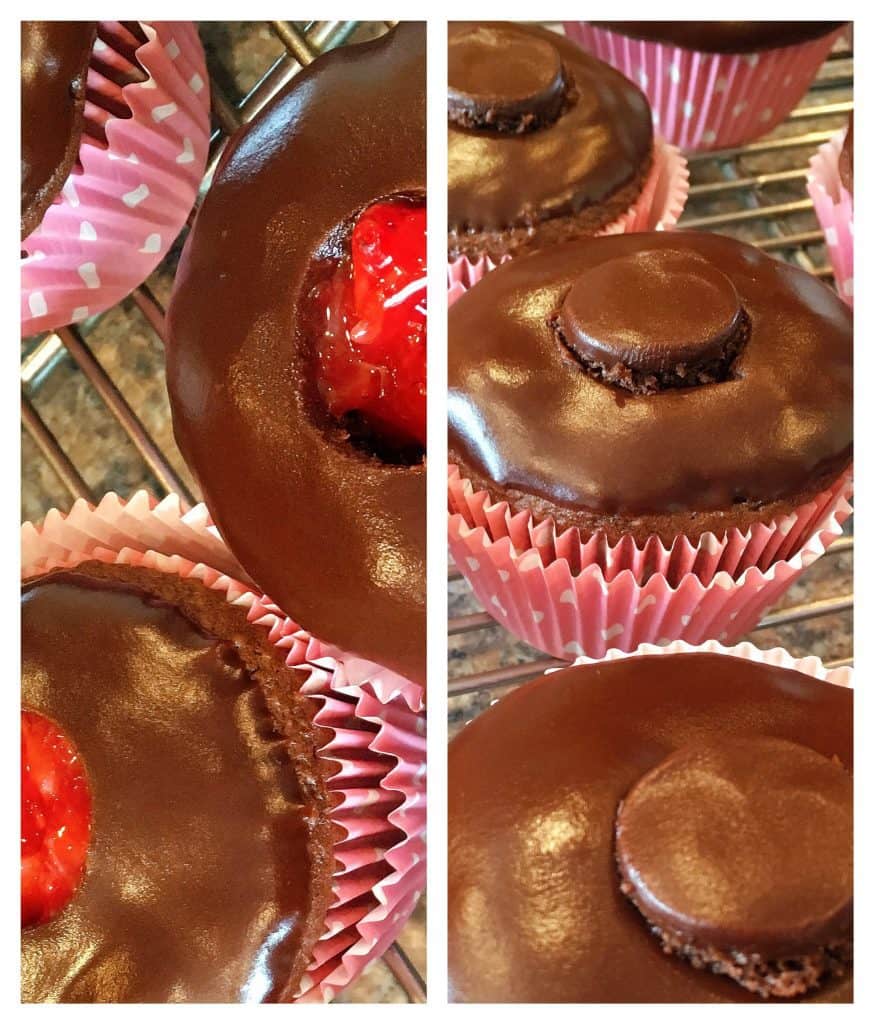 Once you have completed removing all the centers of the cupcakes, it's time to fill them with your cooled fresh strawberry filling.
I added a little cornstarch to the fresh mashed strawberries so, in the true sense of the word, it isn't a "compote" but, it is a fresh fruit filling. (Compote just sounds so gourmet!)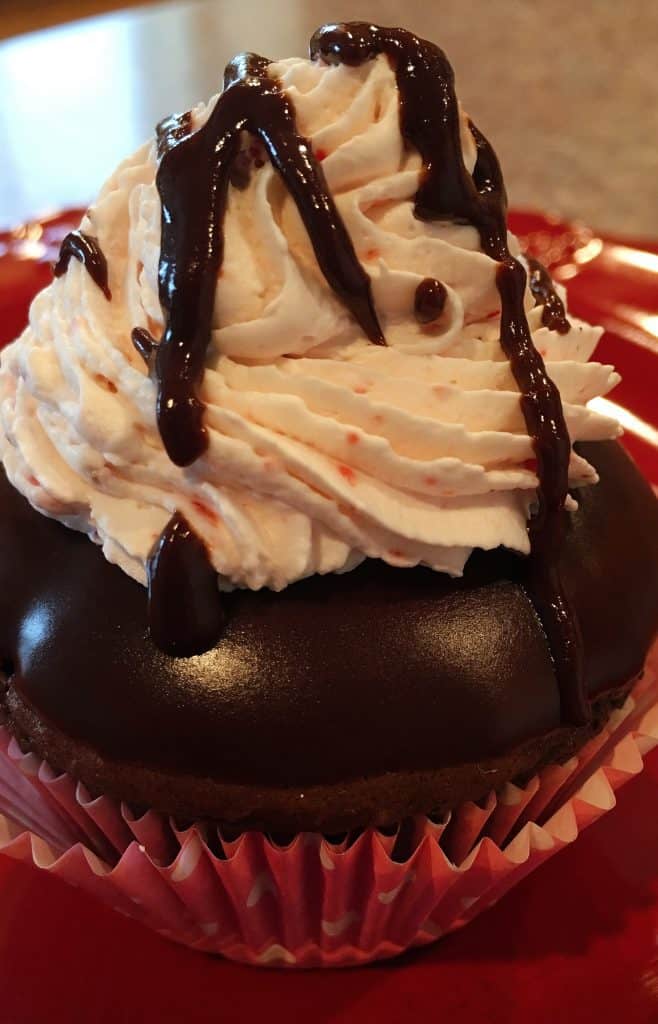 Once the cupcakes are filled with the fresh strawberry filling, place the reserved centers back into the holes, and gently push down. It is okay if they poke up a bit. That will be covered up with the frosting!
Once the holes are filled you can now whip up that strawberry whip cream frosting.
TIP: One, the best tip I ever found for making strawberry frosting, whether it's a buttercream or a whipped cream, like we are using in this recipe, is to use ground up freeze dried strawberries! This is going to seriously knock your socks off!
The second tip is this, you can use heavy whip cream for a frosting that will hold it's shape, will not melt, and can be left out, if… you add powder sugar to it! Simple as that!
Strawberry Whipped Cream Frosting
Once you have made your whipped cream frosting you will pipe that on top of the chocolate satin frosting! (I know! Two types of frosting on one cupcake! Like they say…Go Big or Go Home!) We're going big this time!
When pipping your frosting start in the middle. Push down, then go around and up! Just like if you were filling and ice cream cone! This way you won't have a hole in the center of your "frosting tower"! ("Frosting tower" I'm pretty sure that is a culinary term!)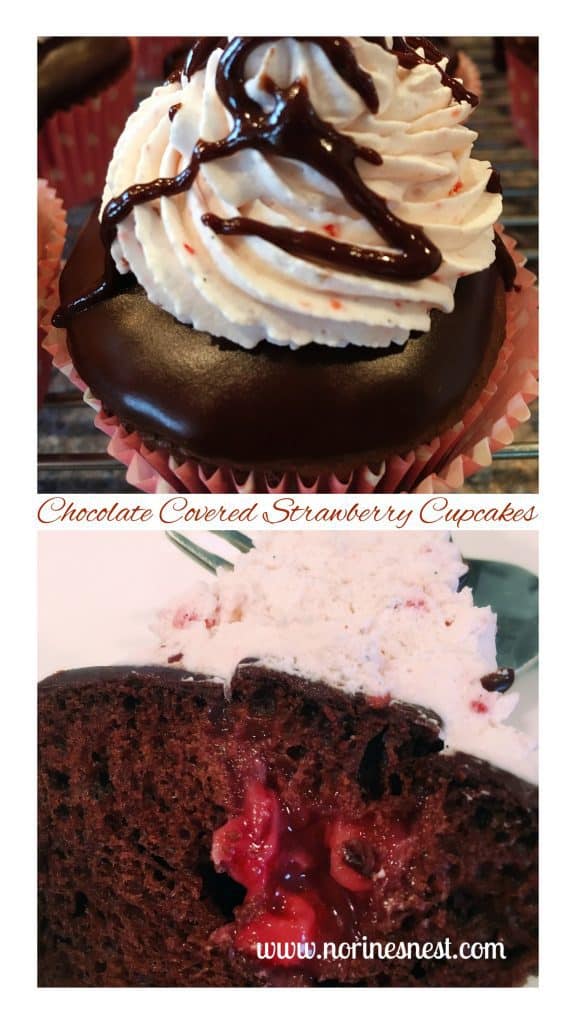 Once you have all your cupcakes frosted with the whip cream go find that bowl with the left over chocolate satin frosting. Pop it back into the Microwave for about 20 seconds!
You just want it warm and slightly melted, not super hot! Stir it around, then using a spoon, drizzle it on top of your whipped topping. Guess what? You're done! Hooray! Now for the best part! You get to eat them! Let the drooling begin!
I realize this isn't a "simple" recipe! There are a lot of different elements involved! However, like my grandma used to tell me… "Anything worthwhile is worth doing!"
Which is SO true of these cupcakes. The first bite and you'll hear those choirs singing! I honestly couldn't believe how YUMMY these are! I stood at the counter drooling with each bite! Sad, but true!
Thanks for stopping by! Have a wonderful week and I hope you make a batch of these for your sweetheart!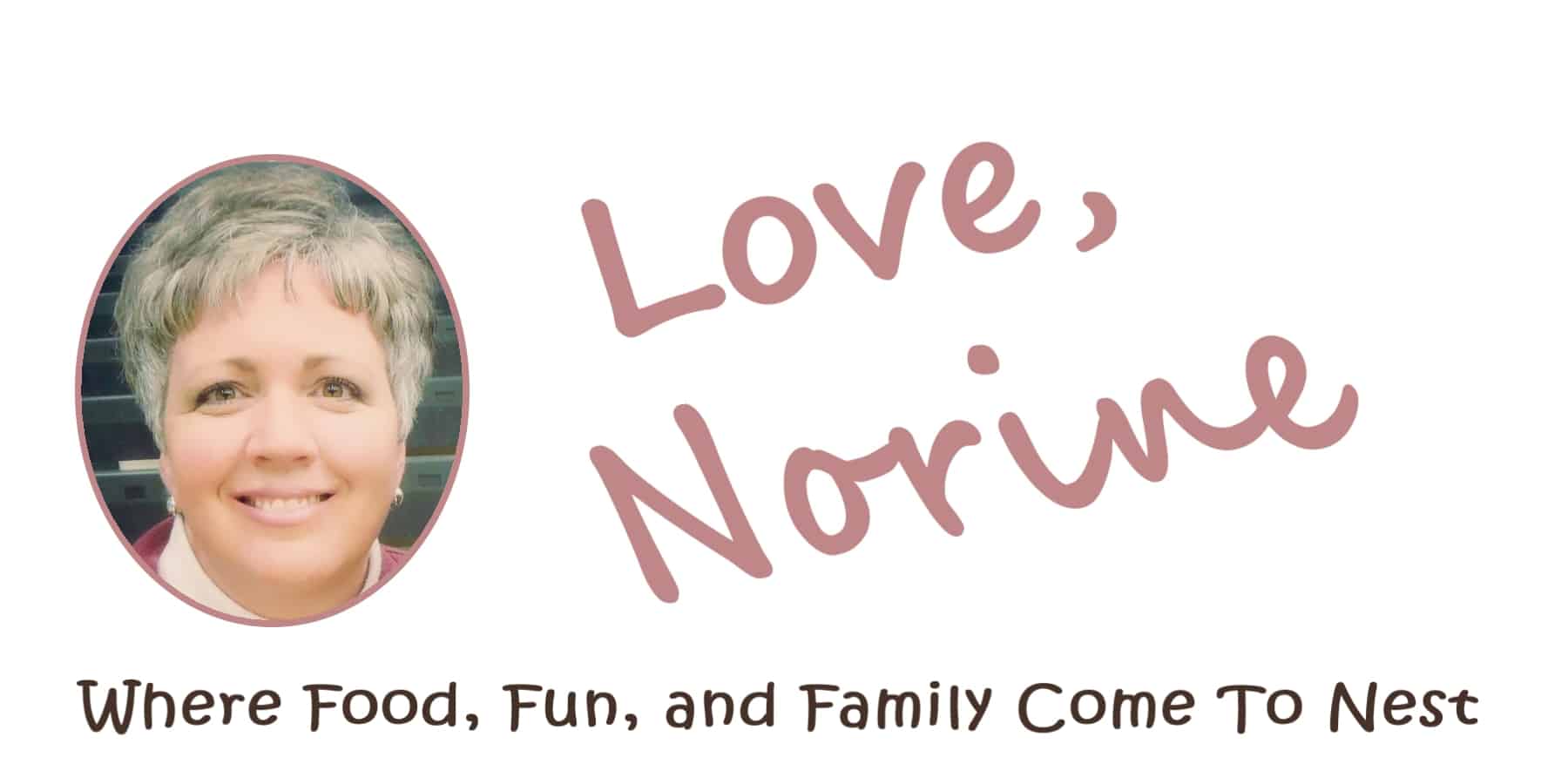 Yield: 24-30
Chocolate Covered Strawberry Cupcakes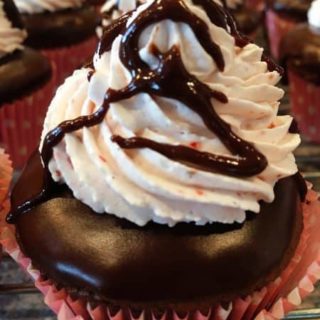 A chocolate cupcake filled with a fresh strawberry filling topped with a satiny chocolate glaze and a strawberry whip cream frosting! They are AMAZING!
Prep Time
1 hour
30 minutes
Additional Time
24 minutes
Total Time
2 hours
44 minutes
Ingredients
1 Box Duncan Hines Swiss Chocolate Cake mix
1-3.9 oz package chocolate fudge pudding mix
4 eggs
3/4 cup buttermilk
1/4 cup vegetable oil
1/2 cup warm water
Strawberry Filling
3/4 cup finely chopped and lightly mashed fresh strawberries
1/4 cup white sugar
1/4 cup water
1 Tbsp corn starch
Satiny Chocolate Glaze
1 1/2 cups semisweet chocolate chips
6 Tbsp butter
2 Tbsp light corn syrup
1/2 tsp vanilla extract
Strawberry Whip Cream Frosting
1 pint heavy whipping cream
6 Tbsp ground freeze dried strawberries
1/2 tsp vanilla bean paste or vanilla extract
1/2 cup powder sugar
Instructions
Cupcakes
Preheat oven to 350 degrees. Line two muffin/cupcake trays with liners. In a mixing bowl add the cake mix, pudding mix, eggs, buttermilk, and vegetable oil. Mix on low speed until well blended. Slowly add the warm water a little at a time until it is incorporated into the cake mix. Mix on low speed, scraping bowl frequently, for 10 minutes or until batter is smooth. Spoon batter into cupcake liners. Fill 2/3 full. Place trays in middle rack of oven. Bake for 15-18 minutes. Cupcakes are done when you press lightly in the center and they spring back. Remove cupcakes from the oven and place on a rack to cool. Cool completely. While cupcakes are cooling mix up the strawberry filling.
Strawberry Filling
Place all the filling ingredients into a medium sauce pan. On low heat, stir mixture constantly until it thickens and juices becomes translucent. Remove from heat and allow to cool to room temperature. Next make your satiny chocolate glaze.
Satiny Chocolate Glaze
In a double boiler over hot, but not boiling water, combine chocolate chips, butter and corn syrup. Stir until chips are melted and mixture is smooth, then add in the vanilla. Dip cupcake tops into the melted glaze and allow to set. Reserve any left over glaze to drizzle on top of cupcakes. Once set, using a spoon or frosting tip, remove the centers of the cupcakes. Reserve the centers on a paper plate to be used later. Add the strawberry filling by dropping a teaspoon spoonful of the strawberry filling into the empty center of each cupcake. Once all the holes are filled, replace the reserved center holes pressing down lightly. It is okay if they stay above the top of the cupcake as the whip cream frosting will cover them. Next whip up the strawberry whip cream frosting.
Strawberry Whip Cream Frosting
In a large mixing bowl, whip the heavy whipping cream and vanilla until stiff. Add in powder sugar and ground up freeze dried strawberries. Mix 1-2 minutes longer until all ingredients are incorporated and whip cream is stiff and firm. Fill a pastry bag with the whip cream frosting. Pipe the frosting onto the top of the cupcake. Once all the cupcakes are frosted with the whip cream frosting, drizzle with the remaining satiny chocolate glaze. You may need to remelt the glaze in the microwave for about 20 seconds.
Recommended Products
As an Amazon Associate and member of other affiliate programs, I earn from qualifying purchases.
Nutrition Information:
Yield:
24
Serving Size:
1 cupcake
Amount Per Serving:
Calories:

277
Total Fat:

19g
Saturated Fat:

10g
Trans Fat:

0g
Unsaturated Fat:

7g
Cholesterol:

66mg
Sodium:

151mg
Carbohydrates:

26g
Fiber:

1g
Sugar:

23g
Protein:

4g
Norine's Nest in no way provides any warranty, express or implied, towards the content of recipes in this website. It is the reader's responsibility to determine the value and quality of any recipe or instructions provided for food preparation and to determine the nutritional value, if any, and safety of the preparation instructions.