Looking for a quick, healthy week night meal? This delicious Ginger Soy Lemon Shrimp Noodle dish will have you feeling like your at your favorite Asian restaurant.
*This is a sponsored post/product review. All Opinions are my own. I have not been held hostage or tortured in any way to give a good review! 😉 It's always "raw" and "real" coming from me!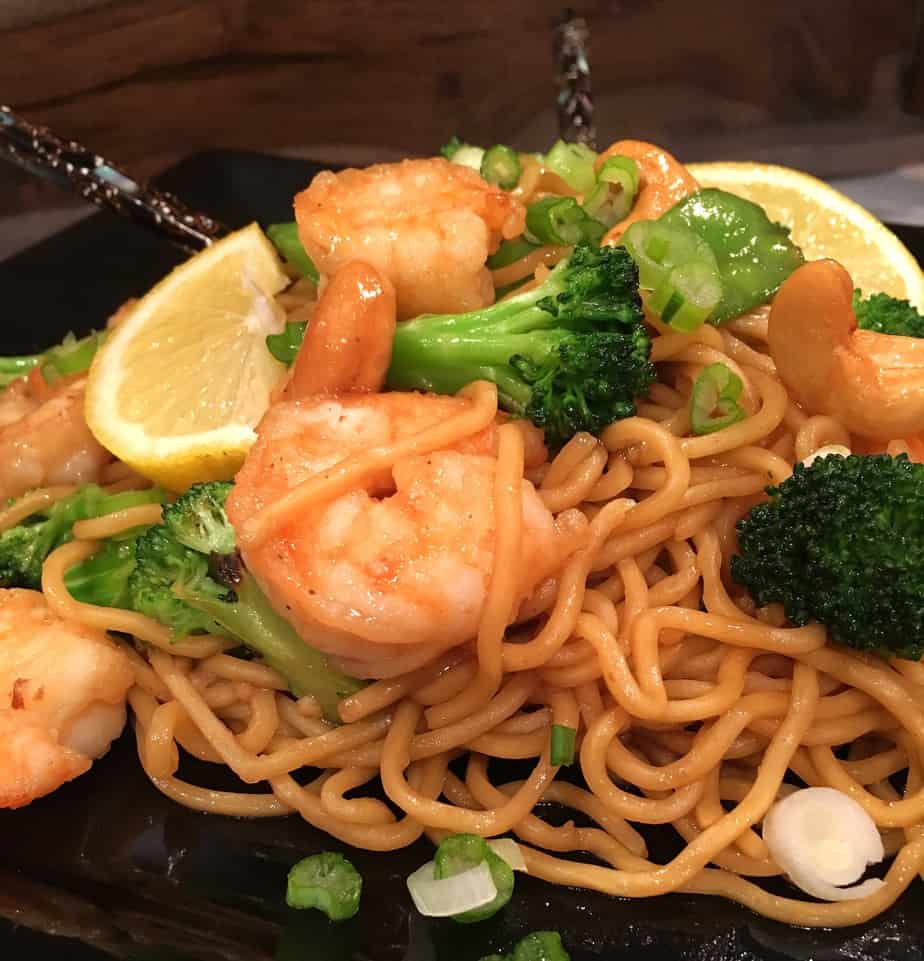 I'm going to be honest. I'm always a little nervous when I'm asked to do a product review. I mean it could go either way…if ya know what I'm sayin'.
So when I was asked by the distributor's for JSL Foods, Fortune Asian Noodles, if I'd like to review their product line, I was a little skeptical? How good could a "prepackaged noodle" be? But, I'm always up for a new food experience so I jumped at the opportunity.
I was pretty excited when they arrived on my front porch in a "refrigerated" package! FRESH pre-cooked noodles! Oh Boy! I was going to have some fun with this product, and I had a good feeling I wasn't going to be disappointed. I was right! (Which is what I tell the hubs ALL the time! lol)
So let's talk a little bit about the product before I share my amazing recipe for them.
They are fresh so they are kept in the refrigerated section at your grocery store. They are "pre-cooked" and steamed to perfection. No MSG. No Trans Fat. No Cholesterol. All natural. They are ready in 3 minutes!
All bonus points in my book! Each 7.7 oz package contains 2 servings of noodles and 1 flavor packet. The flavor packet is mixed with 1/2 cup of water. I'll be honest and say I wish the sauce was in liquid form premixed. I just like them better. These were good, but I'm not a huge fan of "mixes".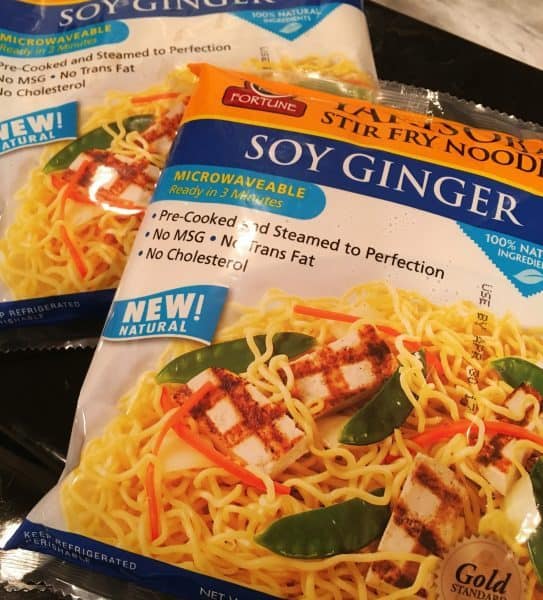 To taste test this product I came up with two different recipes. Both equally delicious. You are going to absolutely love each of them. I had a hard time choosing which direction to go?
Today, for this product review, I decided to share this recipe for Ginger Soy Lemon Shrimp and Noodles. The flavors are going to knock your socks off! Don't worry though…the other recipe is coming on Monday!
To start off this recipe you will need 20-25 large raw shrimp, thawed, rinsed, with their tails removed. Place the shrimp in a large bowl with 1/4 cup of corn starch. Gently toss to coat.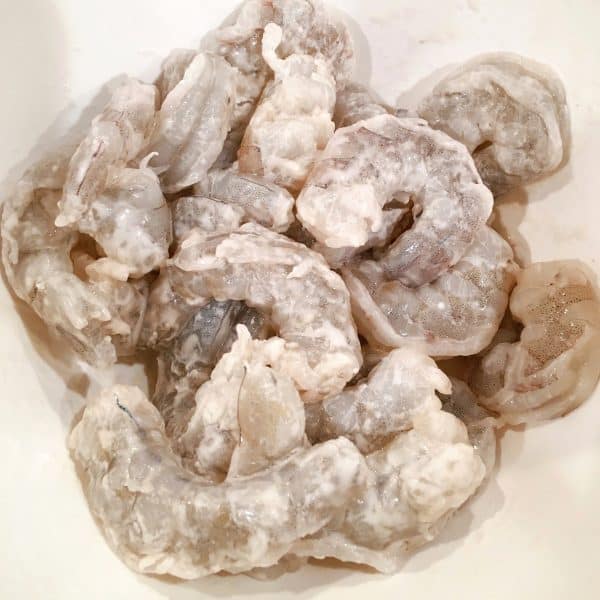 In a large skillet heat 1/2 cup of vegetable oil over high heat. Place shrimp carefully in the hot oil and cook until just turning translucent pink. Turn over and cook other side until firm and pink.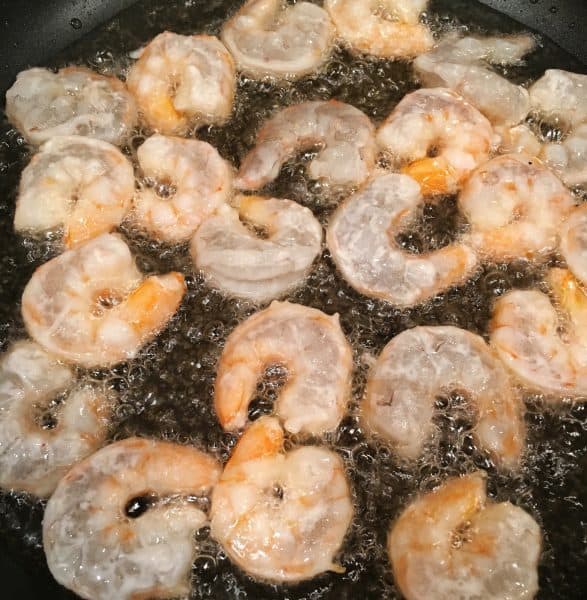 Remove Shrimp from oil and place on a plate. Set aside.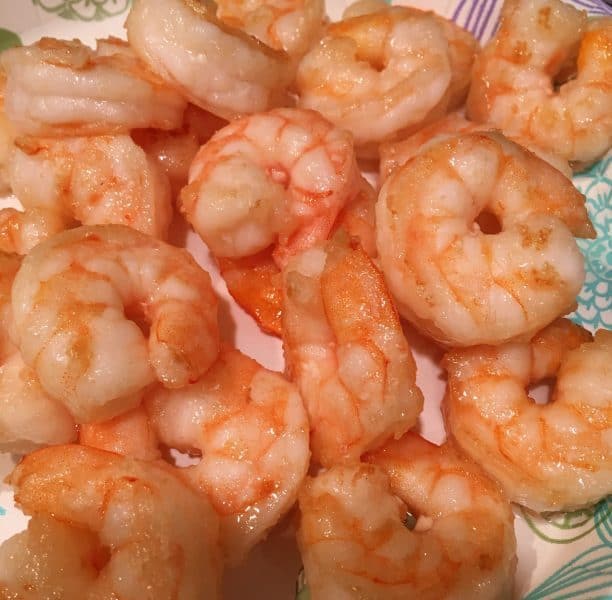 In the hot skillet add chopped broccoli florets and snow peas. Cook until tender crisp. About 3-5 minutes. Remove from heat and place with shrimp.
In the same hot skillet…(don't you love ONE pan meals)… add 1 Tablespoon vegetable oil, 2 Tablespoons of fresh grated garlic, and 2 Tablespoons of Vegetable oil. Cook for 1 minute.
Tip: Be careful not to burn your garlic.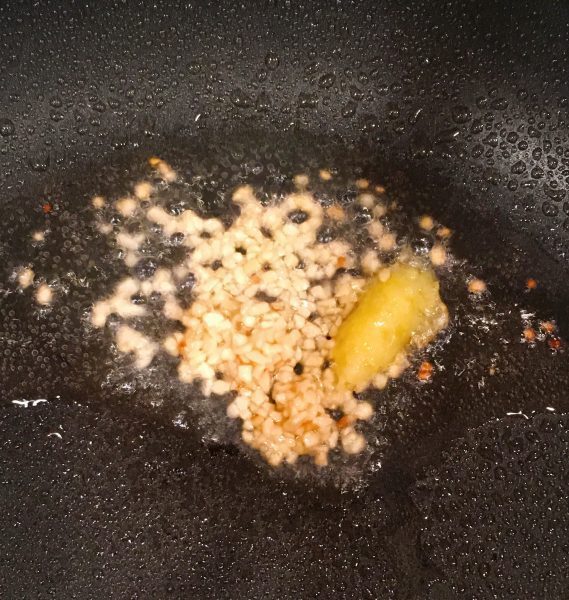 Add 1/3 cup soy sauce, 3/4 water, 2 Tsp. corn starch. Stir until slightly thickened. Add 1/4 cup brown sugar and 2 tsp of fresh squeezed lemon juice, ground pepper to taste. Allow to cook for 2-3 minutes or until slightly reduced.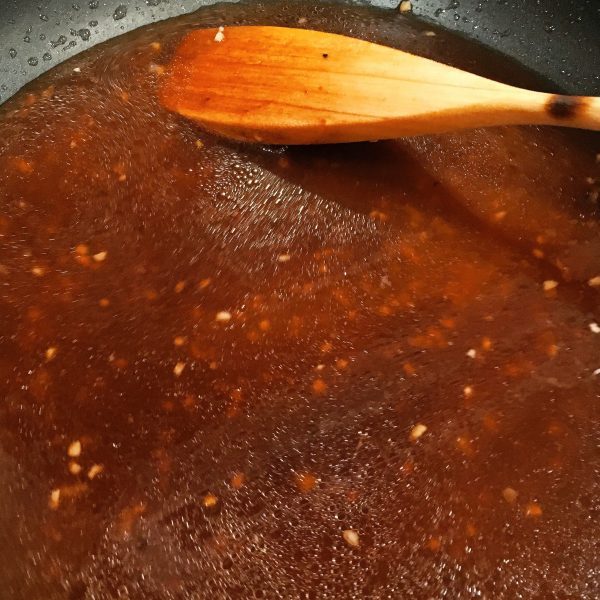 Take two packages of the Fortune Yakisoba Stir Fry Noodles, the Soy Ginger flavor, and puncture each bag of noodles. Microwave on High for 2 minutes.
Open package of noodles, and place them in the pan with the slightly reduced Soy Ginger Lemon Sauce.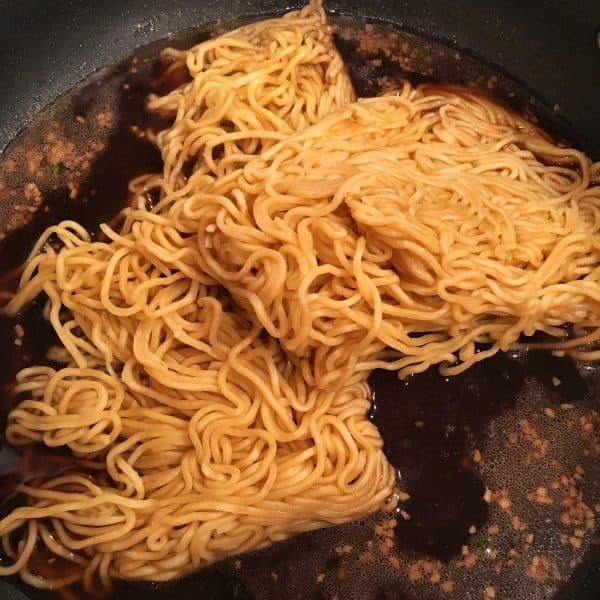 Using a couple of forks gently pull the hot noodles apart…separating them, and mixing them into the sauce.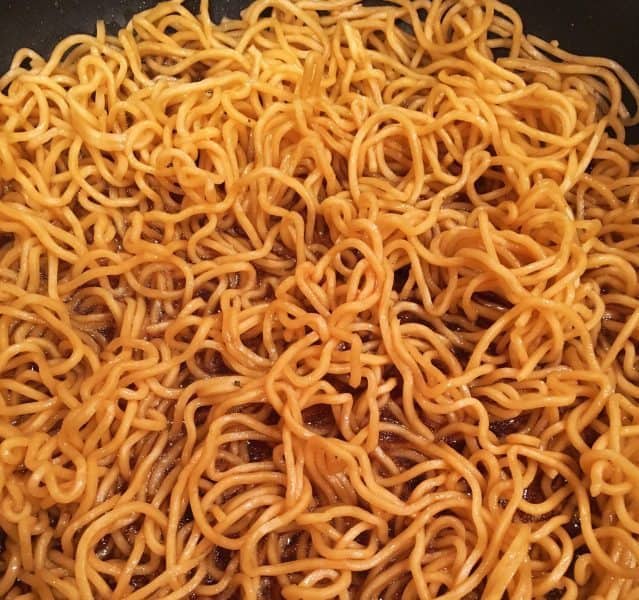 In a small bowl mix ONE flavor packet with 1/2 cup of water. (You can frame the other flavor packet or save it as a stocking stuffer for Christmas later this year! Point being you wont be needing both packets for this recipe. lol)
Next add in your beautiful pink shrimp and your perfectly cooked stir fry vegetables. In addition to the precooked items you are going to add one handful of whole cashews!
Mix over medium heat until well blended and garnish with lemon slices, sliced green onion, and sesame seeds. (I was out of sesame seeds and refused to spend $5.00 for a tiny little container of them! I'm frugal like that.) If you have them feel free to garnish away with those little seeds of happiness!
Serve immediately, be sure to take as much as you think you'll want! I know, because your little piggy husband will come back for 3rd's before you've finished your first bowl full. (Not calling anyone out…but,mmmm excuse me! Rude! )
That is all there is to this dish! It cooks from start to finish in less than 20 minutes! One pan! It tastes as good as any Shrimp Yakisoba dish you'll order your favorite Asian restaurant. In other words…it's AH-MAZING!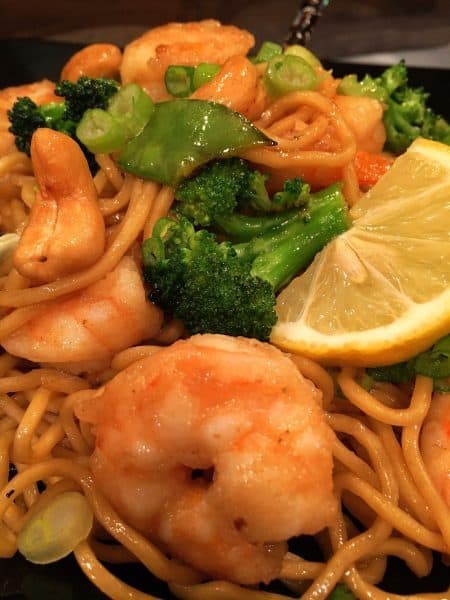 This dish is so colorful! I love how beautifully it presents. I didn't serve it with anything else. It didn't need another thing! All the flavors combine to create one spectacular dinner dish!
If your kids are like my kids they will L.O.V.E. these noodles. How do I know? I let my kids taste test right along side me. They wanted to know where they could buy them because they were, and I quote…" The best Asian Noodles" EVER! (I told ya!)
The noodles are tender, but not mushy. Flavorful, just the perfect texture, and the possibilities are endless for "mix-in's"! From meatless dishes, to combinations like the one I created here, and the one I'll be sharing with you on Monday.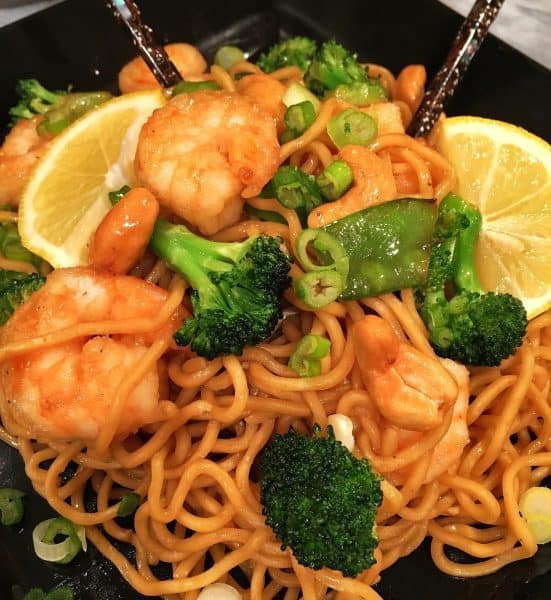 Each packet states it is for two servings…there needs to be an addendum for little pigs like ourselves. We ate it ALL between the two of us. I don't even feel guilty about it and I'd do it all over again tonight! So my point? If there are four of you…I'd double this recipe!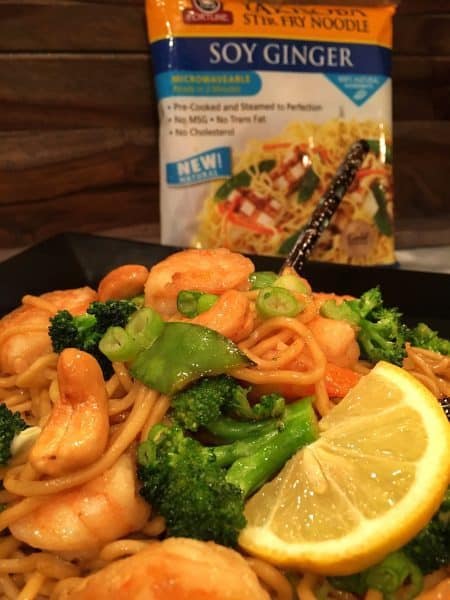 You can find these delicious noodles at some of the following stores…Target, Safeway, HEB, and Thriftway just to name a few. I hope to have a more complete list for ya by Monday so you can hurry out and purchase a cart load for yourselves.
I absolutely LOVE these noodles and I'm so grateful I had the opportunity provided to me by JSL Foods to review this fantastic product. Thank You! I can't wait to try the Gluten Free…that's what I said…Rice Noodles! I've got a fun dish up my sleeve for those!
If you enjoyed this recipe, you may also like these other Easy Chinese Recipes
Speaking of Monday…There's a FANTASTIC surprise so You're going to want to open my Newsletter to find out what it is! Keep an eye out on your "inbox"! If you haven't signed up for my Newsletter you might want to do that now. 😉
I hope you'll give this recipe a try, and if not this recipe, you have to at least try these amazing fresh Yakisoba Stir Fry Noodles.
Have a FANTASTIC weekend and Happy Nesting!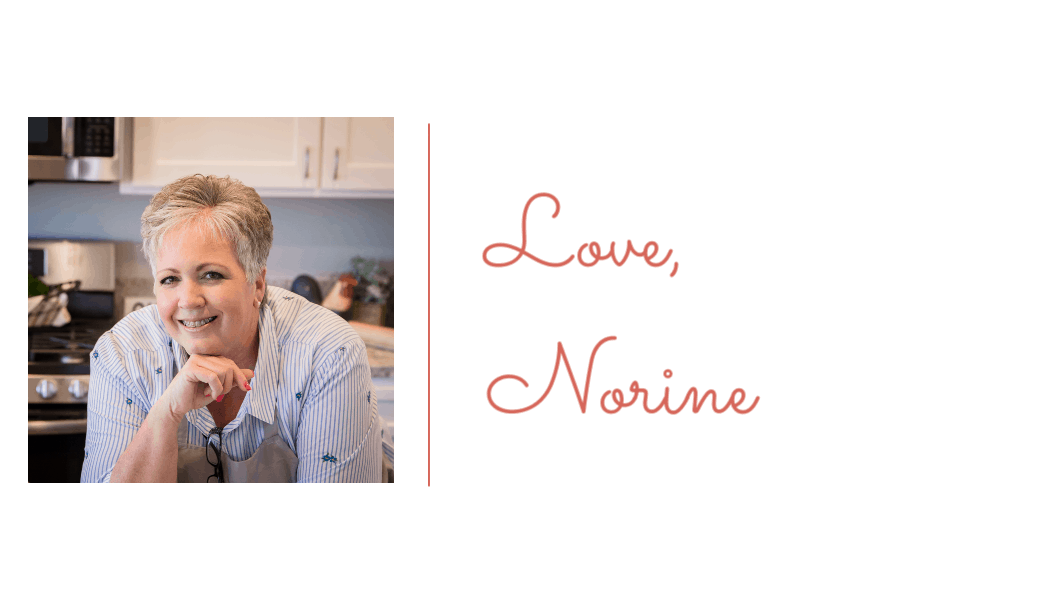 Yield: 2-4 servings
Ginger Soy Lemon Shrimp & Noodles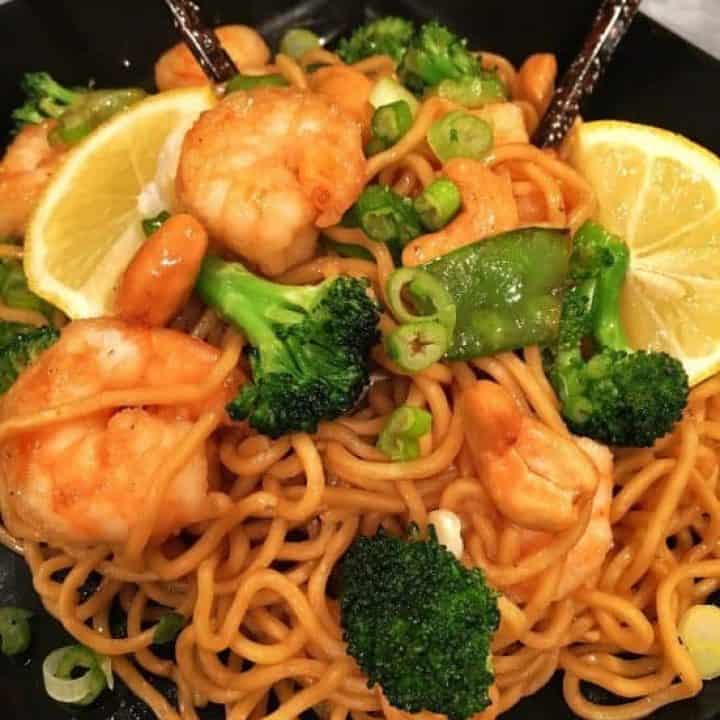 Looking for a quick, healthy week night meal? This delicious Ginger Soy Lemon Shrimp Noodle dish will have you feeling like your at your favorite Asian restaurant.
Ingredients
Two packages of Fortune Brand Yakisoba Stir Fry Noodles, Soy Ginger Flavor
20-25 large, raw, thawed and rinsed, shrimp with tail removed
1 cup diced broccoli florets
1 cup snow peas, cut in half
2 green onions, thinly sliced
1/4 cup corn starch
1/2 cup vegetable oil, for cooking shrimp
4 lemon slices, cut in half
1 large handful of whole cashews, about 3/4 a cup
Ginger Garlic Lemon Sauce
1 Tablespoon Vegetable Oil
2 Tablespoons minced garlic
1/2 tsp ginger minced ginger
1/3 cup soy sauce
3/4 cup water
2 tsp corn starch
1/4 cup brown sugar
2 tsp fresh squeezed lemon juice
ground pepper and salt to taste
1 package of Soy Ginger mix from the noodles
1/2 cup of water
Instructions
In a medium size bowl place your raw cleaned Shrimp. Sprinkle with 1/4 cup of corn starch and toss to coat. Set aside while oil is heating.
In a large non-stick skillet or wok, place 1/2 cup of vegetable oil over high heat. Once oil is hot,
Carefully place the shrimp into the hot oil and cook on one side until turning translucent pink. Turn each shrimp over, cook on the other side until no longer translucent and the shrimp are firm and pink.
Remove shrimp from the oil.
Add in your broccoli florets and snow peas. Cook until tender crisp.
Remove vegetables and set aside with shrimp.
Turn the heat on the skillet down to medium. Add 1 Tablespoon of Vegetable oil. Add minced garlic and minced ginger. Cook for one minute being careful not to burn the garlic.
Add 1/3 cup soy sauce, 3/4 cup of water and whisk in 2 tsp of corn starch. Allow to simmer until slightly thickened.
Add in 1/4 cup brown sugar and 2 tsp lemon juice. Allow to simmer for 3-5 minutes until slightly reduced.
While your sauce is reducing. Puncture the two noodle packets and cook in the microwave for 2 minutes. Remove from the microwave and add to the reduced sauce.
Using a fork gently separate the noodles.
Add in the Shrimp and cooked vegetables. Add in the cashews. Toss gently to mix together.
In a small bowl mix together the seasoning packet and 1/2 cup of water. Pour liquid into the noodles.
Garnish with sliced green onions and lemon slices.
Serve immediately.
Recommended Products
As an Amazon Associate and member of other affiliate programs, I earn from qualifying purchases.
Nutrition Information:
Yield:
4
Serving Size:
1
Amount Per Serving:
Calories:

563
Total Fat:

34g
Saturated Fat:

3g
Trans Fat:

1g
Unsaturated Fat:

29g
Cholesterol:

10mg
Sodium:

1708mg
Carbohydrates:

55g
Fiber:

5g
Sugar:

16g
Protein:

12g