Slow Cooker Layered Chicken Enchilada Casserole boast layers of soft flour tortillas, creamy chicken filling with salsa Verde, and loads of melted cheese. All topped off with salsa, jalapeno's, sliced avocados and a big dollop of sour cream!
Some recipes are created simply because the cook is looking for a fast easy alternative to the original method of making the dish!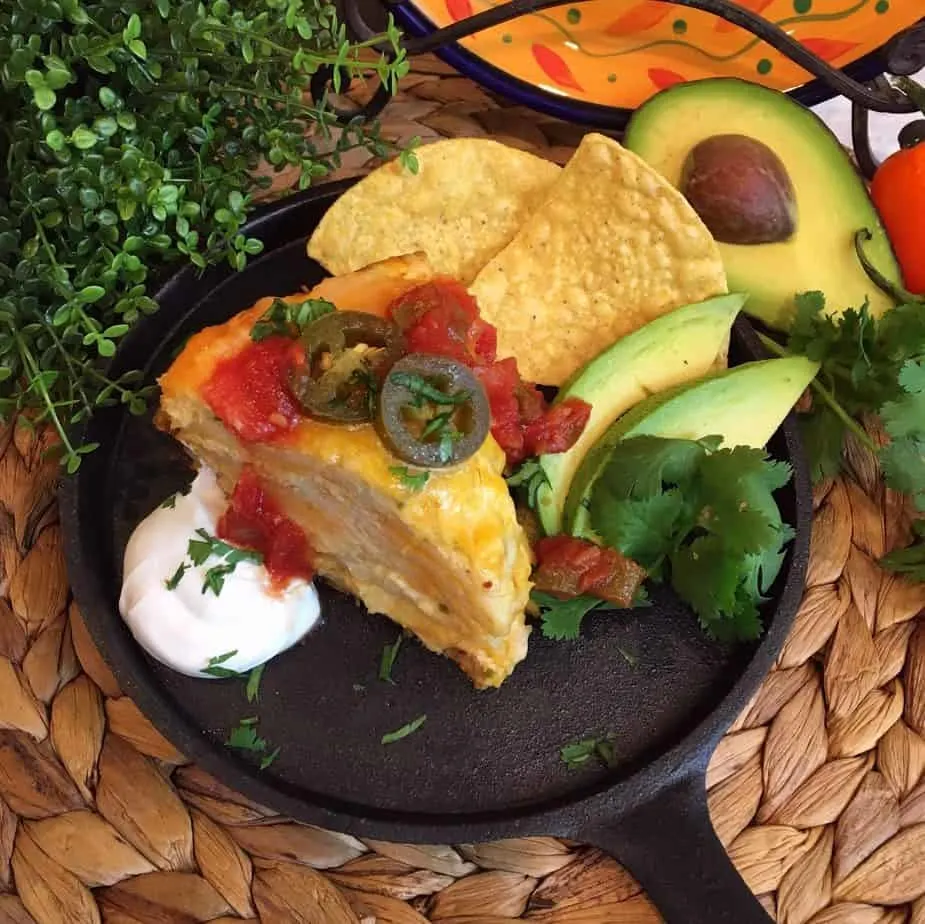 Example…a craving for creamy delicious chicken enchiladas…but your body is craving a nap! This is a serious internal conflict that needs a resolution! So a good cook makes adjustments!
Thus was the case last week when I wanted enchiladas and my body said "I don't think so girl! We are tired!" (Don't tell me your body doesn't talk to you! I know it does. When you hit 50 your body scream as loudly as a bowl of snap, crackle, and pop!)
So I said to myself…"What if I stack it all together in the crock pot, create a Stacked Chicken Enchilada Casserole, and see what happens?". I mean what was the worse possible thing that could happen? I'd eat cold cereal for dinner. (It's not like that hasn't happened before!)
I'm happy to report that this casserole turned out perfectly, cold cereal was avoided, and with a few additional toppings this dish is exceptional!
How To Create Slow Cooker Chicken Enchilada Casserole
In a medium bowl combine 3 cups cooked, shredded chicken.
Tips for Chicken in Casseroles: You can use store-bought rotisserie chicken, left over chicken or turkey, or you can boil a few boneless skinless chicken breast. Whichever method works best for you and is the easiest.
To the shredded chicken, add 1 can cream of chicken soup, 1/2 cup sour cream, 2 Tablespoon dried onion flakes, 1/2 teaspoon cumin, and 1/2 teaspoon black pepper. Mix until well combined.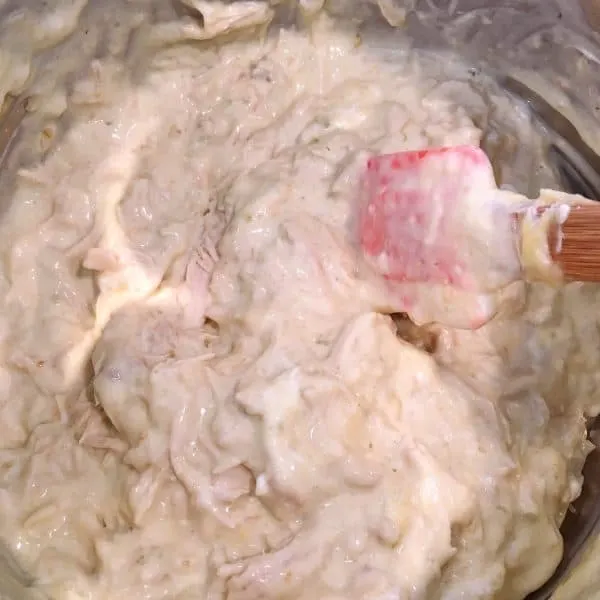 Add 1/4 cup salsa Verde. I happen to like the Walmart brand. It's really good! (I know, I'm as shocked as you are!)
If you like spice, as in burn your eyeballs out of their sockets, you can add 1 diced jalapeno. I like my eyeballs so I left the jalapeno peppers out!
Mix until everything is well combined.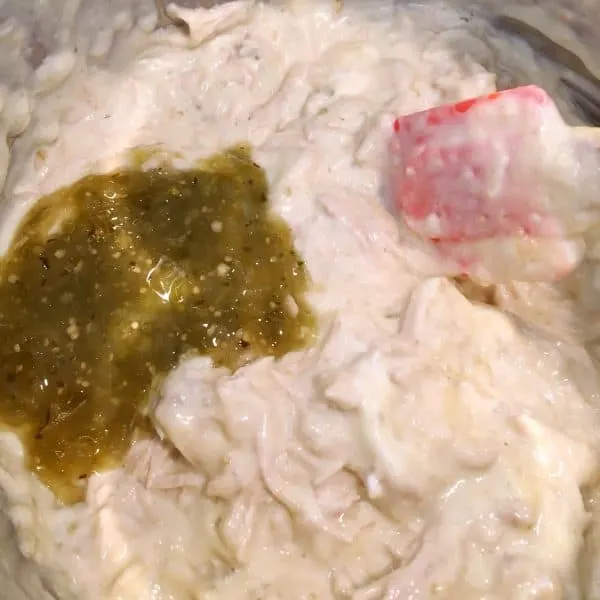 Layering Chicken Enchiladas in Slow Cooker
You will need five, 8 inch, soft taco size… flour tortillas. Spray a crock pot with non-stick cooking spray.
Place a couple of tablespoons of the chicken filling mixture on bottom of slow cooker. Spread it around. This will help prevent the tortillas from sticking to the bottom of the crock pot.
Lay a flour tortilla on top of the filling that you spread on the bottom of the pan.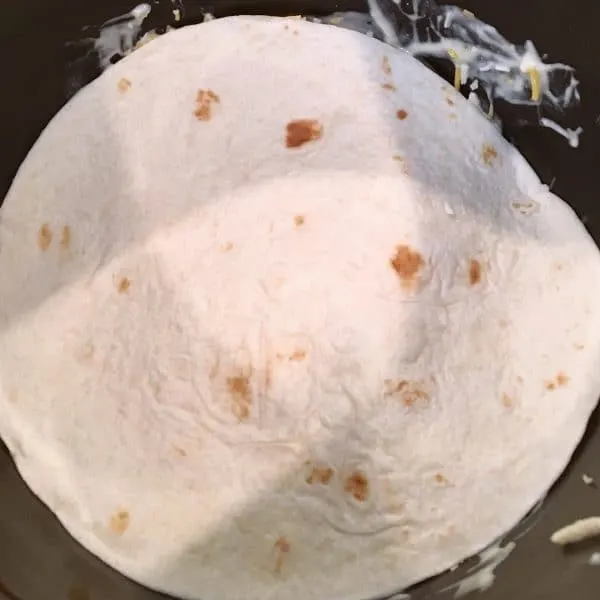 Top with two-thirds cup of chicken filling. Spread over tortilla. It's not pretty…and I'm obviously a messy spreader! (Need a painter at your house? One who paints outside the lines really well?!!)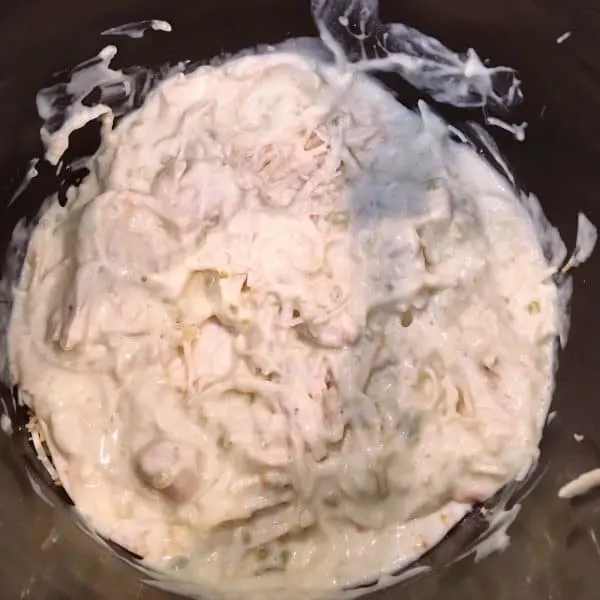 Top with a handful of grated cheese, about 3/4 a cup. I say… the more cheese the better!
Continue to stack the different layers in the slow cooker ending with the chicken and cheese mixture on top!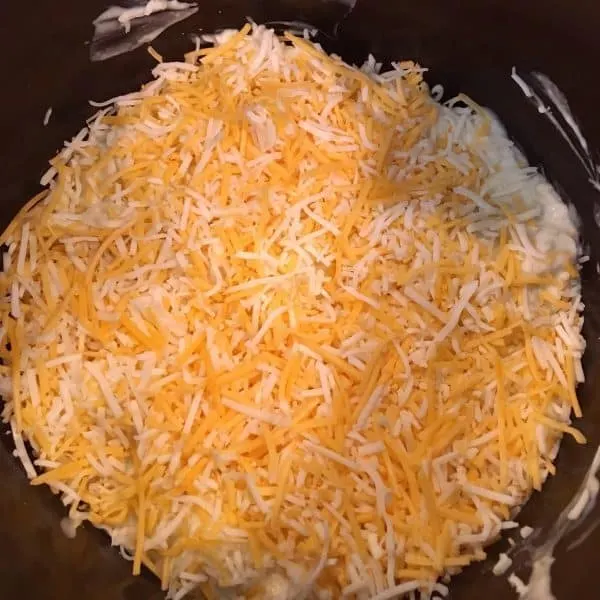 Cover and cook on low for 3.5 to 4 hours depending on how your slow cooker bakes! (It's Nap Time! Let's all cheer!) Mine was done in three and half hours. Four they would have burned. So be sure to watch your crock pot that last hour if at all possible.
What exact temperature is low on a crock pot?
I've ranted before about the various cook temperatures of slow cookers. A slow cooker should have a low enough temperature that you don't need to tend it, however the temperature also needs to be high enough to keep food at a safe temperature. A slow cooker on low temperature should cook at 200° and on high it should cook at about 300°. Food temperature should be 140° on low temperature. If the temperature of the food is lower than 140° you run the risk of food safety.
When the crock pot enchiladas are done the top should look crispy around the edges and the cheese melted on top, with the sauce bubbling slightly.
You will want to allow this dish to set for at least 45 minutes after you turn the slow cooker off. When these stacked enchiladas bake the tortillas puff up. As they cool the tortillas absorb the liquids from the chicken filling.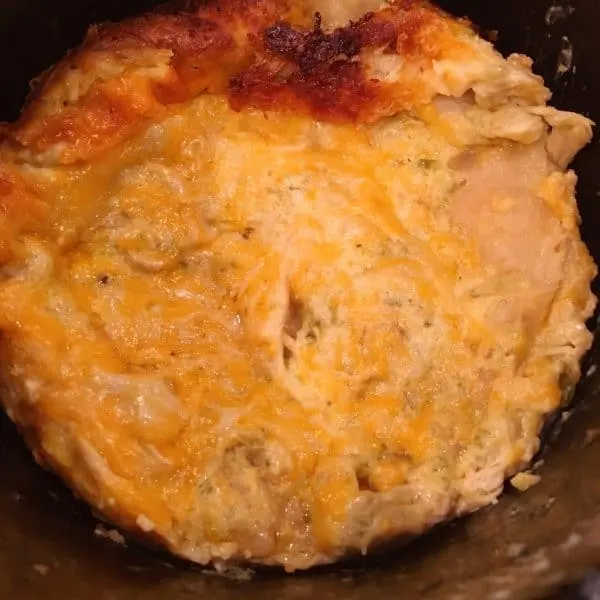 You can serve the casserole by using a large spoon to scoop it out, or you can carefully insert a knife and cut into sections.
Just be very careful when you insert the knife that the juices from the filling don't burn you. That's another reason to allow it to rest.
Note: Please know that I took these photos after the casserole had completely cooled so that I could show you the layers! It basically had time to "set" and the tortillas soak up all those juices from the chicken filling and cheese.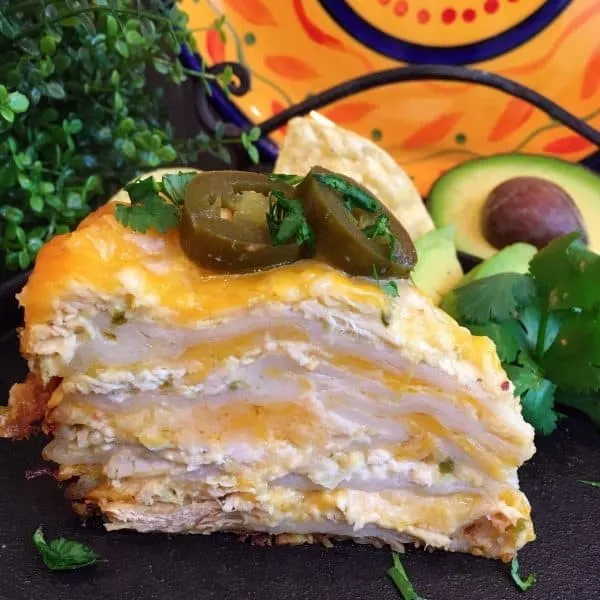 What to serve with layered enchiladas
I like to serve this yummy dish with a drizzle of salsa, jalapeno, slices of ripe avocado, and a big ol' dollop of sour cream! Sprinkled with freshly chopped cilantro.
Another great idea is to sprinkle the top with crushed corn chips! It's so good!! Just a little crunch to go with the soft creamy stacked enchiladas in this casserole.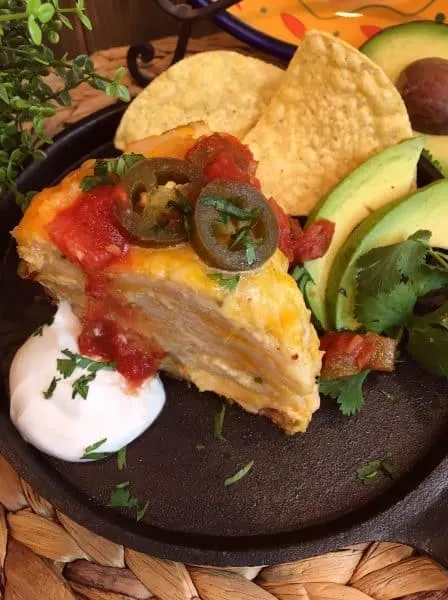 This dish makes for great leftovers! Just like lasagna…it's even better the next day! There are just some dishes that like to marinate themselves and soak up all the goodness! Crock pot enchiladas is one of them!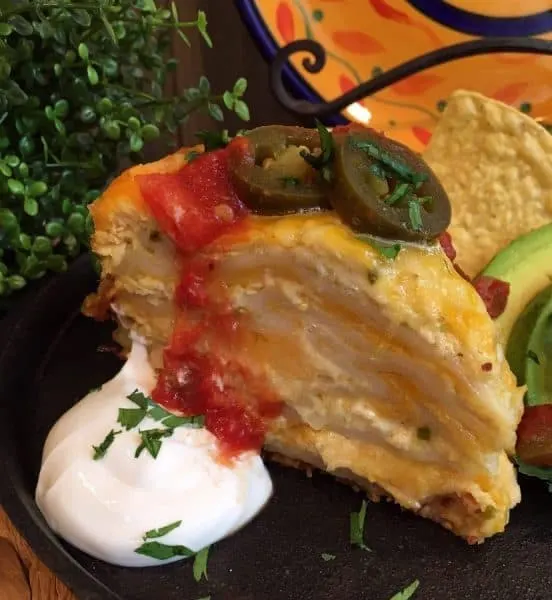 Such an easy dish, loaded with flavor, and budget friendly! Anytime I can stretch three cups of chicken to feed the entire family it's a win for me and my bank account!
I hope your birds love this Slow Cooker Layered Chicken Enchilada Casserole as much as we do! Any dish that does all the work so that I can take nap…is the BEST!
If you like this slow cooker recipe here are a few other slow cooker recipes you'll enjoy!
Thanks for stopping by! I hope you have a Great week! I'd love to have you follow me on Facebook, Instagram, or Pinterest. You can find me by searching Norine's Nest! I'll be there!
Happy Nesting!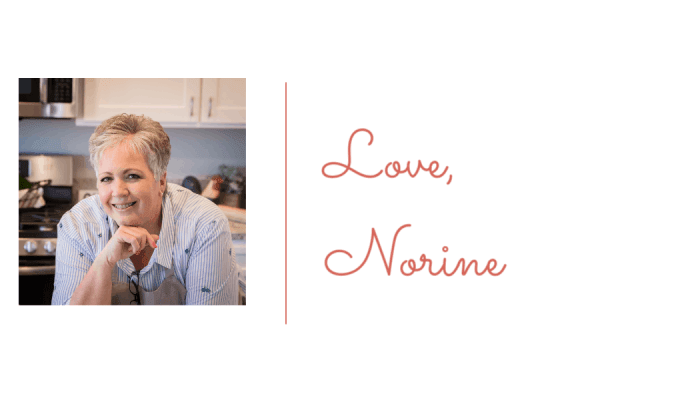 Yield: 8 servings
Slow Cooker Layered Chicken Enchilada Recipe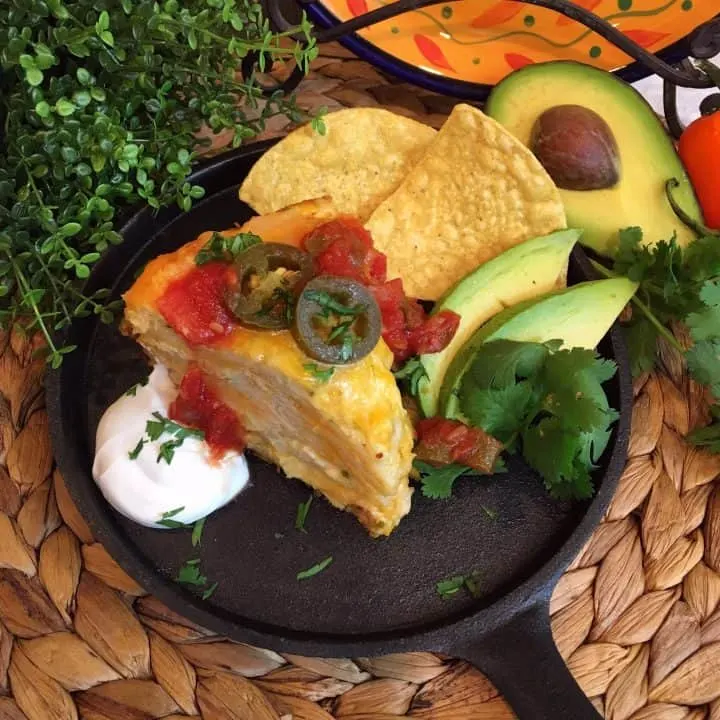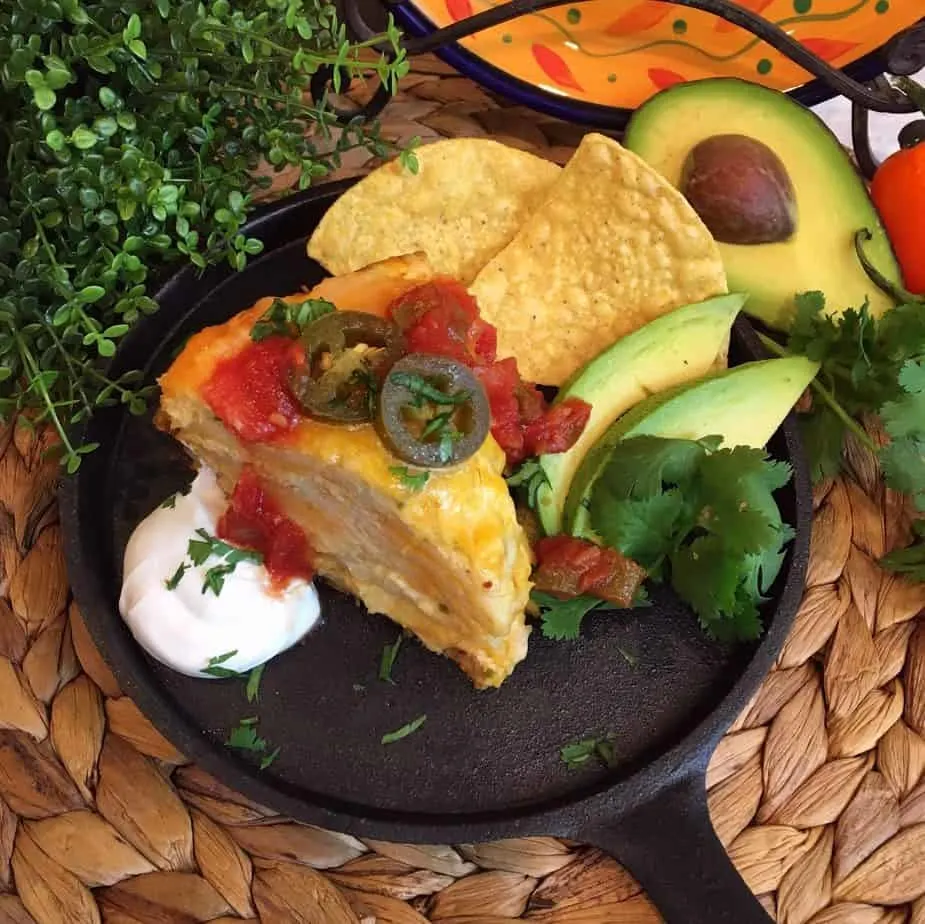 Layers of flour tortillas, creamy chicken flavorful filling, grated cheese, all stacked in a slow cooker and baked to perfection create this easy layered chicken enchilada casserole.
Additional Time
45 minutes
Total Time
4 hours
55 minutes
Ingredients
5 - 8 inch flour tortillas, soft taco size
3 cups cooked chicken, shredded
4 cups grated cheese
1 - 10.5 ounce can cream of chicken soup
1/2 cup sour cream
2 Tablespoons dried onion flakes
1/2 teaspoon cumin
1/2 teaspoon black pepper
1/4 cup salsa Verde
1 jalapeno, diced (optional)
2 Tablespoons fresh diced cilantro for garnish
Fresh Salsa, sliced avocado, and sour cream as toppings
Instructions
In a medium bowl combine chicken, cream of chicken soup, sour cream, dried onion, cumin, pepper, salsa verde, and diced jalapeno (optional) and mix until well combined.
Spray slow cooker with non-stick cooking spray.
Spread a small amount of chicken filling on bottom of slow cooker. Begin to layer ingredients starting with one flour tortilla.
Top tortilla with 2/3 cup chicken filling. Spread filling evenly over tortilla. Sprinkle filling with 3/4 cup of grated cheese.
Repeat layers ending with cheese on top.
Set on low. Bake for 4 hours. Turn heat off and allow to set for 45 minutes.
Top with salsa, sour cream, and jalapeno's. Sprinkle with chopped cilantro.
Recommended Products
As an Amazon Associate and member of other affiliate programs, I earn from qualifying purchases.
Nutrition Information:
Yield:
8
Serving Size:
1 1/2 cups
Amount Per Serving:
Calories:

568
Total Fat:

37g
Saturated Fat:

16g
Trans Fat:

1g
Unsaturated Fat:

16g
Cholesterol:

119mg
Sodium:

968mg
Carbohydrates:

28g
Fiber:

3g
Sugar:

2g
Protein:

31g