Classic Fish and Chips is a big favorite at this Nest! Tender Mild seasoned cod, dipped in a copy cat Long John Silvers batter… and fried till golden and crispy! Served with Oven Baked Potato Wedges. It's YUM personified.
Growing up in California… "Mr. Nest" and I developed a deep abiding L.O.V.E. of seafood! Deep!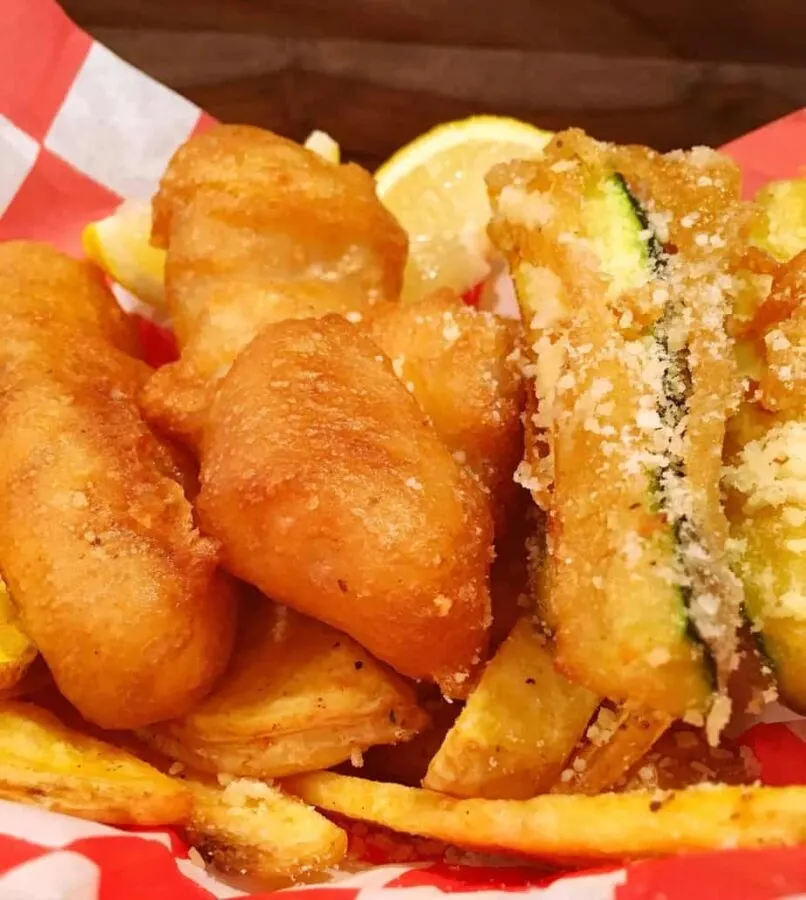 One of our favorites… Classic English Fish and Chips. Honestly there is nothing better than breaking into a flaky piece of mild cod, or halibut, dipped in a crispy flavorful batter. Squeeze a little lemon over those golden pieces of fish and it's Heaven. Pure Heaven!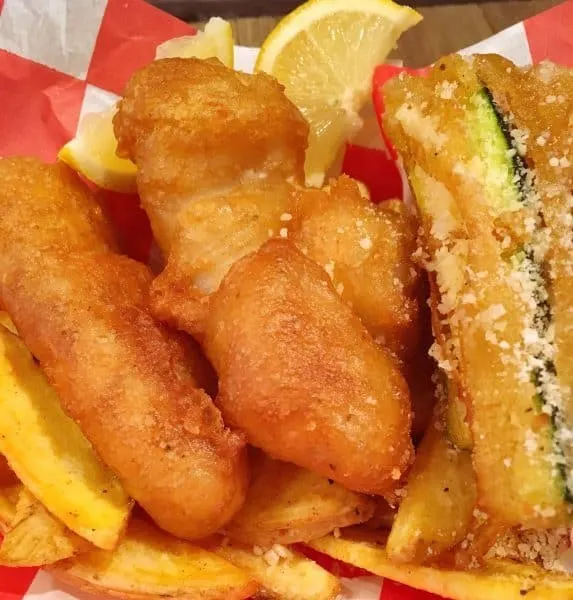 I decided to give our favorite classic a try! It can be a little tricky frying fish. You don't want it oil logged, and you don't want it still flipping on the table either! (I know I don't want it flip-flopping on my table or my stomach!) Getting your oil to a prefect temp is crucial!
This recipe is Super TASTY! We both went NUTS over this recipe! If you love Fish and Chips you are going to love this recipe.
How To Make Fish and Chips
Start with the "chips"… they take a little longer to cook. I decided to do "baked" chips. (Ya know…keeping it healthy! Like diet coke with pizza!)
Wash, and slice 2 Golden Potatoes.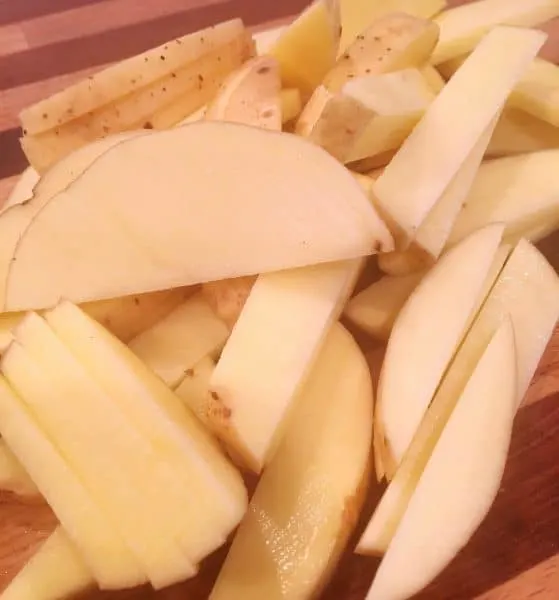 Place sliced potatoes in a large gallon zip lock bag. Drizzle with Olive Oil. Season with Garlic Salt, Pepper, and Old Bay Seasoning.
Zip the bag closed and toss to coat. Mush them around in there. They should be well coated. (Like a bathing beauty sun tanning in Mexico!)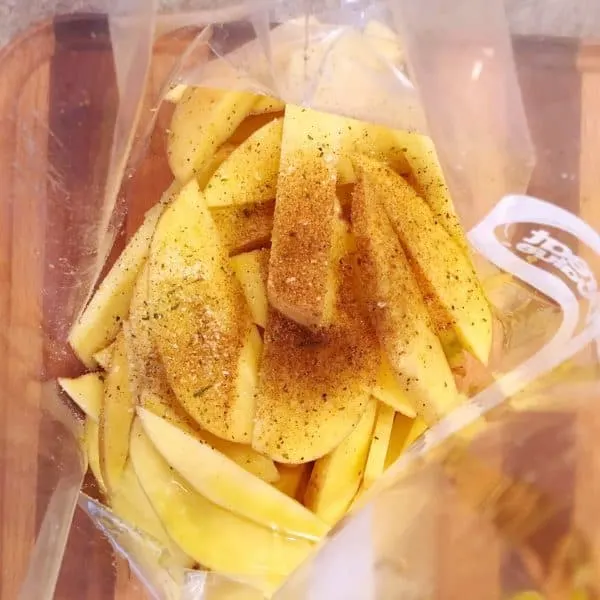 Place on a large baking sheet. Pop in a 375° preheated oven. Set the timer for 15 minutes. Turn potato wedges over and continue to bake until golden brown.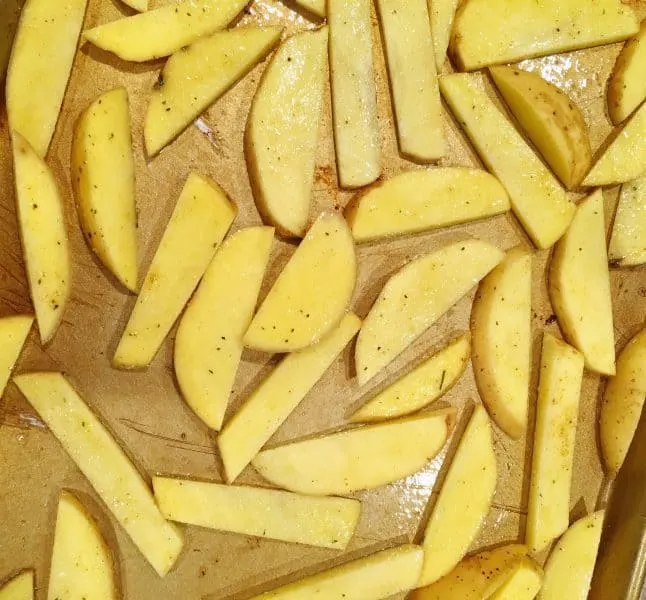 While the potatoes are baking…rinse and pat 1 lb of cod dry. Cut into strips. Place fish on paper towels to absorb any extra moisture.
TIP: You can also use Halibut if you like that better than Cod. I loved the Cod.
Season with Old Bay Seasoning.
TIP: Don't skip this step…it adds a depth of flavor to the fish.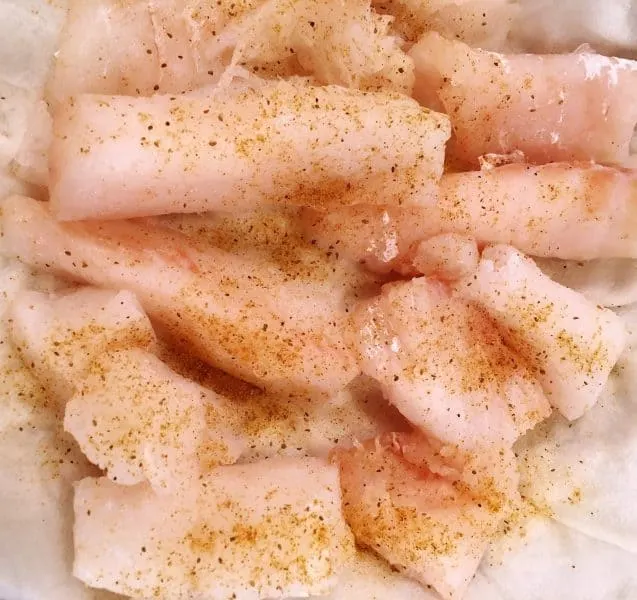 In a medium bowl add 3/4 cup of flour, 2 Tablespoons corn starch, 1/4 tsp. baking soda, 1/4 tsp. baking powder, 1/8 tsp. salt, 1/8 tsp. garlic powder, 1/8 tsp. onion powder, and 1/2 tsp Old Bay Seasoning.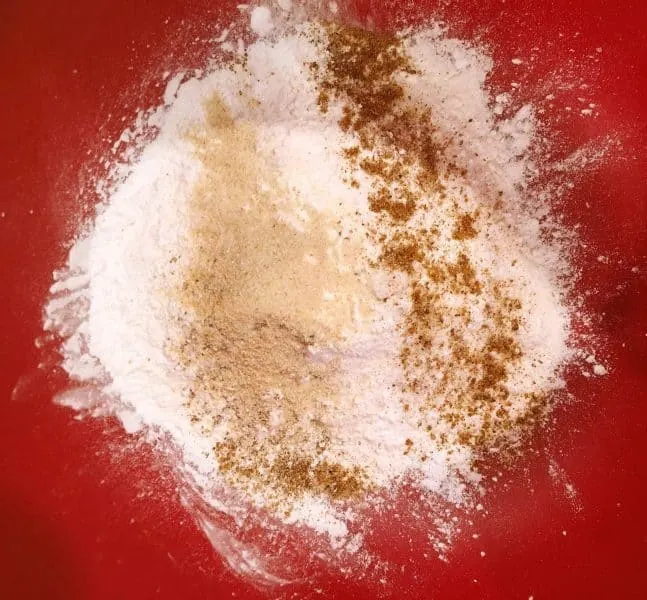 Whisk all dry ingredients together.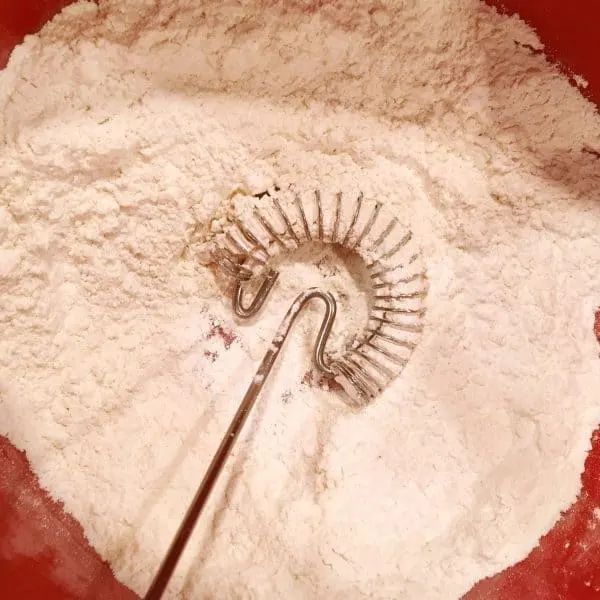 Add 3/4 cup warm water. Mix well until batter is smooth and there are no lumps.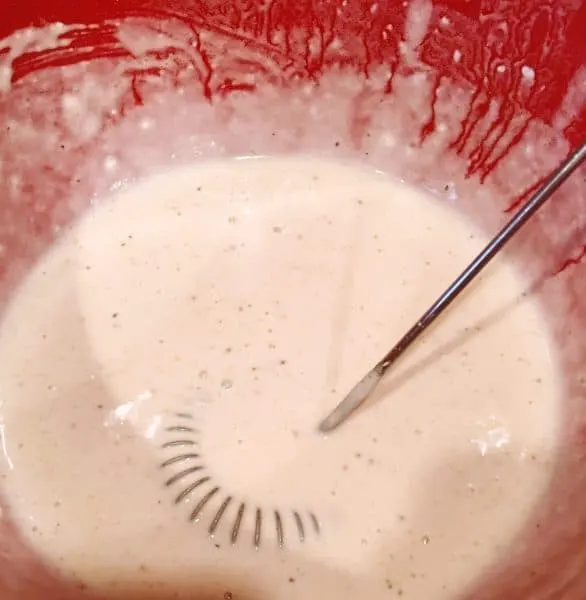 Heat 3 inches of oil to 375° in a Dutch oven. Once batter is hot dip fish fillets in the batter.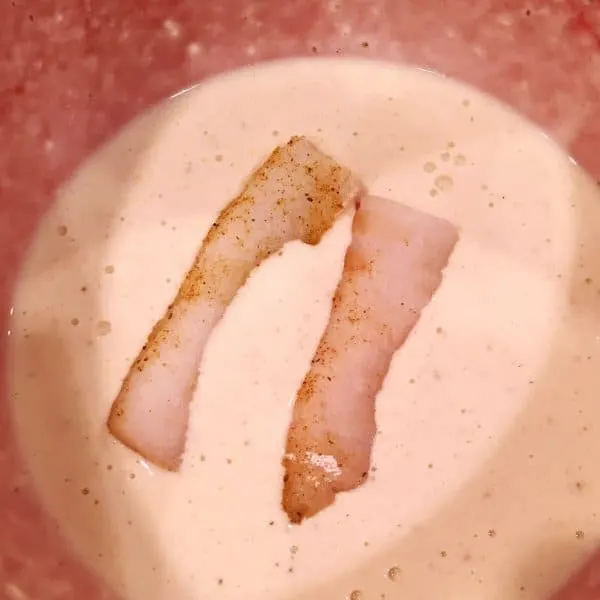 Lift fish out with a fork. Carefully set fish into the hot oil. If fish should stick to the bottom of the pan, carefully lift it with a fork.
Let fry 4–5 minutes on each side still golden brown.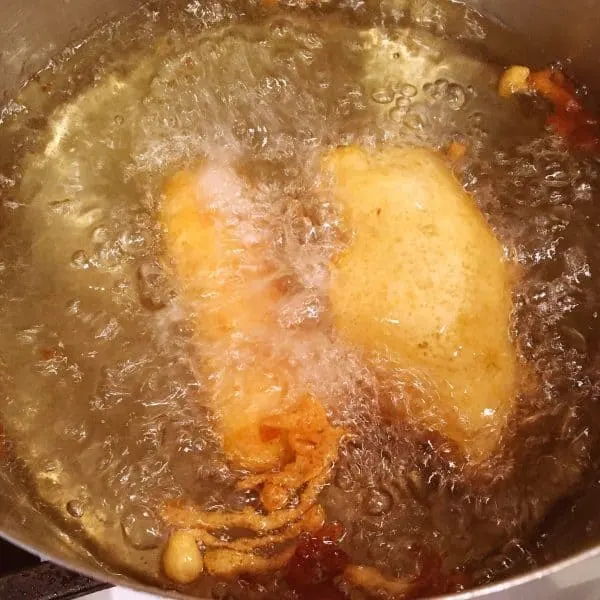 Carefully remove from hot oil using a slotted spoon to remove from oil.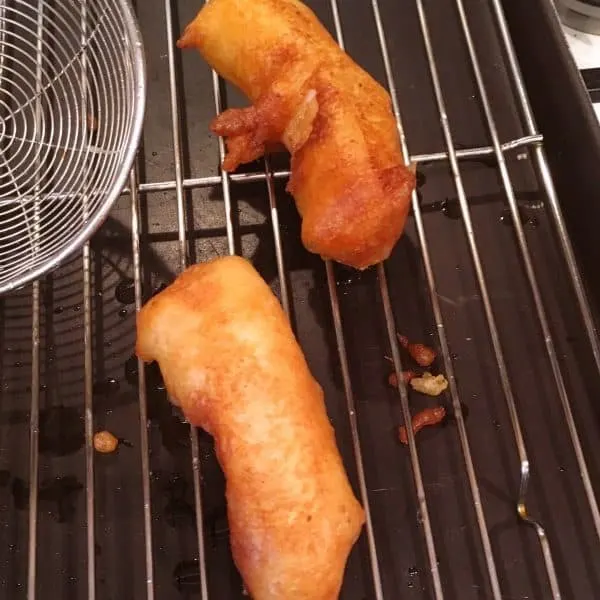 TIP: Place on an open rack on top of a sheet pan. Keep warm in oven while you are cooking remaining fish. Placing the fish on top of an open rack over a baking pan, helps to keep the fish crisp.
I had extra batter and a zucchini sitting around… Soooooooo… I cut that zucchini up into wedges and dunked them in the leftover batter and fried them up! (Ooops! There goes that "healthy" alternative down the ol' toilet! We still have our diet soda's to redeem us!)
Place those golden "oven baked" seasoned "chips" on a plate or in a basket. Lay that crispy golden fish on top. Place zucchini next to it and sprinkle with grated Parmesan Cheese. (Now stand back and just admire that plate of YUM!)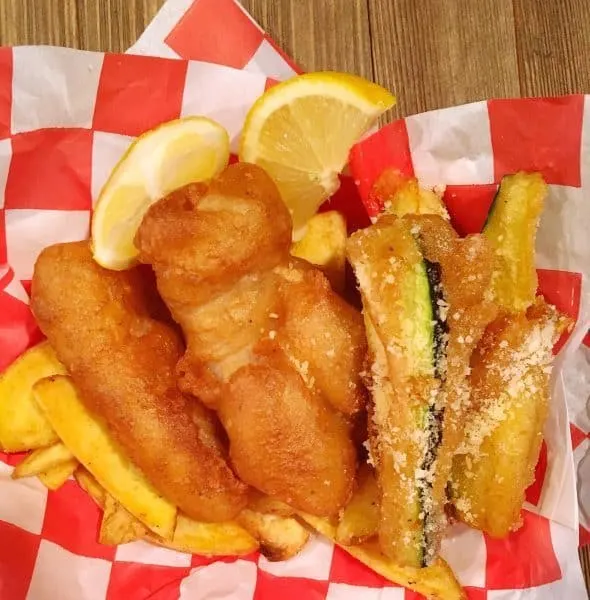 Serve with lemon wedges and tarter sauce! If you're a lover of Malt Vinegar…go for it!
I personally think it's imperative that the fish has a little splash of lemon! Makes my mouth water just thinking about it.
Dig in! Close your eyes and take a great big bite and transport yourself to your favorite seaside village. It's SO GOOD! If you're a lover of fish like we are…you're gonna love this recipe!
Easy Favorite Seafood Recipes
Thanks so much for stopping by. I hope you have a great day!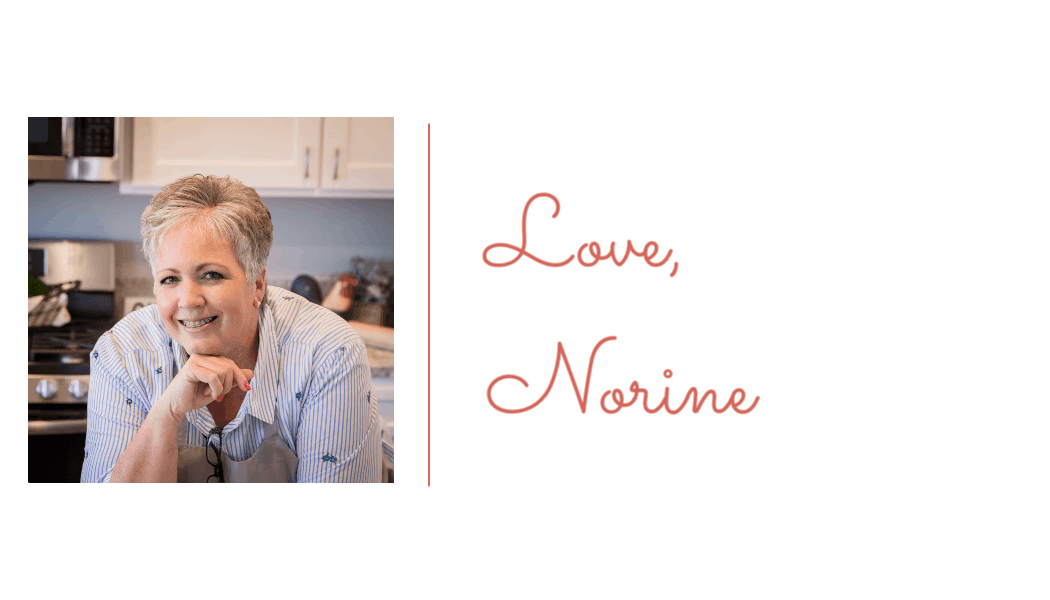 Yield: 4 servings
Classic Fish and Chips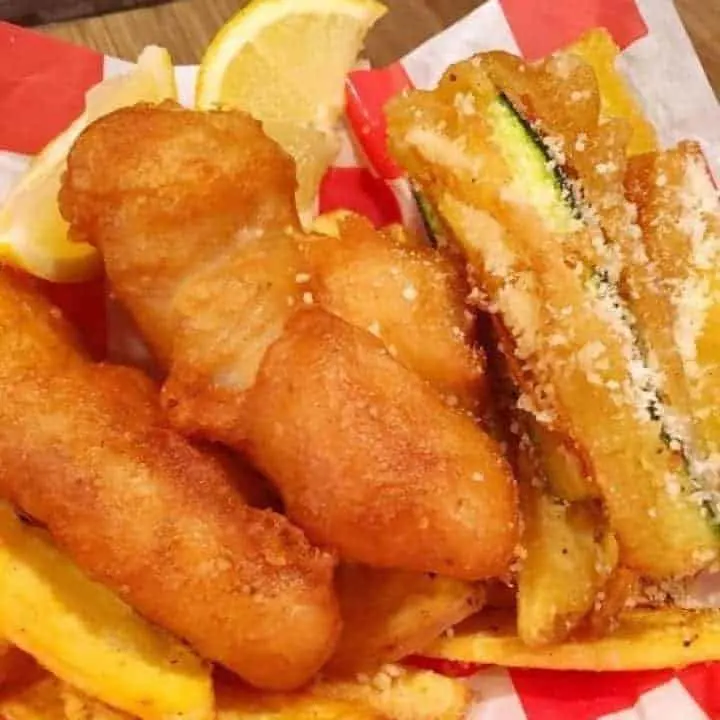 Cod or Halibut dipped in a seasoned batter and fried to a golden crisp! It's Classic fish and chips and it's YUMMY!
Ingredients
1 lb. fish fillets, cod or halibut
3/4 cup of flour
2 Tablespoons corn starch
1/8 teaspoon garlic powder
1/8 teaspoon onion powder
1/4 tsp. baking soda
1/4 tsp. baking powder
1/8 tsp. salt
1/2 tsp. Old Bay Seasoning
3/4 cup warm water
Oil for frying
Chips
2 large golden potatoes, washed and sliced
2 Tablespoons Olive Oil
Salt, Pepper, and Old Bay Seasoning to taste
Zucchini
1 large zucchini sliced into wedges
Parmesan cheese as garnish
Instructions
Chips
Place sliced potato wedges in a large zip lock bag, drizzle with olive oil, season with salt, pepper, and Old Bay Seasoning. Shake bag to coat potatoes.
Pre-heat oven to 375°
Place potato wedges on baking sheet. Bake for 15 minutes. Turn potato wedges over and cook an additional 15 minutes or until golden brown.
Remove and serve with fish.
Fish
Wash, pat dry, cut fish into strips and season with Old Bay Seasoning.
In a medium bowl place flour, baking soda, baking powder, salt, and additional seasonings. Mix with wire whisk.
Add 3/4 cup of warm water. Mix will until batter is smooth without lumps.
Heat 3 inches of oil in a dutch oven to 375°
Once hot, dip your fish fillets in the batter and carefully set into the hot oil.
Fry 4-5 minutes on each side till golden brown.
Place on a cooling rack on top of a baking sheet. Keep in warm oven until all the fish is fried.
Serve with lemon, tartar sauce, or malt vinegar.
Zucchini
Cut Zucchini into wedges and dip in remaining batter. Fry until golden brown and sprinkle with Parmesan Cheese.
Nutrition Information:
Yield:
4 servings
Serving Size:
2
Amount Per Serving:
Calories:

537
Total Fat:

13g
Saturated Fat:

2g
Trans Fat:

0g
Unsaturated Fat:

10g
Cholesterol:

145mg
Sodium:

661mg
Carbohydrates:

55g
Fiber:

4g
Sugar:

2g
Protein:

49g