Spiced Ginger Ale Cupcakes are an easy and quick dessert made with a spiced cake mix, a can of soda, and decorated with a few darling gingerbread man cookies for a fun festive treat the kids will love.
Last year I forgot I had signed up to bring a treat to our annual Church Christmas dinner party! I wish I could say this was an unusual occurrence for me. (You do not want to be inside my head! It's crazy in there! lol)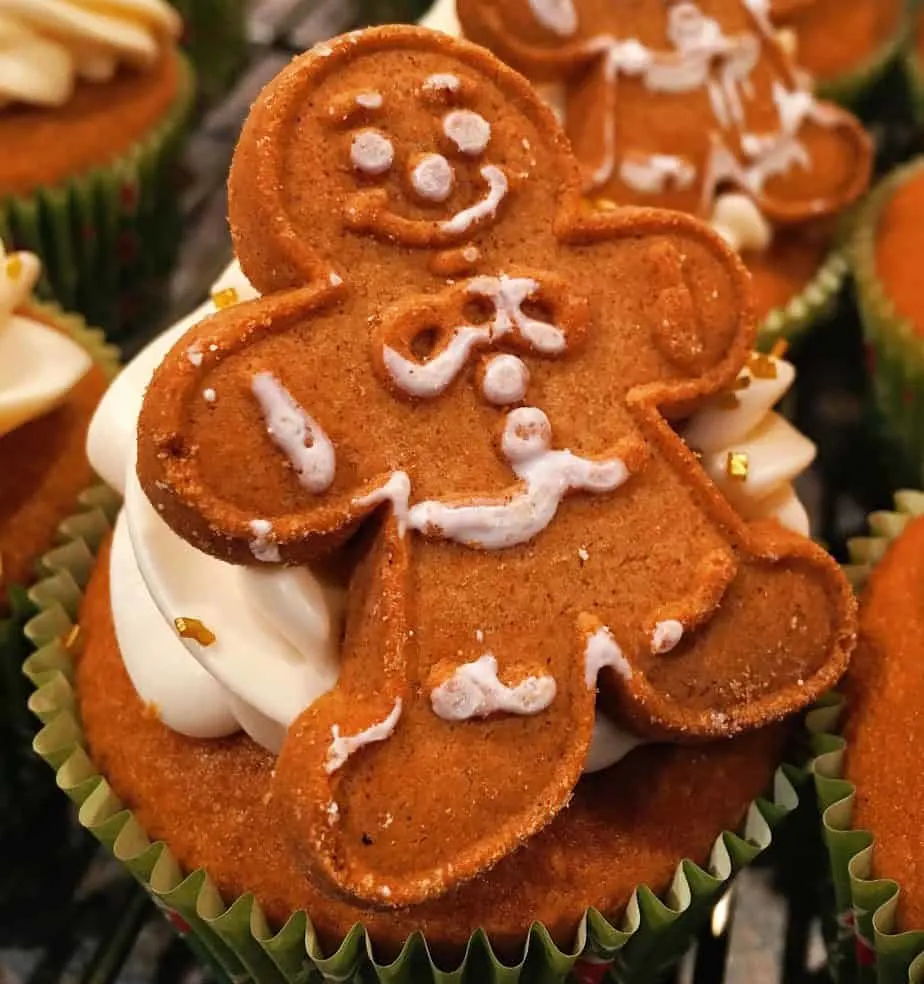 Any who…back to the topic at hand…(See! It's happening right now!)…I forgot about my promise to bring Dessert to "God's Followers Christmas Party"! (I mean, if you're gonna let someone down…go for the BIG GUY!)
What to do? I had to work with what I had on hand. I remembered that not long ago I had made some incredible Dr Pepper cupcakes using a boxed cake mix and a can soda! Maybe I could pull off a Christmas Cupcake with similar luck?
Sure enough…one boxed spiced cake mix married a can of Ginger Ale! Viola…moist tender spiced cupcakes with a caramel cream cheese frosting…topped with a spunky happy gingerbread man and some golden sprinkles! Merry Christmas!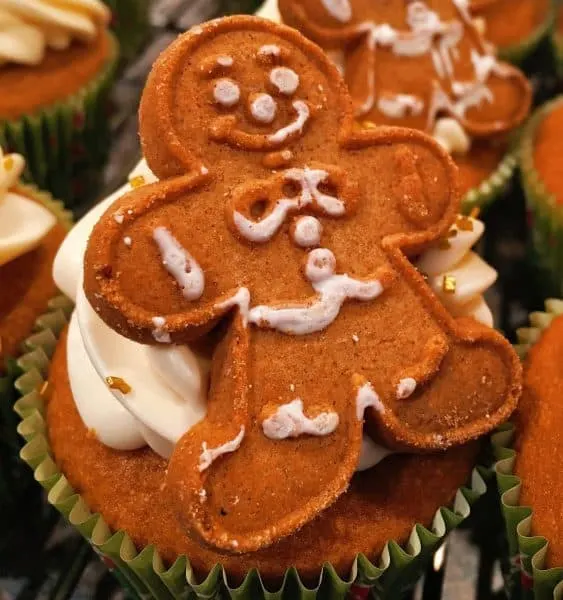 So, if like me, you get in a bind this Holiday Season…here's what ya do…
How To Make Festive Spiced Ginger Ale Cupcakes
Preheat your oven to 350°. In your mixer add one boxed spiced cake mix and one can of Ginger Ale. Yep…that's it. Don't add eggs, oil, or water. Just that one can of soda. Awesome Right?
Mix until well blended.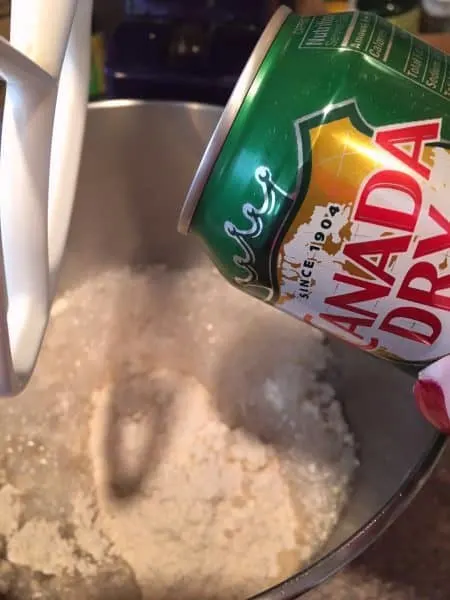 Line your muffin cups with cupcake liners. I always have a supply on hand for every holiday. (It goes along with the "crazy" in my head!) Fill each up 2/3 full.
TIP: Shop the after Holiday sales for cupcake liners. They are always marked down. Then you'll have a supply when needed. I store all of mine in a clear plastic container so I can see what I have on hand.
Bake for 20 minutes at 350° or until centers spring back when touched. Place on a rack to cool. (Remember…I was cooling QUICKLY!)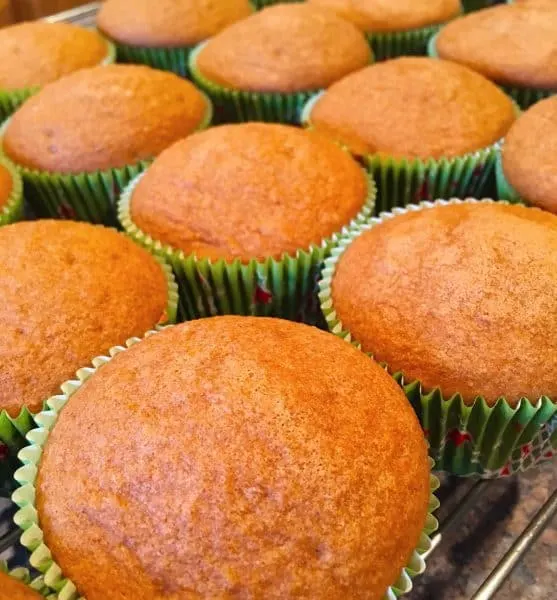 While cupcakes are cooling, whip up a batch of my Cream Cheese Caramel Frosting. This is a simple Caramel Cream Cheese Frosting and will make more than you'll need for your cupcakes. THAT'S OKAY!
You're gonna store the extra in an air tight container in the refrigerator and use it on your amazing Lion House Cinnamon Rolls for Christmas morning!
Pipe the frosting on the cooled cupcakes, sprinkle with gold sprinkles, and top off with a fun packaged gingerbread man cookie.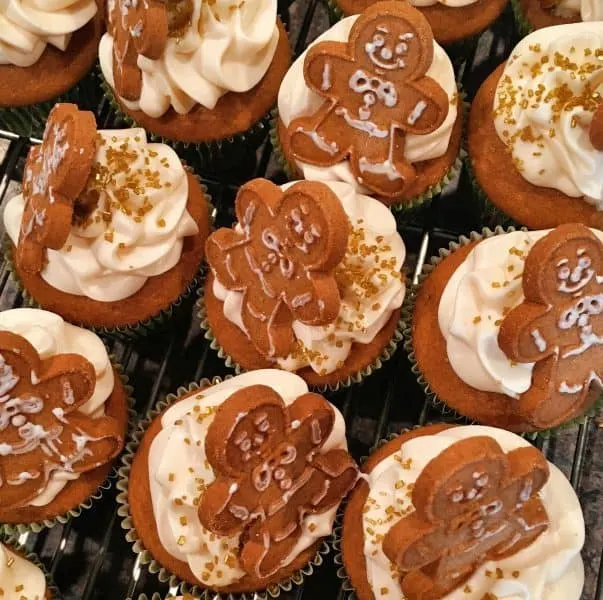 That my friends is how you save your good name at the Church Social! lol
Rumor has it that the kiddo's LOVED these cupcakes! I have a feeling some of those kiddo's were a little too big for Santa's lap…if ya know what I mean? (wink, wink)
I think anytime you get two treats in one…it's a good thing. A yummy moist tasty cupcake and a crunchy crisp happy cookie! SCORE!!!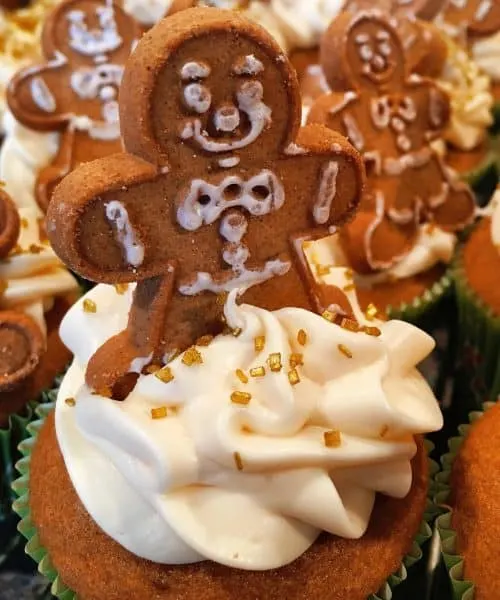 You can do almost any combination too. You don't have to make this flavor.
Have a chocolate cake mix and a coke? Go for it! Add a wonderful chocolate cherry frosting by mixing cherry juice into a can of store-bought chocolate frosting. Have a vanilla cake mix and Cranberry Sprite…yep…do it! Add Orange Cranberry Frosting! So many possibilities! Go wild!
So when things get crazy this Holiday Season, and you've forgotten that classroom treat assignment, or if you're like me and can't remember what you've committed to do…you now have a quick easy and delicious treat you can whip up in a jiffy!
If you enjoyed this recipe here are some other Quick Holiday Desserts you might enjoy
Remember you can always follow me on Facebook, Instagram, Pinterest, and Twitter. I'd love to have you join me.
Happy Nesting!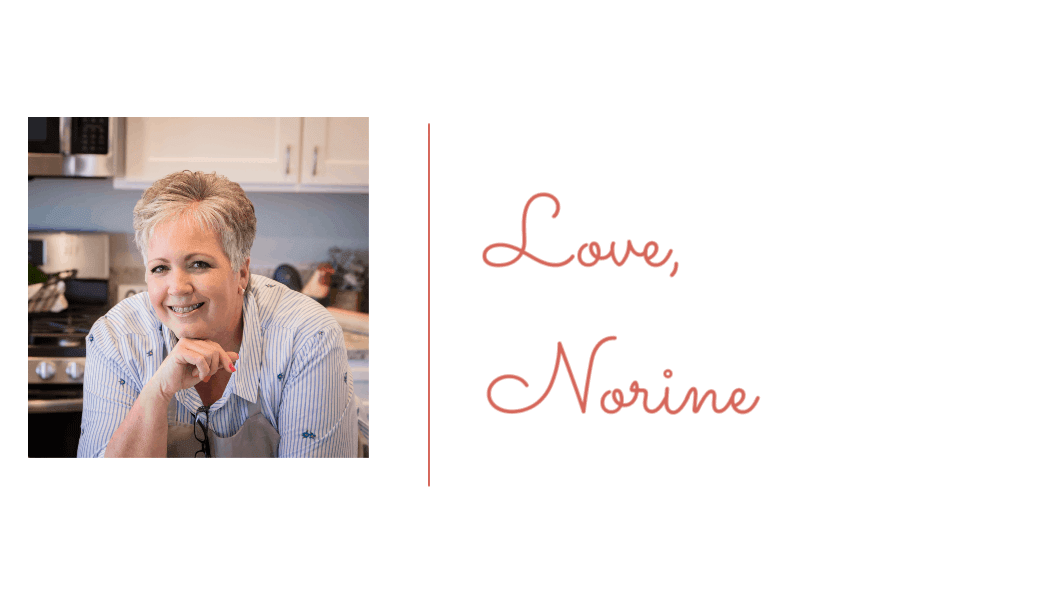 Yield: 24 cupcakes
Spiced Ginger Ale Cupcakes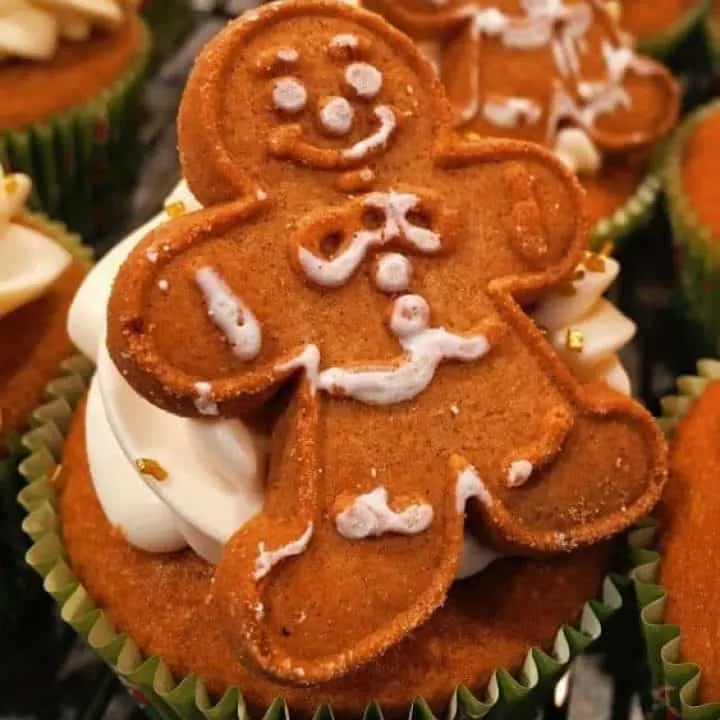 Moist tender spiced cupcakes are made in minutes thanks to a boxed cake mix and one can of ginger ale soda. Topped with a Rich Creamy Caramel Cream Cheese Frosting and a spunky gingerbread man cookie.
Ingredients
1 boxed spiced cake mix
1 can Ginger Ale
24 Gingerbread men Cookies
1 Batch of Caramel Cream Cheese Frosting (see recipe below)
Gold Sprinkles
Caramel Cream Cheese Frosting
11 ounces of cream cheese, softened
2/3 cup butter, softened
4 cups confectioners' sugar
1/4 cup caramel ice cream topping
Instructions
Preheat the oven to 350°
Line 2 muffin tins with 24 cupcake liners.
In your mixer, with the paddle attachment, mix together 1 spiced cake mix and 1 can of Ginger Ale.
Mix until well blended.
Fill lined muffins tins 2/3 full.
Bake for 20 minutes or until centers spring back when touched in the center.
Place on rack to cool.
Once cool pipe with frosting, sprinkle with gold sprinkles, top with a gingerbread man cookie.
Caramel Cream Cheese Frosting
Beat the cream cheese and butter together in a large bowl until well combined; add 4 cups of confectioners sugar and caramel topping. Beat until smooth. Store in refrigerator until needed.
Recommended Products
As an Amazon Associate and member of other affiliate programs, I earn from qualifying purchases.
Nutrition Information:
Yield:
24 servings
Serving Size:
1 cupcake
Amount Per Serving:
Calories:

493
Total Fat:

18g
Saturated Fat:

9g
Trans Fat:

0g
Unsaturated Fat:

8g
Cholesterol:

43mg
Sodium:

481mg
Carbohydrates:

79g
Fiber:

1g
Sugar:

55g
Protein:

4g