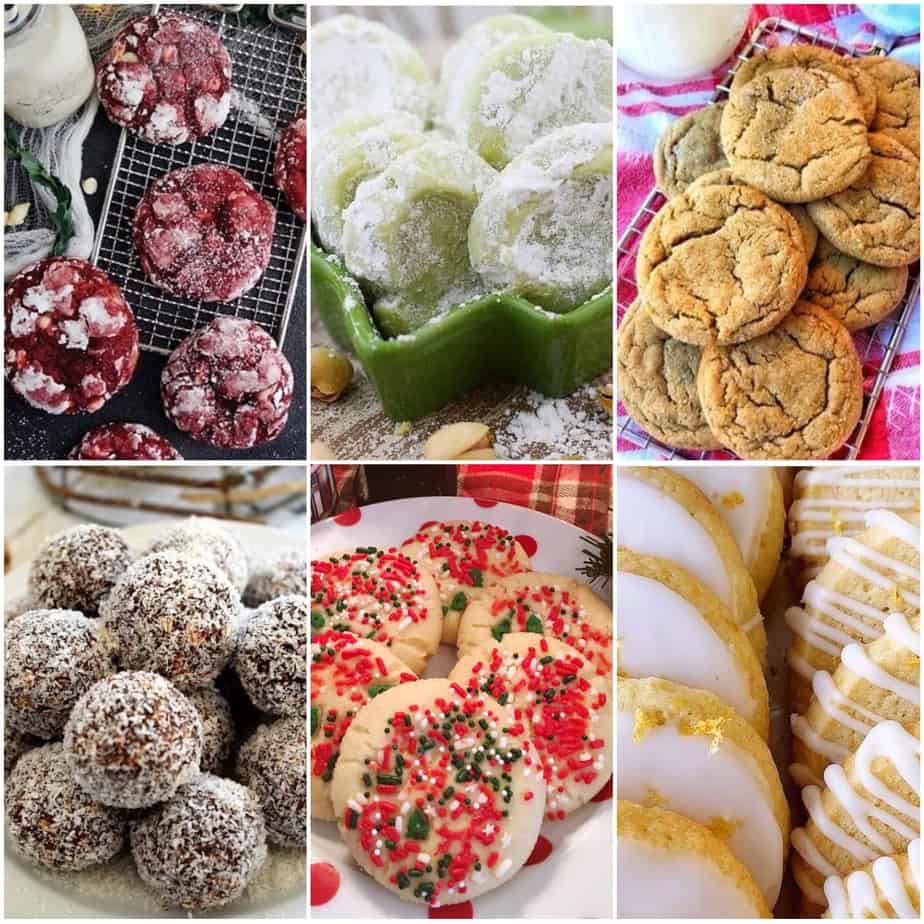 Round-up of delicious Holiday Cookies for a great Christmas Cookie Exchange.
*As an Amazon Associate I earn from qualifying purchases. This post may contain affiliate links, which means that I may make a commission from any purchases at no additional cost to you. Thank you for your support!
Last week I hosted a Virtual Christmas Cookie Exchange with several of my favorite blogging friends! It was so much fun!
I've always wanted to host a "real-life" cookie exchange. Invite all my friends over with 8 dozen of their favorite cookies… (I have more than 8 friends…on a good day! I was just grasping for a number! Let's just stick with that story okay?!)…then everyone would go home with 8 different types of cookies!
We all know how busy the Holidays are….so reality is always…ALWAYS a little different from the dream! (Talk to my bathroom scale!)
Welcome the birth of the "Virtual Cookie Exchange"!
I've rounded up all the recipes so you can make them for your own cookie exchange! Each recipe has a clickable link attached. Enjoy!
Christmas Sprinkle Sugar Cookies
I kicked the event off with my new favorite…Christmas Sprinkle Sugar Cookies
"This is the perfect "dunkin' " Cookie! I'm not usually a huge sugar cookie fan and this recipe has changed my opinion of sugar cookies! I know one thing…they're sure to be Santa's favorite Christmas Sugar Cookie this year! "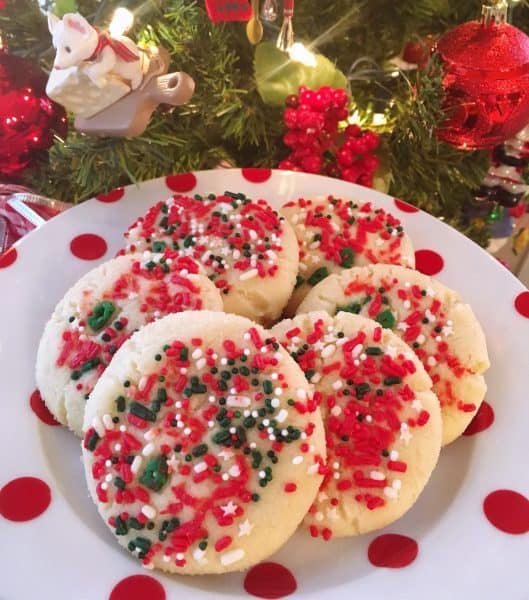 Grapefruit Icebox Cookies
Grapefruit Icebox Cookies from my friend Candice over at Gardenia Kitchen
Candice said…"Each year, I look forward to the holiday season, not only because of all the awesome things it brings, but because of the return of grapefruit. I get so giddy, you guys! As kids in our family, we would get so excited for Christmas morning because that meant finding a grapefruit in the toe of our stockings…"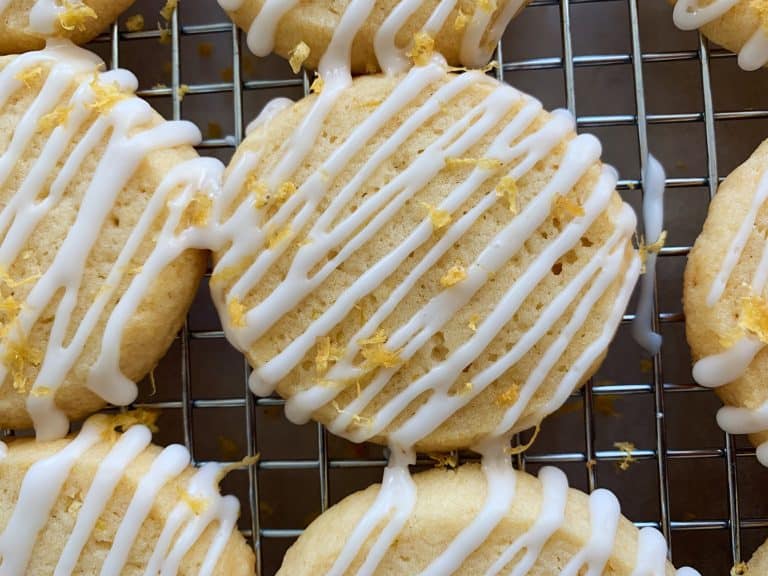 Chewy Gingersnap Cookies
Let's talk about these amazing Chewy Gingersnap cookies from my friend April at The Tipsy Housewife! I absolutely LOVE gingersnap cookies…add chewy into the mix…and I'm head over heels!
April said …"I have been WAITING anxiously for the Holiday season to start. Last week I couldn't contain my excitement any longer and went ahead and baked what I hope to be is the first of many batches of Christmas Cookies…"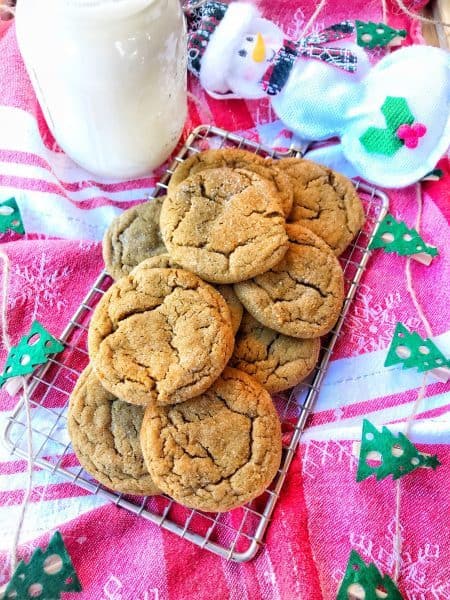 Pistachio Wedding Cookies
Up next are these amazing Pistachio Wedding Cookies from my friend Nikki at Soulfullymade.com! I love the color and texture of these delectable goodies!
Nikki said… "These cookies are a cross between a shortbread and a traditional wedding cookie. The addition of the pudding mix makes them melt-in-your-mouth y'all! And this velvety texture bakes up the PERFECT cookie in my book!"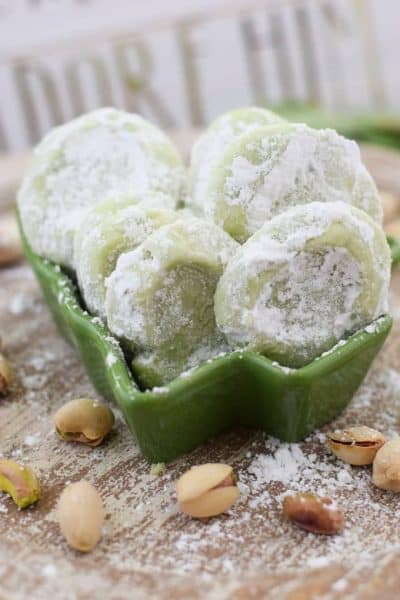 Newfoundland Snowball Cookies
My friend Julia from Julia'sCuisine.com shared a family favorite from her home country of Newfoundland! I'm so excited to make these Newfoundland Snowballs!
Julia shared the following with her readers…" It wouldn't be Christmas without them! For as long as I can remember these Snowballs have been on every single Christmas cookie platter. Delicious little chocolate coconut bites that are no bake which makes them very easy!"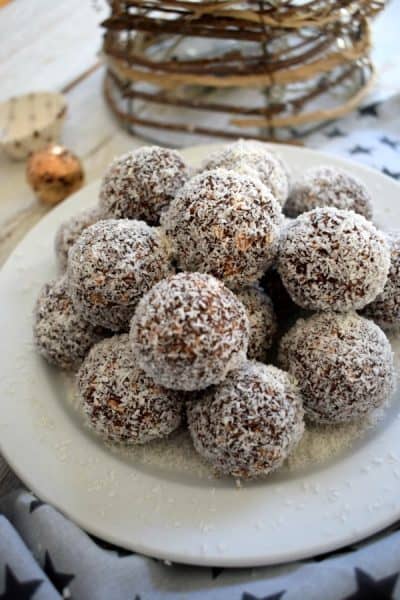 Red Velvet Crinkle Cookies
Nicole from Windycitydinnerfairy.com shared her luscious Red Velvet Crinkle Cookies in conjunction with a special sponsored post she was doing for Doubletree Hotels. (The famous cookie hotel!)
Nicole shared this information about Red Velvet with her readers…
"There's more to red velvet cake than just the added food coloring! Red velvet is made with cocoa powder, vinegar and buttermilk. The chemical reaction between these ingredients helps give the cake a deep maroon color that is often enhanced by extra food coloring. Technically Red Velvet cake is a white cake with red food coloring, so this red velvet crinkle cookie tastes like a white cookie with a hint of cocoa!"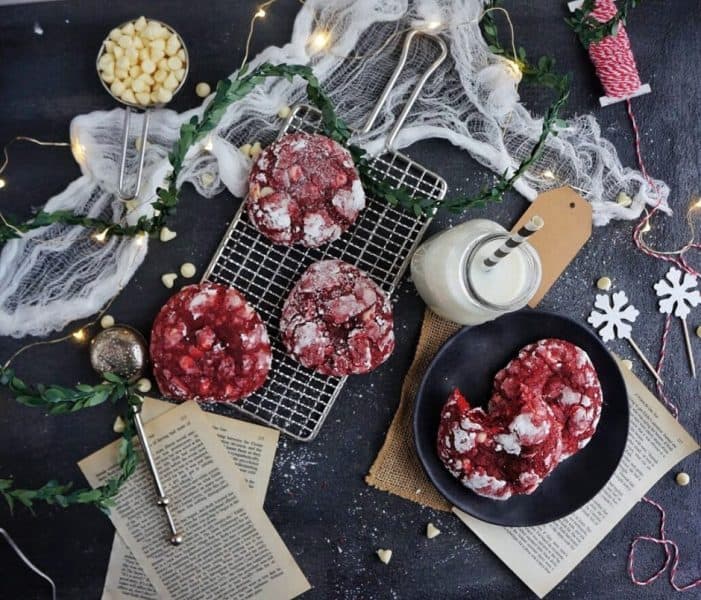 So many wonderful cookie recipes! I'm always so impressed with these wonderful ladies and how talented they are! Their blogs are amazing! Their recipes spectacular! Best of all…they truly believe in lifting other women and helping each other succeed!
I look forward to the day we can all get together and have a real life cookie exchange! Until then…I'm in love with the Virtual Cookie Exchange. I hope you are too!
Enjoy! Please stop by and check out their blogs and their recipes! You won't be disappointed! I mean…LOOK at those Cookies!
Happy Holiday Baking!