Perfect Pot Roast made with chuck roast and slow cooked in a delicious beefy onion broth with baby carrots and golden potatoes…and you make the gravy right in the slow cooker. An all-in-one slow cooker meal!
This Perfect Slow Cooker Pot Roast truly is the best recipe. It's so simple. Great for a newly married couple who have little to no cooking experience, awesome for the new college student, and it's absolutely a MUST for Sunday Family dinners at this Nest, even after 32 years of marriage!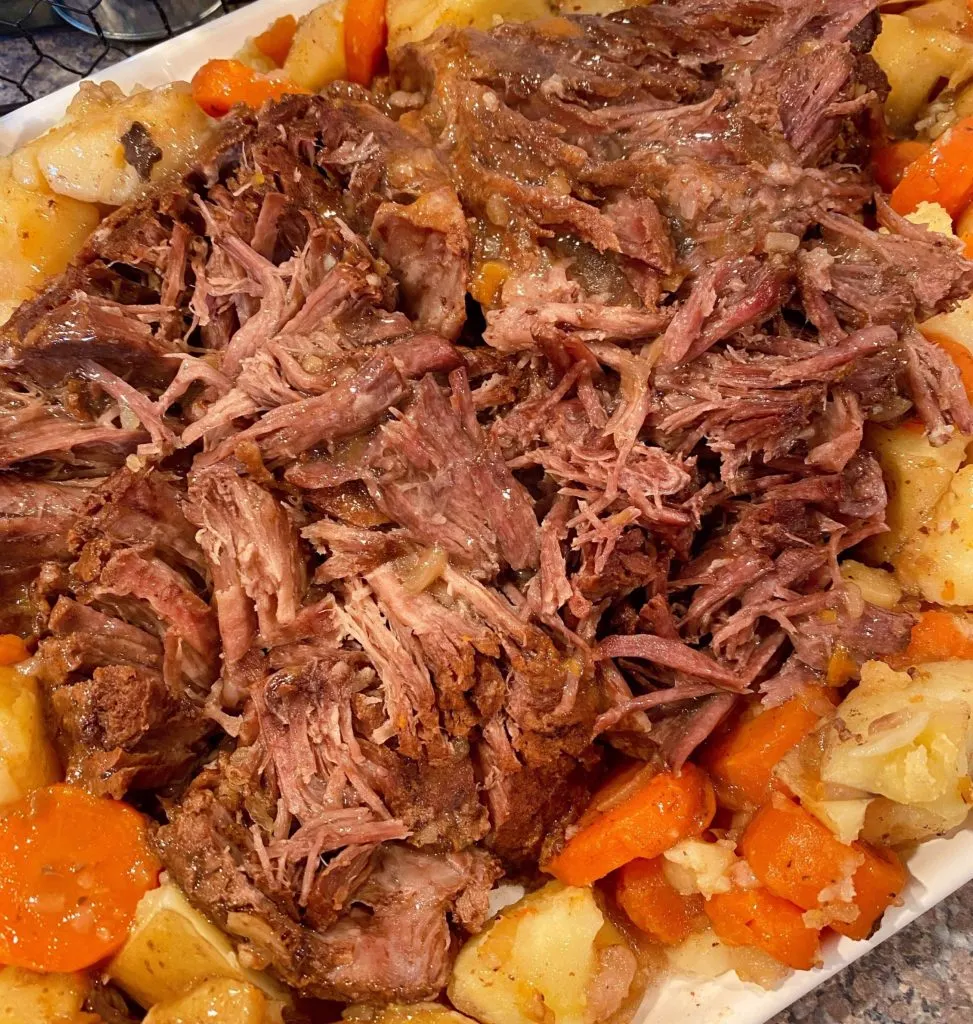 It's still My "Mars" favorite Sunday Meal! What's not to love about tender shredded Pot Roast, Tender baby golden potatoes, and flavorful baby carrots?
One of the first thing this Momma did when her little 6'1 bird flew the coup was to by him a small crock pot. I knew he could throw a chunk of Chuck Roast into that slow cooker, dump a package of Lipton Onion Soup, set it to low and have a healthier meal than that bright headed "Clown" could offer! (No! I'm not picking on the clown…he rocks the fries! Mom's are just moms! We want our kids eating home cooking in between the frozen burritos' and pizzas!)
What you'll need to make this PERFECT POT ROAST!
1 – 4 lb. Chuck Roast (approx)
1 envelope Lipton Beefy Onion Soup Mix
Salt and Pepper to taste
1 Can Beef Broth or 2 cups of Beef Broth
10-15 Baby Golden Potatoes
1 small 12 oz. bag baby carrots
3 Tablespoons Cornstarch
3/4 cup water
How To Make Perfect Slow Cooker Pot Roast
Place 4 lb Chuck Roast in Slow Cooker. I used my Casserole Slow Cooker, a regular standard slow cooker will work fine.
Salt and Pepper to taste.
TIP: You may be asking "Why a chuck roast?". That's a really great question. See all the beautiful marbling in the piece of Roast pictured below? That marbling will make the roast tender as it reduces down during cooking time. It also infuses the meat with amazing flavor.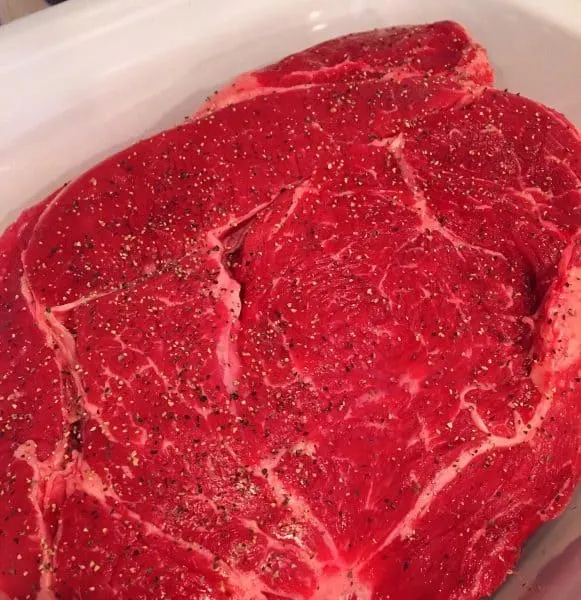 Sprinkle the top of the roast with One envelope of Beefy Onion Lipton Soup Mix.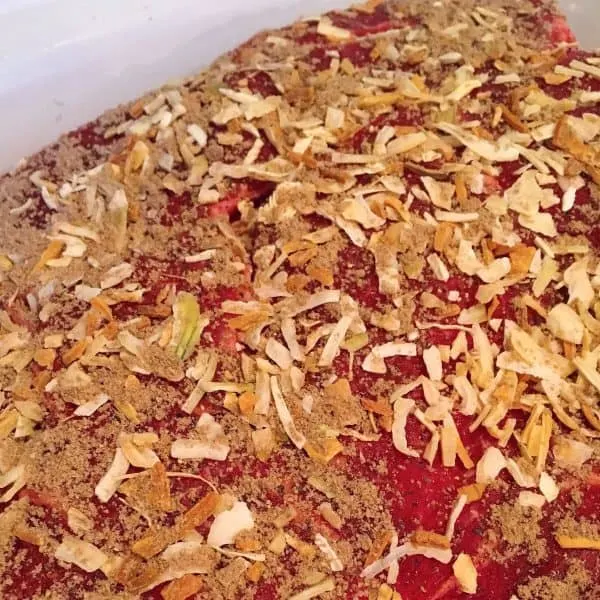 Now this next part might be where some of you disagree with my preparation of this dish. I know a lot of you prefer to add your vegetables about 2 hours before serving. That's okay, I'm not offended.
I just need a true "dump and go" dish at this Nest on Sundays. I need a meal that is ready in about 5 minutes after we walk in the door from church. So, I add my carrots and potatoes right from the get-go!
You'd think my bunch had been placed in a starvation camp during church. They seriously come home ravenous! It's totally insane! If they just carried chocolates in their purse like I do…lol…okay that may not work for the men in the family!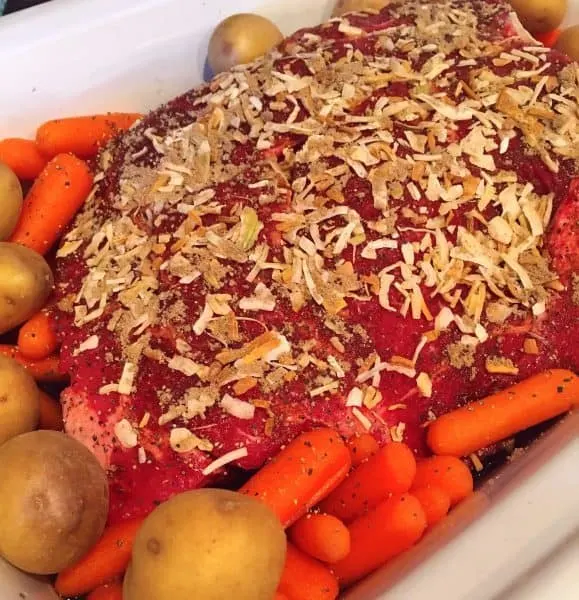 Add one can of Beef Broth to bottom of the pan. Cover and cook on low for 8 hours! (I start mine in the morning for an early Sunday Super!)
Sunday, after church, when you pull into the garage, the family can break into a combined unified chorus of "Mmmmmmmm's"! (They seriously think they are starving! Insert eye roll and a great big sigh!)
How To Make Gravy for Pot Roast
TIP FOR GRAVY: If you want to have gravy with this delicious spectacular roast…30 minutes before it's done cooking…remove vegetables, cover and keep warm. Mix 3 Tablespoons of Cornstarch with 3/4 cup of water. Pour mixture into the bottom of the slow cooker, Stir carefully, trying to avoid dripping cornstarch mixture it on the meat. Cover and allow to finish cooking.
Carefully remove the Roast from the slow cooker. Place on a platter and gently pull it apart into big chunks using forks. It will just fall apart. Place the potatoes and carrots around the edges of the roast.
Spoon your thickened gravy into a bowl or over the top of your roast and vegetables. Which ever your clan prefers!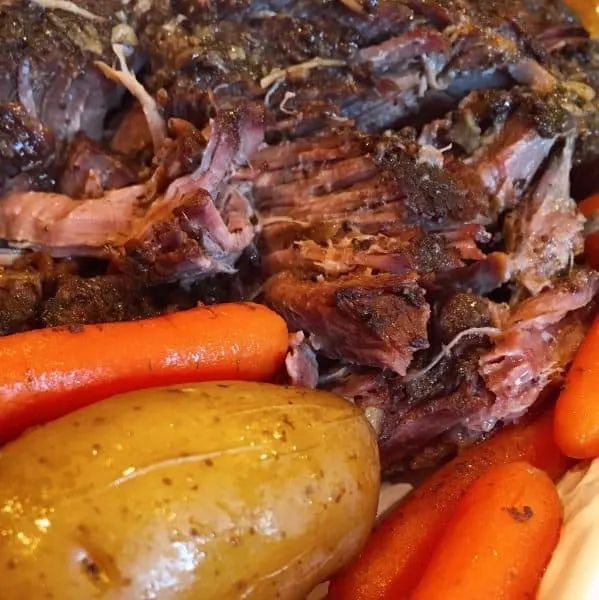 There ya go! A true "Meat and Potatoes Meal" (Insert manly grunts!) with very little effort on your part! It's such a fantastic family Classic. Grandma knew what she was doing when she created this recipe.
We are so lucky to live in the day of Slow Cookers! They allow us to cook dishes like this slowly so the meat is tender, juicy, and fall apart good!
I tried to get really good photos of this meal…however I had hungry wolves panting over it…like it was the first food they'd seen in days! lol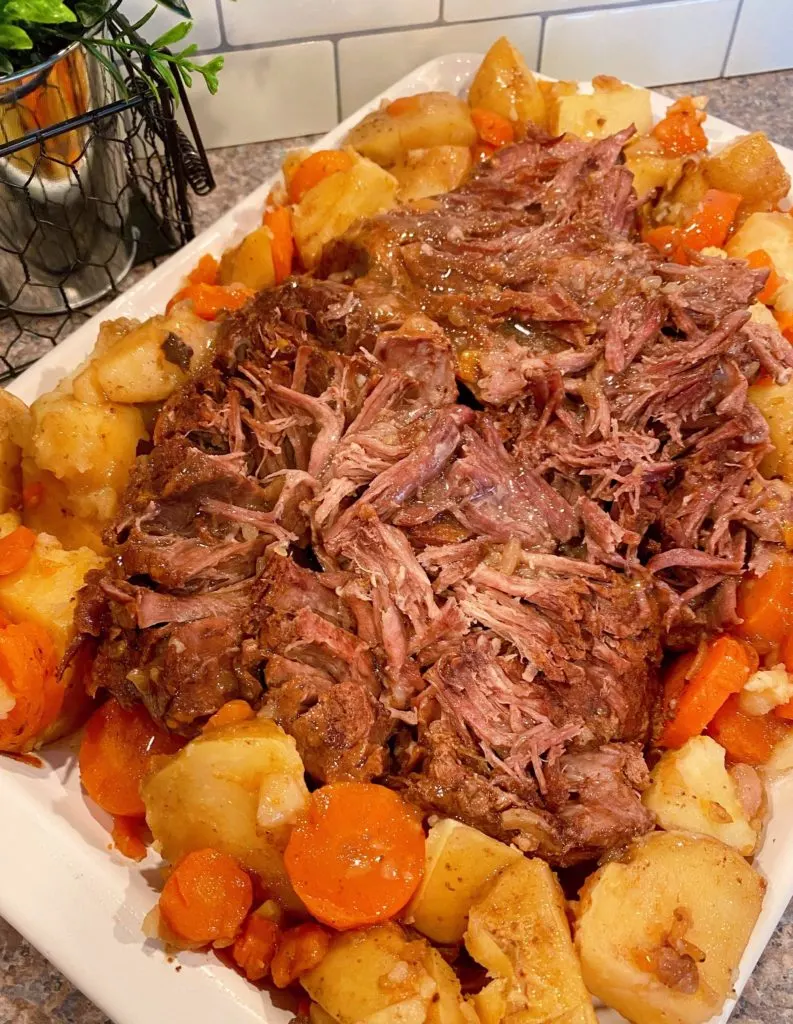 This really is a complete meal. Sometimes I make a green salad to go with it. Most of the time I just try to get out-of-the-way and let the vultures do their thing to this Classic Beef Pot Roast! I just stand aside and pray the plate is left when they back away!
Other Favorite Roast Beef Recipes
Thanks for stopping by and sharing this Classic dish with me. I hope the chicks at your Nest love this old family favorite as much as the carnivores at this Nest do!
Remember you can always follow me on Facebook, Twitter, Instagram, and Pinterest.
Happy Nesting Friends!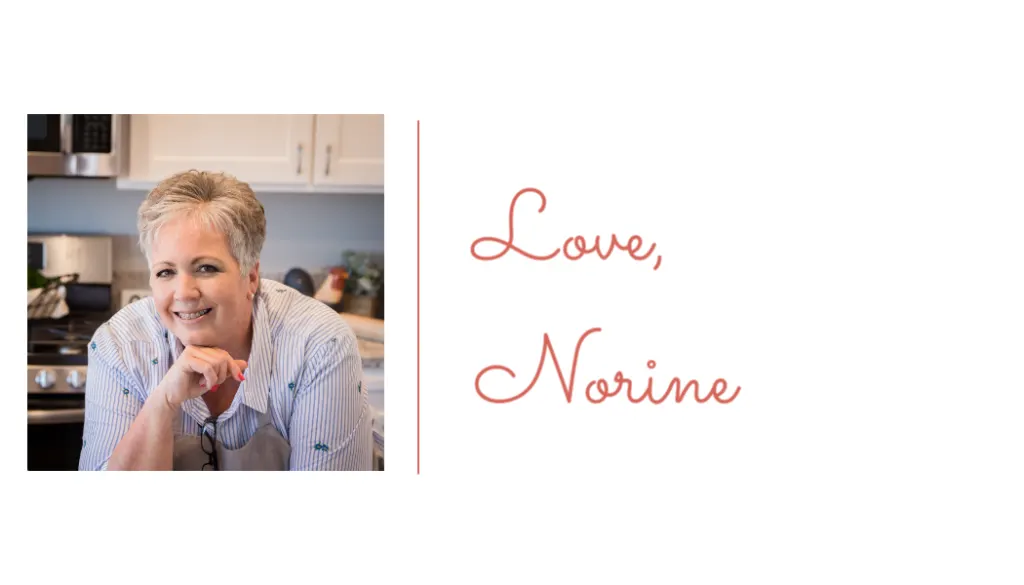 Yield: 6 servings
Perfect Pot Roast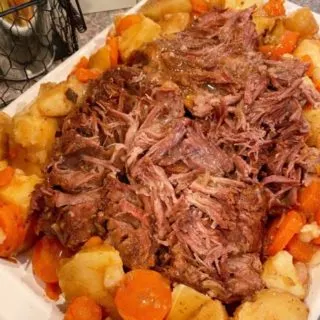 Classic Pot Roast with Baby Potatoes and Carrots. Just like Grandma made...only better because it slow cooks in your crock pot and is ready at the end of the day with little work.
Total Time
8 hours
5 minutes
Ingredients
1 - 4lb chuck roast
1 Envelope Lipton Beefy Onion Soup Mix
1 Cups Beef Broth
Salt and Pepper to Taste
10-15 Baby Golden Potatoes, washed
1 - 12oz. package of baby carrots
3/4 cup of water
3 Tablespoons Cornstarch
Instructions
Place Chuck Roast in the bottom of your crock pot.
Season with Salt and Pepper to taste. Sprinkle with envelope of Beefy Onion Soup Mix.
Pour 2 cups of Beef Broth into the bottom of the crock pot.
Place potatoes and carrots around roast.
Cover and cook on LOW for 8 hours.
Remove Vegetables and Pull Beef into chunks.
Instant Gravy
In a small bowl mix together 3/4 cup of water and 3 Tablespoons of corn starch. Mix well.
30 minutes before Roast is done cooking remove vegetable and cover, pour water and cornstarch mixture around the roast and into the liquids, being careful not to get it on the roast. Stir with spoon. Cover and allow meat to finish cooking for 30 minutes.
Recommended Products
As an Amazon Associate and member of other affiliate programs, I earn from qualifying purchases.
Nutrition Information:
Yield:
6
Serving Size:
1
Amount Per Serving:
Calories:

1158
Total Fat:

47g
Saturated Fat:

19g
Trans Fat:

3g
Unsaturated Fat:

24g
Cholesterol:

251mg
Sodium:

617mg
Carbohydrates:

101g
Fiber:

11g
Sugar:

8g
Protein:

86g