A light fluffy flat cake, aka: pancake, made from a rich creamy buttermilk batter and baked on a hot griddle. Also called flapjacks, griddlecakes, battercakes, hot cakes, or flannel cakes. Around here…we just call them "Good ol' Pancakes!" Really GOOD!
When it comes to breakfast…Pancakes are my personal favorite!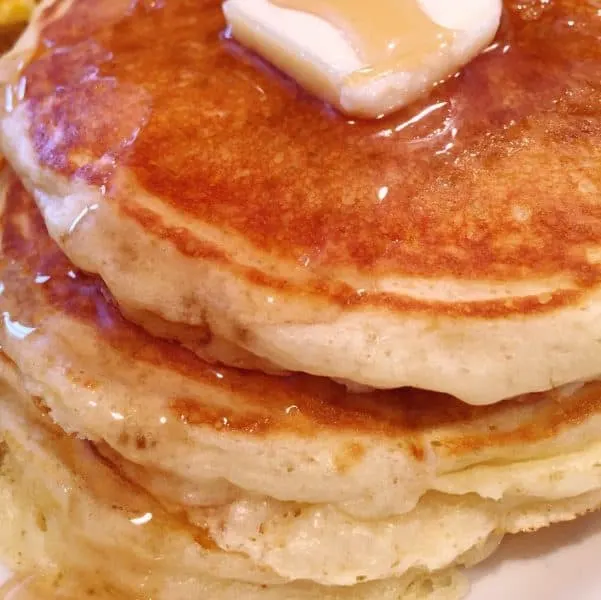 Seriously! I've spent YEARS perfecting the Perfect Buttermilk Pancake! What makes them "Perfect"? They're light, fluffy, and melt in your mouth scrumptious! Most importantly…according to Mars…they HAVE to have Buttermilk! (I hate to admit it…but he's right!)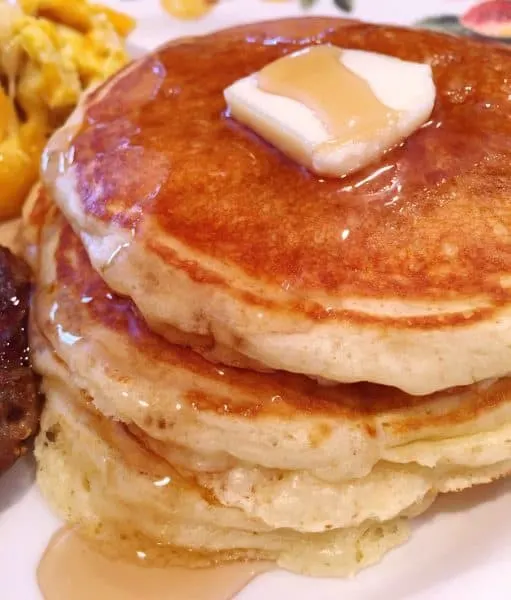 The secret to this recipe…besides the required "buttermilk" is the addition of extra melted butter mixed in with the cold buttermilk and eggs! (Can ya have too much butter? Naw!)
So what makes that extra butter so special? I'm so glad you asked! The minute you start whisking that melted butter into those ice-cold ingredients you get little "butter balls"! (I'm not talking miniature Turkey's floating around in the batter friends. lol I'm talking about real little balls of butter!) Those little butter balls are going to create the perfect little "air pockets" in your pancakes as they melt while cooking. (Genius right?!!! I know! It's amazing!)
How To Make Classic Buttermilk Pancakes
What you'll need to have on hand
All-purpose flour
Sugar
Baking Powder and Baking Soda
Salt
Buttermilk! (Gotta have that buttermilk! Remember…Mars said so!)
Milk
Eggs
Butter (Or as I like to call it…Buttah!)
In a large bowl whisk together 3 Cups of Flour, 3 Tablespoons white sugar, 3 teaspoons baking powder, 1 1/2 teaspoons baking soda, 3/4 teaspoon salt.
It's important to whisk those ingredients together. It's like sifting and sifting flour creates a lighter flour which is what we want when making cake batter. These are, after all, PanCAKES!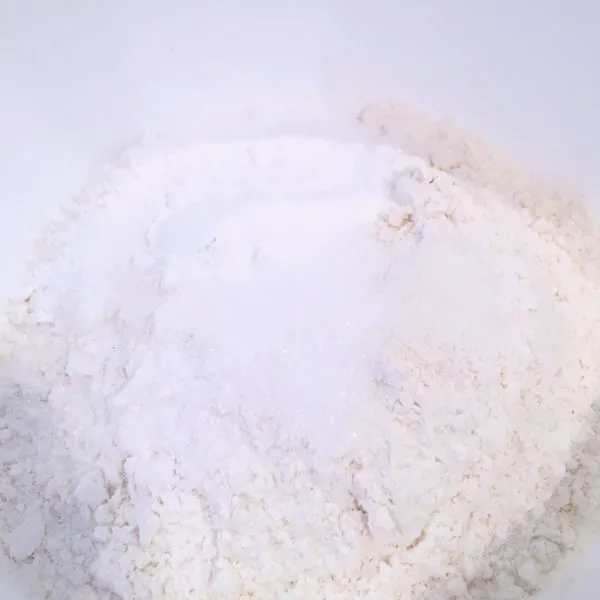 In a separate bowl, beat together buttermilk, milk (note you may need to add a little extra milk AFTER the batter is made), and eggs.
*See tips in the recipe card for cutting this recipe in half.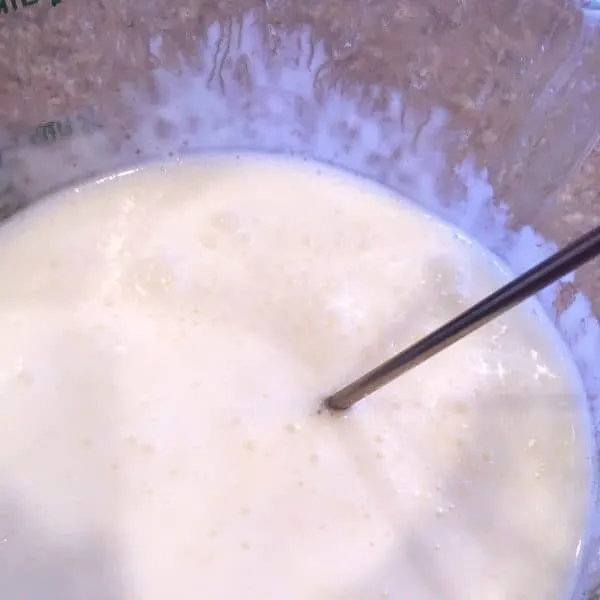 In a microwave safe bowl, melt 1/3 cup butter. (Buttah is what life is all about! The good stuff!)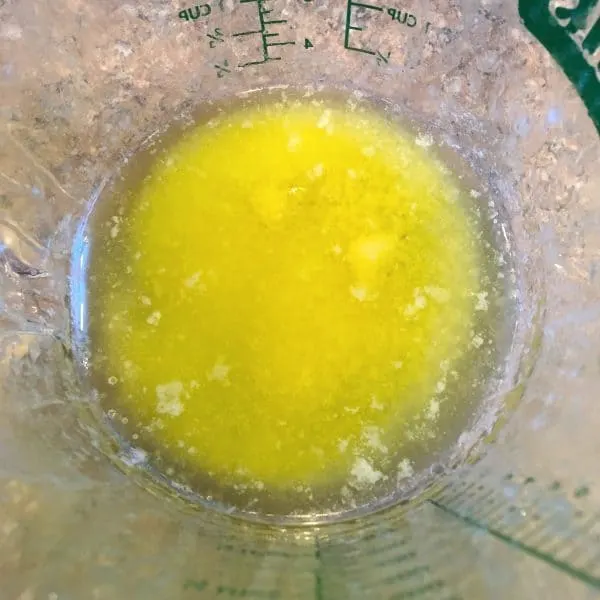 Slowly drizzle melted butter into your wet ingredients while quickly whisking! THIS is the MOST important step my friends! DO NOT SKIP THIS STEP! The future life of your pancakes and the love of your children depends on this step! (Y'all probably think I'm being overly dramatic about this…and your point?)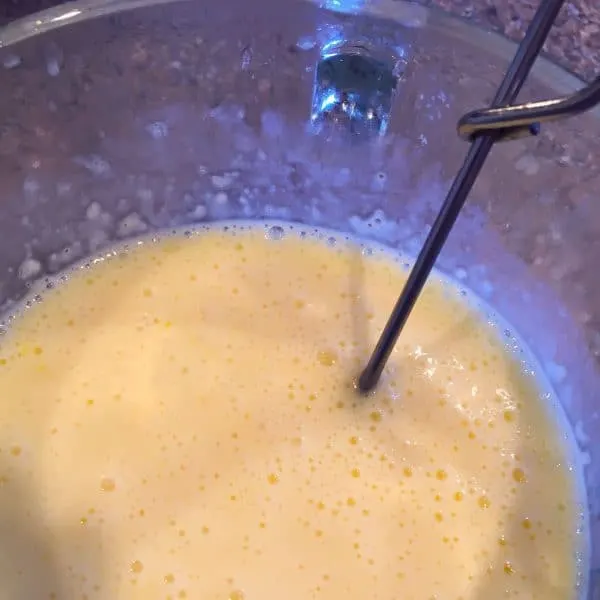 Now I took this photo especially for y'all! So stop… pause… and marvel at the beauty of….wait for it…BUTTER BALLS! Yep those little congealed balls of butter are going to make the BEST BUTTERMILK PANCAKES that have ever entered past your lips and slapped your taste buds awake…even on a Saturday morning!
You're welcome! (Oh trust me…you are going thank me for this!)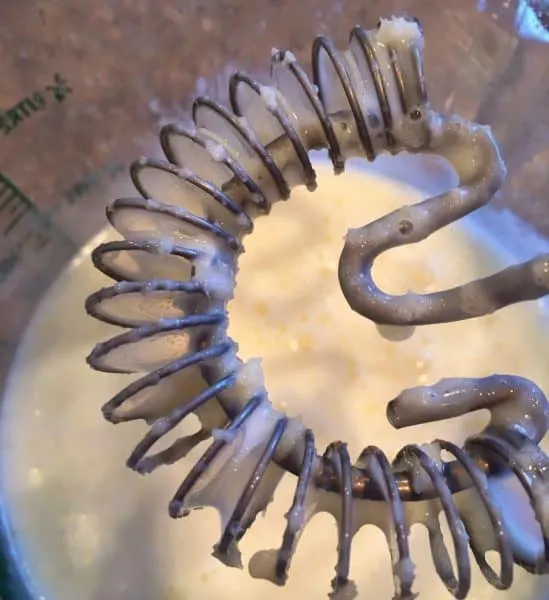 Now this next step is also important. So pay attention friends!
You now have two bowls of ingredients. One dry…one wet. When it comes to pancakes…and ONLY pancakes…we believe in segregation! We do not marry these two bowls together until the griddle is nice and hot and then…and ONLY then…do we introduce them to each other!
Why? Because the minute that buttery buttermilk mixture hits the perfectly whisked ingredients…it's going to activate the baking soda and baking powder, the other key ingredients that create the "Fluff" in these amazing fluffy pancakes.
Heat up and lightly oil your griddle! It's time to get flipping!
When the griddle is hot…flick water across the surface and if it beads up and sizzles (kind of like me in the summer) It's ready!
NOW you can mix those two bowls together. See those bubbles…it happens almost instantly!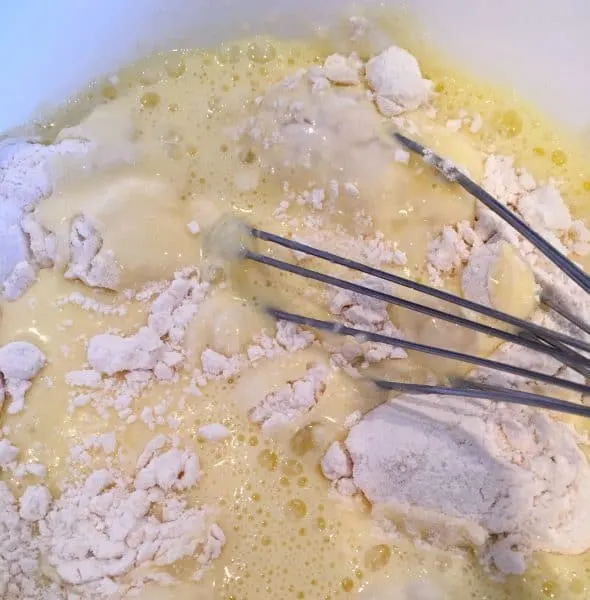 Whisk until just blended. Do not over stir. See the air bubbles?
This is the Best Buttermilk Pancake Batter ever created!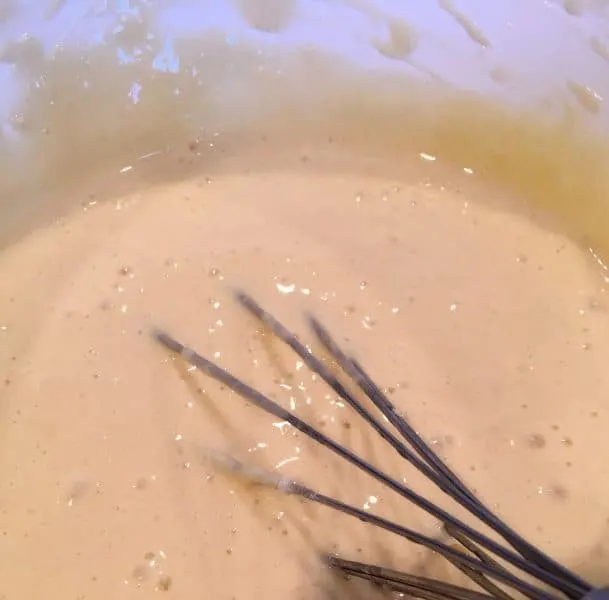 Pour or scoop the batter onto your hot griddle. Watch as they rise and the bubbles begin to burst. (We want those little bubbles bursting!)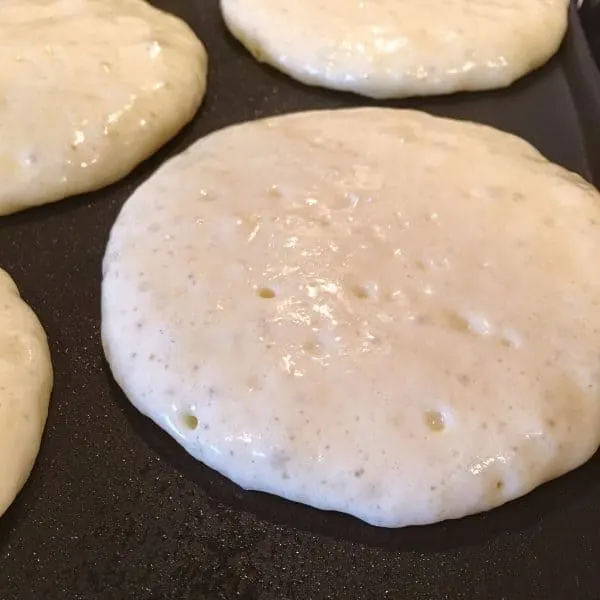 Flip that beautiful Buttermilk Pancake once it is golden brown.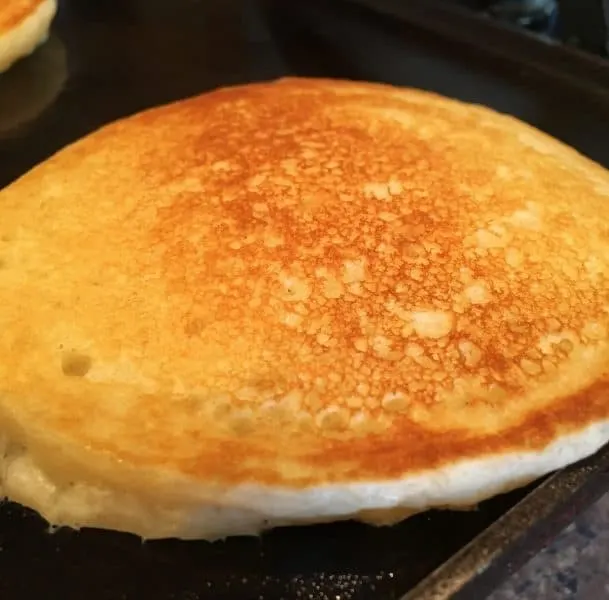 Brown on both sides and serve hot! I like to stack them on a plate covered with a fresh dish cloth, country style, until I have them all baked. (We aren't too fancy at this Nest! Just get'em cooked and stack'em up!)
Aren't those pretty? They taste even better.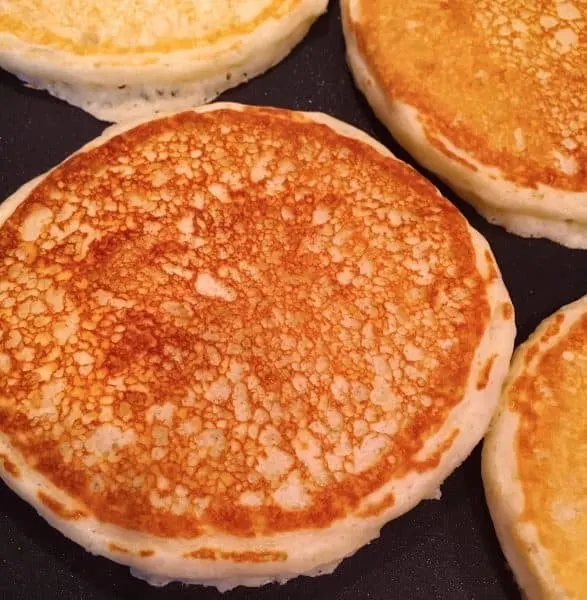 These are truly the BEST Buttermilk Pancakes! They are everything a really GREAT buttermilk pancake should be. Light, Fluffy, and Melt-in-your-mouth delicious! (I know I've said it a bazillion times in this post, but it deserves repeating…They are the BEST!)
Tips for creating the PERFECT Buttermilk Pancake
Whisk dry ingredients together in a separate bowl
Whisk melted butter, quickly, into other wet ingredients
Keep dry and wet ingredients separate until ready to bake pancakes~No mixing it up early!
Cook on a HOT griddle, test griddle by flicking water across the griddle
Wait till most, but not all, of the bubbles burst before flipping to other side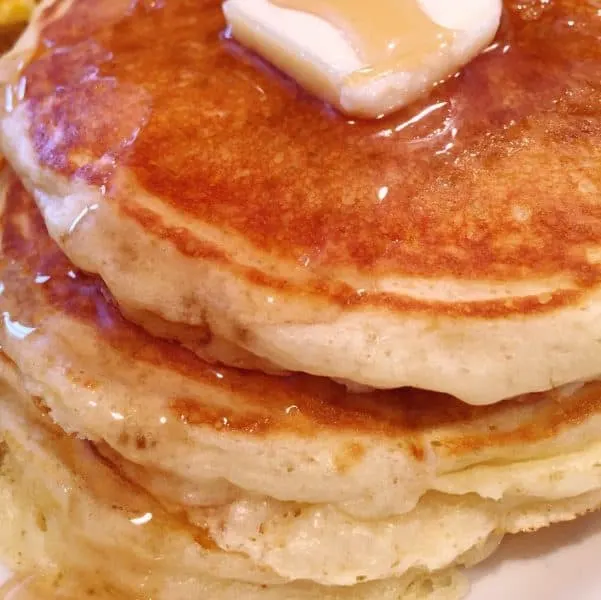 Before I go I just want to point out one other thing…a good pancake ALWAYS has a an outer golden ring! Do you see it? That's the sign of a great pancake!
The buttery flavor of these Fluffy Buttermilk Pancakes is just one of the many things that make them a "stand out" among all the other "hot cakes". This recipe truly combines all the best baking elements into one pile of fantastic flapjacks!
If you really want to "up" your hot cake game you can toss some blueberries on top of each pancake as they are baking before flipping…you'll have the BEST Blueberry Pancakes!
Favorite Pancake Recipes
Thanks for stopping by. These pancakes come together super quickly, about 25 minutes from start to finish!
Add your favorite syrup, grab a fork, and let's get this Pancake Party Started!
Happy Nesting!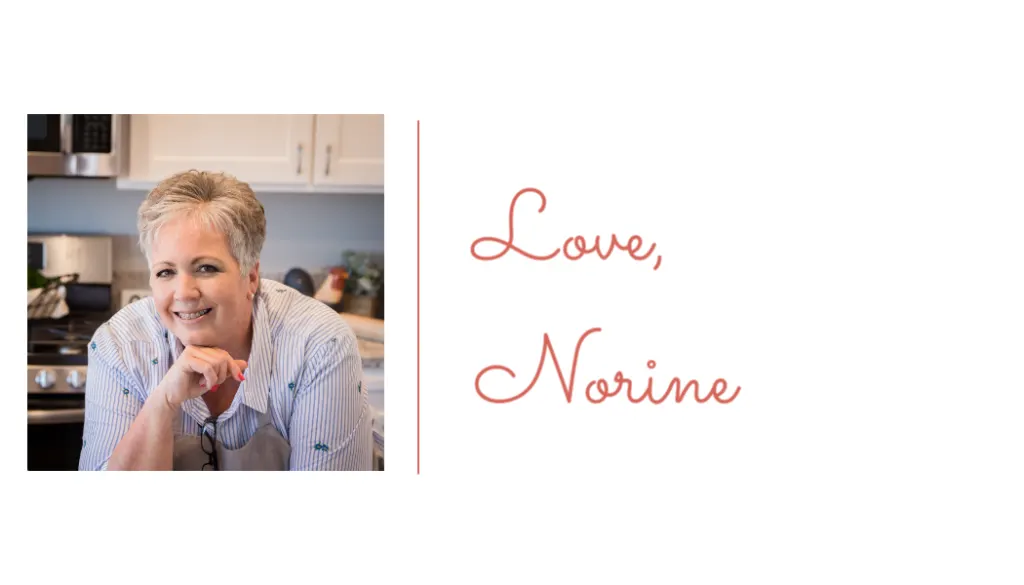 Yield: 12 servings
Classic Buttermilk Pancakes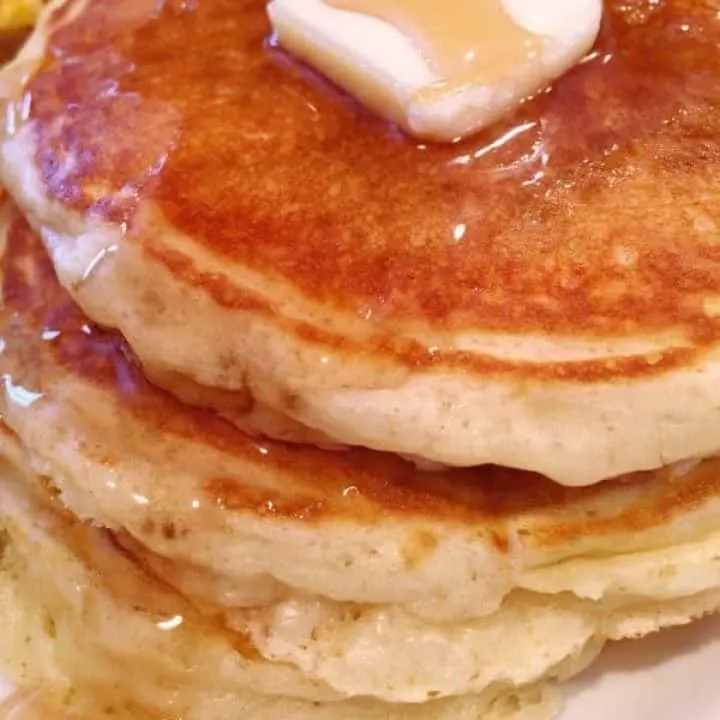 A very light and fluffy buttermilk pancake that makes the BEST Pancakes you'll ever have!
Ingredients
3 cups all-purpose flour
3 Tablespoons sugar
3 teaspoons baking powder
1 1/2 teaspoons baking soda
3/4 teaspoon salt
3 cups buttermilk
1/2 cup milk
3 eggs
1/3 cup butter, melted
Instructions
In a large bowl, whisk together flour, sugar, baking powder, baking soda, and salt.
In a separate bowl, beat together buttermilk, milk, and eggs.
In a separate microwave safe bowl, melt butter. Using a whisk, drizzle melted butter into buttermilk mix, whisking quickly as mixing.
Keep the two mixture separate until you are ready to cook.
Heat a lightly oiled griddle or frying pan over medium high heat. Flick water across the surface...if it beads up and sizzles, it's ready for cooking.
Pour wet mixture into the dry mixture. Mix until just combined. Do not over stir.
Pour or scoop batter onto the hot griddle.
Brown on both sides and serve hot.
Notes
This recipe can be cut in half by using two eggs and cutting all other ingredients in half.
Recommended Products
As an Amazon Associate and member of other affiliate programs, I earn from qualifying purchases.
Nutrition Information:
Yield:
12 servings
Serving Size:
3 pancakes
Amount Per Serving:
Calories:

219
Total Fat:

7g
Saturated Fat:

4g
Trans Fat:

0g
Unsaturated Fat:

3g
Cholesterol:

63mg
Sodium:

592mg
Carbohydrates:

31g
Fiber:

1g
Sugar:

6g
Protein:

7g