*As an Amazon Associate I earn from qualifying purchases. This post may contain affiliate links, which means that I may make a commission from any purchases at no additional cost to you. Thank you for your support!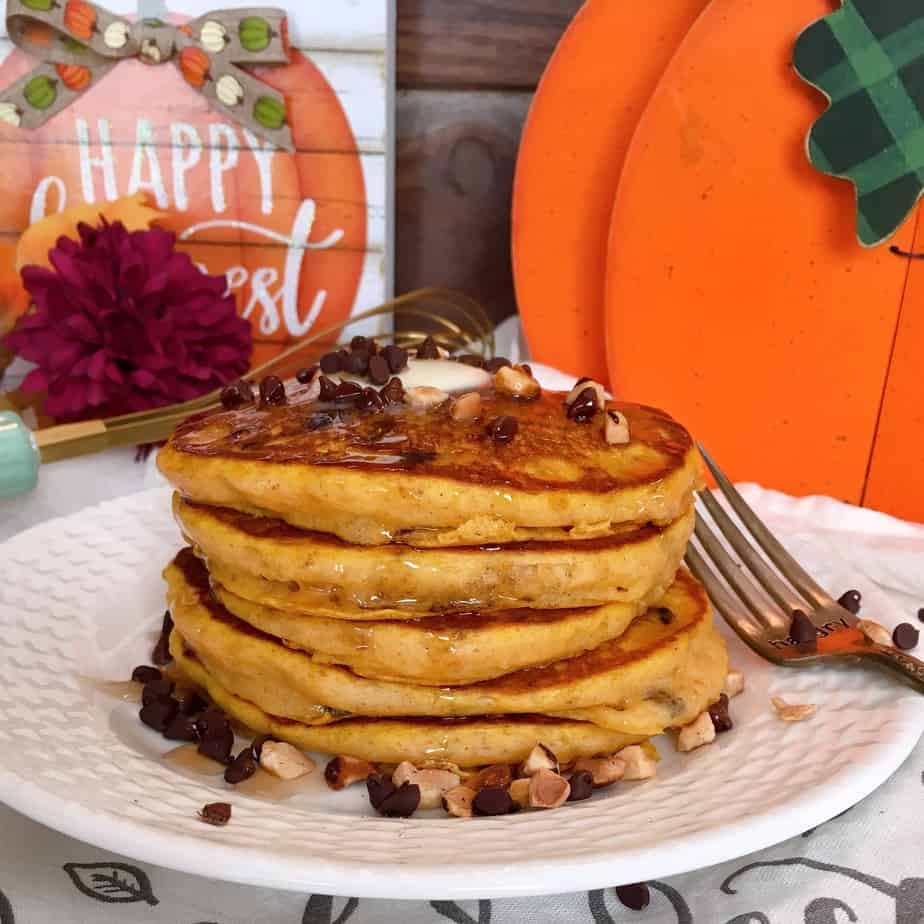 Light, fluffy, and completely decadent… Pumpkin Chocolate Chip Pancakes are ultra moist with hints of warm cinnamon and nutmeg. The perfect Fall breakfast treat!
It's officially Fall, which means it's 100% Okie Dokie to bust out everything Pumpkin Spice! (It was truly a supreme effort on my part not to start sooner! You're welcome!)
My soul truly rejoices this time of year! I love the flavor of pumpkin, and the luscious hints of Fall spices, throw chocolate into the mix…and WHAM BAM THANK YOU MAM'!!!
Let me start out by saying "You're welcome"! These delicious Pumpkin Chocolate Chip Pancakes contain ALL the above listed requirements for the perfect Fall recipe, then goes above and beyond!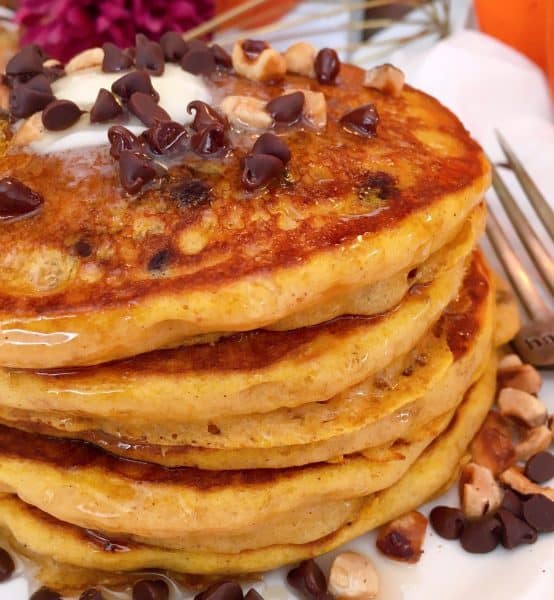 I dreamed of these pancakes for weeks! WEEKS!!! I would literally go to bed and wake up thinking about this recipe. What could be better than to take everything we love about Pumpkin Chocolate Chip Bread, and make it into pancakes? I can't think of a thing! Not a single thing!
This is a kicked up version of my favorite Buttermilk Pancake Recipe! It's quick and easy. My very favorite recipe, one my entire family loves, and one that I've used for years!
So Let's make this scrumptious breakfast treat!
How To Make Pumpkin Chocolate Chip Pancakes
In a large bowl combine 3 Cups all-purpose flour, 3 Tablespoons sugar, 3 teaspoons baking powder, 1 1/2 teaspoons baking soda, 3/4 teaspoon salt, 1 teaspoon cinnamon, and 1/2 teaspoon nutmeg.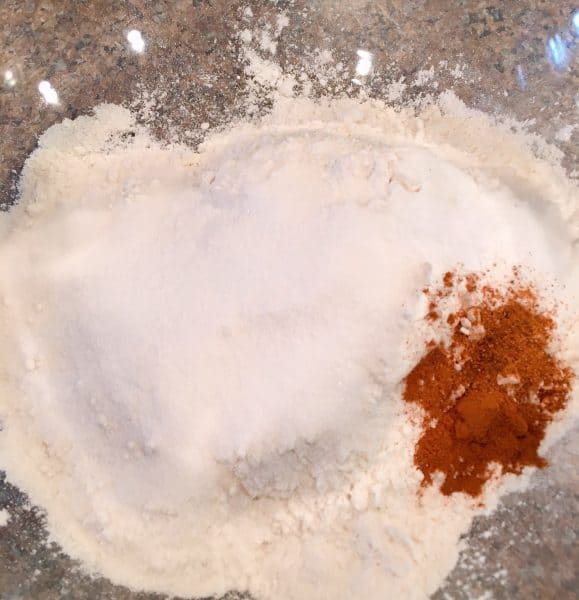 Mix dry ingredients with a wire whisks until well combined.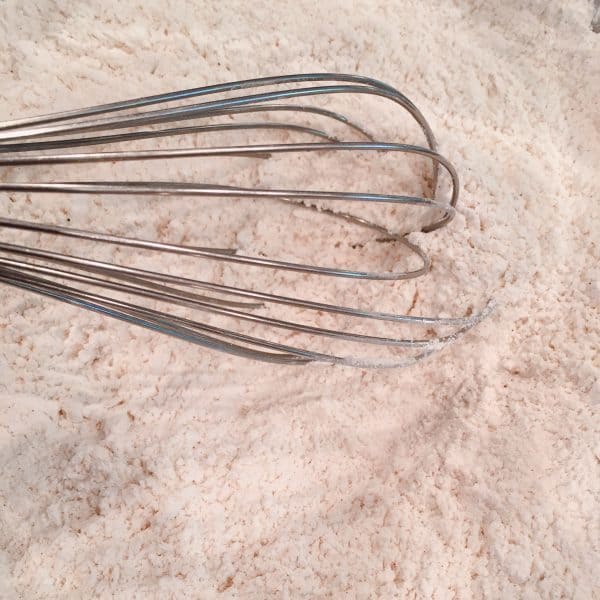 In a separate bowl, beat together 3 cups buttermilk, 1/2 cup milk, 3 large eggs together.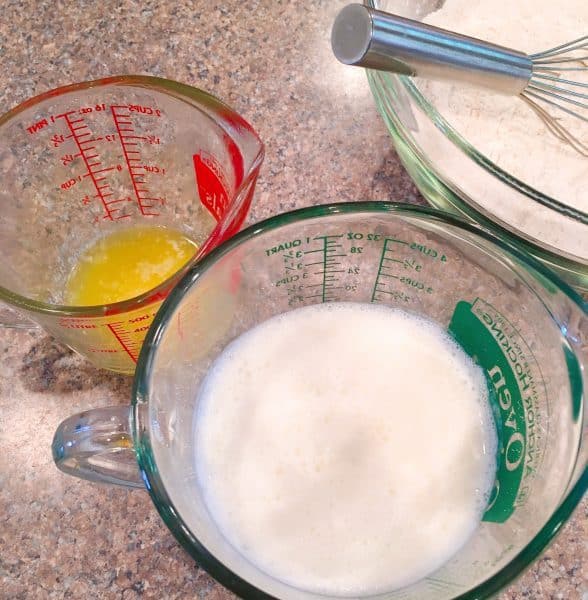 Slowly pour melted butter into cold mixture while whisking briskly.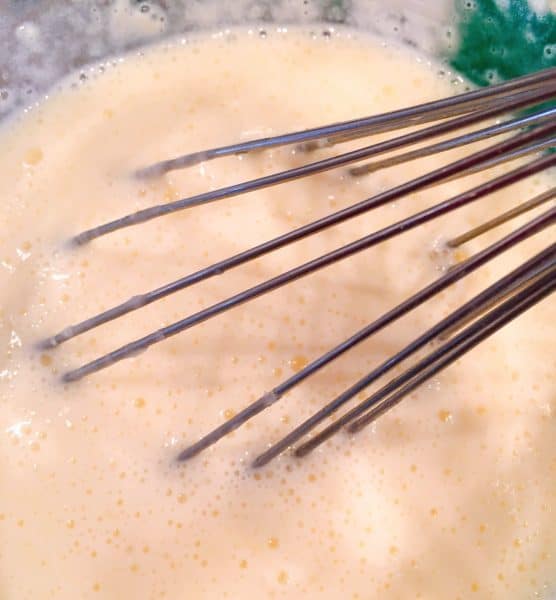 Make a small well in the center of the dry ingredients. Pour wet ingredients into the well in the dry ingredients.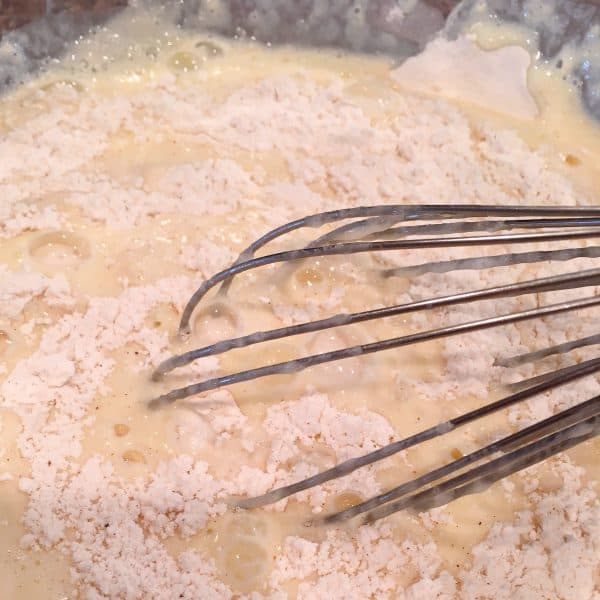 Add 2/3 Cups plus 2 Tablespoons canned pumpkin to the pancake batter. Dig out those muscles and whisk this batter again until well combined.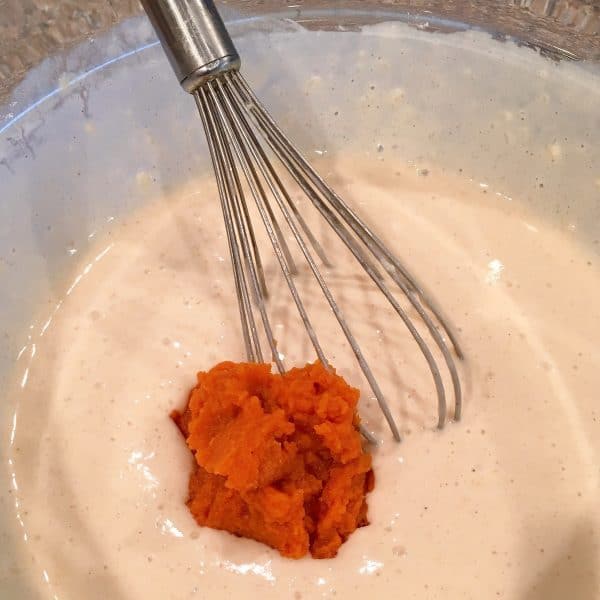 Add 1/2 cup Mini Semi-Sweet Chocolate Chips.
TIP: I recommend using mini-chocolate chips as the regular size chocolate chips will sink to the bottom of the batter. The mini's stay disbursed throughout the batter.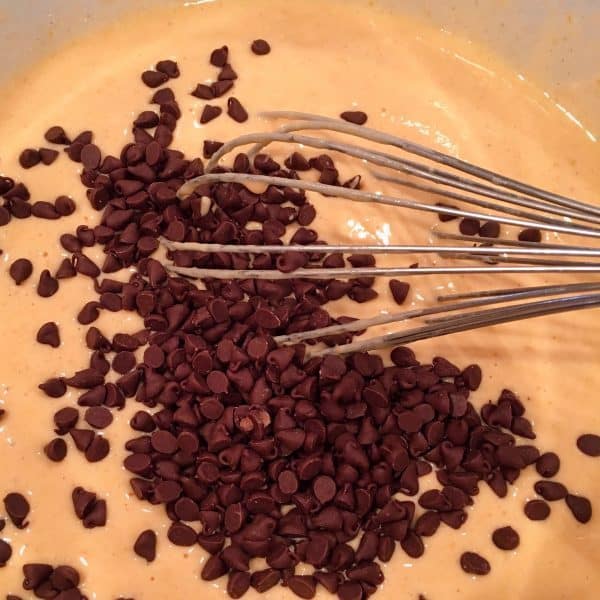 One last mix…whisk chocolate chips into the batter until well combined.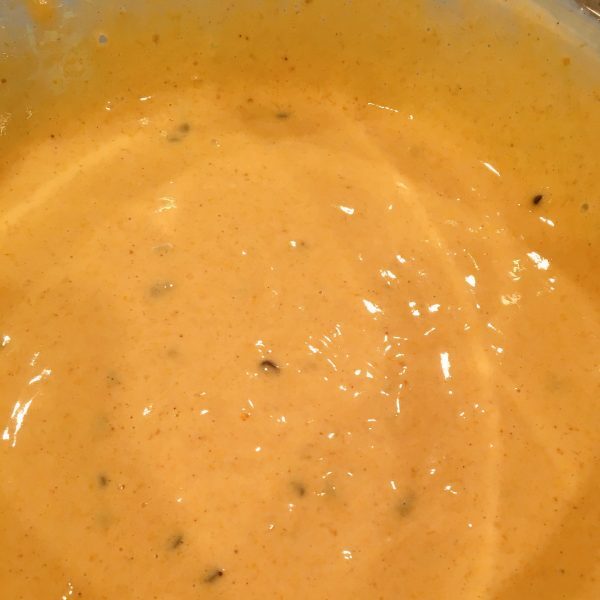 Heat a lightly oiled griddle or frying pan over medium high heat. I like to spray my griddle with non-stick cooking spray and then carefully wipe off the excess with a waded up paper towel. This gives the surface a nice, evenly greased, surface for the cakes.
TIP: You can flick water across the surface and if it beads up, and does a little John Travolta dance across the surface, it's ready!
Using a large ladle, pour the wet mixture onto the griddle, using approximately 1/2 cup for each pancake.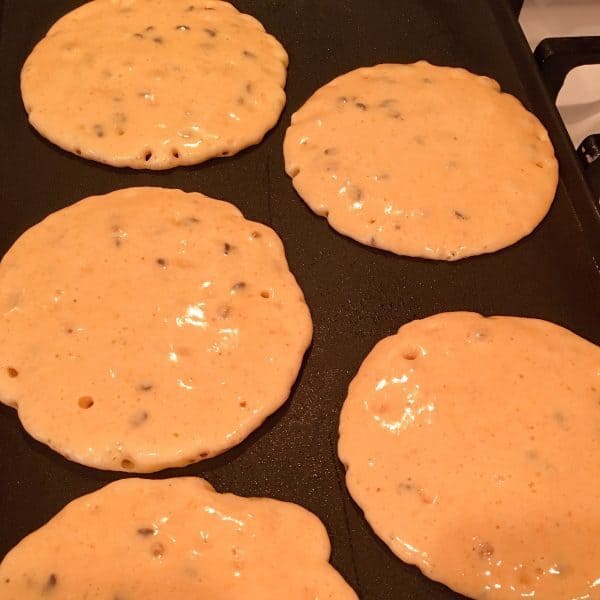 Now here is my best "pancake" advice. There's this old wives tale to wait until every bubble pops…and you can…if you really enjoy burnt pancakes! I don't enjoy burnt pancakes…at all!
I like to wait until my edges are "set" and the largest bubbles have popped. Then I carefully lift one corner…if it is the desired "golden" color I like…I flip! (Well I don't flip! That would be physically impossible at this stage of my life… and not pretty either! I flip the pancakes! It's because of the pancakes that I personally don't flip! lol)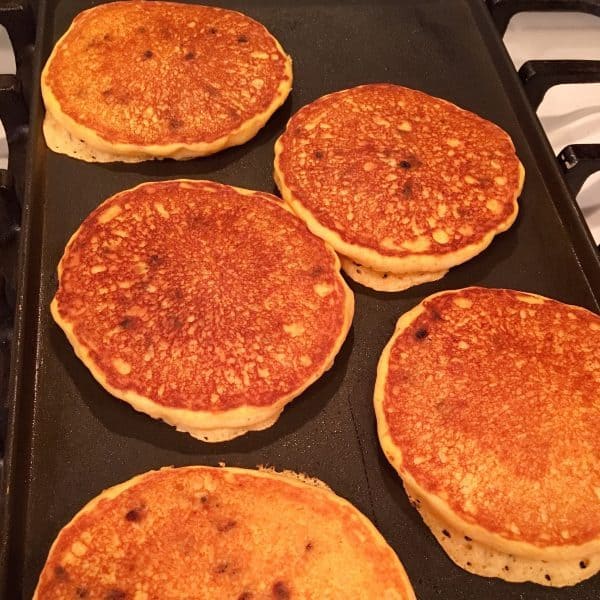 The "rise" on this flap jack recipe is incredible. It's just one of the many things I love about them.
Take in the details on these pancakes! Perfectly golden with a great set edge. You can see the tiny air bubble pockets…they make for a light fluffy pancake.
Those air pockets are created with that melted butter you added to the cold milk. When you whisk the melted butter into the ice cold milk it forms a million little "butter balls"…these butter balls melt during cooking and you end up with wonderful little bubble pockets. That's why I stress to "whisk" the butter quickly into the liquids.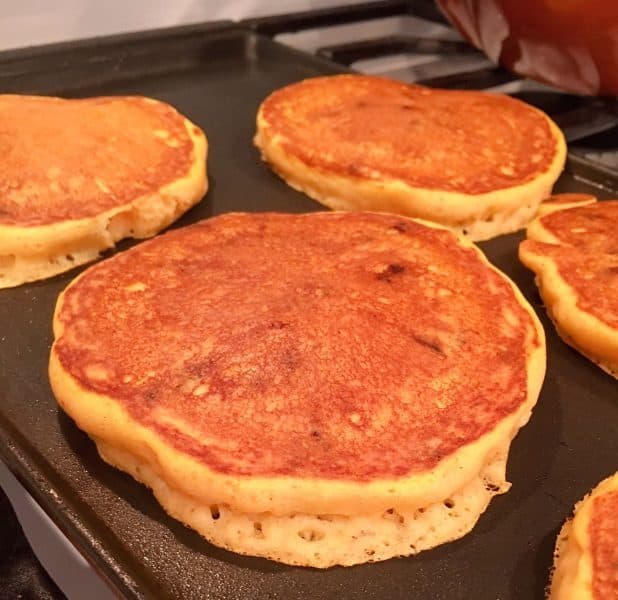 Make yourself a tall stack or a short stack (I vote tall!!! Go big or go home…and waddle to the scale…but you'll be happy!)
Top off with a few slabs of butter (Low-calorie has gone out the window my friends…let's just embrace the joy of this recipe!), a sprinkle of more mini chocolate chips, chopped hazelnuts and drizzle them with a healthy serving of Maple Syrup.
Are you drooling yet? Do I have your attention? I sure hope so or I'm not doing my job right!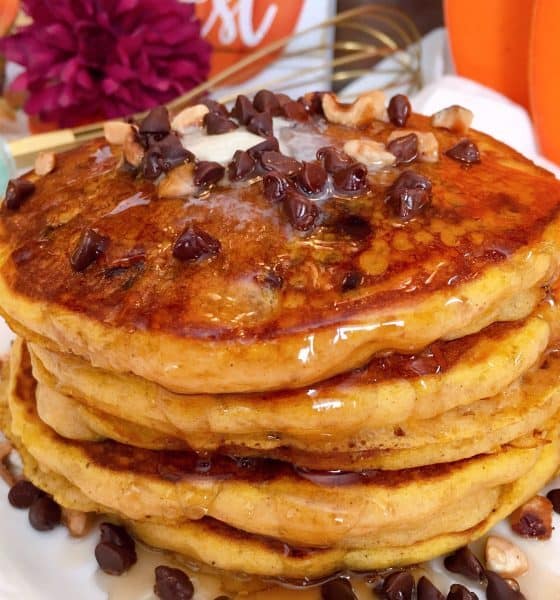 The mini chocolate chips melt during the cook time! Like little liquid drops of happiness!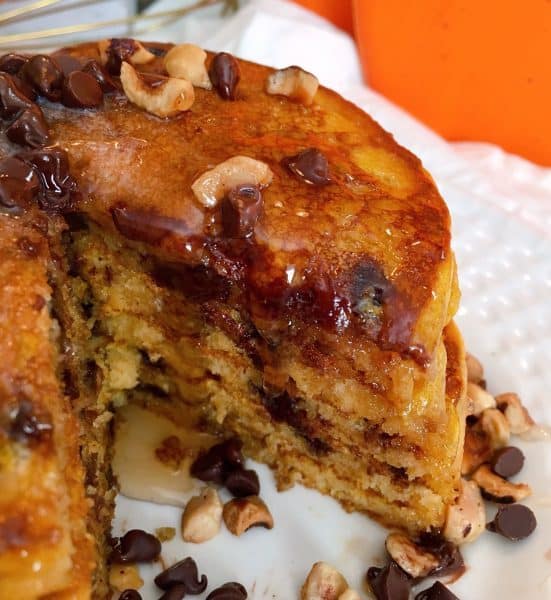 There are not enough words in the English vocabulary to describe how sinfully decadent these pancakes are! The first forkful had my eyes rolling back in my head!
The fork say's it all!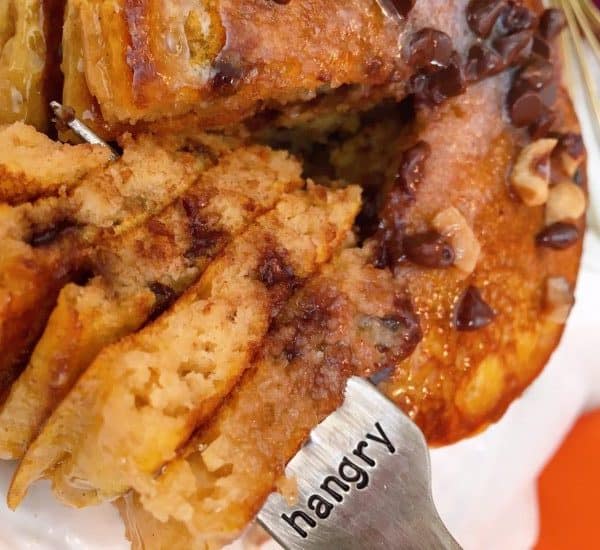 Additional Tips for Pumpkin Chocolate Chip Pancakes
This recipe makes a large batch of pancakes. 25-30 pancakes, enough for 12 servings.
Butter Pecan Syrup pairs beautifully with this recipe.
You can cut this recipe in half and use 2 eggs instead of 3.
If you want an even fluffier pancake add an extra egg to the full recipe.
I hope you'll make these scrumptious Pumpkin Chocolate Chip Pancakes this Fall and that your family will love them as much as I do! They are truly a breakfast treat that takes you to your happy place!
If you like this recipe you may also enjoy these other Pancake and Waffle Recipes
Remember you can always follow me on Pinterest, Facebook, and Instagram where I share my favorite recipes daily!
Enjoy and Happy Nesting!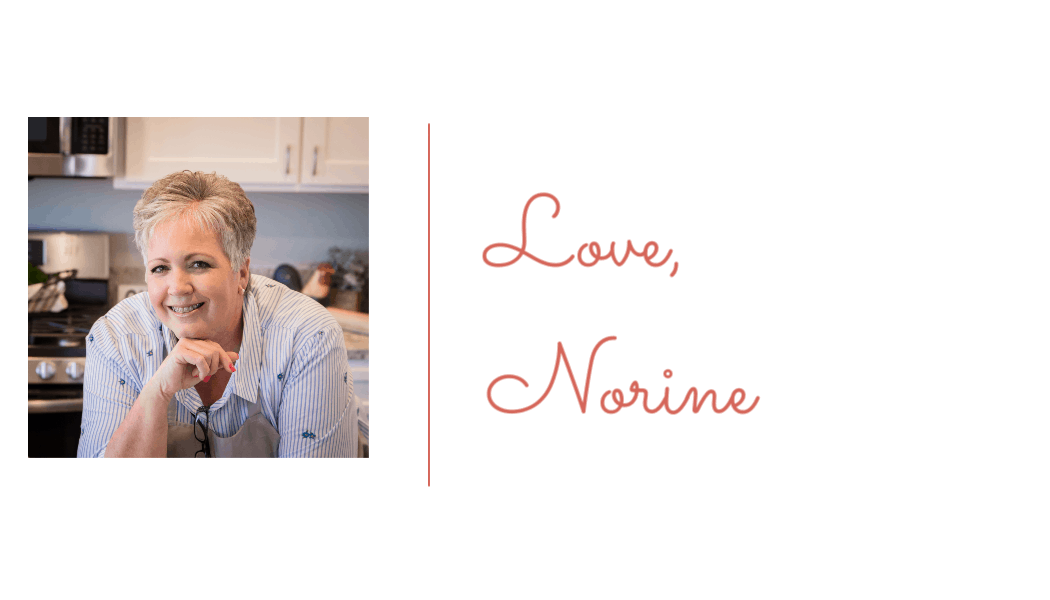 Yield: 12 servings
Pumpkin Chocolate Chip Pancakes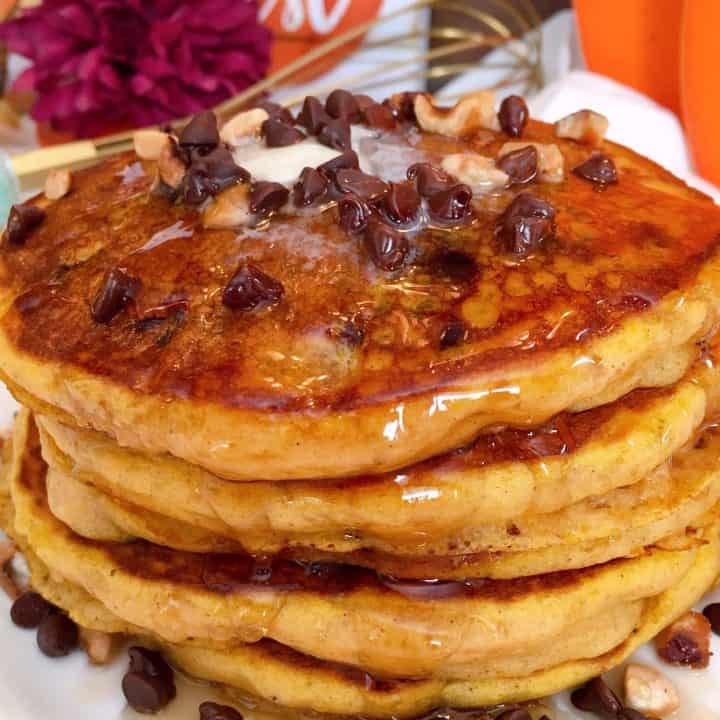 Light, fluffy, pumpkin chocolate chip buttermilk pancakes with hints of cinnamon and nutmeg, topped off with Maple syrup. The BEST Pumpkin pancakes on the planet!
Ingredients
3 cups all-purpose flour
3 Tablespoons white sugar
3 teaspoons baking powder
1 1/2 teaspoons baking soda
3/4 teaspoons salt
1 teaspoon cinnamon
1/2 teaspoon nutmeg
3 cups buttermilk
1/2 cup milk
3 large eggs
1/3 cup butter, melted
2/3 cups plus 2 Tablespoons canned pumpkin puree
1/2 cup mini semi-sweet chocolate chips
Instructions
In a large bowl, combine flour, sugar, baking powder, baking soda, salt, cinnamon, and nutmeg. Mix together with wire whisk until combined.
In a separate bowl, beat together buttermilk, milk, eggs and melted butter.
Create a small well in the center of the dry ingredients. Add wet ingredients into the well. Mix with wire whisk until batter is smooth. Add pumpkin and mix.
Add chocolate chips, stir until combined.
Heat a lightly oiled griddle or frying pan over medium high heat.
Pour or scoop the batter onto the prepared griddle, using approximately 1/2 cup for each pancake. Brown on both sides and serve hot.
Recommended Products
As an Amazon Associate and member of other affiliate programs, I earn from qualifying purchases.