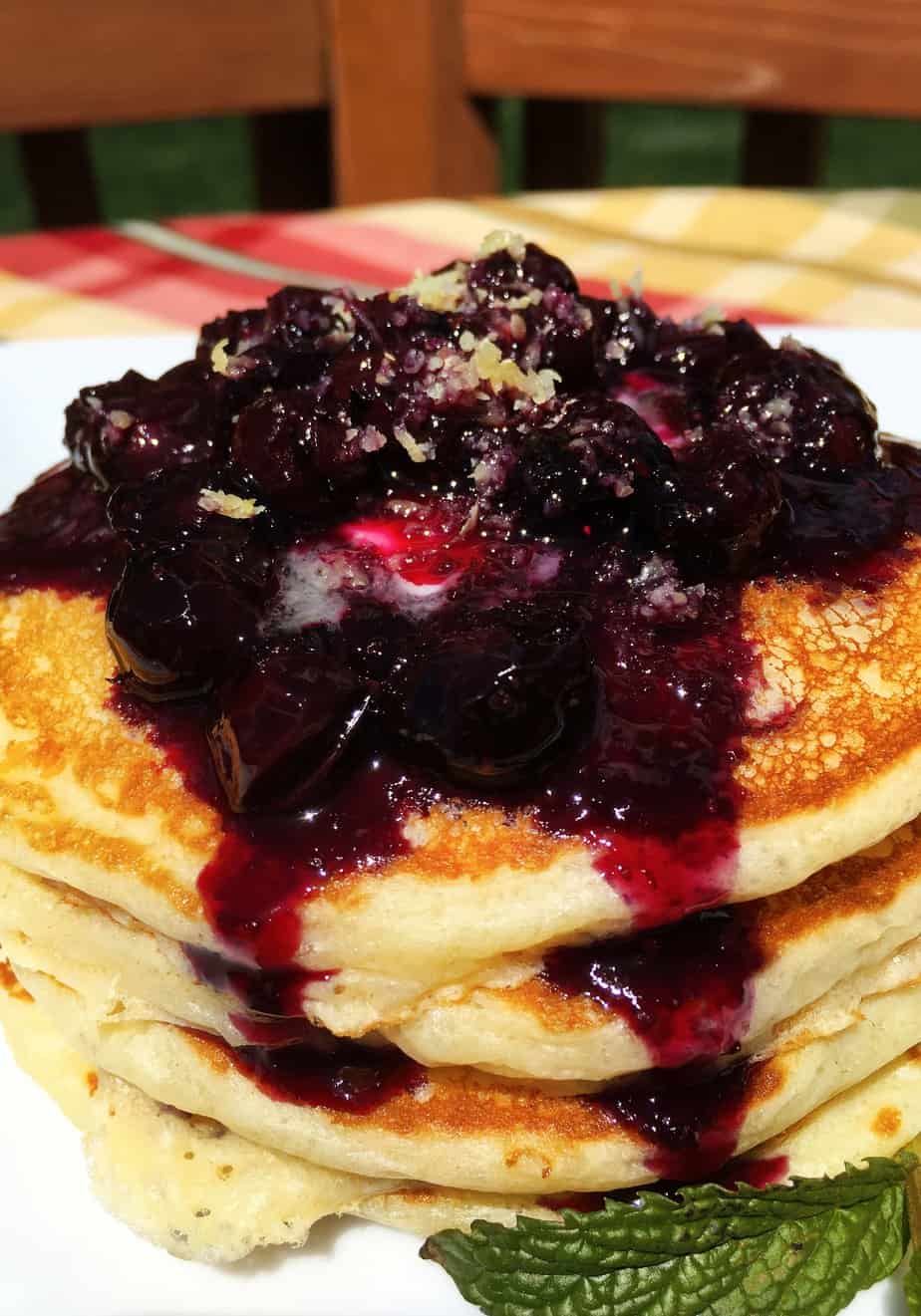 Fluffy tender buttermilk pancakes loaded with fresh blueberries and a scrumptious homemade blueberry and lemon zest syrup! A perfect weekend breakfast the whole family will love!
Let's chat about my love for pancakes! I have always…YES! ALWAYS…I'm not exaggerating… loved pancakes! I honestly do not know how any breakfast food with the word "cake" in it could not be loved?!
When it comes to Saturday or Sunday morning breakfast it has to be something different than every other cold cereal breakfast day of the week! It needs to include… fluffy scrambled eggs, crispy fried bacon, and…buttermilk pancakes!
I realize that all food bloggers throw around the word "Best"! However, I am here to tell you that I truly make THE BEST buttermilk pancakes on this planet! Don't believe me? Just ask the birds at my nest!
They love my pancakes…well, those that eat breakfast do!
It took me a long time to find the perfect recipe, and this folks, is the perfect recipe! It doesn't come from a box or a bag. It isn't gluten free, fat free, or calorie free! (Thank goodness!!)
What it is, is amazing, light, fluffy, melt in your mouth, Buttermilk Blueberry Pancakes. Not too thick…not too thin. They are just right!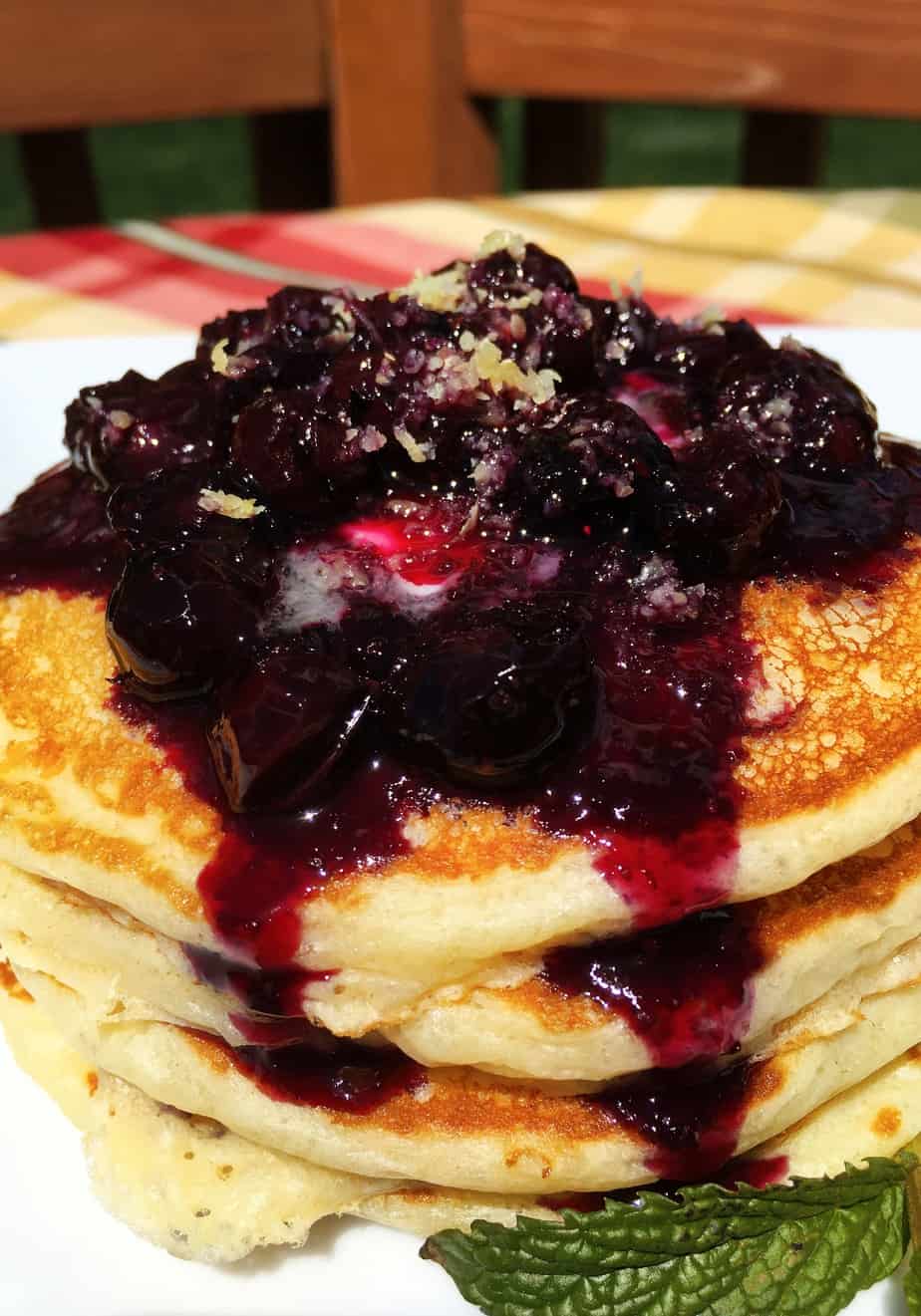 How To Make Buttermilk Blueberry Pancakes
The secret to my blueberry pancakes is to drop the blueberries onto the poured pancakes rather than mixing it into the mix. This prevents the batter from turning a lovely shade of lavender, which is fun if you are having a fairy breakfast… but not so cool for the men in your family!
It also allows you to place the berries exactly where you want them so that every fork full will have a little pocket of juicy blueberry goodness!
Notice those bubbles? Hello fluffy wonderful pancakes. The secret of this recipe is rapidly whisking the melted butter into the ice cold buttermilk and milk. It causes the melted butter to become micro beads of firm butter, creating even more pockets of goodness!
I pour my batter from a ladle and then if it isn't perfectly round, I gently use the bottom of the ladle to round them out.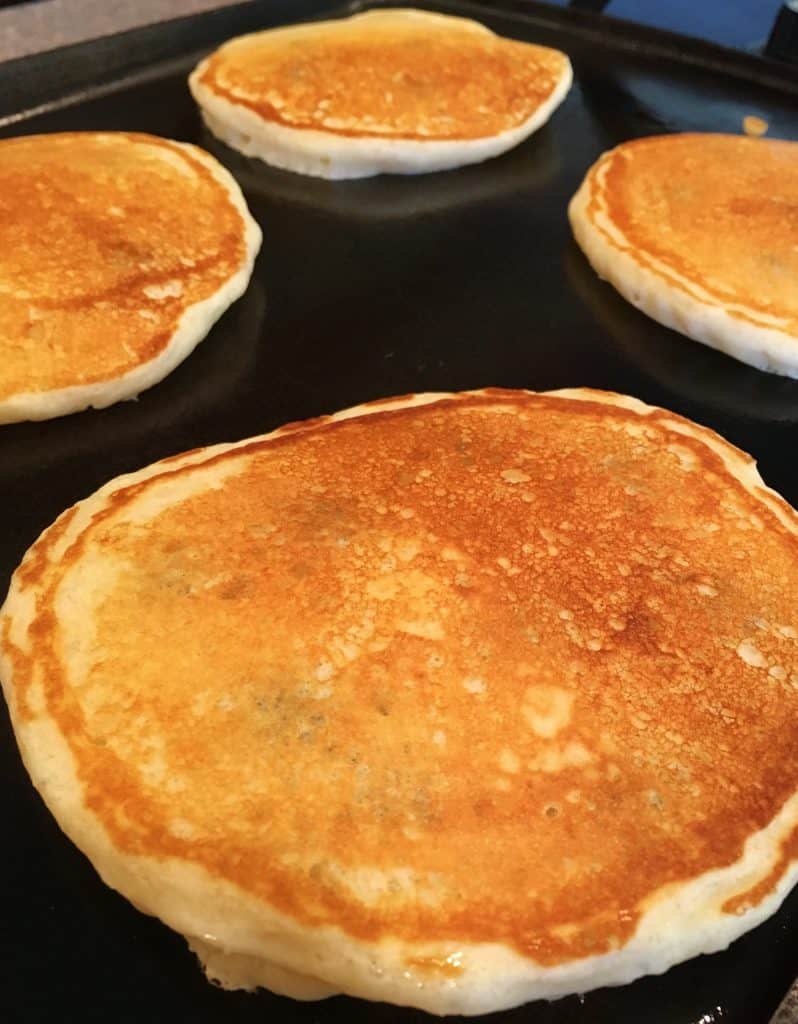 Don't those look amazing? These pancakes cook up so beautifully! I love to flip them and watch as they puff up.
The blueberries are in there, just under the surface. Yep, those blueberries are going to leave little round juice marks as they cook on your griddle but, it washes off and the beauty is that the hot griddle causes those berries to become soft and juicy.
Your second and third batches will have blueberry tattoo's… but who cares? They're like little badges of honor plastered across the tops of those amazing buttermilk flapjacks of goodness!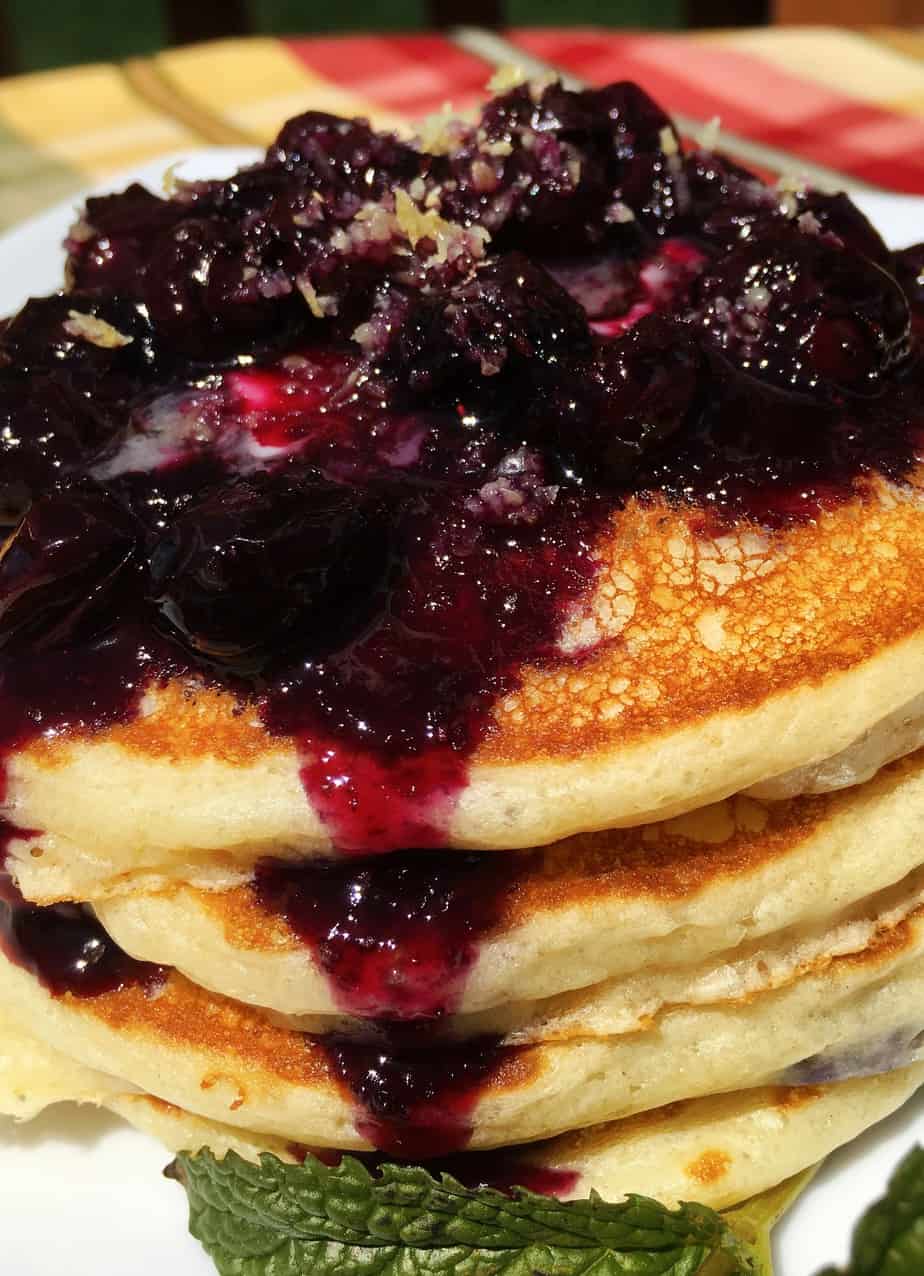 Can you see the little "air pockets" created by those micro beads of butter? Yum! Who doesn't love nooks and crannies?
Blueberry Lemon Zest Pancake Syrup
I decided I wanted to kick my blueberry pancakes up a notch, to ease my broken heart that vacation was over, so I made a fresh blueberry lemon zest "syrup".
I have to say I think it is really more of a blueberry topping than a syrup. Whatever you want to call it, I call it ummm… amazing!!!
It hits these pancakes right out of the ball park! If you LOVE blueberries, and I do, I'm here to tell you these pancakes with this blueberry topping are going to knock your slippers right off your feet and cause your eyes to fly wide open and say "How'dy Sunshine!"
You don't have to use the blueberry syrup, you can use maple syrup too and they'll still be delicious. I promise!
The recipe for my buttermilk pancakes is in the printable below along with the recipe for the blueberry topping. Happy Monday! It's time to get back to nesting and doing what I love to do most. Thanks for letting me be a part of your day! Come back again real soon!
Happy Nesting!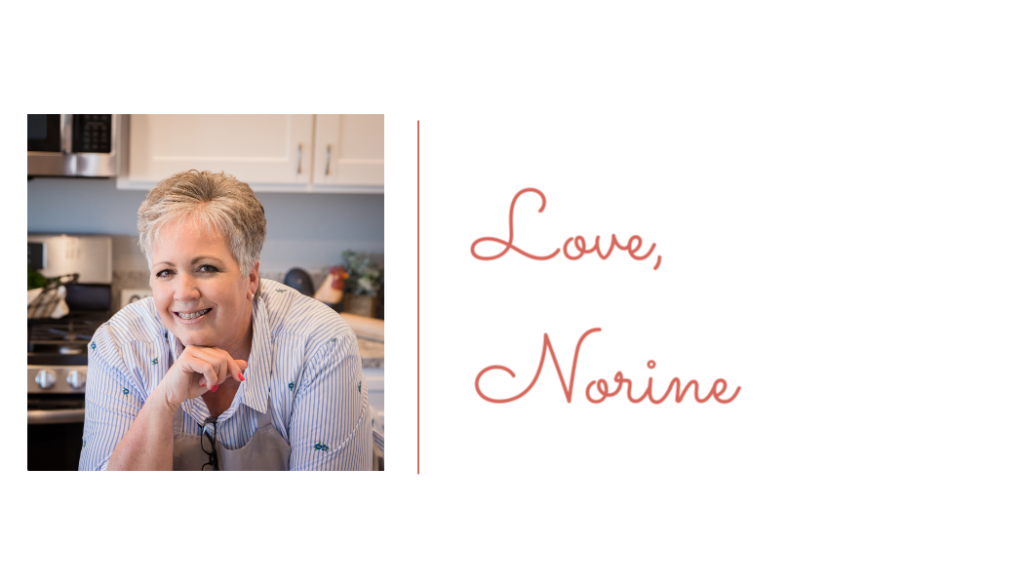 Yield: 16 servings
Blueberry Buttermilk Pancakes with Fresh Blueberry Lemon Zest Syrup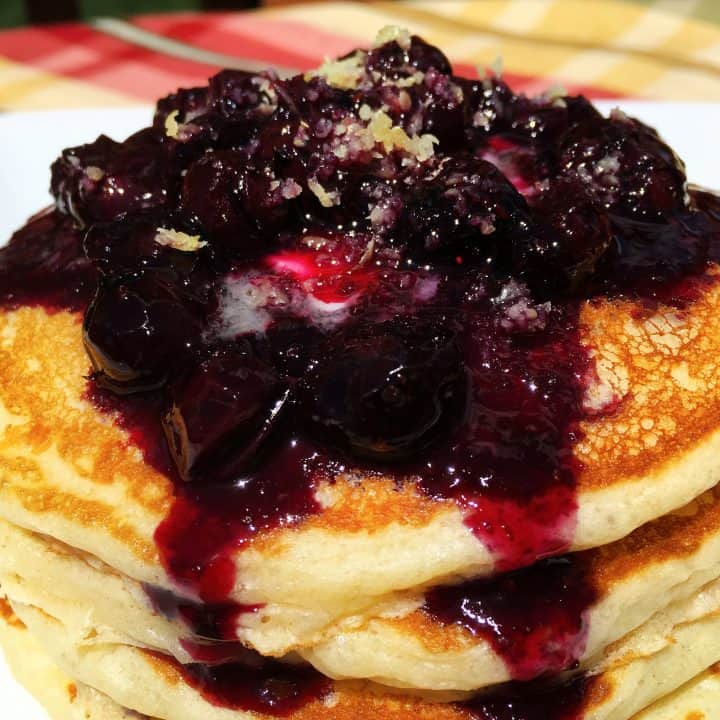 A light and fluffy blueberry buttermilk pancake with fresh blueberry lemon zest topping. The best pancakes I've ever made!
Ingredients
3 cups all-purpose flour
3 Tablespoons white sugar
3 teaspoons baking powder
1 1/2 teaspoons baking soda
3/4 teaspoon salt
3 cups buttermilk
1/2 cup milk
3 eggs
1/3 cup butter, melted
Fresh blueberries, rinsed
Blueberry Lemon Zest Syrup
1 cup fresh blueberries, rinsed
1/2 teaspoon fresh lemon zest (optional)
1/4 cup granulated sugar
1/4 cup water
Instructions
Pancakes
In a large bowl, combine flour, sugar, baking powder, baking soda, and salt. In a separate bowl, beat together buttermilk, milk, and then quickly whisk in the melted butter. Add in the eggs. Beat until well blended. Keep the two mixtures separate until you are ready to cook.
Heat a lightly oiled griddle or frying pan over medium high heat. You can flick water across the surface and if it beads up and sizzles, it's ready!
Pour the wet mixture into the dry mixture, using a wire whisk. Stir until it's blended together. Pour or scoop the batter onto the griddle, using approximately 1/2 cup for each pancake. Add about 5 -8 fresh blueberries on top of each pancake while cooking, before flipping. Brown on both sides and serve hot.

Syrup
Place blueberries, water, lemon zest and sugar into a small sauce pan. Slowly bring to a boil over medium low heat. Allow to boil for 5 minutes stirring frequently. Turn off heat and allow to cool. Spoon over blueberry pancakes.
Notes
You can do only half this recipe. Just use 2 eggs instead of three, cut all the ingredients in half.It will make 19 pancakes.
Also note that the cook time listed is just for the pancakes and not for the topping. It can be made ahead of time and cooling while you are making the pancakes.
Recommended Products
As an Amazon Associate and member of other affiliate programs, I earn from qualifying purchases.
Nutrition Information:
Yield:
16
Serving Size:
2 pancakes
Amount Per Serving:
Calories:

182
Total Fat:

6g
Saturated Fat:

3g
Trans Fat:

0g
Unsaturated Fat:

2g
Cholesterol:

47mg
Sodium:

444mg
Carbohydrates:

28g
Fiber:

1g
Sugar:

9g
Protein:

6g
Norine's Nest in no way provides any warranty, express or implied, towards the content of recipes in this website. It is the reader's responsibility to determine the value and quality of any recipe or instructions provided for food preparation and to determine the nutritional value, if any, and safety of the preparation instructions.
Recipe adapted from Allrecipes.com