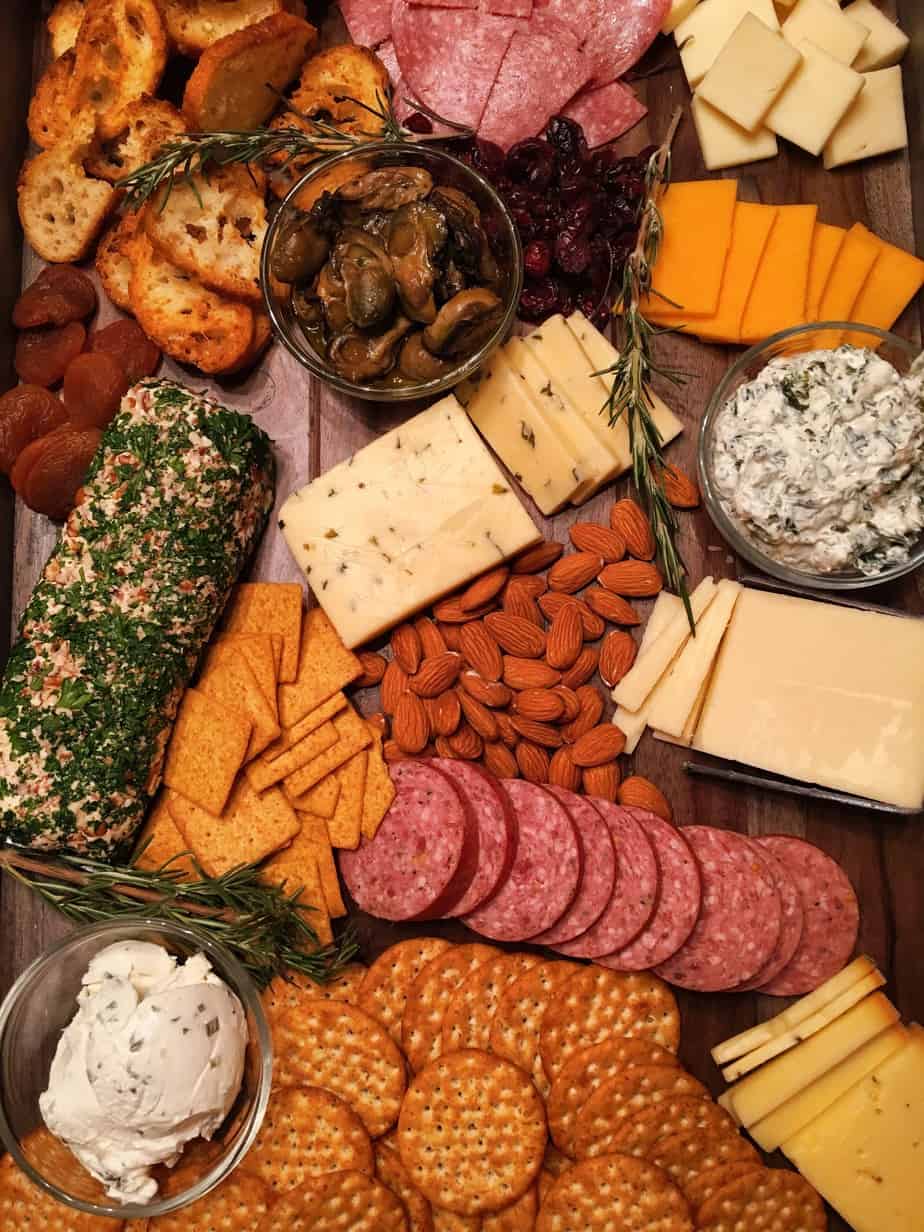 Delicious cheeses, meats, nuts, dried fruit, crackers, dips and herbs come together to in this "How To" Create The Perfect Cheese Board!
*As an Amazon Associate I earn from qualifying purchases. This post may contain affiliate links, which means that I may make a commission from any purchases at no additional cost to you. Thank you for your support!
One of the perks of being a food blogger is you are constantly immersed in the "foodie" world. Honestly, before I became a food blogger, I had no idea how big the world of food blogging was and is!
I knew there was a cute little redheaded farm girl pioneering her way into our hearts, six darling gals who claim to be sisters…lol, and of course the queen bee…Martha!
This past Holiday season it became clear the current rage is "cheese boards". I instantly fell insanely in love with them! Like obsessively in L.O.V.E. with them!
Every time I would spot one on Instagram from a blogging buddy I would begin to drool! Maybe it's my fetish for cheese and crackers, or it could be all the beautiful deep rich colors and variety you can create on a cheese board.
There is no end to the possibilities on a cheese board. I love the open invitation it sets for your guests.
Christmas Eve was my opportunity to give into my obsession and let my creativity go crazy! There is no real recipe for a cheese board. Think about some of your favorite cheeses, meats, crackers, dips, spreads, nuts, dried fruit, olives, and fresh fruits. Then go wild! Really the sky is the limit…well, and the size of your board, platter, or tray! lol 😉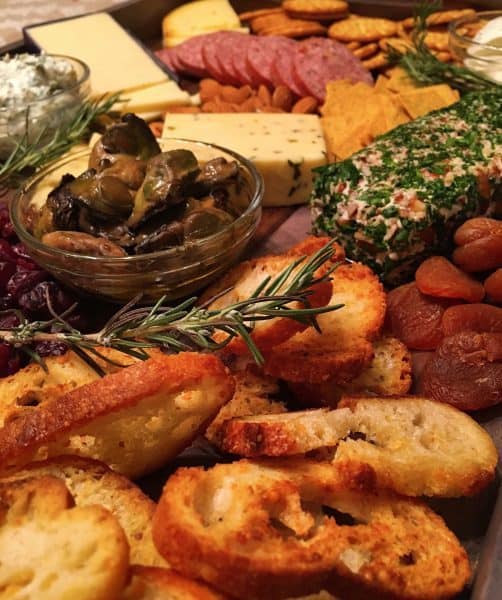 How To Create the Perfect Holiday Cheese Board
Cheese! I have always loved cheese. (Cows fear me when they spy me and the twinkle in my eye! It's one of my super powers!) You only need two or three "specialty" cheeses. I went to a specialty market and purchased a small amount of a couple of specialty cheeses.
For example, I found a remarkable Gouda with Truffles! It was pricey, but I didn't purchase a pound of it! No way! Just enough to place a small wedge with taste samples on the tray.
TIP: Advice… Don't feel the need to cut the entire piece of cheese either. I think it looks rustic to leave a small chunk with a few slices.
The Gouda was rich and creamy and beyond description. I also found a unique Havarti with dill and horseradish! It was another taste treat. The last was a sharp white cheddar. The remaining cheese on my platter was mild cheddar and Monterey jack. I also had a small bowl with cream cheese with chives. It's always a good idea to have a spreadable cheese.
For the meats slice summer sausage, salami, and smoked oysters. We love smoked oysters! So a small bowl of those were placed in the center for my tray. (I found my little glass bowls at the dollar store)
I also wanted a salmon log. A delectable combination of salmon and cream cheese covered in fresh parsley and chopped pecans.
Be sure to include a variety of crackers and Crostini! Don't skimp on your crackers. I enjoy a good hearty whole grain wheat cracker. It just adds a depth of flavor that goes along with your cheese and spreads so well. Plus they're hearty and up to the task of being weighed down with all those goodies.
Garlic flavored Crostini was also purchased at my favorite market in their bakery. Most grocery stores carry specialty breads and Crostini. So have fun and pick something eye catching.
A great "filler" for your board are raw almonds, dried cranberries, apricots, and a dip.
I chose a cold spinach vegetable dip. These little nibbling finger foods fill in the blank spots perfectly. I had some beautiful green olives I forgot to add and fresh pomegranate. It happens when I get excited!
TIP: I recommend setting all your items out in front of you before you begin. That way poor little green olives don't get forgotten. I've also seen clementine slices, apple wedges, and fresh grape included on cheese boards. You can even add hints of chocolate!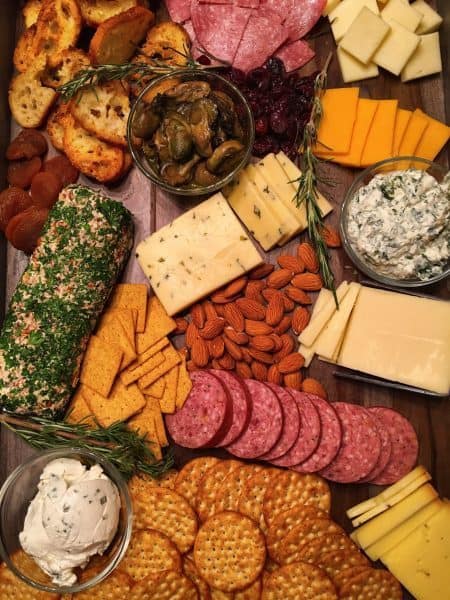 I finished the tray by garnishing with sprigs of fresh rosemary. You could use thyme or sage.
There really is no pattern to how to lay it all out. I started with my cheeses, then meats, then spreads, crackers, and filled in with nuts and fruits. I moved things around as I ventured along the creative process. Whatever you think looks good. I do recommend leaving little open spaces so it isn't too overcrowded.
You can use a cutting board too. Endless options which just opens the mind to all kinds of food creativity possibilities. That is what I want for you! I want you to dig in and get creative with food! It's meant to be enjoyed and experienced!
You have so many options with a cheese board.
It would also make a wonderful romantic appetizer for Valentines. Perfect to have setting out before going to a play with friends or even on a summer night out on the deck with drinks.
We don't drink at this Nest, but I sure could envision this with a tall fresh strawberry lemonade out on the back deck watching the sun set pretending I'm in France. (We just need to get rid of that snow and raise the temps by 40 degrees!!! lol )
I hope I have inspired you to create your own cheese platter. It's so much fun.
Happy Munchin'!