Zesty Shrimp on a bed of shredded cabbage, sliced avocado, and topped off with fried crunchy tortilla strips all drizzled with a wonderful lime creme dressing and fresh cilantro combine for this delicious Shrimp Taco Salad!
I'm kicking 2017 off with this delicious Shrimp Taco Salad! My own personal creation and one I'm pretty dang proud of!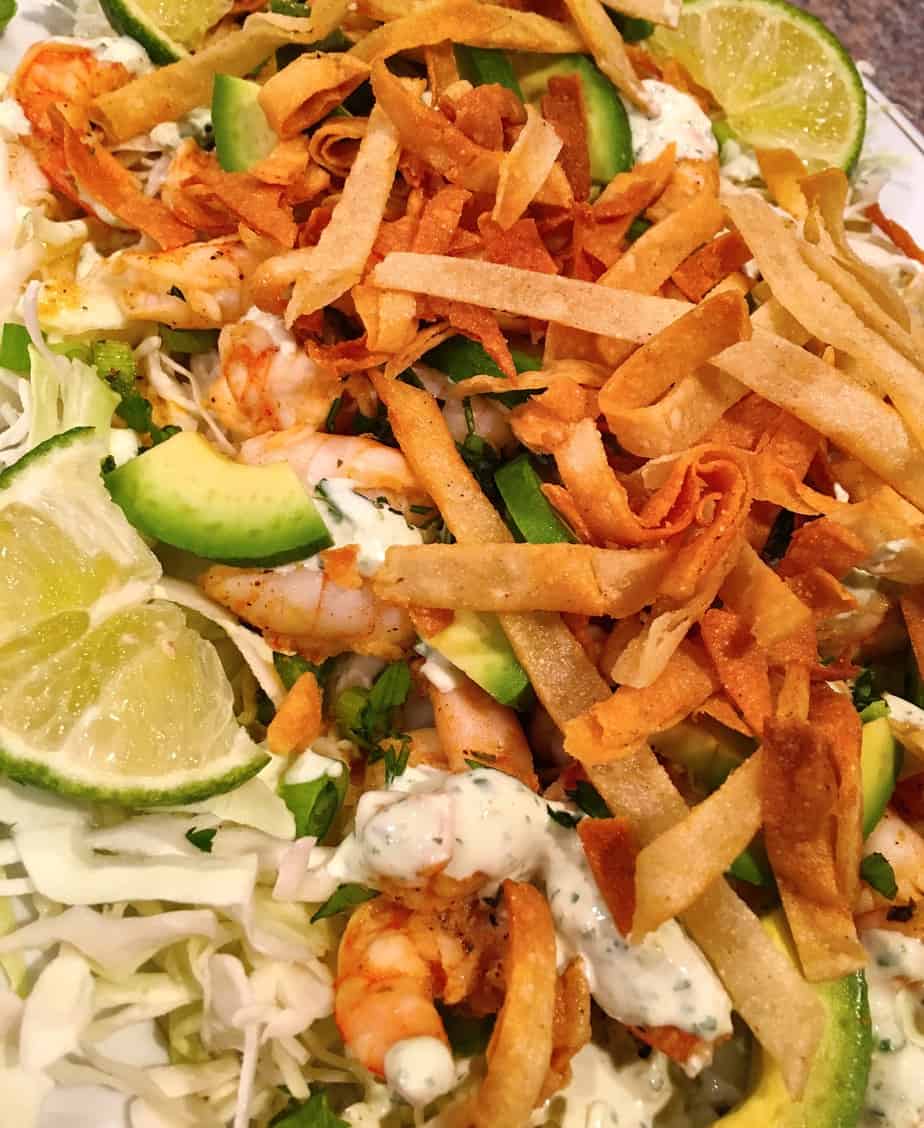 I'm sure we all have specific goals for this new year. I'm also sure being healthier is towards the top of all of our lists! We have to feel good to do anything in life!
Now let me be clear here regarding "healthy dishes". In my "book" if it contains any form of vegetable or fruit it's healthy! lol There's green in this dish so that makes it a healthy dish right? (I think I read that some where!)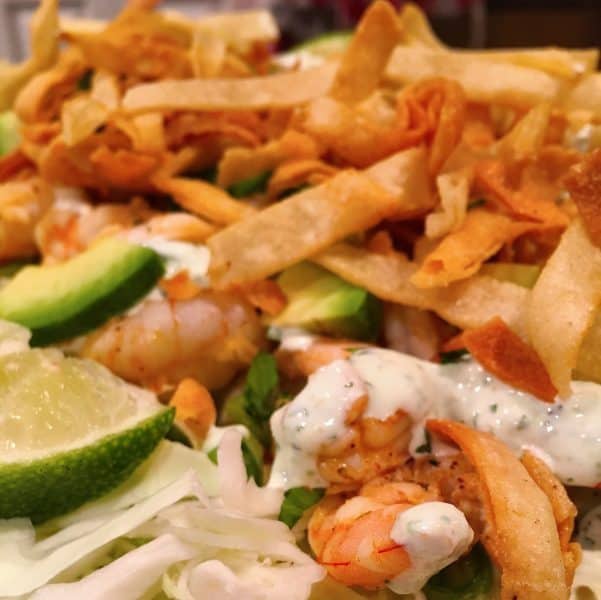 During the Holidays I hosted a fun Mexican dinner party with friends.
About an hour before the party started I decided I had to have some form of "salad" (insert my need for one "healthy" item…although there was guacamole on the table!) Keep in mind I'm a country girl and "drivin' ta town" was not in my time frame.
My brain started thinking about what I had on hand. I realized I had all the "fixin's" for Shrimp Taco's…what if I just turned it all into a salad? The more I thought about it, (we're talking 3 minutes tops here people…my attention span isn't that in-depth!), the more excited I got.
I'll be honest, it's always a little scary coming up with a last-minute menu item and hoping that it will turn out how you envision it. Thankfully, from the empty plate, I think I nailed it!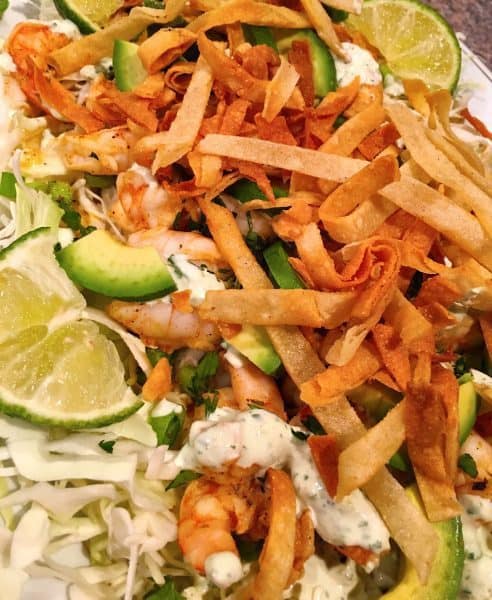 How To Make Shrimp Taco Salad
Let's start off with those shrimp! You will want 1/2 pound of large raw shrimp (31-40 count) tail on. Thaw and rinse your shrimp. Remove the tail.
Cut into bite size pieces. 2-3 cuts per shrimp. Place shrimp in a large zip lock bag. Add 1 Tablespoon Olive Oil, juice from half a lime, 1/4 tsp cumin, 1/4 tsp chili powder, 1/8 tsp onion salt, one minced clove garlic, dash coarse black pepper and dash of cayenne pepper. Allow to marinate at least 30 minutes to 4 hours.
Salad dressing for Taco Salad
For the dressing, in a separate bowl, mini food processor, or blender mix together sour cream, chopped cilantro, juice of one lime, spices and 1/2 a ripe avocado. Blend till smooth.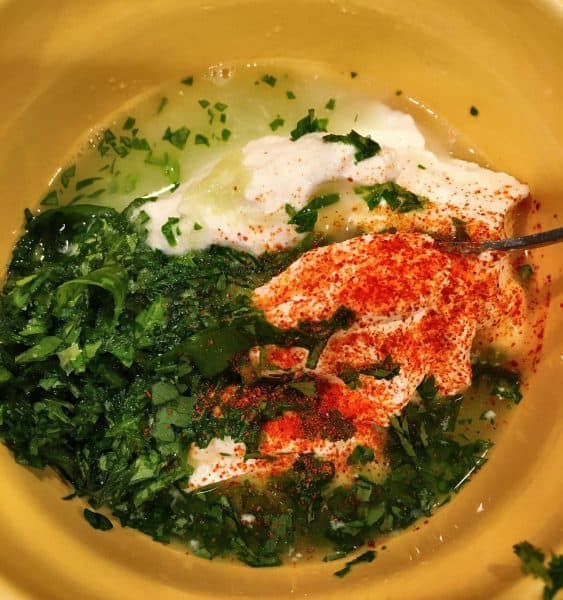 TIP: The key to this salad is to have everything prepared ahead of time. With that in mind have one avocado diced, lime wedges sliced, green onions thinly chopped, and chopped cilantro ready and on hand.
Also, place a bed of thinly sliced cabbage on a serving platter. In addition you'll want to have your corn "crunchies" ready to go! (My kids named them "crunchies" and it is now a cooking term in this Nest!)
To make my "crunchies" you'll need 6-8 white corn tortillas. Slice them thin and then fry time in a small skillet in about 1/2 inch of hot vegetable oil, drain on a paper towel and sprinkle with salt. If you don't want to do that you can buy them in the salad section with all the salad toppings. (I got ya covered!)
With all your "toppings" ready its time to pull it all together.
Cooking Shrimp for Salad
Begin by heating a medium skillet over medium high heat. Dump the entire contents of the shrimp and marinade into your hot skillet. See the sizzle…the secret to cooking shrimp… hot and fast!
Stirring constantly. It doesn't take very long too thoroughly cook shrimp. You do NOT want to overcook shrimp because it will become tough and rubbery! (Insert icky face! eweeeee!)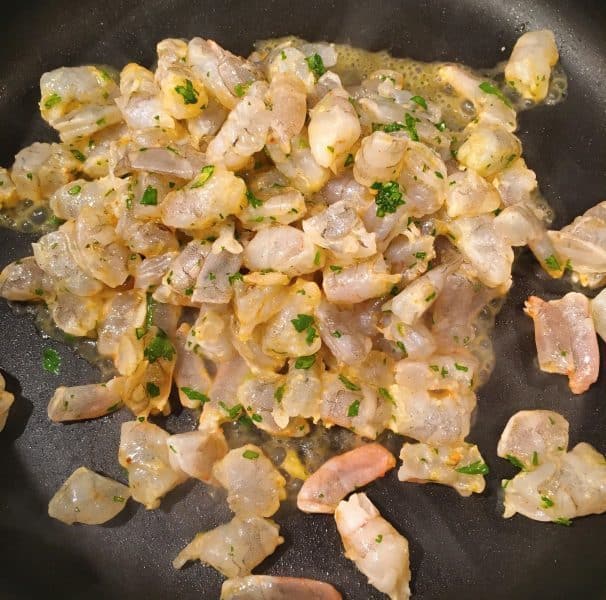 The shrimp is done when nice and pink and it's no longer translucent.
Once your shrimp looks like the photo below you are going to pour the entire contents of your pan over the thinly sliced cabbage on your serving platter. All of it! Including all that wonderful flavored juice!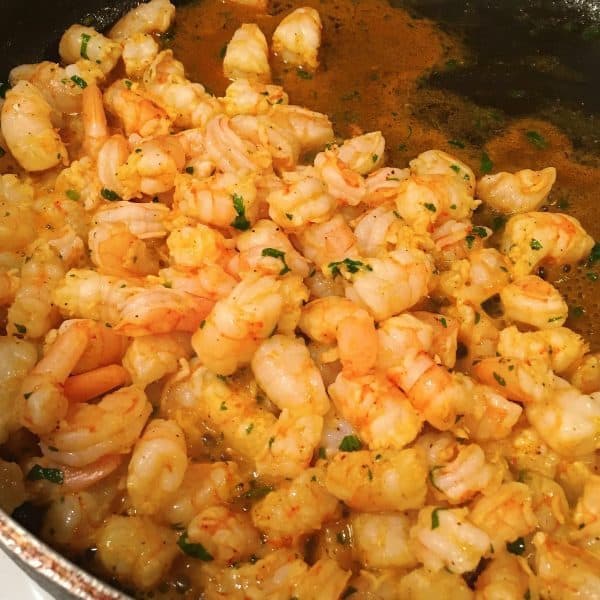 Final Touches for Shrimp Taco Salad
Top with chopped avocado, sprinkle with thinly grated monterey jack cheese, chopped cilantro, and thinly sliced green onion.
Drizzle with the dressing, top with the corn tortilla crunchies, and lime wedges, arranged around the salad.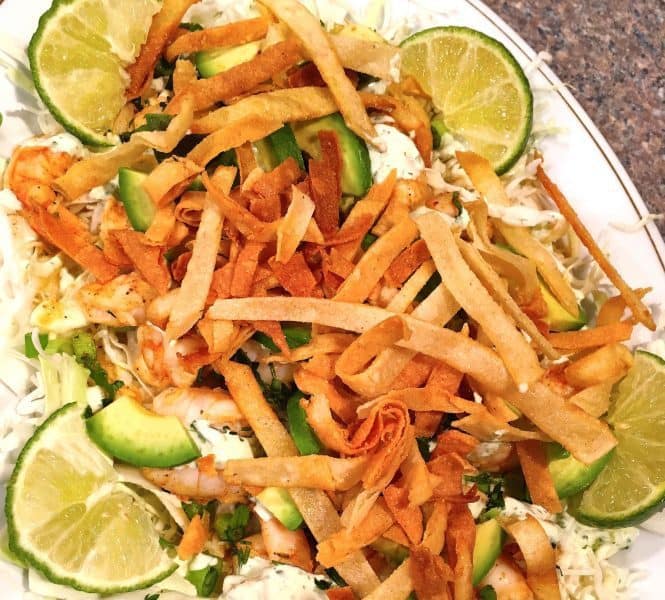 Like I mentioned, I was a little nervous if this salad would even be good since I had never given it a trial run before serving. (By the way…not something I recommend unless you are really sure of your recipe and flavor combinations.)
Thankfully it was a huge hit! My guest loved it and even had seconds! (A sure sign you've hit recipe gold!)
I can't wait to make this again! I realize it's topped with all those yummy crunchy fried corn chips, which may take away from the "healthy" side of the dish, but it's such a light refreshing salad! Can we just pardon the "crunchies"?
This salad is perfect for lunch or dinner. The cabbage soaked in the juices from the marinade and topped with all that luscious shrimp is soooo good! Add in the zesty creamy avocado lime dressing and you pretty much have a flavor party going on in your mouth!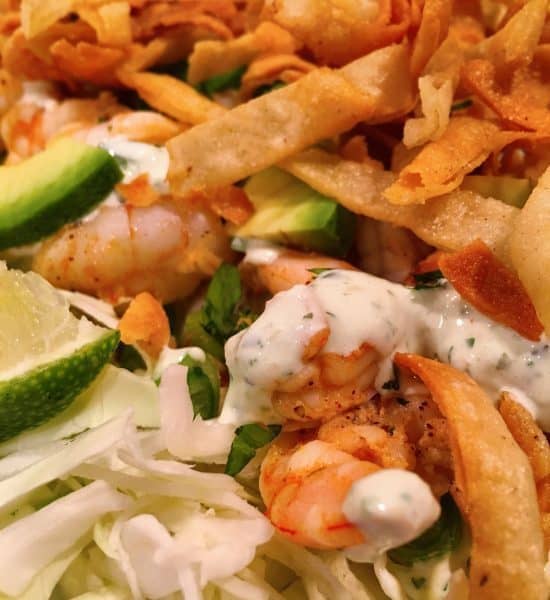 .
The next time you're hosting a Mexican themed dinner party or just want a delicious new dish for lunch or dinner…give this scrumptious Shrimp Taco Salad a try!
If you're looking for other great Salad Idea's here are a few of my favorites!
Great Salad Recipes
Have a Fantastic day! Go write a GREAT page in that book of life! Hugs and Love from my Nest to Yours!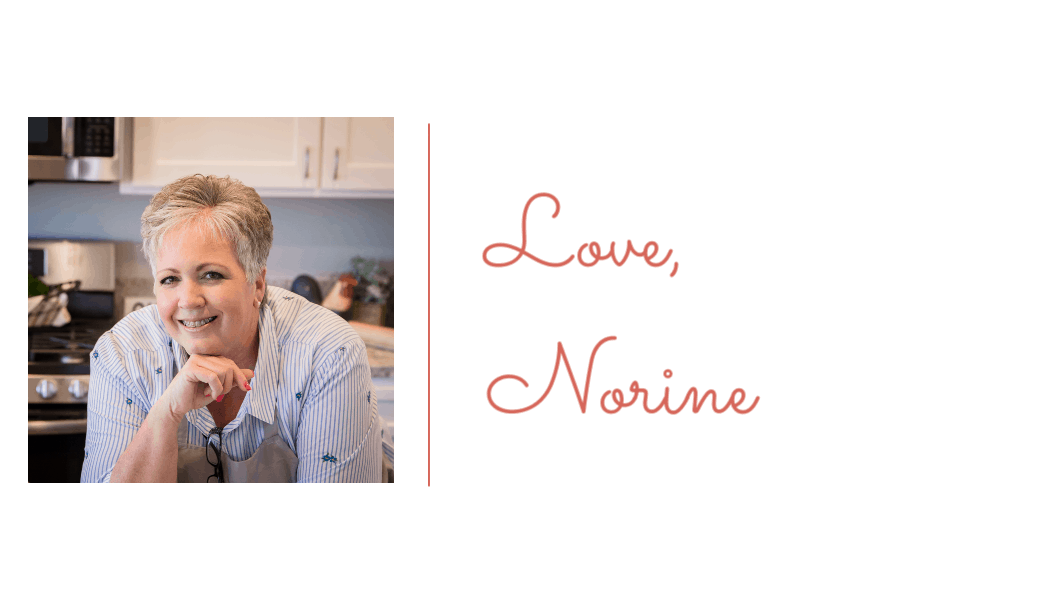 Yield: 4 servings
Shrimp Taco Salad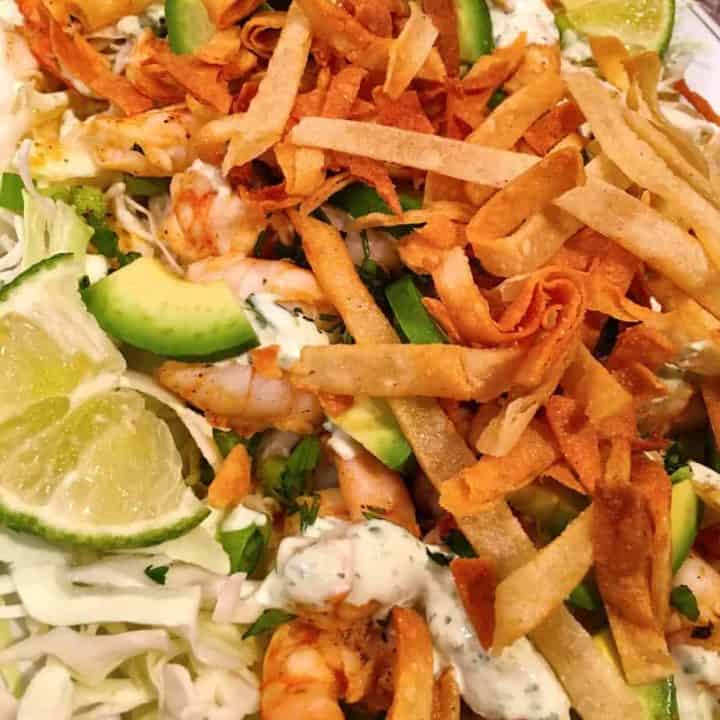 A fresh light marinated shrimp taco salad with a delicious creamy avocado lime cilantro dressing topped with white corn tortilla strips! The perfect salad for lunch or for your next Mexican dinner party!
Ingredients
1/2 package thinly sliced cabbage
1/2 pound (31-40) raw shrimp, tail on, cut into bite size pieces, tail removed
1/2 lime juiced
1 Tablespoon Olive Oil
1 1/2 Tablespoons chopped cilantro
1/4 tsp. cumin
1/4 tsp. chili powder
1/8 tsp. onion salt
dash coarse black pepper
dash cayenne pepper
1 minced clove garlic
6-8 white corn tortillas, sliced thinly OR one package thin corn tortilla crunchy strips
Oil for frying corn crunchies
1 lime sliced into wedges
1 large ripe avocado diced
1/2 cup thinly grated monterey jack cheese
3 thinly chopped green onions
Additional chopped cilantro
Dressing
3/4 Cup Sour Cream
1/2 ripe avocado
juice from one lime
2 tablespoons chopped cilantro
1/4 tsp. cumin
1/4 tsp. chili powder
dash cayenne pepper
dash salt and pepper
Instructions
Place Shrimp, Olive oil, lime juice, spices and garlic into zip lock bag and marinate 30 minutes to 4 hours.
Prepare diced avocado, corn tortilla chips, grated cheese, lime wedges, chopped green onions, chopped cilantro.
While Shrimp is marinating make dressing:
Place all dressing ingredients into a bowl, mini food processor, or blender. Mix until smooth and creamy. Keep chilled till ready to serve.
In a medium skillet over medium high heat pour all the ingredients, shrimp and the marinade, into the skillet and cook quickly, stirring constantly until shrimp is pink and no longer translucent.
Pour shrimp and hot marinade sauce over bed of plated thinly sliced cabbage.
Top with cheese, chopped avocado, chopped cilantro, chopped green onions, drizzle with dressing, and finish off with corn crunchies and lime wedges.
Serve immediately.
Recommended Products
As an Amazon Associate and member of other affiliate programs, I earn from qualifying purchases.
Nutrition Information:
Yield:
4 servings
Serving Size:
1 1/2 cups
Amount Per Serving:
Calories:

488
Total Fat:

33g
Saturated Fat:

10g
Trans Fat:

0g
Unsaturated Fat:

20g
Cholesterol:

41mg
Sodium:

252mg
Carbohydrates:

43g
Fiber:

11g
Sugar:

5g
Protein:

11g