Refrigerated canned biscuits are cut into donuts, fried, and rolled in cinnamon sugar for Quick and Easy Grand Donuts! A perfect breakfast treat!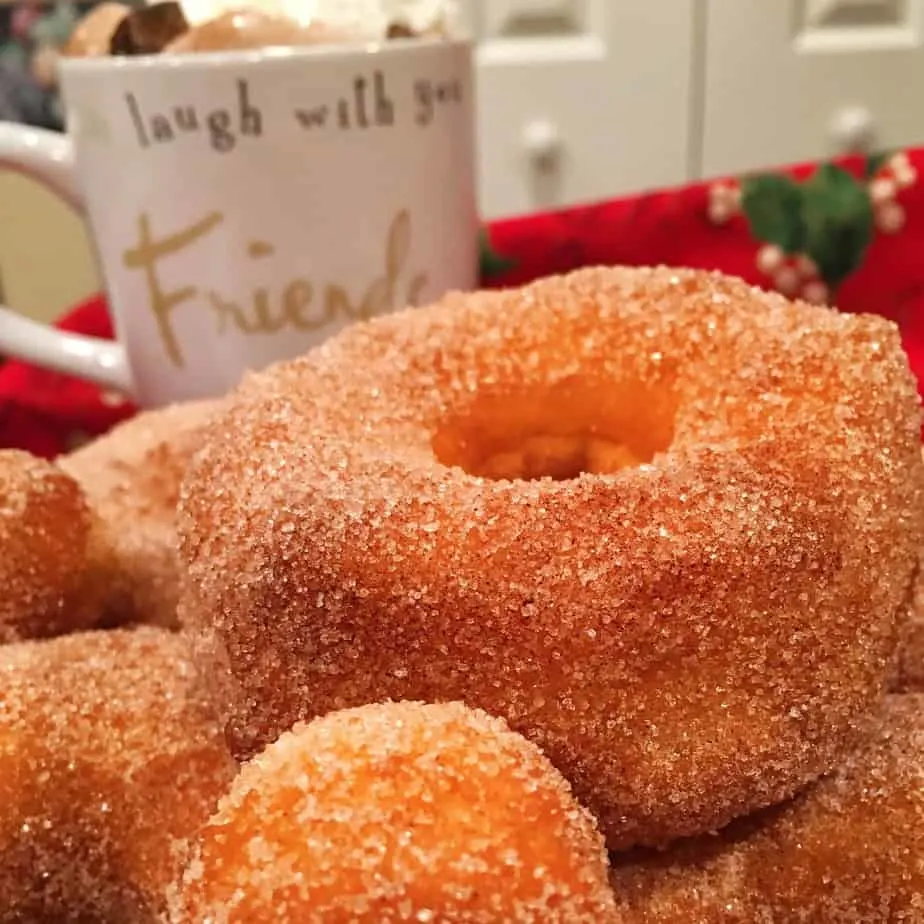 When you live out in the country and you wake up craving donuts on a Saturday morning you don't exactly relish the idea of driving to town looking like death with bed head! Not to mention running into Barney Fife and his pose!
Ya also didn't anticipate said craving the night before, so "whipping up a batch" of yeast dough wasn't the first thing on your mind after a long work week. What do ya do?
You could ignore the craving…but we all know where that's headed…Three bowls of captain crunch cereal, and a handful of peanut M&M's later, you'll still be craving that donut!
Let me rescue you and your Saturday morning craving. (Hey…it could be a midnight craving too! It'll work either way!)
Pillsbury Grand biscuits. Raise your right hand and repeat after me "I promise to always have a can of Pillsbury Grand biscuits on hand so I can wipe out my weight watcher points in one swell swoop!" Excellent! You're ready to proceed down the pathway of evil fried delights.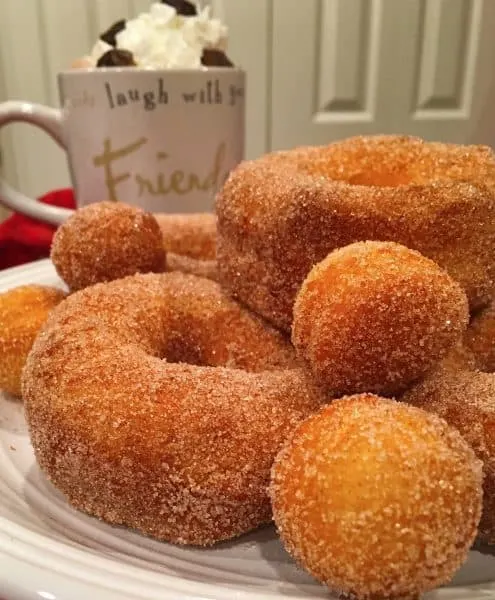 How To Make Grands Quick and Easy Donuts
Begin your journey to donut bliss by using a medium size sauce pan, filled half way with vegetable oil. Heat the oil over medium heat.
The next step is to scare the shiz out of yourself by having the can explode open! (I didn't swear Mom! I said "shiz"!)
Once you have recovered from your mild cardio infarction, remove the biscuits from the offending firing device and lay the dough out on a silicone mat or cutting board. (Can someone please explain to me why all Pillsbury dough products are incendiary devices?)
Find an object that you can use as a donut hole cutter. Keep in mind I'm always a "professional" in the kitchen and as such have the perfect tool for any baking situation.
The empty high blood pressure pill bottle seemed to fit the bill, and oddly enough… appropriate? (Not sure our doctor would agree…)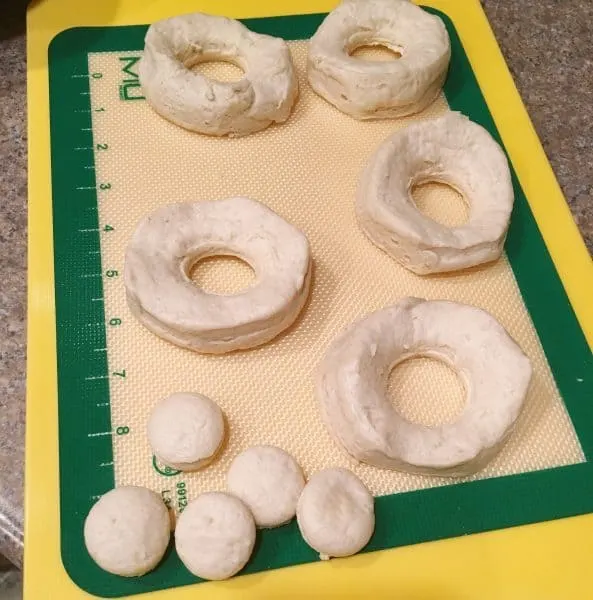 In a small bowl combine together the sugar and cinnamon. I recommend one cup sugar and 1/2 Tablespoon of cinnamon.
This is not an exact science so choose a ratio you like. I happen to love donuts coated in cinnamon sugar. You could dip these in glaze if that is your preference.
It's FRY time!!! To test your oil, many cooks suggest that you sprinkle a drop of cold water into the pan. If you are instantly swearing and scarred with tiny burn dots your good to go! I, on the other hand, prefer to just go wild and take a chance that the oil is hot and ready for frying. To me it's worth the risk that I may have one slightly oil logged donut.
Fry the donuts two at a time with a donut hole or two in the mix.
They should instantly begin to rise. Once one side is golden brown, gently turn it over and fry the other side.
You do not want your oil too hot! It will cook too fast and your donuts will be doughy and black. Not the desired look we are aiming to achieve.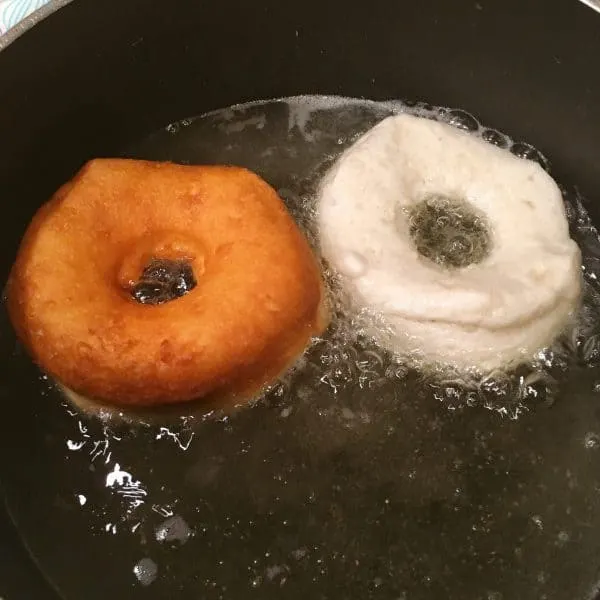 Once they are nice and golden brown remove from the pan with a slotted spoon or Spider spoon. (The Oriental looking fry spoon). Place donuts on a paper towel lined plate for a few seconds and then roll them in the cinnamon sugar while they are still hot.
That's it! Can you believe how easy it is to make your own doughnuts! Crazy right! They are so yummy!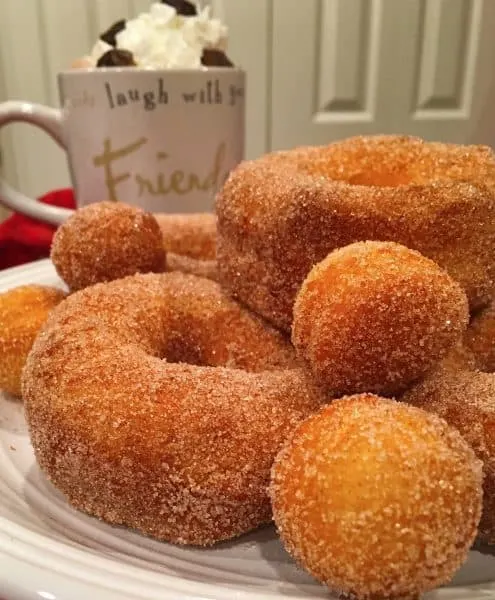 Hooray for Saturday morning donuts made in your P.J.'s, served fresh and hot! What could be better? Maybe a delicious hot chocolate to go with? Just saying…might as well go whole hog! Maybe Police Chief Regan could show up and share one with you? (I may be taking my love of "Blue Bloods" to a whole new level!)
I will stress that these are much better consumed warm, freshly made, in your P.J.'s with bed head and lingering pillow creases on your cheek, rather than later in the day. However, that's kind of true for any doughnut. Once fried foods are cold there just isn't the same level of happiness as when they are hot and fresh!
Hope you love this quick little fun breakfast recipe as much as I do! I truly love using Pillsbury products in my every day cooking and baking. Especially when time and energy are both at a minimum! (Which at my age… both are running out rapidly!)
Favorite Breakfast Recipes
Have a GREAT weekend. Stay warm! I'll be back next week with some amazing new recipes and ideas.
Happy Nesting!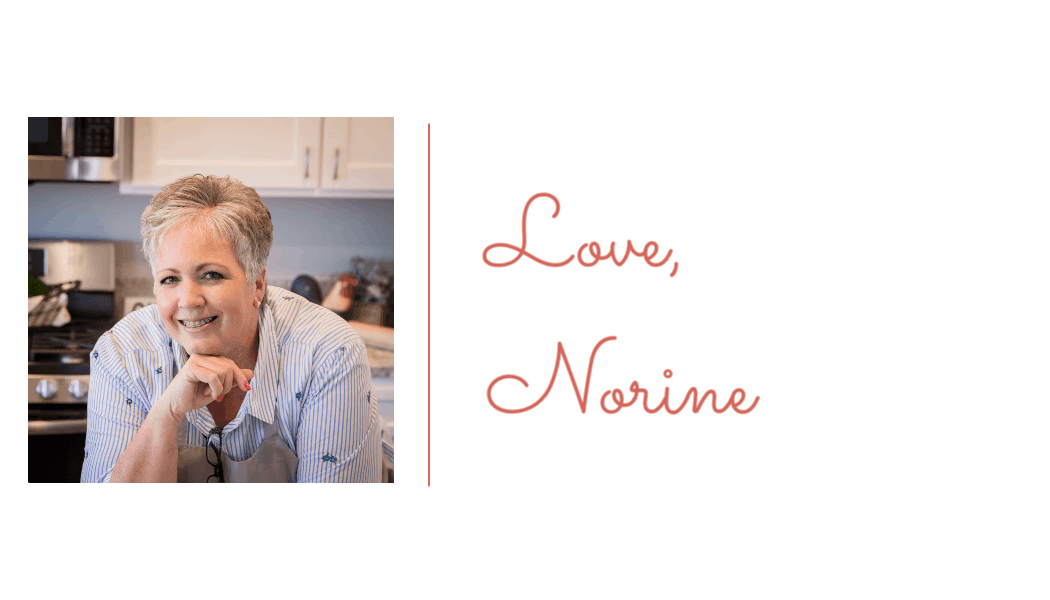 Yield: 5 donuts
Grands Quick and Easy Donuts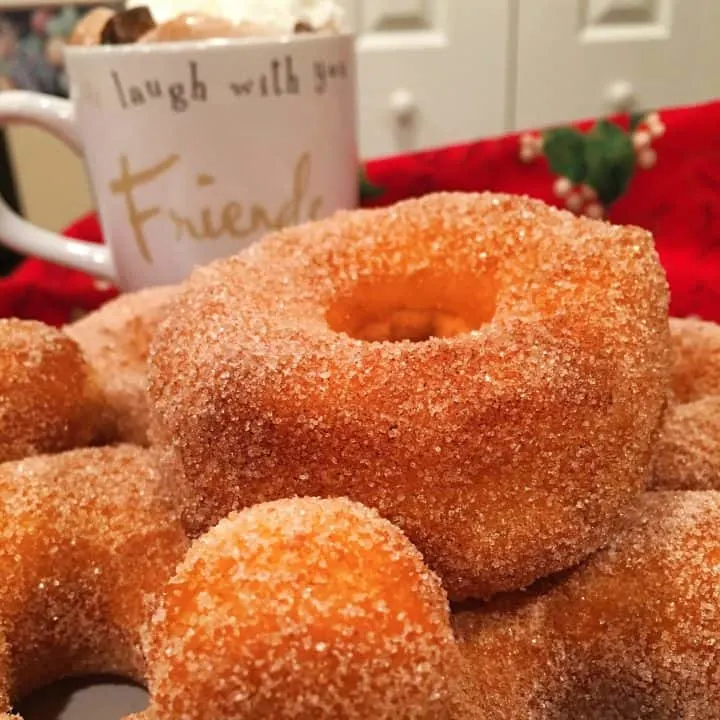 A Quick Easy and Delicious recipe for Cinnamon Sugar Donuts! Perfect for a Saturday morning breakfast!
Ingredients
1 can Pillsbury Grand Biscuits
1 cup sugar
1/2 Tablespoon cinnamon
Vegetable Oil for frying
Instructions
In a medium sauce pan heat about 3-4 inches of vegetable oil for frying.
(Always place pans full of hot oil on the back burner to keep from spilling and burning loved ones)
Crack open the can of Pillsbury Grand Biscuits and using a 1 inch hole cutter cut a hole into the center of each biscuit to create a donut.
Gently place no more than two donuts into the hot oil at a time. Fry until golden brown, about 2-3 minutes, then turn and fry the other side.
Remove from hot oil and place on paper towel lined dish.
Combine cinnamon and sugar in a large bowl or pie dish.
Roll hot donuts in the cinnamon sugar.
EAT while nice and warm.
Nutrition Information:
Yield:
5 donuts
Serving Size:
1 donut
Amount Per Serving:
Calories:

223
Total Fat:

5g
Saturated Fat:

1g
Trans Fat:

0g
Unsaturated Fat:

4g
Cholesterol:

0mg
Sodium:

70mg
Carbohydrates:

46g
Fiber:

1g
Sugar:

40g
Protein:

1g