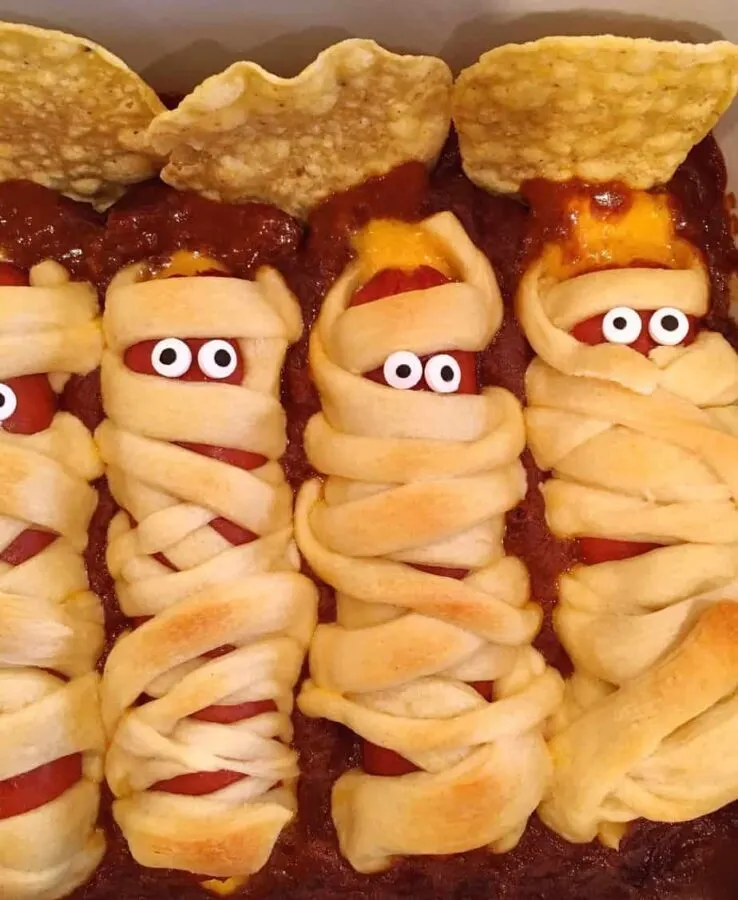 Hot Dog Mummies In A Chili Graveyard are a fun Halloween Main Course the whole family can enjoy! All Beef Angus Hot Dogs are stuffed with mild cheddar cheese and wrapped in strips of crescent rolls. They're a little spooky and a whole lot of yummy!
I know it seems a little early for Halloween foods…but Pinterest doesn't agree. So alas…here I am sharing my first Halloween dish. (Please don't throw candy corn at me!)
In my defense…the leaves are turning on the mountains around our little Nest!
Last year I hosted a small family "Pre-Halloween" party. I made the usual "Mummy" hot dogs. (That's sound so weird!)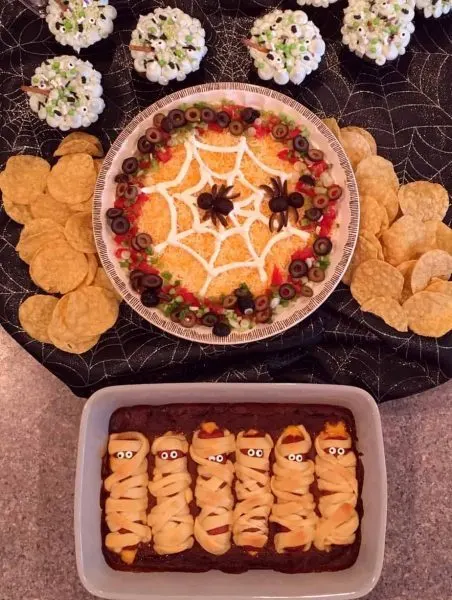 This year I decided to make "Gourmet" Mummies! I stuffed them with cheese and added a can of chili. I know…you'd think a French trained chef would have come up with this sublime dish…but NO! It took someone with my advanced culinary skills! (Move over Wolfgang and take your chocolate golden statues with ya! lol)
How To Make Hot Dog Mummies
Start with one can of Pillsbury Grand Crescent Dough Sheet.
Unroll crescent dough. Smack the can on the side of the counter with massive trepidation… and scream when it explodes open! (Honestly that "#@&!" can gets me every time!)
Use a sharp knife, or a pizza cutter, cut the dough into thin strips. You'll need two strips per hot dog.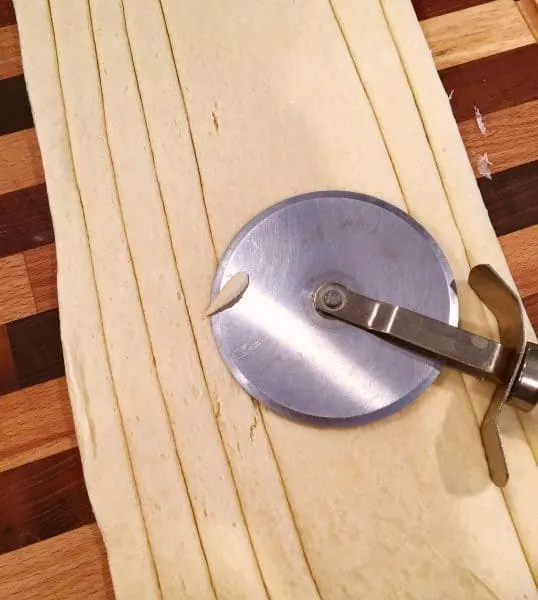 Use a good quality all beef hot dog. (Just cause they're dead mummies doesn't mean that they can't be the best!)
Make a slit down the center, lengthwise, of each hot dog. Being careful not to slice all the way through the hot dog.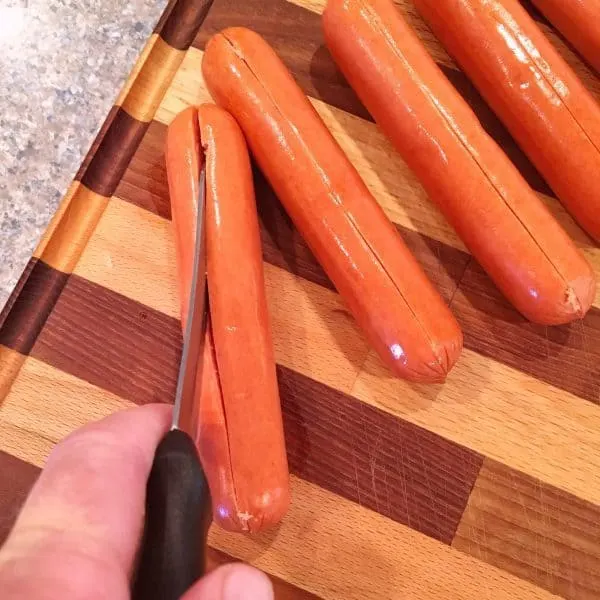 Take a slice of thin cut cheddar cheese and fold it in fourths. Cut in half lengthwise. Stuff the cheese into the sliced hot dogs.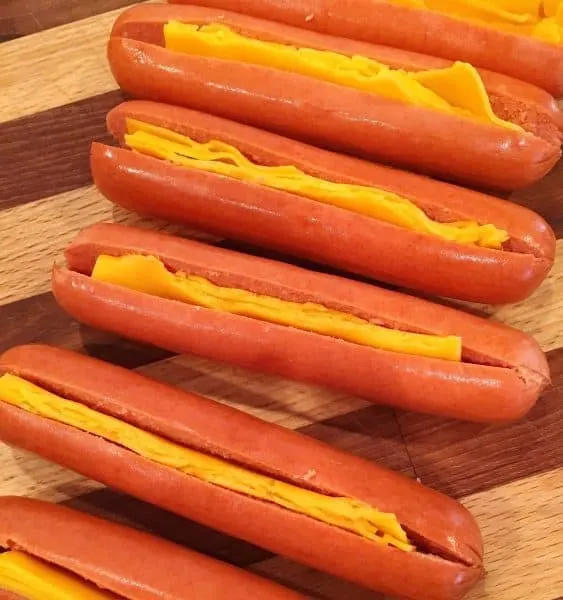 TIP: The cheese side is the back of the mummy! I mean we don't want to see the mummies guts! We do have to be tactful with our dead dogs!
Take one strip of crescent dough, and starting at the back, with the cheese; press the dough down onto the hot dog. Wrap around the hot dog.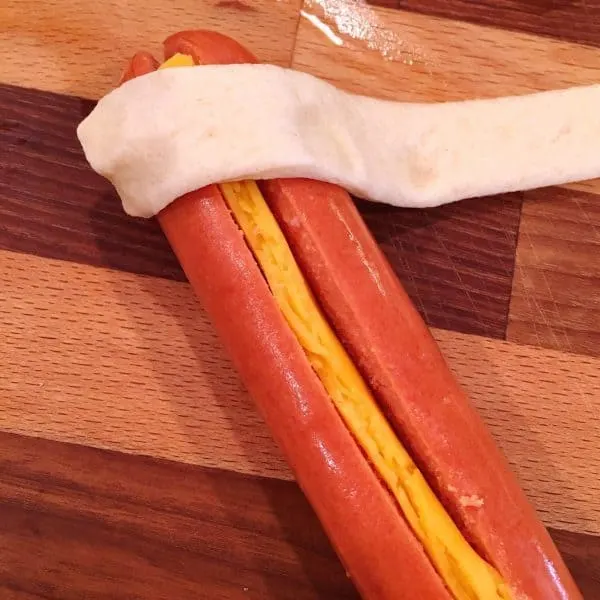 Leave a little space on the "face" for the eyes!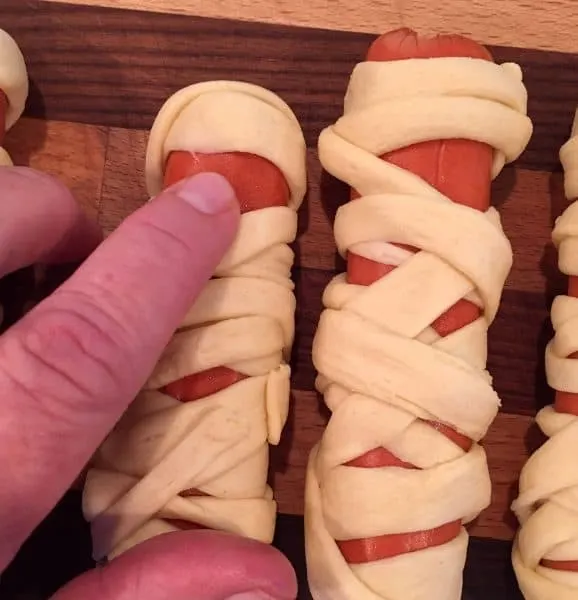 This is where things get really difficult and take a lot of culinary experience. You're gonna need to open a can of chili!
Now don't go whipping that can open and flinging chili every where! Yer gonna wanna use a spoon and scoop it out of the can…civilized like! lol
You can use any kind of chili, but I used "No bean" chili and it was great in this dish! Spread it evenly in an oven safe baking dish.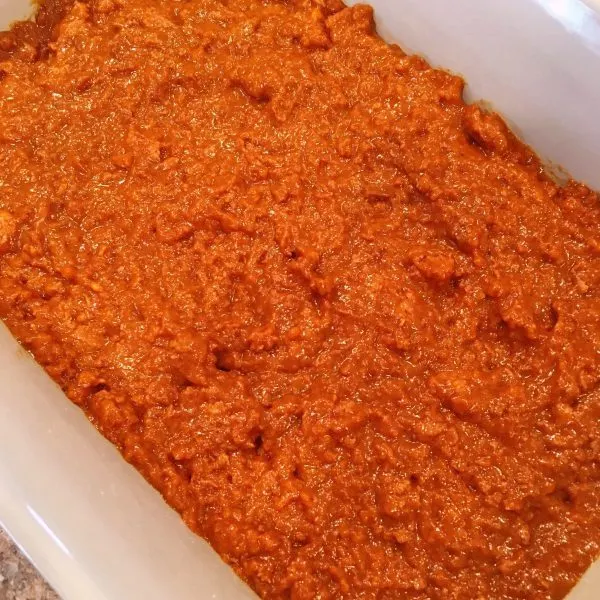 Lay the "mummies" on top of the chili. Leaving about 1/4 – 1/2 inch in between. Mummies like their space! Even in a chili filled graveyard! Remember…we are laying them to rest! (A moment of silence please!)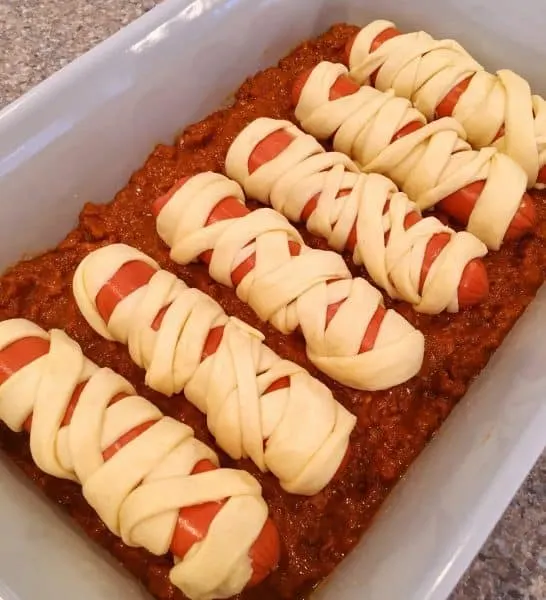 Bake in a preheated 350° oven for 20-25 minutes until the mummy wrappings turn light golden brown!
Remove from the oven and CAREFULLY place candy eyes on each mummy.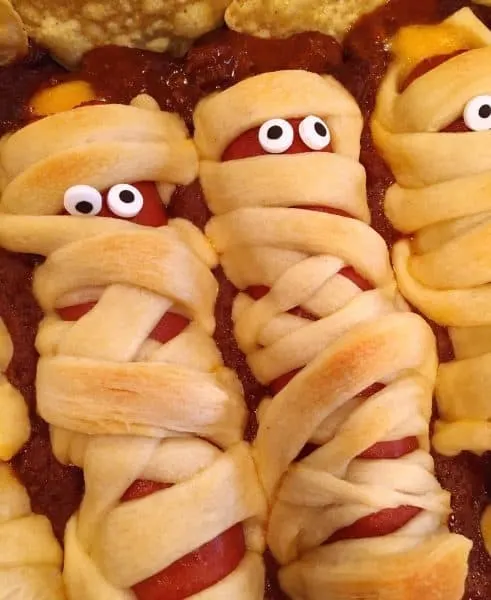 Have you ever seen such adorable mummies? These little guys are really very good.
If you're a fan of a good chili dog…with melted cheese…you'll love these little spooks!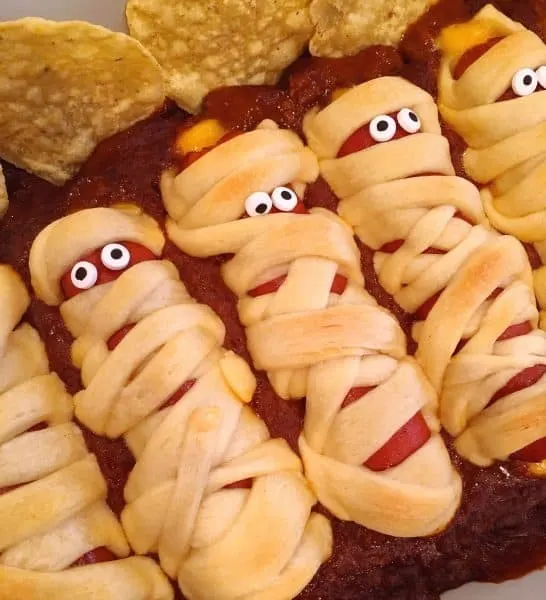 Who wouldn't love these cute guys staring up at them on Halloween!
I'll be honest…my husband must be a big ol' kid at heart…because he loved them! (Just ask the two he sent to the "real" graveyard!)
I hope the little goblins and ghosts at your Nest will enjoy this family friendly Halloween Meal.
Other Favorite Fall Recipes
Happy Fall Nesting!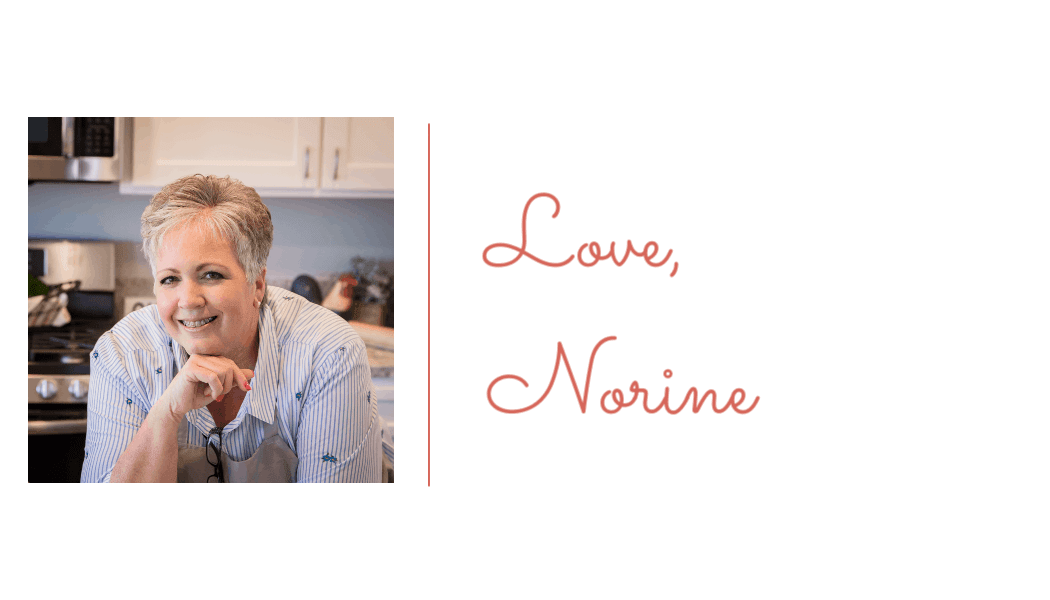 Yield: 6-8 servings
Hot Dog Mummies In A Graveyard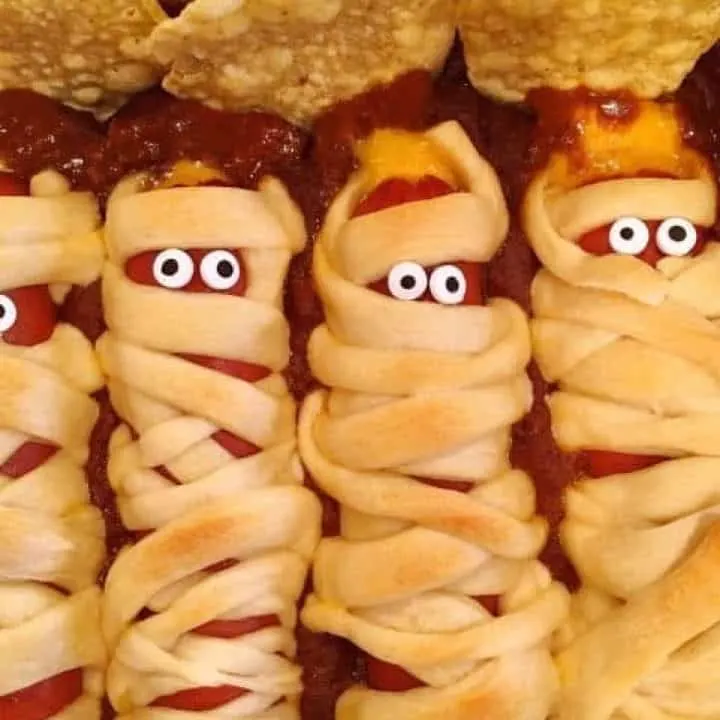 These cute little Mummy dogs are stuffed with cheese and "laid to rest" on a bed of chili and baked to perfection! A fun Halloween Dinner the whole family will love.
Ingredients
6-8 all beef hot dogs
1 Can No Bean Chili
1 Can Pillsbury Crescent Sheet Dough
3-4 ultra thin slices of mild cheddar cheese
candy eyes
Instructions
Unroll crescent sheet dough. Cut into 12-16 thin strips the length of the sheet dough.
Split hot dogs down the center lengthwise with a sharp knife, careful not to cut all the way through the hot dog.
Fold each piece of cheese in fourths, cut each one in half. Stuff cheese in each hot dog slice.
Wrap each hot dog with two slices of crescent strips, starting in the back, the cheese side, leaving a small space for the eyes in each "face.
Spread chili in a baking dish.
Lay hot dogs on top of chili, cheese side down, and bake in preheated 350° degree oven for 20-25 minutes until crescent rolls are lightly golden brown.
Carefully place eyes on the face...serve while hot.
Recommended Products
As an Amazon Associate and member of other affiliate programs, I earn from qualifying purchases.
Nutrition Information:
Yield:
8
Serving Size:
1 hot dog
Amount Per Serving:
Calories:

438
Total Fat:

28g
Saturated Fat:

12g
Trans Fat:

0g
Unsaturated Fat:

13g
Cholesterol:

48mg
Sodium:

792mg
Carbohydrates:

35g
Fiber:

3g
Sugar:

5g
Protein:

11g