Thick moist buttery Pumpkin Pound Cake drizzled with a homemade Walnut Caramel Sauce. All the flavors of Fall in one great easy dessert!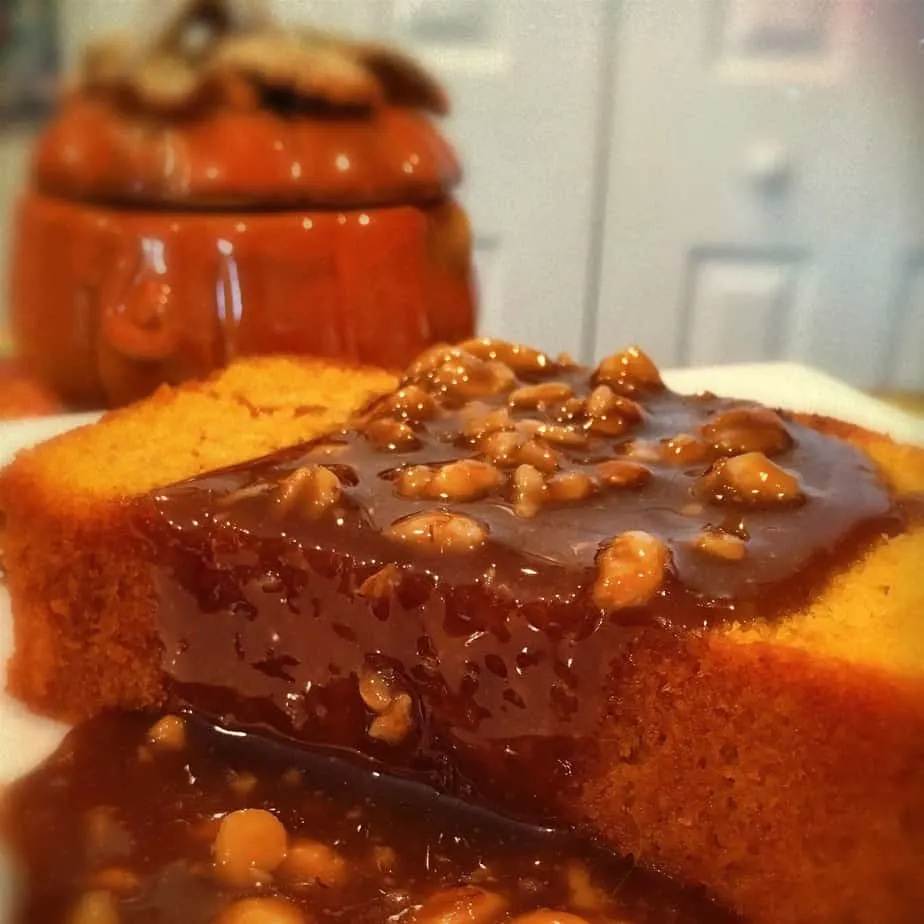 Ten years into our marriage, Mars and I decided to pluck up our little family and move to beautiful Southern Utah! (See we're really Southerner's at heart!) That's when I discovered Season's! I love having season's…even the snowy one! Each has their own distinct beauty. However, my very favorite is Fall!
About this time of year as I'm driving "ta town", as the locals say, I start looking at the tippy top of all the tree's and creek willow to see if I can start to pick out the first signs of color. (It drives Mars NUTS! Guess his love of fall isn't as profound as mine. Lol)
Last week I saw it! Glorious Golden Yellow's starting to appear! Oh, sure the back of my brain is saying "Hey…you're gonna be raking leaves for weeks!" but my soul…my soul is rejoicing! Crisp cooler air, reds, yellows and oranges, apples, apple cider, apple festivals, the smell of cinnamon and spice, and everything nice….like pumpkin!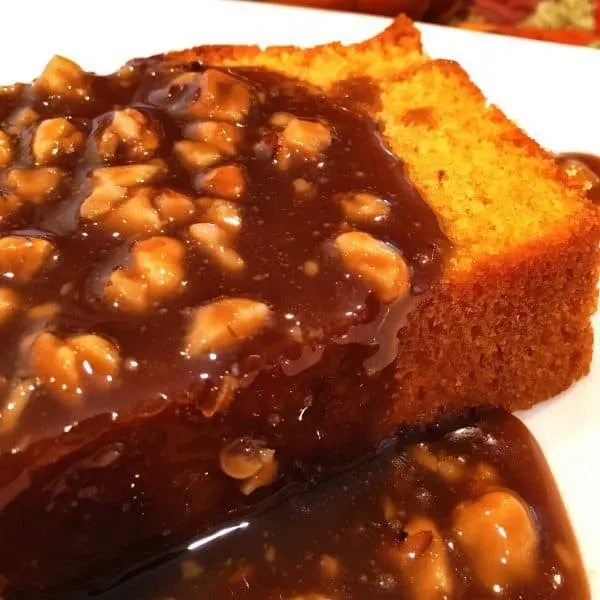 This Pumpkin Pound Cake with Walnut Caramel Sauce is the perfect way to throw open the oven door and say "Hello Fall! Come on in!" So I did! (Who am I to reject Fall when he comes a knocking!)
I love, love, love this recipe! I found it years ago on Taste of Home. It's not overly spiced, it's not overly pumpkin. (Not that I think you can go overly pumpkin! Let's just be clear on that point!)
It makes two beautiful round topped loaves of pound cake. It's moist and dense, without being overly heavy, with a divine homemade walnut caramel sauce. (You're gonna wanna double that caramel sauce! Maybe use it as a facial cream?) Let's jump into Fall!
How To Make Pumpkin Pound Cake…
Start out by creaming together sugar and butter! This is pound cake! It's not 4.5 ounce cake!
It's earned its name with all the other great pound cakes out there so…it's heavy on the butter, almost…oddly enough… a pound.
Note: My sugar wasn't dirty, and your eyes aren't playing tricks on you. I used evaporated cane sugar which retains some of the natural cane sugar color. Tastes the same, and you can use it the same.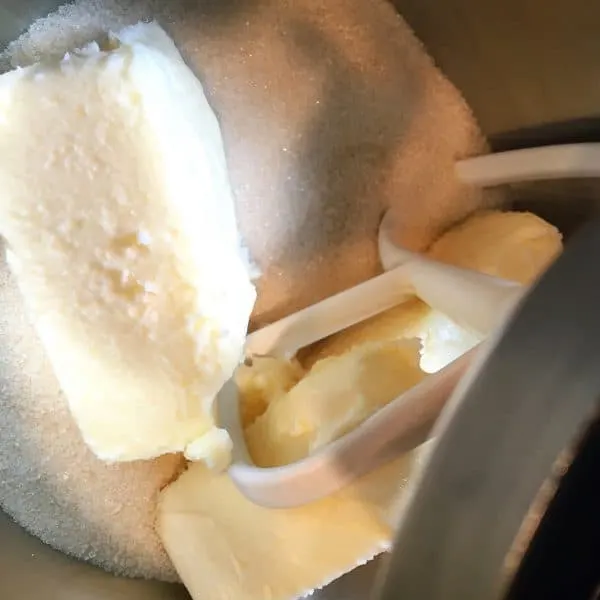 There's your bowl full of buttery sugar goodness…just keep creaming it till it is nice and fluffy! Add in your vanilla and 6 eggs! I know…WOW! (That poor chicken!)
TIP: Remember we are making two POUND cakes. (Okay, okay…still a LOT of eggs. Who am I kidding?)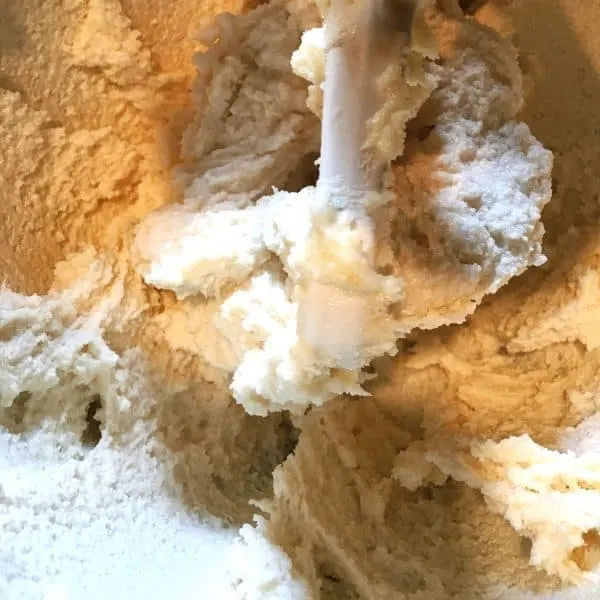 In a separate bowl mix together your flour, baking powder, salt, cinnamon, ginger, and cloves. (Okay, seriously just looking at those spices gets me excited!)
TIP: Use a whisk to blend it all together. Remember using a whisk in your flour does the same thing as "sifting" did in our Mom and Grandma's day. It works wonders and is so much handier than digging out a flour sifter.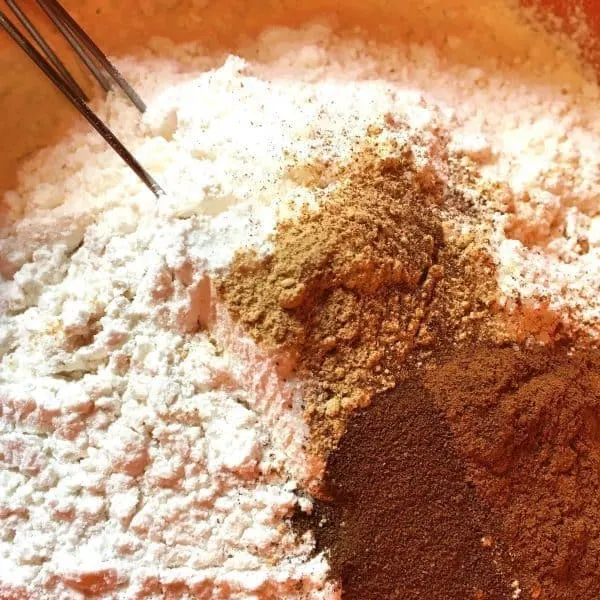 You'll want one cup of canned pumpkin ready and on hand. Begin by adding the flour and pumpkin to the creamed ingredients. Alternate between the two. Beat until just combined.
You will have a nice thick cake dough. Divide it between two grease and floured 9 x 5 loaf pans.
Tip: I use Bakers Joy or the Pam Spray with flour! It's so much easier than messing with flouring a greasy pan!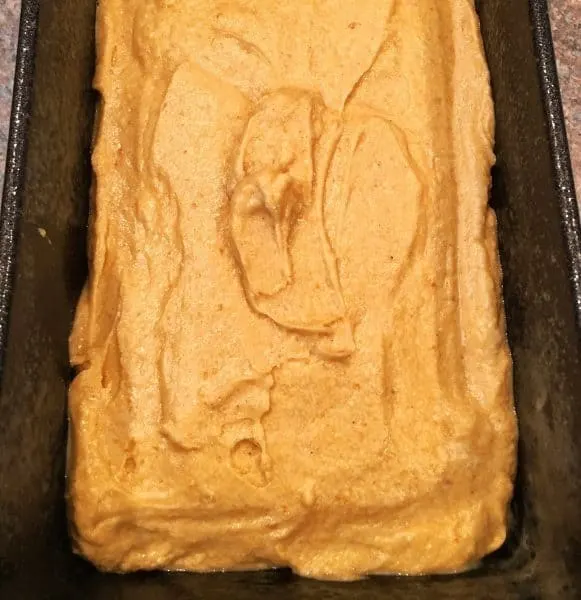 Into the oven they go.
Tip: Remember to try to always place your cakes in the center of the oven and have your racks on the middle setting.
Your house is about to begin to smell like Fall for 70 wonderful uninterrupted minutes! No "Wall Flower" Bath and Body works makes is going to come close the amazing scent that is about to start wafting out of your oven! It's heavenly!
These are pound cakes, so they do take a little longer to bake than regular cake.
You'll want to check them around 60 minutes but, if you have your oven at the right temp they should come out looking as beautiful as these did! You can check to see if they are done by inserting a toothpick into the middle of the split. If it comes out clean, they are done!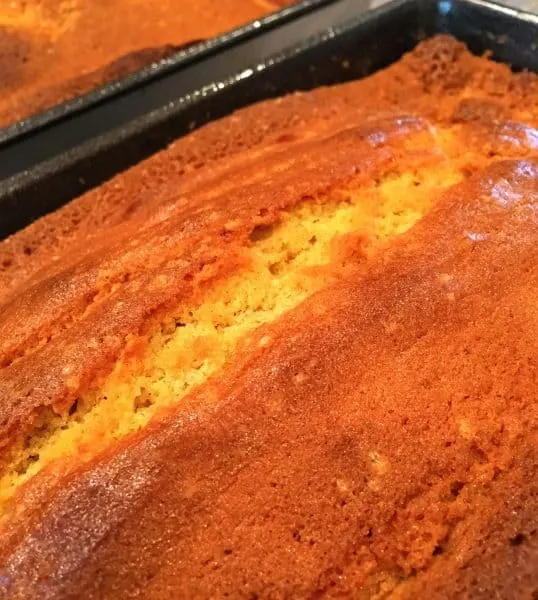 I wanted you to see that the beautiful golden color goes all around these pound cakes. You won't have the bottoms and sides darker than the top like you do with some nut breads. Just like regular cake, you should have nice even coloring all around.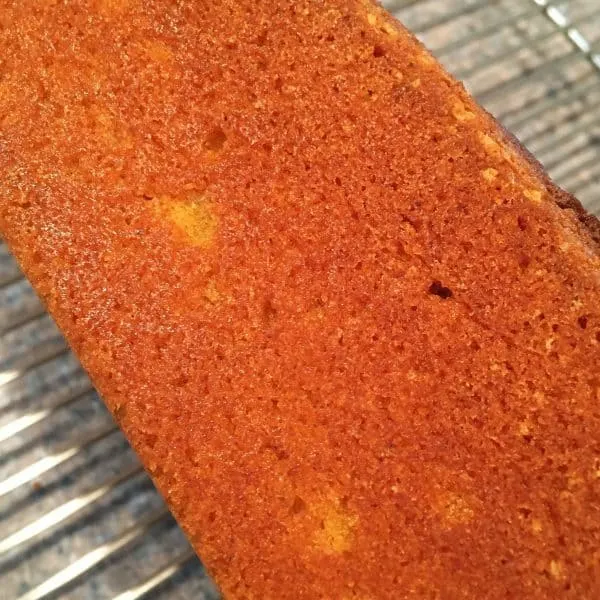 How To Make Homemade Walnut Caramel Sauce
While the pound cakes are cooling it's the perfect time to make your Caramel Sauce. Let me interject here that if you are planning on serving this later for a special dinner or refreshment, you can make the cakes up ahead of time.
In a medium sauce pan, large if you double the recipe, place your butter, brown sugar, heavy whipping cream, and corn syrup. Mix well and begin to cook over a medium low heat.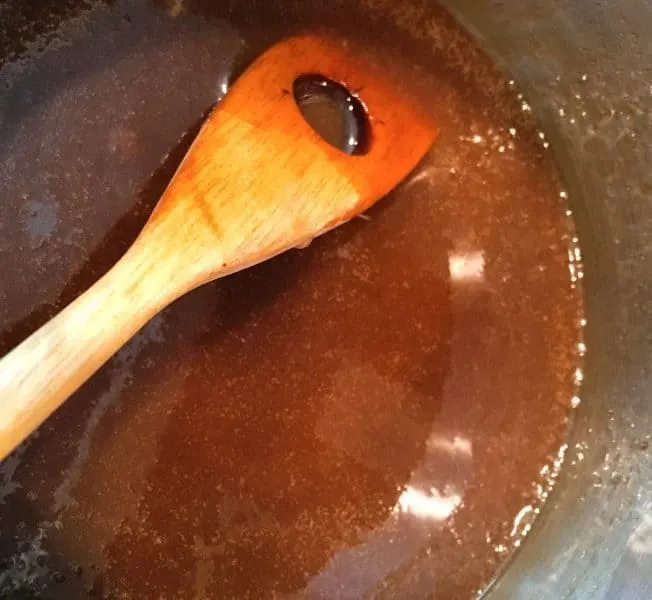 Stirring constantly bring to a boil. Continue to boil and stir for 5 minutes.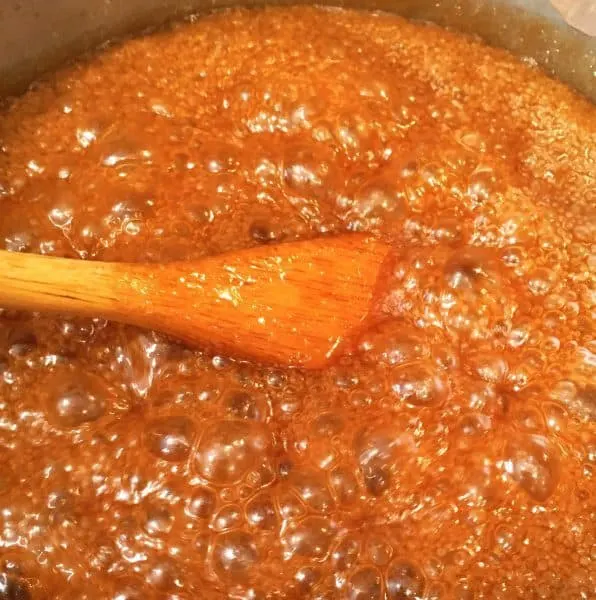 Add in the vanilla and chopped walnuts. Allow to cool slightly. You now have a rich, savory, nutty, caramel sauce that is one of, if not the best, caramel sauces I've ever had.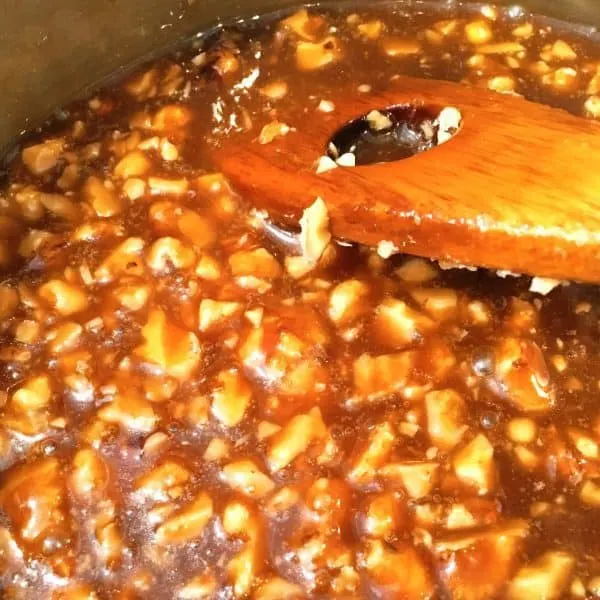 When ready to serve cut the pound cake into nice thick slices. (I like mine at least an inch thick.) Top with the warm walnut caramel sauce and serve. You really don't need anything else with this dessert…except for a fork and maybe a cup of warm cider! It's pumpkin perfection!
This pound cake is rich, dense, and perfectly spiced. The caramel sauce is going to gently soak into the top layer of the cake, but because the cake is dense it won't soak down through. It's an amazing combination.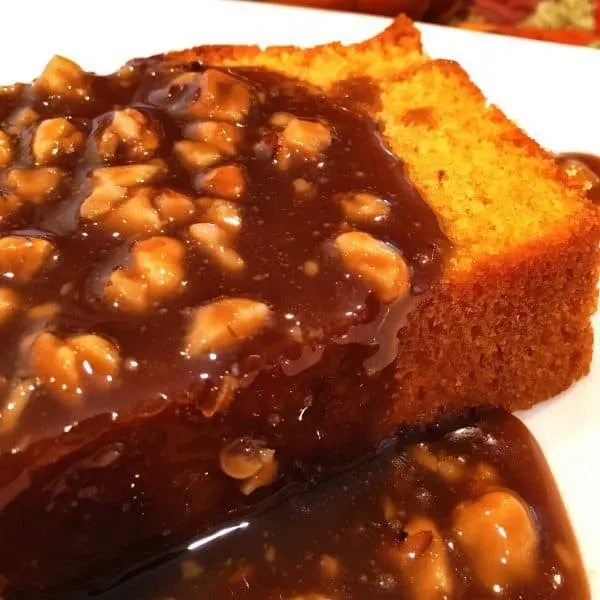 I hope you'll tip toe, if you're not ready to jump, into Fall with this glorious Pumpkin Pound Cake! It's so delicious and such a great way to say "Hello" to Fall and all the fabulous flavors this season offers. You'll be seeing a lot more Fall recipes in the coming weeks. Like I said…it's my favorite season of the year!
Other Favorite Pumpkin Recipes
If you love this recipe and any of my others please share. I'd love to have you follow me on Facebook, Instagram, Twitter and Pinterest! The printable recipe is below! Thanks for stopping by my Nest!
Yield: 16 servings
Pumpkin Pound Cake with Walnut Caramel Sauce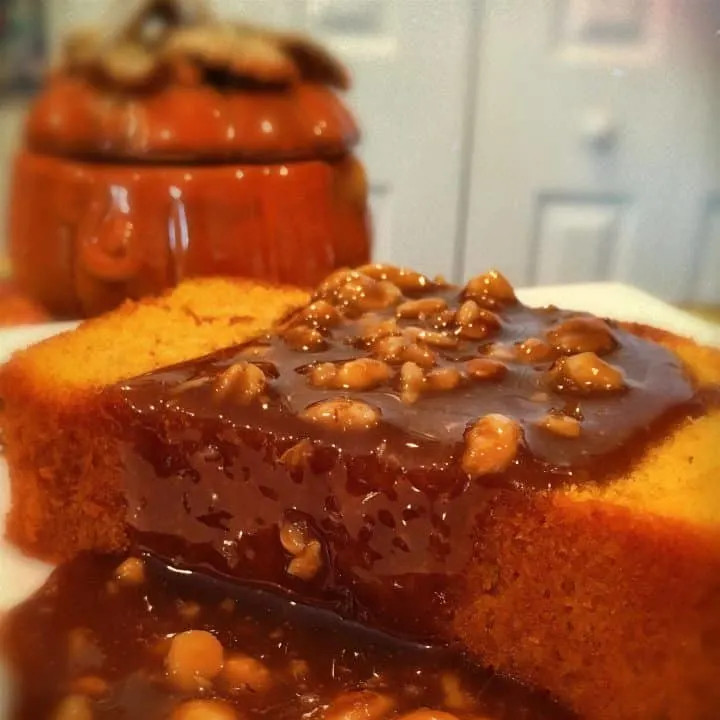 A nicely spiced dense, but not heavy, pumpkin pound cake topped with a rich sweet walnut caramel sauce.
Cook Time
1 hour
5 minutes
Total Time
1 hour
20 minutes
Ingredients
1 -1/2 cups butter, softened
2-3/4 cups sugar
6 eggs
1 teaspoon vanilla extract
3 cups all-purpose flour
3/4 teaspoon ground cinnamon
1/2 teaspoon baking powder
1/2 teaspoon salt
1/2 teaspoon ground ginger
1/4 teaspoon ground cloves
1 cup canned pumpkin
Walnut Sauce
1 cup packed brown sugar
1/2 cup heavy whipping cream
1/4 cup light corn syrup
2 tablespoons butter
1/2 cup chopped walnuts
1/2 teaspoon vanilla extract
Instructions
In a mixing bowl, cream butter and sugar. Add eggs, one at a time, beating well after each addition. Stir in vanilla. Combine the dry ingredients; add to cream mixture alternately with pumpkin, beating just until combined.
Pour into two greased and floured 9 inch x 5 inch loaf pans. Bake at 350 degrees for 65-70 minutes or until a toothpick inserted near the center comes out clean. Cool for 10 minutes before removing from pans to wire racks to cool completely.
Walnut Caramel Sauce
In a medium sauce pan place the brown sugar, heavy whipping cream, corn syrup, and butter. Stirring constantly, over medium low heat, bring to a boil. Continue to boil for 5 minutes. Add in vanilla and chopped walnuts. Serve over cooled pound cake. Store in refrigerator in air tight container. Reheat to use.
Notes
I double the caramel sauce to be sure I have enough.
Recommended Products
As an Amazon Associate and member of other affiliate programs, I earn from qualifying purchases.
Nutrition Information:
Yield:
16
Serving Size:
1 slice of pound cake
Amount Per Serving:
Calories:

526
Total Fat:

26g
Saturated Fat:

14g
Trans Fat:

1g
Unsaturated Fat:

10g
Cholesterol:

128mg
Sodium:

267mg
Carbohydrates:

70g
Fiber:

1g
Sugar:

50g
Protein:

6g