Hawaiian Haystacks feature a slow cooked creamy chicken sauce served over a bed of steamed rice and "stacked" high with a combination of your favorite fruits and vegetables for one incredible family favorite meal!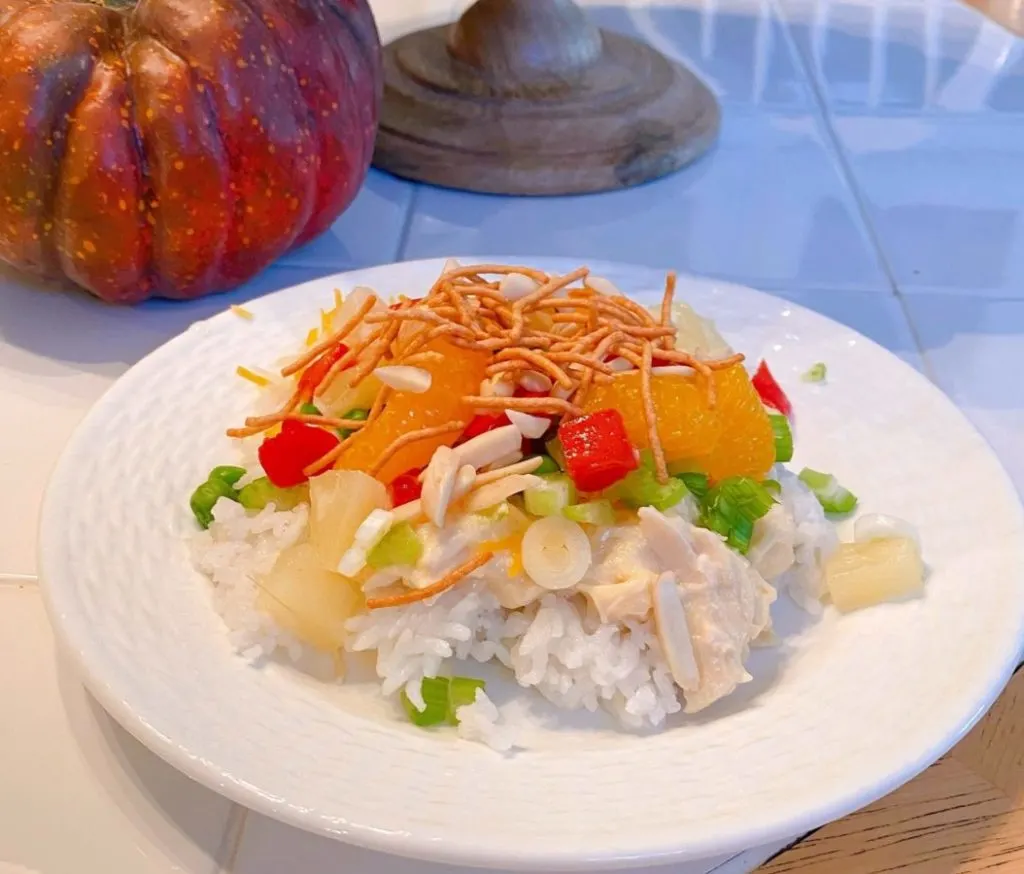 The other day at Physical Therapy, still recovering from my car accident, one of the associates asked me what I made for Sunday dinner? I said "Oh I made "Haystacks"! He said "What are Haystacks?". Wait! WHAT??!!! It was the moment I realized maybe "Haystacks" were a "Utah thing"!!! (Like our epic Fry Sauce! We Utahan's enjoy adding calories to calorie riddled foods…it's a talent!)
When we first moved to Utah we were at a function where this fantastic dish was served. A wonderful creamy chicken sauce was ladeled over mountains of steamed long grain white rice. That alone was enough to make it a great dish!
That wasn't all! There were bowls, and bowls, of wonderful toppings to put on top of the creamy chicken and rice. Chopped celery, peas, grated cheese, diced tomatoes, pineapple tidbits, mandarin oranges, chopped green onions, slivered almonds, and crispy crunchy rice noodles. YUM! It was a smorgasbord of delight!
By the time I was done loading up that mountain of creamy chicken and rice…it truly resembled a Haystack! Especially with those little crunchy rice noodles piled high on top! I instantly fell in love!
How To Make Haystack Cream Sauce
You'll need 3 large, skinless, boneless chicken breast cut into large cubes. Large cubes make it easier to shred once it's done cooking.
TIP: The chicken breasts can be thawed or frozen. Just adjust your cook times. For thawed chicken breasts 4–6 hours, frozen 6–8 hours on low in your slow cooker.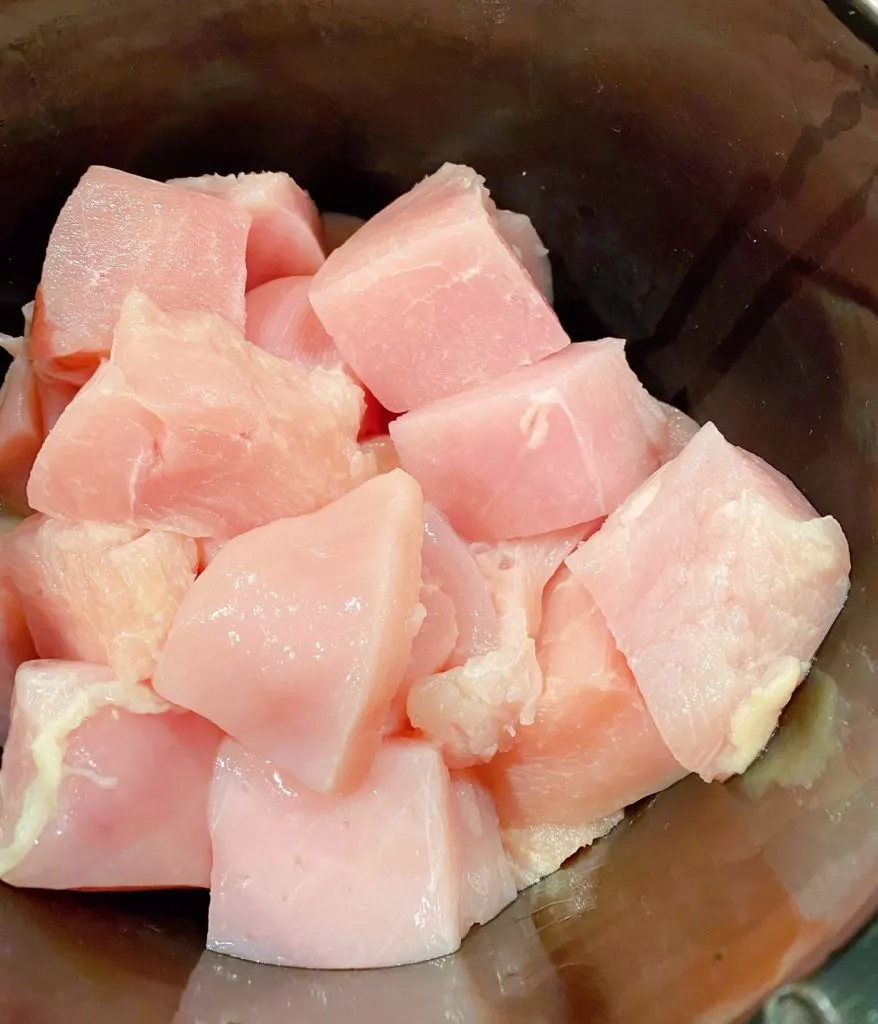 In a medium size bowl combine 2 (10.5 ounce) cans Cream of Chicken Soup, 1 cup sour cream, and 1/2 cup milk, salt and pepper.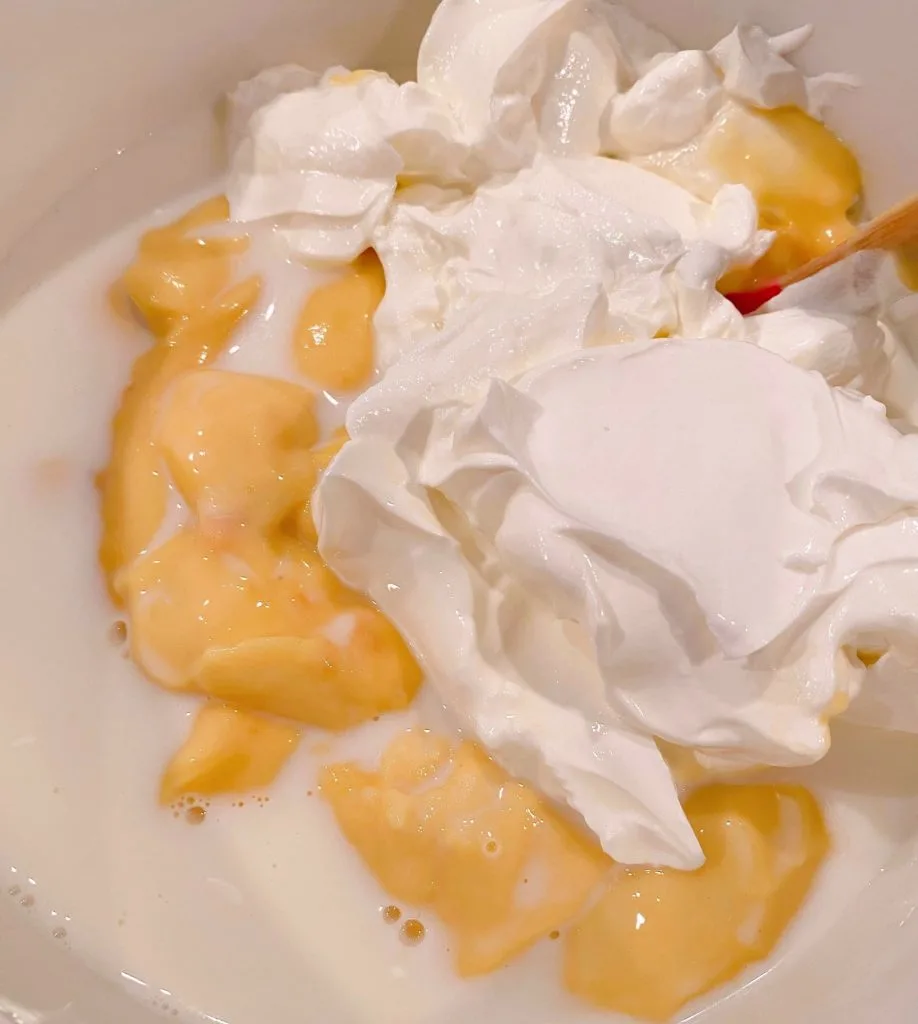 Mix until well combined. Stir, stir, stir! If you feel the mixture is too thick you can add another 1/2 cup of milk a little at time until it reaches the desire consistency. However, it's okay for the mixture to be thick. As the chicken cooks more fluids will be added to the chicken sauce.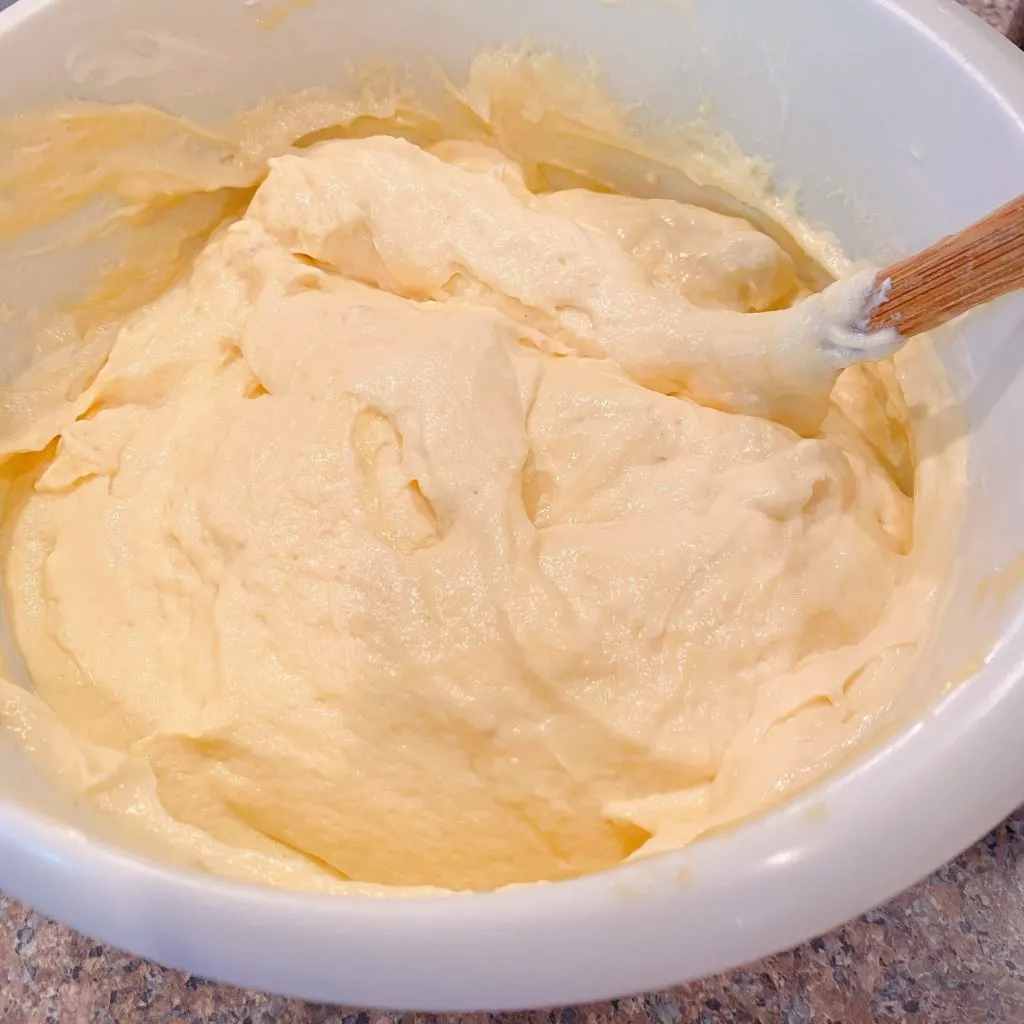 Pour Chicken sauce mixture over the cubed chicken in your slow cooker.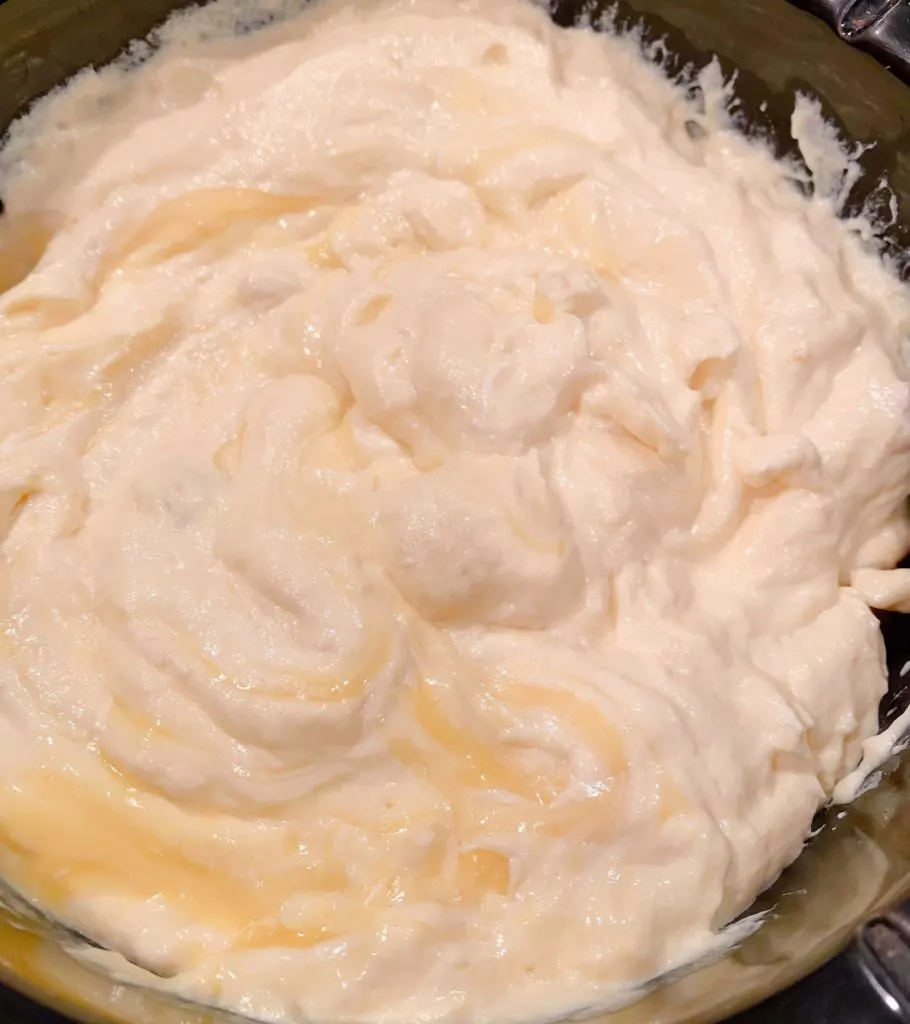 How To Cook Cream of Chicken Haystack Sauce
Cover and cook on low for 6 hours. You can stir a few times during cooking to prevent the mixture from burning. Cook until chicken is tender and ready to shred.
TIP: Shred chicken with a fork, or my cooking instrument of choice, a potato masher! Yep I use a metal potato masher to shred chicken and beef cooked in my slow cooker. It works like a charm!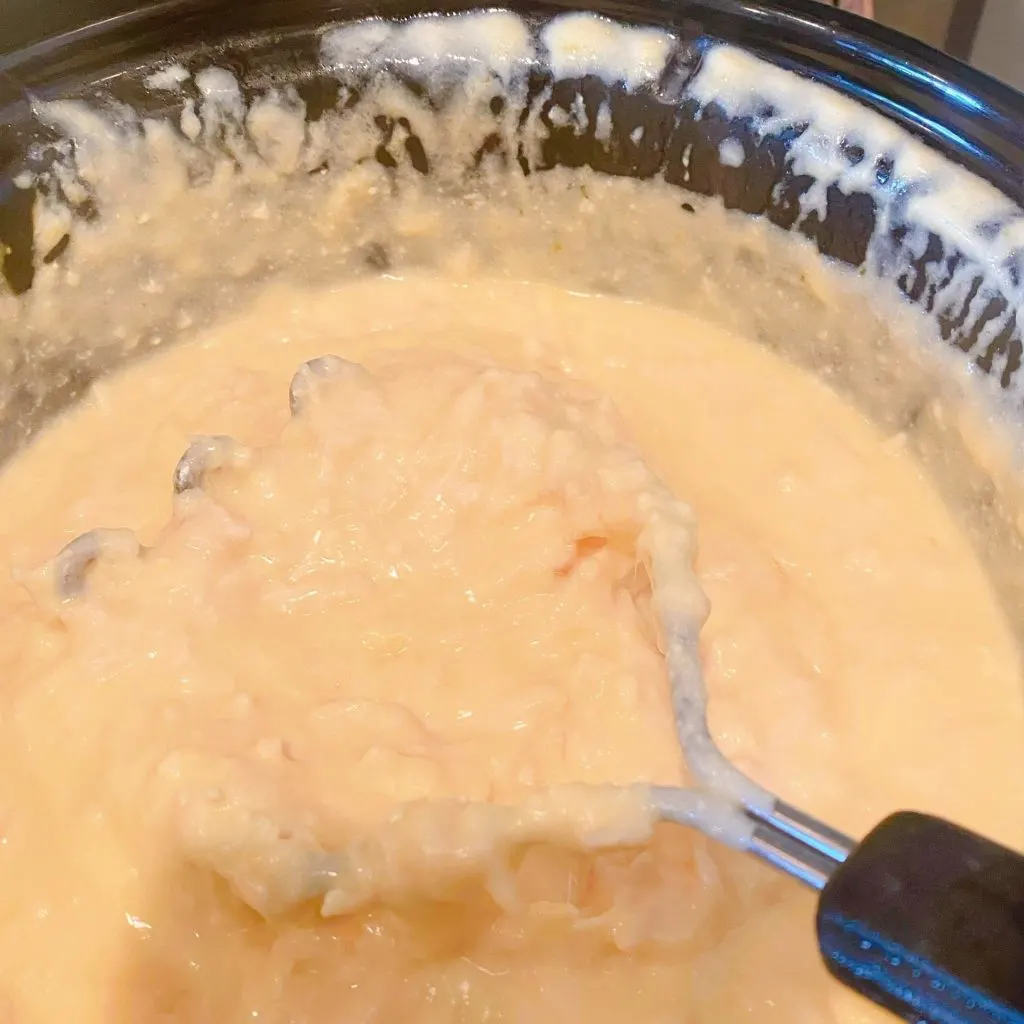 Prepare 4 cups steamed long grain white rice per the package directions. Steam rice is the base for this yummy dish.
Keep cream of chicken sauce warm in the slow cooker.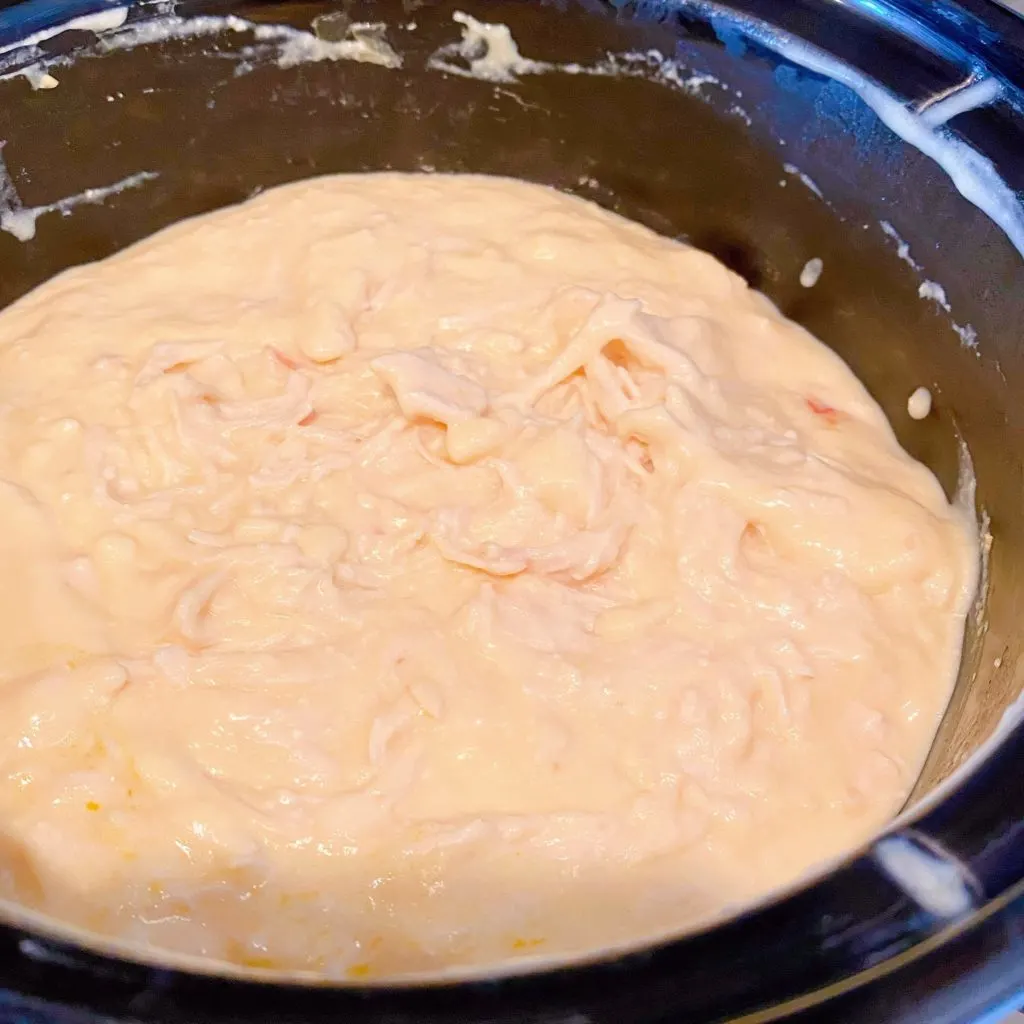 Toppings for Haystacks
I prepare the toppings, some time during the day, when the chicken mixture is doing its thing in the slow cooker.
I have a great container that holds just about everything. I can prepare the toppings and place them in this one serving container and store it in the refrigerator until we are ready to assemble our Haystacks.
You can choose any toppings you want. These are the toppings that I recommend, and make for our Haystacks…
1 cup chopped celery
1 cup diced tomatoes
1 cup frozen baby peas, thawed
1 cup slivered almonds
1 cup pineapple tidbits
1 cup mandarin oranges (1 small can)
1/2 cup sliced green onions
2 cups shredded cheddar cheese
2 cups canned crunchy rice noodles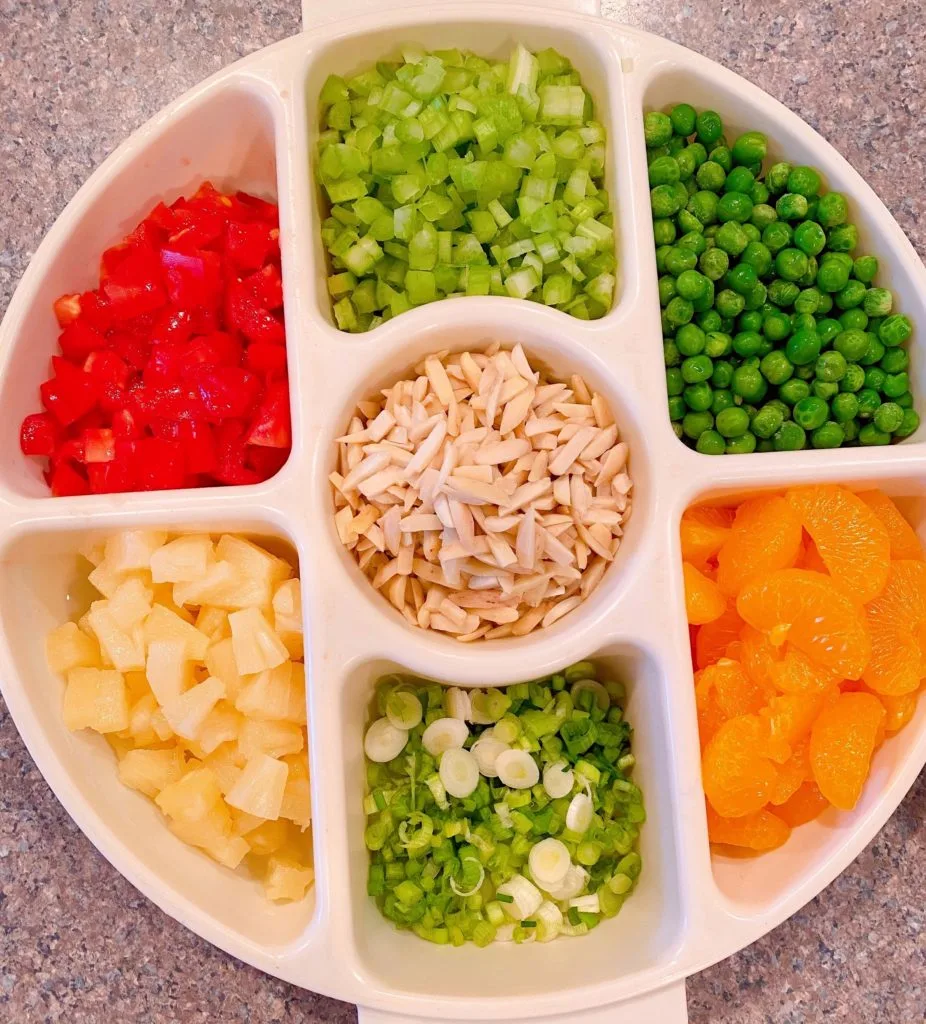 If you have children, age doesn't matter, you'll need lots of grated cheese! Because no matter how old they are, they will turn their nose up at some of the "healthy" toppings you put out for them to build their Haystack. (Honestly they can be 30 and trust me…they will avoid those healthy options! A true mother keeps trying!! )
Cheese is the favorite topping with all the birds at this nest!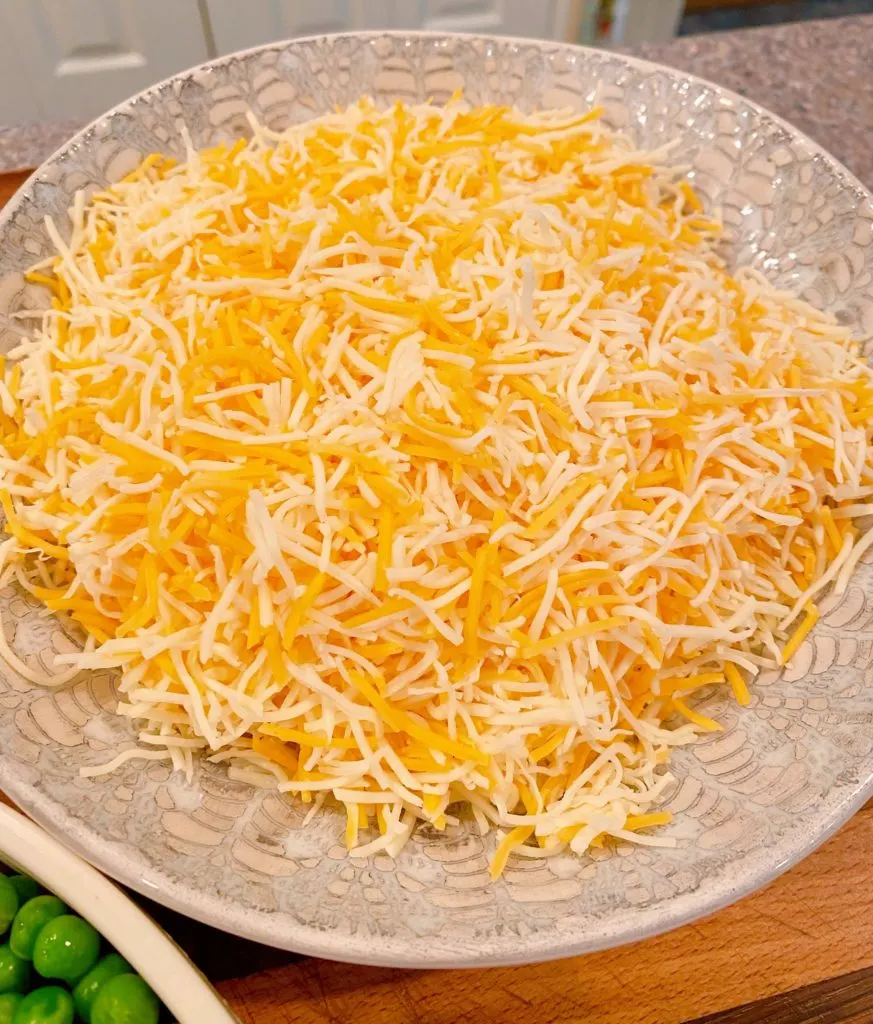 How To Build and Serve A Hawaiian Haystack
I like to serve this "Help Yourself Style"! I place everything on the kitchen island and let them have at it! It's why this dish is so wonderful for a crowd or Sunday dinner! Everyone can make their own and have it however they like it. At least that's how we serve Utah Hawaiian Haystacks.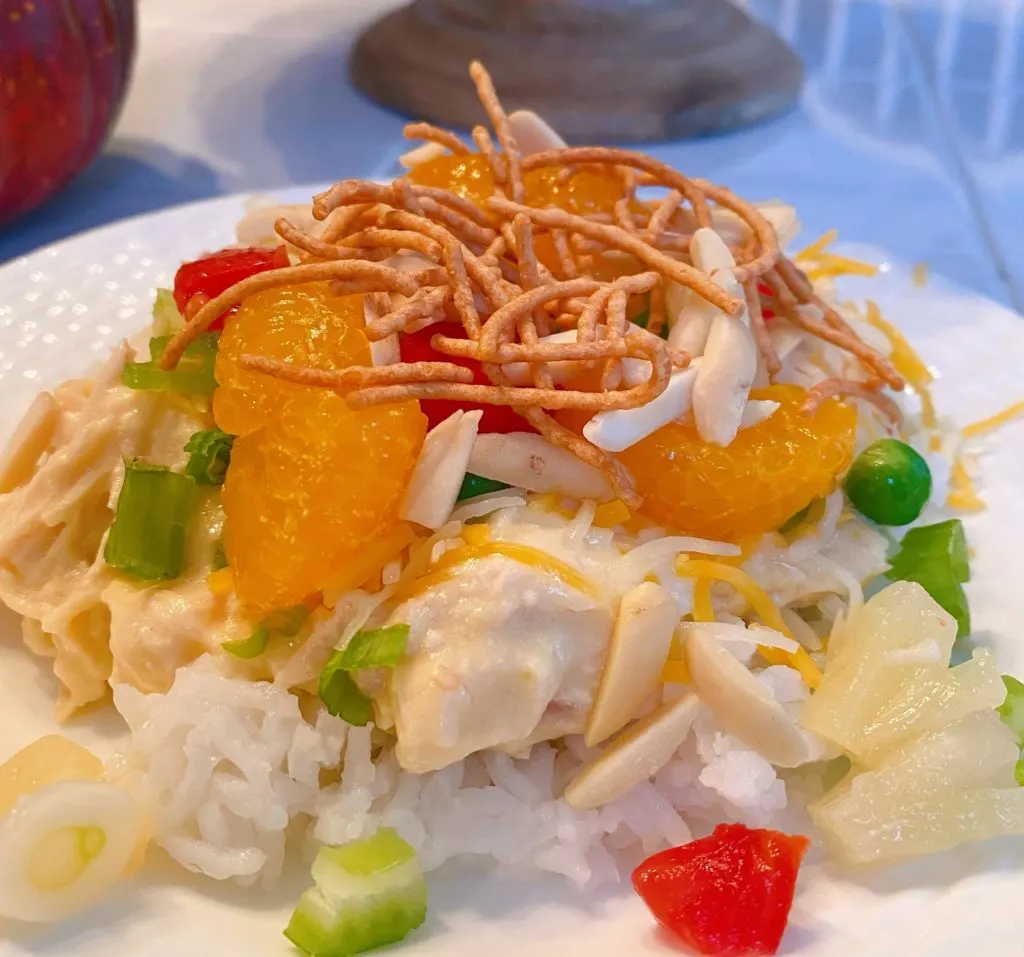 Begin with a bed of that prepared steamed rice. Scoop the warm chicken sauce over the rice. Top the chicken sauce with the shredded cheese. That way the cheese melts! Then just go for EVERYTHING! I love all the toppings. The crunchy celery, peas, sweet pineapple, juicy mandarin oranges, toasty slivered almonds, and lots and lots of crunchy rice noodles!
Trust me when I say this…you might want to double everything! No one gets one serving of this recipe. They ALWAYS go back for seconds!
Do ya blame them? I mean look at that mile high pile of scrumptiousness!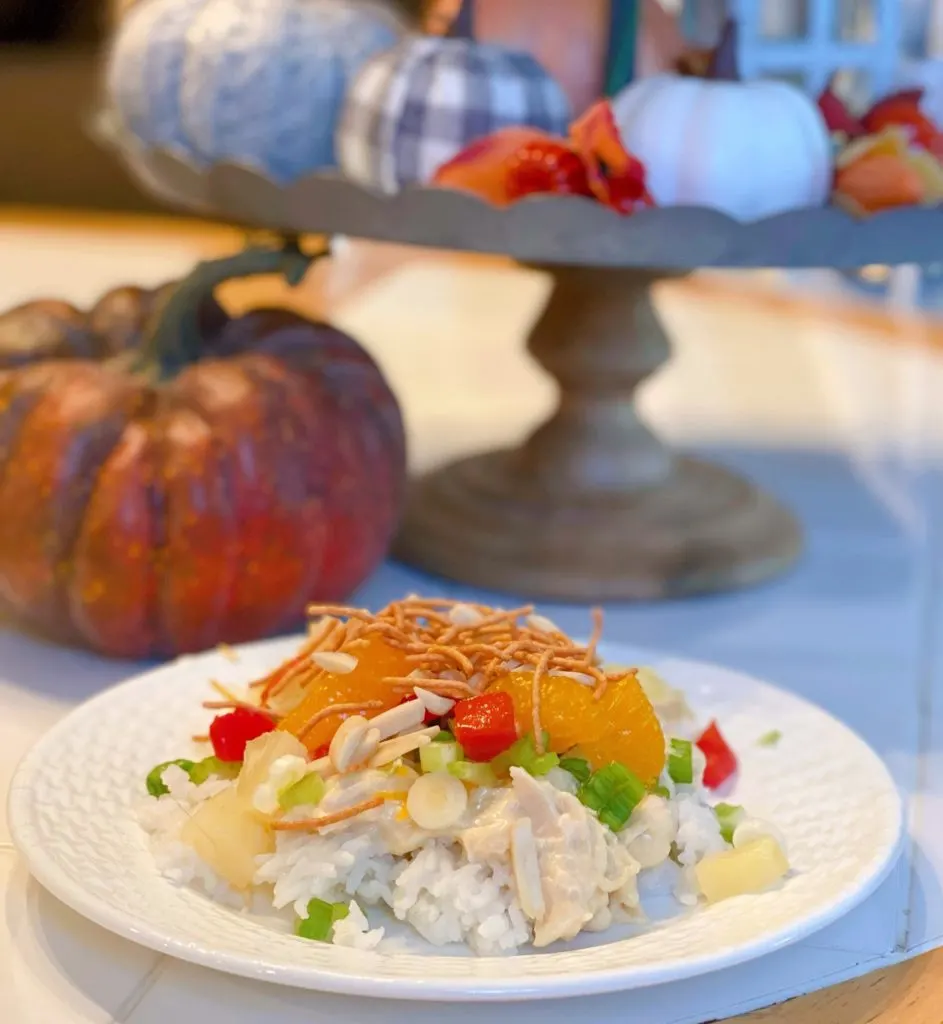 This is a great economical meal. Which makes it perfect for a large crowd. I've double and even tripled this recipe for large groups, and it's always a favorite! (Translation…it disappears! Every. Single. Time!!)
It's also perfect for Halloween! (Haystacks! If that doesn't scream "Fall" nothing will!) You can prepare everything ahead of time, including the Haystack toppings, steamed rice, leaving the creamy chicken mixture warm in the crock pot till the trick-or-treaters get back.
Plus it's a great comfort dish that warms ya up from the inside out! Here are some of my other favorite Holiday Recipe ideas!
Other Great Halloween Dinner Recipes
Well, there ya have it. One of Utah's most popular recipes! Hawaiian Haystacks are pretty popular at this Nest too. I hope it becomes a favorite at yours too!
Happy Nesting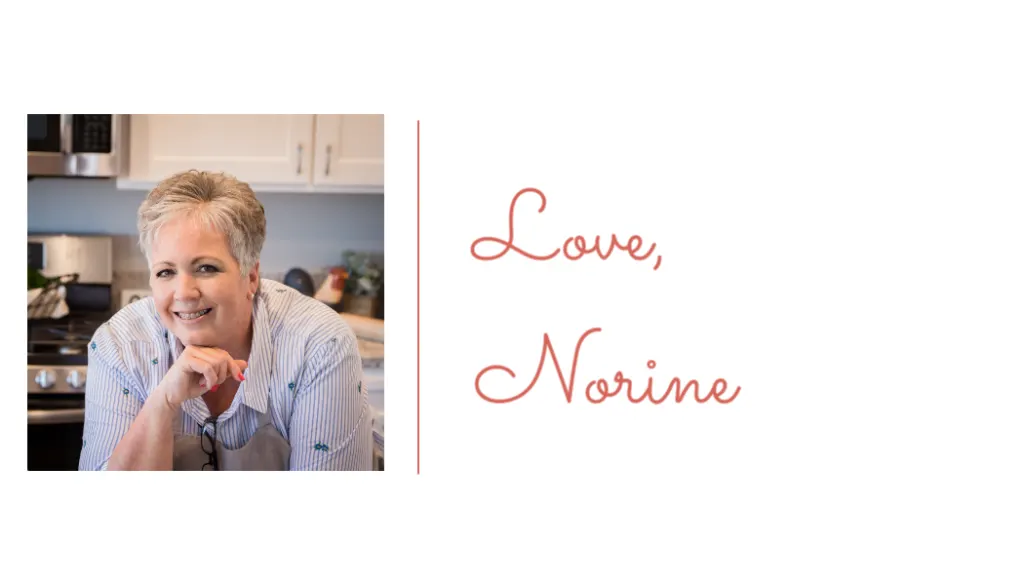 Yield: 8 servings
Easy Slow Cooker Hawaiian Haystacks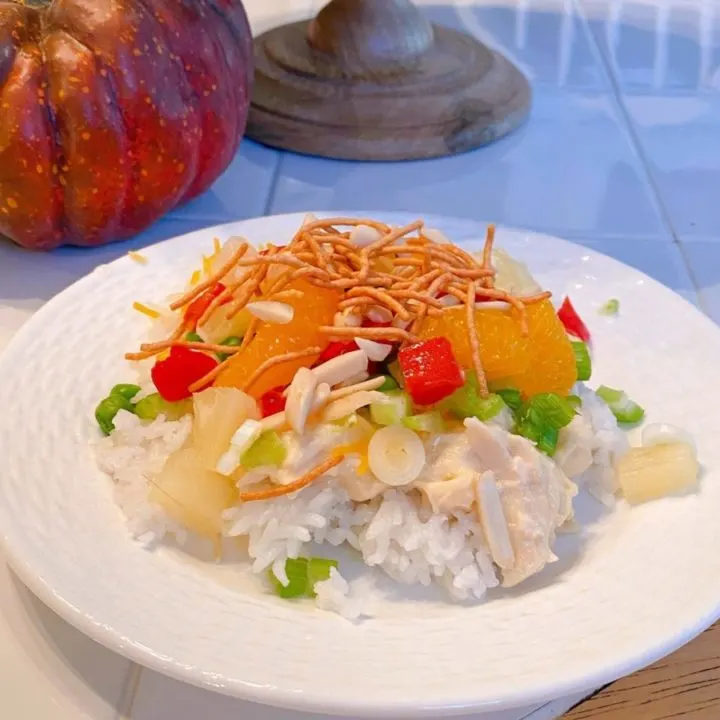 Hawaiian Haystacks feature a slow cooked creamy chicken sauce served over a bed of steamed rice and "stacked" high with a combination of your favorite fruits and vegetables for one incredible family favorite meal!
Total Time
6 hours
30 minutes
Ingredients
3 boneless skinless chicken breasts, thawed, cut into cubes
*Note chicken can be frozen. See instructions below.
2 (10.5 ounce) cans cream of chicken soup
1 Cup sour cream
1/2 Cup milk (additional if needed)
1/2 teaspoons coarse black pepper
1/2 teaspoon salt (optional)
4 cups steamed long grain white rice
Toppings for Haystacks
1 Cup chopped celery
1 Cup diced tomatoes
1 Cup frozen sweet baby peas, thawed
1 Cup Slivered Almonds
1 Cup Pineapple tidbits, drained
1 Cup Mandarin Oranges
1/2 Cups diced green onions
2 Cups shredded cheddar cheese
2 Cups Crunchy Rice Noodles
Instructions
Place cubed chicken in the bottom of your slow cooker.
In a medium bowl combine soup, sour cream, milk, pepper, and salt. Mix until well combined. Pour mixture over chicken. Place lid on the slow cooker. Cook on low for 4-6 hours if chicken is thawed, 6-8 hours if chicken is frozen. (If frozen leave chicken breasts whole)
Stir occasionally during cooking to prevent mixture from burning to the bottom of the dish. Once the chicken is fully cooked, shred chicken with a fork.
Serve chicken mixture over prepared steamed rice and top with favorite toppings.
Recommended Products
As an Amazon Associate and member of other affiliate programs, I earn from qualifying purchases.
Nutrition Information:
Yield:
8 servings
Serving Size:
1 cup
Amount Per Serving:
Calories:

565
Total Fat:

26g
Saturated Fat:

10g
Trans Fat:

1g
Unsaturated Fat:

13g
Cholesterol:

96mg
Sodium:

548mg
Carbohydrates:

51g
Fiber:

5g
Sugar:

10g
Protein:

32g