Poppy Seed Chicken Skillet Dinner is a simple easy dish filled with tender cubes of browned chicken in a rich creamy sauce, topped with buttery cracker crumbs mixed with poppy seeds. It's so delicious your family will "gobble" it up in minutes. (I know…wrong "foul" reference…but "cluck" didn't sound right! So let's pretend it's a really BIG chicken!)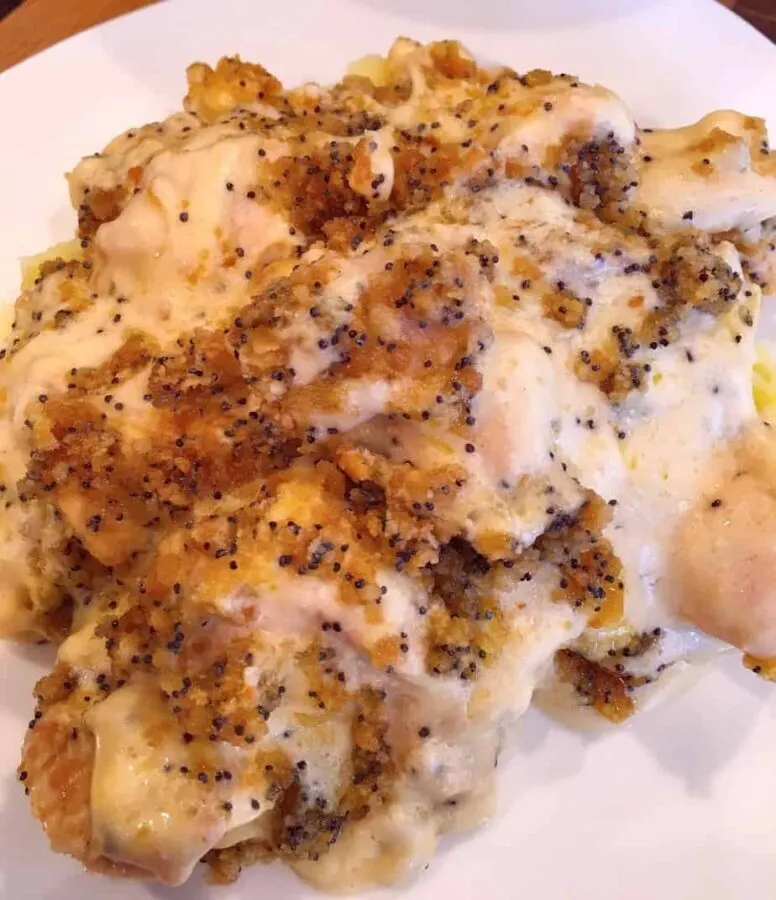 Poppy Seed Chicken (Almost typed "Poopie" Seed Chicken! That's NOT a dish served at this Nest!) Any who…where was I? Oh… Poppy Seed Chicken has been around for years and a favorite at Pot Luck Dinners since its first appearance.
Shockingly…I had never made it. Huh?
I know! I can't figure it out either, because I'm here to tell you…it's FANTASTIC! Mr. Nest had FOUR servings of this dish! (Whoa! Even I was stunned!)
Y'all know how much I love a meal that can be made in ONE pan with no fuss or muss! This is one of those dishes! (I've never met a woman who was excited to wash more dishes! NEVER!)
How To Make Poppy Seed Chicken Skillet Dinner
If you have a heavy large cast iron skillet, it will work best. If not, no worries, you can brown the chicken in a regular skillet, then transfer it to a 9 x 13 baking dish. Either way works great!
In a large skillet, over medium heat, melt 2 Tablespoons of butter. Add 3-4 diced boneless skinless chicken breast. Add salt and pepper to taste.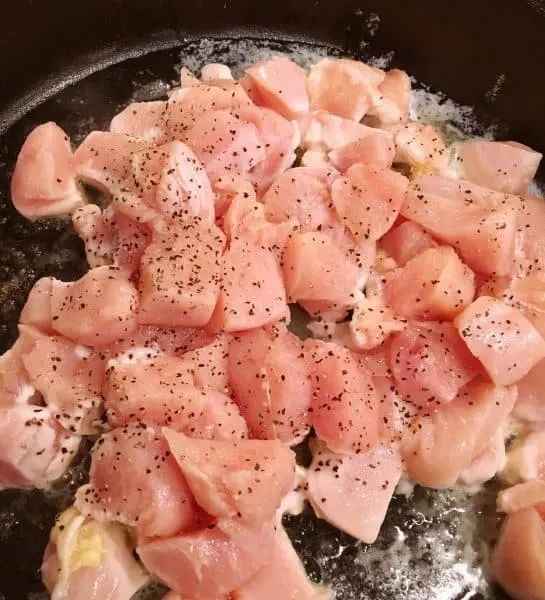 Stirring… until chicken is golden brown.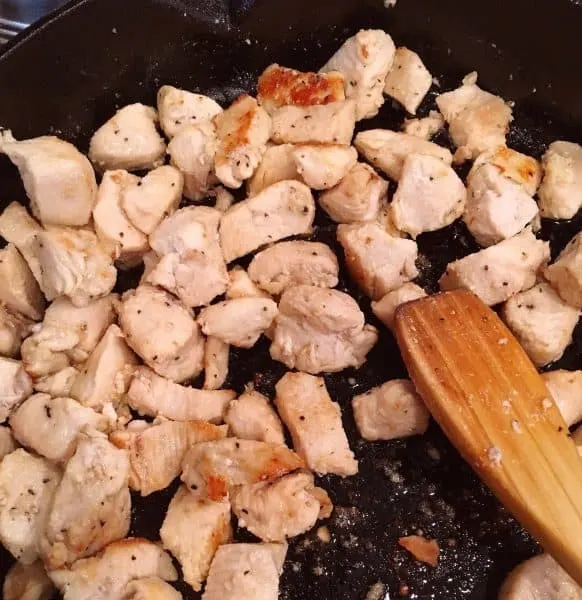 Once chicken is golden brown, add two cans Cream of Chicken Soup. (There's no way to take a pretty picture of that! Believe me… I've tried.)
Note: If you're worried about the sodium and fat in the soup, you can use the reduced sodium and fat soups. The taste will not be exactly the same, but close.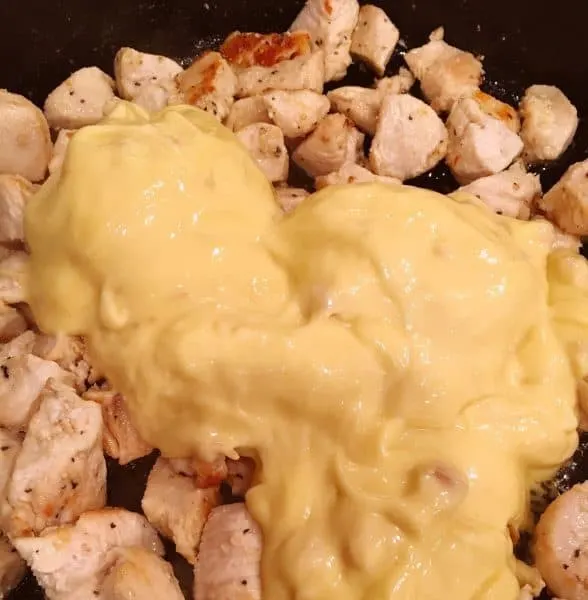 Next add 1 1/2 cups of sour cream.
Note: This is where I changed things up. The original recipe calls for 3 cups of sour cream. I felt that was too much! What do you think?
One and a half cups was plenty of sour cream for this dish. Truly.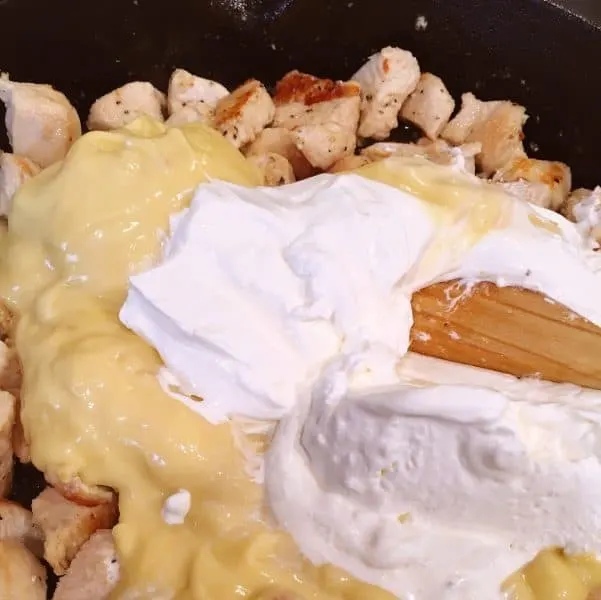 Mix the soup, sour cream, and browned chicken until well incorporated. Spread evenly in skillet or transfer to a baking dish and spread evenly.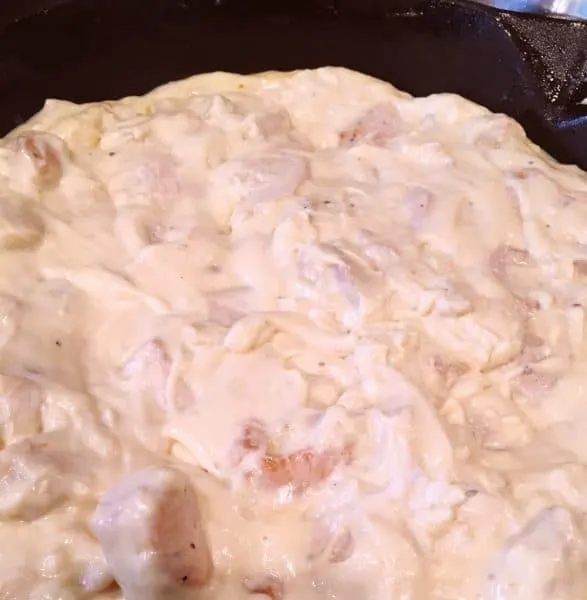 In a large zip lock bag, using a rolling pin…or your fist…and crush one packet, about 26, Ritz Crackers into crumbs.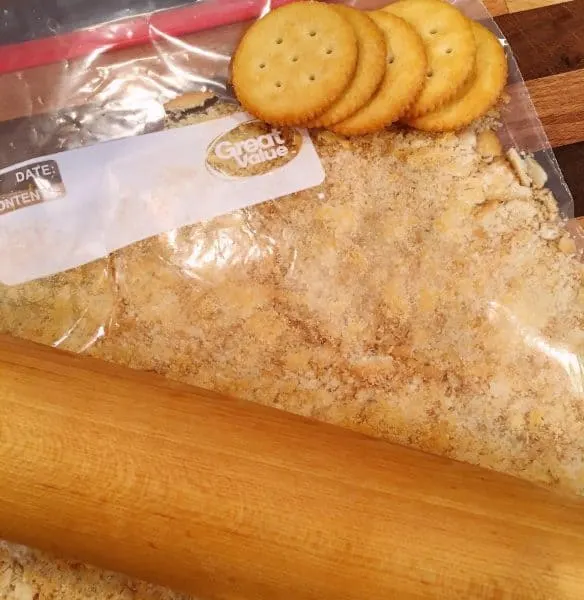 Place cracker crumbs in a small bowl. Add 1 1/2 Tbsp. of poppy seeds! Yep…that's a lot of Poppy Seeds.
DO NOT eat this dish if you are being drug tested in the next week. Unless you've always wanted to test positive as a Heavy Opium Addict! We all have life goals. I'm not here to judge. However… You're gonna look silly standing up in front of the "Group" and saying "Hi! I'm Ginny, and I'm a Poppy Seed Chicken Inhaler!"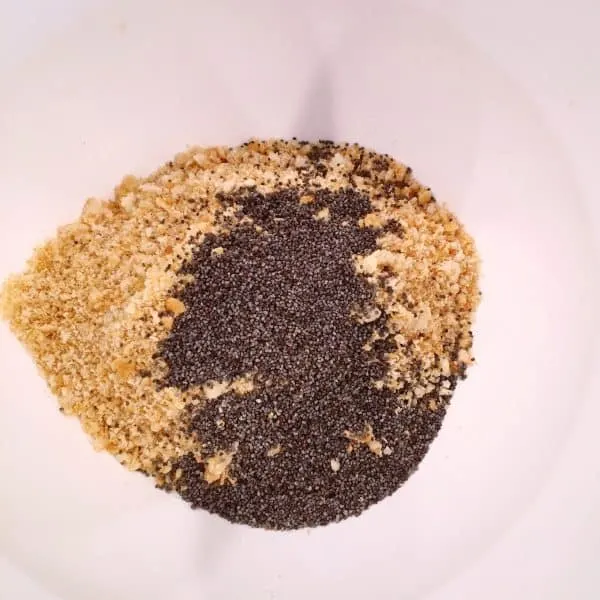 Add 1/2 cup of melted Butter! Yes…a half a cup! (This is one happy chicken…high on poppy seeds and drunk on butter! I think I want that in my eulogy. "Norine was a great gal…she was high on poppy seeds and drunk on butter! But she loved life!")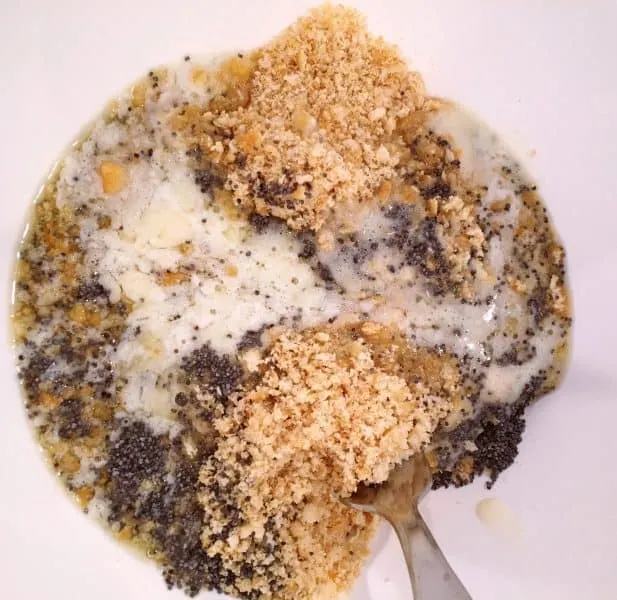 Mix well. The mixture will seem too wet. Don't worry about it…it will turn out fantastic.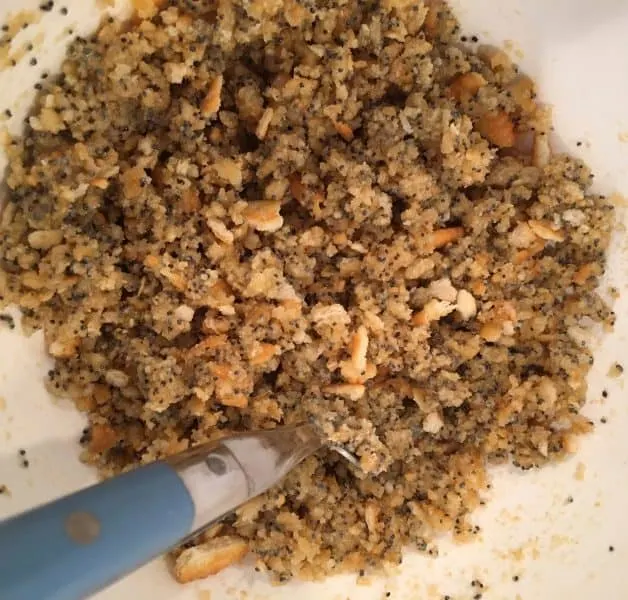 Sprinkle the Poppy Seed Crack Cracker mixture over the top of the Chicken mixture.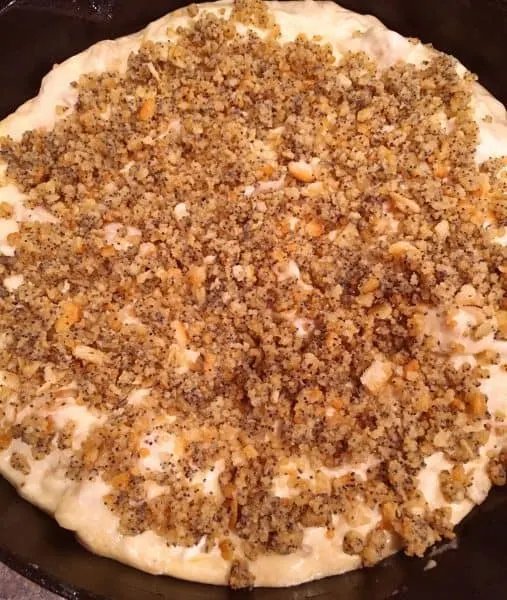 Bake in a preheated 350° oven for 45 minutes or until bubbly and golden.
How do you know if it's done? See those little "lava" bubbles bursting from beneath that cracker crust? That's how you know it is done…well that and the smell! The smell is heavenly!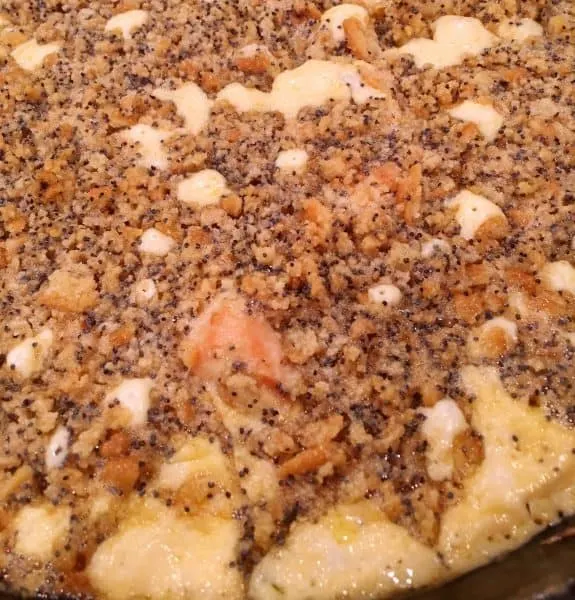 It's not hard to make. It's not fancy. It's not loaded with a lot of "unknown" ingredients. However, it does come together quickly, and it's tasty…so tasty, the whole family will "cluck" it up! (See… I told you…doesn't work!)
Serve over steamed rice, egg noodles, or mashed potatoes.
I had a few Golden Potatoes from my garden, so I served it over golden mashed potatoes. The hubs loved the mashed potato and casserole combo. It was delicious if I do say so myself.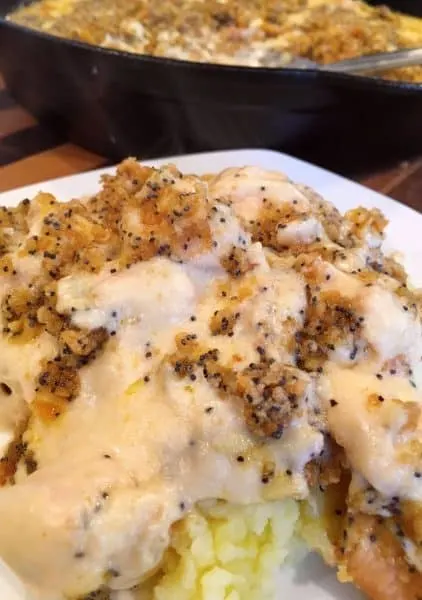 This is the perfect Sunday dinner recipe. Who am I kidding? It is great ANY night of the week!
I can see why this dish has been around as long as it has. It's just simple hearty comfort food on a plate!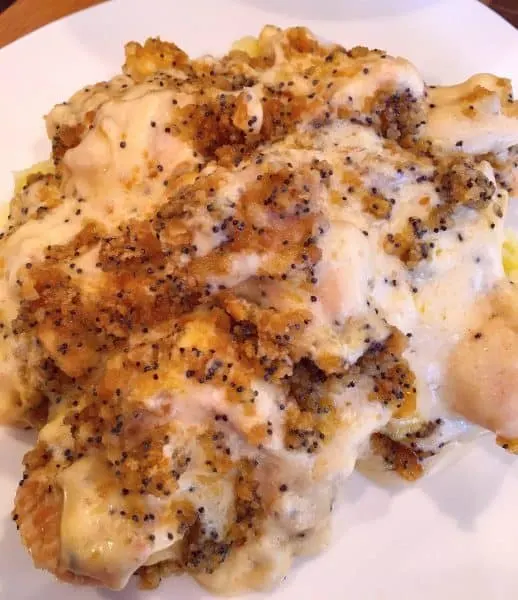 I suggest serving this dish with a large green salad, fresh melon, and corn on the cob. Truthfully there are so many wonderful sides that can complete this dish.
I hope your family loves this dish as much as my husband did. I loved it too! However… I think he is "In LOVE" with this dish. Lol That's some pretty heavy-duty competition my friends!
Other Great Chicken Casserole Recipes
The free printable recipe is below. I hope you'll sign up for my bi-weekly newsletter. It's your chance to get a sneak peek at all the recipes coming to the blog. Plus you can always follow me on Instagram, Pinterest, and Facebook!
Thanks for stopping by!
Happy Nesting!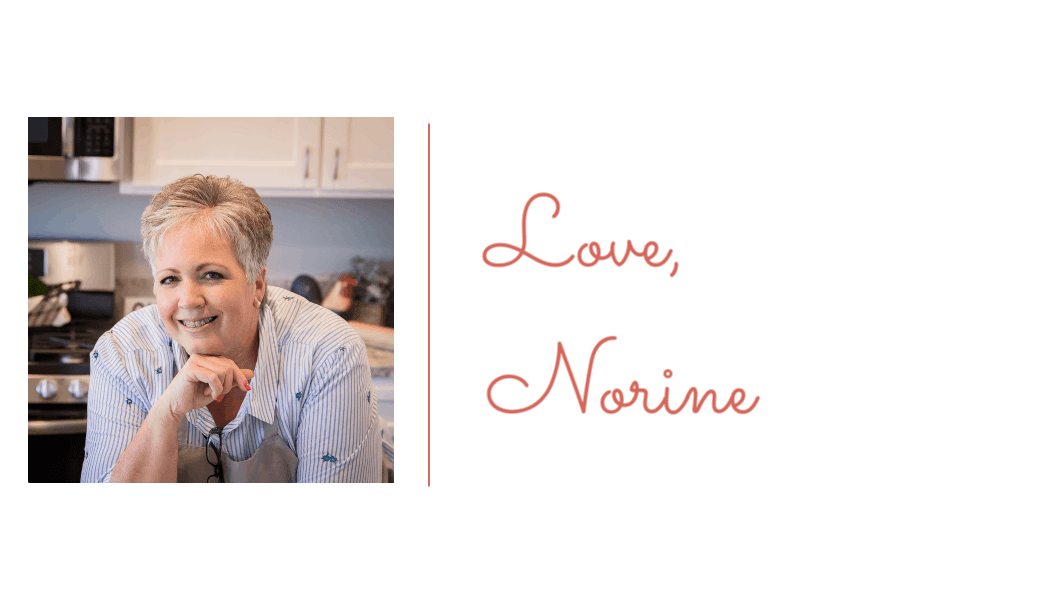 Yield: 8 servings
Poppy Seed Chicken Skillet Dinner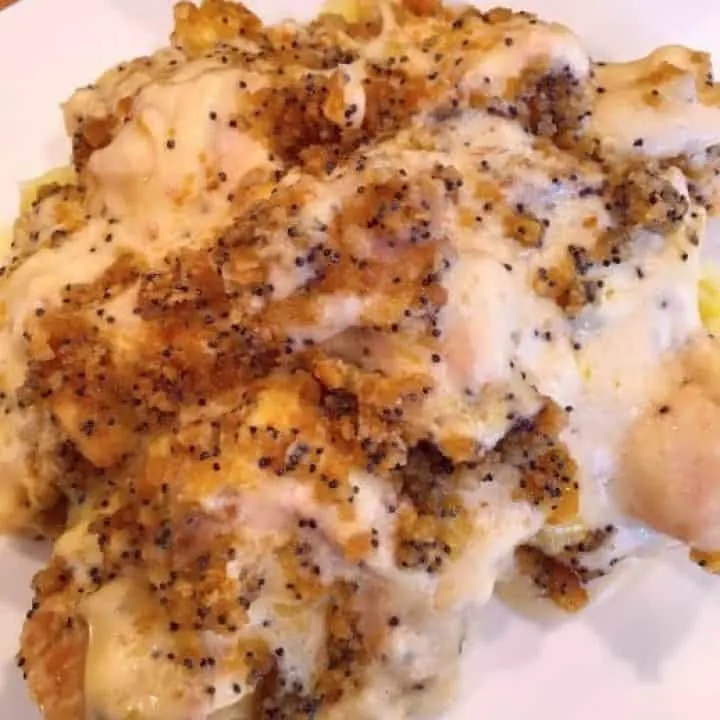 Poppy Seed Chicken Skillet Dinner is a quick and easy dinner casserole that can be served over rice, mashed potatoes, or noodles for a scrumptious dinner the whole family will love!
Ingredients
3-4 chicken breasts, cubed
2 Tablespoons of butter, for chicken
1 1/2 cups of sour cream
2 10.75 cans cream of chicken soup
1/2 C. butter, melted
1 1/2 Tbsp. Poppy Seeds
26 Ritz Crackers, smashed into crumbs.
Instructions
In a large oven safe skillet melt 2 Tablespoons of butter.
Add cubed chicken breasts. Brown in butter, stirring frequently.
Once chicken is brown, add 2 cans of cream of chicken soup and 1 1/2 cups of sour cream. Mix until well blended. Spread out evenly in oven safe skillet, OR pour into a 9 x 13 baking dish.
In a large zip lock bag, smash Ritz crackers until crumbs. Place in small bowl. Add 1 1/2 Tablespoons of Poppy Seeds. Add 1/2 cup melted butter. Mix until well combined.
Sprinkle over top of chicken mixture.
Place in preheated 350° oven. Bake 35-45 minutes until bubbly and golden.
Serve over Rice, Mashed Potatoes, or Cooked Noodles.
Recommended Products
As an Amazon Associate and member of other affiliate programs, I earn from qualifying purchases.
Nutrition Information:
Yield:
8
Serving Size:
1 heaping cup
Amount Per Serving:
Calories:

834
Total Fat:

57g
Saturated Fat:

23g
Trans Fat:

1g
Unsaturated Fat:

26g
Cholesterol:

163mg
Sodium:

3687mg
Carbohydrates:

44g
Fiber:

1g
Sugar:

5g
Protein:

35g