Tart Granny Smith Apples are dipped in a thick rich "double" caramel, drizzled with chocolate, dipped in chopped pecans and garnished lightly with coarse salt to create these epic Double Caramel Apples.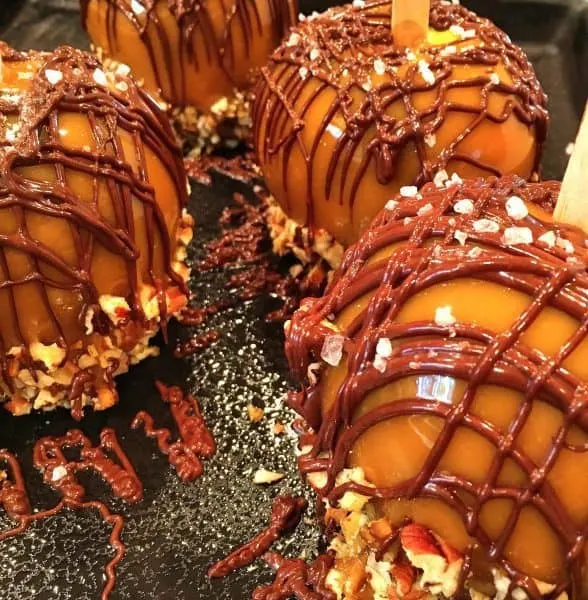 Anyone who knows me…knows that it just isn't Fall until I have made my traditional Double Caramel Apples!
If thicker gooey caramel wasn't enough, I pack on a few more calories and add chopped pecans, then drizzle it… with dark chocolate. (There's no point to drizzling if you aren't going to do it heavily! Lol)
I love making these treats for family and friends! It's so much fun! I know they look gourmet and hard, they're not!
They're simple! You'll wonder why you've spent so much on them at a certain Rocky Chocolate place when you can make ones just as good at home!
How To Make Double Salted Caramel Apples
To make this recipe move along quickly be sure to have your nuts all chopped beforehand. You'll also want to have a small cookie sheet sprayed with Pam or another No stick spray to place the apples on after dipping.
You can use any apple you like. I like Granny Smith apples or Pink Ladies. Both are tart and firm. Perfect for dipping in that extra thick caramel and all the amazing toppings.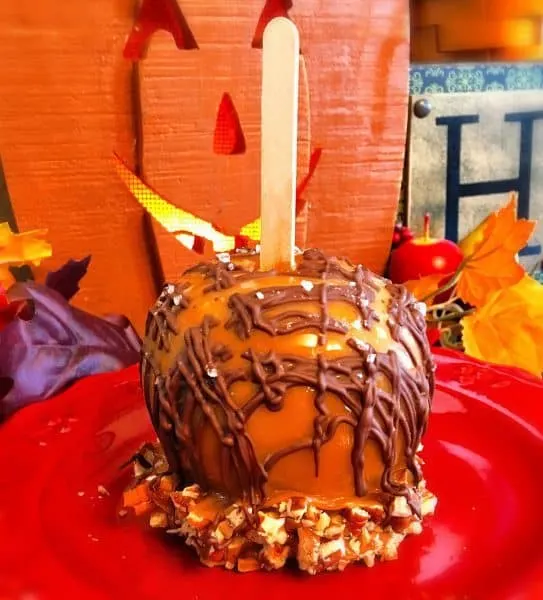 Preparing Apples for Dipping
The first trick to making caramel apples…any caramel apple, is to get rid of that pesky wax coating! (Unless you prefer your caramel to slip off your apple and onto the floor?)
I've tried a lot of different techniques over the years and this one works best, but really if you leave them sitting out on the counter, that caramel is going to slip off no matter what! (Just like mine started to do in the picture above) So you'll still need to put them in the refrigerator to store them.
The best way to wash them is to fill a medium sauce pan with water and bring it to a boil. Once it is boiling quickly dip each apple and twirl it around for a second. Use a dry paper towel and quickly wipe off as much wax as you can.
Then using a soft vegetable brush and water with baking soda I scrub off the remaining wax and dry the apples off.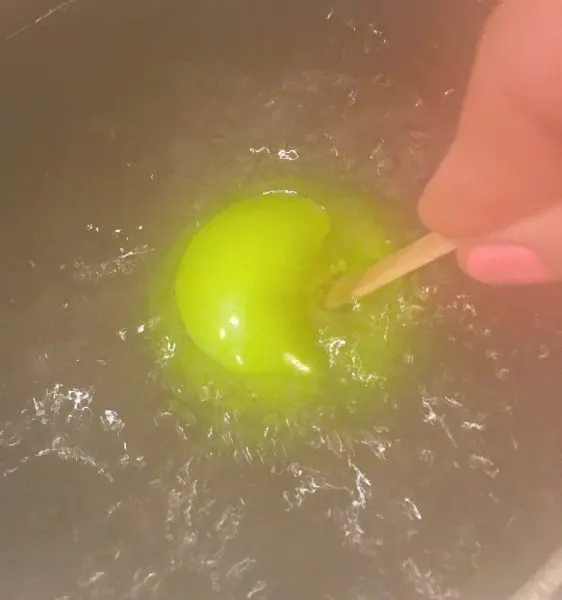 Caramel for Dipping
Next unwrap all the caramel in one regular size bag of Kraft caramel's. Place them in a small microwaveable glass bowl.
Tip: Use glass not plastic. Glass will hold the heat and keep your caramel softer longer. Another handy tip, make sure you have sticks on hand. The bags of caramel no longer come with sticks for your apples. I purchase a large bag of them from the craft store and keep them on hand. You never know when you might need to dip say…200 apples! Lol
Next add 1/4 cup light corn syrup. Remember these are "Double" caramel apples, so we won't be adding water to the caramel's like the traditional recipe calls for, just corn syrup. It makes a nice thick caramel.
Place the bowl in the microwave on high for 2 minutes. Using a hot pad for the bowl, Check and stir. If they are not melted, place them back in for another minute, then check again. It shouldn't take more than 4 minutes. Mine took exactly 2 minutes.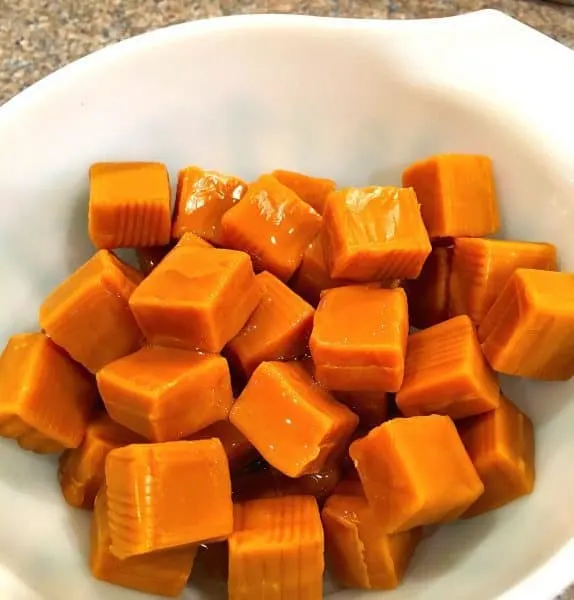 Remove from Microwave and stir quickly, they should be creamy and perfectly melted.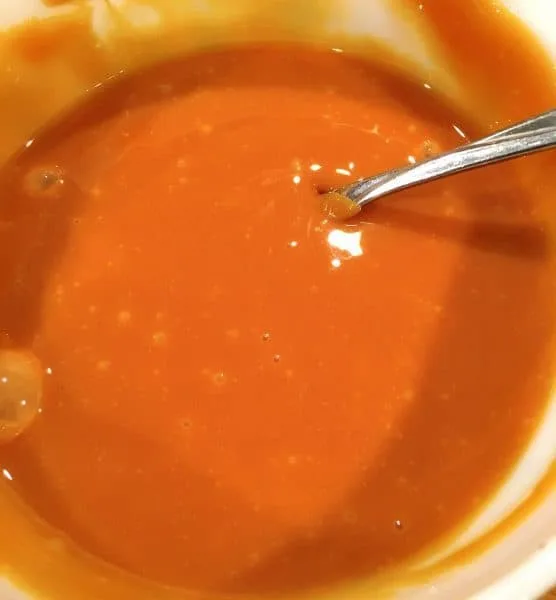 Dipping Apples
Time for my favorite part…the dip and twirl. I love dipping the apples and twirling them around, making sure that the caramel coats every single inch of the apple! I'm pretty good at the dip and twirl. As long as it's on an apple and not the dance floor! That would be a disaster of Epic proportions.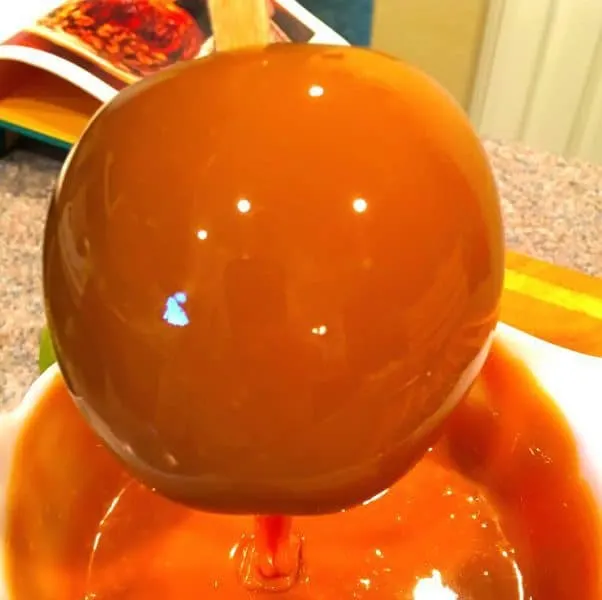 Once you have dipped them, hold them above the bowl for a second, or two, to allow any excess caramel to drip off. Then using a butter knife, scrape the bottom of the apple off.
Next, roll them in the chopped nuts. If you don't want or like nuts, just place the apple on the sprayed tray, and allow it to "set up" before moving on. I love nuts so… I just roll the bottom of the apple in the chopped nuts. The pecans go so perfectly with the caramel.
Here's the beauty of this recipe. You can stop at any point. If you just want caramel and no nuts and no chocolate. You are done after dipping. If you want nuts and no chocolate…you are done now. It's totally up to your personal tastes. Aren't they beautiful? It's that thick double caramel affect thanks to the corn syrup!
Place the dipped apples in the refrigerator for about 15 minutes to allow the caramel to set.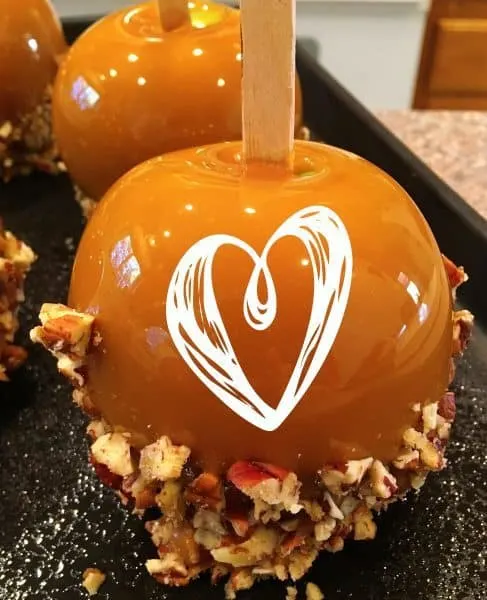 While the apples are setting up let's talk chocolate!
Now I like to drizzle mine with chocolate.
Here at this Nest, we've established that all calories vanish when real fruits and veggies are involved in desserts and treats. No carbs were injured in the making of this treat!
We are an equal opportunity employer here at the Nest! We don't want to make the healthy item, in this case the apple, feel punished by the weight of the carbs…ie: the caramel, nuts, and chocolate. Just wouldn't be prudent! So…zero calories! (Don't we wish!)
How To Make Chocolate Drizzle
For the chocolate drizzle, you will need one cup of semi-sweet chocolate chips. (I used mini's…it was what I had on hand.) Place them in a microwaveable bowl. Add one teaspoon of vegetable oil. Heat for 2 minutes on 50% power! Check. If they are melted stir until smooth. If they haven't melted place them back in the microwave for another minute on 50% power. Then stir again.
Since you are using a glass bowl that holds the heat, the chocolate will continue to melt as you stir.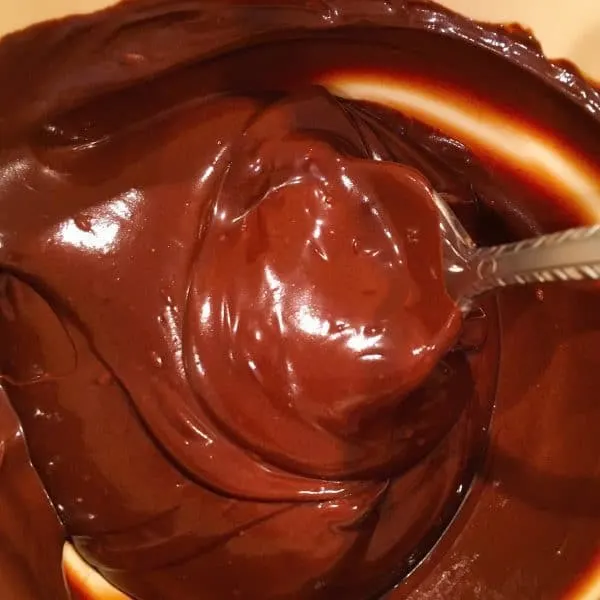 TIP: Place a zip lock sandwich bag inside a mug. Fold the edges of the bag over the lip of the mug. Scoop the melted chocolate into the zip lock bag. Remove filled chocolate bag from the mug and seal the bag gently pushing any extra air out of the bag as you go. Snip the bottom corner of the bag then squeeze to drizzle chocolate over the apples.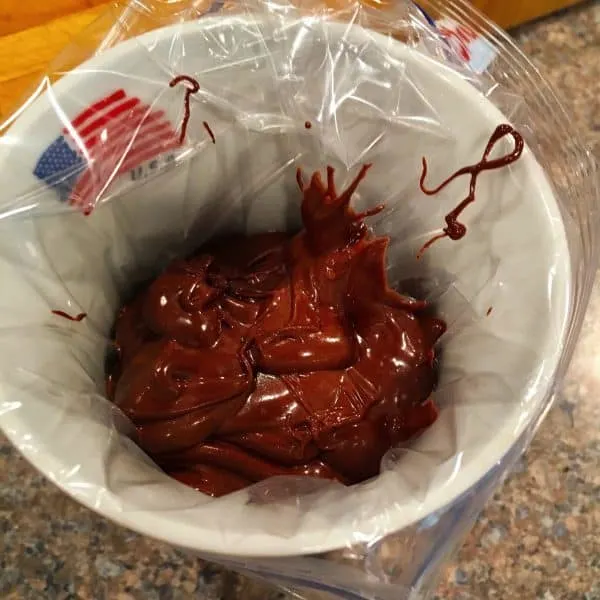 Toppings for Caramel Apples
Drizzle away! I topped mine with a little crushed salt to add a little zing of flavor! (Rumor has it salt on apples is good.)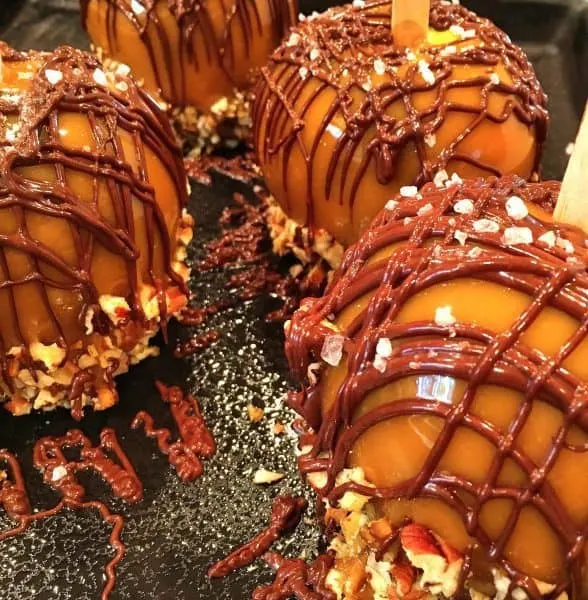 Place the apples back in the refrigerator to allow the chocolate set up. About 10 minutes. Once it is set and firm, then you can cover the apple with plastic wrap or place in individual cello bags with a ribbon.
If you've covered them with nuts and chocolate they shouldn't stick to the bag. (fingers crossed. wink-wink) Store them in the refrigerator until ready to serve.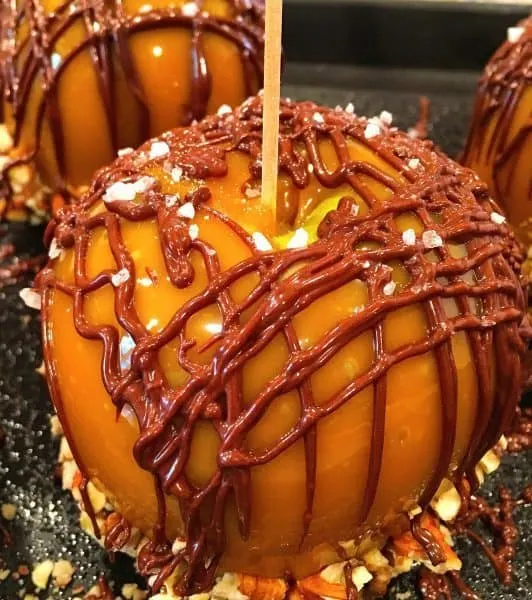 If you forget to place them in the refrigerator the caramel will slowly, but steadily, still slide down the apple. Even though we removed the wax, it will still happen. Apples produce a natural wax on the outside to protect them, so it's almost impossible to not have some wax on the apple causing slide offs.
You'll notice in the picture below mine started to slide. I made the mistake of running an errand and when I can back the caramel had moved, so the chocolate drizzle was breaking apart. Sniff, sniff. So sad.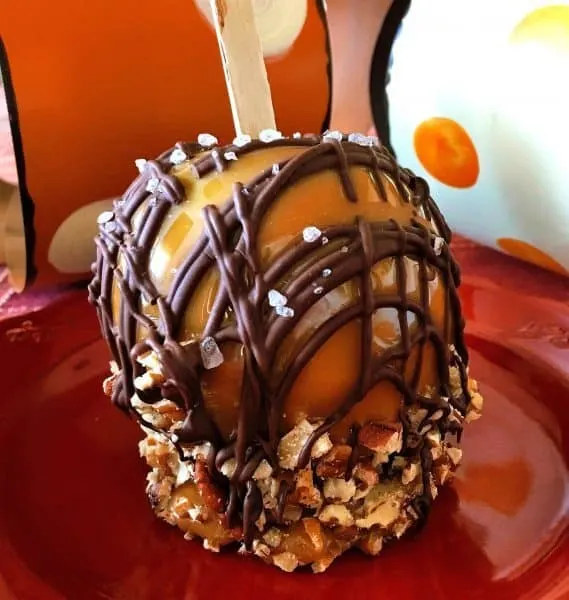 Don't worry though… Rest assured that I will still be eating this apple…broken chocolate drizzle and all! Things don't always go perfectly in life.
When you are ready to eat one, remove it from the refrigerator about 15–20 minutes beforehand, so it can warm to room temperature and the caramel will be nice and soft and gooey. The tart of the granny smith with the creamy goodness of the sweet caramel is such a delightful addicting blend. YUM!
This is one of my favorite fall treats and one that my whole family loves. We all make them with different toppings!
It would be so fun to have an "apple dipping" party and let your little's pick the toppings they want to roll their apples in. You could even just do apples slices if you wanted to. So many possibilities.
Other Fun Fall Sweet Treat Recipes
I'm including the printable recipe. I hope you make these with your family and start a new fall tradition. It's so much fun!
As always… Thanks for visiting and Happy Nesting!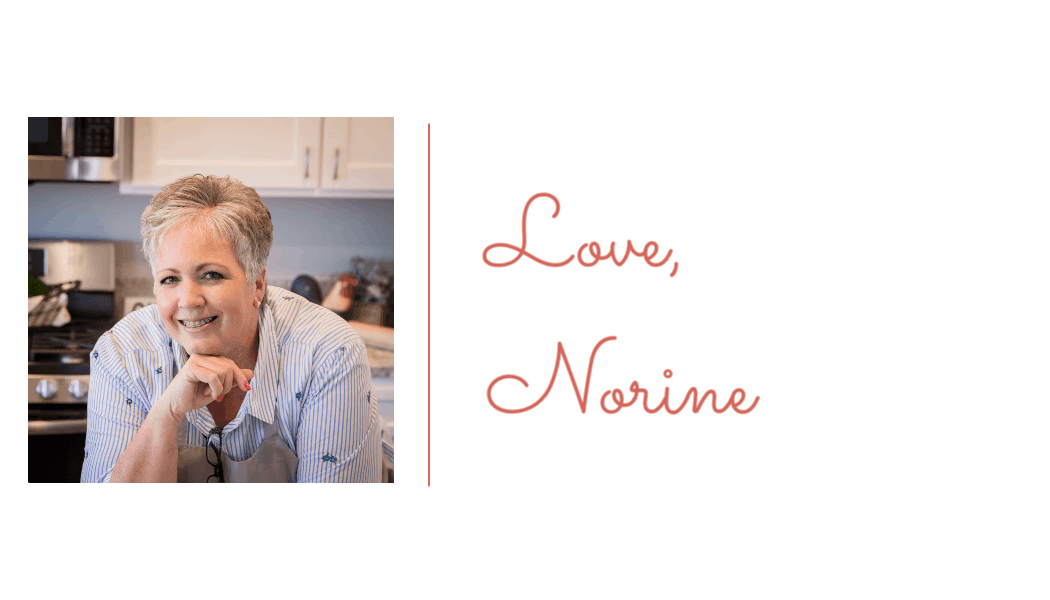 *This recipe is adapted from the cookbook "Favorite Brand Name Gifts from the Christmas Kitchen".
Yield: 5 Apples
Double Caramel Apples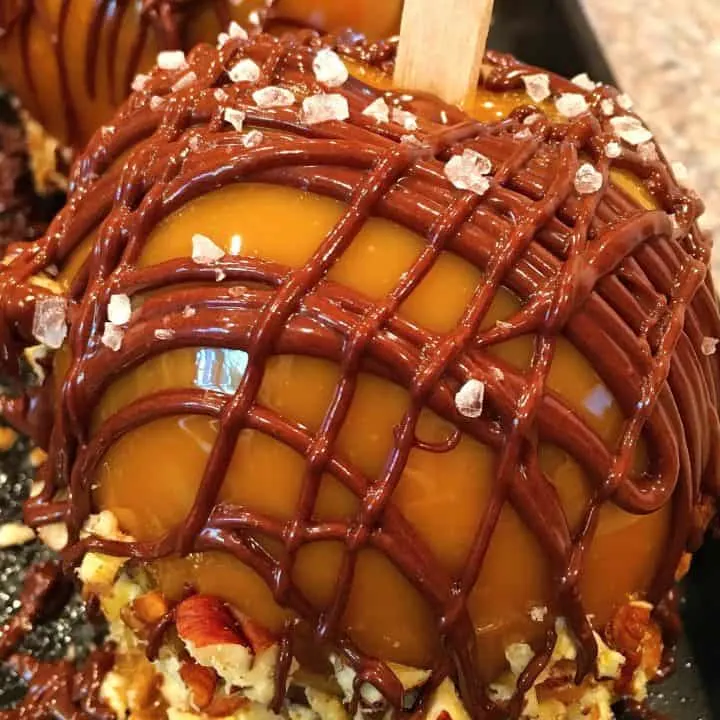 Crisp Tart Apples dipped in a thick rich double caramel rolled in chopped pecans, drizzled with melted semi-sweet chocolate, and sprinkled with coarse salt. A delicious Fall treat!
Ingredients
No stick cooking spray
5 medium apples
5 wooden sticks
1 package Kraft caramel candies, unwrapped
1/4 cup Karo Light Corn Syrup
1 cup chopped pecans, or walnuts
1 cup (6 ounces) semisweet chocolate chips
1 teaspoon vegetable oil or corn oil
Instructions
Spray a small cookie sheet with cooking spray; set aside. Wash and dry apples by dipping in boiling water and wiping off the excess wax with a paper towel; insert stick into stem end.
In small, deep microwaveable bowl microwave caramels and corn syrup at HIGH 2-4 minutes or until caramels are melted and smooth, stirring after each minute.
Dip apples in hot caramel mixture, turning to coat well. Allow caramel to drip from apples for a few seconds, then scrape excess from bottom of apples. Roll bottom half in nuts. Place on prepared cookie sheet. Refrigerate at least 15 minutes.
In a small microwavable bowl, microwave chocolate and oil at 50% power for 2 minutes. Check, if not melted repeat for another minute. Stir until melted.
Drizzle apples with chocolate. Refrigerate 10 minutes or until chocolate is firm. Wrap apples individually; store in refrigerator. Remove 15-20 minutes prior to eating.
Makes 5 apples.
Recommended Products
As an Amazon Associate and member of other affiliate programs, I earn from qualifying purchases.
Nutrition Information:
Yield:
5
Serving Size:
1
Amount Per Serving:
Calories:

392
Total Fat:

22g
Saturated Fat:

3g
Trans Fat:

0g
Unsaturated Fat:

18g
Cholesterol:

0mg
Sodium:

42mg
Carbohydrates:

53g
Fiber:

7g
Sugar:

43g
Protein:

3g