Leftover Thanksgiving Casserole is a scrumptious dish loaded with all your favorite Thanksgiving favorites, from the stuffing to the green bean and gravy. It's a great way to use up those leftovers.
I have a problem every year after Thanksgiving…besides the few extra inches to the waist line! It's all the Leftovers!
There's the delicious Turkey sandwiches, and that re-heated third plate, but what now? There's still a container of Stuffing…a few green beans, some gravy, and the Turkey and Ham lurking around in the refrig.
What to do?
I decided this year to take them all and create this scrumptious casserole. It hints at Chicken Cordon Bleu only creamier and a lot easier to make!
How To Make Leftover Thanksgiving Casserole
Start by digging out your leftovers. Begin with a layer of left over stuffing and a 9 x 13 pan.
Just toss it in there. Doesn't have to be pretty. This casserole is more about taste and flavor than appearance. Although I do happen to think it looks pretty darn good!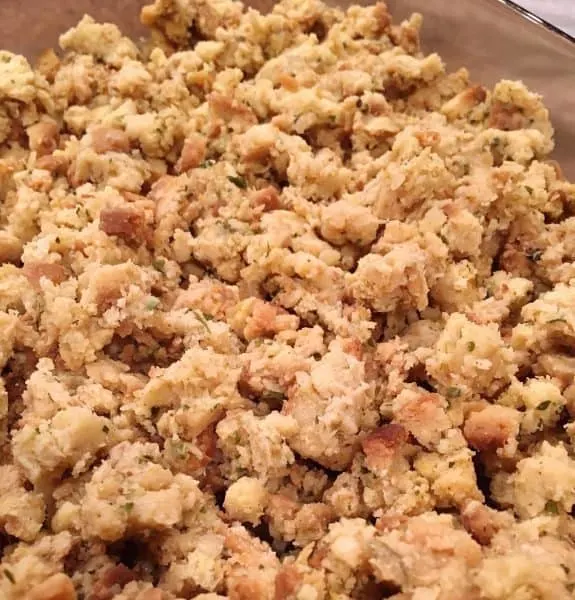 Add your leftover vegetables. I had green beans, but you could use broccoli or mixed vegetables. I had about a cup of green beans.
We aren't stressing over exact ingredients in this dish. Our goal is to use up those leftovers before they start becoming a science project! Lol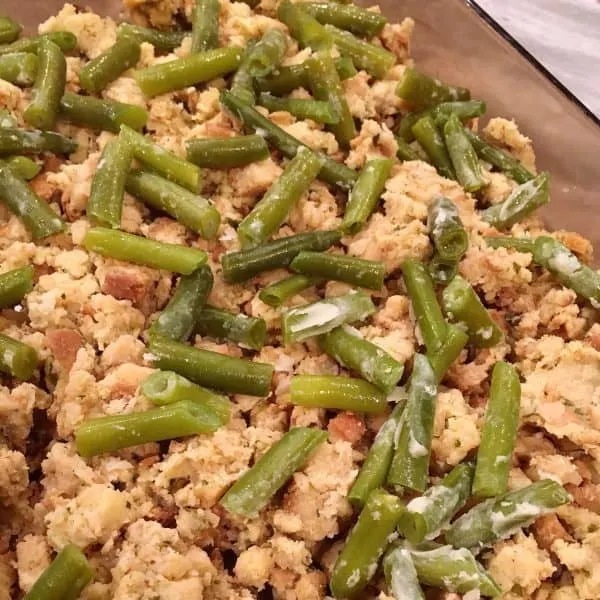 Dice up about 3 cups of meat. I did Turkey and Ham. If you don't have both just do one or the other. The great thing about this casserole is "Leftover" aspect. It's what you have on hand.
I had Turkey, but no ham. However, I wanted to use both, so I bought a slice of ham steak and diced it up.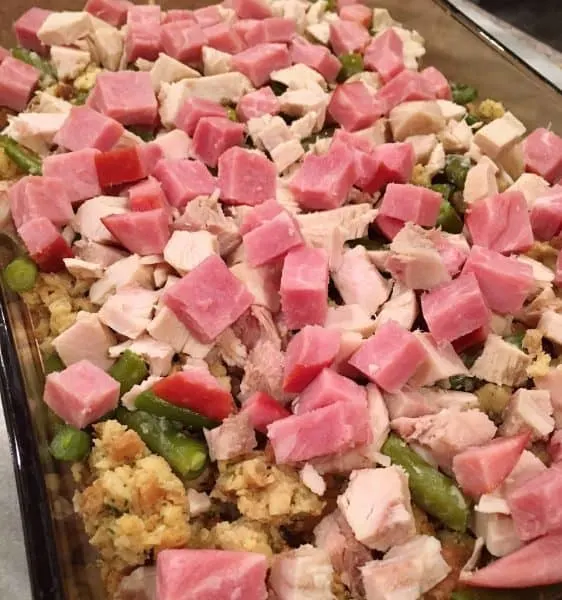 How to make Creamy White Sauce
It's starting to come together. All that's left is to make the "white sauce" and add some cheese.
For the white sauce we need to start out with a Roux by melting 6 Tablespoons of butter in a medium skillet.
Add a pinch of flour. Stir it with a whisk. Once that starts to bubble… Add 1/4 cup of flour and continue to stir until a thick paste forms.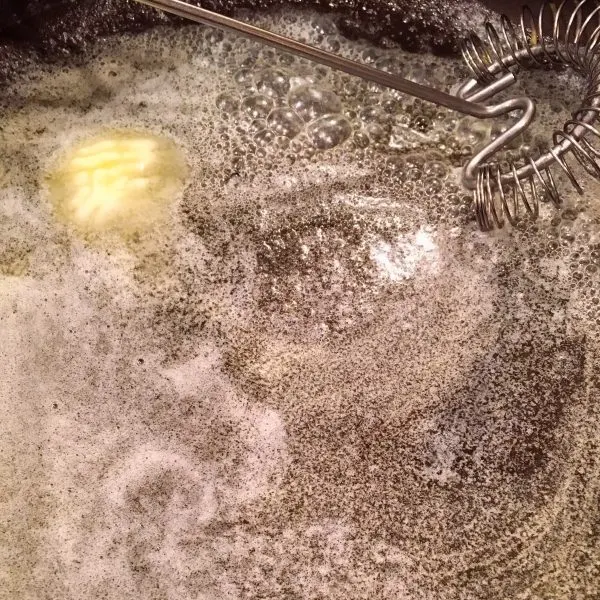 Add in 1 cup of milk plus salt and pepper to taste, continue stirring over medium heat.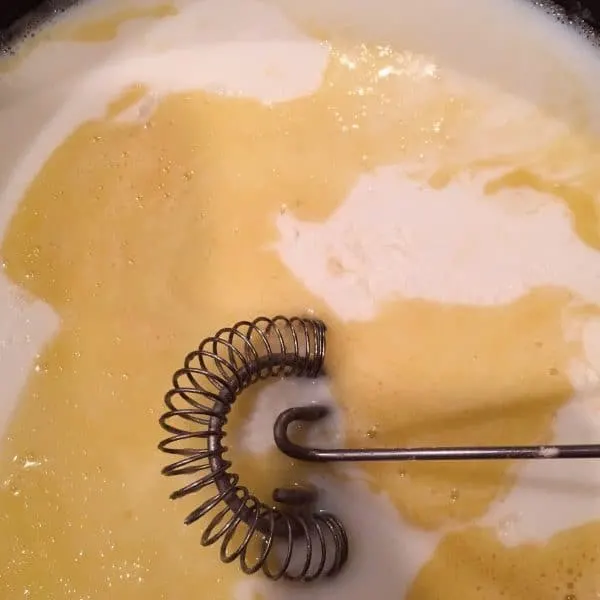 A rich thick white gravy will form. If it's too thick add a little more milk. Continue to stir.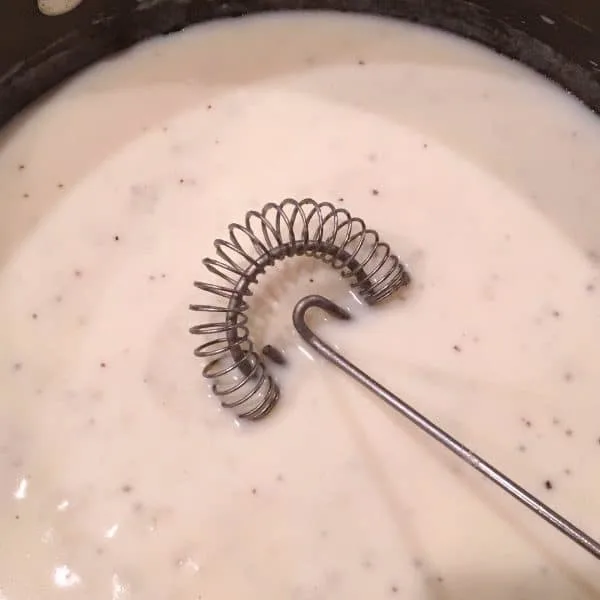 If you have some leftover gravy this is the time to add it! It adds a wonderful flavor and depth to this sauce. It doesn't look pretty, but trust me when I say…it's delicious! I added about 3/4 of a cup.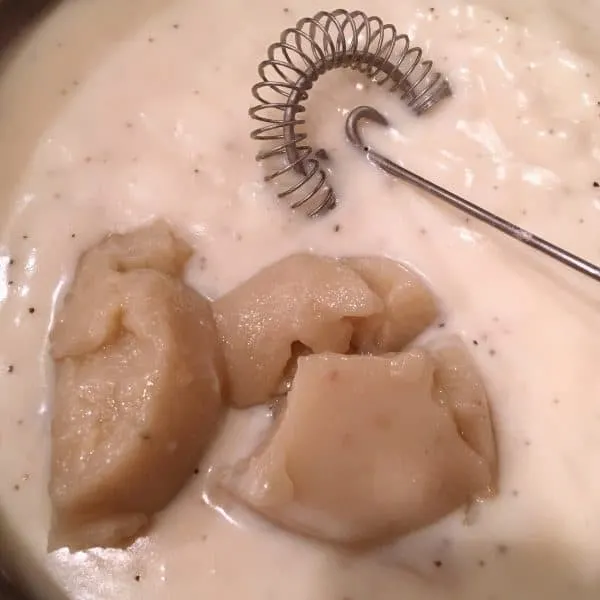 Adding White Sauce to Leftover Casserole
Once that is all incorporated, pour the sauce over the casserole ingredients.
Doesn't that look delicious?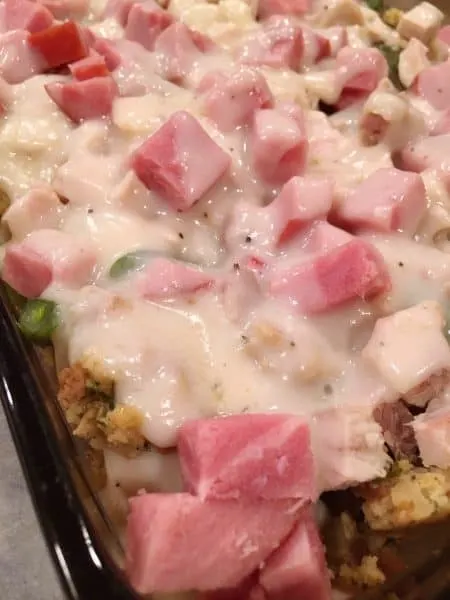 Sprinkle with 2 cups of shredded Swiss Cheese. Yep… Swiss Cheese. This is where that hint of Chicken Cordon Bleu comes in to play and takes it from tasting like another plate of Thanksgiving leftovers into something new and exciting.
The Swiss cheese kicks up the flavor of this casserole and adds a delicious twist!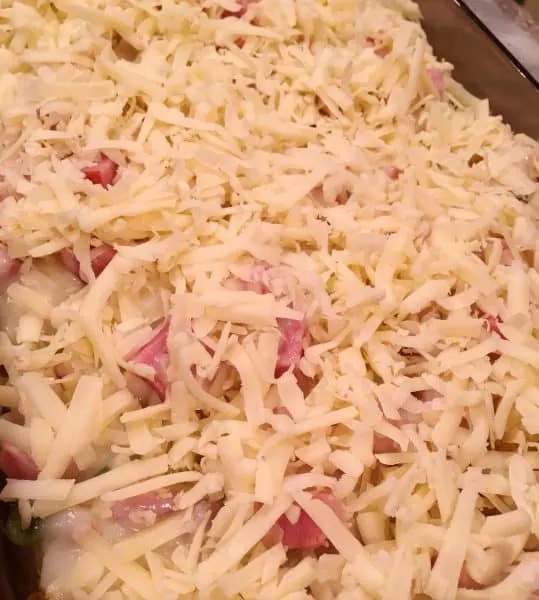 In a microwave safe cup, melt 1 Tablespoon of butter, add 1/4 cup Italian Bread Crumbs. Mix it together. Then Sprinkle the top of the cheese with the buttered Italian seasoned bread crumbs. Yummmmm!
How to Bake Casserole
Pop into a preheated 350° oven and bake for 30 – 40 minutes. Cheese should be melted, and the bread crumbs crispy and golden, the sauce bubbly. Then it's done and perfect!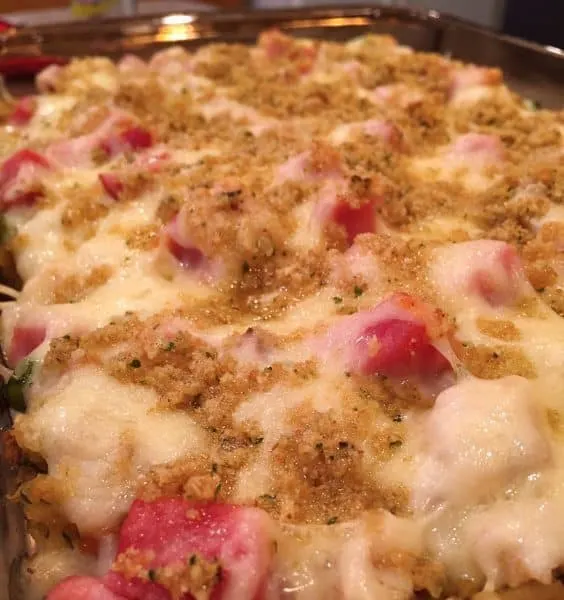 Oh… this casserole is Good! So Good!
All ya need is a fork and a craving for pure delicious comfort food!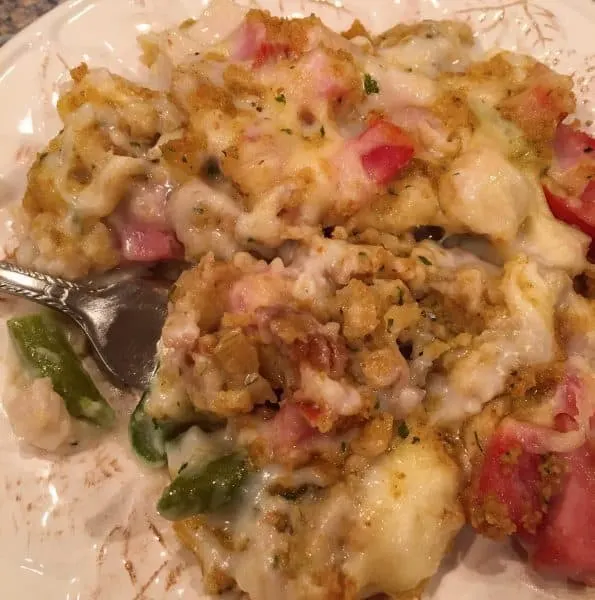 Time for "quirky" Norine's Nest insights… (I know…exciting!)
We have this rating system game we do…thumbs up if it's a keeper. Thumbs down if they don't ever want to see it on the dinner table again, and side way thumbs if it's an "Eh, I could take it or leave it!"
I'm happy to announce… My family gave this casserole TWO enthusiastic thumbs up! (Whew! The pressure was on!)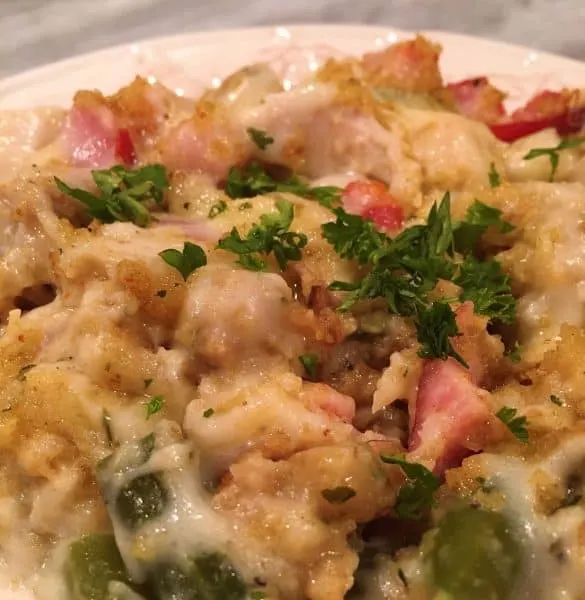 It's so good… I even ate the leftovers of the Leftover Casserole! I think that's saying a lot! (Besides I'm too lazy to make something else!)
This casserole is magical! It makes all your Thanksgiving leftovers disappear! (Face it…after a week we all want that.)
What's even better than that, and would make my grandma so happy, is that we aren't throwing out all that perfectly good food! We are feeding our families a delightful appetizing dish without wasting. A true win-win!
If you've enjoyed this casserole you may enjoy these other Easy Family Favorite Casseroles
Thank you for inviting me to your dinner table by sharing my love of cooking with y'all!
From my Nest to Yours… I hope you all have a wonderful savory Thanksgiving!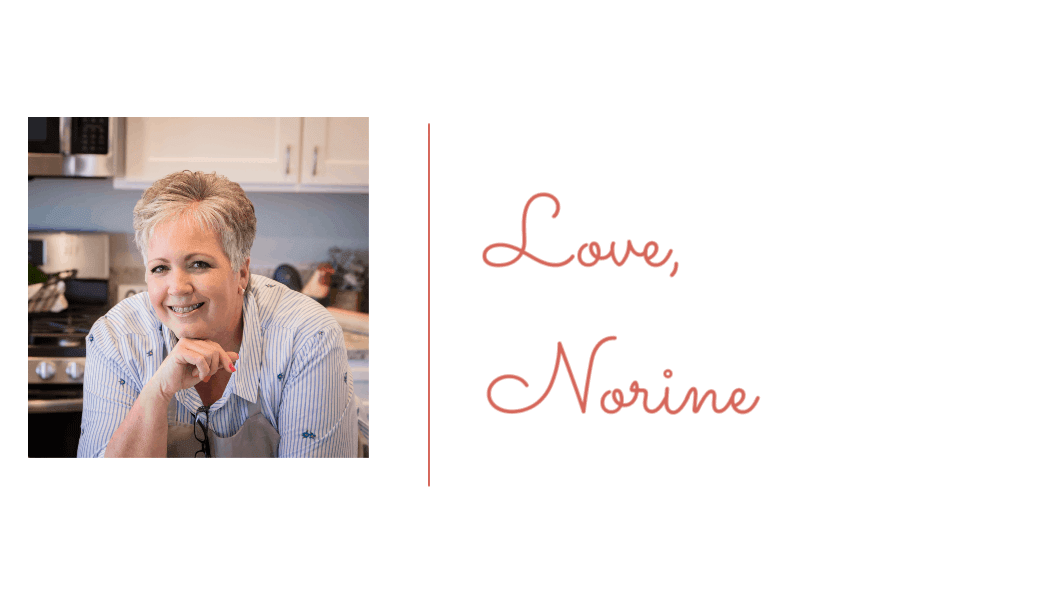 Yield: 8 servings
Left Over Thanksgiving Casserole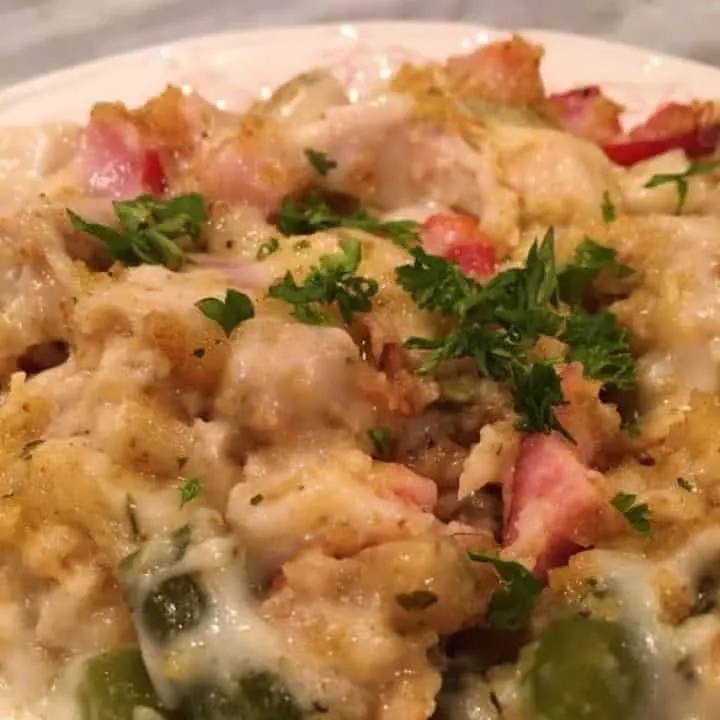 A tasty way to use up all those Thanksgiving leftovers. Layers of Stuffing, Vegetables, and that left over Turkey and Ham. All covered in a creamy white sauce and topped off with Swiss Cheese and golden bread crumbs.
Ingredients
3 cups left over stuffing or 1 package of Stove Top Stuffing, prepared.
1 cup left over vegetables or 1 cup of green beans
3 cups diced up left over meat, Turkey or Ham, or a combination of both.
2 cups Swiss Cheese, grated
1 Tablespoon butter, melted
1/4 cup Italian Bread crumbs
White Sauce
6 Tablespoons Butter
1/4 cup flour
1 cup milk
3/4 cup left over gravy or jarred gravy
Salt and Pepper to taste
Instructions
Preheat oven to 350°
Spray a 9 x 13 baking pan.
Place a layer of stuffing, followed by a layer of left over vegetables, and another layer of 3 cups of diced leftover Turkey or Ham, or a combination of both.
In a medium skillet over medium heat melt the 6 tablespoons of butter. Add a pinch of flour. Stir until bubbly. Add 1/4 cup of flour to form a thick paste. Stir continually.
Whisk in 1 cup of milk. Continue stirring until a rich thick gravy forms. Salt and Pepper to taste. If sauce is too thick add additional milk.
Add 3/4 cup of gravy. Mix until incorporated into the roux.
Pour over casserole ingredients.
Sprinkle with 2 cups of grated Swiss Cheese.
In a microwave safe cup melt 1 Tablespoon of butter. Add in 1/4 cup of Italian Bread Crumbs. Mix until crumbly.
Sprinkle over cheese.
Bake at 350° for 30 minutes until cheese is melted and sauce is bubbling.
Recommended Products
As an Amazon Associate and member of other affiliate programs, I earn from qualifying purchases.
Nutrition Information:
Yield:
8 servings
Serving Size:
1 servings
Amount Per Serving:
Calories:

602
Total Fat:

38g
Saturated Fat:

17g
Trans Fat:

2g
Unsaturated Fat:

18g
Cholesterol:

131mg
Sodium:

948mg
Carbohydrates:

28g
Fiber:

2g
Sugar:

3g
Protein:

35g