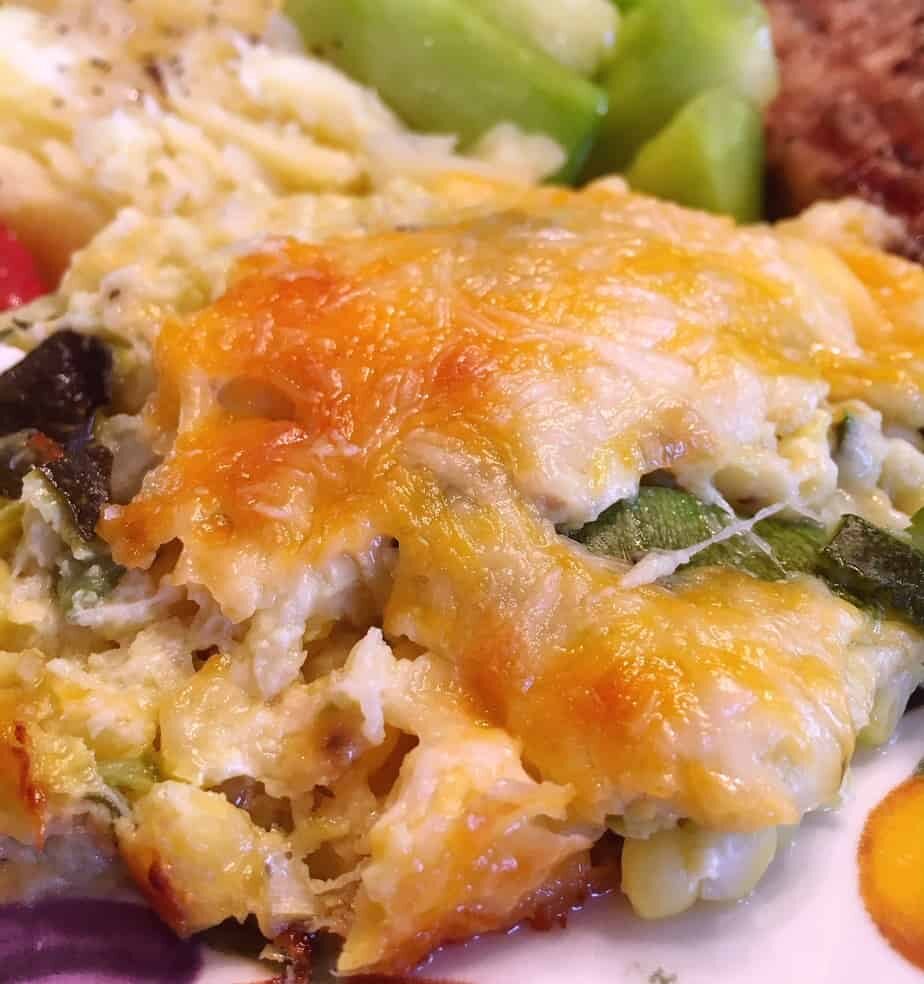 Cashew Chicken Casserole will remind you of your favorite Chinese Cashew Dish. This casserole is loaded with tender chicken in a delightful creamy soy and cashew laden sauce that is nestled between layers of Chow Mien Noodles.
*As an Amazon Associate I earn from qualifying purchases. This post may contain affiliate links, which means that I may make a commission from any purchases at no additional cost to you. Thank you for your support!
Growing up there were 4 chicken casseroles that rotated around the meal plan menu! Chicken Broccoli Casserole, Chicken Rice Casserole, Chicken Tortilla Casserole, and this personal favorite, Cashew Chicken! It's a delicious soul warming casserole full of rich creamy flavors.
I love serving it over steamed long grain white rice. Not a fan of steamed white rice? That's fine! It can be served over noodles, or even wild rice. (That's two year old rice high on sugar! lol…if you don't get that joke…I can't help you!)
It truly leans towards an oriental flavored dish thanks to the addition of soy sauce…so the white rice goes nicely along with it as it's companion side dish…but you can choose which ever side your family prefers!
How To Make Easy Cashew Chicken Casserole
In a large sauce pan, over medium heat, melt 2 Tablespoons of butter…or as I like to say "Buttah"!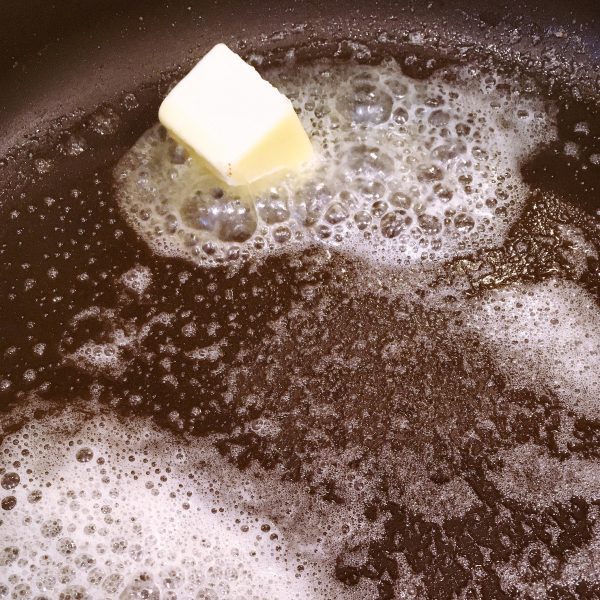 Add ⅓ cup Chopped Onion, and 1 cup chopped celery. Saute until tender and onion is translucent! (Don't ya just love that word? Translucent. I haven't heard that word in connection with my beauty in…hmmm…NEVER! Great Onions are more beautiful than I am! Another Life Goal failed! Maybe I should saute in butter?)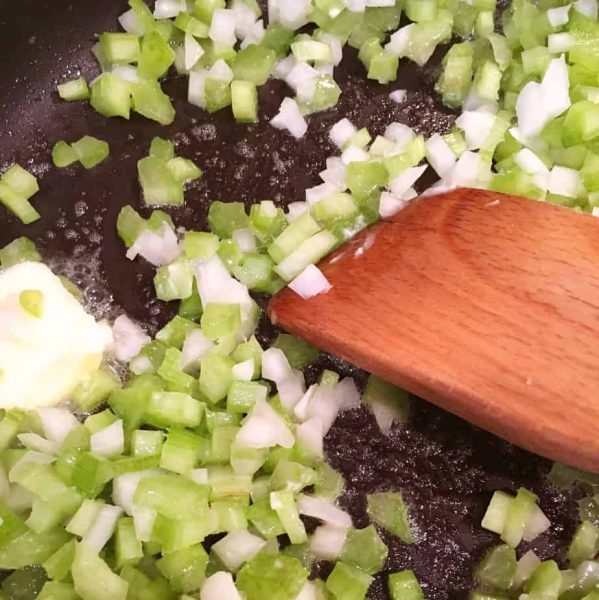 Moving along…In a large bowl add 1 can Cream of Mushroom Soup and 1 can Cream of Chicken Soup. (That's appetizing photography at it's best! Still wanting those "step-by-step" instructions?)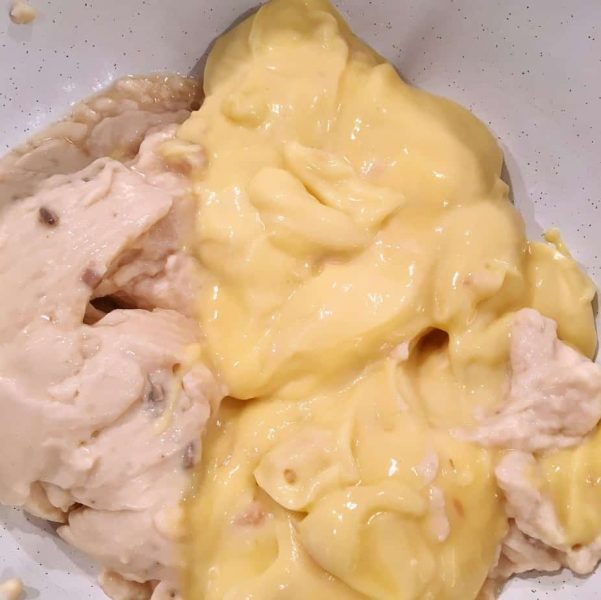 Add 2 Tablespoons of Soy Sauce and mix until well combined.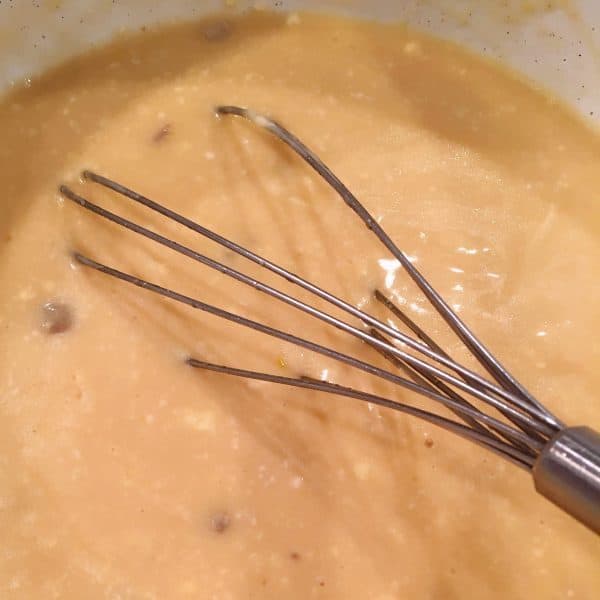 Add in 1 Cup Whole Cashews.
TIP: First you have to find the can of cashews you hid from your husband! (I found this can in my mini roasting oven!)
That's right…I proudly hide nuts at this Nest! I live with a human Squirrel!! I kid you not. That man can put down an entire canister of roasted nuts in less than 30 minutes! (Yes! I forget where I hide them… I'm 56…I'm lucky if I can remember where I put my glasses! Let's be real here!)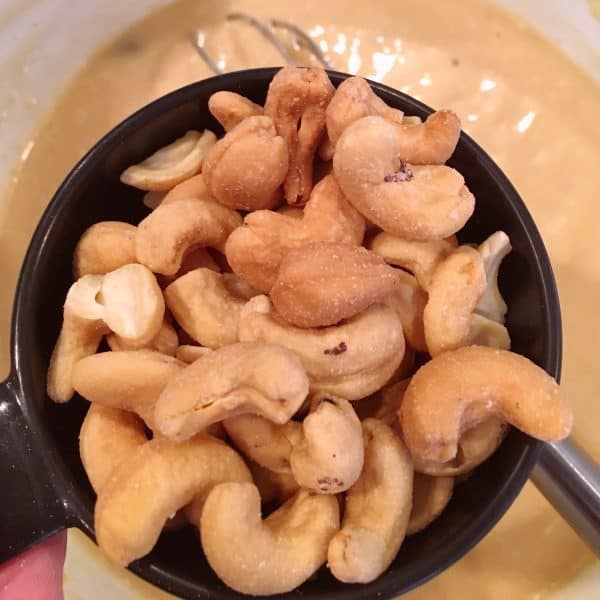 Add those beautiful "Translucent" veggies and 4 cups of chopped COOKED chicken! (You can use a "live" chicken, however just know that it can get a little messy when their wings and feet get to flapping around in that sauce!)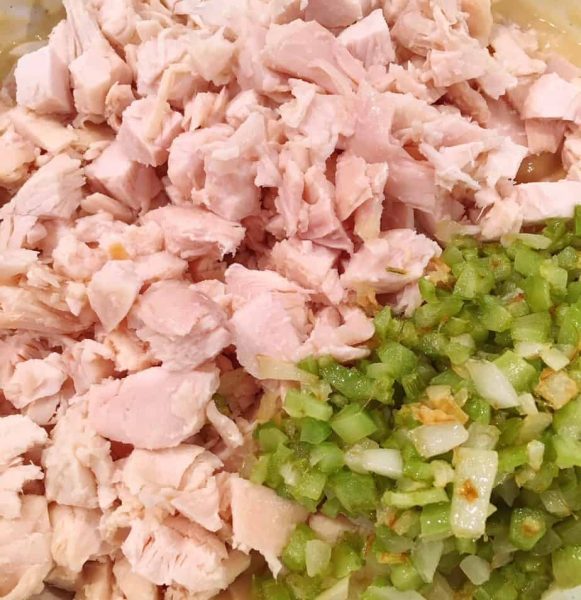 Mix everything together really well…and PLEASE don't really use a live chicken! ( We don't need more nuts involved in this dish…the cashews are the only nuts…other than the author!)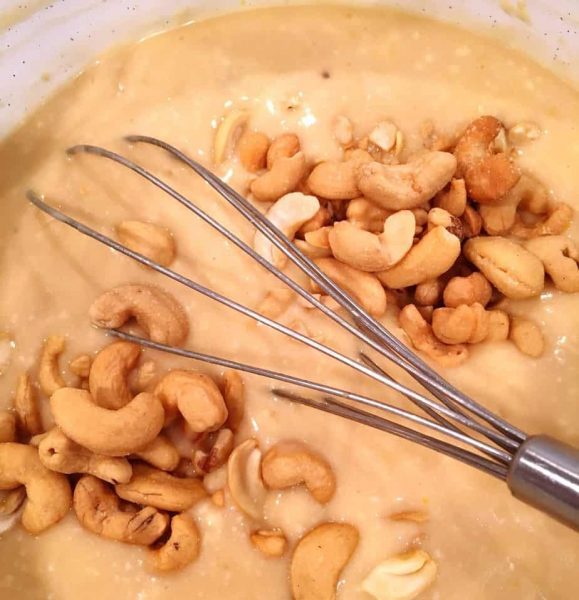 Preheat your oven to 350°. Spray a 4 quart baking dish with non-stick baking spray. Begin making the casserole with a layer of Chow Mien Noodles. (You just started munching on them didn't you?)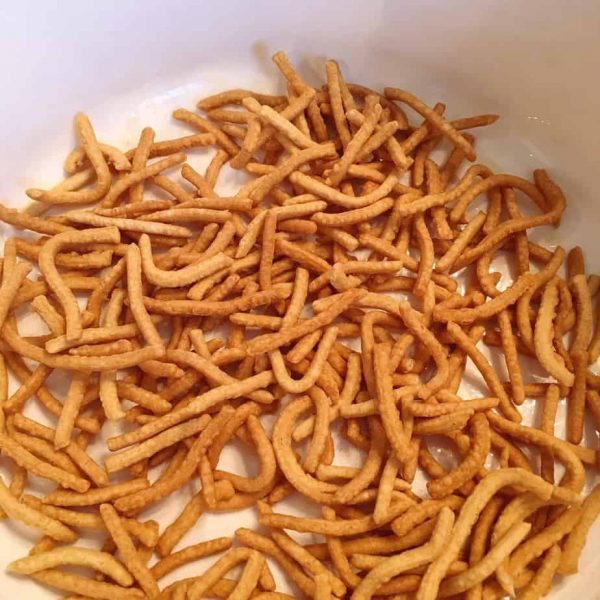 Add a couple heaping spoonfuls of chicken cashew mixture.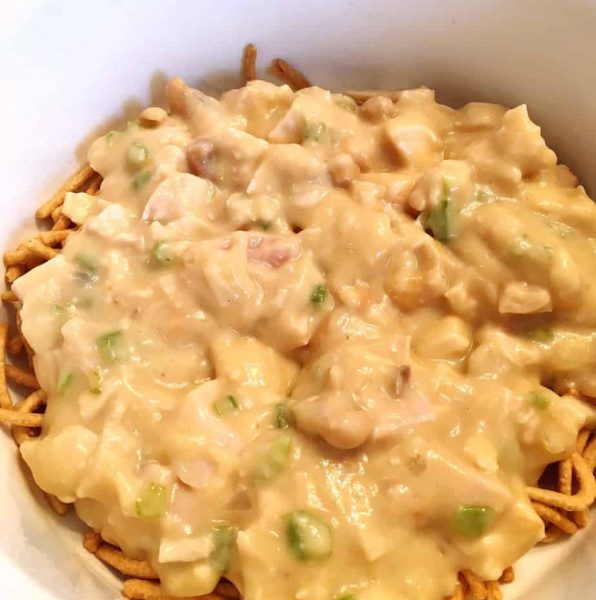 Alternate with another layer of chow mien noodles and continue ending with Chow Mien Noodles. Start and End with the noodles…in case that point escaped you because you're chasing a wet live chicken around the kitchen!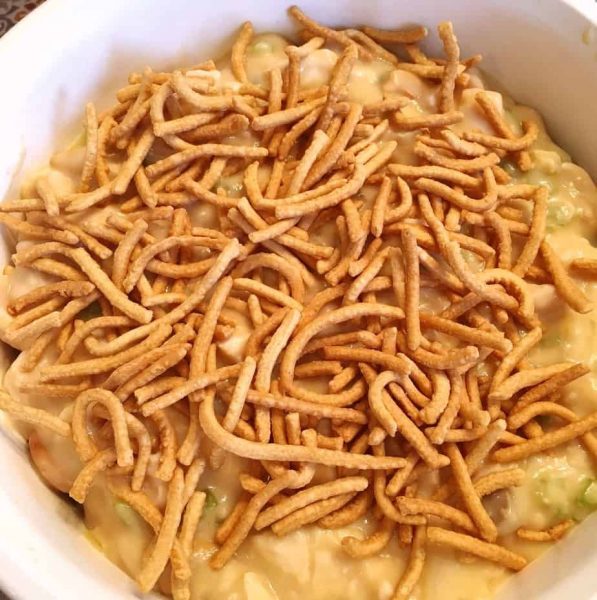 Bake uncovered for 40 minutes until sauce is bubbling. While casserole is baking make steamed rice, noodles or other side dish to serve casserole over.
One of my favorite things about this dish, besides how easy it is and how tasty, are how those center noodles turn out. They absorbs all the spectacular flavorful sauce and become soft…not mushy…just soft and tender.
I don't want you thinking you're going to be "crunching" your way through this casserole. There is a little crunch from the noodles on top. Otherwise the remaining noodles because soft like a pasta noodle.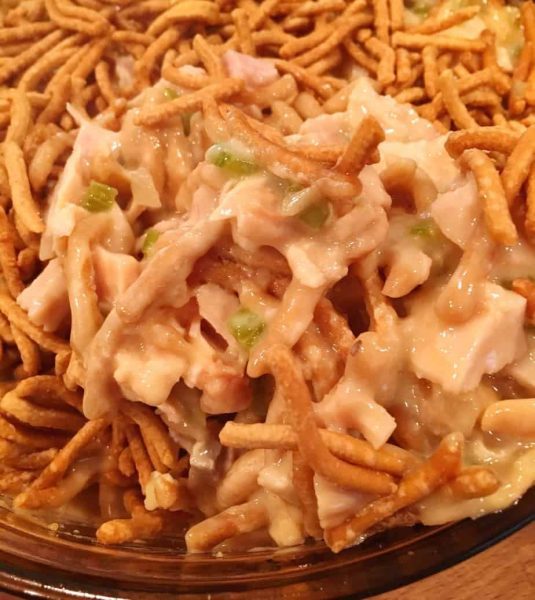 Let's review a few Tips to help make this dish scrumptious!
Have all your ingredients prepared in advance. Chop onion and celery before hand.
You can make this casserole the day before and keep it chilled in your refrigerator. The leftovers are fantastic!
4 Cups Cooked Chicken can be from a store-bought Rotisserie chicken or from cooked chicken breast. DO NOT USE A LIVE CHICKEN! lol (wink, wink)
You can use low sodium or low-fat soups in this recipe.
Use a top quality Soy Sauce. I like the "Aloha" brand. DO NOT ADD additional salt to this dish. There is plenty of salt between the canned soups and the Soy Sauce.
Spray your baking dish before assembling casserole. Do not cover when baking.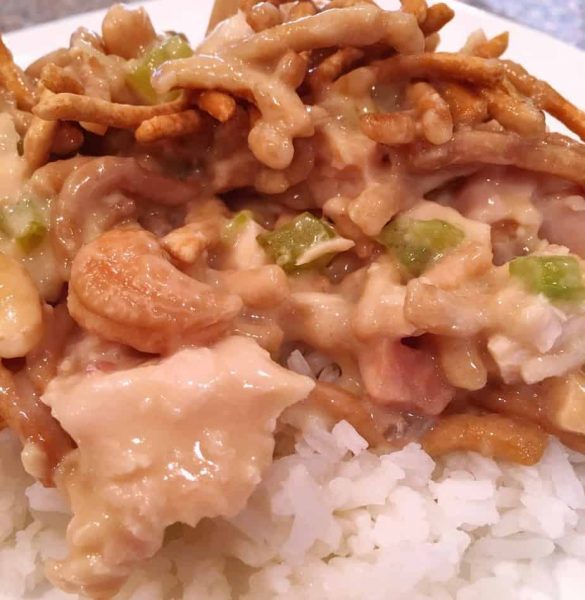 This dish is superb served with Asian Coleslaw and steamed snow peas! You can even skip the sides and just make a rice bowl with this casserole served on top!
It's a true comfort dish thanks to that flavorful creamy lip licking sauce with it subtle hints of soy sauce! The cashews become tender, during baking, like the noodles and add to the rich tastes combined in this simple dish.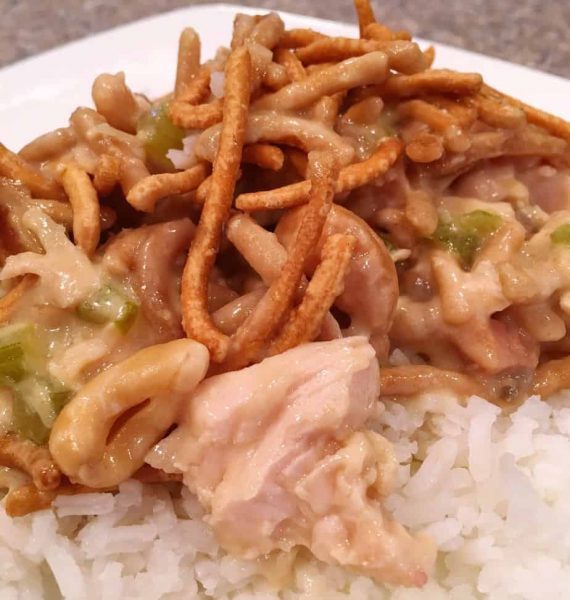 I hope the birds at your nest love this Chinese inspired Cashew Chicken Casserole as much as we do! I hope it makes its way into your meal plan rotation very soon!
Other Family Favorite Chicken Recipes
Have a GREAT week! Thanks for stopping by.
Happy Nesting!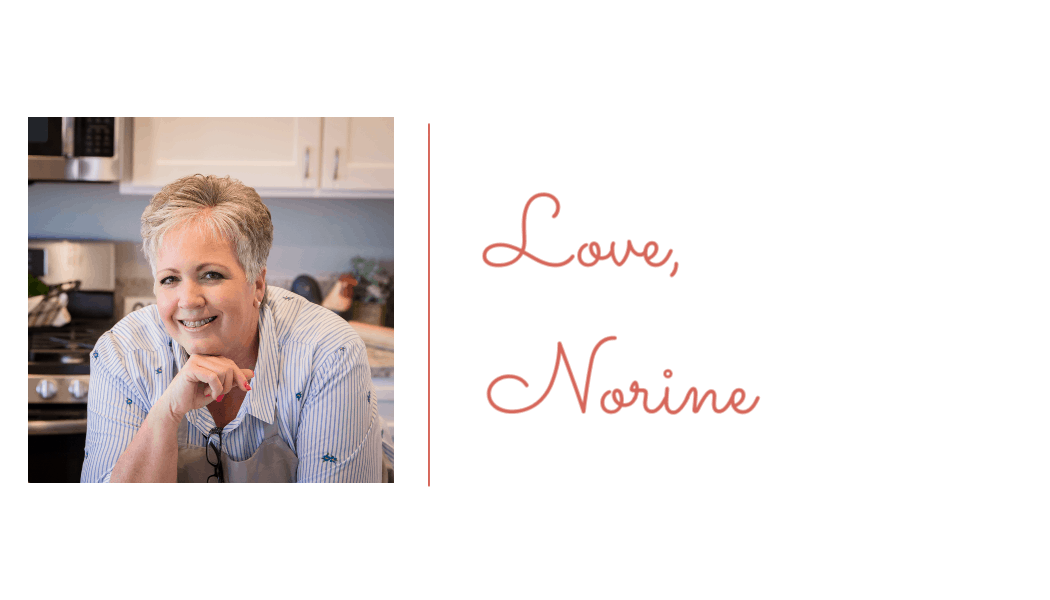 Yield: 6 - 8 servings
Cashew Chicken Casserole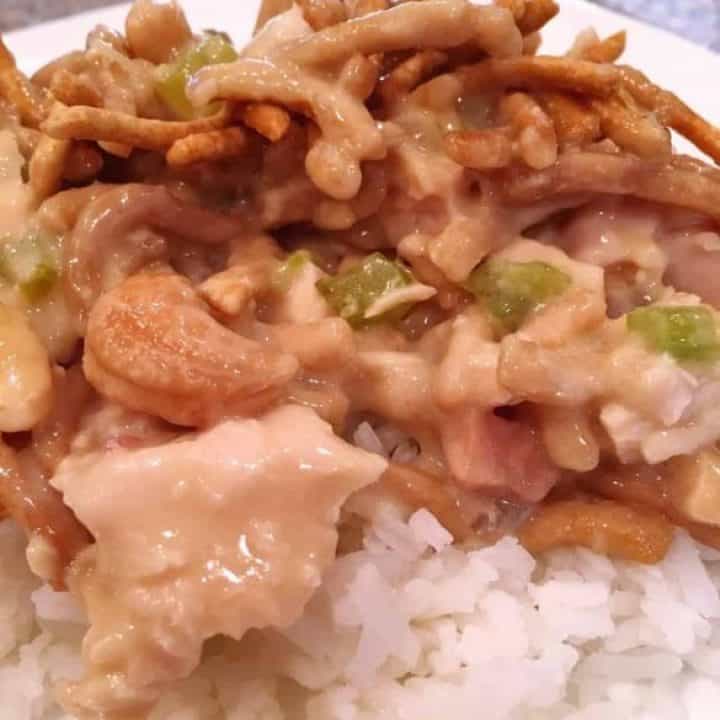 Family Dinner just got easier with this luscious Cashew Chicken Casserole with hints of your favorite Chinese Dish. This dish can even be made the day before.
Ingredients
4 Cups Cooked Diced Chicken
⅓ Cup Chopped Onion
1 Cup Diced Celery
2 Tablespoons of Butter
1 Can Cream of Mushroom soup
1 Can Cream of Chicken Soup
2 Tablespoons Soy Sauce
1 Cup Whole Cashews
1 Bag Chow Mien Noodles
Instructions
In a large skillet, over medium heat, melt butter. Saute Onions and Celery until translucent. In a large mixing bowl, mix together both cans of soup, soy sauce, chicken, and sauteed onions and celery. Mix well. Add 1 cup of cashews.
Preheat oven to 350°. Spray bottom and sides of 4 quart baking dish with non-stick cooking spray. Layer noodles and chicken mixture. Starting and Ending with Chow Mien noodles.
Bake for approximately 40 minutes until sauce is bubbling.
Serve over steamed rice or noodles.
Recommended Products
As an Amazon Associate and member of other affiliate programs, I earn from qualifying purchases.
Nutrition Information:
Yield:
8
Serving Size:
1 ½ cup
Amount Per Serving:
Calories:

379
Total Fat:

25g
Saturated Fat:

7g
Trans Fat:

0g
Unsaturated Fat:

16g
Cholesterol:

74mg
Sodium:

1030mg
Carbohydrates:

18g
Fiber:

2g
Sugar:

3g
Protein:

21g