Chicken Florentine Casserole, can be made with chicken, fish, or shrimp. Chicken breasts lie on a bed of fresh sautéed spinach and mushrooms, has a creamy white sauce with hints of garlic, Parmesan cheese, and Italian seasonings, is topped off with crumbled bacon and mozzarella cheese!
Is there any thing better than rich creamy sauces loaded with flavor? (Well… maybe donuts? Cheesecake! An Ice cold Dr Pepper!)
*As an Amazon Associate I earn from qualifying purchases. This post may contain affiliate links, which means that I may make a commission from any purchases at no additional cost to you. Thank you for your support!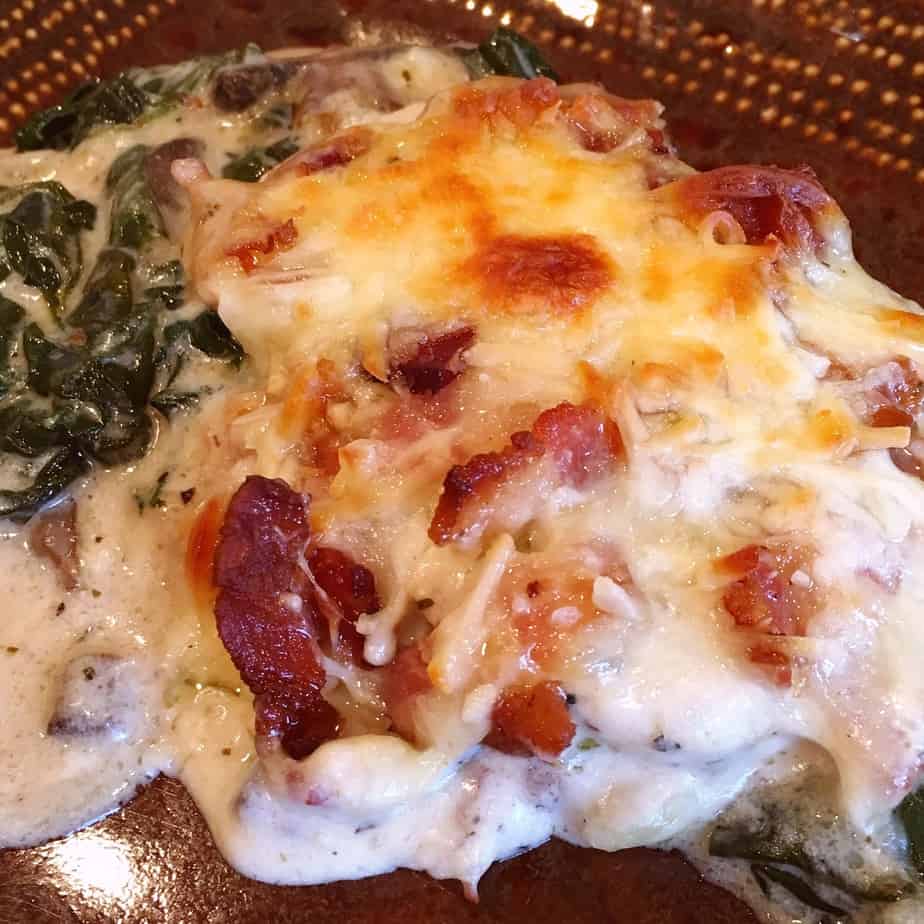 Okay, sure, maybe there are things better than creamy white sauces loaded with Italian seasoning and garlic. However, I double dog dare ya to find one in a casserole dish better than this one!
I stumbled upon this recipe years ago and began tweaking it fit our tastes. The original recipe calls for canned spinach…I prefer fresh. Don't like spinach? You can use broccoli! Don't like either…well you got a problem! lol No I'm just kidding. You can just forego any greens…but trust me this dish will make a spinach lover out of ya.
Let's Make Chicken Florentine
The prep for this casserole starts with bacon! Any great main dish recipe…has bacon! (The only reason God made pigs! Let's hear it for Wilbur!) The flavor a little bacon brings to a dish is astounding!
A half pound of Hickory Smoked Bacon from the meat counter is perfect in this dish. Meat counter bacon is thicker and has a perfect smoked flavor.
Cut thick bacon into 1/2 inch wide strips and set aside.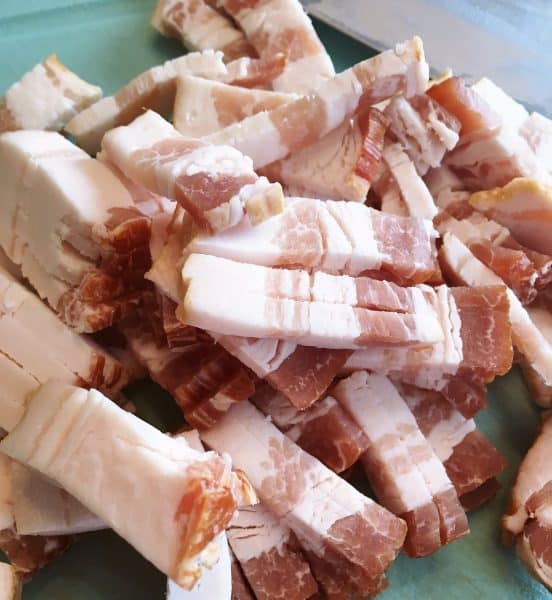 Making Chicken Florentine Sauce
Melt 1/2 cup of butter in a medium size sauce pan over medium heat.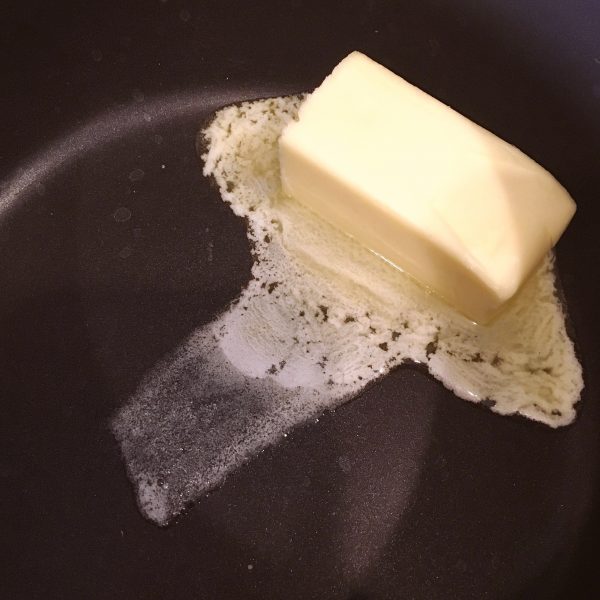 Add minced garlic. Allow the flavors to release in the butter for about 30 seconds before adding the next set of ingredients.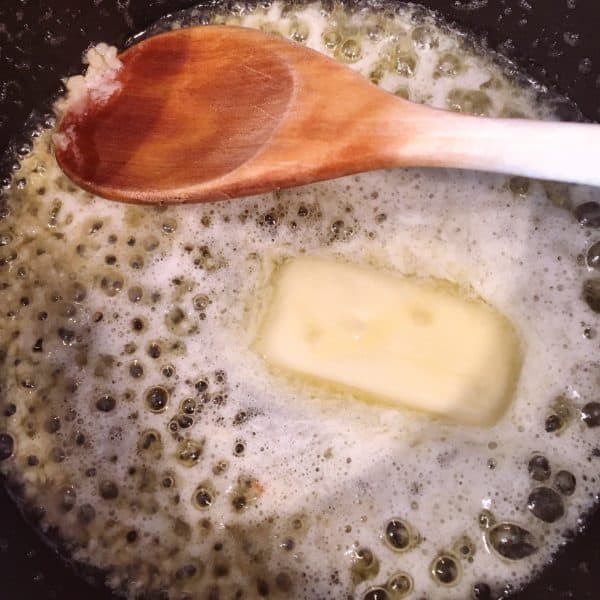 Up next…Italian Seasonings. I use a combination of a blend of Italian Seasonings and a Tablespoon of Dry Italian Dressing.
Tip: Dry Italian Dressing is great to have on hand and is a fantastic seasoning for a lot of dishes and bread crumbs.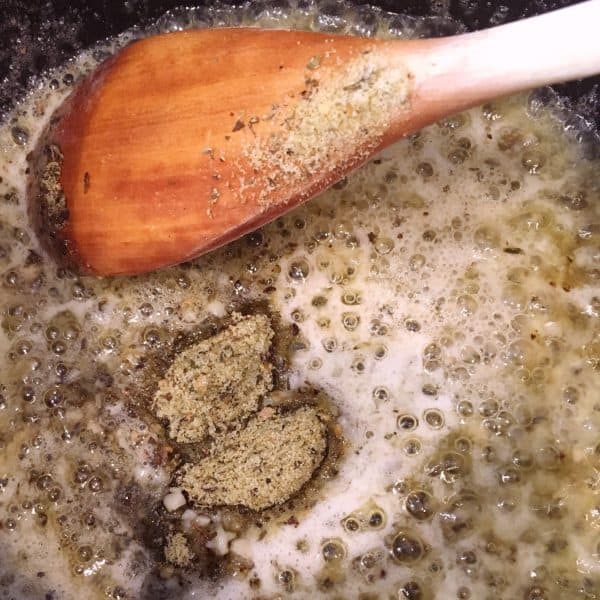 Mix seasonings in with butter and garlic. Add one can cream of mushroom soup.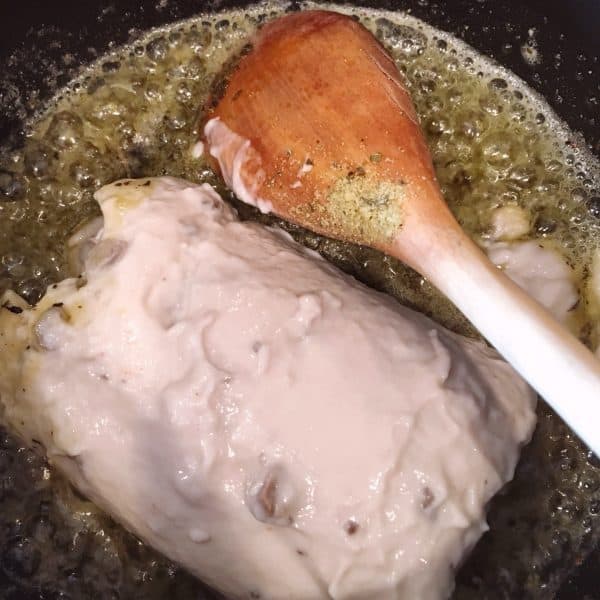 Stir until well combined. Add half and half. Continue to stir until well blended. It's not looking super appetizing at this point…but stick with me…we're creating magic!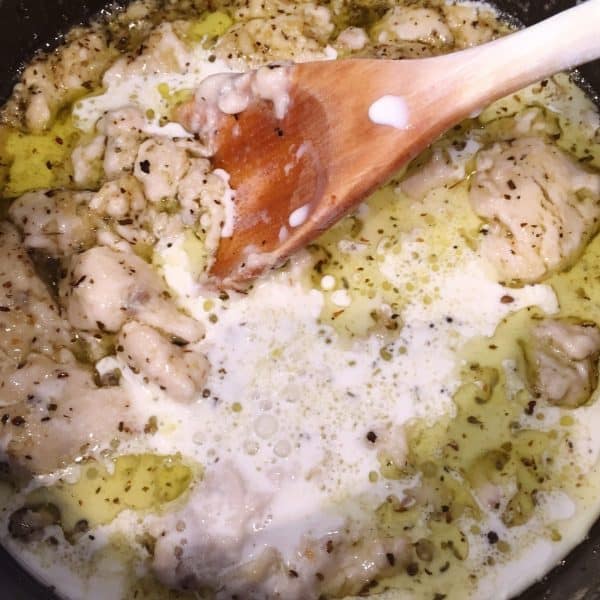 Add fresh lemon juice…(How's that stirring going… or as I like to think of it…Chunky Chick Cardio!)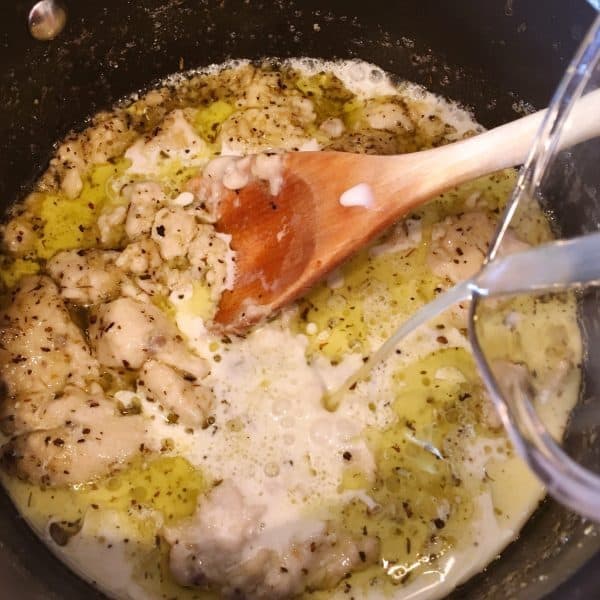 Add fresh grated Parmesan cheese. Guess what ya do next? Count it out with me…stir 1, stir 2, take a breath, and again…stir 3, stir 4…get that heart rate going…stir 5, stir 6…flap them wings, flap them wings!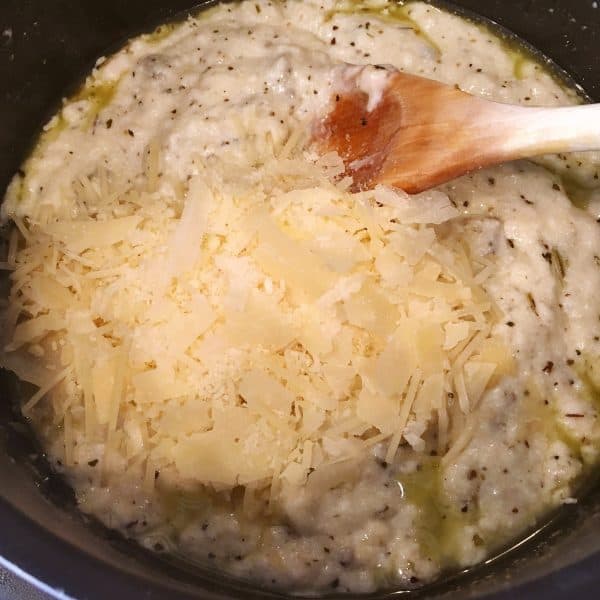 Seriously…stir until creamy and smooth. You may need to add a little more half and half to get the consistency you desire.
Take a little taste.. be careful…this could lead to a serious addiction.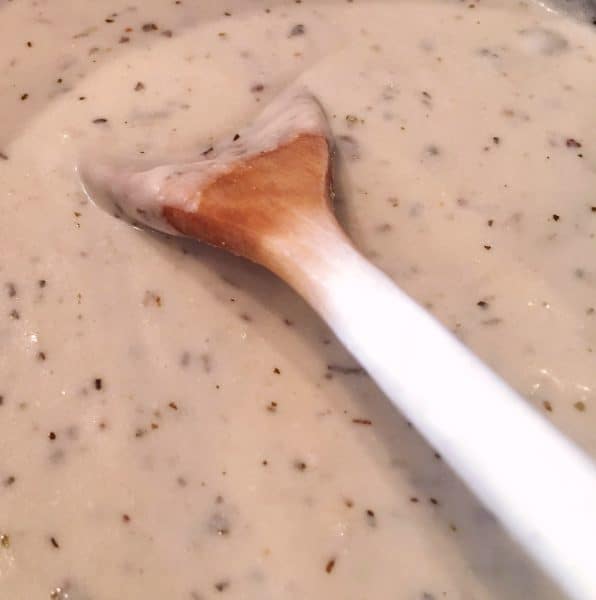 Preparing Chicken for Chicken Florentine Casserole
Next up…my favorite form of Therapy! Tenderizing the chicken! Every kitchen should be equipped with a heavy-duty meat tenderizer. It's a "She hammer"…"A mommy mood mender"! However…if mom is in a bad mood…wide birth my friends….WIDE!
Fillet two boneless skinless chicken breast. Using your handy-dandy tenderizer…pound the ever-living crap out of that chicken! I'm kidding. Don't go at it that hard…if raw chicken is flying every where, and the kids have taken cover…ya may need to make a phone call to a professional. Just sayin'…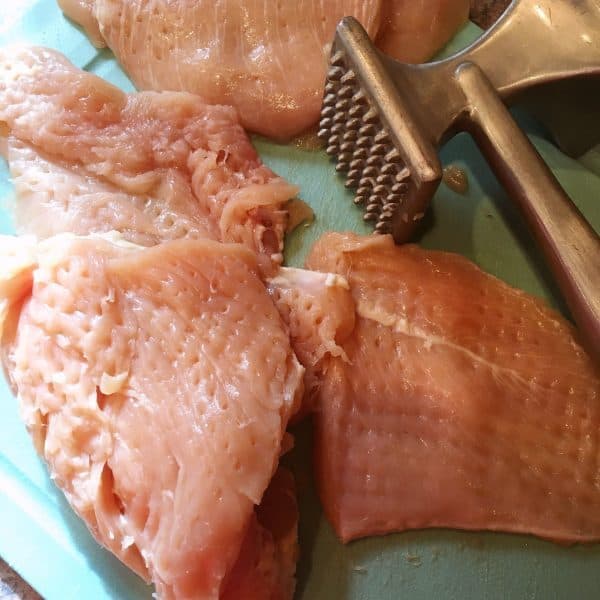 Add 1 Tablespoon of olive oil to a medium size skillet, over medium-high heat. Add chicken fillets seasoned with salt and pepper. Cook until golden, turn and cook the other side. Juices should run clear.
TIP: Always preheat your skillet just like you do your oven. It will allow a beautiful golden sear on your meat.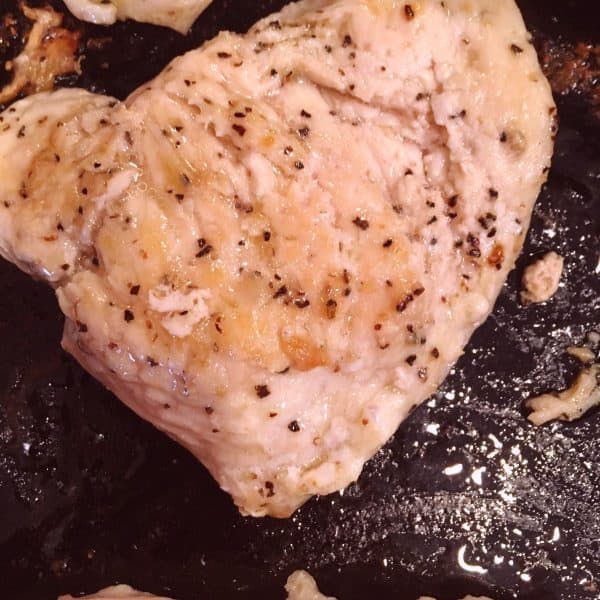 Place cooked chicken on a plate and set aside…right next to that bacon! Let'em get chummy for a minute.
Times Up! (We don't want them getting that chummy! This is a family blog!) Add cut bacon directly into the skillet and fry it up. Once done place bacon on a paper towel to drain, set aside. It can go back and visit the chicken.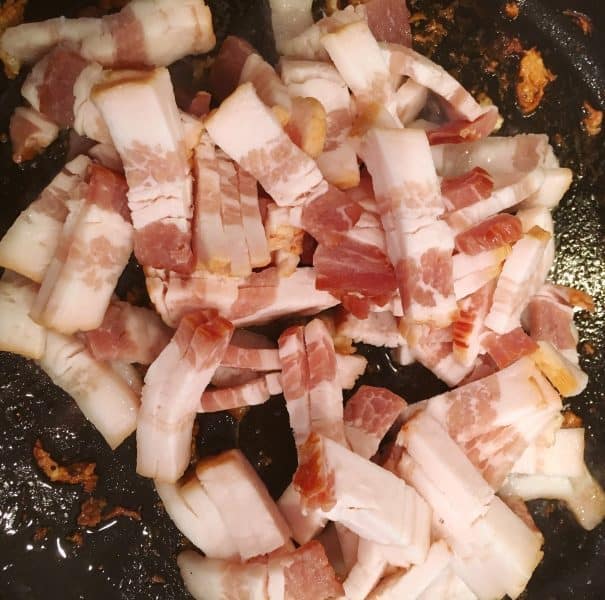 Drain the bacon grease off the skillet. Add 1 bag of fresh spinach to the skillet over medium heat…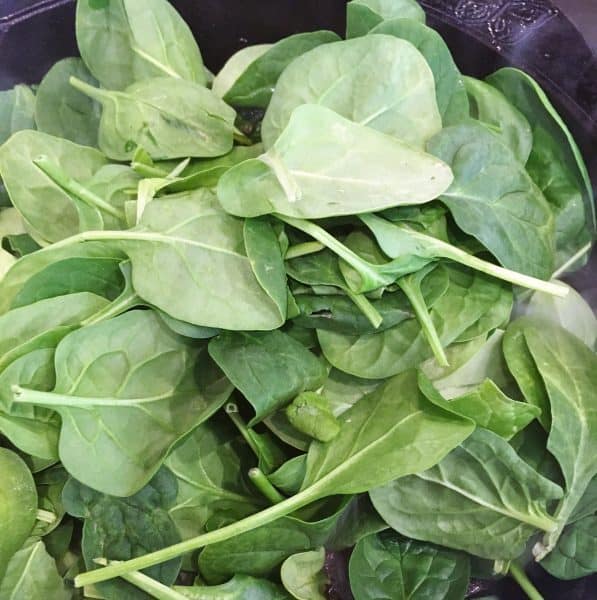 Sautè until slightly wilted…remove from skillet.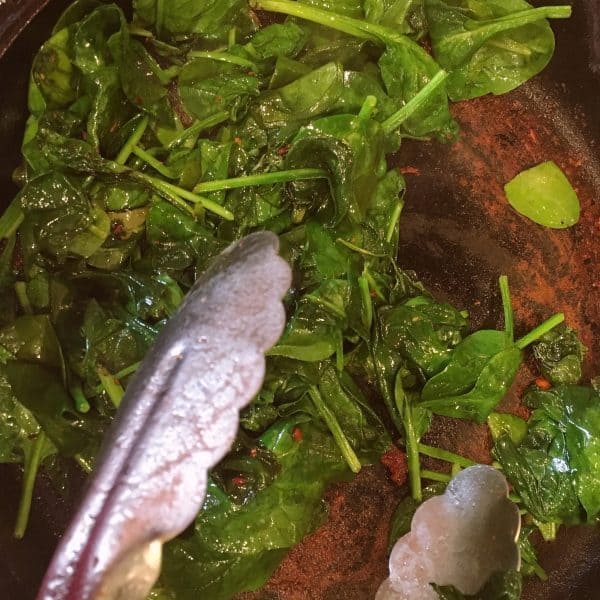 Assembling Chicken Florentine Casserole
In a 9 x 9 baking dish arrange the spinach. I like a thin layer of spinach, but you can cook 2 bags of spinach if you want a thicker layer of the vitamin laden green leaves. You can also use canned spinach if you prefer.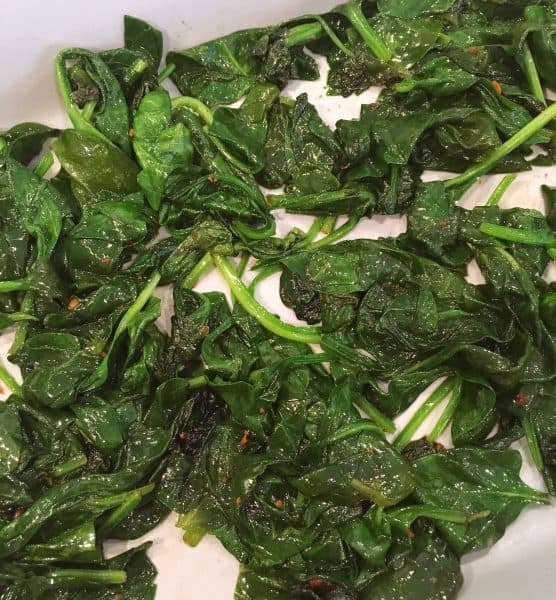 Add one package of fresh sliced mushrooms over the spinach.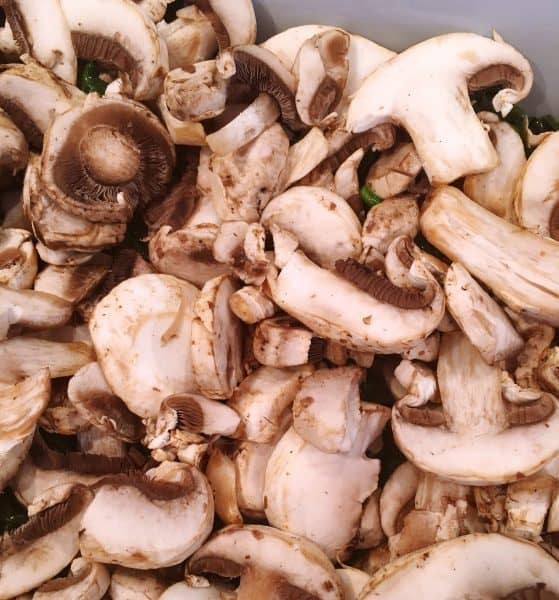 Pour half the sauce over the top of the mushrooms and spinach. Spread to cover.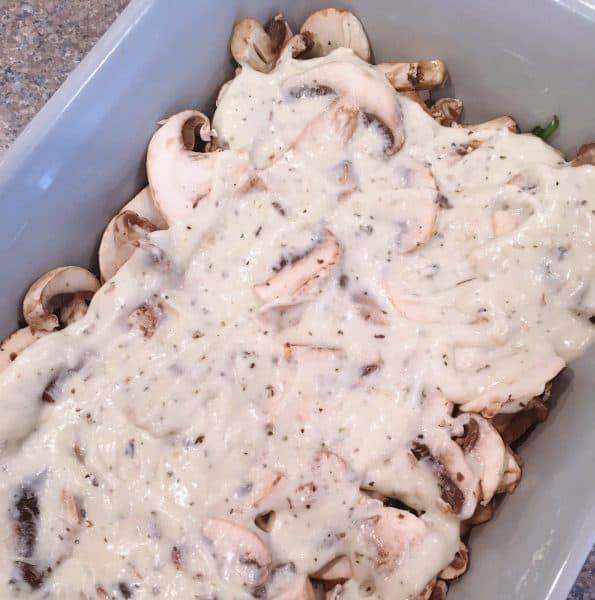 Lay cooked chicken over the top of the mushrooms and spinach.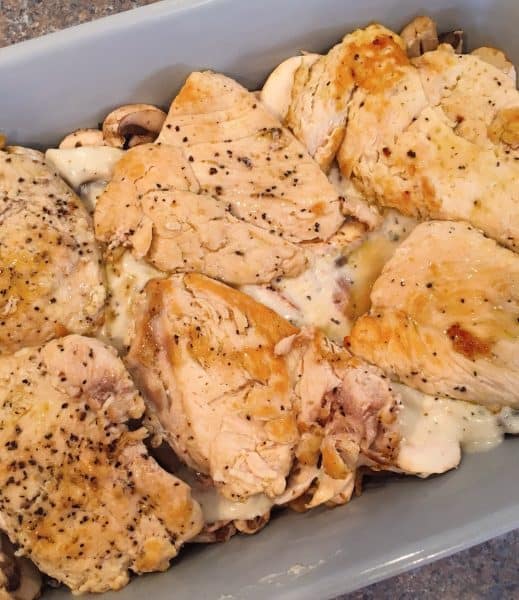 Add remaining sauce…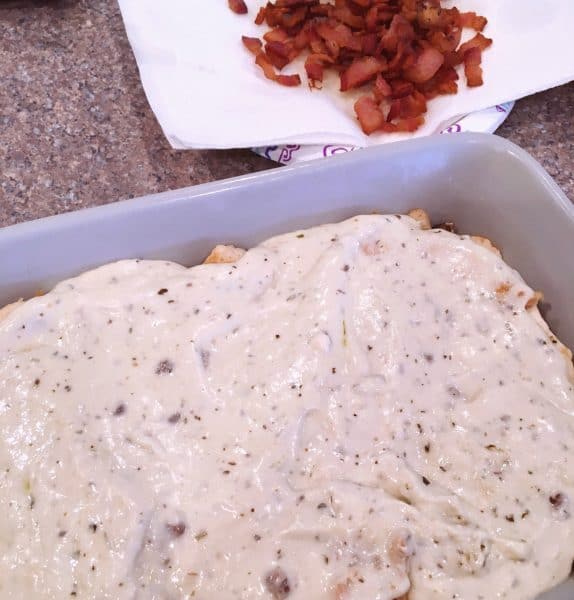 Top with bacon crumbles… (it's lookin' good now! Is your mouth watering?)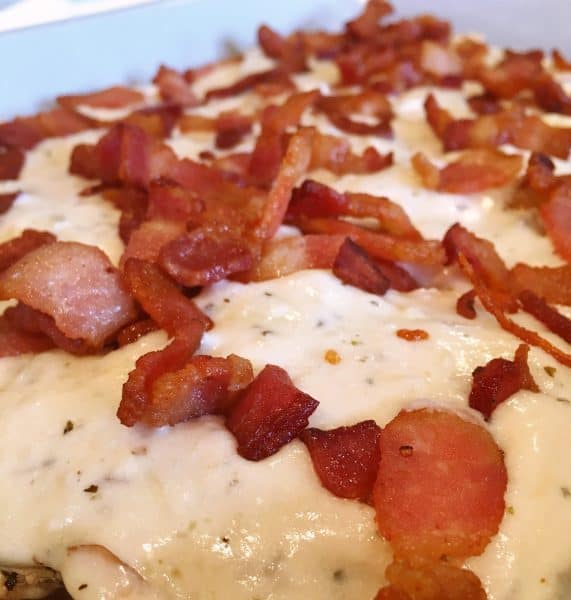 Cover everything with mozzarella cheese and a few leftover bacon crumbles.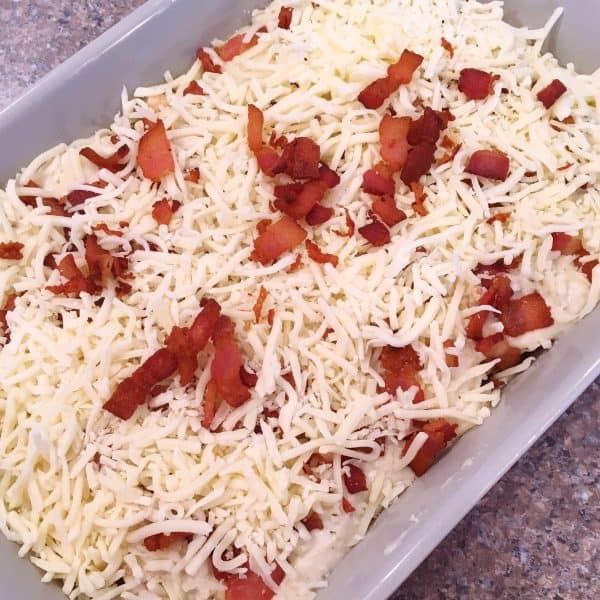 Preheat oven to 350°. Bake 20-25 minutes. To brown cheese place casserole under broiler for 3-4 minutes. Remove from oven and allow to cool for 5 minutes before serving.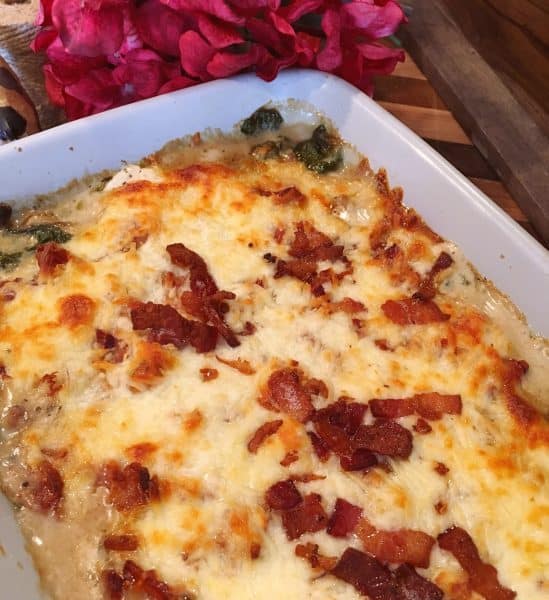 Tender fillets of chicken breast are encased in a rich creamy flavor filled sauce.
The mushrooms add another layer of flavor that can't be replicated any other way. Not to mention the hints of that Hickory smoked thick bits of bacon. It's all about flavor my friends…it's ALL about flavor!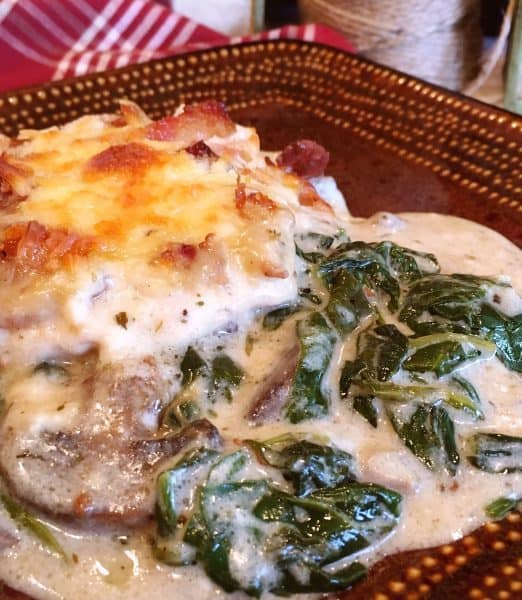 This casserole is loaded with texture, taste, and simplicity! It's truly an amazing dish!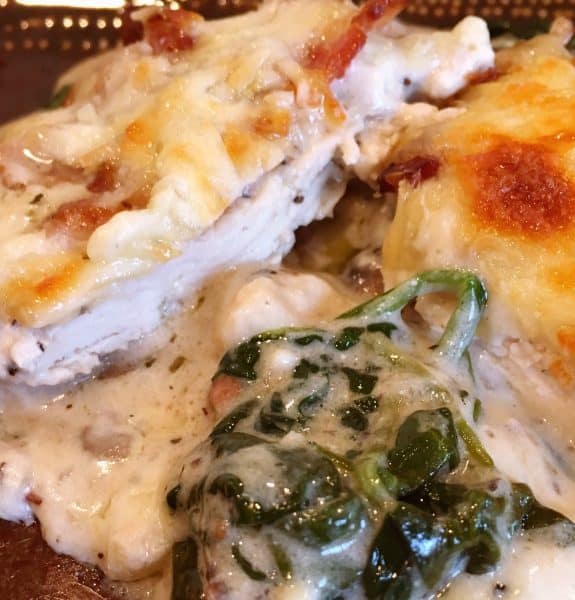 Helpful Tips about Chicken Florentine Casserole
This casserole can be made a day ahead of time, refrigerated and cooked the following day. I'm not sure about freezing and honestly wouldn't do it myself because of the fresh mushrooms.
You can trade the spinach for broccoli. (Spinach haters are gonna hate! lol)
Chicken can be substituted for fish or shrimp.
If the sauce is too thick, you can thin it out with additional half-and-half. Just remember the mushrooms will release a lot of liquid as they are cooking.
This casserole is elegant enough to serve at a dinner party or casual enough to serve at Sunday dinner.
This dish can be served over rice, pasta, or just on its own. (On a plate! It's really messy if you don't at least serve it on a plate! Just a suggestion!)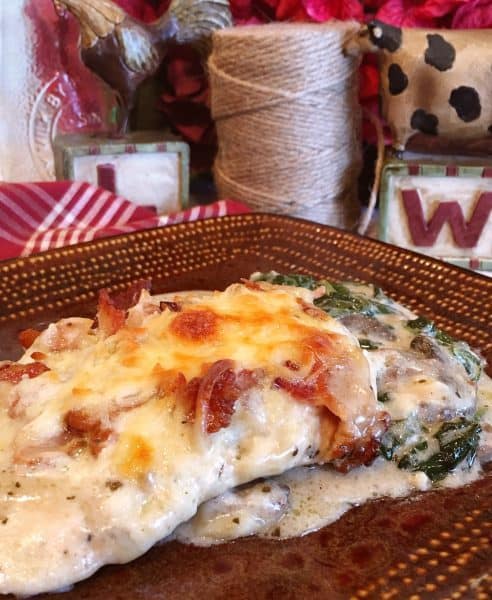 This is not your typical family casserole! It has so many fantastic elements that come together to create a truly spectacular dish! Mr. Nest and I can't get enough of this one. We loved every splendid fork full and we hope you love it too!
Other Favorite Family Casserole Recipes
Thanks so much for stopping by today! I'd love to have you follow me on my Social Media pages…Facebook or Instagram. I also have wonderful Pinterest boards loaded with some of the very best recipes on the internet! You can find me on all these venues under "Norine's Nest"!
Have a Great Day! Happy Nesting!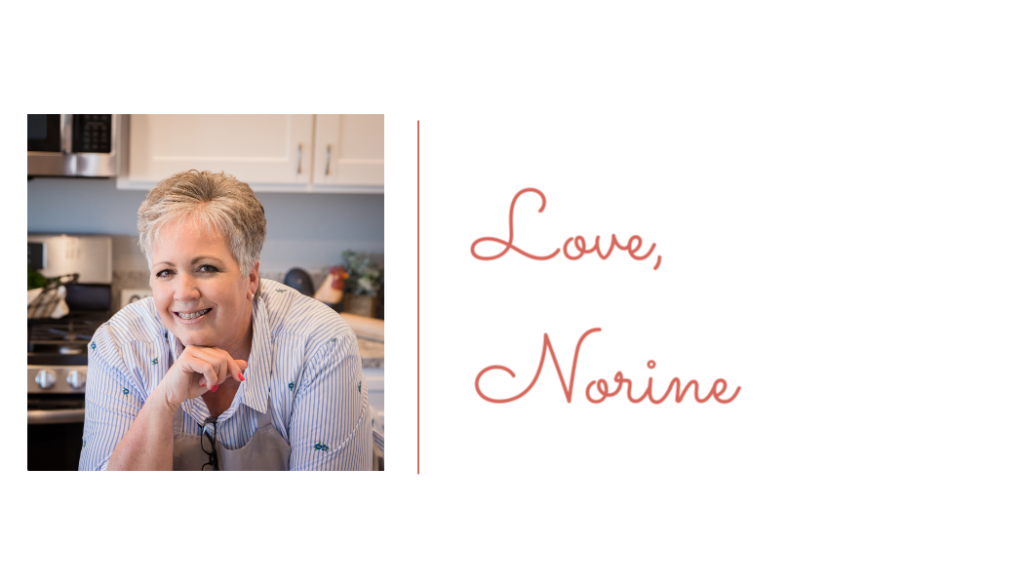 Yield: 4 servings
Chicken Florentine Casserole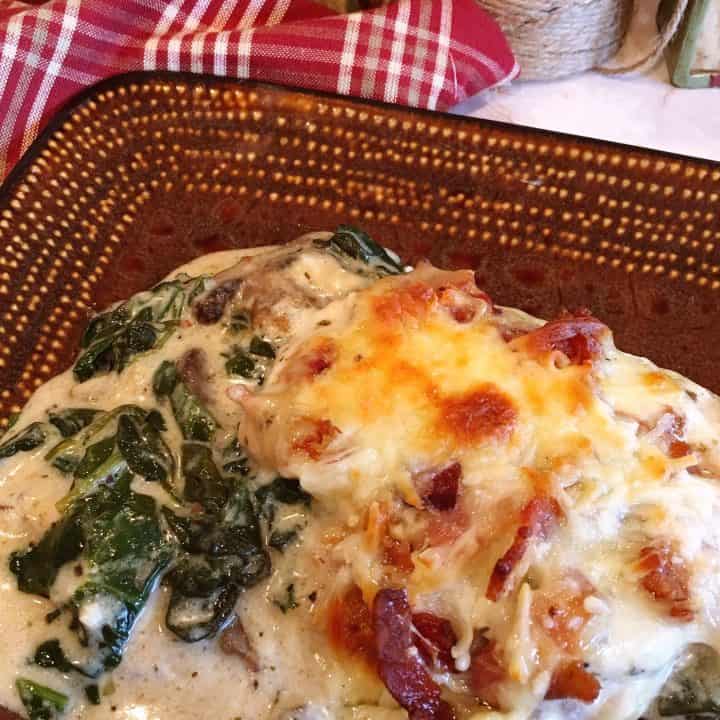 Chicken Florentine Casserole is tender juicy chicken fillets on a bed of freshly wilted spinach greens and fresh mushrooms covered in a creamy white sauce mixed with garlic, Parmesan Cheese, and Italian seasonings. Sprinkled with hickory bacon bits and a layer of melted mozzarella cheese.
Ingredients
4 skinless, boneless chicken breast halves, cut into fillets
1/4 cup butter
3 teaspoons minced garlic
1 tablespoon lemon juice
1 (10.75 ounce) can condensed cream of mushroom soup
1/2 Tablespoon mixed Italian seasonings
1/2 Tablespoons dry Italian salad dressing mix
1/2 cup half-and-half (more if needed)
1/2 cup grated Parmesan cheese
6- 8 cups fresh spinach (see notes)
4 ounces fresh mushrooms, sliced
2/3 cup bacon bits
2 cups shredded mozzarella cheese
Instructions
Cut bacon into 1/2 inch strips. Set aside.
Fillet Chicken breast and tenderize with meat tenderizer until 1/2 inch thick. Set aside.
Melt butter in a medium saucepan over medium heat. Stirring constantly, mix in the garlic, lemon juice, cream of mushroom soup, Italian seasoning, dry Italian salad dressing mix, half-and-half, and Parmesan Cheese. Mix until well combined. Set aside.
In a large skillet over medium-high heat add 1 Tablespoon olive oil. Add chicken fillets. Season with salt and pepper. Cook on both sides until golden brown and juices run clear. Remove chicken and set aside.
Add bacon to skillet. Cook until done. Remove bacon and drain on paper towel. Drain bacon from skillet.
Add spinach to skillet that bacon was cooked in, sautee until lightly wilted.
Preheat oven to 350 degrees F (175 degrees C)
Arrange spinach over the bottom of a 9 x 9 inch baking dish. Cover spinach with fresh sliced mushrooms. Pour half the sauce mixture from the sauce pan over the mushrooms. Arrange chicken breasts in the dish, cover with remaining sauce mixture. Sprinkle with bacon bits, and top with mozzarella cheese.
Bake 25-30 minutes in the 350° oven, until bubbly and lightly brown. You can place it under the broiler for an additional 3-4 minutes until brown.
Notes
You can substitute broccoli for spinach
Chicken can be substituted with fish or shrimp.
If sauce is too thick thin with additional half-and-half.
Recommended Products
As an Amazon Associate and member of other affiliate programs, I earn from qualifying purchases.
Nutrition Information:
Yield:
4
Serving Size:
1 chicken breast
Amount Per Serving:
Calories:

785
Total Fat:

42g
Saturated Fat:

19g
Trans Fat:

1g
Unsaturated Fat:

19g
Cholesterol:

185mg
Sodium:

2090mg
Carbohydrates:

35g
Fiber:

11g
Sugar:

5g
Protein:

71g
Norine's Nest in no way provides any warranty, express or implied, towards the content of recipes in this website. It is the reader's responsibility to determine the value and quality of any recipe or instructions provided for food preparation and to determine the nutritional value, if any, and safety of the preparation instructions.